This post may contain affiliate links.
Romantic Cities in Italy
From the top of its watery head (Venice) to the tip of its sexy high-heeled boot (Puglia), there are so many romantic places in Italy to visit it's dizzying.
Don't panic. Take a deep breath and smell the oregano. There. Don't you feel better?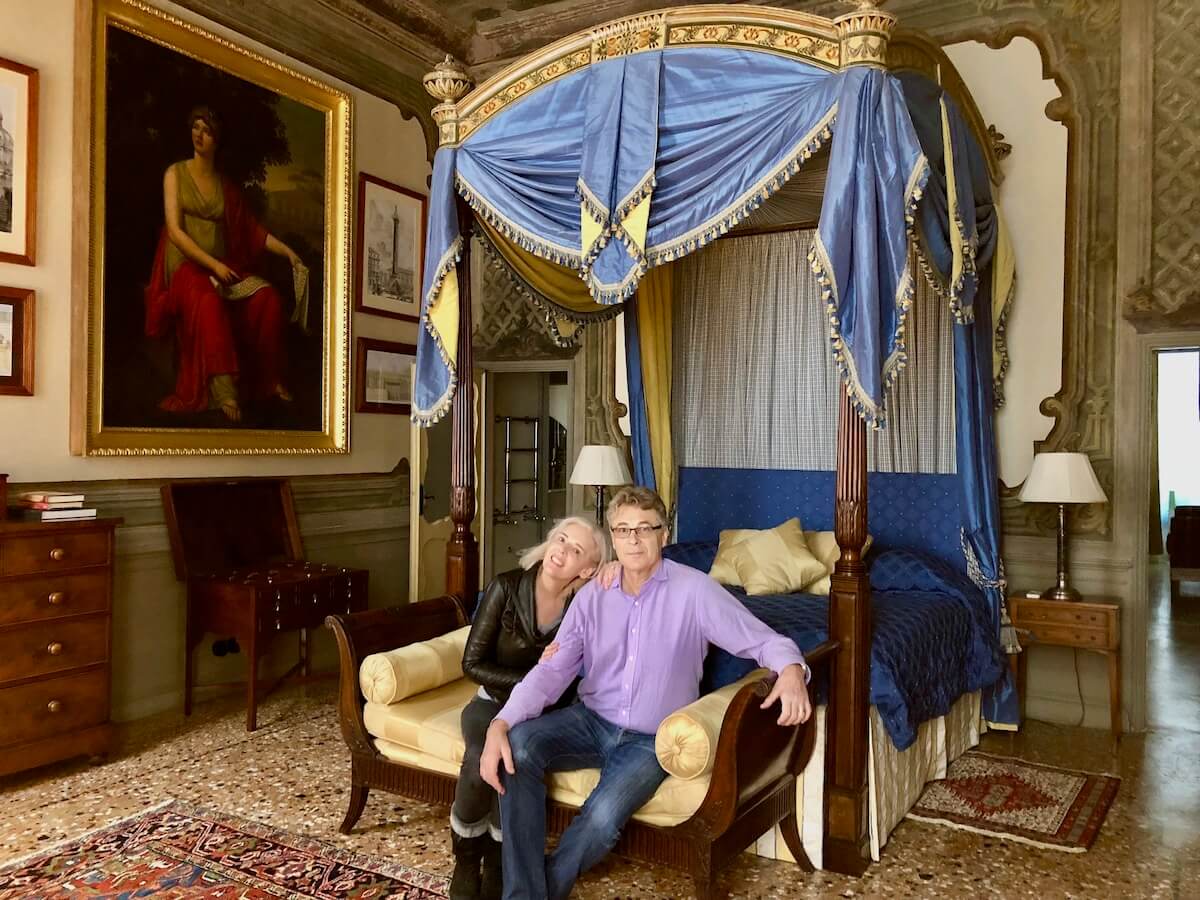 The 4 Best Italian Cities for Couples?
Now let me tell you about the best cities in Italy to visit for couples and how to fight with your husband in all of them.
I'll also tell you what to see in Rome, Milan, Venice and Florence, what we loved and what were our worst moments.
Use this guide to decide which cities in Italy to visit (and argue in) for yourself.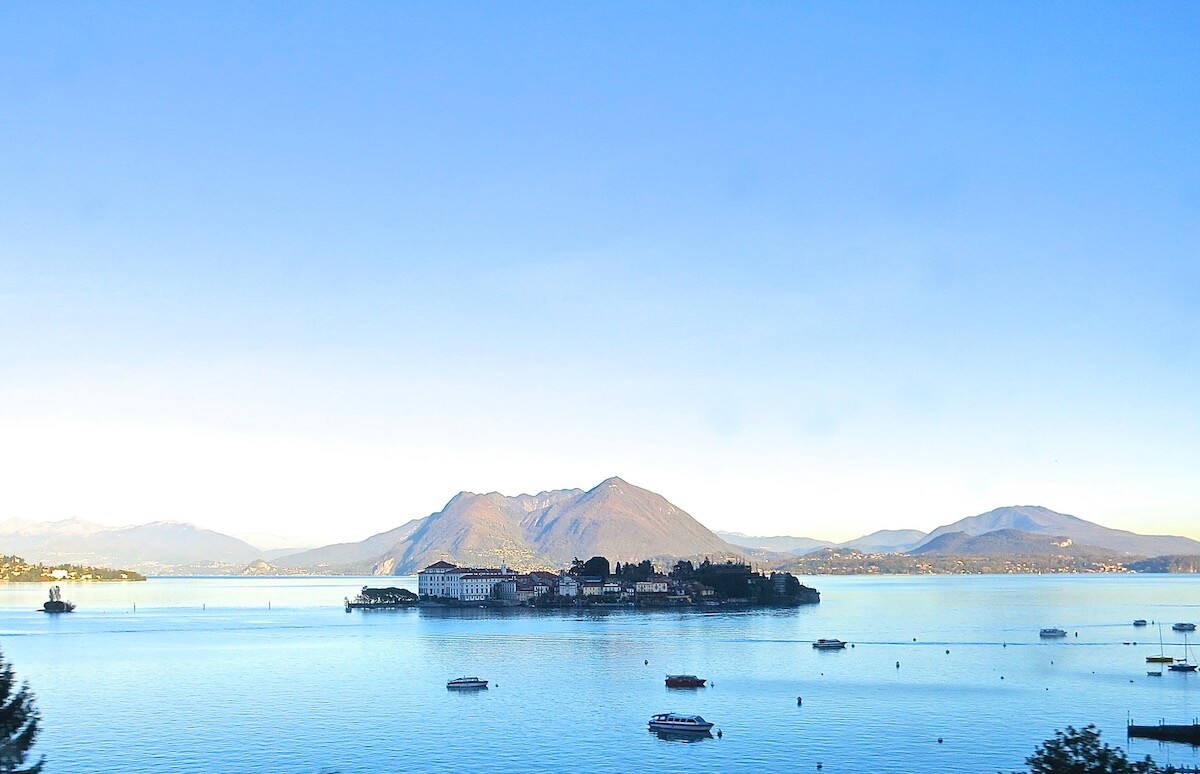 Visiting Italy
Let me start off by saying I've seen a lot of action in Italy (no, not that kind of action).
I got engaged in Umbria, stung on the bum by a bee on my way to a gorgeous Tuscany spa, cycled on top of the medieval walls of Lucca and have eaten more truffles than a wild pig.
I've argued with my (then) fiancé, Mark, about speeding on just about every highway in Italy. But I married him anyway, and we spent part of our honeymoon in Milan and Venice.
(He paid the speeding tickets. I paid the parking ticket in Montepulicano, which we go when we were checking out some of the best wine regions of Italy.)
So, while I can't say I've been to all the cities of Italy, I've certainly been around (not that kind of around) and hope I can inspire you to dream about being in Italy like we do.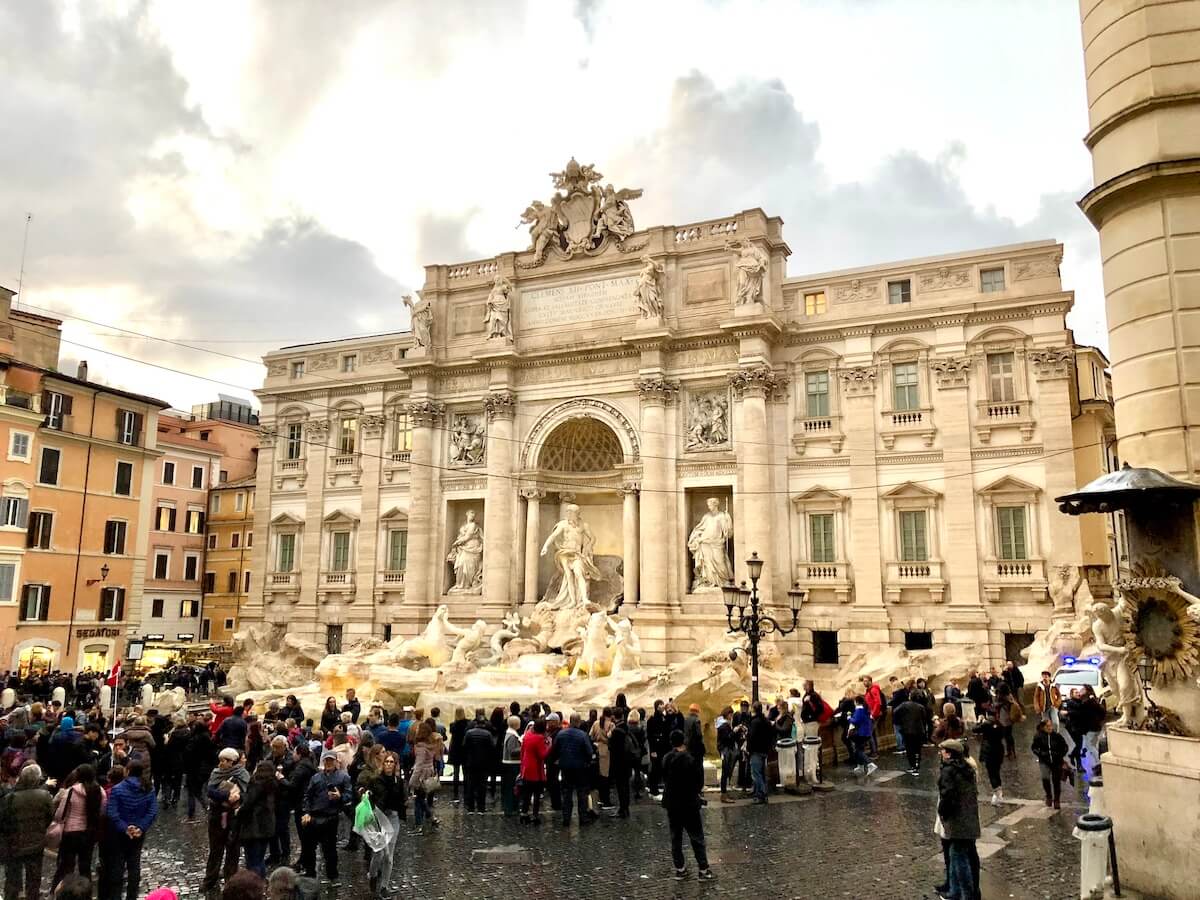 Visiting Rome
Of all the cities in Italy, Rome is the most visited by tourists (and they'll all be in front of you in line at the Vatican.
Because of this, I recommend you go to the Vatican for breakfast. Seriously, check out our Vatican breakfast post).
The capital of Italy, Rome has 12 UNESCO World Heritage sites, pizza, the legendary Spanish Steps and the magical Trevi Fountain, which, if you throw a coin in, ensures your return to Rome.
Just make sure both you and your partner toss in coins!
Without question, there are a lot of fun and unusual things to do in Rome for couples.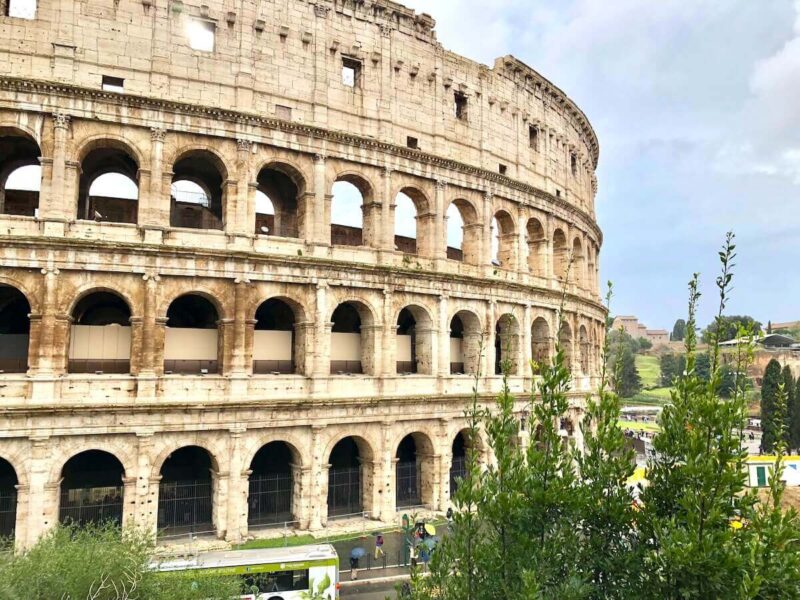 When in Rome Go to the Colosseum (Or Fight About It).
If you're visiting Rome you have to visit the Colosseum. Also spelled Coliseum, it's the most famous amphitheatre in the world.
The Colosseum has intrigued me ever since I read Daisy Miller by Henry James. I thought it must be one of the most romantic places in Italy. Then I had second thoughts.
Why? After Daisy meets her admirer Giovanni there at night, she catches malaria as the Colosseum is a breeding ground for the disease. (Don't worry, not anymore).
Spoiler alert: Daisy Miller dies and her death symbolizes the downfall of a girl who shouldn't have been out with men at night, and after that I really thought it would be a fun place to visit.
The Colosseum Argument
Instead of strolling about the Colosseum at night, whispering romantic nothings to each other, Mark and I went in the scorching heat of the afternoon.
As soon as we got there we argued over which to visit first, the Colosseum or the Temple of Vesta.
The Temple of Vesta is part of the Forum, right next to the Colosseum, and together they make up one big extravaganza about ancient Rome.
We ended up splitting up (not permanently, but there were words spoken).
He went to the Colosseum and I, having been there before, went searching for the Temple of Vesta, where the Vestal Virgins once lived.
If you're into history and virgins (no, not in that way) I highly recommend it.
Don't Fight. See both the Colosseum and the Forum on a Best-Selling Guided Tour with Priority Entry. Check prices and availability here.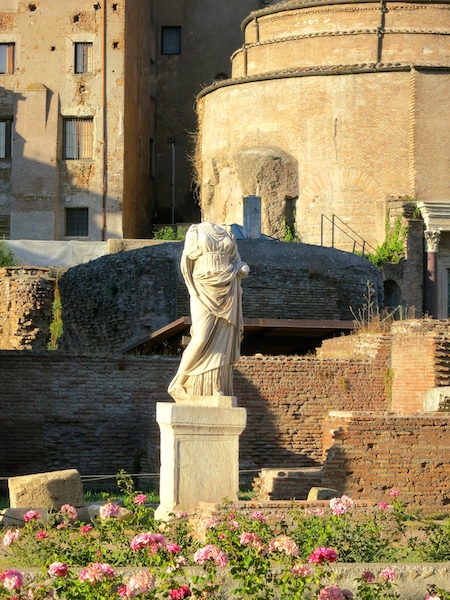 Visit the Villa Borghese
For a romantic thing to do in Rome head to the Villa Borghese Gardens.
Start at the Borghese Gallery
Here you can see my favourite sculpture in all the world, which I love even more than Michelangelo's David.
The sculpture is called Apollo and Daphne and it was carved by Bernini.
Although, now that I think of it, the sculpture is no love story. It's about a smitten Apollo chasing Daphne when she desperately doesn't want to be caught.
Daphne pleads to her river-god father, Peneus, for help, and he turns her into a laurel tree.
Hm. Sort of the opposite of a love story, isn't it? Let's move on.
(Just buy tickets early because you can't get them at the door.)
Make it easy. Book a 2-hour Borghese Gallery Guided Tour.
Rent a Side-by-Side Tandem Bike
Another great thing to do with your partner in the Villa Borghese Gardens is to rent a side-by-side pedal cart with a covered top.
This may make your husband feel like an idiot, and he might put up a fight about it (mine did), but it's an excellent way to tour the stunning grounds.
The Villa Borghese Gardens are Rome's 3rd largest park, so there is a lot of ground to cover, and the top on the side-by-side bike will semi-protect you from the brutal Roman summer sun.
And the second time we went to Rome together and rented one we hardly argued about it all.
In Rome we loved: Staying at the Rome Cavalieri because of the outdoor pools and the views from the top of the hill – though it's not central.
This luxury hotel is a super escape for couples who want a resort-like atmosphere.
(I did not love staying near the Rome train station on a solo trip to Italy, but it was cheap.)
Worst moment in Rome: It happened at the sauna in the spa at the Rome Cavalieri. I thought a sauna and swim would be a romantic way to spend the afternoon.
But for some inexplicable reason Mark brought a wad of cash with him and we didn't have lockers.
After nagging him about bringing money to the sauna, I offered (with a tragic sigh) to look after it, left it all in the sauna when I went to shower and it was immediately stolen.
Rome travel tip: Don't carry money around when you're jet lagged. If you must, let the other person carry it so you can blame them when it's stolen.
PS: Mark was too polite to blame me, at least out loud.
Wish we'd done: Cooking classes in Rome. The food was so fantastic.
Visiting Florence
Florence is, well, Florence. It's hard not to love and if you're looking for things to do in Italy, visiting this historic Tuscan city is an obvious choice.
Visit the Uffizi Gallery
My top pick for romantic places to visit in Florence is the Uffizi Gallery.
Here you can fall in love with The Birth of Venus by Sandro Botticelli and fall even more in love with his other stunning painting Primavera.
It was a great bonding moment for us because Botticelli turned Mark into an art fan, and we didn't have that in common when we met.
Go Shopping
You can also enjoy Florence shopping battles with your husband over whether it's better to buy a leather jacket in the local stores or visit the luxury outlet mall to buy Gucci boots.
In the end we did both, but he had a pained look on his face the whole time we were at the Mall Outlet Center.
PS: He never wears his stupid jacket and I wear my Gucci boots all the time.
Check out my One Day in Florence post for more sightseeing options.
Sightseeing in Milan
Why don't people love Milan more? It's one of the most exciting cities in Europe and we had a couple of wonderful days there on our honeymoon.
The two most astonishing sights are within a 30-second walk, the Duomo and the lavish Galleria Vittorio Emanuele II, a historic shopping arcade with the most glorious glass ceiling you ever did see.
For more sightseeing options visit what to do in Milan for a day.
In Milan we loved: Staying in luxury at the Park Hyatt Milan. It's within steps of the Duomo and the Galleria Vittorio Emanuele II, and the hotel staff put rose petals on our bed because we were newlyweds.
Carol's worst moment in Milan: Not being able to buy tickets to see the Last Supper. Take heed and book ahead.
Carol's best moment in Milan: Finding a beautiful cashmere store and buying a sweater and matching scarf just before we left.
Worst Milan moment for Mark: Realizing he's just married a woman who insists on shopping when they should be leaving for the train station.
(Technically we didn't argue, as technically you can't argue on your honeymoon, but I fully suspect there was an argument going on in his head. I'm pretty sure it continues to this day)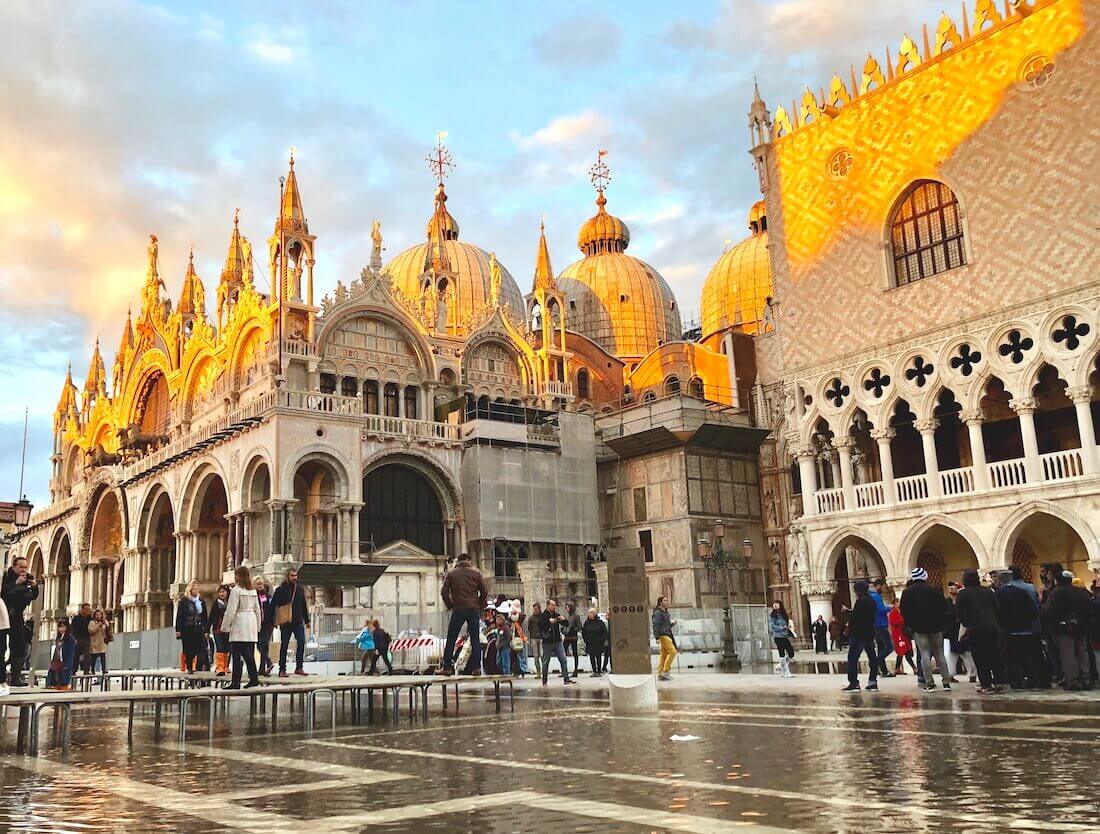 Falling in Love in Venice
Aside from stomping around through flooded streets when it rains, Venice is truly one of the greatest cities in Italy for strolling hand-in-hand.
Scratch that … stomping around through flooded streets during Acqua Alta is one of the best times to stroll through Venice hand-in-hand.
This is because you feel like an intrepid traveller on a unique Venetian adventure, rather than just another tourist in a seriously touristy city.
Things to Do in Venice
Don't listen to people who say, "Stay away from Venice because there are no actual Venetians living there anymore."
Even if it is a living museum, it's still one of the best places to visit in Italy for romance, and more than 50,000 Venetians still call it home.
I couldn't remember what my husband and I fought about in Venice until Mark reminded me (even though technically we didn't fight because, as I mentioned before, one doesn't fight on a honeymoon).
Angry at My Husband in Venice
We were taking the vaporetto down the Grand Canal with all our luggage and I was crammed in at the back with the bags. Someone was trying to get around me and shouting because I couldn't get the bags out of the way.
Where was Mark? Enjoying the view and the breeze at the front of the ferry.
In Mark's defence, I'd told him I'd be fine with the bags. In my defence, he should have known I wasn't.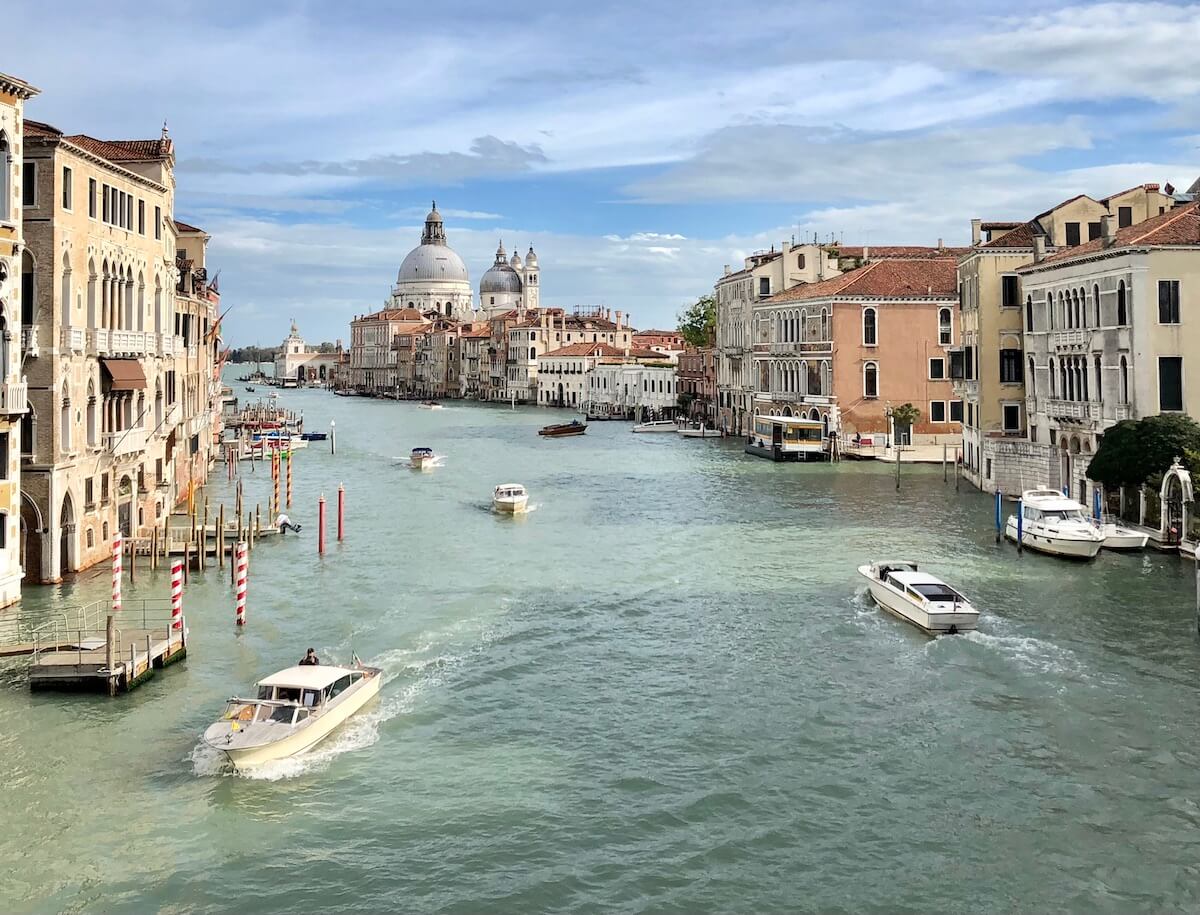 Besides arguing, other fun things to do in Venice include:
Sitting in the 300-year old Caffé Florian in St Mark's Square.
Taking a private speedboat over to Murano Island for chandelier shopping.
Visiting La Fenice Opera House (you can buy event tickets inside).
Checking out Peggy Guggenheim's former palazzo in the Dorsoduro neighbourhood, where the contrast of modern art and historic Venice is just so right – and ideal to see during the Venice Biennale.
For Venice in more detail read What to do in Venice when it rains. It's good for sunny days, too.
In Venice we loved: Staying at the fabulously restored Gritti Palace Hotel. Best moment: having breakfast on the Gritti's terrace overlooking the Grand Canal.
Carol's worst moment in Venice: Having the bartender at Harry's Bar look down his nose at her when she wanted to go to the secret upstairs part for celebrities (it wasn't her fault she was having a bad hair day).
Mark's worst moment in Venice: Having his new plastic boot leak while we were slogging through water in St Mark's Square. Ha ha ha.
Carol's best moment in Venice: Watching Mark slog through St Mark's Square with a plastic boot full with water. I'm still laughing years later. I'm a terrible wife. I can't help it.
So What are the Best Cities to Visit in Italy for Romance? My Conclusion
Rome
Florence
Milan
Venice
They're all wonderful cities in Italy to visit for couples. Although after this post came out, someone asked me if I really fought with my husband that much when I travelled.
Answer: Well, er, yes. Is that wrong?
We've been arguing and travelling together for 15 years, and laughing through life for just as long.
Granted we probably laugh at each other as much as with each other, but travelling with your partner includes a lot of stress, a lot of hilarity and you've got to express it somehow.
What's a relationship without laughter? And maybe a wee argument or two.
Why Do Couples Fight on Vacation?
You may be one of the lucky couples who never fight when they travel (I've heard George and Amal never fight at all), but arguing while on vacation is common.
Why?
1. Travel Brings Out Differences Between Two People
If you want to be out and about doing things while your partner wants to sit in a cafe, that can get frustrating. (That's us, by the way.)
☕️ How to make up: Compromise. If you're in one of these glorious cities in Italy, go to one museum and then head to a cafe for a caffè macchiato. Eat a cannoli. Give each other a kiss.
☕️ Tip: If it's a historic cafe like Caffé Florian in Venice, it's both sightseeing and sitting at the same time. Win win.
2. Travel Can Be Stressful Even if Neither One of You Is to Blame
You can't find your train platform, your plane is delayed and you've had no sleep … situations like this shorten fuses and anxiety can cause people to lash out.
☕️ How to make up: Realize this problem comes from the outside. Step back. Get some sleep. Eat a plate of Spaghetti Aglio Olio e Peperoncino. Maybe a glass of wine?
3. Too Much Togetherness
They say travelling with someone is a sure way to find out if you're compatible for the long haul. Yessss. But. When you're suddenly thrown together 24/7, it can be overwhelming.
☕️ How to make up: Here's an easy fix. Go for a solo walk. Take alone time for shopping. Visit a landmark like the Ponte Vecchio in Florence by yourself. It's amazing how a little time apart in a foreign city can make you eager to reconnect.
Romantic Italy
Italy brings out passion in people. It's a passionate country, and inspires people to get passionate about food, wine, art and love.
If there are a few passionate arguments along the way, so be it. Italy is also a great country for making up.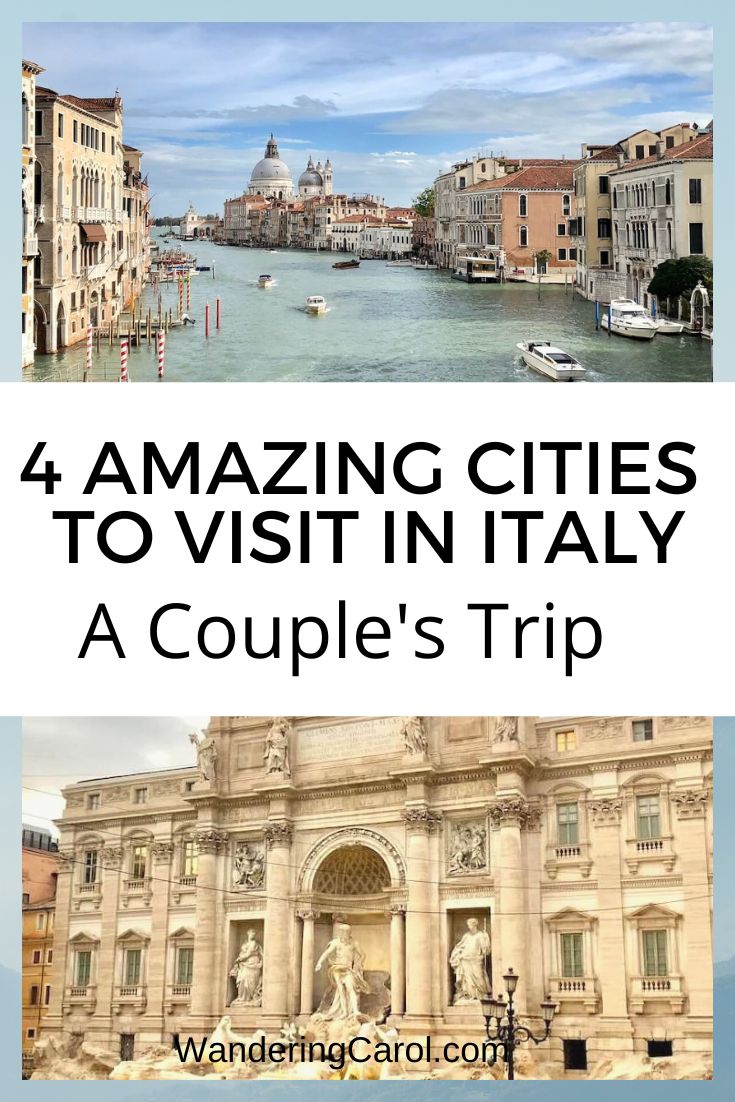 For more on Europe visit Top Places to Visit in Europe