This post may contain affiliate links.
As I was bounding around our villa in Umbria, Italy, at 8 in the morning, Mark eyes me sleepily. "You are soooo excited, aren't you?"
"Yes!" I say. I love hot springs spas and we doing a road trip to Terme di Saturnia in the southern Tuscan hills. Terme di Saturnia has been on my list for years. The warm sulphurous waters are healing and properly sulphurous and, er, fragrant. Little did I know that in Tuscany when disaster strikes it can take a major portion of ahhhh out of the spa.
About Terme di Saturnia Spa
Here's why I was so excited about visiting Terme di Saturnia Spa Resort. Located in the southern Tuscan Maremma region, it sits directly above a volcanic crater that feeds the mineral-rich thermal springs straight into the pools. Think about it, you're floating over a crater?
It's harder to get spring water any more pure than that, so if you're going to go to a Tuscan spa, and you should, Terme di Saturnia should be high on your list. It certainly was on mine – until we went on a leisurely drive through Tuscany and disaster struck.
About the hot springs at this Tuscan spa
Let's just pause for a moment of reverence regarding Saturnia's hot springs. And I know I'm gushing (just like spring water!) but that's how much I love hot springs and hot springs in Tuscany especially. This is what happens: rain water falls on Monte Amiata, filters down through the porous limestone and heads off on a 40-year journey through the rock before springing up at Terme di Saturnia, just for your soaking and healing pleasure.
The water is high in mineral salts – and eventually pops to the surface of the crater at a steamy temperature of 37.5°C. So much water pours forth, in fact, that the pool refills itself with fresh water every four hours. Now do you understand why I was so happy to be going there?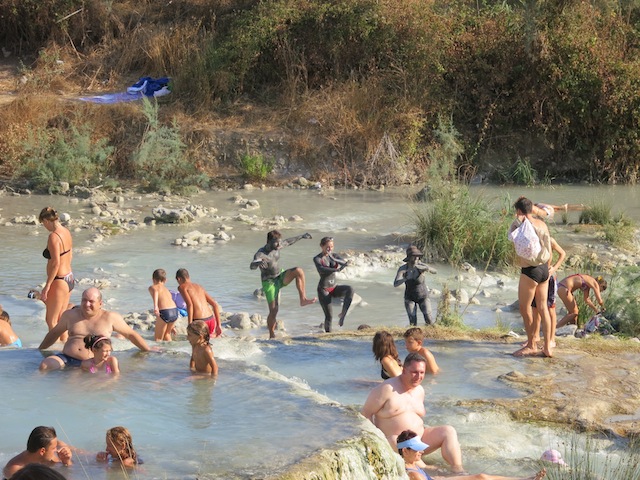 The legend of Saturnia
It's also considered to be a sacred place, and it's said the hot springs at Terme di Saturnia were created when Saturn got angry at the world for its incessant fighting and shot a big thunderbolt down into a crater and the springs gushed forth. That shut up warring mankind for awhile, but obviously, with the state of the world today, Saturn may be getting ready to make another visit. You may want to be prepared.
Tuscany: When disaster strikes
As we're driving in the car, somewhere around Lake Bolsena, Mark looks at me. "You are sooooo happy, aren't you?"
"Yes!" At that point I am singing. For some reason The Ants Come Marching in One by One, Hurrah, Hurrah is the song Mark is being subjected treated to, but then I don't have a large repertoire. The point is, I'm happy. I'm very very happy. A hot summer wind is rushing in through Mark's open window (while I'm blasting the air con vents at my face – honestly, what is his obsession with open car windows?), the Tuscan hills are rolling by … and then a bee flies in and stings me on the ass!
"Ouch, what's picking me?" I say, not that worried because I assume it's a tag on my dress or the edge of a map or something. I reach my hand down, pull it up …. AND I HAVE A BEE IN MY HAND! "Arggghhh!" I shriek, looking down at a very angry black and white bee.
And then the bee STINGS ME ON THE FINGER! "Yarghhhh!! Ah! Eeek! A bee bit me!" I toss the bee on the floor (good thing, because in my panic I could well have thrown it at Mark) and then I pull up into a ball and wail.
Meanwhile Mark is swerving all over the twisty mountainous road (or at least that's what it felt like, but he says he wasn't) saying, "What's going on? What's going on?"
"A BEE BIT ME!" I shrieked.
Mark seems a little unclear about what to do with a hysterical person in the passenger seat. "Do you want me to stop?"
"Yes!"
So we get out of the car and I leap out and hike my dress up to my waist right on the side of the road and see a bee bite on my bottom. The bee must have come in through Mark's open window, swirled around the back of the car and up over to my side and got stuck somewhere between my bottom and the seatbelt. Why didn't he bite the seatbelt instead?
Mark finds the bee doing 360's on the floor of the car and killed it. And that's when I learned that one shouldn't get too happy or complacent about the wonderful state of your world because Saturn might just shoot you a thunderbolt and hit you right where it hurts.
Read more: I eventually did make it to the wonderful Hotel Terme di Saturnia. Click to learn more about it.
Read more about spas at The spa and spa travel.