This post may contain affiliate links.
Guest post by Rachel Brathwaite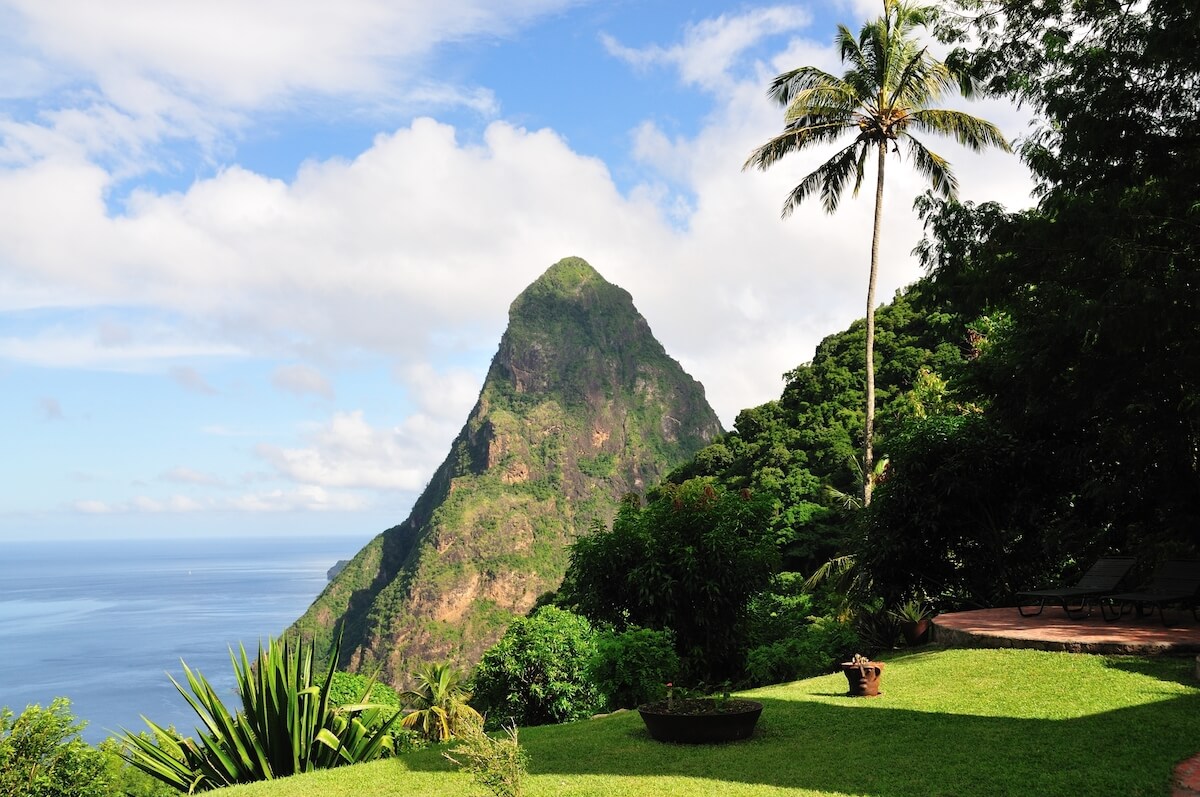 14 Amazing Things to Do in St Lucia
Catching a glimpse of St Lucia's most iconic sight, the majestic twin peaks known as the Pitons is an unforgettable experience, but it's only the first of many great things to do in St Lucia.
With its lush scenery, striking beaches, scenic waterfalls and steamy springs, is it any wonder the Caribbean island of St Lucia is such a popular winter destination?
A Caribbean Island with Something for Everyone
Part of the Lesser Antilles group of islands, about three and a half hours flying time from Miami, St Lucia attracts a wide range of visitors, from families and outdoor adventure lovers drawn by the island's natural attractions to sun-and-fun-seekers who gravitate to water sports, swim-up bars and festive street parties.
Because of its romantic setting St Lucia is also big with the honeymoon crowd and is known as a preferred destination for celebrity weddings in the Caribbean.
Additionally, the island is also a fantastic place to consider for retirement.
In this article, we summarize 14 exciting things to do in St Lucia that we believe will help you learn more about the culture and experience the beauty of the island.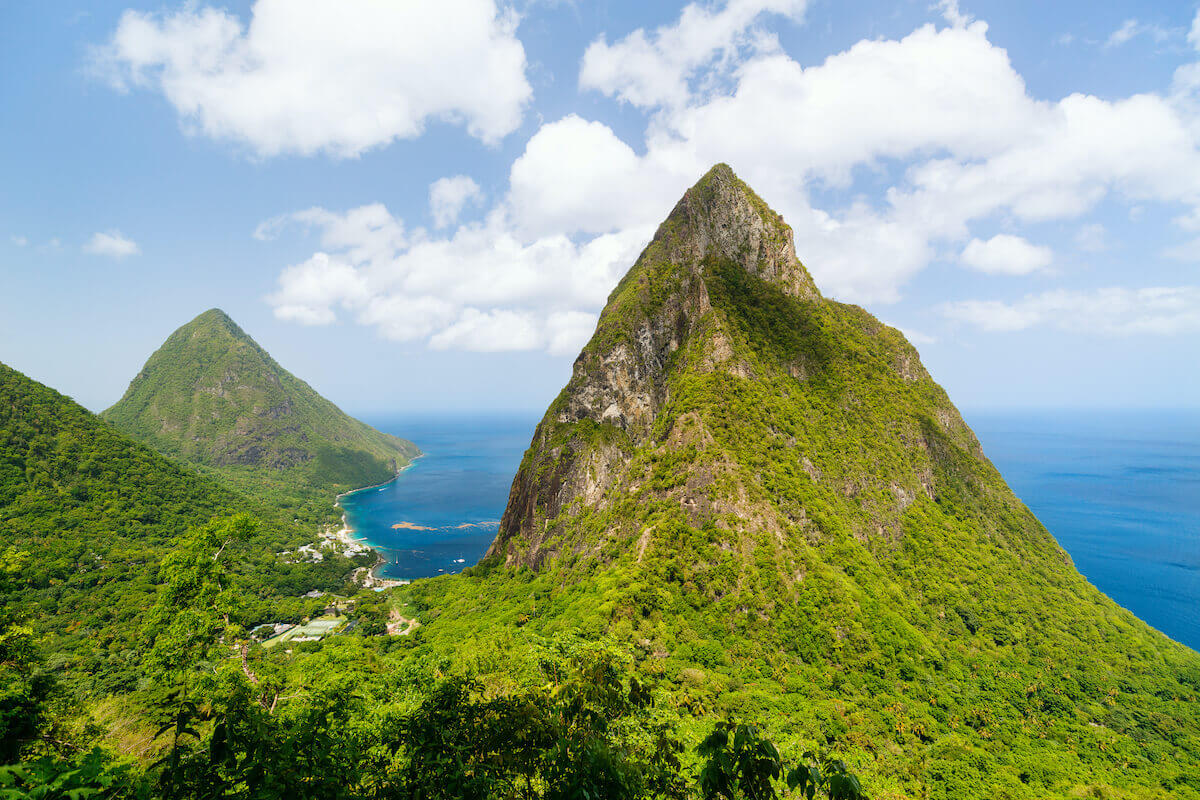 1. Hike the Iconic Gros Piton
Our first recommendation is to visit one of the key attractions St Lucia is known for, the stunning dual peaks called the Pitons.
The taller of the two is named Gros Piton, which stands at 2,530 feet while the Petit Piton is 2,438 feet. They were designated as a UNESCO World Heritage site in 2004.
The Gros Piton is the official hiking trail while the Petit Piton is climbed infrequently.
Due to the terrain of the mountain, the hike may be strenuous to complete with small children, but the trail up Gros Piton is rated moderately easy and should take about two hours each way.
2. Explore St Lucia by Catamaran
A good way to get to know the island is by boat.
One of the most popular activities in St Lucia is a Full Day Catamaran Tour from Castries with hotel pick up available. Explore the west coast of Saint Lucia, including volcanoes, waterfalls, Soufrière and Marigot Bay.
Check out prices and availability for a Full Day Catamaran Tour here.
3. Attend Gros Islet Friday Night Street Party
If you're looking for fun things to do in St Lucia at night, the Gros Islet Friday Night Street Party is the most popular item on the island's weekly entertainment calendar.
Gros Islet is a community located in the Northern region and is an area where there is a concentration of shopping malls, banks, restaurants and hotels.
Every Friday evening there is a street party where local foods, drinks and various craft items are sold. There is usually a live band playing local calypso, soca and reggae music.
This event is regularly attended by both locals and visitors alike and hence it is a great way to mingle and immerse into the culture of the island.
4. Enjoy a Mud Bath at Sulphur Springs
Another unique feature of St Lucia is that it is home to the only drive in volcano in the world, and it is the site where visitors can enjoy mud baths at Soufriere.
Sulphur Springs is one of the best places to visit in St Lucia if you want to combine wellness with fun. It is believed that the mud baths provide healing properties against aches and pains such as burns, sore joints and eczema.
But don't worry, the volcano is currently dormant and the last eruption was in the 1700's.
A Soufriere Guided Day Tour includes the chance to try a therapeutic mineral mud bath for yourself. Check prices and availability here.
5. Relax At Reduit Beach
This beach is the best white sand beach on the island and it has magnificent views of Pigeon Island National Park. It is also an excellent spot for swimming, snorkeling and other water sporting activities.
It's a good destination for family activities. Reduit Beach is home to the only waterpark in St Lucia, Splash Island Waterpark. Children can enjoy waterslides, climbing walls, trampolines, and a lot more.
Spinnakers Restaurant & Beach Bar and SeaGrapes Restaurant are exceptional places to consider for a drink and snack while at Reduit Beach.
Lifeguards are onsite and amenities such as beach chair and umbrella rental facilities are available.
6. Try One of the Dark Sand Beaches
St Lucia is also home to many spectacular black sand beaches due to the volcanic composition of the island.
If you want to take a break from the typical white sand beaches, Anse Chastanet Beach and Anse Cochon Beach are two breathtaking options to explore.
7. Spend A Day In Pigeon Island National Park
In 1972, Pigeon Island was joined to mainland St Lucia via a causeway and is one of the most prominent historical landmarks on the island.
One of the best places to visit in St Lucia on a day trip, Pigeon Island is 44 acres and great for hiking and bird watching. The island also serves as the venue for the popular St Lucia Jazz & Arts Festival.
Visitors can enjoy one of the two beaches, try out restaurants serving mainly local cuisine, hike up to Fort Rodney and explore the military ruins.
There is an entrance fee at Pigeon Island National Park for both children and adults.
8. Explore the City of Castries
If you're visiting St Lucia on a cruise and looking for things to do near the port, you're in luck. Castries, where the ports are located, is the capital city of St Lucia.
Located on the Western coast of the island, it is an easy city to explore on foot. Shopping is a big attraction here, with souvenirs, trinkets and craft items on offer at the Castries Market.
Vigie Beach can be accessed via a short stroll from the city and is usually quiet and uncrowded.
The Immaculate Conception Church is a beautiful structure to view with stained glass windows and wooden ceiling. The cathedral is a perfect spot for prayer and reflection while in the city.
9. Watch a Game of Cricket
Cricket is the most popular sporting activity in St Lucia and other Caribbean islands that were former British Colonies.
The Daren Sammy National Cricket Stadium located in Gros Islet is where major games are hosted. The St Lucia Kings is the name of the local team that represents the island in the Caribbean Premier League of Cricket.
Furthermore, there are also regular matches that are played among various clubs and communities. So if you are on the island, be sure to inquire about current cricket matches.
10. Savor The Taste of Chocolate at Fond Doux Plantation
Fond Doux Plantation is a 250 year old working plantation that has a conventional cocoa fermentery. Cocoa is grown, harvested, dried and roasted on site and then manufactured into delicious chocolate bars.
Chocolate heritage tours can be booked where you get a chance to learn more about the process as well as sample the chocolate bars made on the site.
Chocolate products are available for sale at the Plas Cacao Chocolate Shop on the plantation.
There is an eco-friendly resort on site with private, luxurious cottages. The venue is often used for weddings.
11. Visit the Diamond Falls Botanical Gardens
This six acre property showcases the lush tropical vegetation of St Lucia. It is home to a wide range of flora, fauna and wildlife.
A key feature of the garden is the Diamond Waterfall. The water from the fall is a beautiful mixture of several colors.
As a result of the proximity of the waterfall to the sulphur springs, its water contains minerals, sulphur, copper sulphate, magnesium and iron which produce a kaleidoscope of colors.
This is truly a magical attraction to visit and one of the best excursions in St Lucia.
12. Take An Island Tour
With a landmass of only 238 square miles, it is possible to drive around the country in a day and visit some of the major landmarks.
When it comes to sightseeing in St Lucia there is so much to see. Morne Fortune, which translates to Hill Of Good Luck, is the site of Fort Charlotte, and offers magnificent views of the Castries harbor. This is an excellent location to take memorable photographs.
Fort Charlotte was constructed in the 18th century by Edward, Duke of Kent as a tribute to his mother, Queen Charlotte.
Mandele Lookout Point in the community of Dennery is also an excellent location to stop for photographs.
If you searching for a short hike while touring the island, the Tet Paul Nature Trail provides this option.
It takes approximately 45 minutes to complete and visitors will get an opportunity to experience the culture, history and lush tropical vegetation of the island. Tours are usually guided.
Prefer a guided tour? Check out prices for a Full Day Exploration Tour from Castries here.
13. Explore Anse Marine National Park
Wondering what to do in St Lucia when it comes to water sports? Anse Marine National Park is the premium site for snorkeling.
The park is designated as a reserve and hence visitors can observe a wide variety of fish, marine life and coral reef in this location.
Anse Chastanet is also a popular mooring location for catamarans. There are hotels and restaurants in the vicinity.
14. Use St Lucia as a Hub For Island Hopping
St Lucia is one of the islands in the Southern Caribbean that offers visitors various international arrival connections from major cities, making it easy to get around.
Furthermore, transportation services are offered via ferry services with L'Express Des IIes, which connects travelers to the islands of Dominica, Martinique and Guadeloupe.
Therefore, travelers can get the opportunity to use ferry services to island hop to three other destinations from St Lucia.
Visiting Dominica from St Lucia
Dominica is an English speaking island which is fondly referred to as the Nature Island. As such, it is an excellent destination for outdoor enthusiasts. Additionally, Dominica shares the same official currency as St Lucia, the Eastern Caribbean Dollar.
Martinique and Guadeloupe from St Lucia
The islands of Martinique and Guadeloupe are overseas territories of France. The Euro is used for financial transactions. The French Caribbean islands are lovely to explore for French cuisine, hiking and in the case of Martinique, flowers.
Barbados from St Lucia
While there is no ferry connection to the neighboring island of Barbados, it's only about 45 minutes flying time from St Lucia.
Is St Lucia a Good Caribbean Island to Visit?
The island's mountainous terrain and rich vegetation makes it an unforgettable destination.
When it comes to finding amazing things to do in St Lucia, you have your pick of exploring nature, diving into the culture, relaxing on the beach and simply having fun.
The island is truly a paradise and one of the most visited destinations in the Southern Caribbean.
Contributor Bio
Rachel Brathwaite is a Caribbean national who has visited the island numerous times and writes for Around the Caribbean.
Around The Caribbean is an online magazine dedicated to sharing information about the Caribbean islands. The content provides helpful and meaningful tips for individuals who want to relocate or travel to the region.