This post may contain affiliate links.
Spa Towns in the Czech Republic
Spa towns in the Czech Republic have history, style and water in abundance. Even if you're not interested in spa treatments, the spa culture here is so much more: grand architecture, tradition, scenic locations and incredible hikes.
In fact, spa towns like Karlovy Vary and Marianske Lazne are some of the most amazing places to visit in the Czech Republic outside of Prague.
Here's everything you need to know about planning a visit.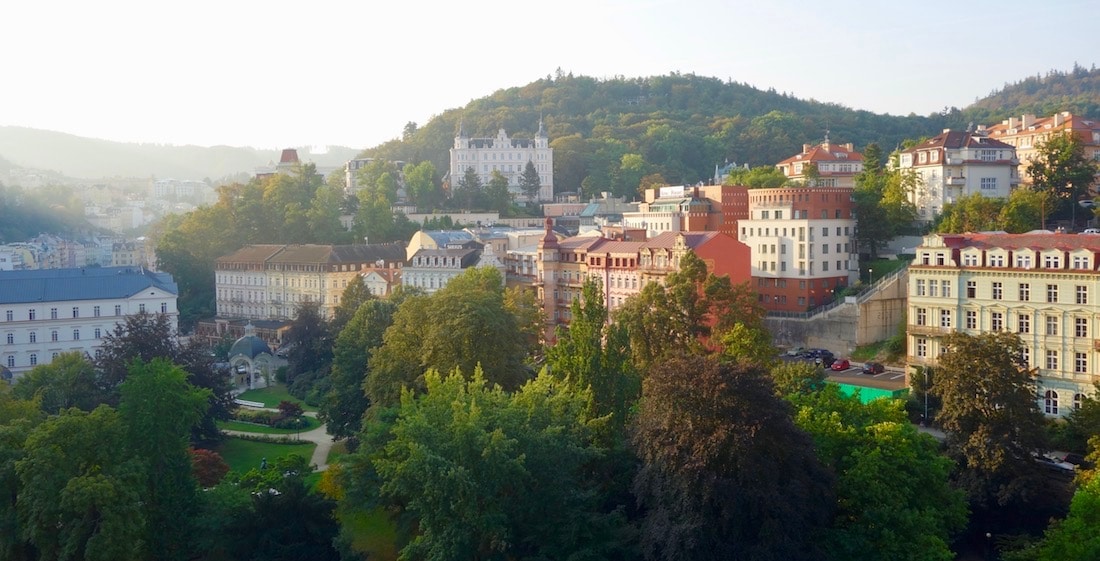 Czech Republic Spas – Mineral Water Bliss
The Czech Republic – Czechia – is a trending destination in Europe, and the hottest places to visit are the country's elegant spa towns. Literally.
The hot springs in spa towns like Karlovy Vary – also known as Karlsbad or Carlsbad – and Teplice are steamy, scalding and sensational.
Other spa towns that focus on mineral water like Mariánské Lázně (Marienbad) and Františkovy Lázně (Franzensbad) have their fervent fans too – and then there's always a beer spa if thermal water isn't your thing.
This travel guide will give you a rundown on the best spa towns in the Czech Republic and how to visit them.
The Spa Triangle of Bohemia
The most popular spa towns to visit in Czechia are the big three in West Bohemia that make up the Spa Triangle:
Karlovy Vary
Mariánské Lázně
Františkovy Lázně.
And just the fact that I know how to spell them shows my deep love for the Czech wellness tradition.
The Bohemian Spa Triangle is just a couple of hours west from Prague, near the border of Germany. Best of all, Karlovy Vary and Marianske Lazne can be done as a day trip from Prague.
Why go? Think Belle Epoque architecture, elaborate fountains, mineral-rich springs and woodsy nature walks. What's not to love? These towns are the most traditional types of spas around.
History of Spas in Bohemia
In the 19th century, Karlovy Vary, Mariánské Lázně and Františkovy Lázně shot to fame when the European aristocracy descended en masse to 'take the waters.' Spa visits were lengthy and well-heeled wellness seekers would stay in luxurious Neoclassical hotels for weeks at a time.
At that time the area was part of the Austro-Hungarian Hapsburg Empire, a mighty regime that appreciated the benefits of a good luxury spa vacation.
Today, the legacy of Karlovy Vary, Mariánské Lázně and Františkovy Lázně lingers on, making the Spa Triangle one of the best places to visit in the Czech Republic.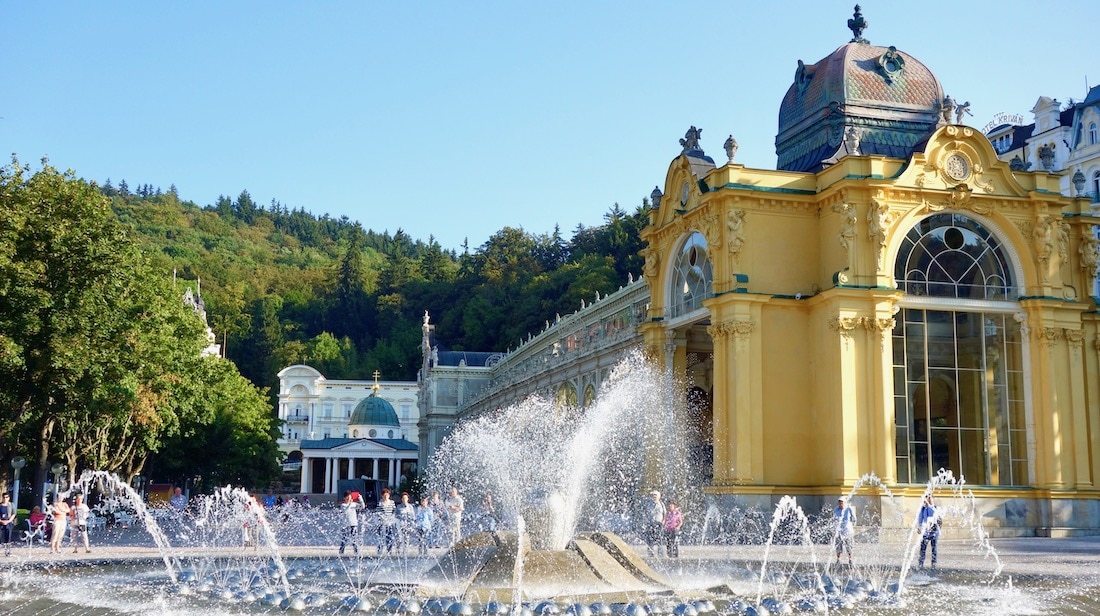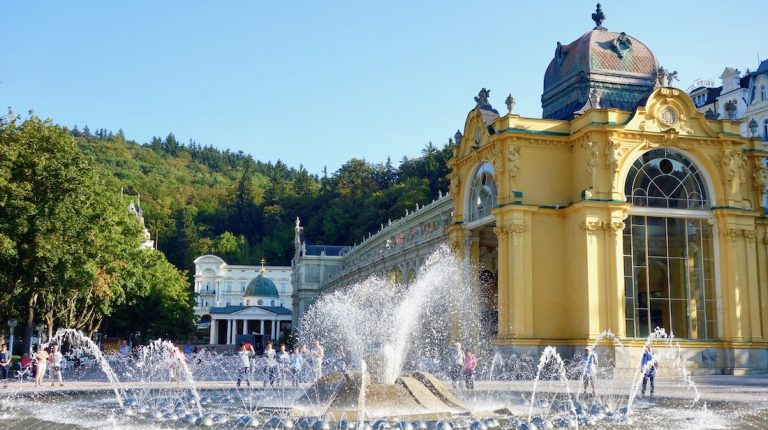 Celebrity Guests at Czech Spas
King Edward VII in Marienbad
The British King Edward VII had a soft spot for Mariánské Lázně and visited several times. Actually, that soft spot was his bottom – and you can put yours in the same old-fashioned tub in the ornate bathing chamber he once used at the 5-star Nové Lázně Health Spa Resort hotel.
Empress Elisabeth of Austria in Carlsbad
Another royal guest to the Bohemian Spa Triangle was the glamorous Empress Elisabeth of Austria, 'Sissi', who visited Carlsbad in 1892. The Princess Di of her day, Sissi was a voracious hiker, striding out in the town's surrounding hills for more than 20 km a day and wearing out the staff members who had to accompany her.
Read more about Karlovy Vary walks.
Mark Twain in Marienbad
Mark Twain, a visitor to Marienbad, was less enthusiastic about doing a spa cure and described a person's experience at length.
At 6 he must be at his particular spring, with his tumbler hanging at his belt–and he will have plenty of company there. At the first note of the orchestra he must lift his tumbler and begin to sip his dreadful water with the rest. He must sip slowly and be a long time at it.

Then he must tramp about the hills for an hour or so, and get all the exercise and fresh air possible … At 9:30 sharp he must be in bed and his candle out. Repeat the whole thing the next day.

I don't see any advantage in this over having the gout — Mark Twain
Casanova, Goethe, Beethoven …
Other celebrity visitors to the various Czech spa towns include Goethe. He fell passionately in love with a younger (and uninterested) woman in Marienbad.
Beethoven, Gogol, Paganini, Mozart all stopped by and Casanova spent the last days of his life at the Chateau Duchov outside the Czech spa town of Teplice. The list of illustrious guests goes on.
Celebrities Today in Karlovy Vary
These days most of the celebrities to the Czech Republic can be found at the Karlovy Vary International Film Festival. This vibrant festival is held every July, and attracts stars such as Daniel Craig, Gérard Depardieu and Jackie Chan.
You can also do some celebrity spotting on films sets around Karlovy Vary and other Bohemian hot spots.
The Grand Hotel Pupp in Karlovy Vary has been featured in movies like La Vie En Rose, Last Holiday starring Queen Latifah and the Bond movie Casino Royale.
When I was visiting Loket, a town near Karlovy Vary, I walked onto the film set for Einstein, the TV series directed by Ron Howard. (And quickly got ushered off. Whoops!)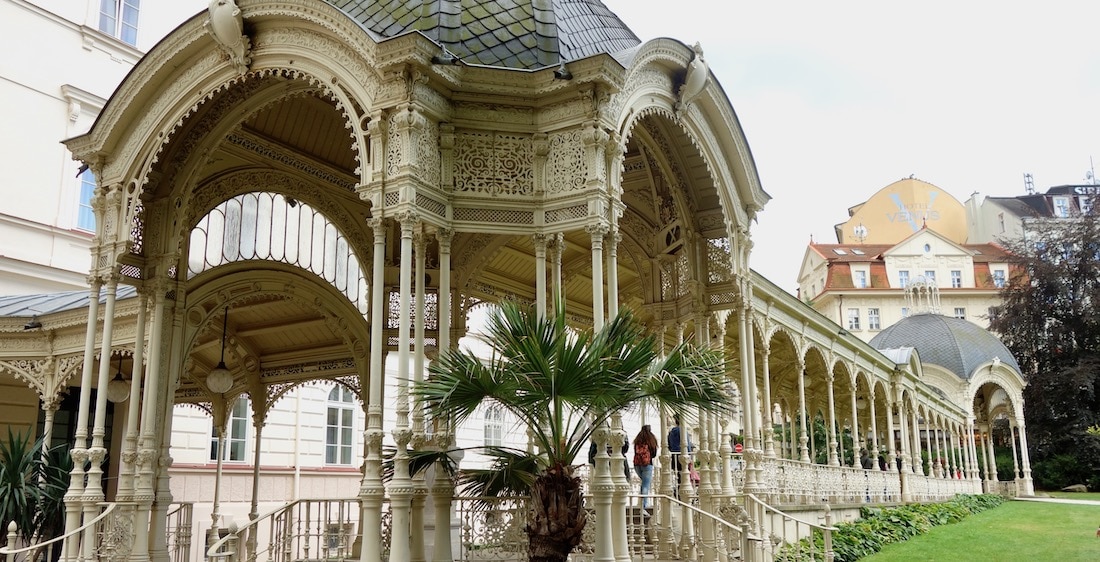 Visiting Czech Spa Towns
Today, spa towns in Czechia (the new English word for the Czech Republic) are appealing more and more to day trippers from Prague and tourists who want to explore, sightsee and hike.
What can you do there? Hike, eat, visit each town's local attractions, and stroll the promenade alongside locals who swear by the spa cure.
You'll also rub shoulders with longterm spa guests from Germany, Russia, Kuwait, Italy, Britain and just about everywhere else. Czech spas are very international.
As holistic wellness becomes more mainstream, health spas in the Czech Republic are gaining popularity with Americans too. What have we North Americans been waiting for? (And when I say 'we' I mean you. I've been addicted to Czech spas since 2007.)
Hot Springs Baths and Thermal Pools in the Czech Republic
If your idea of visiting hot springs spas in the Czech Republic means soaking in a steamy outdoor pool filled with thermal water, you may need to rethink your vision.
Traditionally, communal hot springs pools are not a thing in the Czech Republic like they are some other European spa towns such as Hungary and Germany. While you might find some elaborate hotel swimming pools filled with regular water, mineral baths are usually taken in individual treatment rooms.
Spa traditions evolve, however, and thermal pools of the kind North American travelers are used to are springing up.
One Karlovy Vary spa with an indoor hot springs pool is the Castle Spa, and the new Thermalium in Teplice offers the largest and hottest thermal pools in the Czech Republic. (Admittedly, this isn't a huge record breaker as there were hardly any hot springs pools to start with. Still, way to go Czech Republic spas!)
So now let's take a closer look at the best spa towns to visit.
The Big Three Czech Spa Towns Not to Miss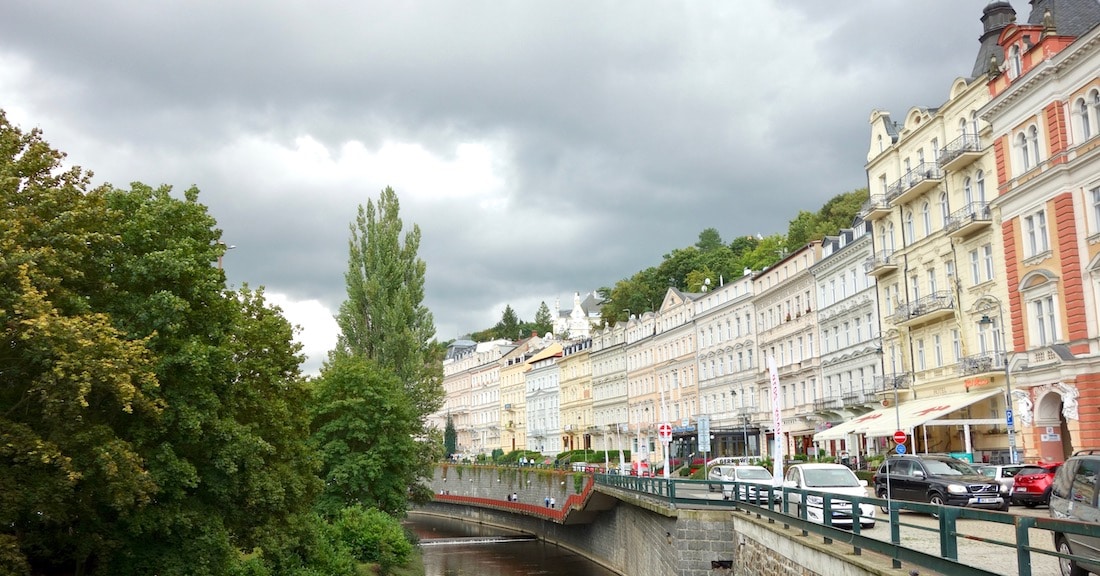 Karlovy Vary, the Most Famous Czech Republic Spa
Karlovy Vary (Carlsbad) is the second most popular place to visit in the Czech Republic after Prague. That's a pretty good record for a spa town.
It was founded in 1370 by the hunting-mad Emperor of the Holy Roman Empire, Charles IV. He was chasing a stag when it leapt into a hot spring. The Emperor's dog went in after it, cured its injured leg, and the miraculous power of Karlovy Vary's hot springs were revealed.
Or so the story goes.
Of all the spa towns in the Czech Republic, Karlovy Vary is the most breathtaking. To my mind the only European spa town that can rival it for curb appeal is Baden-Baden in Germany.
Set in a sloped river valley, its main promenade is a sweep of pastel-tinted buildings with the gentle River Teplá ribboning through it like embroidery on a hem.
Karlovy Vary Hot Springs
All along the main drag you'll find lacy gazebos, graceful pavilions and colonnades that house the various springs.
There are 12 main thermal springs in the town, and you can wander around with your fancy porcelain spa cup (which you can buy from any souvenir vendor or kiosk) and taste them all.
I'm slavishly devoted to spa water so I think the thermal water is delicious. But to many people it's gross.
So don't worry. If you don't have a taste for salty steaming water filled with faintly odiferous minerals, salts and CO2, and you're not trying to stave off metabolic disorders, arthritis, digestive problems or other issues, you'll be forgiven for thinking it's disgusting.
To each his own taste.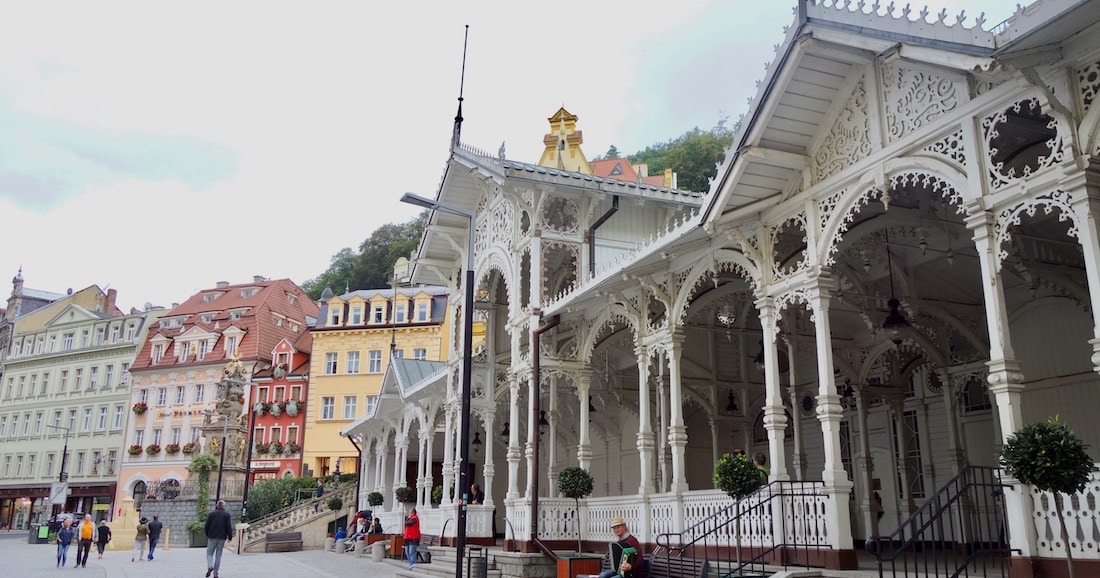 How to Spa in Karlovy Vary
The traditional spa cure in Karlovy Vary includes a carefully prescribed package of treatments, and you need to see a spa doctor to sign up. Most hotels have their own spa doctor, and it's a pretty easy visit.
If you're just interested in a single spa treatment ask at your hotel. Many hotels have their own spa, or will direct you to the right place.
Karlovy Vary Day Spa
One Karlovy Vary day spa that caters to travellers and has an indoor thermal pool is the Castle Spa at Zámecký vrch, 360.
What to Do in Karlovy Vary
There are a lot of other things to do in Karlovy Vary. To quickly sum up you can:
Visit the fountains and wander the promenade
Tour the Moser Glass Factory
Hike in the woods
Take a funicular up to Diana's Observation Tower
Shop in the flashy boutiques
Sip some healing liqueur Becherovka – known as the 13th spring – at the Jan Becher Museum
Snack on oplatky, freshly-made spa wafers, hot off the grill.
Read my full article on Things to do in Karlovy Vary
Where to Stay – Karlovy Vary Spa Hotels
Grand Hotel Pupp
For sophistication the luxurious Grand Hotel Pupp is the best hotel in Karlovy Vary.
It's very central, and also well positioned for hiking. I spent a week here once and it was the highlight of my Czech Republic itinerary. Check hotel prices and availability for the Grand Hotel Pupp here.
Imperial Hotel
The Imperial Hotel is also quite grand, and overlooks the town. The views are terrific but it does require some uphill walking unless you take a cab or have a car. Check prices here.
On a historical note, I just learned that Empress Sisi stayed at the Vila Tereza, which now is part of the Bristol hotel group. It's located in the Westend Park. Check prices for the 4-star Bristol Vila Tereza here.
Thermal Hotel Karlovy Vary
I've also had an enjoyable stay at the 4-star Thermal Hotel Karlovy Vary. It's a bit of a shock when you see its stern architecture, which is so unlike the Belle Epoque norm in town, but this contemporary hotel is historic in its own special way.
It offers a full range of spa treatments, has the best views in town and a prime location in the spa park.
Bonus: it's ground zero for the Karlovy Vary Film Festival. Check hotel prices here.
Getting to Karlovy Vary from Prague
Can you do Prague to Karlovy Vary as a day trip? Yes. But don't take the train.
The bus is much quicker. It takes a bit more than 2 hours from Florenc Bus Station in Prague. To get to Karlovy Vary from Prague by car, take highway E48.
Another option to get from Prague to Karlovy Vary is by taxi or private car. I've done it from Karlovy Vary when I've had to get to the Prague airport early. It's about a 2-hour drive. Your hotel will be able to book something for you.
Day Tours to Karlovy Vary from Prague
There are plenty of day tours from Prague to Karlovy Vary. A Karlovy Full Day Tour from Prague is a 9.5 hour tour that takes you around the springs, talks about the history of the spa town, and includes hotel pick up and drop off. Free time is built in in case you want to visit a day spa.
Check prices and availability for a day trip from Prague to Karlovy Vary here.
If you prefer a private tour for up to three people you can do a From Prague: Private Karlovy Vary & Crystal Factory Tour that includes lunch and a visit to the Moser Glass Factory.
Check prices and availability for a private Karlovy Vary Day Tour here.
Day Trips Around Karlovy Vary
Day trips from Karlovy Vary to the spa towns of Marianske Lazne and Frantiskovy Lazne are a great option.
Another great choice is to visit Tepla Monastery, an ancient monastery that will take you back in time.
The lovely town of Loket is also a popular excursion.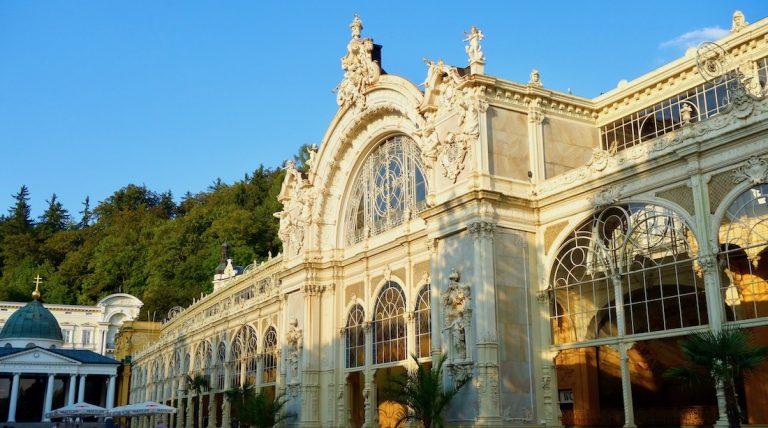 Mariánské Lázně – Marienbad
Much as I appreciate the visual impact of Karlovy Vary, Mariánské Lázně – Marienbad – gets my vote for the best spa in the Czech Republic.
Younger than Karlovy Vary by a few hundred years, it's not as frenetic, though still very grand, and has come a long way from its days as a swamp.
Mariánské Lázně is the second largest Czech Republic spa town. Its buildings are a vision of Schönbrunn yellow, a shade much favoured by the Hapsburg Empire.
In addition to its sunny golden glow, Mariánské Lázně has a stunning colonnade and a labyrinth of pleasant forest walks.
The Nové Lázně hotel also has one of the most beautiful indoor swimming pools in Europe, a red-pillared beauty from 1896.
I've stayed in Marienbad for up two weeks at a time and never got bored. Although other people might. I can't say it's a rocking rollicking destination for nightlife. But isn't tranquility what you want out of a Czech spa town?
Mariánské Lázně Mineral Springs
Unlike Karlovy Vary, the springs at Mariánské Lázně are not naturally hot. They're still full of minerals though, and there are more than 50 of them.
Healing Tradition in Marieanske Lazne
The water here is used to treat kidney problems, digestive system issues, skin problems, breathing disorders and a host of other nasty things. They're also considered preventative. And who wants problems in the first place?
Mariánské Lázně Spa Treatments
Spa packages are available at almost all of the hotels or you can sample a treatment at one of the spa hotels. Read my how to spa in Marianske Lazne for details.
What to Do in Mariánské Lázně?
Aside from its wellness and health traditions, Marianske Lazne is a wonderful outdoor destination with its surrounding forest and tranquil walks. Things to do in Marienbad include:
Taste the mineral springs at the Cross Spring Pavilion beside the colonnade
Ooh and ah over the Singing Fountain
Visit the Chopin Museum
Take an excursion to the Soos National Nature Reserve (you'll need a car or a taxi)
See the mini historical monuments such as Karlštejn Castle at Boheminium Park.
In the winter you can ski at Skiareal Marianky.
Check out my guide to Things to do in Marianske Lazne for more.
Best Mariánské Lázně Hotels
Health Spa Resort Nove Lazne
The top hotel in Mariánské Lázně is the 5-star Health Spa Resort Nové Lázně built in 1828. I spent a week here and if you're an old-world spa fanatic like I am, it's a way to recreate the magic of the days of yore.
Check prices and availability for the Nove Lazne Hotel here.
Health Spa Resort Hvezda
I also did a two-week spa package at the Neoclassical hotel, the Health Spa Resort Hvězda, which spoiled me for life because now I feel like I need to do a two-week spa cure every year.
Check prices for the Hvezda Hotel here.
Getting to Mariánské Lázně from Prague
Can you do Mariánské Lázně on a day trip from Prague? Yes. The train takes about 2.5 hours from Prague.
Tours to Marienbad from Prague
One tour that includes a visit to both Marianske Lazne is the 10-hour Karlovy Vary & Marianske Lazne Tour from Prague with Lunch. Check availability here.
Getting from Karlovy Vary to Mariánské Lázně
It's easy. Karlovy Vary is about 35 km from Mariánské Lázně. You can take the train, which takes about an hour and a half.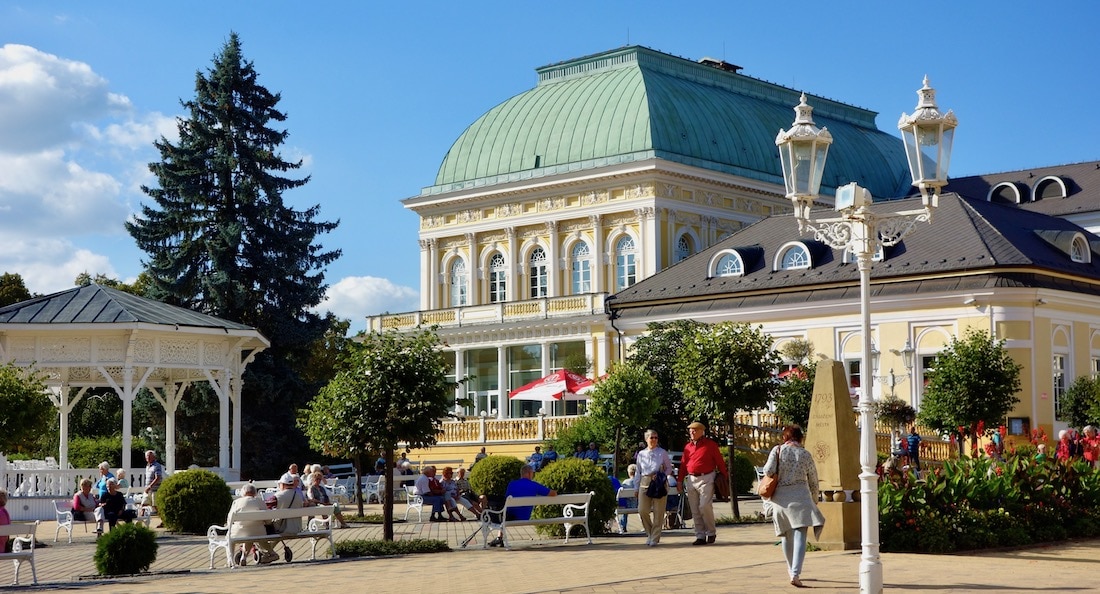 Františkovy Lázně – Franzensbad
The spa town of Františkovy Lázně is like a mini Mariánské Lázně. Established in 1793, it's named for the Hapsburg Emperor Franz I.
If you really want a serene spa getaway in the Czech Republic, Franzensbad is your man, I mean, spa. Graceful Neoclassical buildings are set amidst manicured parks, flowers and fountains, and when Goethe came here for a spa vacation he called it 'heaven on earth.'
It's also mud on earth. Its peat packs are the pride of Bohemia, and it was the first 'peat' spa in Europe.
Františkovy Lázně Spa
Like Marienbad, Franzensbad has mineral springs which are not naturally hot. There are about 20 springs altogether and they're said to be good for heart and blood circulation disorders, musculoskeletal problems.
Here's something that may surprise you. Franzensbad is also famous for treating gynaecological disorders, including infertility.
In fact it's such a well-known Czech spa for treating infertility that one of its main attractions is the bronze statue of a boy named František in the main park. It's said that rubbing either the statue's private bits or the nose (I'm not sure which, because I don't dare go near it) will give you a leg up (pardon the pun) on bearing children.
Where to Stay – Best Františkovy Lázně Hotels
Imperial Spa & Kur Hotel
I did a weekend stay at the Imperial Spa & Kur Hotel, with a full spa package, and the hotel is still getting good reviews.
Hotel Pawlik-Aquaforum
Another Františkovy Lázně hotel I'd consider is the Hotel Pawlik-Aquaforum because it has direct access to the Aquaforum, a large water park with indoor and outdoor pools. Check prices and availability here.
Getting to Frantiskovy Lazne from Prague
Can you do Prague Františkovy Lázně as a day trip. Not easily by public transportation. It's about 30 minutes past Marianske Lazne by train, and the schedules don't really jive.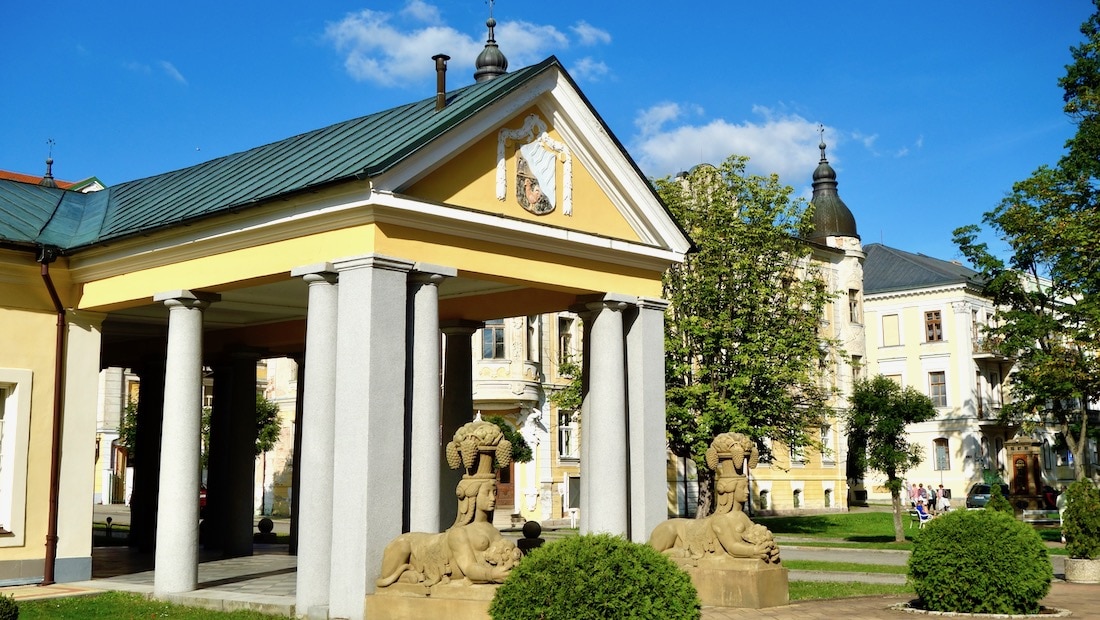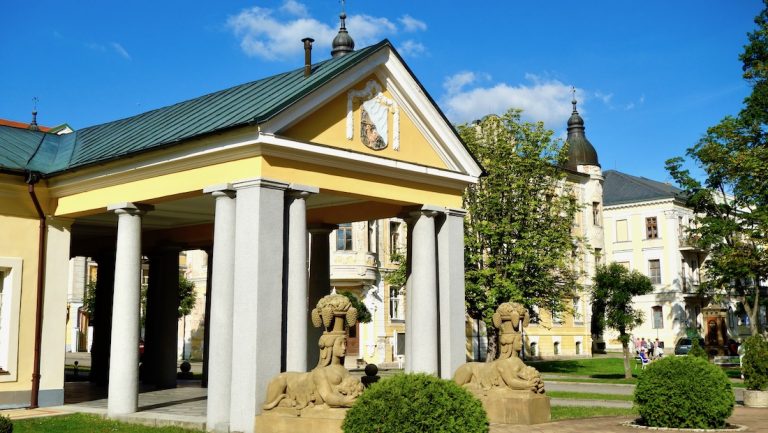 Other Spas in the Czech Republic
Jachymov – A Radon Spa in Bohemia
Not far from Karlovy Vary is the small spa resort town of Lázně Jachymov. The big event here is taking a radioactive bath. Yup, you read that right.
Located at the foot of the Krušné Mountains, Jachymov was the first radon spa in the world. The idea that radon baths are good for the locomotor system is based on the theory that small amounts of radioactive water have a beneficial effect on the body.
It's hard for me to get my head around, but both Johann Strauss and Baron Rothschild gave it a whirl, and the luxury Neoclassical Hotel Radium Palace, has been hosting dedicated spa fans since 1912.
I gave the radon bath treatment a try on a day trip to Jachymov but the recommended course of treatment is longer.
Where to Stay in Jachymov – Hotel Radium Palace
By far the swankiest spa hotel in Jachymov is the 4 star Hotel Radium Palace. You can check prices and availability for the Radium Palace here.
Teplice
Ninety km from Prague, in the foothills of the Ore Mountains, is the Czech spa town of Teplice. It's the oldest spa in the Czech Republic and dates back to the Bronze Age.
Once known as Little Paris, this spa in north Bohemia was quite a draw in the 18th and 19th centuries, when eminent greats such as Tsar Peter I, the Swedish King Gustav IV, Emperor Francis Joseph I and Beethoven all paid it a visit.
The hot springs of Teplice clock in at an impressive 41 celsius, and the spring water you soak in has been winding its way through the earth for 18,000 years.
Where to Stay in Teplice
I haven't done an overnight here, just a quick visit, but the 4-star Císařské lázně, the Emperor's Spa, dates back to 1845 and offers full service packages.
So does the 3-star Lázeňský dům Beethoven, Beethoven's Spa House, which is named for its most famous musical guest.
Best of all, the Thermalium in Teplice now offers the largest thermal pools in the Czech Republic.
Chodovar Beer Spa in Chodova Plana
While true spa aficionados might not be beating down the door to get to a beer spa, it's a cult fav, especially with tourists. The thing is, a beer spa is fun, though I have serious doubts about its wellness benefits.
The Chodovar Beer Spa was the first brewery to launch the beer spa craze. You can sample a dark beer bath, a hops bath, or just visit the brewery and get your beer intake that way.
Located in the small town of Chodová Planá, at the foot of the Bohemian Forest, a beer bath is kind of a 'why-not' sort of spa treatment.
And don't worry about driving after soaking up a lot of beer, there's a hotel here too. The Family Brewery Chodovar is located at Pivovarská 107, 348 13 Chodová Planá, Czechia.
Check prices and availability for the U Sládka wellness hotel here.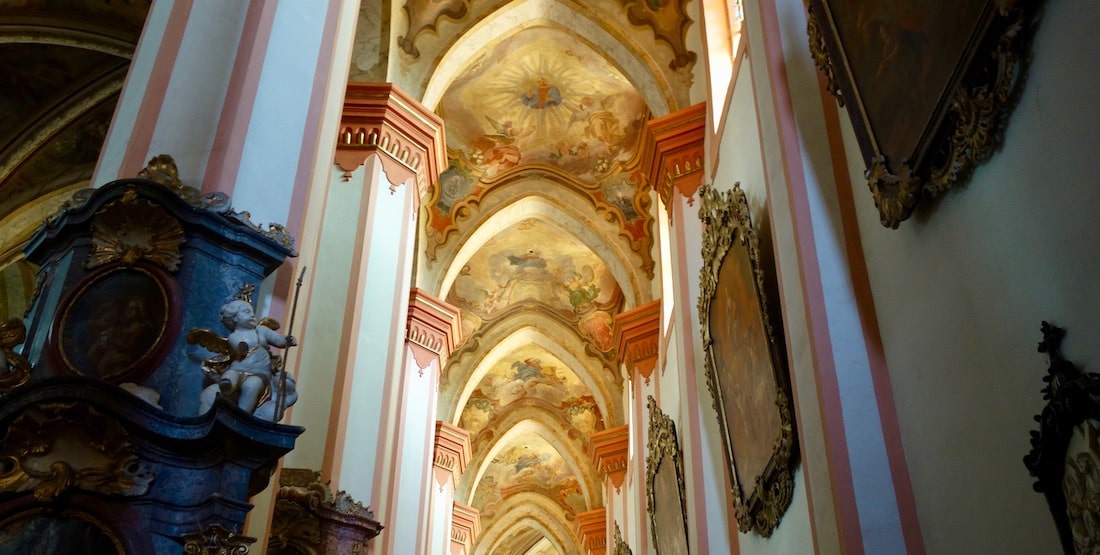 Trebon
Next on my list of Czech spas to visit is Trebon, a medieval 'fairytale' town in South Bohemia that gained a boost of fame after Rick Steves, travel writer extraordinaire, filmed a video here.
The fish-raising capital of the Czech Republic, Trebon is known for its historic buildings and artificial lakes created from the swampy muck that once surrounded it.
It's now part of a UNESCO protected biosphere reserve. While we're on the topic of muck, apparently Trebon's peat baths are high on the list of Czech spa treatments to aspire to.
Luhačovice
Not all spa towns in the Czech Republic are in Bohemia. Luhačovice has been on my horizon for ages. A spa town in Moravia, which is in the eastern part of the Czech Republic, the town is known for its unique architecture style of folk art nouveau.
Attractions of note are the Luhačovice Spa buildings, designed by the Slovak architect Dušan S. Jurkovič, and Jurkovič's House, a pinky brown beauty with picturesque peaks and dormers.
The mineral water here, while not thermal, is salty and mineral rich. It's used in wellness therapies to treat respiratory disorders, diabetes and muscular problems.
Mostly I want to go because … folk art nouveau. Who would have thought that was a thing?
Best Prague Spas
While Prague isn't gushing forth with mineral springs, it still has some top spas.
Spa at Four Seasons Prague
For 5-star luxury you can try a Karlovy Vary inspired bath at the Four Seasons Prague. This is one of the most deluxe hotels in the city and the spa is equally glam.
Relax with a massage, cleanse with a moor mud body wrap, or polish up with a mani pedi while enjoying the elegant surroundings of a top luxury hotel.
Spa at Mandarin Oriental Prague
Here's another prime wellness indulgence. Soak up the divine atmosphere of the Mandarin Oriental Prague, where the spa is housed in a former chapel. You can do a single treatment, or sign up for a 3-day retreat.
Grand Relax Spa
It's the closest thing you'll come to an authentic thermal bath in Prague. In addition to massages, facials, saunas and even plastic surgery, the Grand Relax Spa is a luxury Czech spa that offers baths in water infused with salts and minerals.
Prague Beer Spas
I couldn't wrap up this article about spas in the Czech Republic without mentioning Prague beer spas, as they've turned into a popular attraction.
As I said, to me it's more of a novelty than a medical spa treatment, but hey, who's to say it's not effective, and a hops sauna sounds appealing.
The theory behind bathing in a vat of beer is that vitamins and enzymes found in brewer's yeast help regenerate, renew and reduce fatigue. Maybe. But definitely fun.
Original Beer Spa
With two locations, the Prague Original Beer Spa lets you soak in a hand-carved oak tub while enjoying unlimited brew. Visit their website for more information.
Grand Relax Beer Spa
Another option for a beer bath in Prague is the Grand Relax Beer Spa, which is part of the Grand Relax Spa mentioned above. Make an event of your bathing experience with unlimited beer, sausages, a beer BIO sauna or a massage.
Don't Be Scared of Medical spas in Europe. They're Not What You Think
What's a European Spa Cure?
It's a spa package that is several days long, and generally includes treatments that are traditional and organic in nature such as thermal water baths, mud or peat wraps, and massages.
When you take a 'spa cure' in a Czech spa town you start out with a visit to the spa doctor in either your hotel or at a central spa.
Seeing a Spa Doctor
Seeing a spa doctor is common in other European countries too, including France, Italy and Hungary. While the thought of seeing a doctor on my holiday used to fill me with fear, now I look forward to working with the doctor to plan a custom-made medical spa holiday.
What are Medical Spa Treatments in Europe?
In North America we might refer to medical spa treatments as 'wellness' treatments. They're more focused on healing than pampering.
In general, Czech medical-based spa treatments (medical wellness) revolve around organic therapies based on natural resources. Think spring water, mud, and natural CO2. They include things like mud packs, massage and mineral-water baths.
So when we're talking medical spa therapies, we're not talking plastic surgery – though in some expensive high brow spas that might be an option.
This traditional type of medical wellness goes back hundreds of years in Europe, and the area of Bohemia in the Czech Republic is one of the best places in Europe to dive in.
Visit my Czechia page for more things to do in the Czech Republic. Or go here for more about spa travel.
List of Top Spa Towns in the Czech Republic
Karlovy Vary
Mariánské Lázně
Františkovy Lázně
Jachymov
Teplice
Trebon
Luhačovice
Prague (Not exactly a town, I know, but it's one of the top spa destinations in the Czech Republic.)
Visit my Czech Republic page for more travel ideas. Or learn more about spa travel.
Disclosure: I've visited Karlovy Vary, Marianske Lazne and other top Czech spa towns many times. Some were on my own dime and some were hosted by the Czech Tourism Office. This article is a blur of all my trips, with insights developed over many visits.