This post may contain affiliate links.
The oh-so-pretty town of Loket in the Czech Republic makes a great day trip from Karlovy Vary, or even from Prague. With a 12th-century castle, medieval town centre and dramatic natural setting, it's a movie location dream. If you want to spend one day in Loket, read on to learn about its top attractions. Who knows? You might run into a movie star.

One day in Loket, Czech Republic
Einstein may have been a genius but he's really getting in my way. I've travelled two hours from Prague to visit the town of Loket with its pastel-coloured town square and atmospheric castle perched over a crook of the River Ohre, only to find that film director, Ron Howard, has beat me to it.
He's shooting a National Geographic series about Albert Einstein called Genius in Loket and filming is in full swing.
"No admittance," says a man with a heavy Czech accent, an apologetic smile, an old-fashioned suit and a handlebar moustache when I try to cruise on into Loket's T. G. Masaryka Town Square.
"Why?" I ask.
"Filming."
Trying to visit T. G. Masaryka Square
It doesn't seem fair that my travel companions and I can't explore the town square, especially as we only have one day in Loket and there's no time to waste. I want to see the fountain where James Bond parked his Aston Martin DBS in the 2006 movie, Casino Royale, when Loket stood in for a resort town in Montenegro. I want to see the outdoor terrace where James Bond, aka Daniel Craig, had lunch.
I also want to find the Hotel Bily Kun (the White Horse Hotel, or the Hotel U Bílého koně ) where Johann Wolfgang von Goethe, the famous German poet, celebrated his 74th birthday.
Loket is too cute for its own good
The problem is that the town of Loket in the Czech Republic is so darn scenic it's no stranger to films. Just a 15-minute drive from the luscious spa town of Karlovy Vary, Loket has also been featured in the movie All Quiet on the Western Front. And now Genius. Is there ever a day when a movie isn't happening here?
Visiting Loket Castle
On the plus side, the film crew for Genius isn't filming at Loket Castle, one of the oldest castles in the Czech Republic, so I make my way up the cobblestones to the entrance, which involves a gruelling 40-second uphill stroll.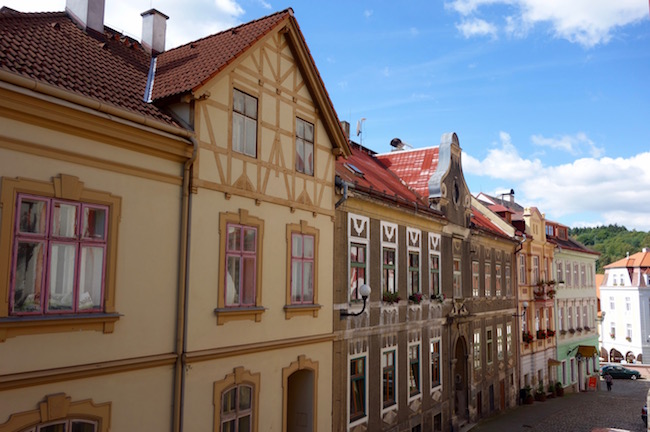 Attractions at Loket Castle
Loket Castle has no end of curiosities. One of them is a meteorite, which to me is even more exciting than Einstein. Why? Because this is the Cursed Meteorite of Loket. And just so you know, I am not making this up.
The Cursed Meteorite of Loket
Discovered in the 14th century, the Loket Meteorite is the oldest documented meteorite in the world. Originally weighing more than 100 kilos, it's said to look like a horse's head, or at least it did until chunks were cut off and sent to museums and universities around the world, a bit of meteorite desecration that annoyed Johann Wolfgang von Goethe to no end.
In fact he compared it to cutting a child in half so that you can have two.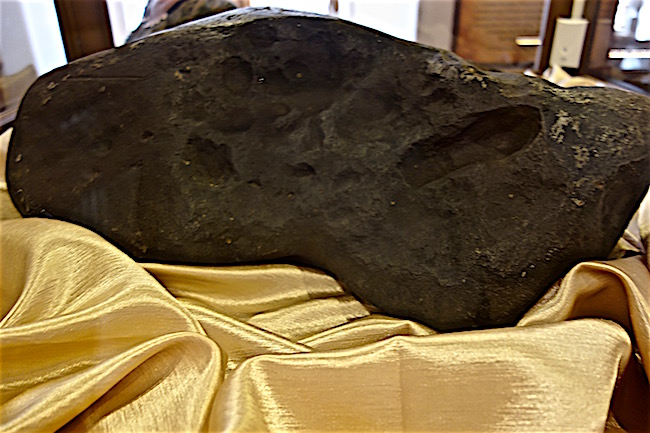 Legends of the Loket Meteorite
One of the Loket Meteorite mysteries is that some of the strongest men in town couldn't budge it, but a weaker man was able to pick it up without a problem. Or sometimes a man could move it on one day but not on another. Alchemists tried to melt it down to see what it was made of but it always stayed intact.
The Loket Meteorite, also known as the Loket Iron, the Bewitched Burgrave or the Elbogen Meteorite, has vanished on at least two occasions, but always returned to the castle grounds. The Swedes wanted to steal it during the Thirty Years War, but the locals threw it down the well to hide it. Now it's on display behind glass.
I stare at the black chunk of rock as if it's going to open up all the secrets of the universe, but it's not saying much. No doubt it would be a lot more talkative to Einstein.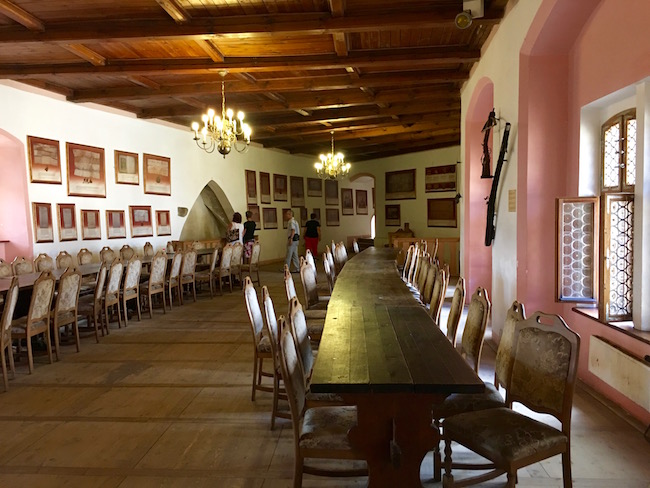 Things to do at Loket Castle
In addition to all the pleasant castle attractions like the tower, 15th-century frescoes and a Romanesque toilet (I'm not making that up either), Loket Castle has an extensive torture chamber in the dungeon.
It's a multi-media experience complete with every medieval torture device you can think of (and some you can't), moaning sound effects, figures with agonized expressions and plaques with gruesome descriptions. A person could get a lot of ideas for making a grizzly historical movie here – but let's not tell Ron Howard, because then he'll take over the castle, too.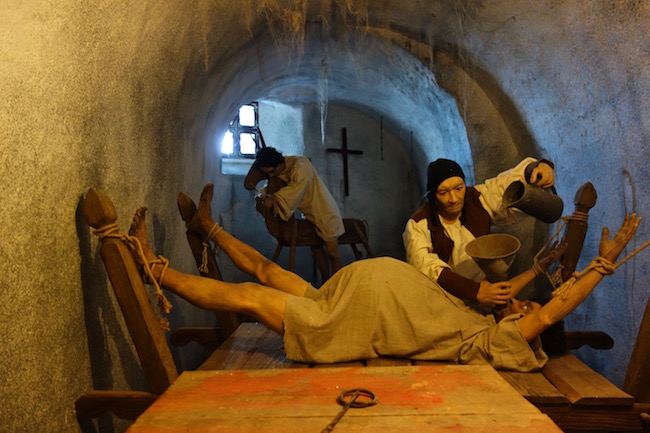 Locked up in Loket
The best film idea, which I'll only share with Ron Howard if he pays me a million dollars, is the story of Charles the IV, the future King of Bohemia and Holy Roman Emperor. His own father, King Jan of Luxembourg, locked him up in Loket Castle and kept him in the basement prison for months when poor little Charles was only three years old.
We can chalk this up to Jan's marital problems with his wife Eliška, but it still seems unfair. Loket's charms were so great, however, that Charles IV didn't hold a grudge against it and returned here often.
In fact, it's while hunting in the forest around Loket that Charles IV discovered the hot springs of Karlovy Vary, now a glamorous spa town that holds a famous international film festival every year.
Goethe in Loket
After the castle my next goal is to find the Bily Kun Hotel, (the White Horse Hotel) where Goethe had his birthday party and enjoyed one of the happiest days of his life. I know it was one of his happiest days because I read it in a brochure. The reason he enjoyed it so much is because one of the guests was 19-year old Ulrike von Levetzow, who he was madly in love with.
My problem is that to get to the Bily Kun Hotel from Loket Castle, I have to cross the town square.
"Where are you going?" says a burly security guard the instant I set a red-manicured toenail onto the square.
The Bily Kun Hotel
"Well," I say. "I want to find the Bily Kun Hotel because on the 28th of August in 1823 Goethe had his 74th birthday party on the hotel's Schwartzenberg Terrace. You see he was in love with Ulrike, who was only 19 and he wanted to marry her and …"
"Okay, go!" he says, his eyes glazing over. Boring him to tears work so well I also consider telling him about the Cursed Meteorite of Loket, because then he'll probably introduce me to Ron Howard just to get rid of me. And then, in addition to telling Ron Howard my movie idea about Charles IV, I could also suggest a film about a love story between Goethe and Ulrike. Only it would be a tragedy, because Ulrike turned Goethe down.
A James Bond moment in Loket
I'm thrilled to be in the square, rubbing shoulders with all the extras and camera crew and probably just a few fingertips away from both Ron Howard, the director of Genius, and Geoffrey Rush, who plays Albert Einstein. Knowing, however, that I'm in imminent danger of getting kicked off the square I don't linger. Instead, in a suave James Bond move I cut between two buildings to avoid detection.
Unfortunately, my suave move made me miss the Bily Kun Hotel completely. Instead of finding a beautiful terrace alive with the memories of Goethe's happiest day, I end up at the abrupt edge of town with a drop down to the valley and a view of parked cars – and none of them are even Aston Martins.
Where to eat in Loket
No matter, it's time to meet my group for a late lunch, and if you're spending one day in Loket, you'll probably want to eat at the renowned Cisar Ferdinand Restaurant and Florian Family Brewery, especially if you like:
Piglet roasted in a Slavic oven, which is sort of like an oven pit in the ground
Beer
Richard Gere
The weather is sunny, so most of the patrons are on the patio listening to the owner talk about the restaurant's special cooking technique. This involves basting a suckling pig in beer from their own brewery and cooking it on glowing coals for at least six hours.
It's all very interesting but I'm distracted by a quote by Richard Gere written in Czech in huge letters on an outer wall.
The waiter tells me it says, 'This is the best beer I've ever had."
"Richard Gere was here?" I ask.
"Yes. And we didn't even know who he was. He sat there with about eight huge bodyguards." The waiter points to a picnic table in the middle of the patio.
A Korean man is already sitting at the table but I plunk myself down anyway. "Richard Gere sat here," I explain, since the man looks a bit startled. "Right in this spot."
"Really?" he says politely.
"Yes!"
Apparently Richard Gere was in Karlovy Vary for the film festival and stopped in for a lager and to have a look around, because celebrities like to tour scenic towns, too. And who knows? Maybe for Gere, Ron Howard and all the other celebrities who have ended up in Loket, it turned out to be one of the happiest days of their lives, too.
Travel Guide for One Day in Loket, Czech Republic
Things to do in Loket – Outdoor adventure
Set in the Slavkov Forest, Loket is a popular destination for nature lovers. If you're planning a day trip to Loket some outdoor activities could include:
Canoeing or rafting on the River Ohre
Cycling on the Ohre Cycling Trail
Hiking in the Slavkov Forest
Exploring the Svatoš Rocks, a breathtaking granite formation of pillars and columns above the river. Popular with climbers, legend has it these magical rocks are a bewitched wedding procession.
If you like it, please pin!
Cultural things to do in Loket, CZ
Even if you only have one day in Loket you can see most of the historical sights. In addition to the Romanesque Loket Castle (Hrad Loket), some monuments worth seeing are:
The Baroque Church of St. Wenceslas with its striking rust and cream exterior
The early Baroque Town Hall built in 1696
The Column of the Holy Trinity between the two fountains on the main square
If you're interested in porcelain spa cups, the Cisar Ferdinand Restaurant has an extensive collection upstairs.
There is also a natural amphitheatre below town, where concerts and events are sometimes held.
Where to eat in Loket. The Cisar Ferdinand Restaurant and Florian Brewery, part of the Hotel Emperor Ferdinand (Also called the Hotel Cisar Ferdinand), is located at 136, T. G. Masaryka Square. Important: If you want to experience the Slavic Oven Grill suckling pig, you'll have to go on a Thursday from 5 p.m. Or special order it.
Where to stay in Loket: Do as Goethe did and stay at the Bily Kun Hotel or try the Hotel Emperor Ferdinand, handy if you drink too much of the brewery's own lager.
Getting to Loket from Karlovy Vary: You can hike the 9.5 km trail (about 2.5 hours) or take a half an hour bus ride from the Karlovy Vary Lower Bus Station. If you're driving, take the R6 motorway towards Cheb. Exit on the Loučky exit onto the 209 district road.
Getting to Loket from Prague: Driving to Loket from Prague takes about 2 hours. A bus from Prague takes about 3 hours and the train 4.5 hours, so you might want to consider making it an overnight trip, or combining a day trip to Loket with a stay in Karlovy Vary.
Resources: The Czech Tourism Board has a helpful website with travel stories, travel guides and plenty of tips.
For more info on Europe read Top Destinations in Europe or visit my Europe Travel category page.
Disclosure: My trip was subsidized by the Czech Tourism Board. All opinions, meteorite love and celebrity gossip are my own.