This post may contain affiliate links.
Asking me what my top European destinations are is like asking me to name my favourite children. And I don't even have children. As a travel blogger, though, it's one of the questions I get asked most often, so, in the spirit of loving all children, even the badly behaved toddlers that paint on your ecru walls with your new Trafalgar Rouge Dior lipstick, let me name a few, from standard must-sees to smaller why-not-sees.
Disclaimer (aka before you send me hate mail): My picks won't be for everyone – they might not even be mine tomorrow. They're not the cheapest, the most undiscovered or the trendiest – they are simply some of the best. So feel free to disagree and chime in with your own top European spots.
Top European Destinations – Lavish London
If you like fashion, eccentricity, the Tudors, the Sex Pistols and little future king Baby George, London should be high on your list. There is plenty of pomp and ceremony – Changing the Guard at Buckingham Palace; world class art for free – the National Gallery on Trafalgar Square, window shopping at Selfridges and Harrods – and no end of celebrities who will 1) never age and/or 2) ever behave better than a toddler armed with a Trafalgar Rouge Dior lipstick. Think Mick Jagger, Kate Moss and lovely-to-look-at Prince Harry.
Top European Destinations – or at least the cleanest. Bath
You'll blink, gape and be forgiven for drooling when you first glimpse Bath, a stunning town in Somerset. As the only hot springs destination in England, Bath has a long spa tradition, and the contrast of golden Bath stone, emerald green water and ornate Victorian statues adorning the historic spa is one of the top mind-blasting sights you ever will see in Europe.
It's not all about swimming through the past, however. Now you can forge your own spa memories in the rooftop pool at the Thermae Bath Spa at sunset. You might wish the water was hotter (EC rules apparently), but you can't complain about the view.
Top European Destinations – Passionate Paris
I drink more champagne in Paris than in any other city, which is maybe why I view it through a rosy effervescent haze. (Though years ago, I tried to move there, got very sick, it rained all the time and my cheap hotel room was next to a bunch of drunken Australian backpackers, so trust me, I've seen the other side.)
But no matter if you're in a 2-star or a 5-star, dressing up and strolling into a fabulous hotel such as the Plaza Athénée for a drink is one of life's greatest pleasures, and one of the most affordable luxury experiences of all time. Throw in the Louvre, the Lady and the Unicorn Tapestries at the Musée de Cluny, walkable neighbourhoods such as Le Marais, and there is no reason to ever leave – unless it's to go to the South of France.
Top European Destinations – Sultry South of France
A front row seat at an outdoor cafe and a view of the sparkling Mediterranean … can't you smell the fresh salt-tinged air now? (Pause to inhale deeply.) The South of France is my go-to spot in Europe, the place I feel most at home – not that my real home comes with yachts in the harbour, Michelin-starred restaurants and star-studded casinos. But to me the South of France is Pretend Land, where you magically become the international jet setter of your daydreams and that makes it one of the very top European destinations to see.
That said, the South of France is also about smaller pleasures, a place where perfume is created (Grasse), where sleepy beach towns crawl up rocky hills (Menton), cycling trails amble along the waterfront (Nice) and Impressionist art is everywhere.
Top European Destinations – That Tug of War between Barcelona and Madrid
While Barcelona usually gets the tourist vote with its Mediterranean location, colourful Las Ramblas promenade (just watch your handbag) and exuberant Gaudí architecture, I'm going out on a limb here and picking Madrid as my Spanish metropolis of choice. Madrid's stately buildings and elegance contrast brilliantly with its insanely boisterous nightlife, leaving me to wonder, yet again, Just when do Spaniards sleep?
What really tips it for me, though, is the Prado Museum. If you're a fan of Velazquez (oh, I am! I am!) and Goya (him, too), this museum will slap your soul silly (in a good way).
Top European Destinations – Yes, I do so like Milan
Crazy right? Can I really prefer Milan over Florence or Rome? It's the look of the place that does it for me. The famous Duomo, that monster-sized cathedral that looks as it was made out of pink icicles, and the high fashion shopping district known as the Golden Quadrilateral (ah, the cashmere memories).
Combine that with Milan's sheer vitality (and men in Italian suits), and Italy's proud northern city ranks high on my top European destinations checklist.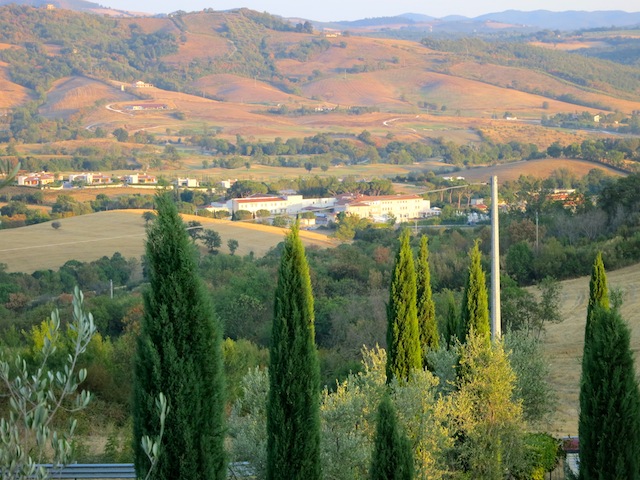 Top European Destinations – Tantalizing Tuscany
Mysterious Etruscans, cypress trees and hills capped with walled towns – need I say more? Okay, I will. Add Super-Tuscan wines such as Brunello di Montalcino and spectacular thermal spas for a European vacation that's hard to surpass. I wanted to like less-explored Umbria better but Tuscany stole my heart.
Top European Destinations – Sexy St. Moritz
Oh, the Swiss Alps. I've only been to the mountain town of St. Moritz during off season and it still won me over. In fact, maybe that's why it won me over, but I'm still determined to one day mingle with the celebrities at the most magnificent of all hotels, Badrutt's Palace. I want to be invited to the private Dracula Club at the elite St. Moritz Bobsleigh Club where Prince Albert has been known to haunt, to ski the Alps and while I'm at it, buy a swanky Bogner ski jacket.
Top European Destinations – Germany's Romantic Road
Taking the 'hop on hop off' Romantic Road Coach from Munich to Frankfurt along the Romantic Strasse, one of Germany's most popular tourist routes, is just plain fun. If you want an edgy 'real' experience go to Berlin, but who's to say that adorable medieval Rothenburg ob der Tauber isn't real?
The reality just happens to include thousands of day tourists – an excellent reason to stay overnight. Another reason to stay overnight is so you can do the Night Watchman Tour and drink in a 10th-century tavern called To Hell.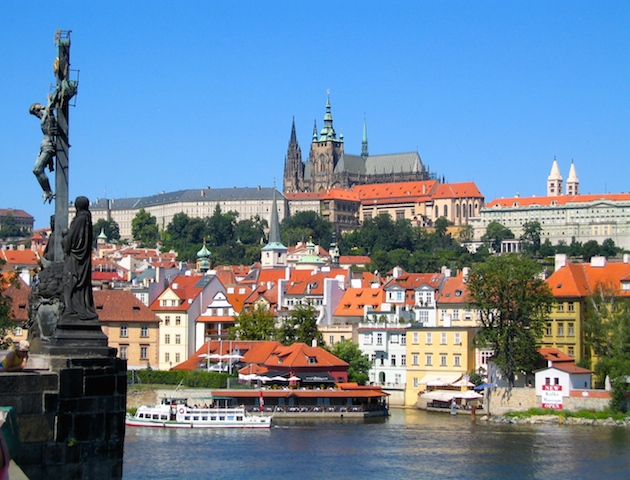 Top European Destinations – Panoramic Prague
Falling in love with my 16th-century attic apartment in Prague made me fall, hmmmm, if not in love, then in intense like with this eye-catching city. I'd throw open my shutters in the morning, look out over the Charles Bridge with its ornate baroque sculptures and feel as if I were living in a museum. Plus, it's hard to go wrong with a city that has a spired castle rising into the sky like a witches hat.
Top European Destinations – Another Tug of War: Karlovy Vary or Marianske Lazne?
Where? Also known as Carlsbad and Marienbad, these two Czech spa towns rank high in the world of spa traditionalists. The Bohemian spa town of Karlovy Vary gets top marks for beauty. It's very tourist friendly with its fountains spewing thermal water all along the promenade, the Belle Epoque Grandhotel Pupp, a well-developed spa industry and a dash of Czech glamour.
For a true peaceful spa town to relax in, however, I'd pick sleepy Marianske Lazne every time (except for that time I picked Karlovy Vary instead. And that other time I picked Frantiskovy Lazne). But Marianske Lazne still wins my top European spa award. Where else can you find a gargling room in the middle of a wooded park and take a thermal bath in the exquisite Royal Cabin that once hosted the aristocratic cheeks of Britain's Edward VII?
Vanishing Venice
See it now, before it sinks into the sea. (Don't worry, you have a few centuries to get there – although you'll find many buildings have already abandoned their ground floor.) Venice has always been one of the top destinations in Europe, but ever since George Clooney married Amal at the Aman Canal Grande (though my heart belongs to the fabulous Gritti Hotel, where I spent part of my honeymoon), the city has been propelled into the tourist stratosphere. And why shouldn't it? Glamorous, crumbling and – if I may say so, just a tad bit haughty – it's a watery wonder of palaces (palazzi), gondolas and bridges.
Only in Venice: that rascally rake and legendary lover, Casanova, was the only person to ever escape from infamous Piombi Prison, connected to the grand and mighty Doge's Palace.
Too many top spots to count
Of course I've got plenty of other children European destinations I love so much I want to hug them until they shriek: Budapest in Hungary, Shrewsbury in England, strange peaky Gibraltar, Split in Croatia and Slovenia's scenic Bled … I could go on, but if I listed them all, we'd fall asleep … I just hope you haven't already. Do you have a few favourite European destinations of your own? Be sure to let us (meaning me) know and we can arm wrestle over their worthiness.
Love a bit of luxury in your travels? (Me,too.) Read more at About Luxury Travel.
Go to my Europe Page for more articles about irresistible Europe Travel
Top European destinations hotel finder: