Let the tourist onslaught begin! It's time to spend one day in Florence, Italy where you'll cross paths with every other tourist in the world – except for the hordes already in Venice. No matter. A few thousand eager travellers clutching their Rick Steves Florence and Tuscany guidebook shouldn't get in your way.
One day in Florence
Don't worry. The crowds won't get in your way because Florence, a city rich in Renaissance art, history and Medici intrigue, is a place to be shared, and all those domes, church bells and cobblestones are a far more powerful presence than the streams of day-tripping tourists. (Unless you're tired, hungry and/or cranky – then the tourists will get in your way and you'll hate them. If this happens take a gelato break immediately. I recommend the Gelateria dei Neri at Via dei Neri 20-22.)
Let the sightseeing in Florence begin
If you have only one day in Florence you'll be doing a fair bit of museum hopping – but not so much that you won't have time to simply stroll around. After all, it's not called a 'living museum' for nothing and you'll see plenty by just meandering through the backstreets.
One day in Florence? Start at the Uffizi Gallery
Museums are always better when you're fresh so it's good to start early.
Now there are two ways to see the Uffizi without subjecting yourself to that excruciating travellers' pain known as line-up-agony, and if you have only one day in Florence you can't be wasting your time (unless it's in a leather store). One way to avoid the lines at the Uffizi is to buy your ticket beforehand. I used Ticket Italy.
The other way of seeing the Uffizi Gallery
The second more expensive method is to get to the Uffizi early, see the lineup of tourists who got up even before you did (even though you did your hair as fast as you could and wouldn't let your husband have that second double espresso), reel back in shocked disbelief then suck it up and pay extra for a Uffizi Tour that the touts are offering – especially if you're only in Florence for one day.
The tour is irrelevant. All you want to do is skip the line. But surprise! When Mark and I took this route we ended up having an excellent tour, and you might too. It wasn't too dragged out and was actually quite funny and enlightening, which meant we still had energy to find the Caravaggios.
About the Uffizi
The Uffizi Gallery is a work of art in itself. It was built as an office headquarters for the Medici family in the 16th century and designed by Giorgio Vasari who, if you're into gossipy art criticism, also wrote an excellent book called, Lives of the Artists.
What to see at the Uffizi
Even if you're only in Florence for one day do. Not. Miss. The Birth of Venus, painted in 1486, and the lovely Primavera (c1482) by Sandro Botticelli. Today they're two of the most famous paintings in the Uffizi, and during his lifetime Botticelli was a hugely successful artist. But. He went into decline and was out of favour for a very long time, pretty much until the Pre-Raphelites of the 19th century rediscovered and redeemed the unabashed beauty of his paintings.
Strange Florence fact: Botticelli fell under the spell of the famous, or infamous, preacher Savonarola, who has been described as an ugly fleshy man with a big nose who was prone to violence, rousing mobs into a frenzy, burning works of art, prophesying and cleansing Florence of corruption.
Who was Savonarola?
Savonarola called himself Christ's 'useless servant,' and was instrumental in removing the Medicis from power. Then he was excommunicated, tortured and denounced as a heretic. And the Medicis were back in power. So – when you're walking around Florence, just try to imagine books and art being burned on the street and Savonarola preaching brimstone and fire and doom. Scary times.
Good read if you're into gruesome history and gripping tales: The Birth of Venus: A Novel by Sarah Dunant.
The Piazza della Signoria
Right next to the Uffizi Gallery is the Piazza della Signoria. It's just in front of the Palazzo Vecchio, Florence's Romanesque town hall. Here you'll feel as if you've found the centre of Florence (and so does everyone else, so get ready to start feeling cranky). And here in the Piazza della Signoria is a treat – you get the exciting chance to see the faux David not quite by Michelangelo!
More Florentine art at the Accademia
After you've wandered around and enjoyed the gorgeous sculptures in the Piazza della Signoria make your way north to the Galleria dell Accademia at Via Faenza, 7, to see the real sculpture of David, which Michelangelo chiseled out of marble in 1501.
And while you're looking just ignore the fact that David's head and hands are really huge (no, come on, they are – and I don't care if you tell me that it's because of the way it was meant to be viewed and perspective etc, etc and blah blah). Just agree that it's a masterpiece. Because it is.
Strange Florence fact: In 1991 the statue of David was attacked by a man with a hammer. Before the man was stopped he managed to damage a toe on the statue's left foot, thus giving the term hammer toe a whole new meaning.
Where to eat in Florence
When you're trying to see Florence in one day, you're going to need to eat to keep your strength up. For something with local atmosphere you might like Trattoria da Mario on Via Rosina 2r. Here you can sample traditional Tuscan dishes such as pasta with artichokes and roast veal (but I'll pass on the boiled beef and tongue, thanks.) Open for lunch only. Closed Sundays. No reservations.
The blockbuster sights of Florence
With only one day in Florence, you're going to be busy but in addition to the Uffizi there are two major sights in Florence that you cannot miss. Well, you can, but don't blame me when you get back home and everyone asks you what you thought of the Duomo and if you put a love lock on the Ponte Vecchio.
(PS: don't put a lock on the Ponte Vecchio – it's a nightmare for city authorities.)
The Duomo by any other name
The Duomo, or the Cathedral of Florence, or the Cattedrale Santa Maria del Fiore or whatever name you choose to bestow upon it is a magnificent sight and has to be part of your One Day in Florence itinerary. It was planned back in 1296 and work continued on it for centuries. It's famous for its massive dome added in 1436, the largest in the world at that time, and was designed by Filippo Brunelleschi.
The exterior of the cathedral is absolutely stunning with its white, pink and green marble. Inside isn't as glorious but it's free and probably cool and you'll find a large fresco of the Last Judgment by none other than Giorgio Vasari. Remember him? He was the architect of the Uffizi.
Climbing the dome in Florence
The exciting bit is to climb up the 463 steps to Brunelleschi's cupola – at least that's what they tell me. Next time I'm going to do it. For sure.
A Ponte Vecchio over troubled waters …
Now you must see the famous Ponte Vecchio and you should probably hurry if you want to get any shopping time in at all. The Ponte Vecchio, which means Old Bridge in Italian, is an old …. well, you get the idea. It's actually the oldest bridge in Florence.
Spanning the River Arno, it's a photographer's dream because of the houses built right on it. Today it's crammed with gold shops, tourists and entertainers but back in 1345 when it was built it was lined with workshops, butchers, tanners, blacksmiths and the like. It's fun if you're in the mood, and a madhouse if you're not.
This is one place (along with Piazza della Signoria) where the tourist crowds drove me batty. Then again, my very presence was probably driving other tourists, not to mention the locals, batty as well.
Shopping in Florence
To the north of the Ponte Vecchio are a million gazillion leather stores. When shopping for a jacket for Mark in a number of those million gazillions shops we were told that the same jacket was variously goat leather, lambskin or calf, depending on which shop we saw it in. Mark finally found a shop he liked and bought the jacket, but to this day we can't remember which animal it's supposed to come from.
In the small boutiques of Florence you'll find knockoffs of designer leather fashions and some spectacular leather goods, but for the life of me I can't understand why there seems to be the same 10 jackets in every store.
I liked The Mall, a designer outlet mall 30 minutes outside the city, but if you only have one day in Florence, you're not likely get there. (Unless of course, you have an outlet mall shopping battle with your husband and win.)
The Bargello Museum in Florence
Obviously if you're only in Florence for one day, it's not going to be easy to squeeze any more top sights in. However, if you do have any time after this I recommend the lovely and quiet Bargello Museum at Via del Proconsolo, 4 to see another statue of David, Donatello's bronze. This is older and smaller than Michelangelo's David, and it's a strange sultry statue, the first free-standing nude to be sculpted after the Dark Ages. (Read more about these famous David statues of Italy.)
That's it. You've got to be done with sightseeing by now. Now is the time to kick back and take it easy.
What to eat in Florence
You're in Florence for one day, right? You need your strength. And, unless you're a vegetarian, it's only right to lust after a Beefsteak Florentine, a dish traditionally cooked on a wood-fired grill and made from local Chianina beef. One to try is Ristorante da Lino on Via Santa Elisabetta 6r Tel: +39 055 284579. Or, if you want to get into those Tuscan hills Il Fiesolano in Fiesole is at Piazza Mino 9r. Tel: +39 055 59143 is highly recommended.
Where to stay in Florence
When it comes to finding the best hotel in Florence you'll be spoiled for choice. There is the luscious Four Seasons Hotel Firenze, a former convent, or if the tourist crowds are getting to you, consider staying outside the city at a property such as Il Salviatino, a hotel set on the hillside of Fiesole with views of Florence and an appealing outdoor pool. Luxury travel doesn't get much better than this.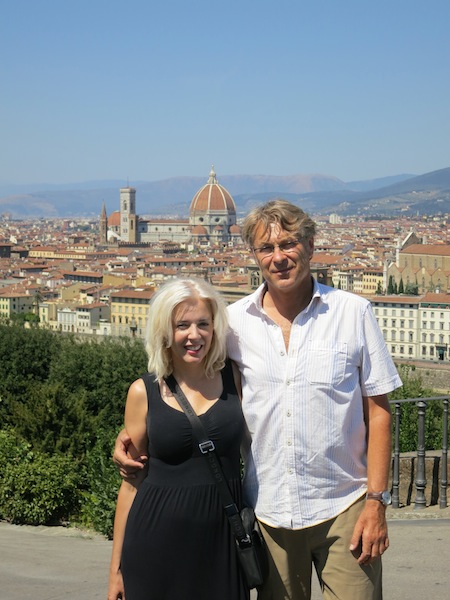 We're parking for free!
Important bonus driving tip: Combine sightseeing and parking. If you're driving don't even try to drive into Florence. Park for free at the Piazzale Michelangelo. We left our car here once for 3 days and didn't pay a cent.
Plus, the Piazzale Michelangelo has one of the best views of Florence and you'll see yet another replica David not quite by Michelangelo. And what's more authentic than that?
Read more: about the Top Cities to Visit in Italy
For more of the best places in Europe to see: visit Top Destinations in Europe