This post may contain affiliate links.
Things to Do in Chelsea NYC
Visiting New York? Here's an insiders' guide to the best things to do in Chelsea NYC, with suggestions on where to go and what to do from two top New York gallery owners, Christine Berry and Martha Campbell, who have a popular art gallery there.
Exploring Chelsea and Hudson Yards
"Okay, show me the big shawarma," I said to my husband Mark.
"Say what?"
I flapped my hands in the direction of Hudson Yards – the largest private development ever built for the public in the USA. "You know what I mean. The Eiffel Tower of New York. The Structure. The Hudson Yards Sculpture." My voice raised an octave. "That thing people used to climb in Chelsea!"
"The Vessel?"
"That's it."
If you're looking for cool things to do in Chelsea NYC, Hudson Yards and the mammoth sized uber-contemporary Vessel is a great place to start your adventure. While the spiral staircase inside is temporarily closed for climbing (as of 2022), you can still access the ground floor for free.
It's a landmark tourist attraction that has prompted a host of nicknames, and its 'undefinable-ness' made me curious to see it.
As Mark and I curved around The High Line, the elevated park that runs from 14th Street to 34th on Manhattan's West Side, the Vessel came into view.
It was either that or a gleaming bronze parking garage. Or, as some local New Yorkers call it, the giant shawarma. Semi officially called the Vessel, because no one has actually settled on a name yet – is a climbable piece of copper-toned art.
It's just one of the hot new attractions sweeping through Chelsea and the Hudson Yards, which is making this area on Manhattan's West Side one of the most exciting places to visit in New York.
About Chelsea NYC
Roughly bordered by the Meatpacking District on 14th Street to the south and 34th Street to the north, Chelsea is a vibrant area known for its A-list art galleries and attractions such as The High Line and Chelsea Market.
Its north edge butts up against Hudson Yards, which has claimed its own space as a neighborhood. From east to west, Chelsea runs from 6th Avenue over to the Hudson River and Chelsea Piers.
Chelsea has changed rapidly over the years, and has come a long way since Sid Vicious stabbed Nancy in the creaky Chelsea Hotel more than 40 years ago. It might not be the most beautiful neighborhood in Manhattan, but it does have some lovely residential streets and real estate prices have soared here, with luxury high rises rolling in.
Historically a gay friendly destination in NYC, Chelsea has a mix of appealing brownstones, vast apartment blocks, art galleries, restaurants and shops.
If you like art, don't miss West Chelsea, an area of converted factories and warehouses that now has the highest concentration of art galleries in New York.
An Insider's Guide to Chelsea
Combining travel and art is the perfect way to explore New York, and getting a behind-the-scenes look at this vibrant New York gallery area is even better.
To get an insider's view of the best things to do in Chelsea, I went to the two powerhouses behind Berry Campbell Gallery, Christine Berry and Martha Campbell. They've owned an art gallery on 24th Street for the last six years.
I was at Berry Campbell for the opening of my late father's art show, William Perehudoff: Architect of Color, so I pestered and prodded them (in the nicest way possible) for insider tips on the best restaurants, galleries and top things to do in the area.
What I learned was that it's easy to spend at least one day in Chelsea NYC exploring its restaurants, galleries and attractions.
Things to do in Chelsea
Visit the Art Galleries
There are an estimated 350 art galleries in Chelsea, clustered together like penguins in Antarctica. This dense concentration of gallery spaces means you can easily get up to speed on what's happening in the art world.
It also means it's confusing. How do you know which art galleries to visit? And while you're in Chelsea where are the best restaurants? What other sights should you see?
That's why it's helpful to have some local tips on what to see in Chelsea, so read on for the best way to explore this happening area of Manhattan.
Climbing the Vessel
A honeycombed hybrid between art, building and a big bowl of wine (thus called the 'Vessel'), this bronzed steel and concrete 'sculpture' is a focal point of Hudson Yards.
Created by British designer Thomas Heatherwick, it contains 150 interlocking stairways and 2,500 steps up, making it the trendiest way to get your steps in for the day.
The Vessel, which, now that I really looked at it, has a distinct resemblance to half an acorn, is so popular you need to get tickets in advance. Entrance is free, but you need to reserve as there is a limit to how many people can go on at a time.
As this is one of the new 'It' things to see in Chelsea and Hudson Yards area, book as far in advance as possible. Or you can take a take a New York High Line and Vessel tour that includes the climb.
Top Attractions in Chelsea – The Big Sights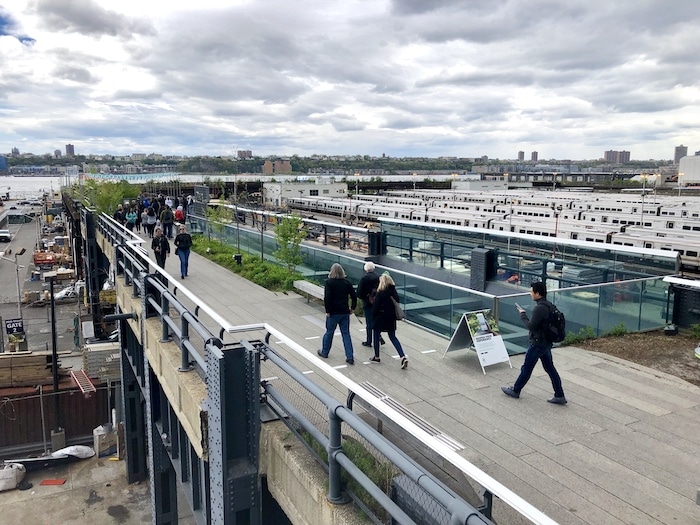 The High Line
Is it possible to build anything in Chelsea that's not artistically inclined? A massively successful urban revitalization project, The High Line is a 1.5-mile-long elevated walkway where flora, art and design come together to create an urban park.
From 30 feet up, you can float above traffic, cruise through gardens and take in views of the Manhattan skyline and the Hudson River.
Created from an old freight train line above the west side of Manhattan, The High Line runs down from Hudson Yards and through Chelsea to Gansevoort Street in the Meatpacking District.
Be forewarned, The High Line gets crowded, so if you intend on speed walking, avoid weekend afternoons.
The good news is that walking The High Line is free. There are a number of access and exit points so you can dip down and explore the best parts of Chelsea. Some access points are wheelchair accessible, but not all.
How to access the High Line
The southernmost access point is at Gansevoort and Washington, which has elevator access. For the art gallery district in Chelsea exit at 20th Street, 23rd Street (elevator access) or 26th Street. The most northern exit on The High Line is at 34th Street, which is open from 7 a.m. to sunset.
Hours for The High Line
The High Line is open from 7:00 a.m. until 10:00 p.m. in spring and fall, 7:00 a.m. until 11:00 p.m. in summer, and from 7:00 a.m. to 7 p.m. from December 1 to March 31.

Shop and Eat at Hudson Yards
Overlooking the Hudson River on New York's West Side, Hudson Yards is a city within a city, a large development of condos, office towers, public plazas and event spaces. Very popular with tourists is its high-end shopping mall featuring every designer you can think of.
Shopping at Hudson Yards
The Hudson Yards mall, which doesn't like to be called a mall because it has higher aspirations than that, is adjacent to the Vessel.
If you've come to New York for shopping and brought plenty of cash, you may enjoy this 'experiential retail experience.' And while many locals still call it a mall, visitors – judging from the crowds on a Saturday afternoon – call it the most visited new attraction in New York.
After Mark and I walked in we were hit by a gleam of white marble, glass and shiny metal escalators. The seven-story Hudson Yards shopping area covers a colossal 720,000 square feet of retail space, and has the only Neiman Marcus department store in New York. It also has the only Forty Five Ten, a shop that combines designer clothing, vintage finds and contemporary art.
Where to Eat at Hudson Yards
Top of the list is Mercado Little Spain. Located on street level, this market-style food hall features Spanish food and drink from renowned Chef José Andrés and the Adría Brothers. But it doesn't open until 3 p.m.
How to Access Hudson Yards from The High Line
Take the 30th Street exit at 10 Hudson Yards. A new subway station, the 34th Street–Hudson Yards Station, will deliver you to the new development.
If you prefer a guided tour of Hudson Yards, you can check out prices and availability for a New York City: High Line and Hudson Yards Walking Tour here.
See an Event at the Shed
If you want to see a show or event at Hudson Yards, the Shed is getting a lot of good buzz. This state-of-the-art cultural center houses gallery spaces, a theater, event spaces and more.
Sheathed in ETFE 'pillows,' the facade looks a bit like a futuristic silver quilted-down jacket. That's not to say it's not eye-catching, it's quite luminescent. And the outer shell is on wheels, so it can open up and transform itself into a whole new space for large concerts.
To book shows or check out events at the Shed, visit their website.
Do the Circuit through Chelsea: Walk The High Line from Hudson Yards down to the Whitney Museum of American Art
While the Whitney is technically in the Meatpacking District, a popular way to explore Chelsea is to walk The High Line from Hudson Yards down to the Whitney Museum of American Art, which relocated from the Upper East Side in 2015.
Visit the Whitney Museum of American Art
If you want to see art you don't understand, the Whitney at 99 Gansevoort Street should be able to help you out. Why should you? Because there's no better way to challenge yourself than by looking at art that's not immediately accessible and suddenly 'getting' it.
With a stellar collection of modern art, the Whitney provides a solid grounding in American culture.
Fun fact: Christine Berry, one of my sources for this Chelsea travel guide, used to work at the Whitney.
Address: Whitney Museum of American Art, 99 Gansevoort St, New York, NY 10014, USA
Check here for a Private Chelsea High Line and Meatpacking District Tour.
Of course there is more to New York City than Chelsea – check out these hidden gems.
Pin me!
Restaurants in Chelsea NYC
Chelsea Market – a Foodie Point of Interest in NYC
Chelsea Market is an adventure in food. Taking up an entire city block, this 120-year-old historic building offers 13,000 square feet of food-focused shops, restaurants and food vendors. It's probably the most famous food hall in New York.
Housed in a former factory that made Oreo cookies, there are a number of places to eat at Chelsea Market. For seafood, try a fresh lobster roll at Lobster Place, visit Saxelby Cheesemongers for a pressed grilled cheese sandwich, or go for a taco at Los Tacos No.1.
For high-end cuisine try Morimoto for sushi or Buddakan for pan-Asian fare.
Chelsea Market Tours
Warning: Chelsea Market is a 'discovered' destination, so be prepared to share the aisles with a scrum of other food fanatics.
If you want someone to show you around there are New York City High Line and Chelsea Market Tours available. Or you can check out a Chelsea Market, Meatpacking and High Line Food and History Tour.
Address: Chelsea Market, 75 9th Avenue and 16th Street.
Hit up Sullivan Street Bakery for Unbeatable Bread
Owned by Jim Lahey, a winner of an Outstanding Baker James Beard Award, Sullivan Street Bakery on 9th is your go-to place for bread in Chelsea. Their upscale breakfast sandwiches such as a Prosciutto tartine with soft-cooked eggs, prosciutto di Parma and parmesan on truccio come highly recommended.
Address: Sullivan Street Bakery, 236 9th Avenue, New York City, 10011
Try a Steak at Porteno Restaurant
Serving nouveau Argentinian cuisine, Porteno is an insider's secret. Located in a quiet spot in Chelsea near the border of Hell's Kitchen, it's known for its veal milanesa, Argentinean steak and delicious empanadas. Make a night of it with an Argentinean Malbec.
Address: Porteno Restaurant, 299 10th Avenue, New York 10001
Dine at Bottino for a Glimpse into the Art World Elite
After opening nights in Chelsea, it's hard to get a table at Bottino, a sought-after restaurant steps away from the gallery district – at least we couldn't due to the Frank Stella opening at Marianne Boesky Gallery.
Specializing in Tuscan food, the ambience at Bottino makes it one of the best places to eat in Chelsea, with a decor that's as good as the food: wood floors, plush tangerine banquettes and an appealing wall of wine. There is also a good-sized patio for summer nights.
Address: Bottino Restaurant, 246 10th Ave New York, NY 10001
Go for a Casual Meal at the Empire Diner
When it comes to upscale retro dining, the Empire Diner serves up 'vintage' in style. This art deco diner is open until 11:00 p.m. on weekdays and midnight on weekends, making it a viable stop for an after-art-opening bite.
A classic Chelsea restaurant, the Empire has a chrome exterior that shines right out of the past, an updated spare interior and a menu that includes fried chicken with aleppo honey sauce and chicory ramp potato salad.
Over the years the Empire has changed owners, closed and reopened more than once, but its long history as an artist hangout is not forgotten.
Address: Empire Diner 210 10th Ave, New York, NY 10011
Try the Cookshop for Brunch
Cookshop is a neighborhood restaurant that focuses on farm-to-table food. From flaky buttermilk biscuits and fresh pressed juice, to a sauteed kale and goat cheese scramble, it's a tantalizing way to start the day and is a popular brunch spot.
Address: Cookshop, 156 10th Avenue at 20th Street, NY 10011. Tel 212 924 4440
What galleries to visit in Chelsea New York
With hundreds of art galleries in Chelsea, it's hard to pare down your itinerary. Here are some top Chelsea galleries recommended by Martha and Christine.
Yancey Richardson Gallery – Photography
Photography is a hot genre in visual art, and a gallery with its pulse on the leading photo-based artists is Yancey Richardson at 525 West 22nd Street. Founded by Yancey Richardson, one of the world's top photo-focused art dealers, it relocated to Chelsea from Soho in 2000.
Jack Shainman Gallery – Diverse
Known for showing top flight artwork by African American artists, Jack Shainman Gallery boasts an international stable of artists from Africa, Asia and North America. The gallery has two exhibition spaces in Chelsea, one at 513 West 20th Street and one at 524 West 24th Street.
David Zwirner – A Major Player
There is a certain thrill about visiting big name art galleries in Chelsea, and David Zwirner is at the top of the heap. Representing stars such as Jeff Koons, Jeff Wall and Neo Rauch, with estimated sales at $500 million a year, David Zwirner is on the forefront of the contemporary art world.
David Zwirner has two locations in Chelsea, one at 525 West 19th Street and one at 537 West 20th Street.
Paula Cooper – Legendary
Paula Cooper was one of the early galleries in Chelsea, relocating from Soho in 1996. A forerunner in championing conceptual and minimalist art, Paula Cooper opened her first New York gallery back in 1968, and has been a staple on the gallery circuit ever since. Located at 524 W 26 the Street New York, 10001.
More Chelsea Galleries to Check Out
One of the great things about visiting private art galleries – besides the fact that they're free – is that you can fit a number of them into a day. Gallery hopping is one of the top things to do in Chelsea, so here are a few other big names to check out.
Gagosian Gallery
Considered David Zwirner's main rival, the Gagosian Gallery, helmed by famed art dealer Larry Gagosian, is always interesting. Ever since his cavernous space opened at 555 West 24th Street in 1999 with a large-scale Richard Serra show, the Gagosian has been firmly in A-list Chelsea territory.
They also have another Chelsea location at 522 West 21st Street.
Hello Pace Gallery
Pace has been around for nearly 60 years, but their new flagship gallery at 540 West 25th Street will be their first foray into Chelsea. It's set to open in fall 2019, and is sure to be a must-see on the gallery circuit.
Berry Campbell Gallery
Of course I'm putting Berry Campbell Gallery high on my list of places to visit in Chelsea NYC because I love working with Martha and Christine, and because they're an ethical pair in the very complex world of art dealing.
With a focus on postwar and contemporary art, Berry Campbell is known for showcasing modernist artists such as Judith Godwin, Stanley Boxer, Dan Christensen, Jim Walsh and, ahem, my father, Colourfield painter William Perehudoff. (Did I mention that already?)
Berry Campbell is located at 530 West 24th Street, New York, NY 1001
Hauser & Wirth
With outposts in Hong Kong, London, New York, Los Angeles, Somerset, Gstaad and St. Moritz, Hauser & Wirth from Switzerland is another mover and shaker in the art world. Right now the gallery is at 548 West 22nd Street, but they're constructing a new multi-storied building at 542 West 22nd Street.
When is the best time to visit Chelsea?
If art is on your itinerary, it's best to visit Chelsea from Wednesday to Saturday. Most commercial galleries are closed on Sunday and Monday and the Whitney is closed on Tuesday. Thursday nights are opening nights in Chelsea, and you don't need an invitation to see the art. Just walk in if you see people in there.
One Day in Chelsea Wrap Up
Hopefully, this will give you some great ideas for things to do in Chelsea, one of the most exciting art destinations in the world. It's also one of the best places in New York to visit.
The High Line makes it even more accessible, and all the new attractions on the West Side make it even more of a draw. Whether you're after an urban walk, an art tour, or, um, a look at a giant shawarma, Chelsea has it all.
About my insiders, Christine Berry and Martha Campbell
Christine Berry began her career at the Modern Art Museum of Fort Worth and then continued on to the Whitney Museum of American Art before shifting from the non-profit sector to the commercial art world.
Martha Campbell started her career at The Phillips Collection in Washington, DC before moving to New York.
Hotels in Chelsea New York
I don't find there's a huge amount of choice for hotels in Chelsea, but there are a few.
Standard High Line
One hotel that has a high hip factor is the Standard High Line (also known for being the hotel where Beyonce's sister Solange went after JayZ in the elevator). Technically this 388-room luxury hotel is in the Meatpacking District but close enough.
Address: 848 Washington Street, NY, 10014. Check prices and availability here.
High Line Hotel
The 60-room High Line Hotel is a boutique 4-star property with a private courtyard, lots of exposed brick and is a historic charm, it's housed in a seminary complex built in the 1800s.
180 Tenth Avenue, New York, NY, 10011, US
Maritime Hotel
If you're after a nautical theme, a handy location by the Chelsea Market, oversized porthole windows and complimentary breakfasts, check out the 4-star Maritime Hotel.
363 West 16th Street, Chelsea, New York, NY 10011, USA
Hotel Dream Downtown
Outdoor pool? Faux sand beach? Rooftop bar? For a modern urban vibe, have a look at the Hotel Dream Downtown.
355 West 16th Street, Chelsea, New York, NY 10011, USA
For more places to stay in New York visit my New York luxury hotels review.