This post may contain affiliate links.
You will be forgiven for confusing an art opening in New York's gallery district of Chelsea with a nightclub. When I whipped down to Manhattan for two days to attend the opening of an exhibition of paintings by my late father, William Perehudoff at BERRY CAMPBELL gallery, I entered a strange and wild scene made up of art critics, artsy students with backpacks (and hey, watch out for the artwork, you luddite!), ambitiously hip artists, tourists, art lovers and overly-enthusiastic men who descend on Chelsea on Thursday evenings in the hopes of meeting fashionable women.
To experience New York at its most exuberant and visual best, I suggest you add yourself to the mix next time you're in Manhattan. Here's how to do it:
When to go
Opening nights in Chelsea happen on Thursday evenings, generally from 6:00 to 9:00 p.m. Art galleries that stay open late are the ones that are showcasing new exhibitions – usually about once a month. There are so many galleries you're sure to find something to your liking – and yes, I know you have refined tastes, but you're not going to get much better than this.
"Chelsea," according to gallery owner Martha Campbell, "is what Soho was in the 90s."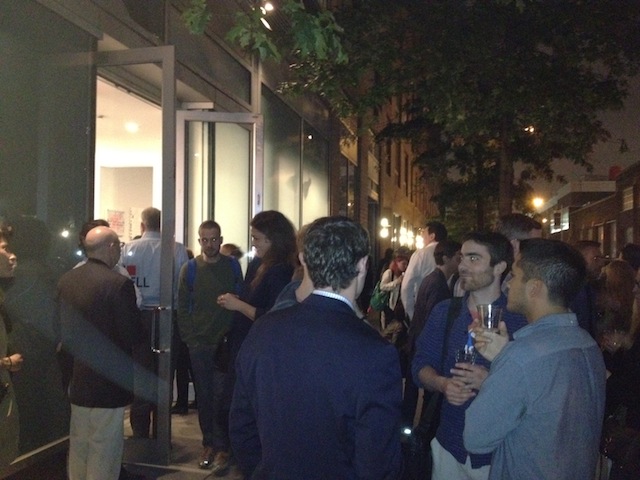 "It's bursting with energy," says Christine Berry, the other half of BERRY CAMPBELL. "It's exploding. It's where everything is at." (Um, can you tell Christine likes Chelsea?)
Where are the art galleries?
To get to the heart of the art, start at the corner of 10th Ave and 24th West. Look out for the gas station with the sheep (you heard me). Stroll west on 24th and mill around the surrounding streets. Go into any gallery that is open while trying to look earnest and intellectual. (I'm kidding. They won't kick you out for having a blank look on your face. At least they let me stay.)
BERRY CAMPBELL, if you're interested, is at 530 West 24th.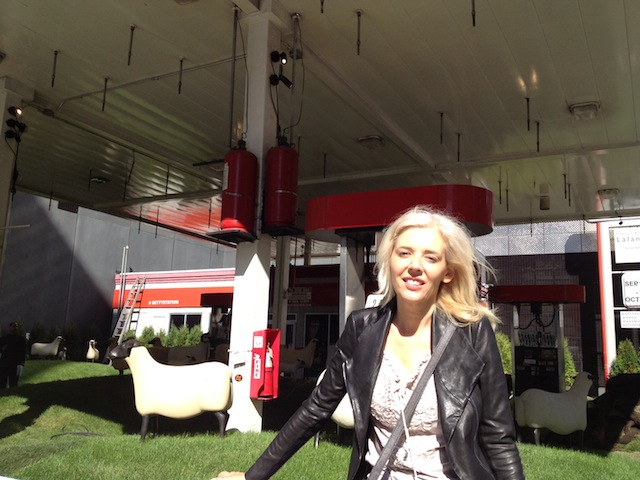 What to expect at an art opening in Chelsea
Everything. In Chelsea there are mega galleries and smaller galleries, established er, establishments, and  galleries just starting out. You'll find all types and stripes. Besides the art, expect crowds! Action! Excitement! The William Perehudoff exhibition was jammed.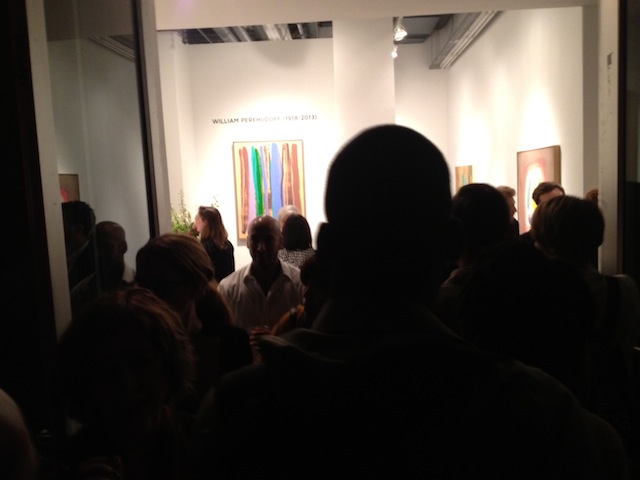 The downside
Because of the crowds it can be  impossible to get a good look at the art (at least it was when I was there), so I went back the next day and took Chelsea at a slower pace.
Ah, so peaceful.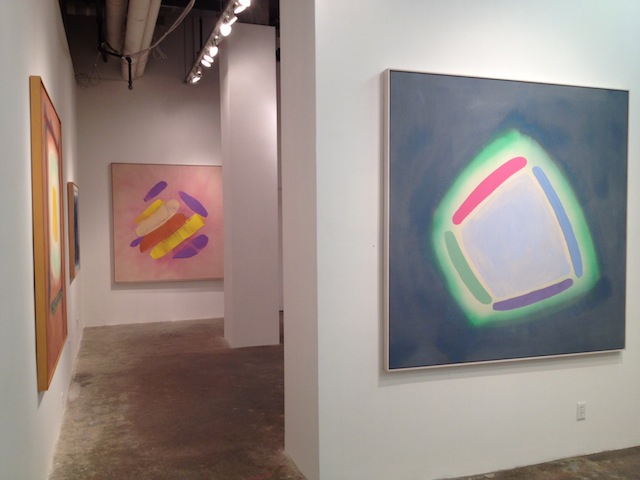 It's also, shall we say, illuminating, to see the art in daylight.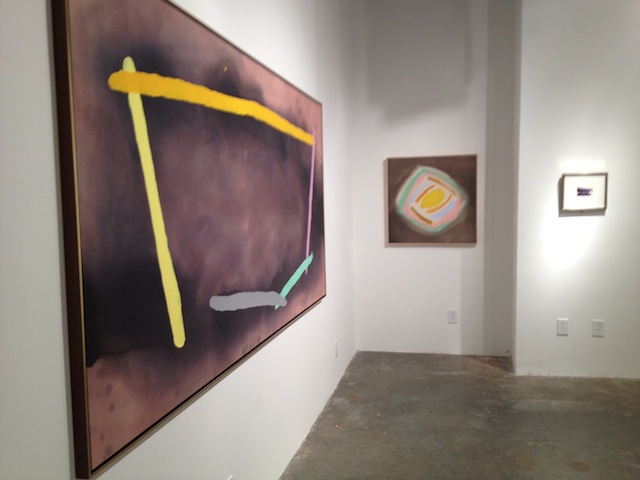 These are two family favourites – the elegant horizontal  above and the ephemeral brown and yellow below. (We call it Ghost. It's kind of like a member of our family.)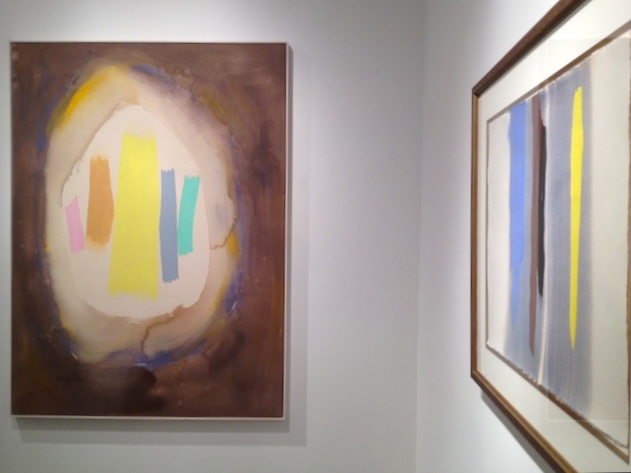 Galleries to visit in Chelsea
I polled some gallery owners and critics (actually one gallery owner and one critic) and came up with some Chelsea art gallery standouts:
Check out Edward Thorp in the Baron building on 11th Avenue between 24th and 25th. (Same building as Stella McCartney, how chic!). I saw a  show by Matthew Blackwell that was stunning and so inventive.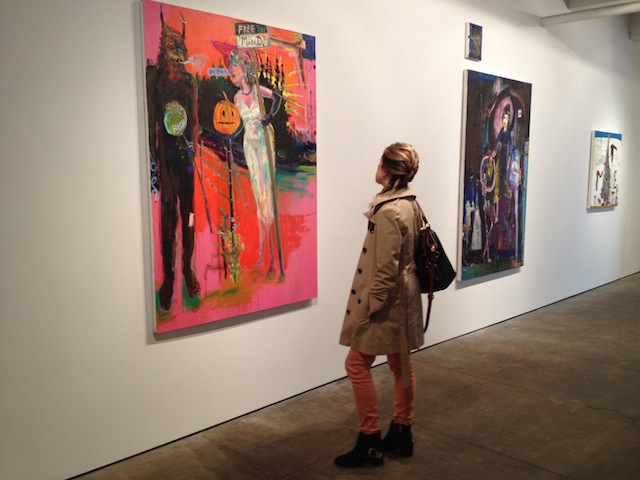 Don't miss some of the mega galleries that create the superstars:
Pace is on West 25th Street. (Here I saw a show by the ever-interesting Zhang Huang, the same artist who did The Rising outside the Shangri-La Hotel, Toronto.)
Hauser & Wirth on West 18th Street
Gagosian on West 24th Street
So go, enjoy, and unleash your hidden – or not so hidden – artistic side … because gallery night in Chelsea will beat a nightclub every time.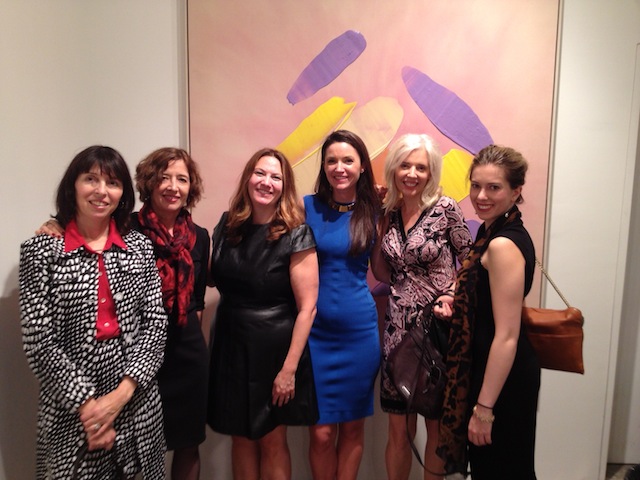 Perehudoff daughters Catherine and Rebecca, gallery owners Christine Berry and Martha Campbell, moi and William Perehudoff's granddaughter, Molly Minton. Catch you at the next show.
Read more:
About BERRY CAMPBELL
William Perehudoff paintings of the 80s