This post may contain affiliate links.
Is Ireland magical or not? Of course it is! Why does no one believe me?
When I travelled south of Killarney to the wee town of Kenmare in search of the mystical stone circle of Kenmare – an unsung hero in the world of pagan sites – I had to fight a host of disbelievers, including a horse.
Magic at the Stone Circle of Kenmare
Check out my quest to commune with the Megalithic spirits through the Stone Circle of Kenmare.
The Power of Stone Circles
No matter how you experience them, stone circles are fascinating.
Even if you don't believe in the power of the rock, or are obsessed with sacred places like I am, Kenmare is a good stop if you're touring southwest Ireland and the Ring of Kerry.
Where is Kenmare?
Located 20 km south of Killarney, Kenmare is County Kerry's first designated Heritage Town.
And don't worry.
While the much larger town of Killarney, in addition to being home to the stunning Killarney National Park, is well stocked with shops selling woollens, tablecloths and nice leprechaun keychains, you won't be hurting for things to buy in Kenmare – although the shopping there is on a much smaller scale.
This means … fewer crowds! Yay!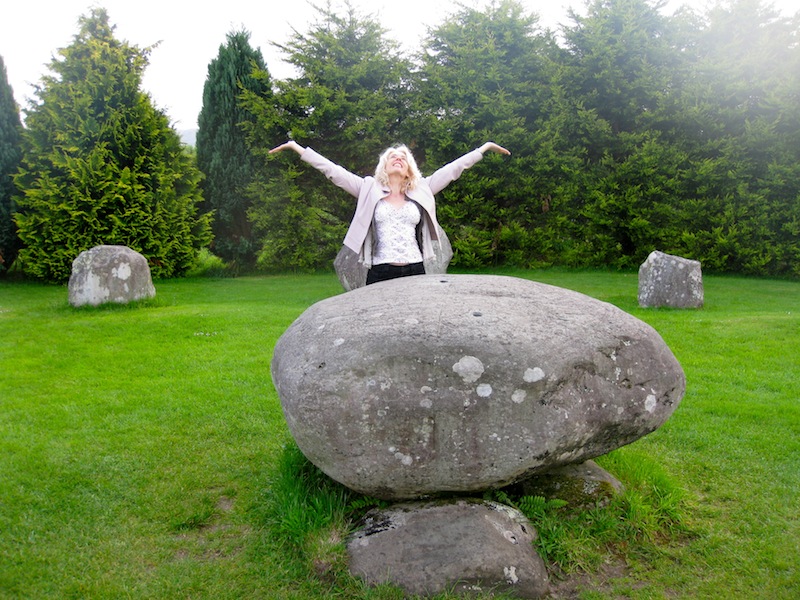 The History of Kenmare Stone Circle
Also known as the Druid's Circle, the Stone Circle of Kenmare sits in a smooth grassy patch surrounded by trees, much like a private dining room in a restaurant.
The setting feels isolated and peaceful, surrounded by those green hills of Ireland, and the stones are kept company by a bristly old hawthorn tree.
There is something mystical about the tree as well apparently, because its branches are draped with offerings like ribbons, cards and little pouches filled with secret messages and who knows what?
Did I intrude and read any of the secret messages in the Hawthorne Tree?
No, I did not. Though I was tempted.
About the Kenmare Stone Circle
The stones in the Kenmare Stone Circle vary in size and shape. There are 15 stones that circle around a centre stone called a dolman.
Mysteriously, the brownstone and greenstone rock used is not found locally, but had to have been transported, and that was done sometime between 2000 and 200 B.C.
To me, the central boulder looks like an altar.
What was the Purpose of the Stones?
No one knows for sure. The Kenmare Stone Circle could be a type of calendar. Or a place where pagan priests preformed rituals. A burial site perhaps? Interestingly, it's the only stone circle located so close to a town.
Stone Circles in County Kerry
Stone circles, standing stones and other ancient monuments can be found all over County Kerry, not just in Kenmare but also in the Dingle Peninsula, where you'll find a great collection of Ogham stones.
Ogham stones, by the way, which have notches etched into the rock, contain the earliest form of writing in Ireland.
Legend of the Stone Circle
Legend says the stones are frozen dancing gods.
Legend also says that my attempts at twirling around them meditatively are more dancing bear than Lady Gaga but it's oddly liberating and I defy you, on your next trip to Ireland, to stop visit the Stone Circle of Kenmare and create your own ritual.
After all, magic comes to those who seek it. (Snort, says my boyfriend in reply, even louder than the horse in the video.)
Travel Tips for Kenmare, Ireland and the Ring of Kerry
Where to stay: For luxury travel The Park Hotel Kenmare has a historic interior and an amazing spa that wins all sorts of awards – a mystical experience on its own. Shelbourne Street. Tel: +353 64 664 1200.
Read more about My favourite European Destinations