This post may contain affiliate links.
Killarney National Park in southwestern Ireland is a lush swath of hills, ancient forests and shimmering lakes. It's a place of legends, ruins and rambling hikes, and here are the best ways to explore it.
Adventure in Killarney, Ireland
I'm pretty sure a ghost stole my glove at Muckross Abbey in Ireland's Killarney National Park. In the unlikely case I just dropped it, however, please keep an eye out for it if you're wandering through.
Ghosts aside, there is no question that wandering is the best way to experience Ireland's oldest national park. Situated 6 km (3.6 miles) outside the town of Killarney, the park is the emerald in the green crown of the fabled Ring of Kerry, a 179-km (111-mile) loop around the Iveragh Peninsula.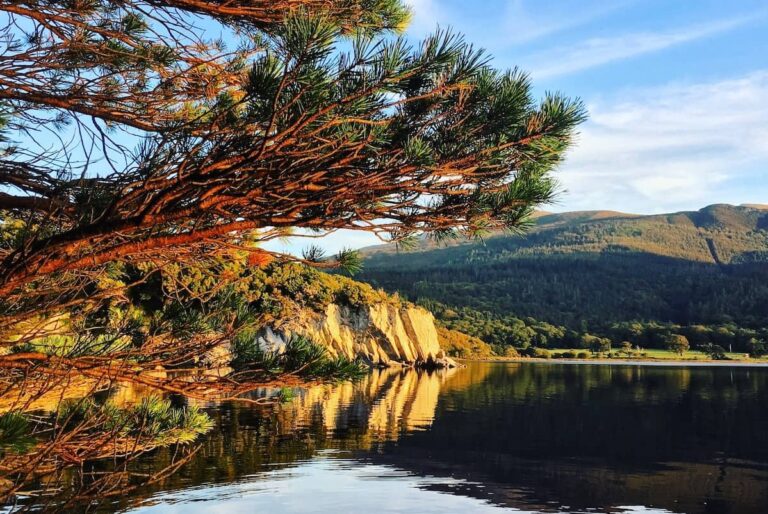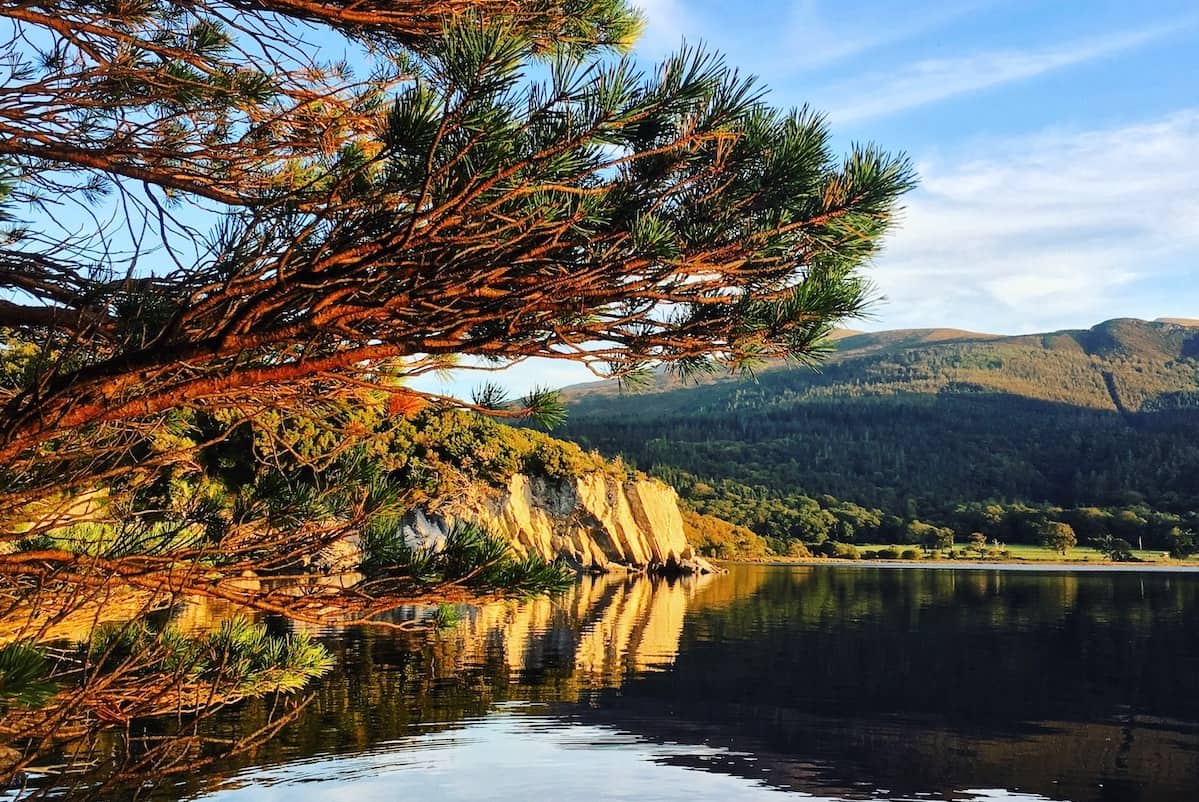 About Killarney National Park
Killarney National Park was established in 1932 when Arthur Vincent and his parents-in-law donated the Muckross Estate, the core of the park, to the Irish Republic in memory of Arthur's wife Maude. Sadly, she'd died of pneumonia three years before.
The park has since expanded and was designated a UNESCO Biosphere Reserve in 1981.
Is Killarney National Park free? Yes, entrance is free. So is parking.
Its history is bloody and laced with magic, and the setting unforgettable. Crawling down the foothills of the MacGillycuddy's Reeks mountains to the area's three famous lakes – the Upper Lake, Muckross Lake, and Lough Leane – the park is an ideal location for outdoor activity, covering 26,000 acres of woodlands, waterfalls and walking trails.
If you're planning a trip to the Ring of Kerry, you won't want to give this beauty a miss.
In addition to the park's earthy charms you'll find landmarks such as Muckross House and Gardens; Muckross Traditional Farms and the romantic (as well as haunted by a glove-stealing ghost) ruins of Muckross Abbey.
Short on time and want to see it all? You can sign up for a Highlights of Killarney Town and National Park Visit Including a Jaunting Car Ride. Find more information here.
A Trip to Killarney
I spent a soul-enriching five days exploring Killarney National Park. It was a solo trip filled with rambles through forests of ancient oaks and yew, and bike trips along lakes of pale silver and startling blue.
It was slow travel at its best, and much better than the fleeting drive by I'd done with my husband a few years earlier.
(Not that I don't love road trips with my husband, especially the kind where you stop for five minutes at all the big Irish landmarks and then race back to the car so you can knock another sight off your list. But it was, after all, our last day in Ireland and we were trying to cram in the entire southwest.)
Can you do a Ring of Kerry day trip from Dublin? It's possible. Check out a tour here. You can also do it as a day trip from Killarney. Check the tour out here.
Having seen Killarney National Park at two different speeds, I can tell you it's better the longer you linger. So press the pause button and take some time to get beneath its leafy skin.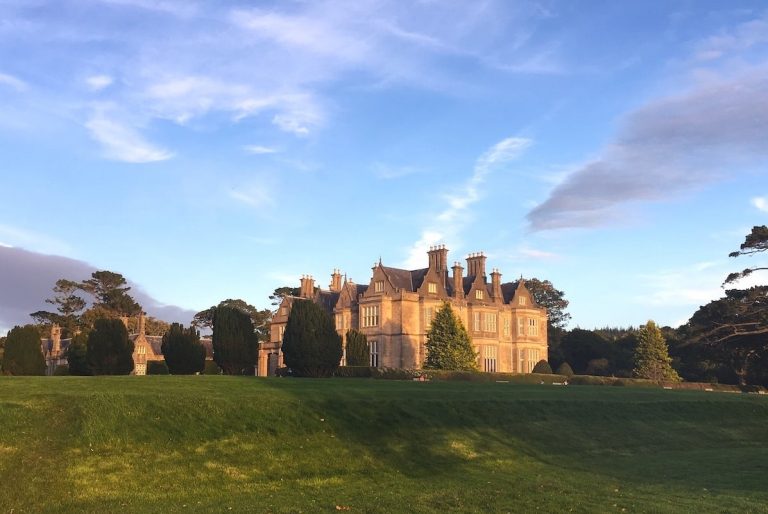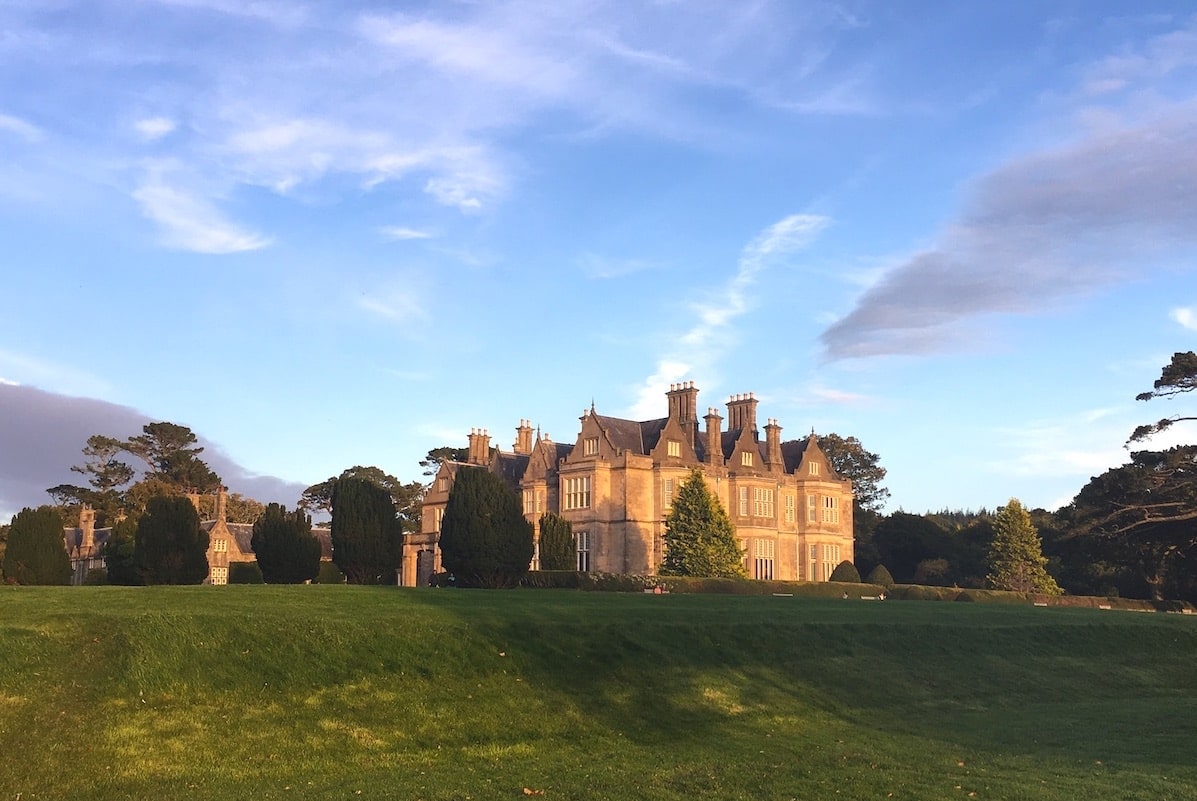 Top 10 Things to Do in Killarney National Park
Visit Muckross House
The focal point for visitors to the park, Muckross House is a grand Victorian manor built in 1843. It was built by the British architect William Burn for the wealthy Herbert family and polished up – at a massive cost – in preparation for Queen Victoria's visit in 1861.
Did Queen Victoria Ruin the Herbert Family?
It's hard to imagine how coveted a royal visit was at the time, and no expense was spared by the Herbert family. The gardens were expanded, curtains for the dining room especially commissioned and woven in Paris (you can see them if you tour the house), and everything from new furniture to dishware was purchased.
Let's keep in mind this was for a two-day royal stay.
Be that as it may, it's said the extravagance contributed greatly to the Herbert's eventual financial ruin.
But I'm not doing the family justice. They were passionate about improving the land, were active in politics and reportedly did their best to help their tenants during the Irish Famine, which began a scant two years after the house was completed. If it wasn't for them, Killarney National Park may not exist at all.
Today the legacy of Muckross House lives on, and you can tour the 65-room mansion and pretend that you're as much a sought-after guest as Queen Victoria was, and that the dining room curtains were specially woven for you.
Travel tip: The cafe onsite is a good spot for a break.
Stroll Through Muckross Gardens
After you've toured the house, explore the gardens. Plants flourish in the mild climate of County Kerry, and Muckross Gardens are famous for the rhododendrons that bloom from April to July.
Travel tip: There is a fee to tour Muckross House but access to the gardens is free.
Check out Muckross Traditional Farms
The Muckross Estate is not all about aristocrats and their fancy houses. To see how the rural folk lived in the 1930s and 40s you can stop in at the Muckross Traditional Farms (open seasonally).
You can tour the cottages of different workers, see the farm animals or watch down-to-earth endeavours like churning butter and baking bread – a good family outing.
Travel tip: Shuttle buses run regularly to Muckross Traditional Farms from Muckross House.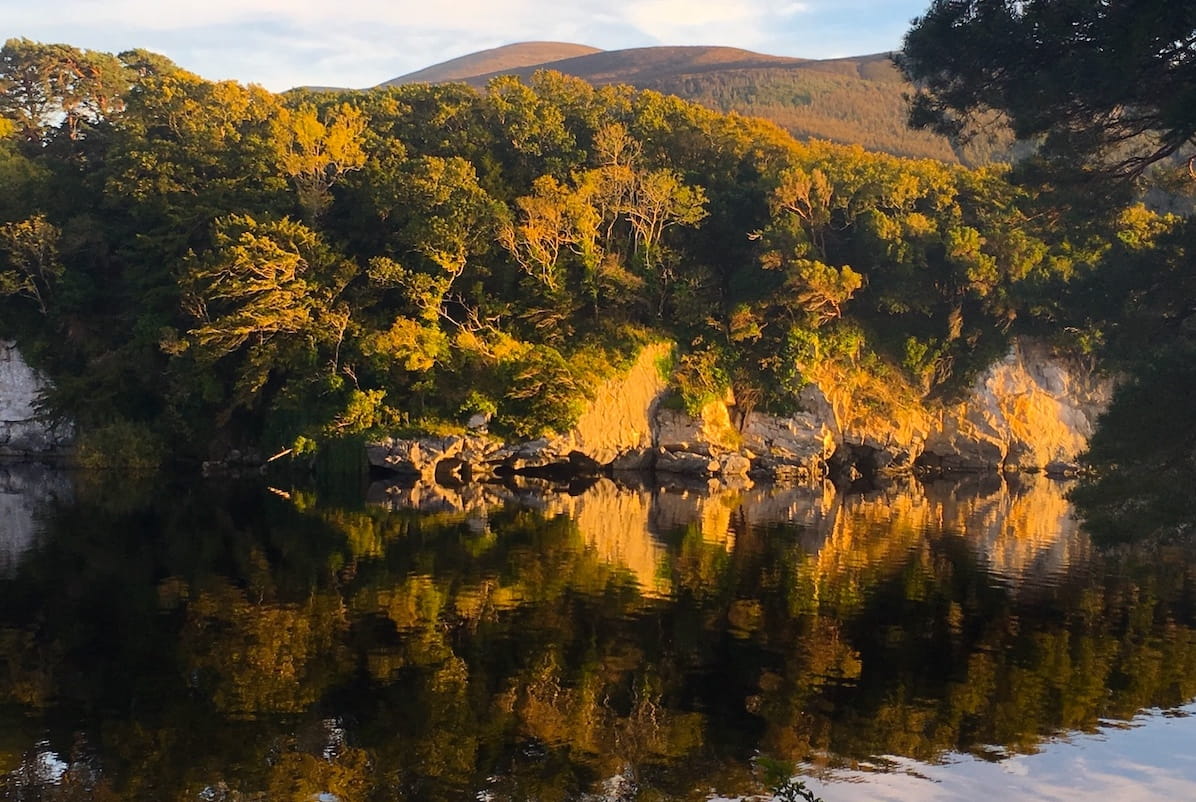 Take a Boat Tour on Muckross Lake
A few hundred metres from Muckross House is the Boathouse, which lies on the shores of Muckross Lake, Ireland's deepest lake. Here you can take a boat tour to Innisfallin Island, Dinis Cottage and the Meeting of the Waters.
Travel tip: If you don't feel like a boat tour, you can also walk, cycle or jog the Muckross Lake Loop through Killarney National Park. This will take you to Dinis Cottage and the Meeting of the Waters on the western edge of the lake.
The total trail length is somewhere around 15 km (9.3 miles), so be prepared for a lengthy walk. Also, beware of speedy cyclists.
Visit Dinis Cottage, the Old Weir Bridge and the Meeting of the Waters
Dinis Cottage dates back to the 1700s. This historic cottage was built by the Herberts and was used as a hunting lodge. It's a lovely rest stop, and there are two main reasons to visit:
For the tea. Dinis Cottage has been serving thirsty customers for 200 years. There is seating inside and out.
For the graffiti. In the 19th century it was a trend for newly-engaged couples to scratch their initials into the glass windows of the cottage with their diamond rings for luck. The earliest markings are from the 1820s. Kind of sweet.
Dinis Cottage is a jumping off point for a walk to the Old Weir Bridge and the Meeting of the Waters.
This ancient Old Weir Bridge dates back to the 1500s and is located at the Meeting of the Waters where the three great lakes of Killarney – Upper Lake, Muckross Lake and the lovely Lough Leane – meet.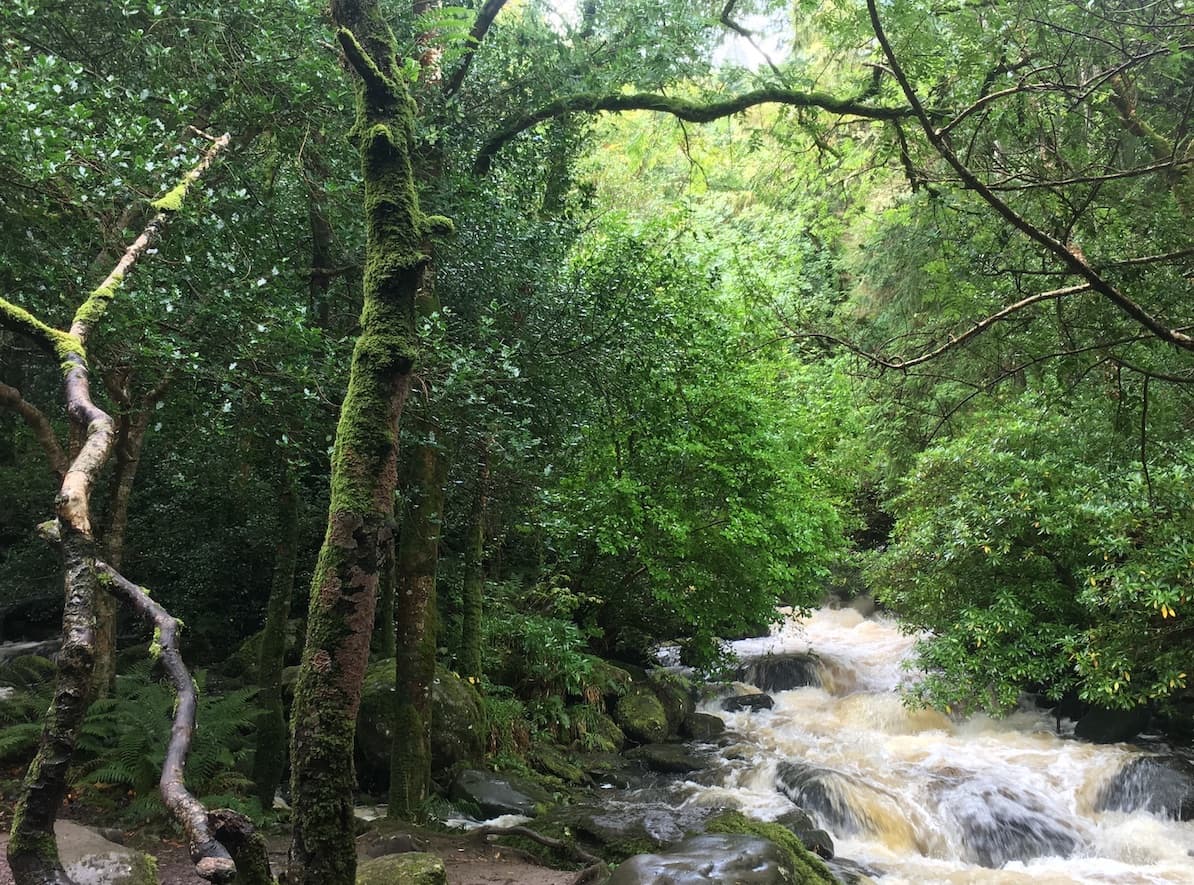 Take a Side Trip to Torc Waterfall
Visiting Torc Waterfall is one of the most popular outdoor activities in Killarney. An 18-metre (60-foot) cascade of froth, it even has a legend behind it. Or, more accurately, underneath it.
The word 'torc' means wild boar in Gaelic, and the story is that the falls were created by a cursed man who was doomed to turn into a wild boar each night.
Versions vary but here's the gist of it: After his cave lair was discovered, he became filled with rage, turned into flame, and jumped into a lake called the Devil's Punchbowl. The lake burst its side and created a waterfall, which now hides the entrance to his home. So there you have it, the legend of Torc Waterfall.
A hike to the waterfall can be added on to the Muckross Lake Loop Trail, though it will add a few kilometres. If you're driving through Killarney National Park, parking is about 200 metres away from the falls.
It should take about 2.5 hours to hike to Torc Waterfall from Muckross House.
Visit Ross Castle
This is Ireland so there are bound to be more legends. The park's Ross Castle is no exception. Sitting at the edge of Lough Leane (Lower Lake), this formidable tower house dates back to the 1400s.
It was the stronghold of the O'Donoghue chieftains, and it's said O'Donoghue Mór himself slumbers under the lake. On May 1st every seven years he rises on his white steed, circles the lake and, if you see him, it will bring you great fortune. (Much better fortune, presumably, than spotting a cursed wild boar at Torc Waterfall.)
Looking for a tour that includes Ross Castle? Try a Gap of Dunloe Tour by Foot and Boat. Check prices, safety protocols and availability here.
Go Hiking in Killarney National Park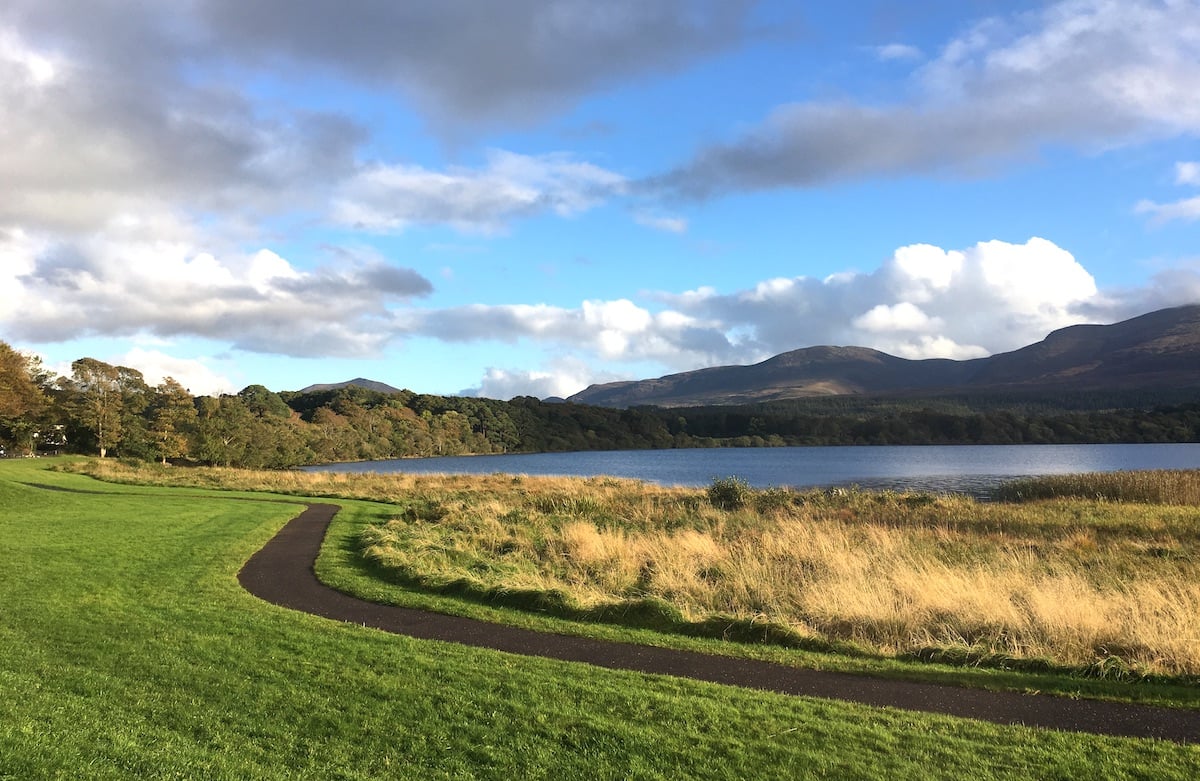 Top Killarney attractions like Muckross House and Ross Castle are a key part of a visit to the park, but the real enchantment lies in escaping the crowds. If you're mobile, plan for at least a short walk. There are numerous trails ranging from easy multi-access paths to challenging hikes.
Expect woodsy scents, lakeside scenery, and, quite often, rain. Be prepared.
If you're lucky you'll see a herd of Red Deer, which were nearly extinct 50 years ago. A good place to spot them is in Reenadinna Wood, a fern-covered forest you can get to on the Muckross Lake Trail.
A few other hiking trails in Killarney to keep in mind are:
Rated easy is the Lakeside Walk from the main entrance to Muckross House.
The 2-hour Arthur Young's Walk between Lough Leane and Muckross Lake was established in 1776 and is rated moderate.
The Dinis Cottage and the Old Weir Bridge walk on the western side of Muckross Lake is rated moderate.
The Torc Waterfall Walk is a 6.3 kilometre hike from Muckross House to the waterfall with a bit of a climb, or you can add it onto the Muckross Lake Loop.
The 5 km Knockreer Circular Walk is a paved path that takes you past some of the national park's top sights.
Try Cycling
Exploring by bicycle is one of the best things to do in Killarney National Park. In fact, I'd rate it as one of the best things to do in Ireland.
A paved cycling path in town takes you to the entrance to Killarney National Park, and from here you can pedal around many areas of the estate.
The one-way loop from Muckross Lake to Dinis Cottage and the Old Weir Bridge can get busy, but it's a great ride.
Where Can You Rent a Bicycle in Killarney?
Cycling is a popular activity in Killarney and a number of companies offer bicycle rentals. Some options are Cycling Killarney, Killarney Bike Rentals and O'Sullivan's Cycles. Pick up a cycling map when you rent your bike.
Commune With the Past in Muckross Abbey
Finally, don't miss a stop at Muckross Abbey. Remember the ghost who stole my glove? The brand new black leather glove I had just bought that morning? It disappeared at the abbey within minutes of my arrival.
While I might have been joking about a ghost stealing it (though only partly), there is something about the abbey that feels …. occupied.
A roofless romantic relic with a yew tree growing from its cloister, the abbey has a brooding bloody past. Originally a Franciscan friary, it was founded in 1448 after, it's said, mysterious music was discovered emanating from a rock here. An earlier site on the spot may date as far back as the 6th century.
The founder was Donal McCarthy Mor, also known as Dan the Feathers, a fierce foe of the English.
Over the next 150 years, in the battles between Catholicism and Protestantism, many of the friars at Muckross Abbey suffered horrific fates at the hands of Elizabeth I's troops and by Oliver Cromwell's forces. More than one person was tortured to death here.
Irish chieftains, poets and monks are buried here, a hermit lived in a coffin for a decade (I'm not making that up), and, while Donal McCarthy Mor is said to haunt the Lake Hotel, where I was staying, I feel quite sure he walks the grounds here too.
Considering Killarney National Park is one of the most peaceful places I've visited, it has quite a sensational history.
Killarney Hotels
The Lake Hotel
I loved my 5-day stay at the 4-star Lake Hotel, which is located on Killarney Lake near Killarney National Park. It's a luxury hotel, a bit creaky, and you can tell that guests have been returning here for years. It's good if you want a quiet place more about nature than nightlife, and it didn't break my budget.
Address: Lake Hotel, On the Lake Shore, Muckross Road, Killarney, Co. Kerry, V93 RR59, Ireland
Check rates here.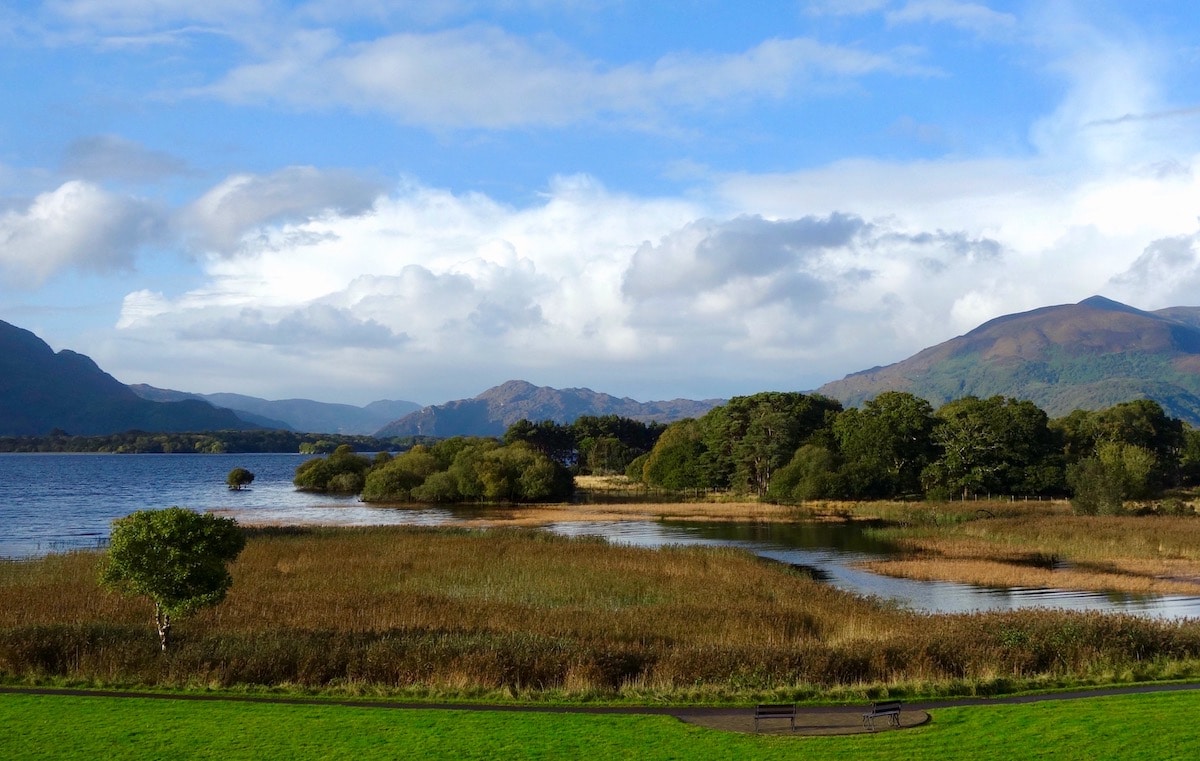 The Brehon Hotel & Angsana Spa
After my week at the Lake Hotel I moved to the Brehon Killarney Hotel, which is closer to the town – about a 15-minute walk. The design was inspired by Muckross House and I was here for a TBEX conference. It's more modern than the Lake Hotel, and on a busier road but is also near the park.
Address: The Brehon Hotel & Angsana Spa, Muckross Rd, Poulnamuck, Killarney, Co. Kerry, V93 RT22, Ireland
Check rates here.
Park Hotel Kenmare
If you prefer to be away from Killarney in a more quiet town, the Park Hotel Kenmare in Kenmare is top luxury, historic, and has one of the best spas in Ireland. It's about 20 km (12.5) from Killarney.
Address: Park Hotel Kenmare, Shelbourne St, Kenmare, Co. Kerry, V93 X3XY, Ireland
Check rates here.
If you're looking to explore Southwest Ireland beyond Killarney National Park, check out the itinerary for this multi-day Ireland: 5-Day Escape to the Southwest Tour here.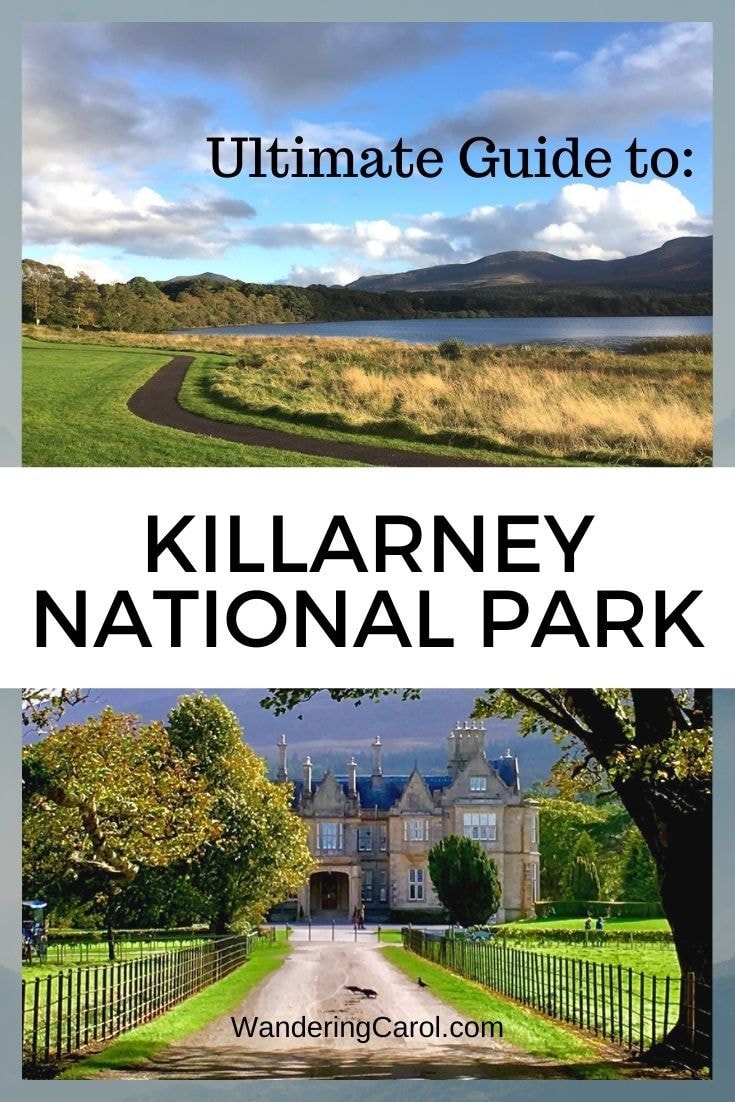 Photo Credit: All photos by Carol Perehudoff