This post may contain affiliate links.
Visiting NYC? Picking a hotel out of the thousands takes a dizzying leap of faith. To help you out, here's a New York luxury hotels blog review – 5 hotels, 3 locations, price estimates … and a few fragrant flowers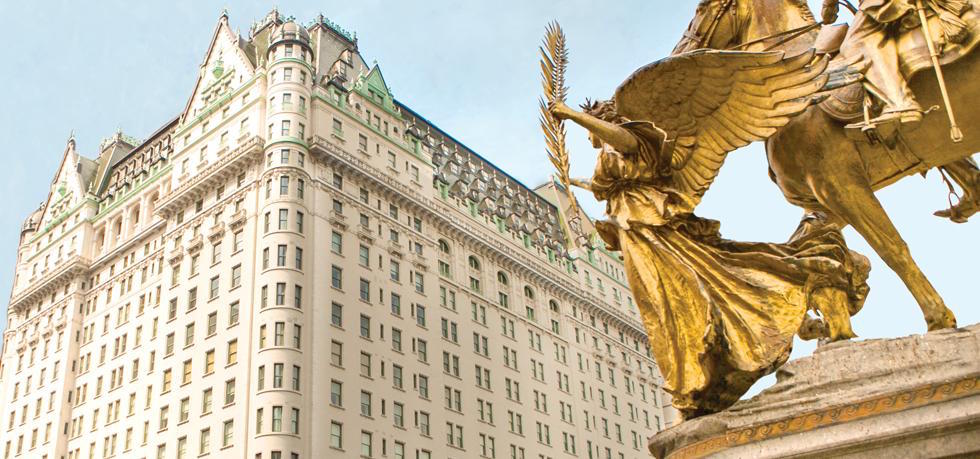 Comparing 5-star New York hotels
Trying to choose a hotel in New York City is about as much fun as trying to choose what hair to pluck out of your head. (Okay, I lied. I love choosing hotels, but it does get confusing.)
There are a million hotels in a million neighbourhoods, each with its own feel. And until you see a hotel for yourself, it's hard to know if it's right for you. This is why a New York luxury hotels review just might come in handy.
The secret to picking a hotel
So, over the course of my various trips to NYC, I've checked out a handful of New York luxury hotels in three different Manhattan neighbourhoods: uptown, downtown and midtown. And I learned the secret to finding the right NYC 5-star hotel, all you need to do is pick a flower.
Hopefully this botanical comparison will help you when you're searching for a hotel in Manhattan. So without further a dew (dew, flower, … get it?) here is my review of the best New York luxury hotels I've seen.
The NYC 5-star luxury hotels reviewed are:
The Plaza
Langham Place
The Dominick
The Pierre
Hôtel Plaza Athénée New York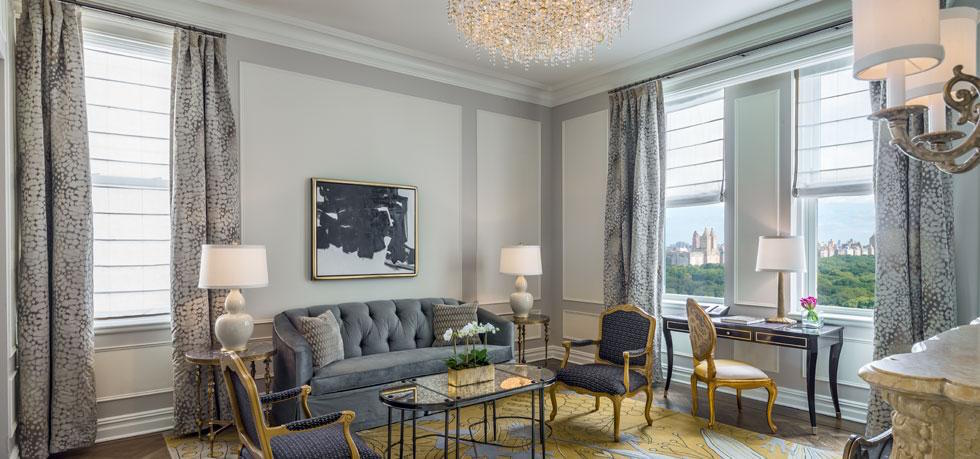 The Plaza Hotel Ne York – Upper East Side Luxury
Located at the ultra desirable corner of 5th Avenue and Central Park, The Plaza reminds me of a great white peony surrounded by clouds gold glitter dust. (Yes, that's how things look in my head and I'm sure this New York luxury hotels review has been helpful already!)
But, really. It's true. The Plaza is full of light and life and glitter and is fresh as a daisy peony.
This is a large hotel that is as much a tourist attraction as a hotel, and high tea at the Palm Court is practically a right of passage. (But make reservations because it's a popular right of passage.)
You might also be interested to know that The Plaza New York is the world's first hotel to feature 24-carat gold plated Sherle Wagner fixtures in all guest bathrooms, which go so well with the white marble vanities.
But please don't try to snitch a gold faucet when you leave, or your suitcase – and the hotel – will runneth over.
Conclusion: When it comes to New York luxury all that glitters is not gold, except, possibly, at The Plaza hotel.
Langham Place – Midtown Luxury
The Langham Place on bustling 5th Avenue falls somewhere between the traditional splendour of The Plaza and the artsy chic of the downtown Dominick. Let's call it: contemporary elegance. Sophisticated chic? Take your pick.
The Best Hotel in Midtown New York
Located in midtown right by the Empire State Building, Langham Place, New York is also light and white but sleeker than The Plaza, so let's make it an orchid. It's also one of the few 5-star luxury hotels in midtown.
The problem is that the Langham Hotels & Resorts brand already has a flower symbol, the pink Langham rose. (It also has a scent, the ginger flower, but we can only handle so many sensory concepts at one time.)
Nonetheless, as Langham Place hotels are more contemporary than their traditional sisters, The Langham hotels, I'm sticking with the white orchid leaf motif leitmotif, especially because like one perfect white orchid,
Langham Place whispers uncluttered elegance, from the pure white teardrop-shaped sculpture in the lobby to the white leather benches and creamy marble floors. A standout at the hotel is the pop art in the lobby by Alex Katz.
As an aside, with this flower battle between the pink rose and white orchid, isn't it just so fitting the name of the Michelin-starred Ai Fiori restaurant at Langham Place, New York means "among the flowers?" Just saying.
Conclusion: The hotel's official flower may be the pink rose, but I give the Langham Place, New York a white orchid seal of approval.
The Dominick – Luxury accommodation in Soho
When I went to tour the Dominick hotel in Soho with my niece Molly, who was living in New York, I was fretting because once again I'd visited New York without visiting a single (non-art) tourist attraction.
"I've never been a tourist! I want to see the Statue of Liberty," I said, over cocktails at the hotel's Mr Jones bar.
Thirty minutes later, as we were standing on the 46th floor of the Dominick, looking out over the surround-sound views of New York and the Hudson River, she said, "Now you have. It's there!"
"Where?"
Following her finger, I finally located the pea-sized shadow that she insisted was the Statue of Liberty. Fine. I'll take her word for it. With so many shops, designer cocktails to drink and New York art galleries to swan around in, who has time for sightseeing anyway?
An ideal Soho location
Located in Lower Manhattan, South of Houston Street, Soho has evolved from a gritty neighbourhood filled with artists' lofts and galleries (arguably it's most exciting time) to a hip happening district with chic shops and a lingering art-loving vibe.
Soho is famous for its signature cast iron architecture and Belgian block cobblestone paving, but the 46-story Trump Soho, is a contemporary landmark, the only high rise in the area and the only 5-diamond rated hotel.
Decor at the Dominick
Here we have a problem. What kind of flower is the Dominick? (This hotel flower comparison isn't as easy as you might think.) As far as New York luxury hotels go, the Dominick resists any flower comparison. Why? Because it wants to be the woods.
In contrast to its gleamy exterior, the lobby of the Dominick is surprisingly bling-free, focusing on earthy tones of bronze, walnut and chocolate with illuminated fire elements and the odd burst of rich colour, while the narrow lofty-ceilinged lobby has a pine forest feel.
Conclusion: If you can't see the forest for the trees, walk into the Dominick and there it will be.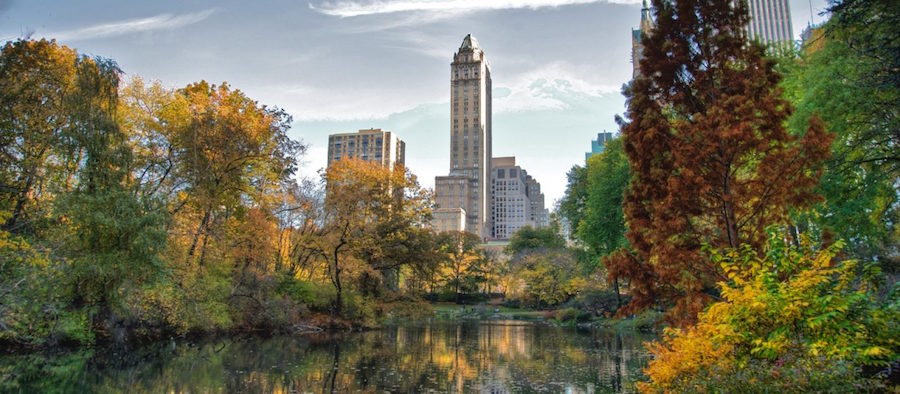 More Uptown Luxury Accommodation – The Pierre hotel
If The Plaza hotel is exuberant luxury, The Pierre hotel New York, just kitty corner from The Plaza at 2 East 61st Street, is luxe and discreet.
Its old world vibe is quite irresistible, with black and white checkerboard tile in the low-ceilinged lobby, a windowless lounge that feels like a New Yorkers' private club and then, like a crazy surprise, a glamorous two-story rotunda and lounge covered in Renaissance-esque murals around the corner and down the hallway.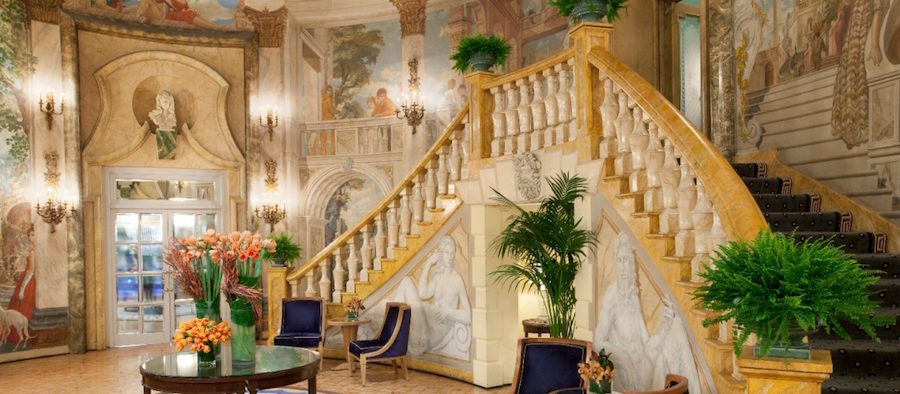 Discreet Elite Vibe at The Pierre
The Pierre is more than a hotel – a number of wealthy New Yorkers live in the building, and just by staying here you somehow feel in the know.
It has an enviable location right across the street from Central Park. And one thing I know is that flower-wise, The Pierre is subtle and beautiful, colourful but tasteful, and a little secretive or mysterious. Therefore, The Pierre is a bouquet of violets.
Conclusion: I paid more money for a room at The Pierre than I've ever paid in my life, $635 USD – which may seem like a lot to pay for a bunch of violets, but if you want to stop and smell the roses violets at least once in your life, The Pierre makes one hell of a bouquet.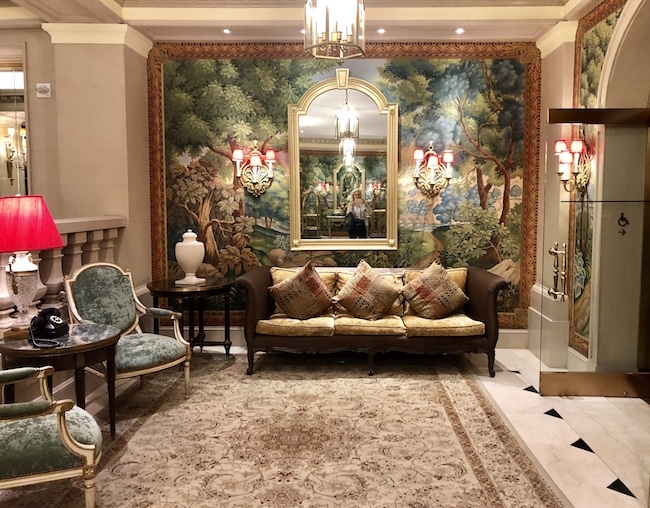 Hôtel Plaza Athénée New York
My stay at the Plaza Athénée New York was the highlight of my last trip to New York. This upper east side luxury hotel stands out for its quiet location on a side street at 37 East 64th Street at Madison Avenue and for its delightfully overgrown-garden hand-painted mural in the lobby.
A Quiet East Side Location
Opened in 1984, the Plaza Athenee is not a large hotel like the Fairmont Plaza, but has more of the atmosphere of The Pierre: discreet and glam but fun.
It's very close to Central Park, and I love its French-inspired sophistication. Think doormen, antiques and Italian marble.
If you prefer a boutique hotel in a luxe location, the Plaza Athenee is a good option. We loved breakfast in the old-fashioned dining room, and grew to love our view of the apartment buildings in the area, which, while was sort of a back-end view of the neighborhood, gave us a close-up look at the private terraces and residences of the locals. (I'm such a snoop.)
Travel guide for this New York luxury hotels review
What good would New York luxury hotels review be without addresses and prices? Prices are a very rough comparison, as they change with any stiff breeze, holiday, day of the week or season.
The Plaza hotel is located at 768 5th Ave, New York, NY 10019. Room costs start around $500 and go up. Check prices and availability.
The Pierre, a Taj hotel, is located at 2 E 61st St, New York, NY 10065. Room costs start around $500 and go up. Check prices and availability.
Langham Place hotel is located at 400 5th Ave, New York, NY 10018. Room prices start around $400 and go up. Check availability and prices.
The Dominick is located at 246 Spring St, New York, NY 10013. Rooms start around $350 and go up. Check prices and availability.
Looking for something cheaper? Search more New York Hotel options.
Read more about luxury travel, and what it means.