This post may contain affiliate links.
Visiting New York City? Checking out Soho? Experience the evolution of the cocktail revolution at Mr Jones bar in the Dominick Hotel, NYC
Well, the Trump Hotel Soho is gone from Manhattan and rebranded as the Dominick Hotel. What remains are the cocktails.
Am I not supposed to be doing this?
One of the bartenders at Mr Jones bar in Soho caught me crumpling a green leaf and holding it to my nose. "There's your article opening," he said. "I was sitting at the bar, sniffing a leaf."
Excellent idea. Here goes. "I was sitting in a dark bar, sniffing a leaf."
Only it wasn't an an illegal kind of leaf. It was a lime leaf. Fascinated by the strange and aromatic ingredients that go into the cocktails at Mr Jones, an intimate cocktail bar attached to the Dominick Hotel on Spring Street, I was ready to taste, touch and sniff everything I could get my hands on (within legal boundaries, of course.)
Cocktail magic at Mr Jones Bar
I scanned the cocktail menu, whispering random ingredients out loud as if I were weaving a spell. "Honey Haberno, Kappa Pisco, lemon oil, Kamiozumi Ume Shu Plum, Benedictine, Peychauds …"
Add in a few eyes-of-newt and bat-wings and I could probably make the Moroccan copper light fixtures start dancing. I went back to my spell casting, only to be interrupted when our bartender, Asa Scott, handed my niece and me two substantial-sized drinks.
Around the world with cocktails
I took a sip of my Tom Kha Gimlet, a Thai-influenced smooth, sweet and tart creation of Kalani Coconut, Lime and Fords Gin infused in-house with Lime leaf. I sighed. Perfection. My niece Molly tasted her Pistachio Fix, a creative combo of Santa Theresa Orangerie Rhum, Lime, Pistachio, Creme de Menthe, Angostura and Mint – and which looked like a massive celery-topped salad.
"It's good," she pronounced.
Let me translate her wordiness. Molly, a 20-something New Yorker, works in the fashion industry and sees her fair share of cocktails. For her this is high praise.
Cocktail culture in New York City
"The cocktail world has taken a turn for the better," Asa said, as I tried not to slurp my drink down in one go.
"How so?" I asked. I may be a late arrival to the world's cocktail revolution, but I know it's not new. "The cocktail explosion has been 'taking off' for years," I said, rolling my arms in the air to emphasize an exploding drink trend. "How changed could it be?"
"It's less pretentious," said Asa. "It's less fancy than the whole craft cocktail look. It's T-shirts and jeans. At Mr Jones we don't want to tell you what to drink. We want to provide a space that's relaxed."
What are craft cocktails?
Let me pause to explain about craft cocktails, and how they've taken over the global drinking culture like weeds in a gin-soaked garden. To get a handle on what a craft cocktail is, think ultra quality ingredients, fresh juice and herbs, creative combinations, layers, notes, subtleties and complexities. Think international flavours, redefined classics (with a bit of Mad Men suavity thrown in), gastronomic finesse and – excuse me for being critical – pretentiousness, especially in New York City, where it's said the craft cocktail revolution began.
Who is Mr Jones?
It's admirable that Mr Jones NYC strives to be a relaxed place to get a seriously fine drink. And it would be especially relaxed if you were, like the mythical Mr Jones the bar is themed around, a 60s era "well-traveled, well-heeled bon vivant." That's the concept behind the 1000-square-foot Soho cocktail lounge: it's Mr Jones' hideaway when he needs to unwind from his "life of jet setting revelry." (Because that can be so tiring, don't you know?)
NYC cocktail hideaway
With its funky backlit LIFE Magazine, Playboy and classic album covers on the walls, its toffee-toned colour scheme and stage at the front end, I'm not sure – if I were a 60s era bon vivant – that this is how I'd decorate my luxe masculine hideaway, but as I'm clearly not a 60s playboy recovering from my rollicking "global escapades," what do I know? Besides, the concept is fun and the bar is inviting.
Unfortunately neither I nor my niece were able to meet any bon vivant Mr Joneses (although, of course, I was, er, only looking for one for my niece) because the bar was setting up for a party and not officially open, but Asa's huge smile and infectious enthusiasm for all things cocktail more than made up for the chance to check out the bar crowd.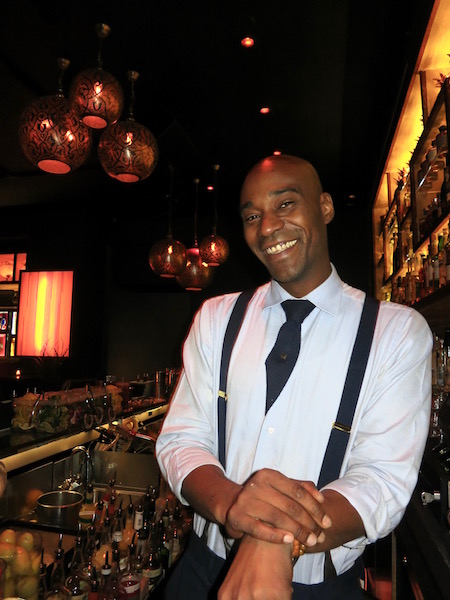 A NYC bar backed by cocktail know how
"Tim Cooper, one of the partners in Mr Jones, created the drinks," Asa told us as I bit into a Crispy Bao Bunsto Merguez Kofte from the globally-inspired (by Mr Jones' travels) tapas-style bar menu. "I think he's challenged people with these cocktails. There's a subtlety about them."
As Asa raved about the creative skills of Cooper (from well-known NYC bars Sweetwater Social and GoldBar) who, Asa said, worked on the Red Dead Redemption for 3 months before being satisfied ("It's the sherry that gives the rye another note"), it occurred to me Asa has what is possibly the largest grin I have yet to see in I'm-so-cool Soho in downtown New York, and just like the aim of the bar – bon vivants notwithstanding – it's refreshingly unpretentious.
Travel guide for Mr Jones cocktail bar and the Trump Soho hotel
About Mr Jones NYC
Mr Jones cocktail bar is an intimate space on the ground floor of the Dominick Hotel (Formerly the Trump Soho) at 246 Spring Street (entrance on Varick Street) in lower Manhattan. The bar is a collaboration between two well known fixtures on the New York cocktail scene: Tim Cooper of Sweetwater Social and GoldBar, and Benjamin Wood from Distilled. That, combined with its enviable edge-of-Soho location, would suggest it's bound to be a success.
Hours: The bar is open Tuesdays to Thursdays from 5:00 p.m. to 1:00 a.m., Fridays and Saturdays from 5:00 p.m. to 2:00 a.m. Visit the Mr Jones website for more info.
Mr Jones bar is perfect for: a post work cocktail.
Live music: Mr Jones bar has a house band that plays 3 times per week and as well hosts occasional guest artists.
About the Dominick Hotel
The Dominick Hotel in Soho, New York, is design-rich, slick and sexy and has a great downtown Manhattan location. Check rates and availability here.
One of the few high rises in the area (and that is a controversy all on its own), the 5-star property is a 46-story glass tower. Rooms have floor-to-ceiling windows, custom-made Italian bedding and furnishings by celebrity design firm Fendi Casa.
In addition to the Mr Jones cocktail bar, the Dominick has a seasonal rooftop pool and bar an a spa with a Turkish-influenced hammam. The lobby is narrow but luxe, with a lot of dark wood, burnished colours and fire-esque illumination. The views of the city skyline and the Hudson River from the rooftop meeting spaces are unreal.
More adventures in New York
New York Hotels: A Plaza blog review
NYC hotel review: The Pierre New York
How to go to an art opening in Chelsea, New York