This post may contain affiliate links.
New York Pierre Hotel Review
Searching for a New York luxury hotel? I splashed out and went 5-star in Manhattan. Here's my review of the New York Pierre hotel.
Quintessential New York
It may sound French, and be part of the luxury Taj hotel brand from India, but The Pierre hotel is quintessential New York.
Let me clarify. The Pierre is quintessential insider New York.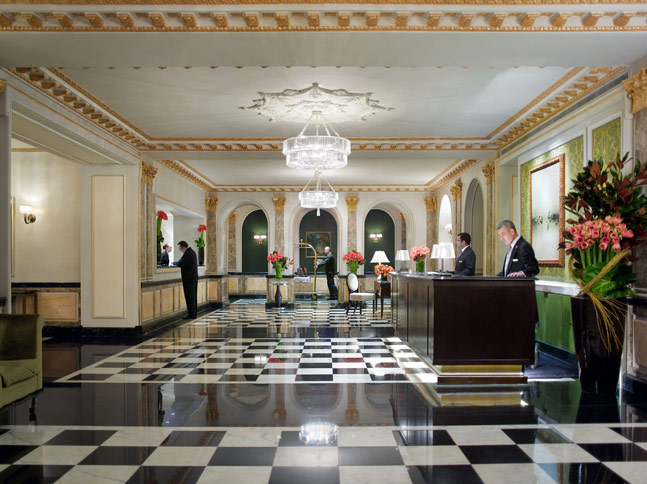 Where the Other Half Live
If you want to rub shoulders with Billionaires Who Will Remain Nameless, this is the place to do it. Because this is where they live. In The Pierre.
Only it's not a hotel to gawk in because everything is DISCREET and when you stay here you quickly get swept up in the hushed elegance of it all, and start believing deep in your heart that you are 1) a New Yorker and 2) very rich, even if you are neither.
History of The Pierre Hotel
Located at the prime intersection of East 61st Street and 5th Avenue right across from Central Park south, The Pierre was a grand hotel from the get go, attracting the cream of the elite (hello, Coco Chanel!) when it opened in 1930.
It went broke soon after. Then gazillionaire John Paul Getty bought it in 1938 and it became elegant all over again.
Why Do Billionaires Live at The Pierre?
The reason Billionaires Who Will Remain Nameless live at The Pierre is because in 1959 it became a co-op and then wealthy investors and A-Listers such as Elizabeth Taylor and Yves Saint Laurent were able to snap up some of the best apartments with the most smashing views of Central Park while the rest of the space remained a hotel.
Celebrities at The Pierre New York
Today, in addition to private apartments, The Pierre NYC has 189 hotel rooms, including 49 suites.
This is a huge relief for visiting celebs and dignitaries such as Prince Philip and the Rolling Stones who need a hotel to stay in when they come to New York.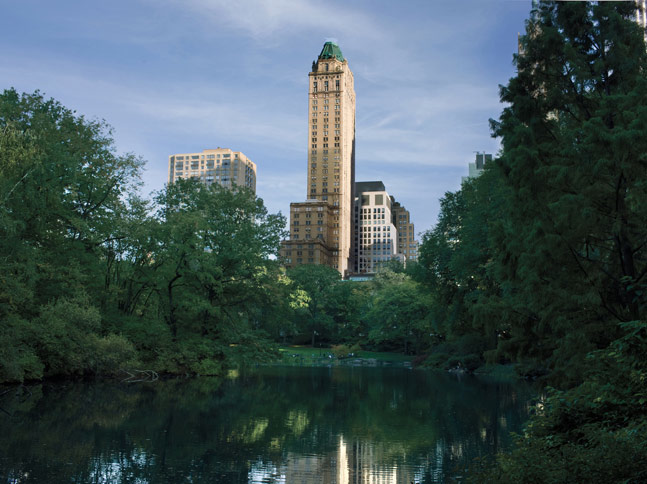 Part of the Upper East Skyline
The Pierre is a classic part of the upper east side skyline, its granite and pale brick exterior rising up like some glamorous New York needle.
Simplicity and Refinement
The lobby isn't large or flashy, but chic and tasteful with black and white tiles and all kinds of helpful concierges and receptionists and doormen.
All of the concierges at The Pierre are Clefs d'Or.
This means they can arrange just about anything, such as having your name written in the sky over the Statue of Liberty, getting you an immediate appointment with a plastic surgeon or, perhaps most importantly, a personal shopper at Bergdorf Goodman, the swanky department store just down the street.
I, however, was boring and asked for a map.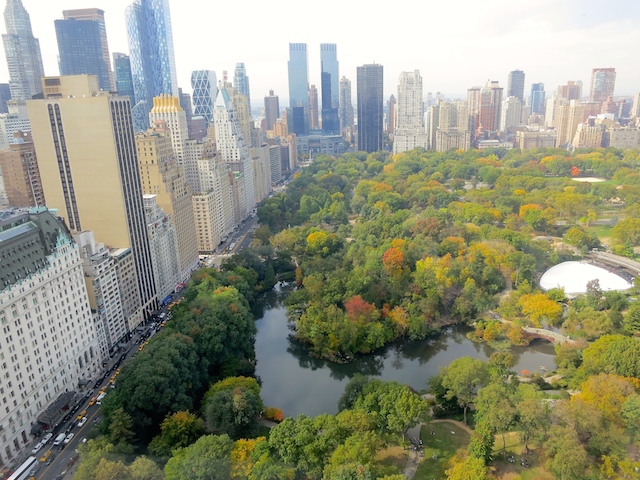 Note to self: Next time when staying at The Pierre dream up some challenging tasks for the concierges, such as 'teach me how to walk 40 New York blocks in 5-inch heels.'
Why Choose The Pierre?
It's across the street from Central Park – an unbeatable location.
It's a true Upper East Side hideaway and offers a taste of authentic New York luxury.
I wanted to stay at The Pierre after I read it was the only hotel in New York that still employs gloved elevator operators, because pressing elevator buttons is just such a trial. (Probably all the Billionaires Who Will Remain Nameless feel the same.) I've since heard the Carlyle has elevator operators, too, so if having an elevator person is a deal breaker for you and The Pierre is full, you won't have to go home crying.
I'd also read The Pierre hotel has a car you can get complimentary rides in. (A Jaguar.) I really wanted to take it to my late father's art opening in Chelsea, which is why I was visiting New York in the first place, but someone beat me to it.
The Pierre Hotel Car
You can't reserve a ride, which I kind of love because it's so democratic and means that if Mick Jagger is three seconds behind you he can't cut ahead of you in line. (Then again, he probably has his own car.)
If the car is there the driver will take you almost anywhere in Manhattan (certain boundaries apply). But. Because you can't reserve The Pierre hotel car, you either have to sit around and wait for it, or give up and take a taxi or the subway.
That's what happened to me. In fact, that Jag must be the most elusive car in New York, because I tried and tried but never even saw it much less caught a ride in it. And if I ever open a hotel I'm going to discreetly mention that there are 87 Rolls for guests to use, and then tell everyone they just missed them.
PS: The Pierre doesn't make stuff like this up. I fully believe there really is a car. I also believe I am blessed with bad timing.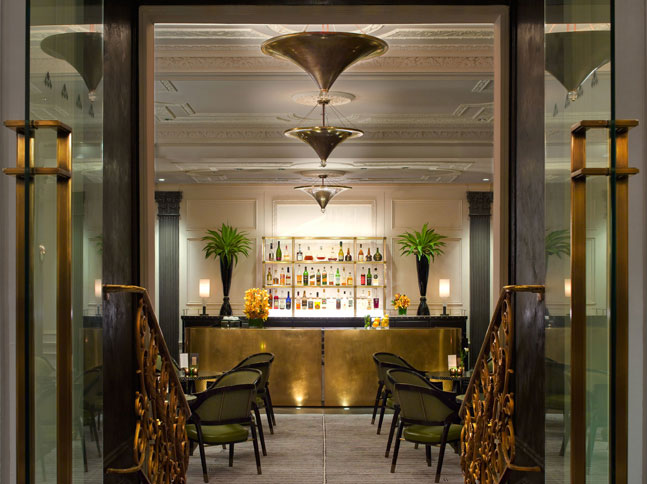 Restaurants at The Pierre
Two E Lounge
Just off the lobby of The Pierre is the Two E lounge. It's named for the address of the hotel, which, quite obviously, is 2 East 61 st Street.
The lounge has no windows, but it's luxe and intimate. The decor is very Art Deco, with the hotel's original columns and mouldings and a gleamy bronze bar.
High Tea at The Pierre Hotel New York
The Two E Lounge is possibly best known for its Afternoon Tea, named by Town and Country Magazine as the best afternoon tea in New York. (Though it's hard to top the iconic experience at The Plaza across the street.)
Try The Pierre Blend, a custom blended tea with a hint of cardamom, pink peppercorns, cloves, cinnamon, ginger and orange. Or opt for the Royal Tea service with Taittinger Champagne.
It's all accompanied by mini sandwiches, scones and pastries of course.
Perrine New York
The Perrine Restaurant is The Pierre's signature restaurant. It's a fine dining restaurant that pairs seasonal dishes with classic favourites and, when it comes to the menu, its attitude is 'fresh and fun.'
It also offers dining on the outdoor Rose Terrace.
The menu focuses on sustainability and there is plenty of local fare such as Catskills smoked salmon, locally raised spring chicken and Vermont cheddar. A classic is The Pierre Burger with grass-fed beef, grilled onion spicy remoulade and Rupert cheese.
The Rotunda
Not to exaggerate but The Pierre has the most beautiful rotunda in the world. It's completely covered in trompe l'oeil murals and has floaty clouds in the sky. It's very Renaissance looking, although it was actually only painted in 1967.
This is why, in addition to classical visions of Neptune, Venus and Minerva, you'll find Jacqueline Kennedy Onassis, Erik Estrada (masquerading as the biblical Adam) and the artist's cat.
Gossip alert: I read that Aristotle Onassis once had an apartment at The Pierre.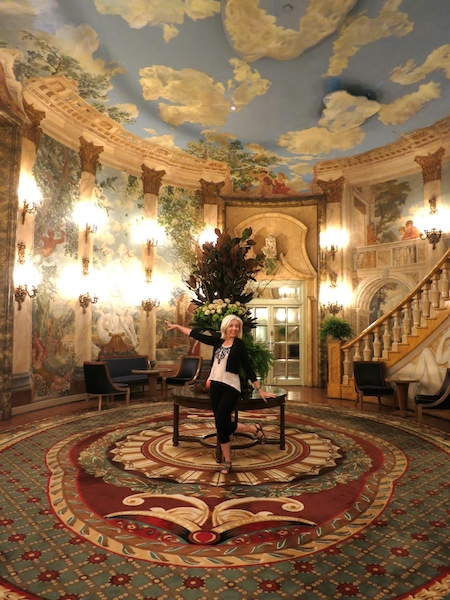 It would be the perfect place to hire out for a private event.
Speaking of private events, Mary Tyler Moore and Barbara Walters both held their wedding receptions at The Pierre NYC in the Grand Ballroom.
Rooms at The Pierre
After a $100 million renovation, you can imagine that the guest rooms and suites at the New York Pierre hotel are very nice.
Designed with the hotel's signature 'quiet luxury' in mind, colour schemes are muted ivories and taupes with soft accents of green or coral, tufted leather headboards and lots of silk and brocade.
While my room wasn't large, not like the Tata Suite below, it was certainly comfortable.
It should be, for the price I paid.
How Much Does The Pierre NYC Cost?
The Pierre is not cheap, even for a luxury New York hotel, and I went during a busy time. After much desperate searching, I got a rate of $614 USD per night including tax.
I stayed 4 nights, which in shopping terms equals a small Louis Vuitton bag and a Burberry scarf. Or FOUR All Saints leather jackets.
And I didn't have a view of Central Park. Not like the Tata Suite does.
Nor did I run into Mary Tyler Moore, Victoria Beckham, Mick Jagger or any Billionaires Who Will Remain Nameless at all, but, just like the elusive hotel car, deep in my heart I'm certain they were all there.
Travel Tips For a Stay at The Pierre Hotel
Pin me!
Interested in other luxury hotels in New York? Check out my New York luxury hotels blog review.
FYI: The Metropolitan Club next door to The Pierre:
If you are the nosy type of traveller who likes to peer into windows (of course that's not me) you will see into the very swanky private Metropolitan Club right next to The Pierre.
You may mistake it for a Florentine cathedral because of the putti (cupids) and gilt on the ceiling. You may also think it's part of The Pierre, but it's not.
What to Do Near The Pierre
With Central Park south right across the street you can walk, rent a bike, visit the zoo, etc.
Very near is the ultra marvellous Frick Museum, my very favourite museum in New York, at 1 E 70th St, New York. Don't miss the wonderful portraits by Gainsborough. (Or anything else. It's all good.)
The world class Metropolitan Museum of Fine Art is a 10-minute walk away at 1000 5th Ave, New York. I recommend strolling there through Central Park.
Bergdorf Goodman is a short skip away from The Pierre at 745 5th Ave, New York.
If you want a bit of downtown in your uptown experience, I recommend checking out the galleries in Chelsea.