This post may contain affiliate links.
Private Tour of Versailles
Did you know that when visiting Versailles you see only a small percentage of the palace? What about the parts you don't see?
This guest post by historical fiction author, Sally Christie, whose trilogy The Mistresses of Versailles is set in this magnificent palace brings us along on her private tour of Versailles – and tells you how you can do it, too.
Warning: A private tour of Versailles on this level is a serious splurge.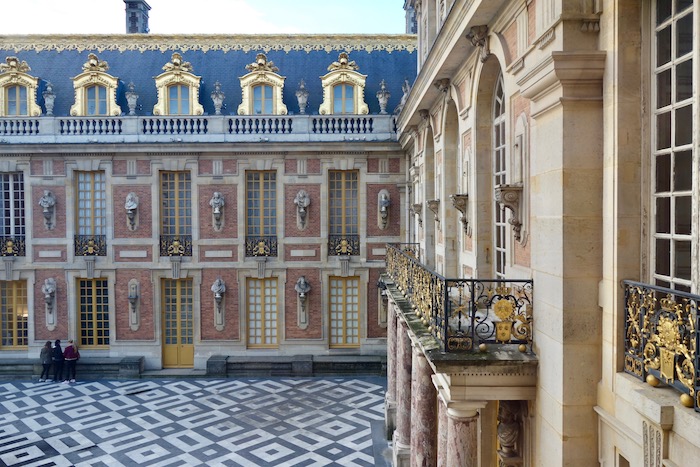 Visiting Versailles – A Private Backstage Tour
No trip to Paris is complete without a visit to the incomparable Palace of Versailles outside Paris. It's more than a day trip; consider spending a night or two in the town of Versailles where there are plenty of accommodation options. The gardens are vast and there are the Grand Trianon and the Petit Trianon to visit, in addition to the main palace.
The Downside of Visiting Versailles – Lineups
Unfortunately, there is no good time to visit Versailles; long lines form in the height of summer, in the depths of winters, in the cold of April showers.
The chateau receives over three million visitors a year, and though the palace is vast, the part open to the public is not. Visitors are squeezed (literally) through a series of public rooms that soon start to numb with their magnificence.
Touring Versailles
You can balance the overwhelming grandeur of the public rooms with a visit to the more intimate main-floor apartments of Mesdames (as King Louis XV's unmarried daughters were known), and you can also take a tour of Louis XVs private apartments for just 10 euros extra – well worth it. But still… so much of the palace remains out of reach, inaccessible to the average visitor.
Visiting Versailles on a Private Backstage Tour, Complete with Chauffeur
For something truly memorable, go one step further and splurge on a private tour of Versailles. This is a once in a lifetime experience, with a once in a lifetime price tag – the tour averages around 1500 euros (approx $1630), including guides and chauffeur – but it is well worth it for any self-respecting Francophile or history lover (or both, like me!).
The wonderful Deborah Anthony at French Travel Boutique coordinated my visit and also arranged for a very knowledgeable historian to accompany us, in addition the guide and guards mandated by the palace.
The Private Tour of Versailles Begins
You can imagine my excitement as the guide unlocked a door with a key from his huge keyring and ushered us away from the tourist hordes, and into the quiet and magic of the deserted palace, behind the scenes: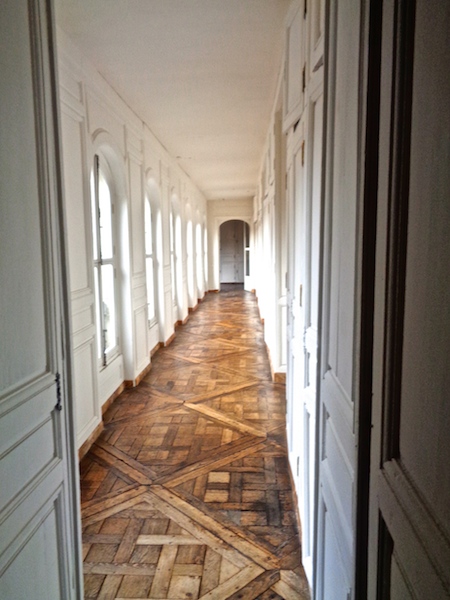 Touring the Apartments of Louis XV's Most Famous Mistress at Versailles
Our first stop was a visit to the third floor and what were once the apartments of the fabulous Madame de Pompadour – Louis XV's longest serving and most famous mistress.
Before she lived there, they belonged to Marie Anne de Mailly Nesle, his previous mistress and one of the protagonists of my book The Sisters of Versailles. It was such a thrill to stand in the very rooms where so many scenes in that book unfold, and to look out the windows at the same, unchanged view of the gardens Marie Anne would have seen.
These private apartments in Versailles are lovely: more human-scale and intimate, more livable. Three rooms are open to the public, and the boudoir is decorated in a beautiful green-grey fabric, copied from an original fabric the Marquise de Pompadour was known to have loved:
Another Versailles Mistress: Touring the Rooms of the Comtesse du Barry
Next up were the delightful rooms of the Comtesse du Barry, also on the third floor of the Palace of Versailles. She was Louis XV's final mistress and many history buffs know her for locking horns with Marie Antoinette – they overlapped for several years at Court.
The rooms of the Comtesse du Barry were endless – she had 13 rooms in her suite (an enormous number in a very overcrowded palace, where even the highest of nobles might be happy with one or two rooms) – and very intimate: low ceilings and delightful paneling in many of the rooms, the paint original from when she lived there in the 1770s: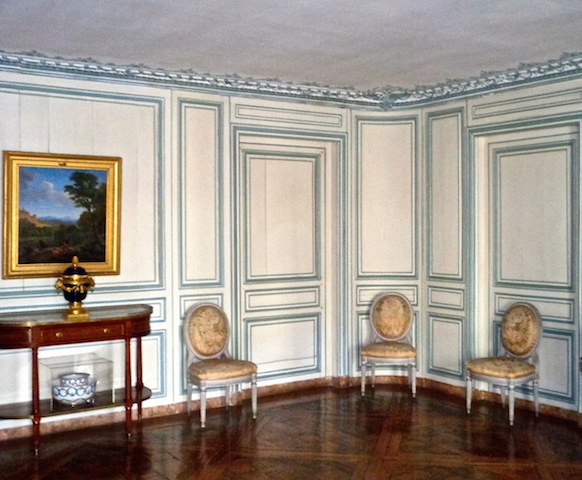 Visiting Versailles: the Rat's Nest
The best part of the private tour of Versailles for me was experiencing firsthand the "rat's nest" that the majority of the palace was.
As Versailles became more and more crowded (it was estimated that it contained at least 1,000 apartments) rooms were cut in half, both length-wise and height-wise (!), and even the smallest of cubbyholes became a viable living space: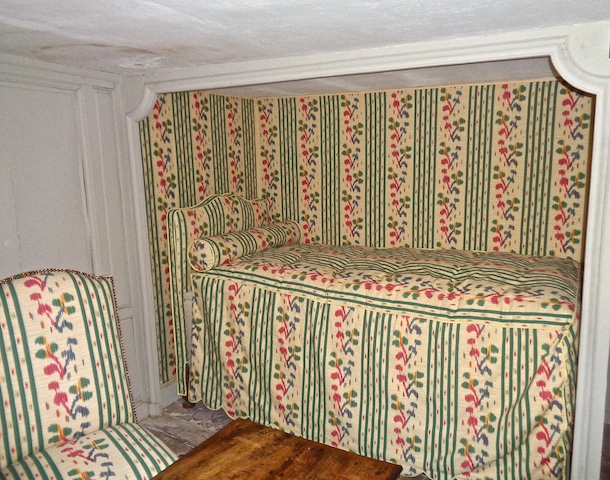 From Reality to Fiction
Seeing the reality of how many of the courtiers lived was essential research for my book and made their daily lives come alive for me. It also made me realize that the inhabitants of Versailles had to find their way around a literal maze, as well as a figurative maze of treachery and intrigue!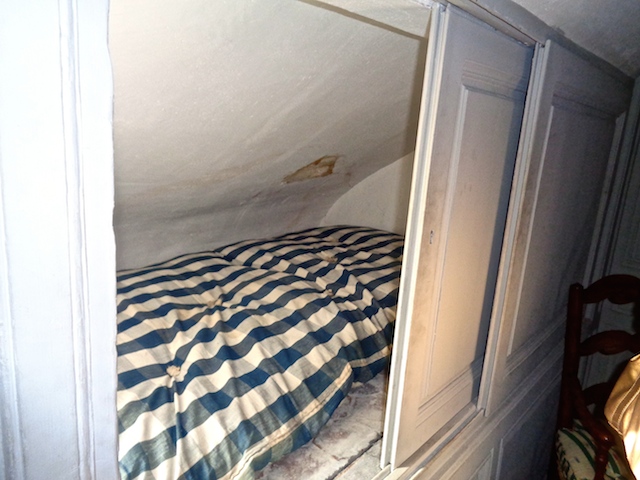 The Apartments of the Dauphin and Dauphine
My backstage tour of Versailles ended in the apartments of the Dauphin (the title of the eldest son of a French king) and Dauphine. These are grand rooms similar to the ones open to the public, but they were completely empty.
It was such a thrill to walk through them without fighting the crowds, and just inhale the atmosphere. Here you could almost imagine, if you added a bit more furniture and ignored the selfie-sticks visible through the French doors leading out to the gardens, that you were back in the 18th century.
These rooms have some amazing paintings and portraits, as well as original furniture that the Societé des Amis de Versailles works very hard to acquire. During our visit, our historian was very interested to see a new acquisition she had heard about but never seen: a beautiful sofa, original to the palace:
A Backstage Glimpse into the Court of Versailles
Visiting Versailles on a private tour provides the magnificence of Versailles without the masses, giving a backstage peek into what life was like for its thousands of inhabitants, away from the grandeur of the main rooms. Highly, highly recommended.
About the author: Sally Christie is the author of The Mistresses of Versailles trilogy about Louis XV of France and his many lady loves.
Sally is a life-long history buff who finally turned her compunction to write into a full time pursuit. She is based in Toronto and when she is not writing, she is disappearing down into various rabbit holes of historical research, and playing lots of tennis.
Visit her website at www.sallychristieauthor.com for more information about her and the books.
If you want to do a private backstage tour of Versailles: French Travel Boutique normally requires about 4 months' advance notice to organize the tour.
Visiting Versailles Without a Private Tour
We can't all afford a private tour of Versailles, but we can see how the other half lived. Here's what you need to know to plan a day trip to Versailles:
Tickets for Versailles
A Passport ticket allows you to see anything at Versailles that is open to the public. Cost is €20 – 27 depending on season.
A 2-day Passport ticket gives you the same access over 2 days. Great if you're staying in the town of Versailles.
A Palace ticket gives you entry into the Palace of Versailles only.
A Paris Museum Pass gives you entry to Versailles as well.
Buying Versailles Tickets
You can buy a ticket online at the Chateau Versailles website.
You can buy tickets at any Palace ticket desk located around the Main Courtyard of Versailles – this means long lineups.
Paris to Versailles by train – You have 3 choices
You can take the RER C. Buy a Paris to Versailles Rive Gauche ticket (zones 1-4)
From Paris Montparnasse train station take an SNCF train to Versailles Chantiers
From Paris Saint Lazare train station take an SNCF train to Versailles Rive Droite
Staying in Paris? Read some of WanderingCarol's top Paris posts
Want more France?