This post may contain affiliate links.
"Those on whom legends are built are their own legends." —Gabrielle 'Coco' Chanel
One thing was becoming clear to me while I was having a tantrum at Angelina, a Belle Epoque tearoom and pastry shop on the Rue de Rivoli in Paris – Coco Chanel would not be impressed.
Neither was the tearoom manager.
But all I was trying to do was become a paragon of style and follow in the footsteps of Coco Chanel in Paris.
Channeling Chanel
My desire to retrace the footsteps of Coco Chanel came from one thing. The fake Chanel bag I bought when I was young. I was quite proud of the black quilted bag until my sister pointed out a passage in a cheeky book that explained how to dress like a mob wife. In addition to big hair and shopping at designer discount outlets, a fake Chanel bag was a must.
The bag had to go. My life had to change. I was going to be a person who carried a real designer bag, a person Coco Chanel would approve of (as long as I didn't have to give up big hair and designer outlets, too).
Gabrielle Coco Chanel – a diamond from a gritty past
But Coco Chanel didn't start out as any icon of class either. After her mother died and her father deserted the family, she was raised in a convent, and went on to be a lowly-paid seamstress while singing in a rowdy Parisian cabaret.
Busy creating her own legend, Chanel would later deny her past, dismissing stories that she came from "goodness knows where: from the music hall, the opera or the brothel; I'm sorry, for that would have been more amusing."
So, in the spirit of creating my own legend, let's say I've never had a fake Chanel bag. And now let our Footsteps of Coco Chanel in Paris Tour begin!
One day in Paris: following the footsteps of Coco Chanel
Any self-respecting Coco Chanel tour beelines for the Rue Cambon near the Place Vendôme, where she opened her first shop in 1910 at No. 21 (which is somehow now at No. 31. It gets confusing because she owned 5 boutiques on the street at one time).
It was a modest start, a hat shop called Chanel Modes, backed by two of her wealthy lovers, one who she'd left for the other.
Standing across the street from the glamorous boutique I rise up on my tiptoes, trying to see into the third floor apartment where she lived before moving to the Ritz.
I've seen photos of the interior, the Oriental screens and gilt-framed mirrors show her taste in decor was as chic as her love for dropped waists, little black dresses and comfortable jersey fabric that 'freed women from the tyranny of constraint.'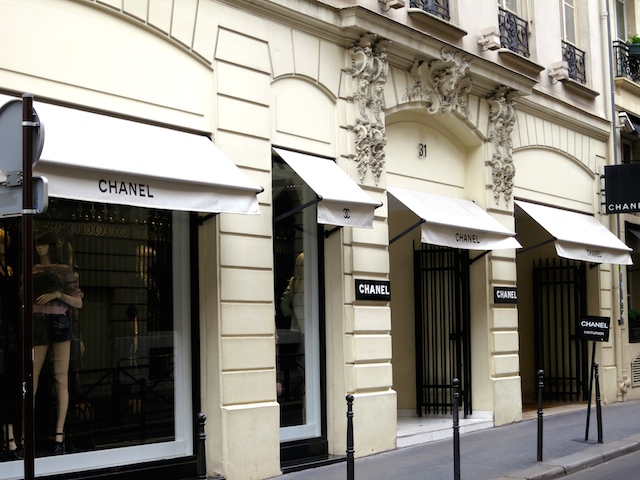 Inside the House of Chanel
The Chanel store is bustling: young Asian couples browsing accessories, Scandinavian blondes trying on Chanel flats and a pudgy American man who makes me want to applaud when he buys his slightly frumpy wife a purse.
Then I see THE BAG. The genuine Chanel bag that will change my life and up my fashion ante. It's intricate and fun, with braiding around the borders and skin as black and shiny as an oil slick off the coast of Normandy.
Money can't buy you love, unless you love a purse
"How much?" I ask the clerk, twirling around to admire the new woman-who-carries-chic-Chanel-bag me in the mirror.
When I translate the amount into dollars and come up with $7,000, I hear a loud clanging in my ears, set the bag down and settle for a spritz of Chanel Gardenia Perfume instead.
Leaving the House of Chanel in a cloud of scent, I tell myself I may not have the bag of my dreams but as Coco said, "A woman who doesn't wear perfume has no future," so at least I have that.
Coco Chanel at the Ritz
Normally, the footsteps of Coco Chanel in Paris would lead straight to the Ritz Hotel, where she kept an apartment (and had an affair with a Nazi officer during the war). After the war, when she was charged with collaborating with the Nazis because of the relationship, a mature Chanel tartly replied: "Really, sir, a woman of my age who has the chance of a lover cannot be expected to look at his passport."
It's rumoured Winston Churchill intervened on Chanel's behalf, but a shadow lingers over the famous designer to this day. Like so much about the enigmatic designer, I suppose we'll never know the real story.
The Ritz is closed for renovations so I can't go inside. No matter, I'm on a mission. If I can't have Chanel I'm buying Balenciaga.
The Chanel trail leads to Maison Balenciaga on Avenue George V
If there was one designer Chanel respected it was Cristóbal Balenciaga. While not a household name like Chanel, to devout fans he was a religion, and at one time this publicity-shunning Spanish-born designer was the most expensive couturier in France.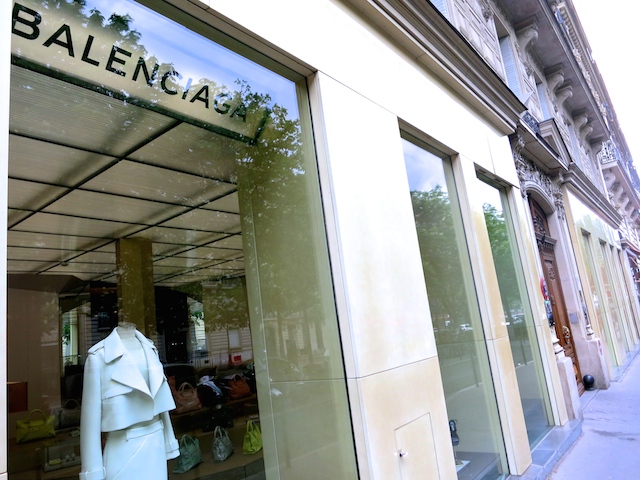 Inside Balenciaga
The shop on Georges V is empty except for a security guard and the salesclerk, both of whom I co-opt in helping me choose the perfect still-expensive-but-not-$7,000 classic Balenciaga bag.
"Oh, but the anthracite is more current," the salesman says, and I earnestly nod my head in agreement.
Armed with my new Balenciaga Giant 12 Silver Town, a lambskin shoulder bag with perky, yet tasteful silver studs, I'm ready for the final stop of my Coco Chanel Sights Tour – Angelina, a legendary teahouse that has been tempting discerning tastebuds since 1903.
Coco drank cocoa at Angelina
I assumed I'd waltz on in to this confection of a teahouse at 226 Rue de Rivoli, where Coco Chanel was said to enjoy an "African," a hot chocolate made with cocoa from Niger, Ghana and Côte d'Ivoire, but the lineup is horrendous. Am I the last tourist in Paris to know about Angelina?
My feet are aching by the time I am given a table in the back. Treading in Chanel's footsteps is wearing me out. Sitting down with relief, I place my new purse across from me as if it's a charming, albeit leathery-skinned companion.
A woman with a stroller is trying to squeeze past to get to her table in the corner. I pull my chair forward to make room.
"In order to be irreplaceable one must always be different." –Coco Chanel
"Ouch!" I say, bringing up a bleeding finger. A rough patch of wood on the bottom of my seat has scraped my flesh. Admittedly it's a small cut, but it stings and I might have a sliver and it seems unthinkable a place once patronized by Coco Chanel wouldn't have a better chair.
An American woman at the table next to me gives me a Band-Aid. The waiter looks helpless.
What would Chanel say?
I debate whether or not to complain, then think of Chanel who once said, "The most courageous act is to still think for yourself. Aloud."
"Can I talk to the manager?" I ask.
The manager comes over looking a little like Allen Leech, the actor who plays the lovely chauffer-turned-aristocrat in Downton Abbey. "I cut my finger on your chair!" I say.
He looks at me and shrugs. He shrugs!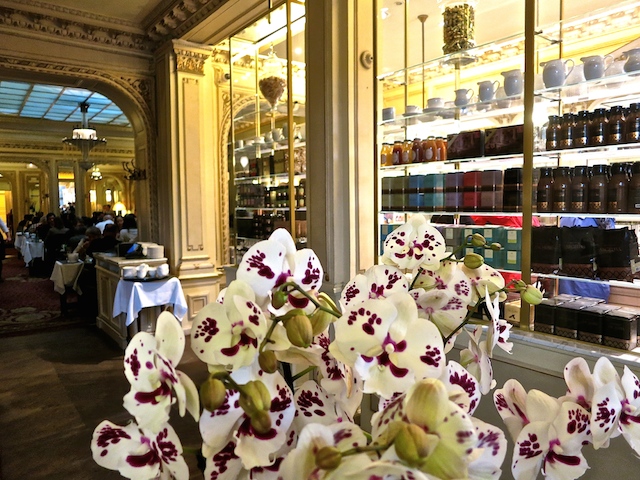 Losing it among the pastries
It's the shrug that turns me into a banshee. I can't remember my exact words, but my tone was shrill, and at one point I'm standing over him yapping while he's crouched over the upside down chair examining the offending patch of raw wood.
"The worst thing is you don't even care!" I say.
"I do," he says.
"You don't!" I'm almost in tears and I can't figure out why. Because I'm not Coco Chanel and will never be fashionable, even with a Balenciaga Classic Town bag? Because I'm tired and cranky from walking too far in the footsteps of Chanel? Or because I cut my finger on a stupid chair and just want someone – anyone – to say, "Oh, madame. I'm so sorry. You matter."
On my way out I hand the manager my card and say, "Here's my card. Enjoy my review."
The minute he grasps it another Chanel quote slides into my mind. "Some people think luxury is the opposite of poverty. It is not. It is the opposite of vulgarity."
You can buy a purse but you can't buy class
That stops me. If there was a more vulgar way to conduct myself in Angelina, other than launching into a table dance while wearing emerald green tassels, I was hard pressed to think of it. I'd spent the entire day courting style and all I accomplished was an impressive display of vulgarity.
I may as well be carrying a fake Chanel bag!
Clutching my Balenciaga to my chest, I slink out the door then force myself to stand straight, recalling Coco Chanel's best quote of all: "I don't care what you think. I don't think about you at all."
A Complete Guide for an In the Footsteps of Coco Chanel in Paris Walking Tour
The Rue Cambon is just off the Rue St Honore, near the back entrance of the Ritz Paris.
The Ritz Paris is at 15 Place Vendôme.
Walking: From the Place Vendôme it's a lovely – though long – walk down the Rue de Rivoli and past the Place de la Concorde and the Grand Palais and then along Cours Albert 1er down to Avenue George V. Use a map because there are twists and turns.
Balenciaga Paris George V is at 10 Avenue George V.
The gorgeous Four Seasons Hotel George V is at 31 Avenue George V – perfect for an (expensive) stop for refreshments.
If you have the energy walk back to Angelina at 226 Rue Rivoli. Warning: If you're really tired, take a deep breath and don't get cranky. Learn from my mistake. A signature Mont-Blanc pastry of meringue, whipped cream and chestnut cream vermicelli will also help.
Where to stay: I stayed at the The Westin Paris – Vendôme at 3 Rue de Castiglione. It's deluxe enough to channel your inner Chanel, though not as in the same starry price realm as the Ritz or the Four Seasons George V, and is perfectly located to explore all the Coco Chanel in Paris sights.
Want more Europe? Read about the Best Destinations in Europe.
Want more France? Try What to do in the French Riviera
More Paris? Read about The Most Historic Paris Cafes