This post may contain affiliate links.
Why visit Aix-les-Bains, France, a spa town on the shores of Lake Bourget? If you're going to France, why not? It's got water sports, a healing mineral-rich hot springs bathing complex and plenty of history.
Call me the Countess of Balmoral – that's the pseudonym Queen Victoria used when she used to visit Aix-les-Bains, one of the most popular spa towns in France. And my first official duty will be to laugh hysterically at my husband as he struggles to fit into a pair of spandex swim trunks that barely stretch past his knees.
For me, that sight alone is enough of a reason to visit Aix-les-Bains – but don't worry, there are others.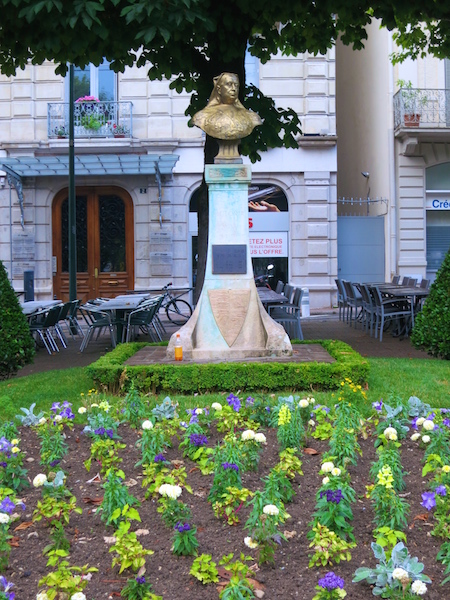 Why visit Aix-les-Bains? To laugh at your husband
"Ha, ha! Ah, ha ha!" I crouch over at the waist, struggling to regain my royal dignity and wipe the tears from my eyes – and yes, I'm aware of the double standard: Should my husband EVER break down in hysterics at the sight of me trying to squeeze into a too-small unflattering bikini, there would be a royal price on his winsome head.
Important note to any male wanting to bathe in the thermal pools in Aix-les-Bains, France: A regular baggy swimsuit is not acceptable. You need a spandex one. The official line is that these tighty mighties keep everything in, for hygienic reasons. The unofficial truth is that the world of French spas is ruled by women who 1) have a keen sense of humour and/or 2) want to get a good look.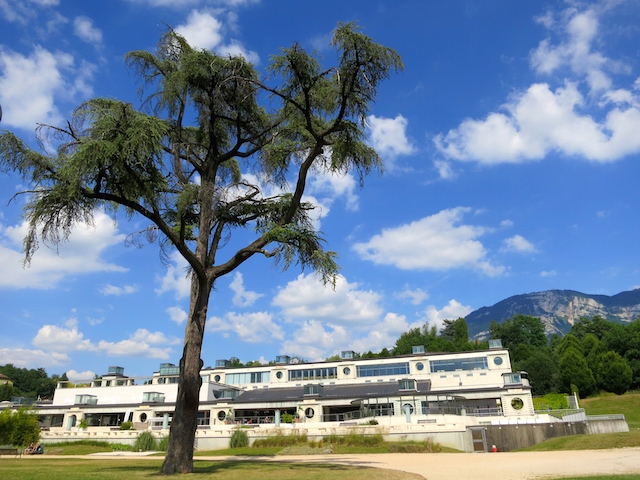 Thermal bathing in Aix-les-Bains
Handily, these stretchy butt huggers are for sale in the gift shop of the Thermes Chevalley, the modern spa and pool complex that is the raison d'etre for Aix-les-Bains, France, a bustling spa town that so prettily lies between the shores of Lac du Bourget (Lake Bourget), France's largest natural lake, and the 1530-metre high Mont Revard.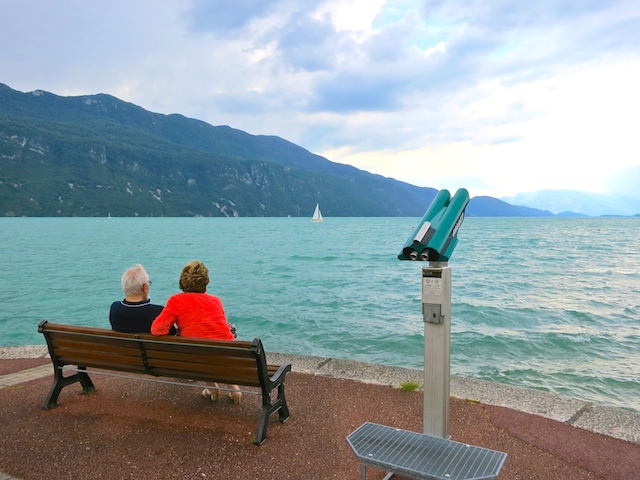 Where is Aix-les-Bains?
Just 60 km south of Geneva in the scenic Savoy region of France, Aix-les-Bains is about 30 km from Annecy and 100 from Lyon. It's absolutely a destination worth exploring, but shoppers beware: Those spandex swim trunks don't stretch as much as you think they will. Ah, ha ha ha!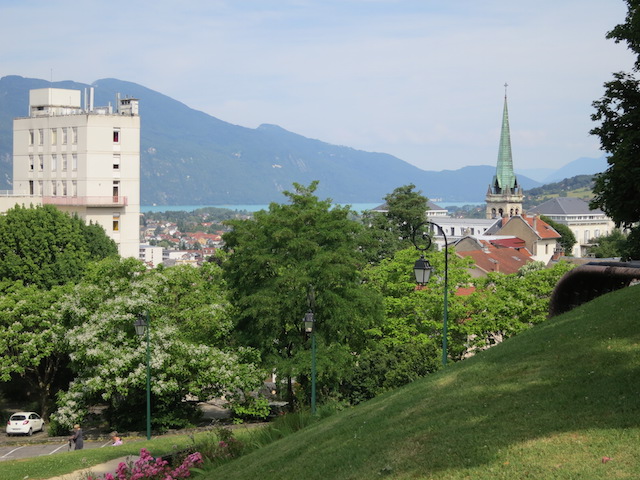 According to Mark Twain, Aix-les-Bains is a place where the nobility won't cramp your style
Certainly Aix-les-Bains is an enchanting place. It is a strong word, but I think the facts justify it. True, there is a rabble of nobilities, big and little, here all the time, and often a king or two, but as these behave quite nicely and also keep mainly to themselves, they are little or no annoyance. –Mark Twain
Visiting Aix-Les-Bains today – good luck finding any nobles
The spa town of Aix-les-Bains used to be grand, with Belle Epoque hotels every which way you turned, but I wouldn't exactly call it a high society destination anymore. This is good if you don't feel like dressing for dinner – not so much if you want to visit Aix-les-Bains to hob nob with idle aristocrats or meet a smouldering-eyed prince.
At the Thermes Chevalley you'll find (in addition to Mark and me) pensioners of every stripe and type, whereas down on the esplanade of Lake Bourget you'll see as many holidaying families as breezy waves on the wind.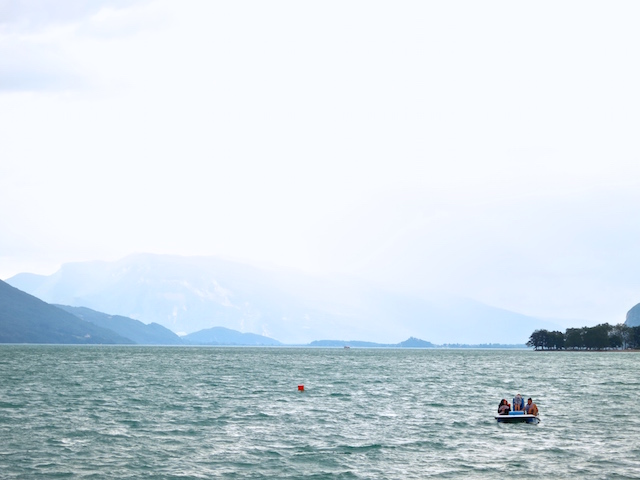 Why visit Aix-les-Bains and Lake Bourget – 5 good reasons
1) Visit Aix-les-Bains because it has attracted Celebrities Through the Ages!
The ancient Romans (except they weren't ancient at the time) around 120 BC
Henry IV in 1600
Queen Victoria 1885, 1887, 1890 (she obviously liked it very much)
Empress Sissi, the Lady Di of her time (I don't know when. I'm tired of researching dates.)
Albert I, Prince of Monaco
Mark Twain
Victor Hugo
Alexandre Dumas, along with Honoré de Balzac
Edith Piaf
2) Visit Aix-les-Bains because the hot springs are full good things such as calcium, silica and bicarbonates, and because the thermal water takes a 30-year journey to get here – so it's only right you're here to welcome its arrival.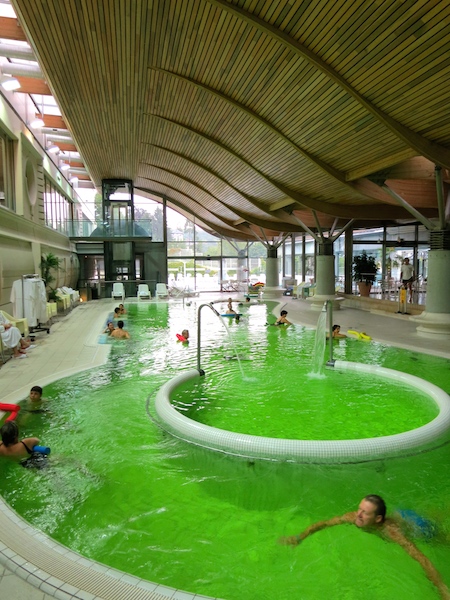 3) Visit Aix-les-Bains because the water treats a great many health conditions, some of which you may not have known you had. Or that existed:
algodystrophy
spontylarthrite rheumatism
lymphatic insufficiency
sequelae of thrombosis
4) Visit Aix-les-Bains because the water treats plenty of big name conditions, too, such as:
rheumatism
arthritis
osteoarthritis
tonsillitis
sciatica
tendonitis
asthma
5) Finally, you should visit Aix-les-Bain because the thermal water calms the nervous system and can result in – and I quote: "euphoric relaxation." (See? You don't have to buy things illegally for that.)
About Lac du Bourget
Nowhere could one find such perfect concord between water, mountains, earth and sky –Balzac
That pretty much says it all, but if you need to know more let me tell you that Aix-les-Bains is a very stretched out destination and the shores of Lac du Bourget are a couple of miles away from the city centre.
Lake Bourget is also very stretched out, it's 18 km in length, and a prime destination for water sports and, as Mark and I discovered, for strolling along and eating ice cream.
7 things to do in Aix-les Bains besides soak in the thermal water and visit Lake Bourget
Check out the historic Art Deco thermal baths, and if you haven't read this Aix-les-Bains blog post beforehand, enjoy wandering around in an interested yet confused fashion like we did thinking they are the current thermal baths and wondering where the entrance to the pools is.
Gamble your life away at the the Casino Grand Cercle.
Stumble upon an outdoor tea dance. Your life will never be the same.
Drink endless espressos in outdoor cafes (or, if you don't drink coffee, wait impatiently while your husband does)
Visit the Lapidary Museum, which is in the Town Hall, which somehow also seems to be part of the ruins of the Roman Temple of Diana. Three sites in one!
Take a look at the Roman Arch of Campanus as you wander by – again and again, you'll end up passing it several times.
And last, but not least, talk your husband into trying on things that are far too small, because next to the healing water of Aix-les-Bains, it's the quickest way to laughter and "euphoric relaxation."
Visit Aix-les-Bains and Lac du Bourget – a Travel Guide
Bathing in Aix-les-Bains: Guide to the Thermes Chevalley
The Thermes Chevalley, the main thermal baths of Aix-les-Bains, is up on a hill about a 5-minute walk from the town centre. There is a large parking lot there, so if you're driving it's a good place to park. At the baths, there is an outdoor swimming pool (freshwater, not thermal water), a large indoor pool complex full of oddly-tinted bright-green thermal water. Don't worry! It's healthy! And downstairs is a sauna complex. Truly you can while a good couple of hours away here every day.
Price for bathing in Aix-les-Bains: On weekdays the price is 17 €, on weekends it's 19 €. After 17:45 during weekdays it goes down to 14 €. Since we wanted to go more than once, we bought a package of 10 thermal baths entries for 142 €
For more info visit the Thermes Chevalley website (it's in French).
Hotels in Aix-les-Bains
Staying in Aix-les-Bains is a bit of a problem, not for lack of hotels, but for lack of the perfect Aix-les-Bains hotel that will suit your every need. We counted on staying near the baths in the centre of town at the Astoria Hotel, supposedly the last of the grand hotels still open. And if it wasn't for the locked door and shuttered windows, I'm sure we would have enjoyed it very much.
If we had known about Le Manoir, which looks slightly eccentric and charmingly faded, and is near the Thermes Chevalley, we would have stayed there.
Hotel in Aix-les-Bains: The Villa Marlioz
Instead we ended up in a sort of spa park a couple of miles out of town, in the Villa Marlioz, which looks a little like a very nice 3-star chain you'd find on a road trip through Route 66, but it also has spa and an indoor pool (water is not thermal).
Once we did discover Le Manoir, I didn't want to leave the Villa Marlioz because not only did we have a balcony that overlooked the French countryside, we had a second bedroom. With bunk beds! This meant there was plenty of room for Mark, me and any incognito royal spa visitors who should happen to drop by! (FYI: none did.)
Villa Marlioz is located at 15, Montée de Marlioz, Aix-les-Bains, Savoie, France. If you don't have a car, be forewarned, it's not central to downtown Aix-les-Bains, though there is a bus you can easily take into town.
Hotels on Lake Bourget
I didn't stay here, but if you wanted to be on the lake the Hotel & Spa Marina d'Adelphia is a possibility, with an outdoor pool, sauna and spa. 215 Boulevard Barrier, 73100 Aix-les-Bains, France.
Where to eat in Aix-les-Bains
Le Campanus In the case of lunch, our anti up-and-early approach to life got in our way, because by the time we were up, and had sufficiently soaked in the Thermes Chevalley, nearly every restaurant but one had closed for the afternoon. Thus, we ate on the outdoor patio of Le Campanus nearly every day. 11 Place du Revard.
59 The best meal we had was at 59, a restaurant conveniently close to the Casino Grand Cercle, which, after the Thermes Chevalley, and Lac du Bourget, is the most popular activity in Aix-les-Bains. 59 Rue du Casino.
La Rotonde We also ate at La Rotonde, simply because it's so pretty with its scenic location in a central park. 7 Rue Jean Monard.