This post may contain affiliate links.
Looking for a helpful travel guide for Vichy, France? Look no further. Here is everything you ever wanted to know about this famous French spa town in the Auvergne region of France.
Who doesn't want to visit an elegant town with a soup named after it? Yes, the town would be Vichy, France, and the soup would be vichyssoise, a cold rich soup made from puréed leeks, onions, potatoes, cream.
Yum. So if you're traveling through the Auvergne in the centre of France, an untouristy destination of ancient volcanoes, hiking trails and mineral springs, think about visiting Vichy, a soup-worthy spa town three hours south of Paris – and Napoleon III's favourite healing haunt.
With its lengthy history (both light and dark), spas, stunning architecture, parks and manmade lake on the River Allier, Vichy truly is worth its weight in … soup. So without further ado, here is your travel guide for Vichy, France.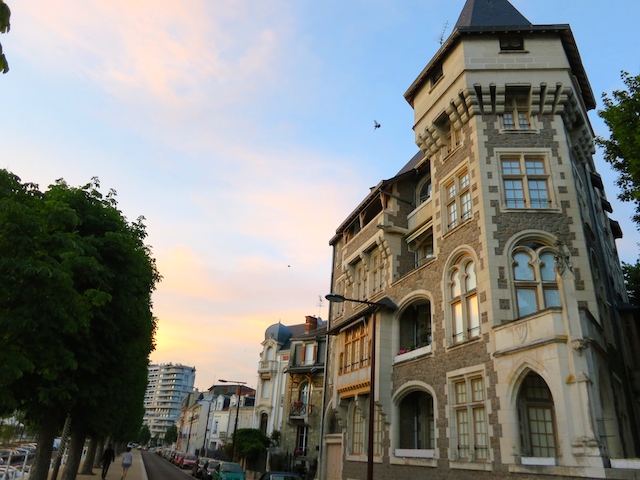 The fun and stately relationship between Napoleon III and Vichy, France
Any travel guide for Vichy worth its salt … soup (sorry, no more soup jokes until at least the next paragraph) needs to mention Napoleon III. Vichy owes its glory days to this former Emperor of France (nephew of Napoleon I) who did five spa cures here between 1861 and 1866.
Napoleon III liked Vichy so much he decided to build it up so it could rival all the other aristocratic spa towns of Europe such as Baden-Baden in Germany. Which he did. Admirably. Today, Vichy is a cornucopia of Second Empire, later Art Nouveau and even later Art Deco era buildings, a languid destination with a faded charm – a mix, or soup, shall we say, that is uniquely Vichy.
So thank you Napoleon III, for throwing your regal weight behind the tradition of wellness and in your honour, when we next eat vichyssoise, we'll think of you.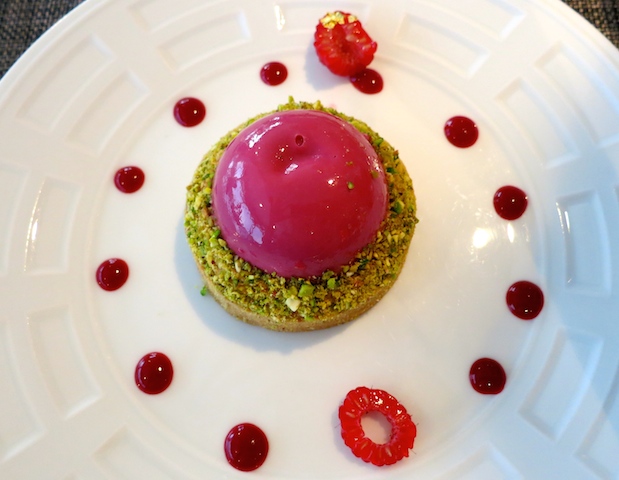 Your travel guide to Vichy and Napoleon III
First, check out the bust of Napoleon III in Vichy's spa park, the Parc des Sources, and its inscription that reads, "I am more pleased here than anywhere else, for this is my creation."
This isn't strictly true, the Romans enjoyed the hot springs of Vichy centuries before Napoleon III even existed and the Celestine Monks established a monastery here in 1410. Napoleon I's own mother enjoyed the springs of Vichy in 1799 and it was Napoleon I who ordered Vichy's central spa park, the Parc des Sources, to be built.
That said, Napoleon III was the main force behind Vichy's transformation into one of the most elite spa towns in Europe, building parks, a train station, palace hotels, a casino and cafés in a grand Second Empire style.
Vichy, Napoleon III and the Saint-Louis Church: spiritual or narcissistic?
Napoleon III had the Church of Saint-Louis constructed on rue de Nimes in 1865. Check out the stained glass windows that honour the members of Napoleon III's family in the saintly guise of, erm, saints.
Not a Napoleon III sight but interesting anyway
Vichy's most famous church, however, is St Blaise Church. Actually there are two attached churches, the remaining chapel of the 17th-century St Blaise and the striking Notre Dame des Malades, an Art Ceco stunner built in 1931, and well worth seeing for its onyx pulpits, fabulous stained glass and mosaics of semi-precious stones.
When it comes to Vichy travel and sightseeing there is another Art Deco sight you can't miss (because it's huge), Vichy City Hall, the Hotel de Ville, built by the same architect who designed Notre Dame des Malades, Antoine Chanet.
How Napoléon III magically increased the land size of Vichy
The Parc Napoléon III in Vichy is a 13-hectare park that runs alongside the River Allier and it wouldn't exist if Napoleon III (or one of his minions) hadn't had the idea to reclaim land by dyking the river banks. Not content to have just any old riverbank park, Napoleon III had it filled rare and exotic trees. Today, more than 65 species of trees can be found here.
My husband and I were in France during a heat wave, yet every time we cycled through the Parc Napoléon III in the late afternoon, which we did almost daily, a thunderstorm would suddenly hang over the city like an angry emperor, occasionally raging down with a fierce show of torrential temper. Just saying.
The Napoleon Chalets and why Napoleon III's wife hated them
Overlooking the Parc Napoleon III, on the Boulevard des États Unis, is a row of pastoral-looking Swiss and American-Colonial styled chalets, built to house Napoleon III and his entourage in 1862.
One of the chalets, Chalet Eugénie, was built especially for Napoleon III's wife, but when she found out he had also invited his mistress, Marguerite Bellanger, to stay in Vichy, Empress Eugénie made a regally annoyed exit and from then on patronized Biarritz instead.
(An aside: Didn't Donald Trump do the same thing in Aspen, bringing both his wife, Ivana, and then-mistress-and-future-second-wife, Marla Maples, there on a ski trip? Plus ça change, plus c'est la même chose …)
Another Vichy and Napoleon III sight. Sort of. Opera House and Casino
It took me awhile to figure how 1) a building could be both the opera house and the casino and somehow also be the convention centre and 2) be linked to Napoleon III but also to Art Nouveau, which came later, but I think I've figured it out. And this is why you, dear friends, need this Vichy travel blog post, so I can do the investigative work for you.
The Vichy Casino overlooking the Parc des Sources was built by the order of Napoleon III and its ornate stone facade is a testament to Second Empire style, while the Art Nouveau glass canopy was added in 1902.
The glamorous and beautifully-restored Opera House from 1902 is a later addition, an opulent ode to Art Nouveau, while the casino houses the convention centre, which was hosting a poker tournament when we were there.
Another confusing sight in Vichy – but an outstanding one. And not connected to Napoleon III – although I'm sure he would have liked it – but to the Belle Epoque
It's really the first thing you'll notice in Vichy. The neo-Moorish Thermes des Domes that lords over the park like a gleaming sultan, or possibly a French emperor. Built in 1903, the Thermes des Domes was a spa centre, but now houses a sad arcade where no one shops and where, in fact, I never once saw any shops even open. It's still a breathtaking example of Vichy architecture.
The confusing part about the Thermes des Domes. You will be forgiven for thinking that the Thermes des Domes is still a spa and balneotherapy centre because another heritage building connected to the Mercure Hotel, which is right behind the original Thermes des Domes, is also called the Thermes des Domes and is a spa.
Thus, the proper name for the spa that no longer exists, but has domes and lords over the park and should be called the Thermes des Domes, is, instead, called the Grand Etablissement Thermal. (How helpful of a Vichy travel guide is this?)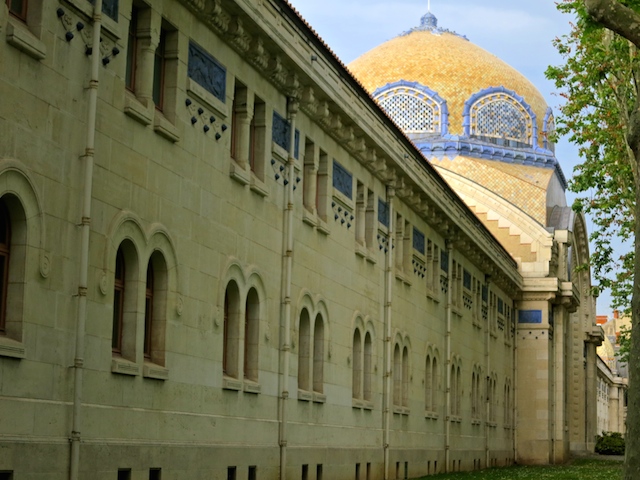 Napoleon III and the Grand Café in the Parc des Sources
Vichy is all about leisure so slow the pace and stop for an espresso in the circular Grand Café commissioned by Napoleon III. I have to admit, however, that my husband, a café connoisseur, preferred the lovely Le Samoa, also in the park and located at the source of L'Hopital Springs (and where we had delicious ice cream).
Yes, Napoleon did sleep here: the Aletti Palace Hotel
The first place Napoleon III stayed in Vichy was the home of Isaac Strauss (who organized the court balls at the Tuileries in Paris). Today, it's an annex of the Aletti Palace Hotel – and the Aletti Palace is the only original palace hotel that is still actually a hotel.
The Aletti Palace is nice but you wouldn't exactly call it grand, and Mark and I battled briefly though not very fiercely over where to stay in Vichy, the Aletti Palace or the more contemporary Vichy Celestins. (I won and we stayed at the deluxe Vichy Spa Hotel Les Celestins, but either would have been nice.)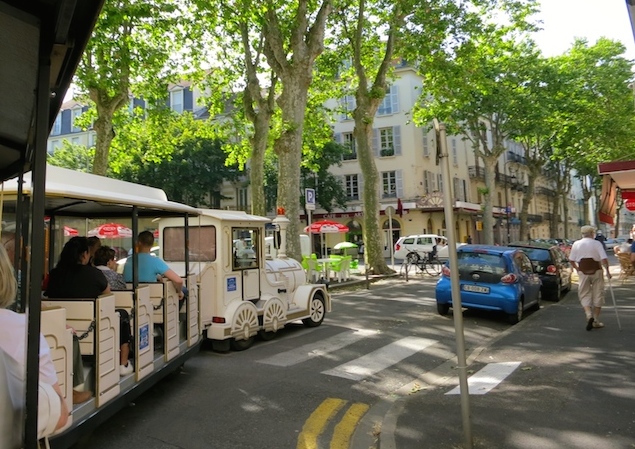 Vichy travel: How to tour Vichy
The authentic traveler way – on foot. Vichy is a compact walkable small city of about 28,000 so enjoy.
The lazy tourist way – tourist train.  The little train that leaves from the Parc des Sources gives you a petite and enjoyable tour of Vichy without lifting a finger. Or a foot. Ask for English-language booklet so you can follow along with the French commentary.
The active traveler way – bicycle. Our hotel the Vichy Celestin had bicycles and we rode faithfully along the trails by the Lake Allier almost daily (even in the previously-mentioned rainstorms).
The embarrass-your-husband mode of Vichy travel – canopy bicycle. Those silly-looking covered two-seater canopy bicycles mortify my husband yet are so much fun I can't stand it (which is why I sit down). Note: there is one route and one route only you can take with the canopy bicycle, and that is along the River Allier. And though Mark and I tried our best to follow the route faithfully we did briefly end up on the highway heading off into the sunset.
The dark history of Vichy, France
While today Vichy is a gentle, tranquil town, you can hardly visit without being aware of the the grim shadow that hangs over it – the shadow of the Vichy Regime.
About the Vichy Government: Between 1940 and 1944, Vichy was the capital of the French State governed by Marshal Philippe Pétain who was collaborating with (some say puppet of) the Nazis. It was from here that the Vichy government ordered the mass deportations of Jews in occupied France to the Nazi death camps. Out of the 75,721 Jews sent, only 3,000 returned.
A black shadow indeed.
Going forward: Someday perhaps Vichy will have a museum of the war that acknowledges the part the Vichy government played – there have certainly been debates about it – but for now there are not many Vichy government sights to see:
A stone memorial facing Le Parc des Sources bearing witness to the 75,721 Jews deported from France.
A plaque inside the Opera House gives mention to the 80 members of the National Assembly that voted against giving power to Field Marshal Philippe Pétain in 1940. Of course what the plaque is really saying, without saying, is that the other 569 members voted for Pétain and it was here that the Vichy Regime was established.
There is also a war memorial in the Square de General Leclercin dedicated to the people of Vichy who died in the First and Second World War.
More things to do in Vichy, France
Shop. For a quiet town there is an astonishing amount of stores and pedestrian shopping lanes.
Spa. This is the main activity in Vichy and the Vichy Spa Hotel Les Celestins is probably the easiest way for tourists to have treatments or soak in the mineral water.
Eat. The upper level of the circular restaurant built over the River Allier, La Table de Marlene, is fine French cuisine at its best. It's also a good place to try (unsuccessfully) to talk your husband out of ordering the 5-course set menu, when the 4-course menu would have done perfectly well.
Drink. If it's mineral water you're after, read my confessional post about illicit mineral-water drinking and the Halls des Sources, if it's something stronger you crave, the outdoor patio of the Vichy Spa Hotel Les Celestins is where the fashionable Vichy locals seem to gather.
Vichy travel: When to go to Vichy
No worthy travel guide to Vichy should fail to mention the Napoleon III Festival in Auvergne. If you really want to relive the golden age of the Second Empire, think about visiting Vichy in April during the annual festival.
How to get to Vichy, France
It takes about 3 hours to travel to Vichy from Paris by train. We took the train from Nice, France, to Vichy – travel time was 6.5 hours. Due to a rail strike, we ended up renting a car when we left, confounding our plans entirely.
In the soup – a final word about vichyssoise and Vichy travel
So there you have it. Your travel guide for Vichy is complete. In the end we did not have vichyssoise in Vichy. But I doubt Napoleon III did either, as vichyssoise soup was most likely created in America in 1917, possibly at the Ritz-Carlton and almost certainly by a French chef, who may or may not have been (but probably was) from a town near Vichy, France.
Hotels in Vichy: Mark and I booked the Vichy Spa Hotel Les Celestins through Booking.com. To look at the Aletti Palace try this page.
Want a spa vacation? Here's everything you need to know about the Easy Way to Spa in Vichy
Want to enjoy my humiliation? Read about my socially disastrous adventures in Vichy
For more about Europe visit Top European Destinations