This post may contain affiliate links.
Hammock yoga meditation is a thing. Did you know it's a thing? How could I not know it's a thing? It took me a day of exploring spas in Winnipeg to find out.
What I also learned is that there are plenty of options when it comes to Winnipeg spas: the new Thermea Winnipeg Nordic baths complex, the steamy Ten Spa, the scenically-situated Riverstone Spa and of course, Yoga Public, where I dived (more like reclined) into a new world of hammock yoga meditation.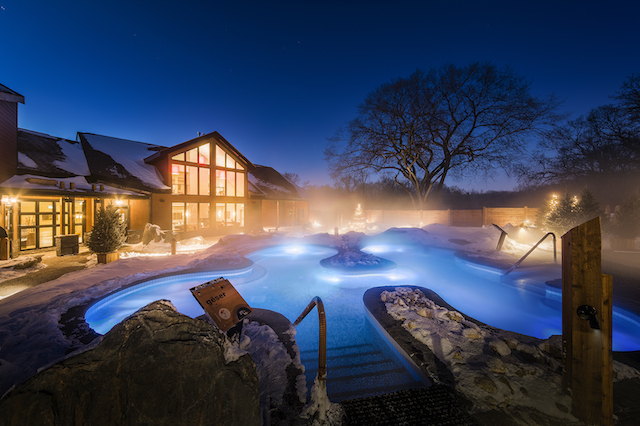 Winnipeg spas: Let's talk nordic baths
You might not know (unless you're tapping my phone) that I'm a huge fan of nordic spas. What's a nordic spa, you ask? Nordic spas are outdoor bathing circuits where you alternate between hot and cold water-based therapies.
For example, you can scamper from sauna to cold plunge, shrieking wildly from shock as you plunge into icy water (but only in your head because nordic spas are meditative places and you need to be quiet) and then to a deck chair and then to a hot tub or a steam bath or into the sauna again. It's just so much fun and renewing that everyone should have one in their backyard. (If you have a backyard. Which I don't.)
The Thermea Winnipeg experience
The new nordic spa in Winnipeg, Thermea Winnipeg, has all the bells and whistles you might wish for in a top nordic spa. Okay, I lied. Thermea Winnipeg has no bells or whistles at all (because these are meditative places and you need to be quiet) but it does have outdoor hot pools, a polar bear plunge, saunas, eucalyptus steam bath, restaurant and relaxation zones.
There is even an exfoliating room. Just think of it: scrubbing your skin silly in a community of wellness worshippers! What could be better than that?
Where is Thermea Winnipeg baths? Thermea Winnipeg is 8 km from downtown Winnipeg near the Crescent Drive Golf Course. 775 Crescent Drive.
Hours for Thermea Winnipeg: 9 a.m. to 10 p.m. daily. Except Christmas. Tel: (204) 284 9595
Thermea Winnipeg cost: Price starts at $45.
Winnipeg spas: Yoga Public
You might not know (unless you're tapping my phone – and I'm really starting to think you are) that since my struggle in Thailand to keep struggling to like yoga, my yoga wellness regime has not gone in well. In fact I've given it the cold shoulder completely.
So when our kindly yoga instructor at Yoga Public in Winnipeg told us to "listen to what our body is saying" as I attempted to do a bendy thing in front of an orange silky hammock, I didn't have to listen. My body was clearly saying: I hate yoga. For once, my body and I agreed.
However, I soon learned that when you add the word 'meditation' to yoga and then go a step further and call it Floating Meditation it's much more palatable.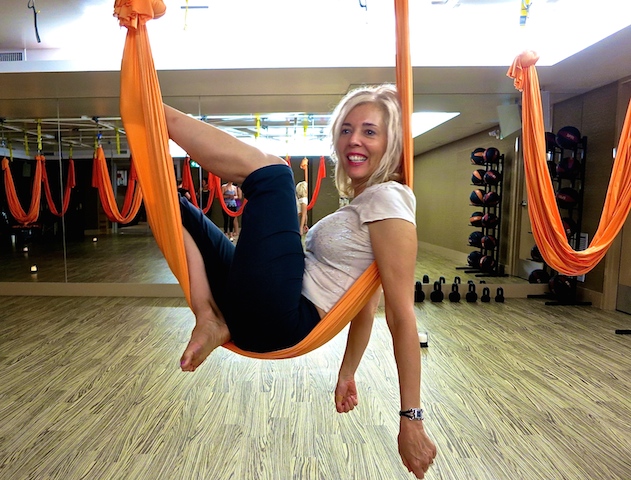 The Floating Meditation experience at Yoga Public
Then we got into the hammock-y thing. After a few stretchy movements that no doubt have names like Solemn Upward Knee Creak and Achey Angle Arm Stretch, we lay back in our orange silky worlds and visualized whales. This was particularly exciting for me since I had just come from Churchill up north in Manitoba where I'd fallen deeply in love with belugas.
So during my Floating Meditation session I spent a more-than-enjoyable time stretching out kinks and thinking of all the frolicking white whales I'd left behind in Churchill, Manitoba. And I can honestly say I have ever enjoyed an exercise class more.
Where is Yoga Public? Yoga Public is at 280 Fort St, Winnipeg Tel: (204) 947-9642
Yoga Public price: Single class prices are $23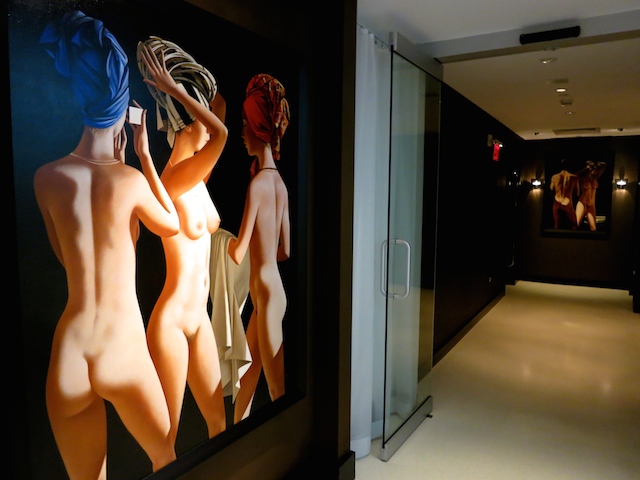 Winnipeg spas: Ten Spa
Now that we'd had quiet time a strenuous exercise class, it was time to relax. Yes, that's right. That's what happens when you explore Winnipeg spas. You relax after you relax and then renew and then relax again. It was time to get steamed at Ten Spa.
I've been hearing about Ten Spa in Winnipeg for years. My spa-fanatical friends have long talked about this amazing spa in Winnipeg and I never listened. (Sorry, Winnipeg, but I've always assumed my friends were dirty liars so I never listened to a thing they said. My bad.)
The Ten Spa Hammam experience – otherwise known as stripping down to a sari with friends
Ten Spa in the Fort Garry Hotel takes the hammam experience, or steam bathing, seriously. First, you strip. Then you put on a chic outfit of pink disposable undies and a red plaid sari. Then your group enters a tea and Turkish-delight antechamber.
After that you enter the darkness of the steamy hammam. The first thing I noticed, as our group of five women sat around a fountain scrubbing our legs and arms with salt, was a few bare-chested men wandering around, so I assumed it was a public steam room. Nope. This is a private hammam and the half-naked buff guys were our masseurs.
The second thing I noticed in the hammam at Ten Spa was that my sari wouldn't stay on once it got wet so listen carefully to all sari-wrapping instructions before you begin. The third thing I noticed on this sultry Winnipeg spa experience is that you should never grab a handful of exfoliating salt out of a brass bowl with a hand that has a blister on it from kayaking with beluga whales in Churchill.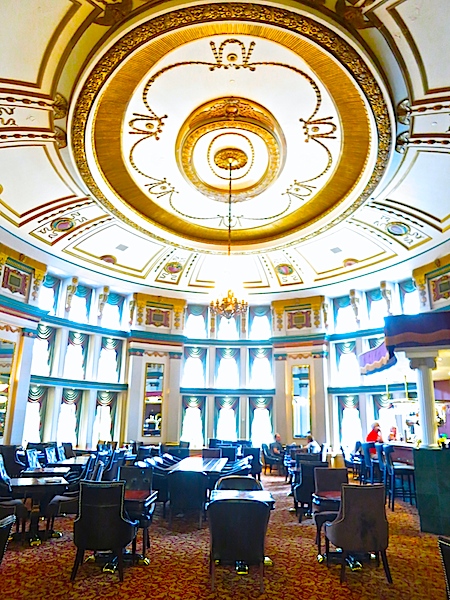 The dreamy stage of a hammam at Ten Spa
That was it for the DIY portion of our Ten Spa hammam. For the rest of the spa treatment we lay in a row on a huge hot tiled bed while our devoted manservants therapists massaged, gently scrubbed, dripped cool water over our bodies and oh-so-delicately placed cool washrags on our forehead.
Other than a mood breaking moment when I had to stagger back into the tea and Turkish-delight antechamber to breathe some cooler air, it felt very atmospheric in a we-are-harem-girls-in-a-sultan's-palace-with-nothing-better-to-do-than-lie-down-and-be-pampered-by-eunuchs sort of way. (Toned muscular eunuchs. Just saying.)
After splashing myself off with about 20 bowls of cold water, I met up with my fellow concubines spa explorers back in the antechamber as our manservants artfully wrapped our heads in matching saris. At this point I was very sorry I hadn't snuck my camera in, even though it's against the rules, because with our beet red rosy glows and fashionable up do's it was a serious Winnipeg spa fashion statement.
I've soaked the energy right out of me
Exploring spas in Winnipeg takes a lot out of a person. Barely able to walk due to our extreme languid state, our group retired to the Ten Spa lounge for a huge and wondrous tableful of snacks such as goat cheese on endive, and a salad with asparagus, avocado and salted ricotta. I could have gotten used to this Ten Spa hospitality, but it was time to move on.
Where is Ten Spa? Ten Spa is located in the gorgeous Fort Gary Hotel at 222 Broadway, Winnipeg. Tel: (204) 946-6520.
Price of a hammam at Ten Spa: Hammam starts at $105. Spa lunch from $20.
Winnipeg spas: Riverstone Spa in Winnipeg
It seemed impossible that we were going to visit yet another Winnipeg spa, since I was running out of body parts to be worked on, but thankfully my face was up for the challenge while most of the other women decided that their toes could use a makeover, swayed, I think, by the pedicure station's reclining chairs and cozy blankets.
The Riverstone Spa experience
Riverstone Spa in the Inn at the Forks is tasteful and holistic, with neutral colours and boxes of black stones in the window, which it turns out, are placed there every full moon to be energized. (Making me wonder about sleeping on my windowsill next full moon to get energized. Luckily my windowsill is quite wide.)
A facial made my day
After my organic Sacred Nature Facial, which was exactly the nourishing treatment I needed after steaming myself to bits, I was so languorous and relaxed I couldn't remember where my locker was. Frantically, I started pressing in combinations on the locks on every locker in the change room. Finally one popped open, but it wasn't mine. (Take note people who use 1234 for their locker combinations!)
Resisting the urge to get dressed in whatever clothes I could find in there, I continued on and FINALLY found mine. Take note spa-goers. Memorize your locker number before you go for a treatment.
I have spa brain
Continuing along with my brains-have-been-steamed-out-but-I-feel-excellent state of mind, I got back to my hotel only to find I was still wearing the spa's rubber slippers. So I had to go all the way back to Riverstone Spa to get my shoes. Considering that one of the main goals of a spa experience is to relax a person, I'd say the fact that I'd been relaxed into a complete vegetative state was a sign of a Winnipeg wellness job well done.
Where is Riverstone Spa? Riverstone is located in the Inn at the Forks, a boutique hotel in Winnipeg. Its location is truly unique, at The Forks National Historic Site, where the Assiniboine and the Red River meet.
Riverstone Spa:  75 Forks Market Road. Tel: (204) 944-2444
Riverstone Spa treatment cost: 50-min Sacred Nature Facial: $115
For more information on what to do in Winnipeg: visit Winnipeg Tourism
Read more about Spas and Spa Travel