This post may contain affiliate links.
You're not alone! I'm trying my best to like yoga and while I'm in Koh Samui, Thailand, I'm going to yoga classes every second day. And during practice I should be thinking about lofty things like peace, harmony and bliss, but mostly what I'm thinking is: am I the only person who hates yoga?
"You're weak!" said the yoga teacher. "You don't do yoga so you're weak!"
Yes, I know I am, but thanks for pointing it out. My only consolation is that the girl next to me was informed she sat like a robot. And what I'm wondering, as I'm struggling to look like a Sphinx under the disdainful gaze of our sinewy teacher, is: Am I the only person who hates yoga?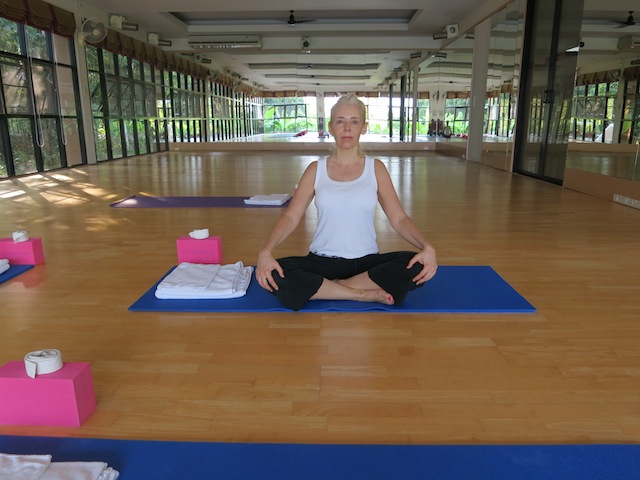 Leave it to the yogis
I'm never taking yoga again, I thought, limping back to my hotel room on the Thai island of Koh Samui, a popular island in the south that has no end of wellness retreats, detox programs and yoga pavilions. Yoga sucks.
And I hated that stupid warrior pose – well, okay, warrior pose wasn't so bad, and that child position was really quite comfy, but my shoulders were sore and, as it turned out, I could barely walk for two days because my calves had turned to tree stumps.
But really, what I hate isn't yoga, it's that I can't do it.
The torture of challenging yourself
Is there anything as humiliating as starting something new? Especially when you know you're going to be terrible, just like you're crap at tennis, and you skate like a scampering penguin, and you pretty much suck at every sport imaginable except, for some unknown reason, rock climbing and ping pong.
We all need our goals
But one of my goals in coming to Thailand was – don't laugh – to get to a beginner level in yoga. Because let's get something straight. I am not a beginner. I'm a pre-beginner. Like there is history, and then there is prehistory. I am prehistory yoga Carol. The Homo habilis of the fit-woman world.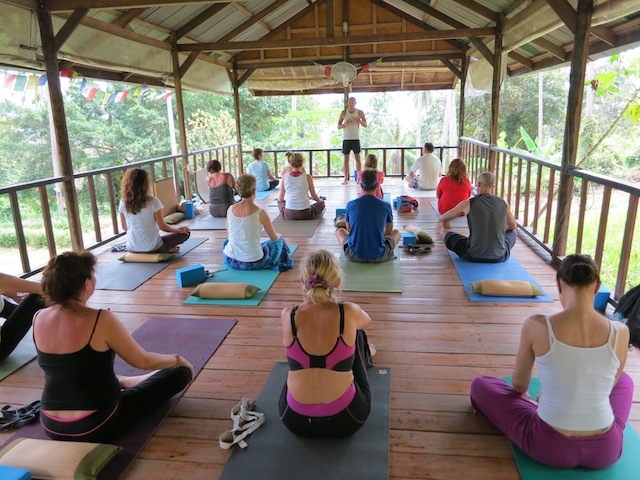 Trying and flailing, I mean failing, in the world of the limber
So I lumbered through my first all-levels class and flailed around through my second and then I heard that there was a Beginner Hatha class at Absolute Sanctuary, a hillside wellness retreat further north on Koh Samui, a few miles from Lamai Beach where I'm staying.
That's what I need, I thought. A place where no one knows what they're doing and where a 7-month-on pregnant girl beside me won't be doing some kind of ariel twisty graceful thing while I can't even touch my toes.
Relief among the beginners – even if it's not very much relief
And you know? Finding that beginner class helped. Not that I was any better at yoga, and I still don't see much improvement. But the teacher, Jana, was kind and she didn't laugh, even when she thought no one could see her. Maybe it was just some good ol' yoga mothering I needed. A bit of reassurance that it's okay to be bad.
Isn't trying the main thing?
(Heh, heh, heh, I can hear the toned yoga people sniggering. Of course it is. Good for you!)
Still wondering … am I the only person who hates yoga?
At any rate, now I'm back doing the all-levels class at my resort and I hardly even care (usually) how horrible I am. I've got Muscly Mike on Wednesdays and Lovely Lieve on Mondays and while I still don't know whether I love yoga or hate it (except sometimes I still hate it) and I'm still wondering at least once a day if I'm the only person who hates yoga, it's a step (a lunge!) in the right direction.
Read more about why I've run off to Thailand:
Life lessons learned on the beach in Thailand learned on a beach in Koh Samui
Read more about Luxury Travel in Asia