This post may contain affiliate links.
Planning a trip to Thailand? Don't know where to stay? Here are some of the top destinations and best resorts in Thailand.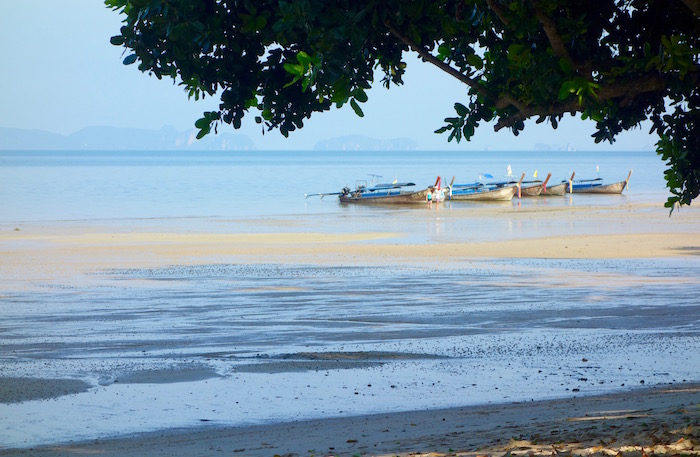 Best Resorts in Thailand
With beaches that stretch for miles, fern-filled forests, serene temples and water as clear as a pool of blue light, it's no wonder people flock to Thailand. One of the easiest countries in Southeast Asia to travel to, Thailand also has some of the top hotels, luxury camps and beach resorts in Asia.
From frenetic Bangkok, with its rich fabric of culture, to remote jungle hills and sun soaked islands, Thailand has a lot of options both in destinations and accommodation. While it's long been known as a backpacker destination, it also has some of most lavish resorts you ever will see, from historic 5-star hotels to super stylish beach resorts and upscale 'glamping' (luxury tent camps) where the focus is on nature and adventure.
Whether you're looking for a romantic honeymoon getaway, a rainforest adventure or a fabulous beach resort, vacationing in Thailand has something to suit every taste.
Where Should You Go?
So, what are the best places to visit in Thailand? A solid itinerary includes a stop in Bangkok, a trip up north to Chiang Mai and down south to the islands, either to Phuket or Koh Samui. From these main hubs you can branch out to smaller resorts, sleepy palm-ridden islands or remote misty hills.
Of course these are just a drop in the coconut bucket, there are so many other great places to see. For Thailand beach destinations beyond Phuket and Koh Samui there is Krabi on the west coast, the beach resort town of Hua Hin; islands such as Koh Pha Ngan and Koh Lanta in the south or the elephant-shaped Koh Chang up near the Cambodian border. The more places you travel to, the more you'll want to see.
This is an article about the best resorts in Thailand. It includes places to stay in Bangkok, Phuket and Krabi on the west coast, Koh Samui on the east coast, and Chiang Mai and the Golden Triangle in the north. It's not an impersonal list. These are hotels and resorts I've stayed at, have personally checked out or that have been on my wish list for years.
Bangkok
Most trips to Thailand start in Bangkok. The city is a kaleidoscope of culture with sacred temples, vibrant markets, sultry street life and cosmopolitan rooftop bars jostling for space. The city is endlessly fascinating, but it can be a major assault on the senses. Having a tranquil oasis to escape to in the midst of the hustle makes all the difference.
When you're thinking about where to stay in Bangkok, consider a hotel on the Chao Phraya River. The views of life on the river are captivating, the air feels fresher and you're perfectly situated for getting around by river ferry, a form of transportation that is both atmospheric and cheap. It's also a handy way to avoid car and motorcycle traffic, which, quite honestly, can be deafening. The other way to skip traffic is by using the Skytrain. Ideally you can get a hotel near both.
Top hotels in Bangkok
The Mandarin Oriental Bangkok- Old World Luxury
When it comes to legendary Bangkok hotels, the Mandarin Oriental the 5-star hotel in Bangkok that reigns supreme. Think rattan, white marble and lazy fans circling over lobby tables. Over the years, so many literary greats have stayed here the hotel has a separate section called the Author's Wing.
The Author's Wing
Newly revamped, the Author's Wing pays homage to literary guests such as Joseph Conrad, James Michener, Graham Greene and Somerset Maugham, whose work The Gentleman in the Parlour is said to be based on his stay.
It doesn't only appeal to writers. Its celebrity guest list includes everyone from Elizabeth Taylor and Lady Diana to Johnny Depp and David Beckham.
Now nearly 150 years old, the Oriental is still one of the best hotels in Thailand. From the outdoor swimming pool, where a pool butler will lovingly lay out your rosy red towel, to its lemongrass scented spa across the river, to which you are delivered by private boat, the Mandarin Oriental Bangkok is a 5-star property where history merges with a superlative present. It also has a popular cooking class.
Check prices and availability for this top Bangkok hotel here.
Shangri-La Bangkok – Urban Luxury
What I love most about Shangri-La Bangkok is their lush outdoor pool area. Located right by the river, the hotel has the feel of an island resort even though it's as urban as you can get. The largest hotel on the Chao Phraya River, the Shangri-La consists of two wings: The Shangri-La Wing is contemporary Asian chic, while the Khrung Thep Wing is more historic and grand.
With six restaurants, a riverside terrace and two pool areas complete with waving palms, there are plenty of places to relax and unwind after a day of sightseeing. The Shangri-La Bangkok also has its own dinner boat cruise, which is a fun way to see the city from the river at night.
Read my Shangri-La Bangkok review or check prices for this 5-star Bangkok hotel here.
Royal Orchid Sheraton Hotel and Towers – An Affordable Alternative
Much as I'd like to, I can't afford to stay in Bangkok's most opulent hotels all of the time. A more affordable option on the Chao Phraya River is the Royal Orchid Sheraton Hotel and Towers. I liked the pool and the views, and it has all the amenities you'd expect from a Sheraton, though I didn't find the area the greatest for strolling around.
Book the Royal Orchid Sheraton here or read an article with more information about where to stay in Bangkok.
Phuket Island – The West Coast
The country's largest island, Phuket is in southern Thailand off the west coast. Some of the best beach resorts in Thailand can be found here, and with its clear blue water, white sand beaches, and tropical island feel, it's a major draw for vacationers.
The downside is that this can mean crowds and commercialization, especially in famous beach resort towns such as Patong.
Where to Stay in Phuket
The main beaches in Phuket are Patong, Karon, Kata and Kata Noi, which all run down the southwest side of the island. If you want a lively atmosphere, with raucous nightlife and plenty of cafes, restaurants, shops and bars (including go-go bars), Patong is your destination. It's also home to one of Phuket's best beaches.
Don't let Patong's nightlife colour your impression of Phuket. Outside the main resort towns, you'll find a paradise of jungle-y mountains, exotic flowers, birdsong and villas. The best places to stay are tucked out of the way, where the focus is more on the resort and its natural surroundings than on the action outside.
Best Resorts in Phuket
Keemala Phuket – A Romantic Escape
Keemala Phuket is one of the most enchanting luxury resorts in Thailand. Literally. It's a fantasy world come to life, in a very adult elegant way. Located slightly inland, with views of the Andaman Sea, this resort has four different accommodation sections.
Each is based on an imaginary clans with its own design aesthetic, history and bungalow or villa architecture – and all are geared towards giving you the flavour of traditional Thai culture .. with a very upscale interpretation.
From private pool villas to deluxe treatment 'huts' at its tranquil Mala Spa, Keemala Phuket is ideal resort for romance and relaxation. A member of the prestigious Small Luxury Hotels of the World, it pays an unparalleled attention to the detail of its imaginary world.
Where is Keemala? A 40-minute drive from Phuket International Airport, Keemala Phuket is 9 kms from Patong Beach, so if you want shopping or nightlife it's within a reasonable drive. Free hotel shuttles will take you down to Kamala Beach, which is five minutes away.
For more information read my Keemala Phuket Review or check prices and availability here.
Sri panwa Phuket – Millenial Glam
If the designer-draped characters from Crazy Rich Asians were to go to Phuket for a vacation, I imagine Sri panwa is where they'd stay.
This uber contemporary resort has an exclusive celebrities-have-been-here vibe, and all the bells and whistles necessary for demanding youthful elites, including both 'sexy' and 'romantic' light settings in the villas, at least in the Habita Section where I stayed.
One of the best resorts in Phuket, Sri panwa has a gorgeous pool area to go along with your own private plunge pool, a fistful of restaurants ranging from Baba Soul Food to Hotpot, and its rooftop bar, Baba Nest Rooftop, was voted one of the top two beach bars in the world by CNN.
Where is Sri Panwa? Located on Cape Panwa Peninsula at the very southeastern tip of Phuket, Sri panwa is a world, I mean an island, away from the bustle of more populated beach resorts, but you won't feel as if you're missing out, you'll feel as if you've been granted secret VIP access.
Check out my review of Sri panwa or check the cost for this hip resort in Phuket here.
Amari Phuket Patong – A Beach Resort Near Patong Beach
If I wanted to be closer to the liveliness of Patong and still have a relaxing stay, I'd try the 5-star Amari Phuket Patong. When it comes to top Thai resorts, it's hard to go wrong with the Amari brand. The 380-room Amari Phuket beach resort has a couple of pools, a good sense of design (love those red beach umbrellas), a beachfront location and two restaurants.
It's a five-minute walk from Patong Beach, but bills itself as a quiet retreat. The hotel also has a free shuttle to Kata Beach for guests. If you want to go really upscale, it offers luxury Ocean Suites.
Check prices and availability for this popular beach resort in Phuket here.
Best Phuket Hotel Near the Airport – Marriott Resort and Spa
The island of Phuket is bigger than people realize, and many of the resorts can be up to an hour away. If you're flying in late or out early, you might want to stay by the airport.
The good thing is that you can still stay at a beach resort. The top hotel in the area is the Phuket Marriott Resort and Spa, Nai Yang Beach, in Sa Khu. It's a 10-minute drive from the Phuket International Airport and the hotel offers an airport shuttle.
How much is this luxury beach resort near the Phuket airport? Find out here.
Krabi Province
Krabi Province is up the coast from Phuket, and many people combine a trip to both destinations. The largest resort town in Krabi is Ao Nang, but I prefer the shocking beauty of Railay Beach.
I say 'shocking,' because the first time I saw its sheer limestone cliffs slicing into the startling turquoise water, dwarfing a slip of a beach, I nearly fell off the ferry into the water (while holding my suitcase. And then someone criticized me for having too much luggage, but that's another story).
Railay is a peninsula but to get here you need to take a boat. You won't be bombarded by traffic on the island because motorized vehicles aren't allowed. There is definitely a backpacker/hippie/rock climbing vibe here, which may or may not be your thing, but for natural beauty it's hard to beat.
The best way to experience Railay Beach is to explore the outdoors, and even if you're staying at one of the top hotels in Thailand it doesn't mean you don't like adventure. You can kayak along mangrove forests and into sea-soaked caves, visit nearby islands, or take a rock climbing lesson.
Rayavadee Krabi in Railay Beach – An Ultra Luxe Beach Resort in Thailand
Set apart from the main part of Railay Beach is the 5-star Rayavadee Krabi. This 26-acre village-style beach resort comes with landscaped grounds, luxe villas, private speedboat access, sandy beaches and a gourmet restaurant built into an ancient cave.
It was out of my price range when I visited, so all I could do was drool, then go back to my affordable bungalow and cry.
Look at prices for this 5-star beach resort in Krabi here.
Tubkaak Beach
Another beach destination in Krabi Province is little-known Tubkaak Beach, 25 kilometres south of Ao Nang. Also spelled Tab Kaek Beach, it's a pale crescent beach that looks out onto the small rounded humps of the Hong Islands, and the seascape's changing colours from blue to rosy bronze as the day turns to dusk is endlessly captivating.
There are only a handful of hotels on Tubkaak Beach, most of them luxury properties. A 20-minute taxi drive from Ao Nang, Tubkaak Beach makes for a serene getaway. In fact, if you're not into 'serene,' you probably don't want to stay here.
Tubkaak Resort – A Quintessential Thailand Beach Resort
Tubkaak Resort, also called Tubkaak Boutique Resort, or the Tubkaak Krabi Boutique Resort (how many names does it need?) is a laidback beach resort that sits on a fat swath of Tubkaak Beach. The grounds are spacious, the pool area – though not huge – is delightful and I enjoyed their scented steam bath at the spa.
The villas are a mix of traditional architecture and comfort. More intimate than many other 5-star beach resorts in Thailand, it's a quintessential bungalow/villa experience where you don't feel as if you're sacrificing natural flavour for luxury. Opt for one of the beachfront villas with private pool. They're the cream of this unpretentious but upscale resort.
Read my review of Tubkaak Resort or book it here.
Remote Getaways between Phuket and Krabi – Adventurous and Exotic
Elephant Hills – All Inclusive Thailand Vacation Adventure in Khao Sok National Park
If you're looking for some jungle-based outdoor adventure in Thailand, with a dramatic setting of karst cliffs and tangled greenery, look into a stay at Elephant Hills Tented Camp, two hours from Phuket.
An upscale camping experience (think beds, maid service and ensuite bathrooms), without being over the top, Elephant Hills offers a non-exploitive interaction with elephants (no riding), and has garnered a number of awards for sustainability and animal welfare.
Visitors get a chance to feed, bathe and watch the elephants as they (the elephants not the visitors) forage and splash around in a mud pond. While your time with them is restricted so as not to tax the elephants, this is an all-inclusive Thailand resort. Your experience includes a number of other activities such as hiking, trips on the river and cultural activities that bring in the local communities.
A unique glamping experience, Elephant Hills is a popular resort for families and honeymooners. Your booking includes pick up from a number of locations including Phuket, Koh Samui and Krabi.
Read my Elephant Hills review or visit their website.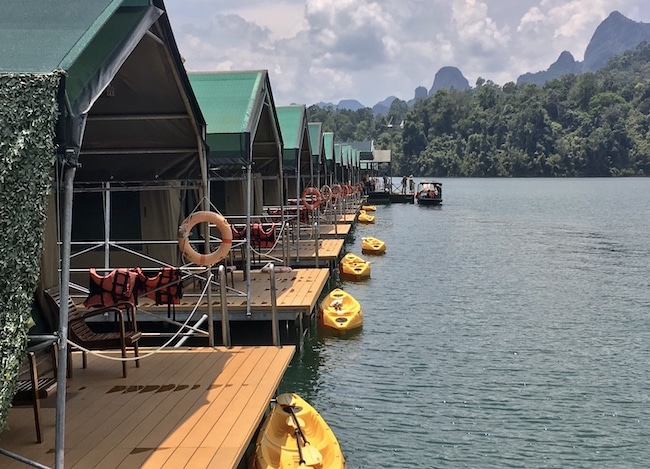 Rainforest Floating Camp at Cheow Larn Lake – One of the best
If you're going to travel to Elephant Hills, combine it with a night at their sister property, the very intimate, very evocative Rainforest Floating Camp at Cheow Larn Lake (or Cheow Lan Lake). One of the most romantic resorts in Thailand if you like nature and glamping, it's especially popular with honeymooners (like a lot of honeymooners), and is one to book early as it sells out quickly.
The Cheow Larn Floating Camp is made up of 20 solar powered safari-style tents that float in a row off the shore of a remote section of the lake. You can swim, kayak and hike in an area where wild Asian elephants, Malayan sun bears and white-handed gibbons still roam (not that you're likely to see anything larger than a gibbon).
The Floating Camp is an all-inclusive resort in Thailand and includes transportation from Elephant Hills. Check out packages on their website.
Koh Samui – Thailand's East Coast
Koh Samui, a large island off the east coast of southern Thailand, is one of the most popular destinations in the country, nipping right on the heels of Bangkok and Phuket. Even though it's getting more and more commercialized, I still refer to it as my spiritual home, and when I was living in Asia I spent weeks here at a time.
It's small enough to get around in a day, but large enough that you'll never run out of nooks and beach resorts to explore, and its garden-like airport is charming.
Koh Samui has a more laidback vibe than Phuket, and many of the beach resorts, like Lamai, have a village feel. While popular resort areas such as Chaweng Beach are known for their youthful nightclubs and exuberance, the island has also gained ground over the years as a wellness destination, and you'll find a number of health resorts mixed in with cheap bungalows and sophisticated resorts.
When it comes to the best beach on Koh Samui, I'd have to give my vote to Chaweng. It's miles long, with sand soft as Thai silk, but a bit too commercialized for my taste. Still, if you want a lively beach scene, Chaweng's your destination.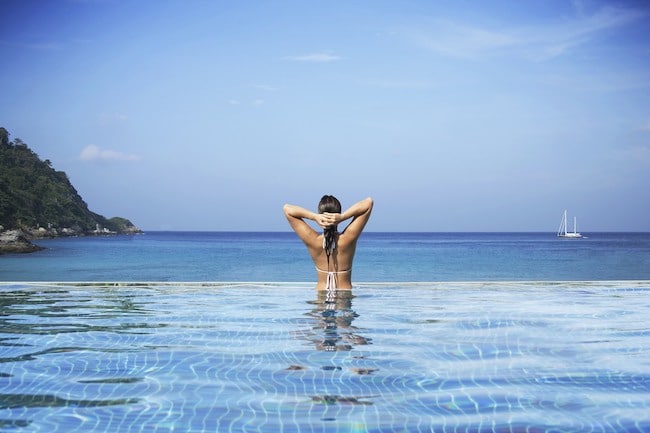 Anantara Lawana Koh Samui Resort – Close to the Heart of the Action in Chaweng
I haven't stayed at the Anantara Lawana Koh Samui Resort, but I wanted to show you an option if you want a luxury beach resort in Chaweng. Removed from the hubbub, but near to the heart of the nightlife, the Anantara Lawana Koh Samui Resort is located at the quiet north end of Chaweng Beach.
It's the architecture that appeals to me, a blend of traditional local and Chinese elements that touch on the country's Chinese merchant legacy. The peak-roofed seafront villas make me swoon with envy, and I'm immediately thinking of booking another trip to Thailand as I write this.
With 122 rooms and villas, a tree-top restaurant, and a beachfront location, it definitely ranks as one of Koh Samui's top beach resorts.
Check out prices and availability for this beach resort in Chaweng here.
Kamalaya – A Luxury Spa Destination in Thailand
Blissful spa massages, quiet pool time and New Age therapies: If this is your idea of a perfect vacation, it's hard to go wrong with Kamalaya. A dreamy holistic sanctuary, Kamalaya has an earthy energy that seems to emanate out of the strange rounded boulders that dot the grounds.
Located on the southern coast of Koh Samui, this luxury spa resort is constantly winning awards such as Worldwide Health & Wellness Destination of the Year and Spa of the Year, but how much you spa is up to you. Dive headlong into holistic renewal with one of the many wellness programs such as Detox, Emotional Balance or Burnout, or just sign up for a massage, sit back on your deck, or wander down to the former monk's cave that sits on this very spiritual property.
This high end spa resort also has a beach, outdoor pool, and an award-winning restaurant. Check out packages and prices for Kamalaya on their website.
Six Senses Koh Samui – A Sophisticated Get-Away-From-It-All Feel
It's been a long time since I stayed at the Six Senses Samui, but it still stands out in my mind for its sustainable practices, sleek infinity pool, and spa so natural that my treatment included herbs from the resort's own garden. One of the best resorts in Thailand for couples, the Six Senses Samui is a laidback but extremely chic resort on a hilly headland at the northernmost point of Koh Samui.
Opt for a pool villa overlooking the Gulf of Siam, catch cocktail hour at the bar and watch the sunset over a meal at the award-winning Dining on the Rocks Restaurant.
The Six Senses brand is known for its high level spas, so you might want to check out their extensive spa menu, too, which offers everything from self healing workshops to twisty Thai massage.
Just a note: In reviews about the best beach resorts in Thailand, the Six Senses Yao Noi on Phang Nga Bay between Krabi and Phuket is often mentioned. I haven't seen it but you might want to check it out too.
Read my Six Senses Koh Samui Review or check prices and availability for this luxury Samui resort here.
Four Seasons Koh Samui
A final luxury resort in the get-away-from-it-all category is the Four Seasons Koh Samui on the northwest edge of the island. I've toured it but have yet to stay here, something I'm determined to change as I can't get its leafy hillside setting, gorgeous villas and infinity pool overlooking a powdery soft beach out of my mind.
Four Seasons Koh Samui has its own beach and a cruising boat for excursions, though I'd be happy just lolling by my private pool, having a bath on my private outdoor terrace and gazing out at the Gulf of Siam.
To see prices and availability for the Four Seasons Resort Koh Samui go here.
Northern Thailand
Most travelers head to Northern Thailand for a culture fix and for the rich landscape of mountains and rice paddies. Nature is a big draw here and the north is an easy flight from Bangkok. From temples to treks and hill tribes to festivals, it's a way of getting beyond the parties and beach scene, and explore something a little more authentic.
Chiang Mai
The city of Chiang Mai is usually the first stop. Here the walls of the Old City of the old Lanna Kingdom still stand, there are plenty of picturesque temples and it's less frenetic – and generally cheaper – than Bangkok (though I still find the traffic pretty heavy).
A good base for organizing hill treks or heading farther north, Chiang Mai is Thailand's second most visited city destination.
The Dhara Dhevi Chiang Mai
When it comes to places to stay in Chiang Mai, the Dhara Dhevi Chiang Mai was one of the first luxury properties on the map. A 60-acre family-friendly hotel with spires, lotus ponds and teak villas, the Dhara Dhevi has been on my wish list since it was a Mandarin Oriental and considered one of the best resorts in Thailand.
Inspired by the beauty of the Lanna Kingdom, the resort uses a mix of traditional Thai architecture and colonial-style furnishings to create a world of elegance and charm. Bordered by rice fields, the resort focuses on natural materials such as teak and bamboo, and you'll find tropical gardens, pagodas and a spa modelled after a Mandalay Burmese palace.
The Dhara Dhevi Chiang Mai is 20 minutes from the airport and 15 minutes from the center of Chiang Mai, and you can use the hotel shuttle to get into town.
Check prices and availability for this luxury resort in Chiang Mai here.
The Golden Triangle
The Golden Triangle in northern Thailand is one of the most exotic destinations I've ever been to. A mountainous locale where Thailand, Laos and Burma (Myanmar) meet, it was long a major opium-growing region. Today, with the encouragement of the royal family of Thailand and help from developmental agencies, things have dramatically turned around.
Still, an aura of mystery remains, mingling with the bright tourist atmosphere at the self-styled epicentre of the 'Golden Triangle,' where boat tours shunt busloads of visitors around the Mekong River to do a quick three-country tour.
Personally I love the area's magical mystique, though you won't get a real feel for it on a day trip. Nestle in and stay a few days at a secluded luxury lodge and you'll see what I mean.
Four Seasons Golden Triangle Tented Camp – Deluxe Luxury Glamping
Tucked away along the Ruak River at the Golden Triangle is a luxury resort of an almost unbelievable degree, the Four Seasons Golden Triangle Tent Camp. Don't let the idea of tents fool you. This is one of the ritziest resorts in Thailand, and, along with the Oriental Hotel in Bangkok, changed my view of how truly luxurious a top resort in Thailand can be. (And how expensive.)
This all-inclusive luxury resort in northern Thailand will tempt you with dishes from Thailand, Laos and Burma (and a communal table which is fun) as well as Western cuisine. There is an outdoor spa, and accommodations you can really only call 'tents' because of their canvas walls. They also have dark wood-plank floors, phones, spacious sundecks, outdoor showers plus ensuite bathrooms, safari-esque furnishings and views of the river and misty hills beyond.
Elephants: The Four Seasons has partnered with the Golden Triangle Asian Elephant Foundation to adopt more than 20 elephants rescued from city streets, and offers a number of different interactions with them. Personally, I wouldn't do anything that involves riding elephants ever again, though I have in the past – it's been a long learning journey – but to observe them, and interact with them in a respectful way is a privilege indeed.
Where is the Four Seasons Tented Camp? This top Thai resort is 45 miles north of Chiang Rai, and four hours from Chiang Mai in northern Thailand. Transportation can be arranged from Chiang Rai or Chiang Mai for an extra cost.
Check the cost for this all-inclusive resort at the Golden Triangle here.
New Thailand Luxury Resorts on the Horizon
Thailand has many more fantastic getaways, and there are more on the way. Hot new hotel openings coming up include the ambitious Livist Design Resort Phetchabun set to open in central Thailand in late 2019, and the Four Seasons Bangkok, which will be located right on my favourite Bangkok locale, the Chao Phraya River.
Hopefully this article on Thailand's best resorts will give you some itinerary and hotel tips to start planning your dream trip. If you're planning on visiting other countries, check out Luxury Travel in Asia for trip ideas. You can also visit the Tourism Authority of Thailand website for more ideas on places to stay.
Find a Hotel in Thailand