This post may contain affiliate links.
Keemala Phuket is one of the most imaginative luxury resorts in Asia. Located on the lush island of Phuket in Thailand, this award-winning villa resort and spa is based on four imaginary clans, and takes creative design to the most deluxe degree. Here's my Keemala Phuket review.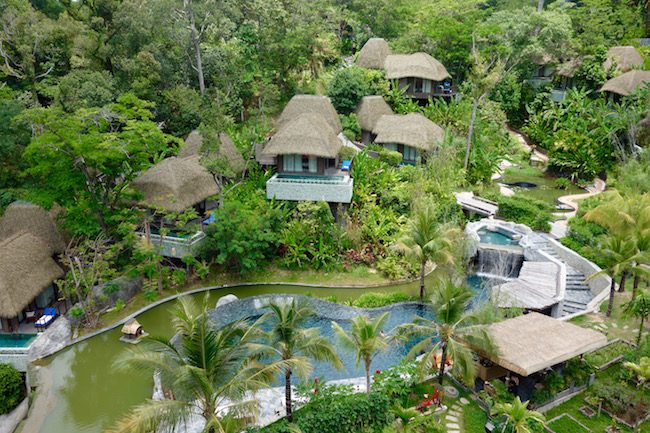 Keemala Phuket review
I'm a member of the Pa-ta-Pea Clan but I'm deserting to the Rung-Nok, only because their Bird's Nest Villas have bigger plunge pools than the Clay Pool Cottages of the Pa-ta-Pea.
It's an unusual concept, luxury resort meets imaginary tribal clans – but Keemala, a Small Luxury Hotels of the World property in the dense forest above Kamala Beach in Phuket, Thailand, is anything but usual. When I first arrived I blinked. Then I blinked again – not sure if I'd just been transported into the Shire or Avatar.
There was the pod in the sky lobby. There were thatched cottages, designer bird's nest bungalows, two-floor tree houses and glamorous tent villas. There were resident water buffalos, a waterfall, herb garden and a centrepiece infinity pool that flows over into a duck pond.
If Avatar was a luxury destination, I decided, this would be it.
A unique luxury resort in Thailand
Keemala is a resort … no, an elegant fantasy world that fuses holistic retreat and imaginative sophistication. The concept is based on four clans that co-exist in one communal village.
The intent was to balance luxury and tranquility while grounding the experience in the resort's Phuketian roots – not the Phuket of beach bars, glitzy beaches and mega resorts, but a more down-to-earth Phuket of nature, simplicity and Thai mythology.
How this family-owned resort managed this by envisioning a village made up of four different tribes, each with their own history, philosophy and culture is beyond me. The important thing is that it works.
And while it might sound like a theme park, it's as far away from a theme park as Architectural Digest is from the National Enquirer, which might be why Architectural Digest featured the resort when it opened in late 2015.
The clans
Most guests to Keemala Phuket likely don't give more than a passing nod to the clan concept of Keemala. They're here for the unique architecture, the dreamy luxury, the romantic setting, cuisine and award-winning Mala Spa.
Since I'm alone, however, to amuse myself I decide to delve deeper into the clan story, which only makes my desertion from Pa-ta-Pea to Rung-Nok seem all the more disloyal.
Clay Pool Cottages
As I wait for the bellboy to move my bags, I have to confess I'm sad to leave my Clay Pool Cottage. Tucked into the rainforest, my cottage has a deck that opens up to a small plunge pool, intricate brass and leather finishings, shower walls embedded with mother-of-pearl and a slate mosaic bathroom floor.
It's a fitting decor for the Pa-ta-Pea people as they're the Earth Clan, skilled at blacksmithing, carpentry and farming.
Somehow my cottage also makes me think of a waterfall deep in the forest at midnight (although that might be because I didn't realize I could turn off the current in my plunge pool and went to sleep serenaded by the sounds of a rushing stream.)
But let's face it, earth is not my element. (Also, my Clay Pool Cottage is booked by someone else.) So I'm moving up in the world. Bird's Nest here I come.
Keemala Bird's Nest Villas
So this is how the other half live, I think staring in awe at the pool running the entire length of my deck. Clearly, the Rung-Nok, the 'Nest' Clan, are the elites of the village. They (I mean, we) are lofty intellectuals and our clan consists of artists, musicians, astrologers, philosophers and poets.
According to clan lore, the Rung-Nok like to bathe under the moonlight in the belief that this will replenish their soul, which explains the huge pool. And I plan to do just that, as soon as I finish exploring my lofty nest with its twisted twig-like exterior, the gargantuan bed and the glittering mosaic floor in my shower.
Yes, I think I've found my clan.
Now to find a massage at the Mala Spa.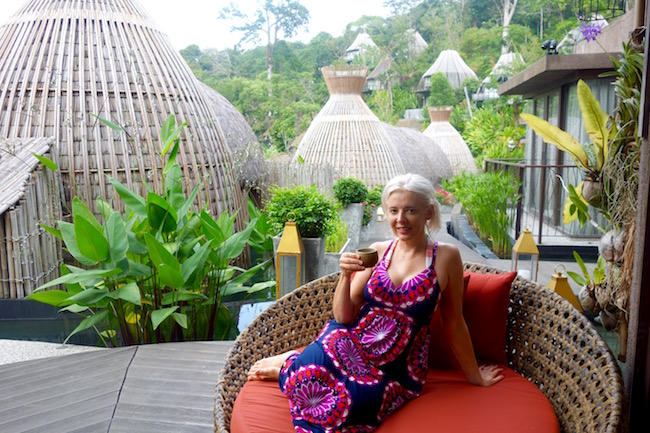 Mala Spa
The resort's Mala Spa is a village within a village, with thatch huts running along a garden path and a holistic philosophy that incorporates the elements of ocean, earth, fire, air and ether. In honour of my new clan, I opt for a Harmonizing Massage with – instead of the Pa-ta-Pea scents of lemongrass, ginger and plai – the signature Rung-Nok essences of jasmine, ylang ylang and bergamot.
According to the spa menu, the combination is both sensual and rejuvenating – and I can't think of a better way to anoint myself with the spirit of my new tribe.
Mala Bar
After my massage, I pad over to the terrace of Keemala's Mala Bar to lap up a view that stretches out over the grounds and down to the Andaman Ocean. Too lazy to read the menu, I order the cocktail of the day and when it arrives at my table I'm intrigued by it's translucent indigo tone.
"What makes it that purply blue?" I ask a staffer.
"Butterfly pee."
"Oh. Right." I could ask a lot of questions, such as 'how do you collect enough butterfly pee for a drink?' or 'how do you collect any butterfly pee at all?' but in this enchanted Hobbity world where haute design and make believe coexist, I decide acceptance is easier than questions.
Nonetheless, I'm relieved (also disappointed) when I learn that it's not made from 'butterfly pee' but from 'butterfly pea flower.'
For my next drink I stick with my tribe and opt for one of the Rung-Nok Clan cocktails, a Redwhisker Blu Blu, made with Mekhong Thai Spirit, Campari, pineapple juice and fresh lime. Ah, yes, I think, enjoying the refreshing tang of pineapple and lime, I've definitely found my spiritual home.
And now for that moonlight swim …
Keemala Phuket Review facts
Pin me!
Keemala Phuket is made up of 38 villas each with a private pool. There are:
16 Clay Pool Cottages of the Pa-ta-Pea 'Earth' Clan
7 Tent Pool Villas of the wandering Khon-Jorn Clan
7 Tree Pool Villas of the We Ha 'Sky' Clan
8 Bird's Nest Pool Villas of the Rung-Nok 'Nest' Clan
The buzz: In 2016 it was No. 1 on the Conde Naste Hot List.
Location: Keemala is a 40-minute drive from Phuket International Airport. It's 9 kms from Patong Beach, so if you want shopping or nightlife it's within a reasonable drive. Shuttles will take you down to Kamala Beach, which is a 5-minute drive away.
Activities: If you don't want to leave the property you can keep yourself occupied with various activities such as cooking classes, garden tours and fitness classes. Alternatively, the resort can organize off property excursions.
Kameela Cuisine: There are four different food sections at Kameela's Mala Restaurant, Indian, Thai, Western and Healthy Living Cuisine. There are healthy options galore such as organic quinoa porridge and smoothie bowls for breakfast. You can also opt for Afternoon Tea or grab a bite at the Cha-La Pool Bar.
Holistic Wellness: Keemala offers 4 different types of 3 and 6-day retreat packages: Purify, Energise, Unwind and Rejuvenate. In addition, various practitioners in holistic therapies visit the resort.
Mala Spa: The spa has 8 treatment rooms and embraces traditional healing approaches as well as modern pampering.
Keemala price: Rooms start at about 400 USD per night for the Clay Pool Villa and include breakfast. Check prices and availability for this luxury resort in Thailand here.
Note: My stay was arranged by the the Tourism Authority of Thailand. All opinions and butterfly pee confusions are my own. I'm also an Amazon affiliate.