This post may contain affiliate links.
If you're visiting Thailand and looking for an upscale hotel in an unspoiled setting, check out Tubkaak Resort in Krabi. With a prime location on quiet Tubkaak Beach, it will give you a view of the Hong Islands you won't soon forget.
Tubkaak Resort and the Hong Islands
I feel as if I'm in some primeval landmass gang fight. Through a pale blue afternoon haze, the limestone Hong Islands are facing me across the water. Rising straight out of Phang Nga Bay in Thailand's Krabi Province, the craggy limestone islands look more like characters in Michael Jackson's Thriller video than a clutch of small islands where white-faced gibbons and monitor lizards roam.
The Hong Islands
The leader of the Hong Islands gang archipelago, is Koh Hong himself. From here he looks menacing, but I hear that up close he's handsome, with emerald green water and a hidden lagoon. I've met his type before – all looks and pretty fish, luring you in with his charm and tempting kayaking routes.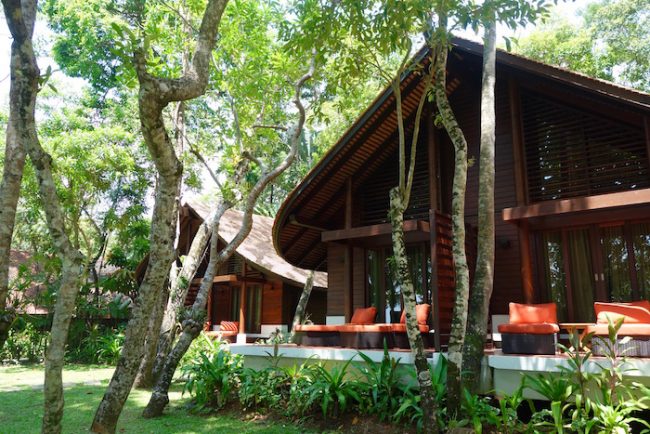 Tubkaak Resort review
But I won't be tempted. I'm sticking with Tubkaak Resort, which is pretty darn handsome itself. Looking out towards the Hong Islands, Tubkaak Resort, or Tubkaak Boutique Resort, is a luxury hotel on Tubkaak Beach, a crescent of soft white sand with just a handful of upscale resorts behind it.
Tubkaak Beach, also known as Tab Kaek Beach, itself is quiet and calm, and even though it's only a 20-minute drive from popular Ao Nang it manages to stay relatively unknown.
Why choose Tubkaak Boutique Resort
At first glance, Tubkaak Resort might seem like just another high-end beachfront hotel with landscaped gardens, a palm-studded pool and sleek bungalows and villas. Designed by Architect 49, the bungalows and villas have curved roofs and dark beams inspired by local fishing boats, while old coconut and teak elements create seductive contemporary interiors with hints of traditional artistry in the decor.
But that's not why you should stay here. Look closer.
Designed with the environment in mind
The award-winning Tubkaak Resort was designed around the natural environment, rather than the other way around. Mature trees were protected, which means resort pathways take various unexpected twists and turns, and is why I have a tree poking up from the deck in my premium villa, right between my plunge pool and my outdoor jacuzzi tub.
The trees pay it forward
In return, the trees provide shade, which lowers energy costs, as does the high-quality sun-reflecting cement used in the resort's construction. The property's setting at the base of Hak Nak Mountain ensures that a steady stream of fresh mountain water flows right down through the resort to nourish the gardens (along with organic fertilizer) and wind its way through landscaped channels and fountains.
Beach Pool Villas
On my second night at Tubkaak I'm upgraded to a Beach Pool Villa, where I'm torn between using my outdoor shower, my indoor shower, my outdoor jacuzzi tub or the sleek slice of pool that stretches down from my deck toward the beach.
The Andaman Ocean
In the end I opt for a fifth option, the ocean. As I splash around the clear pale water, stalking a little minnow which quickly darts away, I look up and catch their eyes, those sexy-looking Hong Islands, 13 bad boys in battle formation.
Koh Hong attraction
I try to ignore them, but as the sun pats my shoulders and a few soft clouds drift across the sky, they keep beckoning me with their individual charms. There is secluded Lading Island, with its cliff-surrounded bay and swallows' nests where locals used to go to collect the rare ingredients for bird's nest soup. And what about Pakbia Island, where a labyrinth of caves have eroded into cliffs.
There are birds and sleepy beaches and snorkelling ops galore. It's Koh Hong, however, with his leader-of-the-pack charm that steals my heart.
Irresistible Koh Hong
That's it. I can't resist Koh Hong's rocky attractions any longer. I get out of the water, pull on a beach coverup and head to the lobby of the resort to book a Hong Island excursion.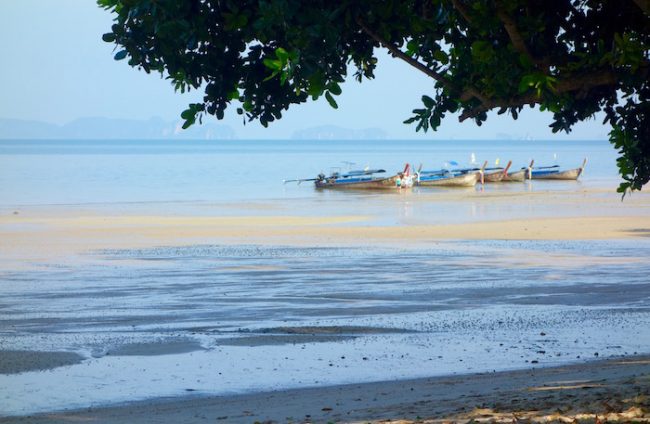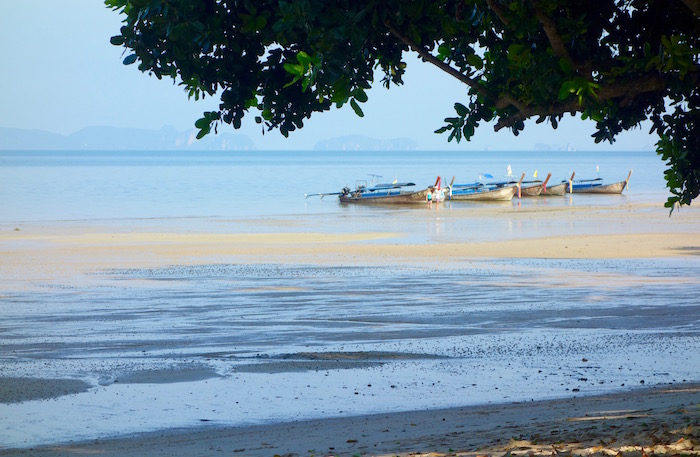 Thwarted
It's a love affair that's not meant to be. Excursions from the resort leave in the morning as the longtail boats can't go out in low tide, and this is my last day here. I seek solace at Tubkaak Resort's L'Escape Spa with its comforting eucalyptus steam room, sauna and cool plunge pools.
Eating my heart out on Tubkaak Beach
I turn to food, feasting on prawns with basil and chilli at Tubkaak's beachside Arundina Restaurant then shop my way through L'Artisan Gift Shop. I even consider getting one of the resort's complimentary bikes and cycling to the nearest village, but decide that's going too far.
Goodbye Hong Islands
Unable to stay away, however, I head back to the beach. The tides have gone out and the early evening sun reflects off the water and sand with metallic shimmers of pewter, gold and bronze. I wander out, it seems for miles, the damp sand like suede under my feet. It feels as if I can walk forever, at least out to Koh Hong, but no. It's too dark. I have to turn away.
Koh Hong is shadowy now, but I know he's watching and I give him a wave. I vow I'll come back, and when I do I'll get a longtail boat and step onto his sandy shores. Until then, however, he's the island that got away.
Travel tips for Tubkaak Beach and the Hong Islands
Where is Tubkaak Beach? Tubkaak Beach is 25 km (about a 25-minute drive) from Ao Nang Beach. Krabi town is 30 km away and the Krabi International Airport is 45 km. From Phuket International Airport it's about a 2.5 to 3 hour drive.
Pin me!
Tubkaak Boutique Resort Krabi
Dining at Tubkaak Boutique Resort The resort has 2 restaurants, the Thai Arundina and the Italian seafood restaurant Di Mare. The food is excellent (at least mine was) and the buffet breakfast is complimentary.
L'Escape Spa The spa offers Oriental and traditional Thai therapies. Bonus: Use of the sauna, steam and plunge pools is free, but make sure you book because it's popular and they don't overbook.
Activities at Tubkaak Boutique Resort
Kayaks are free for guests and the water is calm, protected by the islands of Ko Yao Yai and Ko Yao Noi, which lie beyond the Hong Islands.
Bicycles are complimentary.
Khao Hang Nak National Park lies directly behind Tubkaak Resort and you can trek up to the mountain top. It's a 2-hour hike each way so take water.
Outdoor Yoga is offered at the resort.
For an extra charge, you can take a shuttle bus into Ao Nang and Krabi town for the evening.
Price for Tubkaak Resort Prices start at about $175 for a Garden Room in low season and go up.
Tubkaak Boutique Resort environmental awards: Environmentally Friendly Hotel, Thai Tourism Award 2007; Thailand Boutique Awards 2010 in Nature and Environment Southern Region category; Gold Award for Green, Nature and Environment category 2011.
Well done, Tubkaak Resort!
For more information on Tubkaak Resort go here. For more information on Travelling to Thailand visit the Tourism Authority of Thailand website.
About the Hong Islands
The Hong Islands are part of Than Bok Khorani National Park, one of Thailand's national marine parks, and there is an entrance fee of 300 Baht.
Hong Island excursions are offered from the resort. If you're not staying at the resort you can hire a longtail boat in Ao Nang.
A half day Hong Islands tour by private longtail boat from Tubkaak Boutique Resort is 1700 baht for 1-2 people and 2500 for 3-4. As it's a private tour, you can discuss the route with your guide. To avoid crowds, departure is recommended between 8 and 9 a.m. It includes snorkelling masks and life jackets but not lunch. You may want to bring a picnic lunch with you.
About Krabi Province
The southern province of Krabi is home to many national parks and is truly stunning with limestone cliffs and lush rainforests. With more than 80 islands, you can go island hopping to your heart's content. Ao Nang and Railay Beach are two of the most popular destinations.
Note: My stay was arranged by the the Tourism Authority of Thailand. All opinions and scandalous love affairs with Thai islands are my own.
For information on other luxury resorts in Thailand check out my Keemala Resort review or my review of Sri Panwa Phuket.