This post may contain affiliate links.
The Medieval Village of Biot, France
If you're travelling to the South of France, consider a day trip to Biot, France. A stunning medieval hilltop town just four km inland from the Mediterranean coast, Biot is famous for its glassmaking, its impressive museum dedicated to the Cubist artist Fernand Léger and for its fascinating -and notorious – heritage.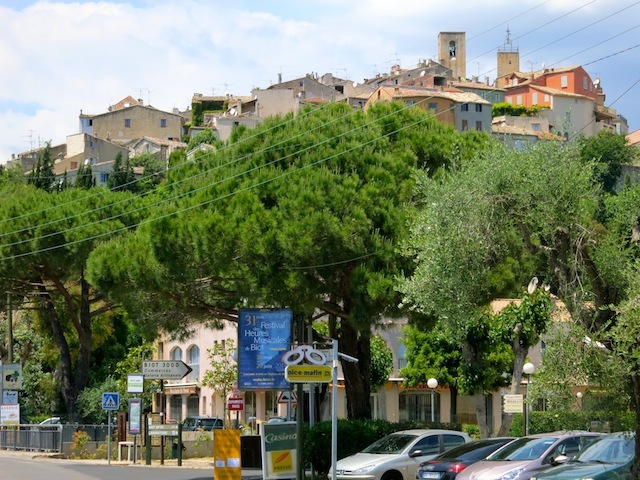 One day in Biot
I cursed the pirates as I trudged from the Biot Train Station under a blistering sun up towards the Old Town, cursed them for moving inland. I only had one day in Biot, a historic town in the Côte d'Azur between Antibes and Nice, and hadn't planned on wasting my time sweating and marching uphill.
The Scandalous History of Biot
After 20 minutes with no sign of the town, I considered backtracking to the train station and going to Antibes instead, but Biot has a fascinating history and I knew it was worth some effort.
Long after the Romans settled here in 154 BC, Biot had a notorious period in the 1300s when it was taken over by pirates, rogues and thieves. This happened after a double whammy of the Black Plague and the War of Succession of Queen Jeanne of Provence decimated the law-abiding population.
Before the notorious pirate period, Biot had a Knights Templar period when the renowned warrior monks, the Knights Templar, took up residence in the former Biot Chateau in 1233 (a building still visible between Les Place aux Arcades and the Church Square).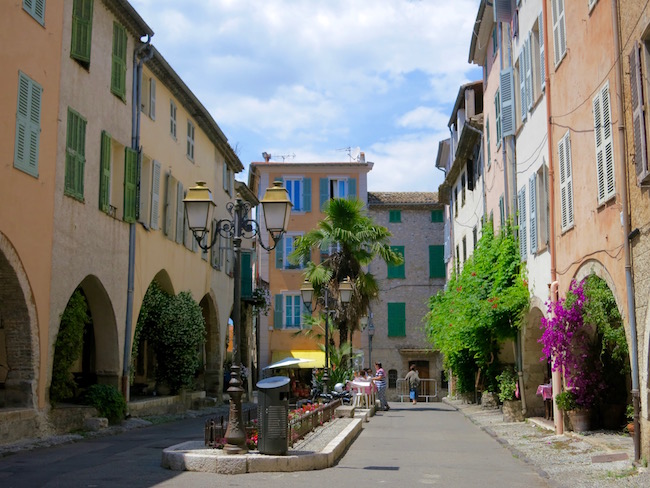 What is Biot Famous For?
In addition to its intriguing history, Biot, a picturesque hill town on the French Riviera midway between Cannes and Nice, has a long artistic heritage and is known for:
Its artisanal 'bubble' glass and glass blowing tradition
Winding cobbled lanes and a hilltop setting
Its location near an ancient volcano
The large museum devoted to Fernand Léger – an innovative French painter who had a unique style of Cubism (which I personally think of as Cubist-shapes-looking-slightly-blown-up-as-if-they-were-cut-out-of-rounded-tin-cans)
Its history as a ceramic center
If you're doing a day trip to Biot from Nice or Cannes, which most people do, you'll be extremely busy, but hopefully, by detailing the itinerary I followed will help you organize your day.
The Top Things to Do in Biot Are:
Visit the Old Town and Les Place aux Arcades
Visit the Fernand Léger Museum for its Cubist art
Check out the Biot History and Ceramic Museum to learn about the town's ceramic history
Take a tour of a glass blowing studio like La Verrerie de Biot to learn about Biot glass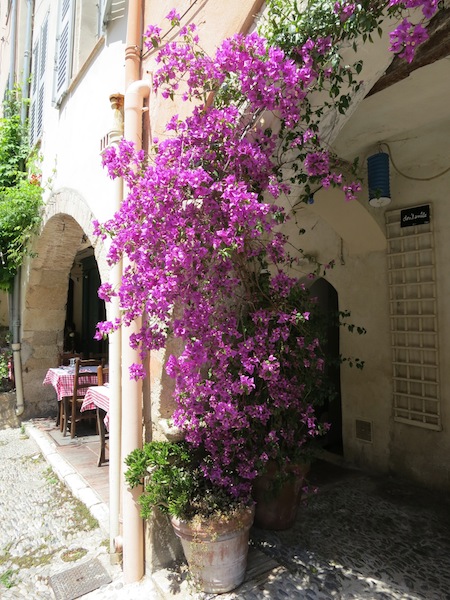 Introduction to Biot
The first time I made a day trip to Biot, I was part of a press trip with a group of other journalists. We were touring Antibes, Juan Les Pins, Nice and Biot, all wonderful towns in the French Riviera. It was a great trip that combined travel and art, and was all organized for us by the French Tourist Board, making everything easy peasy.
Our group swept in, visited the Léger Museum and the glass blowing gallery/workshop La Verriere de Biot, where we were each gifted with a pale blue storm lamp, with Biot's signature bubbles in the glass, and then we happily swept off on our way.
Note: I was looking for a guided tour to suggest to you, but the only one I can find is a private van excursion for up to 8 people that includes Cannes, Antibes and Biot for a substantial $795 USD. I really think someone needs to start leading Biot tours, as it's a delightful place to visit in the Côte d'Azur.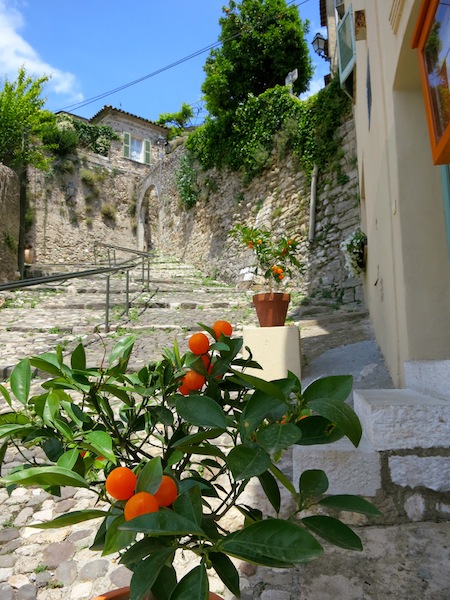 What Will You Experience in Biot?
If you're visiting Biot with a tour group you'll probably do much the same thing. But you will miss a good portion of Biot's charm as it's a good place to linger. (And I doubt you'll be gifted with a storm lamp either – sorry, it's one of the perks of being a travel writer. Bubble glass swag!)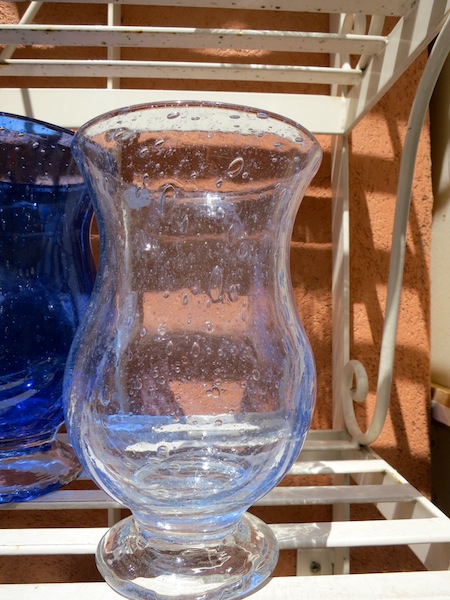 The next time I spent a day in Biot I was on my own and there was far less easy in my peasy, so read on.
Getting to Biot by Train
If you do any sort of internet research you will learn that Biot, France, is not right outside the Biot Train Station like it should be, but 4 km inland. It's at least a 30-minute walk and much of it is uphill, and you need to take the Number 10 Bus across the street from the train station to get there.
Ahahaha, I thought nastily about all the other travellers who hadn't researched beforehand as I had, and therefore had to walk (I am not always a very nice person) to Biot's Old Town.
Bus to Biot
What I had failed to research, however, was the Sunday bus schedule. The Number 10 Bus to Biot, France, runs only once an hour on Sunday. That meant, because I had also made a lunch reservation at the restaurant La Jarrier on the Passage de la Bourgade, that I would miss my carefully planned meal, and I didn't want to miss eating at one of the top restaurants in Biot.
So, with the superior laughter draining out of me fast, I joined the legions of other travellers who hadn't researched getting to Biot properly and walked under the hot sun toward town. Even with the walk, I still say Biot is one of the top French Riviera towns to visit from Nice.
FYI: You can also take the Number 200 Bus to Biot from Cannes or Nice but it's slow, though cheap. 1.50 Euros.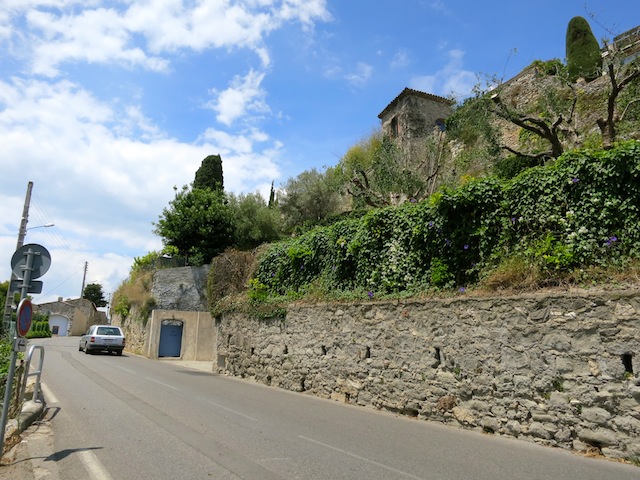 What to Do in Biot, a South of France Town
Once I arrived in Biot I beetled through ancient Les Place aux Arcades, the main town square, which actually is the town rectangle. It's completely atmospheric with dripping flowers and stone arches. I couldn't stop, however, as I was frantically searching for the Passage de la Bourgade.
Finally I asked an elderly French woman for directions. She walked me to Le Jarrier restaurant herself, asking me in French, "Are you alone?"
"Yes."
She waved around at a cluster of outdoor restaurants. "But these restaurants would be more congenial."
I tried to explain that I wanted a good meal, not just any meal, and that I'd carefully planned my One Day in Biot France itinerary and was determined to eat at La Jarrier, one of the town's best restaurants.
"It's expensive," she said.
But it's not so bad. Not if you go there at lunch and order the plat du jour, a mode of eating I definitely recommend you take up in France. Finally I assured the woman that I intended to take a coffee or tea at a congenial cafe after my meal at La Jarrier, and she seemed satisfied.
Restaurant Le Jarrier
They couldn't have been nicer at La Jarrier even though I arrived 35 minutes late, a hot sweaty mess, and they didn't seem to mind at all that I wanted my quail done 'more cooked' ie no blood, please.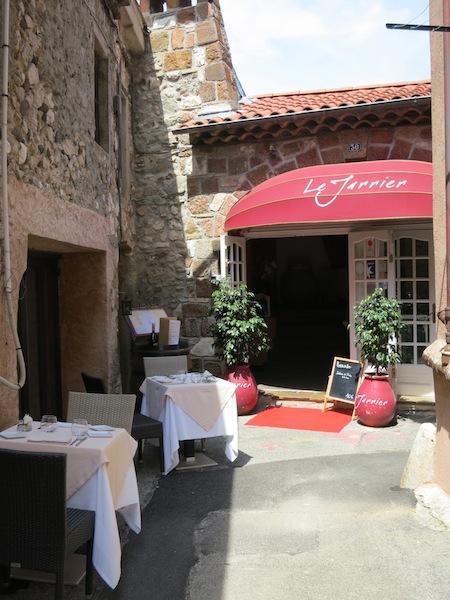 And yes, while there were only a couple of tables of other diners during my lunch, I sat on a patio overlooking a valley. And now that I was sitting down and not walking uphill while cursing pirates, my own company felt congenial indeed.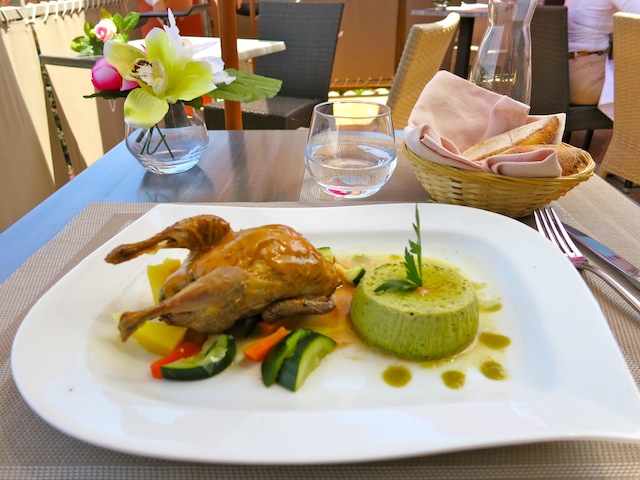 The view and atmosphere at La Jarrier are utterly peaceful, and the sauce on my quail was rich and exquisite. The only problem, and it's not the restaurant's fault, is that quails, with their tiny little bodies and flailing legs always make me think I'm eating an elf.
The Old Town
After lunch, mindful of my promise to have a congenial drink, I backtracked to Les Place Aux Arcades, to the restaurant Les Arcades, which is the oldest restaurant in Biot and which I heard serves good Provencal cuisine.
I intended to have a cup of tea at an outdoor table, but as I neared the restaurant a burly man who clearly was descended from a 14th-century pirate came out of the restaurant and said, "You is beautiful."
Now I'm sure he says to any lone female passing his way, but I got flustered and ran away. Stupid, yes I know, but you can never predict how you'll react to a compliment.
Place de la Catastrophe
Wandering through the cobbled streets, I kept my eye out for the Place de la Catastrophe, a frightening name for a frightening event. In 1898, two houses (or three, or one, depending on what source you go by) collapsed killing more than 20 people who had gathered here for a communion celebration. Apparently nothing has been built on it since.
History and Ceramic Museum of Biot
Instead of finding it, I found the Biot History and Ceramic Museum. It's not famous like the Léger Museum, but a sign outside said that it was run by volunteers and that they very much appreciated visitors. How can you not go into a museum that actually asks you to stop there, even if you're pressed for time because you have only one day in Biot?
In the History and Ceramic Museum, I learned that the town, which is now famous for glass, was famous before for its ceramics, and that in the 1600s at least 40 pottery makers lived in the town. A region rich in clay, Biot's earthenware specialty was Amphorae, giant storage jars for keeping oil or wine.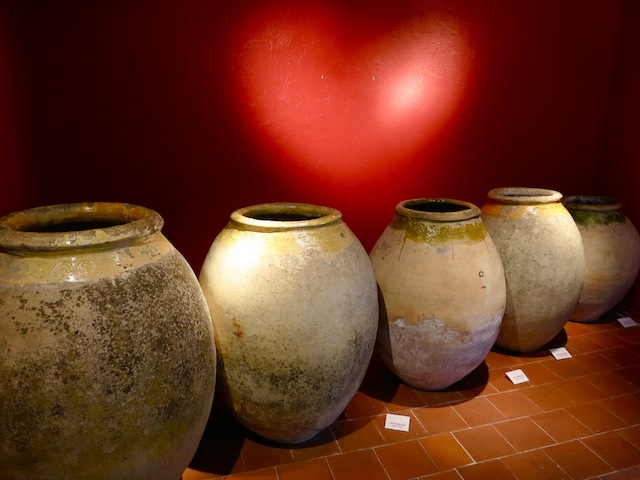 Biot Glassware
Today, glass has trumped amphorae as Biot's vessels of choice. If you're interested in a fine souvenirs and shopping, you'll likely be tempted to buy some. You can either just stroll though town and purchase some type of glassworks in the small shops and ateliers, or you can salivate over the glass at La Verriere de Biot.
This large gallery and workshop offers guided tours, glassblowing demos and even introductory glassblowing classes (just don't inhale). Either way you'll find plenty of chances to purchase more glass than you will ever be able to crush into your suitcase.
Biot's glass-making history
Biot really launched into glass-blowing fame in 1956 when glassmaker Eloi Monod created "La Verrerie de Biot," a style of glass that resembles old-fashioned glass containing bubbles, a feat he accomplished by adding carbonate of soda to the process.
La Verriere de Biot is located at Chemin des Combes – note: it's not in the Old Town but at the bottom of the village.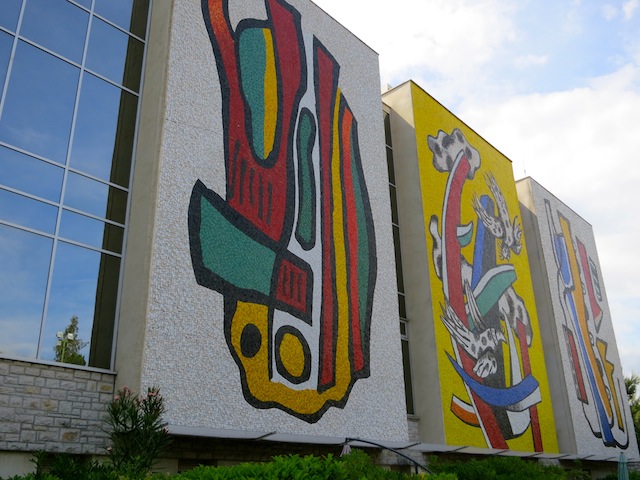 The Musée National Fernand Léger
Biot glass is fun to shop for, but the Fernand Léger Museum is really Biot's blockbuster sight. It's also at the bottom of the village so if you end up walking from the Biot Train Station, and you're not rushing to a lunch reservation, go there first.
Or, you can do what I did, which is to walk down from the Old Town, get lost and walk up an extra hill or two before finding your way. Or – here's a novel idea – you could get a map from the tourist office at 46 Rue Saint Sébastien. However you get there, you don't want to miss the museum, as it's one of the top cultural things to do in Biot.
Who was Fernand Léger?
Born in 1881, Fernand Léger was a French painter and sculptor who, while mainly known as a Cubist artist, had a unique style characterized by bright colours and robot-like figures that express the harmony between man and machine.
The building that houses the Léger Museum is a work of art in itself. It's built on land once owned by Fernand Léger himself He purchased it shortly before his death in 1955. The massive mosaic by Léger on the museum's façade was originally intended for the Hannover stadium, but it was never completed so it came here to rest instead. Lucky Biot.
Inside the Léger Museum you'll find works from all his periods. According the museum website, 'his shaped contrasts and vibrant colours translate the rhythm of the machine, the poetry of the objects and the beauty of the modern city.' And I couldn't have said it better myself. So I didn't.
Are the French people of Biot friendly?
Now let's talk about the people of Biot. They're quite lovely. Mostly. For instance, when I was in the museum looking at the current exhibition, a staffer came up to me, pointed out an obscure door and told me that the exhibition continued upstairs, which I thought was very thoughtful of him.
Too bad I couldn't open the door. I was having a huge rattling battle with it, drawing the attention of everyone in the gallery. Just as I was ready to start hurling myself at it shoulder first, a second attendant came over, clucking disapprovingly. She turned the handle, the door opened easily and she said, "N'est pas compliqué," which, quite clearly means, "It's not complicated."
I wanted to reply that if she'd walked 4 km uphill in the hot sun, then down the hill and possibly erroneously up another one, just being here was a miracle and a complete triumph over complications, and if I couldn't open a door, so what? At least I had found the museum.
Instead, with my limited French I looked at her morosely and said, "For me, everything is compliqué."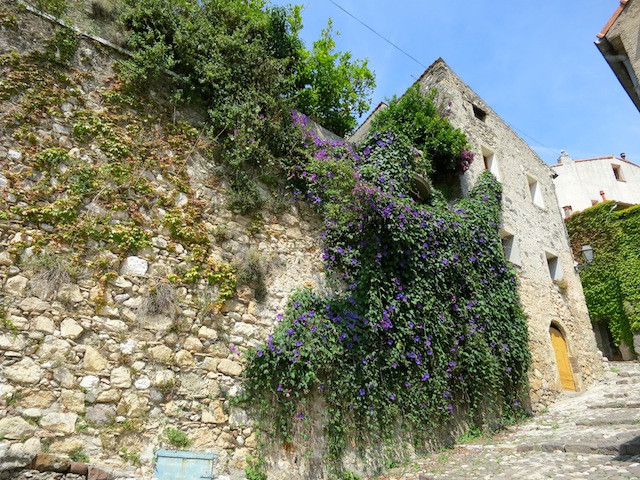 Biot to Nice
I was really enjoying the museum, but mindful of the Sunday bus schedule, which I had by now memorized, I cut my visit short so I wouldn't have another 4 km walk back down to the train station in order to get back to Nice. When I got to the bus stop and compared schedules with an elderly French couple who were just as hot and sweaty as I was, it turned out I'd mixed up Samedi (Saturday) with Dimanche (Sunday) and had to wait another 50 minutes for the bus after all.
Nonetheless, I'm so glad that, for the second time in my life, I was able to make a day trip to Biot, and that I had a lovely meal of an elf, I mean quail. I'm also glad I'd visited the Biot History and Ceramic Museum because they clearly really visitors and I'm especially glad I saw lots of paintings by Fernand Léger.
And, I'm happy to tell you that with a little preplanning, such as reading this travel article on things do in in Biot, your trip shouldn't be that compliqué.
Travel guide for One Day in Biot, France
Pin me!
Things to see in Biot France
The Fernand Léger National Museum is located at 255 Chemin du Val de Pome, 06410 Biot, France. If you're taking the train, I suggest you visit the museum either at the beginning or the end of your trip. Why go? The Fernand Léger National Museum has some 450 works that highlight the career of this celebrated artist.
The Tourist Office of Biot is located at 4 chemin neuf , Biot. You can pick up a 'Historical Tour of Biot' pamphlet in English. Or visit their website.
The Museum of History and Ceramics Biotoises is located at 9 rue Saint Sébastien.
To learn about the fine art of glass blowing, The Verrerie de Biot offers visitors guided tours, an extensive glass art gallery and shopping temptations you'll find hard to resist. Chemin des Combes – 06410 Biot, France. Visit their website.
Visit Brague River ParkLocated between Biot and Valbonne is the 480-hectare Brague River Park, where there are a number of hiking trails through the forest.
Biot Restaurants
La Jarriere is at 30 Passage de la Bourgade, Biot. Tel: +33 4 92 95 97 79
Another restaurant that comes highly recommended is Les Terraillers, just outside the village of Biot in a 16th century building at 11, Chemin Neu.
Serving traditional Provencal cuisine is the Restaurant Les Arcades at 14/16 Place des Arcades, Biot.
Getting to Biot France
From Nice to Biot, the train to Biot Station takes less than 30 minutes. There are many trains during the day. From the Biot Train Station takes the Number 10 or 22 Bus to Biot village.
If you're staying in Nice, get more travel ideas at Things to do in Nice.
Biot Hotels
There isn't a huge amount of choice for hotels in Biot, but there are some.
Affordable and central: the Hôtel Les Arcades is a family-run hotel that dates back to the 15th century. Located at 16, Place des Arcades, it will put you right in the center of Biot, and you might be able to get something for under $100 a night. Check prices and availability here.
Budget: A 3-star cottage style vacation park with a pool is the family oriented L'Eden Vacances. It's 1.4 km from the center of Biot, and 1.5 km from the beach. Check it out here.
Outdoor pool: Highly rated is La Bastide de Biot hotel with a garden and pool. It's farther out at 800 metres from the center. 625 Route de la Mer. Check it out here.
There is a much wider range of hotel options in Nice. Cannes and Antibes are other nearby South of France towns. You can search below for hotel ideas around the Cote d'Azur. For vacation rental ideas and tips visit How to Rent a Villa in France Affordably.
Read more about travel to the French Riviera: Visit my travel blog post Things to do in the South of France for ideas on where to go, why to go and what to do there.