This post may contain affiliate links.
Day Trips from Nice, France
With a fantastic location on the French Riviera, the coastal city of Nice is in a prime position for exploring the sensational Côte d'Azur, a region of France known for its luminous light, beach scene, cuisine, glamour and art.
While there are a lot of things to do in Nice, the largest city on the French Riviera, and you shouldn't rush through it, it's also a great jumping off point for local explorations through the Côte d'Azur.
(With its many hotels, restaurants, and sandy beaches, Cannes is another good base for exploring the Riviera, and all these day trips are easily done from there as well.)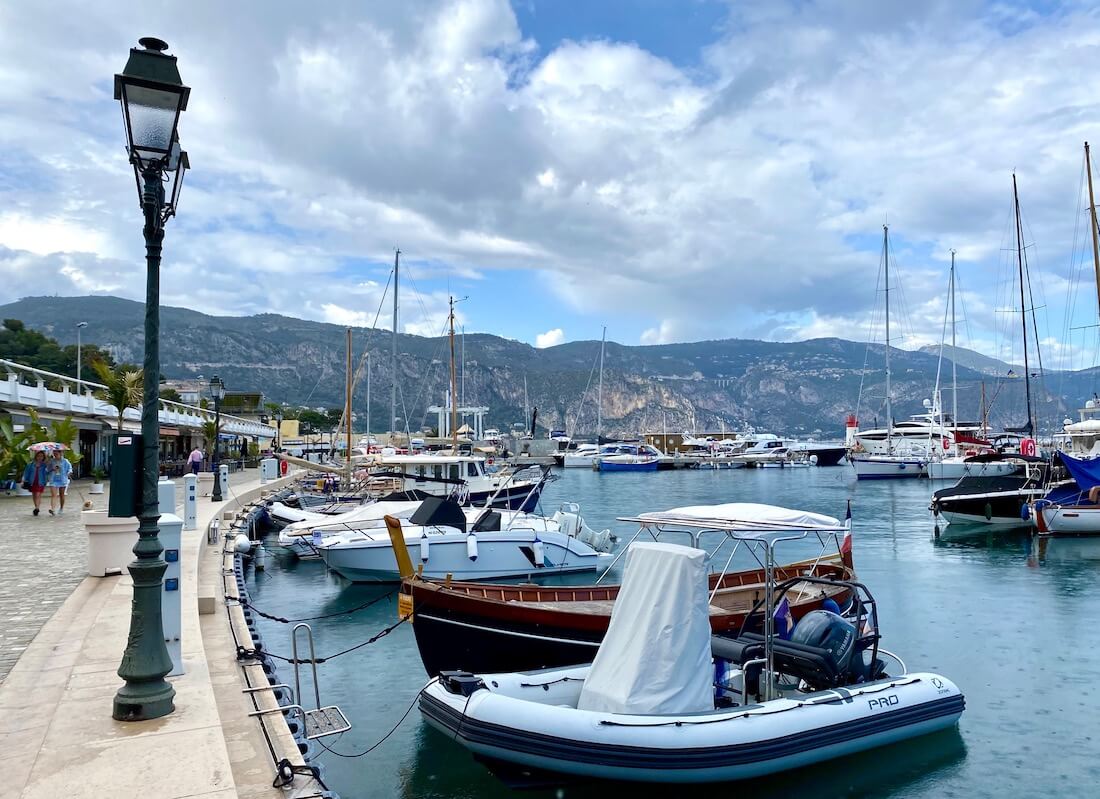 What Can You Do Near Nice and Cannes?
Medieval villages, beach resorts, incredible attractions and yacht-encrusted ports are all easily within reach. Whether you're travelling by bus, car, train, or taking day tours from Nice, there are so many great places to visit in the French Riviera you'll likely (if you're like me) wish you could stay longer.
In this travel article, we'll do a quick summary of the top day trips from Nice and Cannes, then look at each place individually and tell you the highlights and how to get there.
Most popular day tour from Nice: If you want to do a quick overview you can take a French Riviera Tour in One Day. From $70 USD. Check times and availability here.
Overview of the Best Places to Visit on the French Riviera
If You Have One or Two Days in Nice
If you don't have much time in the South of France, there are certain must-sees to put on your Riviera itinerary. The most popular day trips from Nice are Monaco and Cannes. If you have just two days for side trips, these are top picks.
If You Have 3 or 4 Days
Antibes is a coastal city on the French Riviera with a slower pace than Monaco or Cannes, and makes a great day out. Menton, near the Italian border, is another top destination (though if I had to choose between the two, I'd opt for Antibes with its ancient ramparts and atmospheric Picasso Museum).
If you don't mind spending more time on the road, glitzy Saint-Tropez ranks high on the list. You can also visit the most fragrant of all French Riviera cities, Grasse, known as the perfume capital of the world.
Just planning your trip? Here's how to get from the Nice airport to Nice city centre locations.
Medieval Villages Near Nice
When it comes to hill towns and medieval villages, Eze and St-Paul-de-Vence are perennial favourites. Eze has the views, St-Paul-de-Vence has an incredible legacy of art and artists who spent time here.
Less crowded are the cobblestone villages of Hautes-de-Cagnes, which sits right above Cagnes-sur-Mer; atmospheric Biot, with its glass-making legacy; and the breezy port town of Villefranche-sur-Mer.
More Great Places to Put in Your French Riviera Itinerary
That's only the start of it. Almost every stop on the TER, the regional train line, has something unexpected to offer. Until this last trip I never would have thought of an afternoon excursion to Roquebrune-Cap-Martin, but it was an unexpected highlight of my month-long stay.
You can also do side trips to see specific attractions. The historic Villa Ephrussi de Rothschild on Saint-Jean-Cap-Ferrat, for example, takes you into a rarified world in the Belle Epoque era, while an excursion to see the lavender fields and the Gorges of Verdun when the summer fields are in bloom is a hugely popular tour.
Which is better? Day Tours in Nice or Independent Travel?
Both have their place. I'm a huge fan of independent travel, but if you want to save time and the headache of trip planning, an organized tour can be the way to go.
Public transportation is terrific in the South of France, so most top Riviera destinations are accessible on your own by train or bus. This means you can linger when you want to – a common criticism of group tours is that you don't get enough time in each place (Eze Village, I'm thinking of you).
On the other hand, some towns are trickier to get to by public transportation, and a knowledgeable tour guide can enrich a trip. If you want a sweeping overview of the top destinations in the South of France and don't want the hassle of organizing things yourself, tours can be great introductions.
Get the best of both worlds. Design your own South of France itinerary with a private half day tour. From $308 per group. Check prices and availability here.
Now let's look at the best Nice, France, day trips you can do.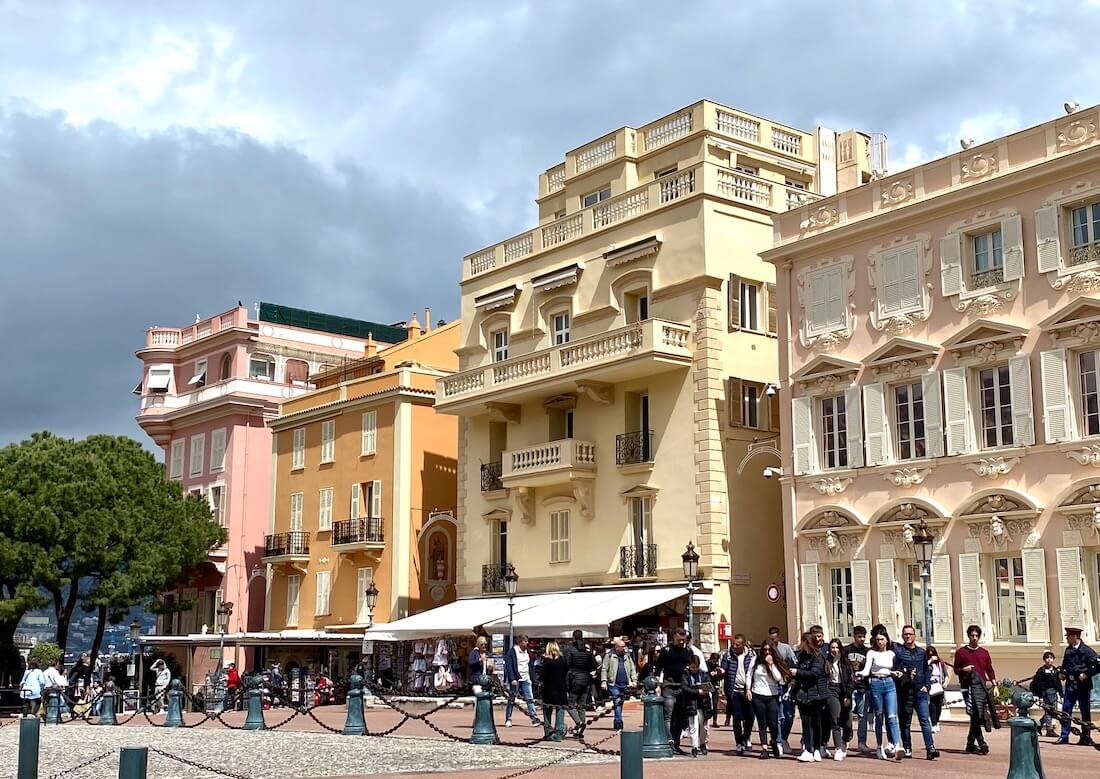 Best French Riviera Cities to Visit
1. Day Trip to Monaco from Nice
The Principality of Monaco is rich with sophistication, sleek suits and Chanel bags. Perched majestically over the Mediterranean, this tiny country (the second smallest in the world) is an eye-opening day trip from Nice when it comes to glimpsing the universe of the global elite.
Have a coffee on the patio of the Café de Paris on the Place du Casino, throw a few euros at the roulette table in the legendary Casino de Monte Carlo (passport required), then head from Monte Carlo to Monaco-Ville, the Old Town, where the royal family lives in a pale yellow palace overlooking the sea.
Time your trip from Monaco day trip from Nice to catch the (free) daily changing of the guard at the palace at 11:55 a.m. And keep an eye out for Prince Albert and his family while you're at it.
How to Get to Monaco from Nice
Nice to Monaco by train. Easy peasy. Monaco is on the direct train TER line. It's 13 km (8 miles) away and the journey can take as little as 20 minutes.
Nice Monaco bus. You can catch the 100 bus at the Port in Nice. The cost is a bargain 1.50 Euro. The trip takes about 30 minutes.
Nice to Monaco by car. You can take the scenic Grand Corniche to Monte Carlo, and park in one of the paid car parks.
Prefer a Monaco tour? You can combine Monaco/Monte Carlo and Eze on a half day tour from Nice from $42. Learn more here.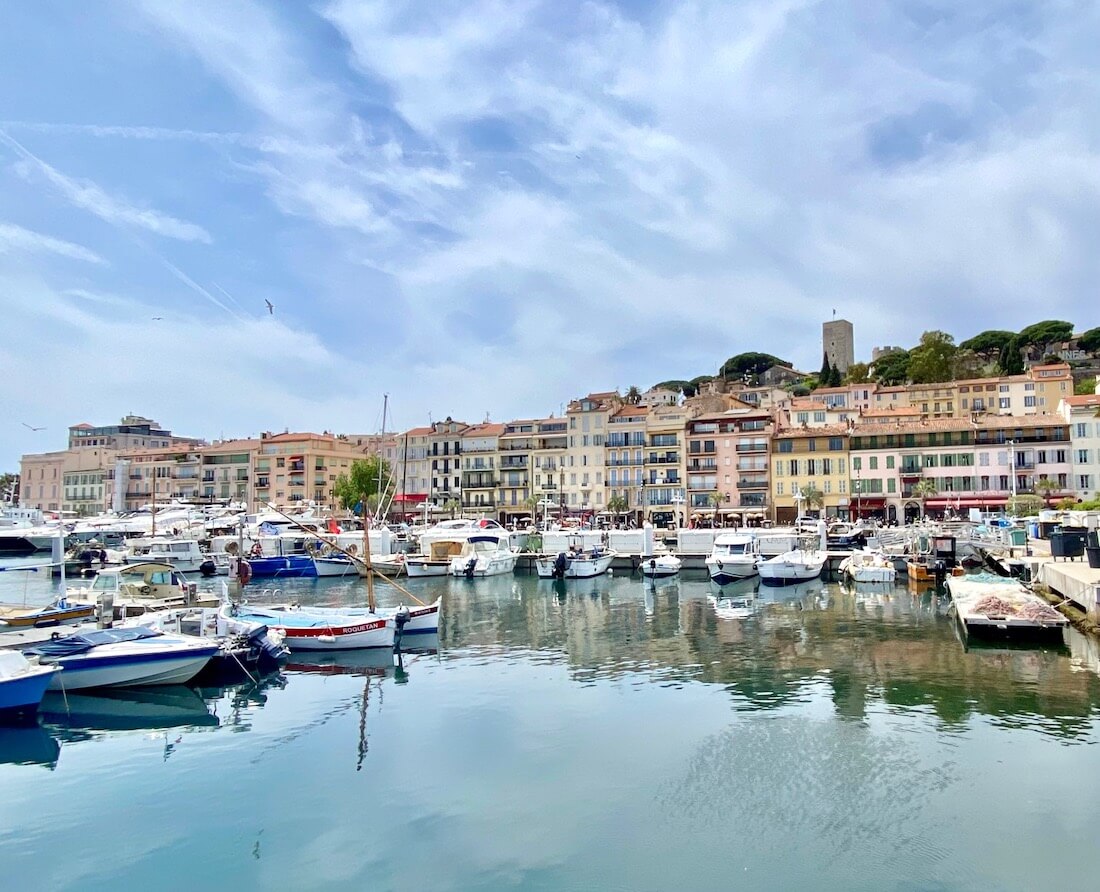 2. Nice Day Trip to Cannes
Cannes is almost as splashy as Monte Carlo, yet in a different, more resort-y Hollywood kind of way. If you're not here for the film festival in May (and you may not want to be – it's a crazy madhouse), there is still a lot to see.
Things to do in Cannes include strolling past the luxe hotels and designer boutiques on the Promenade de la Croisette, posing on the red carpet at the (quite ugly) Palais des Festivals building, checking out one of the sandy beaches, and meandering through the Old Town up to the Musée de la Castre on Suquet Hill.
With more time in Cannes you can take the boat to Sainte -Marguerite Island, Île Sainte-Marguerite, for a nature break in the pine-studded forest and tour the cell of France's most mysterious prisoner, the Man in the Iron Mask.
Check out my full guide to Île Sainte-Marguerite.
How to Get to Cannes from Nice
Nice to Cannes by train. It takes about a half hour from Nice-Ville Station. It's a direct ride.
By bus to Cannes from Nice takes at least 40 minutes. Catch Bus 200 from the Promenade d'Anglais.
By car: Cannes is southwest of Nice past Antibes. Driving should take about 30 minutes.
Nice day tour to Cannes. A Billionaire's Splendours Half Day Tour takes in the highlights of Cannes and Antibes. Prices from $72. Learn more here.
3. Grasse Day Trip from Nice
Grasse is renowned for its perfume production, and this attractive French Riviera city is a sweet-scented day trip from Nice. Tour one of the world-famous perfume houses – Fragonard is the most popular – then nose around the gift shop to breathe in the intoxicating scents of violet, lavender and rose.
For a hands-on experience, sign up for a perfume-making workshop to create your own fragrance.
Other things to see in Grasse include the 12th-century Notre Dame de Puy church and the Jean-Honoré Fragonard Villa-Museum, dedicated to the 18th-century artist Fragonard who was born in Grasse.
How to Get to Grasse
Book a guided day tour. You can do a Nice Countryside Tour with Grasse included from $53 pp. Stops include Gourdon, Tourette Sur Loup, and Saint Paul de Vence. Check out prices and availability here.
Nice to Grasse by train. You can take the train to Grasse from Nice-Ville Station. It's about an hour's journey. From there, it's easiest to catch a bus to the centre of town from the stop right outside the station. Or, you can make the uphill walk but it's about 1.6 km.
Can you get a bus to Grasse from Nice? Yes. You can take the 500 Bus. There are various stops to catch it at but one option is Station JC Bermond near Place Massena. The Nice Grasse bus ride should take about 1 hour 30 minutes.
Driving to Grasse from Nice by car. The route is about 48 km. Parking can be tricky in high season.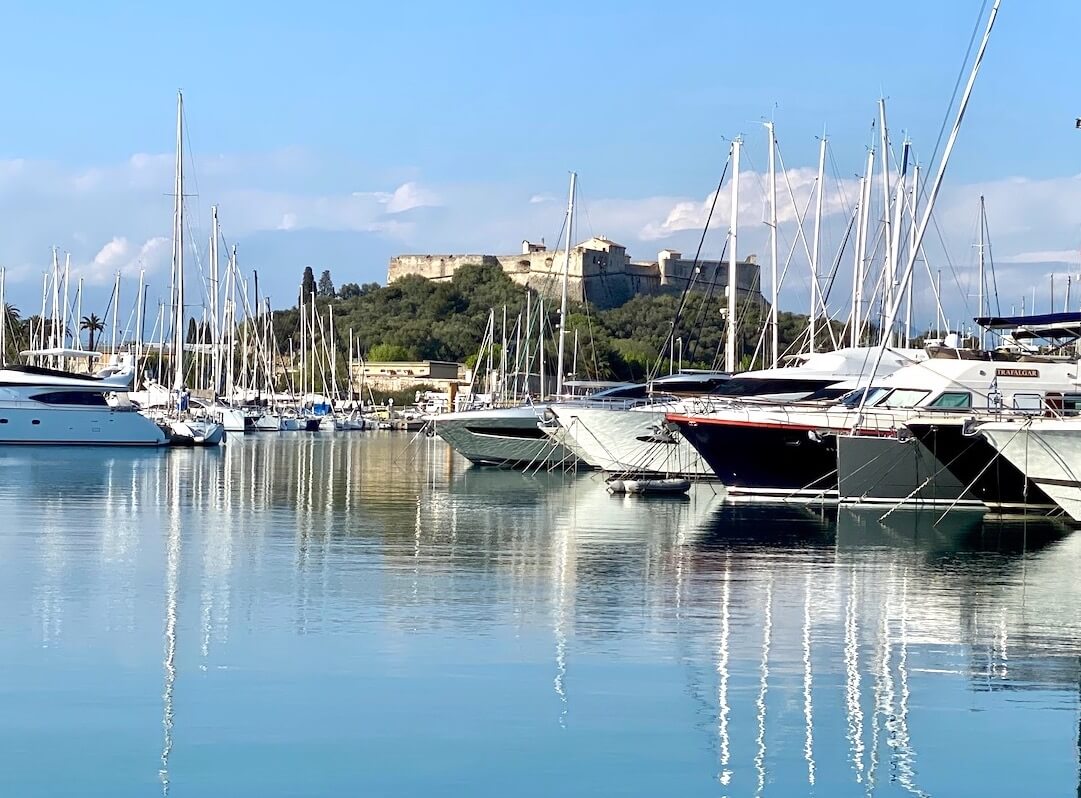 4. Day Trip to Antibes
When it comes to the best French Riviera cities to visit, Antibes is a top contender. More laidback than Cannes or Monaco, less city-ish than Nice, Antibes has a bit of a Boho vibe, making it the ideal place to shop for the flowy summer dresses, sip a tisane (herbal tea) on a patio in Place Nacionale and browse for local produce in the morning market, Marche Provencal.
Other attractions to see during a day in Antibes include Port Vauban, the largest marina in Europe, and Antibe's cultural claim to fame, the Picasso Museum in Grimaldi Castle, where the artist painted for three months. An easy way to get around is with a 1 or 2 day hop-on hop-off bus.
If you're feeling like some outdoor adventure, you can venture farther into gorgeous Cap d'Antibes to hike the Tire Poil Trail that follows the coast at the tip of the cape.
How to get to Antibes from Nice
Nice to Antibes by train. It's an easy ride to Antibes on the TER regional train. Antibes is on the way to Cannes, so combining the two destinations is easy to do from Nice in a day.
Antibes by Bus from Nice. You can also take the 200 Bus, which should take about 40 minutes.
Driving to Antibes. Antibes from Nice by car should take about 30 minutes via the A8.
Book a Tour to Antibes. If you want an affordable Nice tour that includes Antibes, you can do a 4-hour Cannes and Antibes trip that includes St-Paul-de-Vence from $68. Learn more about the itinerary here.
5. The French Riviera City of Menton
Not far past Monaco towards the Italian border is one of the least pretentious French Riviera cities on the Mediterranean, Menton. A long time British favourite – Queen Victoria visited here in 1882 – Menton still has more of an affordable package holiday feel than its posh neighbour Monte Carlo or glitzy St Tropez.
There are some interesting things to do in Menton. Famous for its lemon production – its unique microclimate helps them grow in abundance – and its link to the artist and creator Jean Cocteau, this seaside town has a picturesque cemetery at the top of the Old Town, plenty of lemon-tinged souvenirs and a pleasant waterfront promenade.
Menton is also home to perhaps the most renowned restaurant on the French Riviera, Le Mirazur, voted world's best restaurant in 2019.
How Do You Get to Menton From Nice?
By train: Train is the easiest way to get to Menton. The regional TER line takes about 40 minutes.
By bus: Bus 100 goes to Menton from Nice Port.
Driving to Menton: The Grand Corniche offers spectacular views and there is also the Moyenne Corniche and a coastal route to choose from.
Indulge in a private tour. This Italian Dolce Vita and Menton in the French Riviera goes to both the Italian town of Dolceacqua and the French Riviera town of Menton. From $316 per group. Learn more.
Best French Riviera Towns
6. Medieval Village of Eze
When it comes to medieval villages, Eze, France reigns supreme as the most popular day trip from Nice.
Indulge yourself with lunch on the terrace-with-a-view at the Ramparts Restaurant in the 5-star Chevre d'or Hotel, then make your way to the village's crowning glory, the Exotic Garden of Eze.
This cacti-rich garden winds its way up the pinnacle of Eze and, as you gaze out over the Gulf of St Tropez, you'll feel like you're on top of the world … which is exactly how you should feel when you're on vacation in the French Riviera.
Pop into the small art galleries that line the twisted lanes, visit the church of Notre-Dame-de l'Assomption, then, if your thighs can handle a challenge, hike the Nietzsche Trail down. Warning: It's steep.
How to get to Eze from Nice
Visit Eze on a Day Tour. This Monaco, Monte Carlo and Eze tour also includes a visit to the medieval village of La Turbie. From $58. Check availability here. Word of advice: If Eze is the focus of your visit, don't spend too much time in the Fragonard perfume factory.
Nice to Eze by bus. Bus 82 is your friend. The views alone on the Grand Corniche are unforgettable. Eze is one of the most sought after Nice France day trips, so you may not get a seat. I caught the 82 at the Boyer bus stop in Nice. Direction Plateau de la Justice.
Train: If you take the train to Eze be forewarned: It drops you at the bottom of the hill in Eze-sur Mer. It will take you at least an hour to walk up the Nietzsche Trail to get there, and it's a brutal climb. There is an infrequent bus (83) up to the village.
Car: Eze is only 20 minutes by car from Nice, but parking can be tricky so you may prefer to take the bus.
7. Take a Side Trip From Nice to St-Paul-de-Vence
When it comes to art and atmosphere, St-Paul-de-Vence is a clear winner regarding places to visit near Nice. Its cultural showstopper, the renowned Maeght Foundation, is a stunning collection of modern art that ranges from Marc Chagall to Joan Miró.
Important travel tip: The Maeght Foundation is not in the town proper, but a walk or drive of about 1 km.
In town you can continue the art theme with a visit to the gravesite of Marc Chagall and have lunch at the legendary Colombe d'Or, a restaurant once frequented by artists such as Picasso and Matisse. The art on the restaurant walls is better than many a museum, and a salad with black truffles on the patio divine. Reservations recommended.
How to Get to St-Paul-de-Vence from Nice
St-Paul-de-Vence by bus. Bus 400 goes to St-Paul-de-Vence from Nice. You can take Tram 2 to Parc Phoenix and catch the 400 from there.
By train. The only way you can get to St-Paul-de-Vence from Nice by train is to take it to Cagnes-sur-Mer then get the 400 Bus from there.
St-Paul-de-Vence is one of the best day trips from Nice by car. Against my will, my husband rented a scooter and that's how we got there. I have to admit, driving was a quick and scenic way to travel inland and took just over half an hour.
A wine-tasting tour and visit to St-Paul-de-Vence. This half day tour includes both St-Paul-de-Vence and a visit to a vineyard in the hills. Prices from $69. Check times and availability.
8. St Tropez – the Flashiest Beach Town on the French Riviera
Can you visit St. Tropez from Nice for a day? Yes, but getting here is a bit more complicated than some of the other places to visit on the French Riviera. Nonetheless, teeming with life during the summer months, and a top see-and-be-seen beach destination, Saint Tropez is hard to pass up.
Sultry Bridgette Bardot made this once sleepy fishing village famous, and it's been summer nectar for jet-setters ever since. While St Tropez is famed for its nightlife, you can still get a taste of the hedonistic good life in one day.
Snack on a creamy tarte Tropezienne, visit the Plage de Pampelonne – making sure you've brought your splashiest designer beachwear – check out the port, the charming Place des Lices, and climb up to the Citadel for the views.
Before you go, you need to know that the beaches are not in walking distance of the village. This can be tricky if you're here on a day trip from Nice. You'll probably want to use taxis to get around.
How to Get to St Tropez from Nice
By bus or train: There is no direct way to get to St Tropez by bus or train from Nice. You can take the train to Saint-Raphael, then an hour and a half bus ride on Bus 7601 to St Tropez.
Driving: Car is probably the easiest way to get to Saint Tropez, although in high season the road can get very jammed. Be prepared to spend a lot of time in the car.
Did you know you can travel from Nice to St Tropez by boat? How cool is that? The ferry runs in high season and takes 2.5 hours each way. It leaves Nice at 09:00 a.m. and is back to Nice by 07:00 p.m. You can book your ticket here.
St Tropez by helicopter from Nice. It's not as farfetched as it sounds. For about $400 one way you can get there in no time from the Nice airport.
Prefer a Nice to St Tropez day tour? This full day tour from Nice includes a boat ride, a visit to St Tropez and Port Grimaud. From $95. Learn more here.
Less Touristy Places Near Nice
9. Cagnes-sur-Mer and Hautes-de-Cagnes
It's a down-to-earth atmosphere in Cagnes-sur-Mer, the coastal town where the Impressionist artist Renoir made his home for the last 12 years of his life.
Fans of the great artist can make a pilgrimage to the Renoir Museum, a tranquil estate where his gardens, home and studio are on display. It's located on the Chemin des Collettes.
The other reason to visit Cagnes-sur-Mer is to get up to its sister village, Hautes-de-Cagnes. A free shuttle takes you from the Square Bourdet up to this appealing medieval village where you can visit the museums in the Castle Grimaldi, lunch at one of the restaurants on the view-rich terrace in the shadows of the castle walls and wander the winding lanes.
Getting to Cagnes-sur-Mer
By train: It's a very quick train ride to Cagnes-sur-Mer from Nice. But. To get up to Hautes-de-Cagnes you need to either walk or take a bus to Square Bourdet in order to get the #44 free shuttle up to Hautes-de-Cagnes. It sounds more complicated than it is. If I can manage it, anyone can.
By bus from Nice. You can take the the 200 Bus to Square Bourdet and get the shuttle from there.
Note: It took me about 20 minutes to walk down from Hautes-de-Cagnes to the Renoir Museum.
Driving: Parking can be tricky if you're going up to Hautes-de-Cagnes but you can try the automated Parking Le Planastel on the rue du Chateau.
10. Saint-Jean-Cap-Ferrat and the Villa Ephrussi
Oh, the lives of the rich and privileged during the beautiful Belle Epoque. The Villa Ephrussi was the love creation of the heiress Béatrice de Rothschild, born in 1864, and became a hub for the cream of society.
After divorcing her Russian husband, Maurice Ephrussi, after 20 years of marriage, Beatrice moved to the South of France and gave full reign to her love for art and architecture by building this magnificent pink palace completed in 1912.
Many visit the Villa Ephrussi for the extensive gardens, others for the exquisite architecture and art (including a ceiling painted by Tiepolo). Whatever the reason for your visit, this pink Italian-style villa is sure to impress.
Bonus: The tea room with its large arched windows is the perfect place for lunch, though the terrace is a tempting spot for a pastry break, too.
The floral-filled peninsula of Saint-Jean-Cap-Ferrat is strewn with multi-million dollar villas – it's one of the most exclusive enclaves in the world. After my Villa Ephrussi visit, I wandered up the road to the village of Saint Jean, a tranquil seaside resort with a picturesque marina.
Getting to the Villa Ephrussi de Rothschild
By train: There is no direct train to the Villa Ephrussi. You could take it from Nice-Ville to Beaulieu-sur-Mer and walk approximately 25 minutes.
By bus: The 15 Bus goes to the Villa Ephrussi from Nice. Get off at the Rothschild/Passable stop. The entrance to the estate is across the road. I caught the bus at the Boyer stop in Nice. The journey took about 30 minutes.
By Car to the Villa Ephrussi from Nice: It's a 13 km drive, about 20 minutes, and there is parking outside the villa.
Have a luxury day with a tour that includes a visit to the Villa Ephrussi. This private 8-hour tour takes in Eze, Monaco, and the Villa Ephrussi, with a gourmet stop at the villa teahouse. From $361 per person. Check it out here.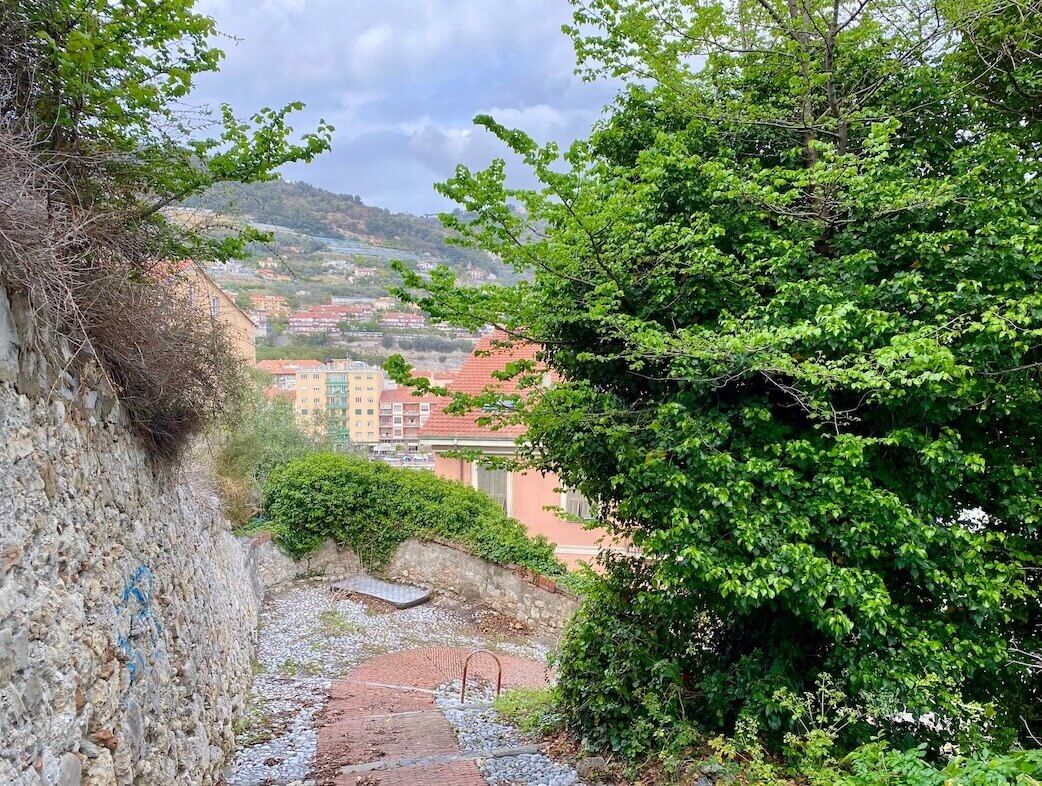 11. Ventimiglia – A Day Trip to Italy from Nice
Friday morning is the time to make a trip from Nice to Ventimiglia so you can catch the vast outdoor market. Even on non-market days you'll find plenty of affordable shops, more than a few designer knockoffs, and an Old Town that is reached by an easy walk across the Roia River.
One of the attractions in the Old Town, Ventimiglia Alta, is the Romanesque Cathedral that dates back to the 11th century.
Note: Because Ventimiglia is less than 20 minutes past Menton, you can easily combine the two places on a day trip.
Getting to Ventimiglia
By train: If you're looking for day trips to Italy from Nice, Ventimiglia is an easy destination as it's right on the regional train line, the TER, from Nice. It's the last stop. There's no border control.
Driving to Ventimiglia: This Italian seaside town is about 40 km east of Nice.
Maybe an Italian market tour? This small group luxury minivan tour explores either the markets in St Remo or Ventimiglia. From $100 per person. Check prices and availability.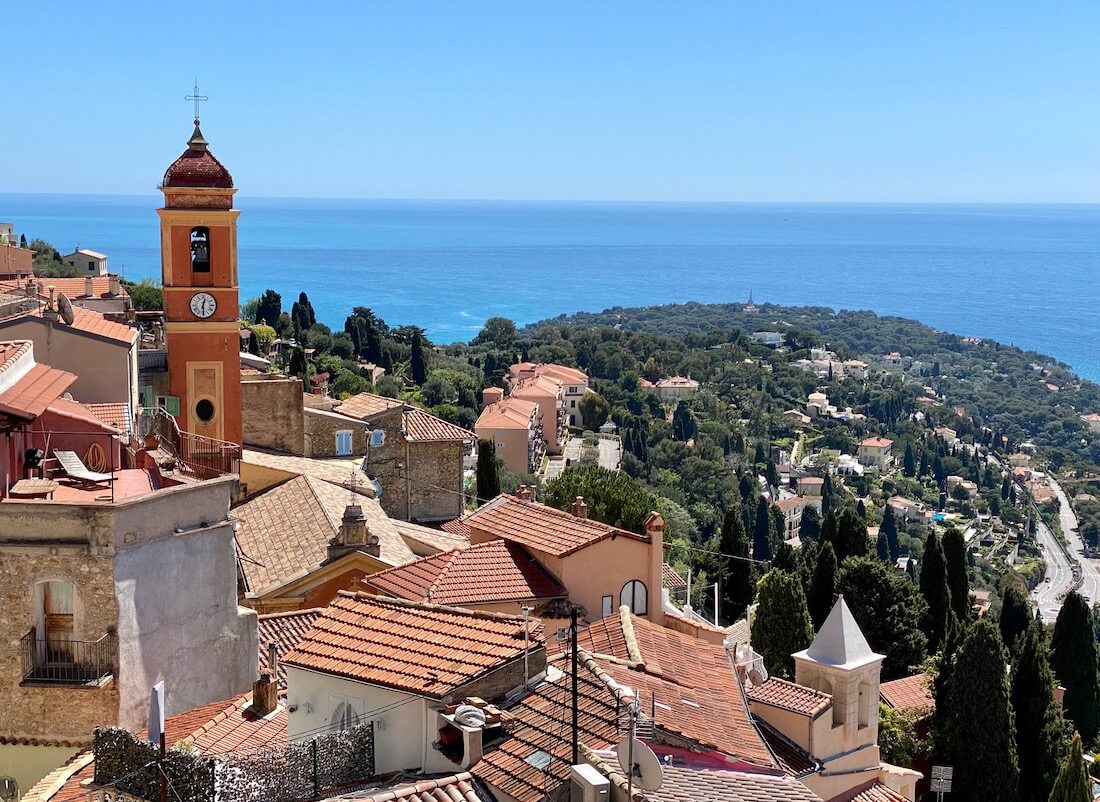 12. A Side Trip to Roquebrune-Cap-Martin
Just half an hour from Nice, Roquebrune-Cap-Martin is one of the most unsung French Riviera towns on the Côte d'Azur. If you're looking for a medieval village less touristy than many others, this is a good choice for a day trip from Nice.
Roquebrune-Cap-Martin was a summer retreat of architect Le Corbusier, the great pioneer of Modernist architecture, who built Cabanon, his holiday 'hut' that can be visited as part of a trio of sites known as Cap Moderne. Tours are by reservation only.
From the coast it's a hike up a hefty series of staircases or a drive up to the old village where you can visit the remnants of Castle Roquebrune, seek out Le Corbusier's grave in the cemetery (tip: it's the one that looks like a child drew it), and hunt down L'Olivier Millenaire, a much-loved 1,000-year-old olive tree.
Getting to Roquebrune-Cap-Martin
By train from Nice. The train takes about 30 minutes.
Bus: LR100 goes to Roquebrune-Cap-Martin from Nice.
Driving to Roquebrune-Cap-Martin should take less than half an hour. Driving distance is about 20 km.
13. Villefranche-sur-Mer on the Mediterranean
Villefranche-sur-Mer is one of the loveliest coastal French Riviera towns to see. It's only minutes from Nice, but far from the hustle. Just ask Tina Turner, who has a villa here.
Featured in movies like Never Say Never Again and To Catch a Thief, it has a beguiling Old Town, a historic citadel, a vibrant port and a sandy beach. Another attraction is the St. Pierre Chapel lined with exuberant murals by Jean Cocteau.
If you're not just looking for a day trip from Nice but a quieter alternative to it, Villfranche-sur-Mer might be for you.
How to Get to Villefranche-sur-Mer from Nice
By train: It's a quick 7-minute train ride from Nice.
To get to Villefranche-sur-Mer from Nice by bus. You can catch the Number 15. The Boyer bus stop is where I caught it.
By car: Villefranche-sur-Mer from Nice is about a 20-minute drive east.
What about a cruise? If you want to see Villefranche-sur-Mer from the sea, a popular excursion from Nice is a 1-hour sightseeing cruise to Villfranche Bay. From $22.
14. A Day in Biot
Artisanal souvenir shopping alert: This medieval town is renowned for handcrafted glass, and if you're spending a day in Biot, it's hard to pass up buying a piece of its famous 'bubble' glass, a unique style of glass that captures air bubbles within the layers. It was first developed at the workshop Verrerie de Biot, which today is the most prominent factory showroom in this hilltop town.
Four kilometres inland from the Mediterranean coast between Nice and Cannes, this appealing French Riviera destination is also known for its modern museum dedicated to the work of Cubist artist Fernand Léger
How to Get from Nice to Biot
By train: Biot is on the train line, but from the station it's a 4 km uphill walk to the village. From the train station you can take the #10 Bus up to the village.
By bus: The 200 Bus goes to Biot from Nice.
By car: It's about 20 km from Nice to Biot and you can get there on the A8.
See Biot on a medieval villages tour. Biot is one of the many stops on this guided trip from Nice. Also included are Saint Paul de Vence, Gourdon, and Grasse. From $84.50. Get more info here.
15. Day Trips from Nice to Provence
If you're looking to go to Provence for a day, you could venture to the vibrant port city of Marseilles, though it's more travelling than I care to do for a day trip. You can get to Marseilles by train in about 2.5 hours.
Cassis, a former fishing village, is a charming seaside town near Marseilles that has gained ground as a top South of France destination in recent years. The fastest train journey from Nice to Cassis is a hair's breadth under 2.5 hours and requires a change of trains.
So Many Places to Visit in the French Riviera
With so many French Riviera cities and towns to visit near Nice, you won't run out of things to do in the South of France in a hurry. And here's the curious thing: the longer you stay, the more must-see places you'll find to put on your itinerary.
Other options for day trips from Nice – or wherever you're based in the French Riviera – include the medieval town of Mougins, a favourite spot of Picasso's and a big foodie destination.
Another idea is to take the Train des Merveilles, the Train of Wonders, which takes you on a day's journey into the Alps; or head to the historic Villa Kerylos in the seaside town of Beaulieu-sur-Mer.
Really, there is something to do for everyone. Whether it's culture, shopping, beach life, or art and travel combined, the South of France offers so many amazing things to do that you might end up deciding to vacation here permanently. (I know I would.)