This post may contain affiliate links.
Day Trip to Menton
Here is a fun travel guide that tells you the best things to do in Menton. One of the top day trips from Nice, Menton is a lemon-scented town in the South of France.
Menton, France
If you have one day in Menton in the South of France, there are two obvious attractions: lemons and Jean Cocteau. A sleeper of a Riviera town, and a popular resort for genteel Brits in the 1800s, Menton doesn't get nearly the same press as glitzy Cannes or larger Nice, and it's not quite the tourist magnet that the Village of Eze is, but it has a softly enduring appeal.
Where is Menton?
Menton is in the South of France. It's the last rail stop on the glamorous Côte d'Azur before you get to Italy. Driving distance from Nice to Menton is about 30 km (20 miles).
Is Menton Worth Visiting?
Yes. Nice to Menton makes a great day trip. It's a pleasant town that has a slower pace than many destinations on the French Riviera.
Getting to Menton
Nice Menton by Train
By public transportation from Nice to Menton, the train is the best option. You can catch a train from Nice Ville Station. The fastest Nice Menton route is a direct train that takes 28 minutes, and there are many trains every day. Most direct trains take just under 40 minutes.
It's the Regional TER Rail and is handy for a day trip to Menton if you're staying in Cannes, Antibes, Nice or Monaco.
Important Menton Travel Tip: Get off at the stop past Monaco called Menton Gare (Menton Station). There are two train stations in Menton. The other, Menton Garavan, is further east.
Nice to Menton by Bus
You can take the (slow) Number 100 bus from Nice to Menton. It can take up to 2 hours so I wouldn't advise it.
One Day in Menton
There are several things to do in Menton in a day and some terrific places to stroll. You'll find Belle Epoque villas, slightly faded in pale yellows and dusty pinks.
There are beaches, gardens and a steep twisty old town capped by an atmospheric cemetery. There is a scenic port and a couple of fine restaurants. And palm trees. We mustn't forget the palm trees.
Let's see. What else does Menton have to offer? Oh, yes. A cat who thinks he's a rock star. He truly loved to pose.
Is One Day in Menton Enough?
With some preplanning it's possible to see Menton in one day. If you travel like I do, however, mismanaging your time and consistently getting lost, you may want to go twice. Or three times.
Or you can read this Menton travel guide, learn from my mistakes and save some time. Then, and only then, and possibly not even then, will one day in Menton be enough.
Alternatively, you might want to stay a few days. Much quieter than many other seaside towns on the French Riviera, Menton was a favourite with Queen Victoria. After her much publicized visit here in 1882, it immediately put it on the British travelers map.
Back in the 14th century, it was ruled by the Grimaldi Family, who still rule over nearby Monaco today.
A Warm Climate
Actually, before Queen Victoria visited, Menton was already on the British expat map. People were drawn by its unique microclimate that makes it just slightly warmer than most French coastal towns, and allows lemon trees to flourish year round.
In the mid 1800s it was widely touted as a health destination, and the moneyed British upper crust moved in.
Some of its illustrious guests included Sir Winston Churchill, Aubrey Beardsley and writer Katherine Mansfield. So you can see, that while Menton isn't as well known as some of the other highbrow resorts on the French Riviera, it's certainly not undiscovered by those in the know.
Menton Hotels
If you do decide to stay in Menton overnight, the 4-star Napoleon Hotel has a modern artsy vibe, a pool, fitness room and landscaped gardens.
More traditional is the stately Royal Westminster, with a privileged seaside location.
An affordable option is the central 3-star Hotel de Londres.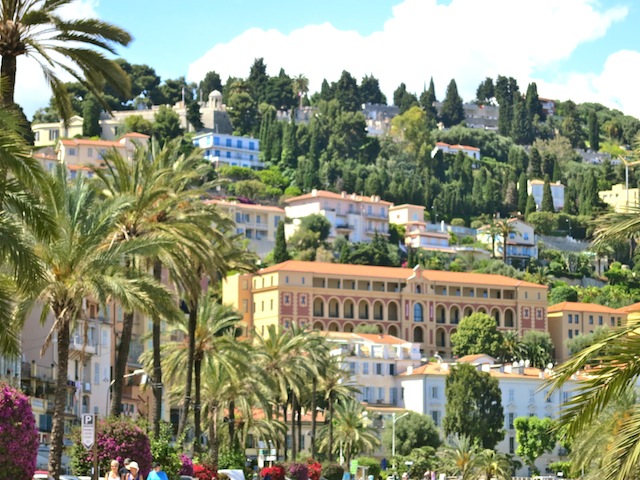 Things to do in Menton
Start at the Grimaldi Palace – the Palais de Carnolès
This pale pink and carved stone former palace was once owned by the Grimaldi family and was their summer residence.
Located on the Avenue de la Madone, Carnolès Palace now houses the Musee des Beaux Arts, the city's art museum, and is set in a garden filled with Europe's most extensive collection of citrus trees.
Learn About Jean Cocteau
To really appreciate Menton you need to know about Jean Cocteau as there are a number of Menton attractions devoted to him. He was a French poet and film director who moved to the French Riviera in the 1950s, and died in 1963.
(And no, he isn't the same person as Jacques Cousteau, the undersea explorer who also liked the South of France, but yes, they do have the same initials.)
Who Was Jean Cocteau?
Jean Cocteau is one of those famous people you assume you know, but perhaps, when you think about it, you've no idea who he actually is.
If you are one of these people (and I'm not saying you are, you may have written his biography for all I know, in which case, please comment and leave some insightful Jean Cocteau in Menton tips), let me enlighten you.
Jean Cocteau was an artist and sometimes opium addict. He was a close friend of Picasso, not to mention Marlene Dietrich and Coco Chanel. His most famous work is the novel, Les Enfants Terribles, which he wrote in 1929 while detoxing from an opium addiction.
Especially important is the fact that he liked Menton very much. There. Consider yourself enlightened. For true Jean Cocteau enlightenment, however, you need to visit Menton, because there are many Jean Cocteau sights to see.
There are three main Jean Cocteau sights in town and even though there are a lot of other things to do in Menton, especially if you're here on a day trip, it's possible to see them all – if you time it right.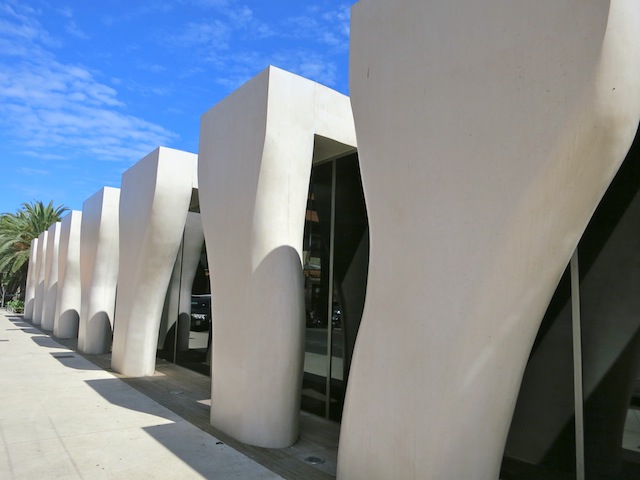 Walk Past the Musée Jean Cocteau
The Musée Jean Cocteau is currently closed after a devastating flood, but it's still worth viewing the outside for the unique architecture.
Besides, you can't really miss it. If you walk alongside the oceanside promenade, the museum stands out like a half Surrealist, half Flintstones-ish building, a square of curved white pillars that look a bit like polished bones interspersed with dark glass.
The museum owns nearly 1,000 works by Jean Cocteau. They were donated by the fanatical fan/collector Sévérin Wunderman.
In case you do manage to miss it, the Jean Cocteau Museum is located at 2, quai de Monléon. And if you should happen to stumble upon it by chance rather than design, you're halfway to becoming a Jean Cocteau acolyte, because he once wrote, quite cryptically: "Find first, seek later."
Find First, Seek Later
It's a marvellous quote when you think about it, and comes in handy any time you are lost. Try it out for yourself.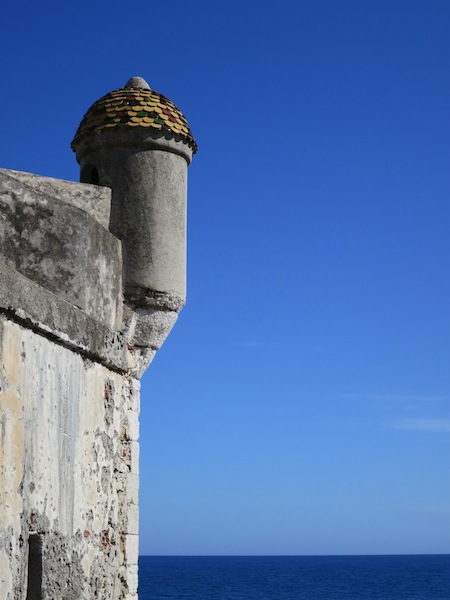 Visit the Bastion
Once you pass the Jean Cocteau Museum you can hop over to the Bastion. It's a tiny little fortress built in the 1600s that overlooks the Mediterranean, and was redesigned by none other than our famous friend, Jean Cocteau.
It's not easy to miss the Bastion main entrance, but somehow I did. Possibly you'll want to avoid going behind the wall and around to the secluded side of the Bastion like I did, as you might happen upon a group of local teenagers sitting around in a circle, and it will be just you and them and the lonely sea and then you'll feel quite stupid and pretend to be taking photographs and not looking for the doorway that was right in front of you after all.
Don't worry. If this happens look cryptic and say, "Seek first, find later." And then put on your sunglasses and stroll away. You see? I told you the phrase would come in handy.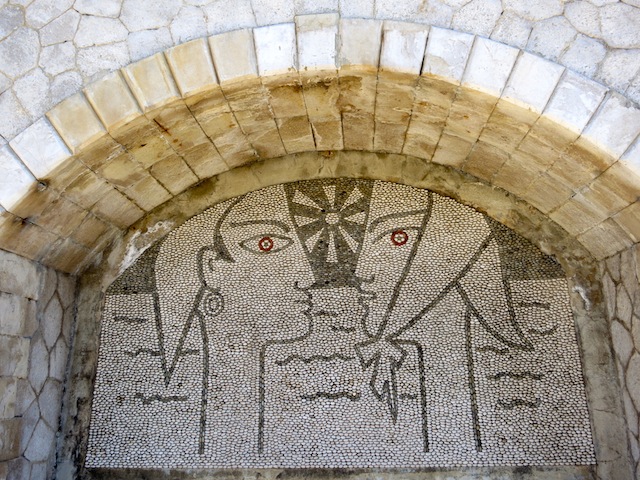 What Can You See at the Bastion?
The wonderful thing about the Bastion is that Jean Cocteau was given full range to decorate it. His stone mosaics outside in the walls are a delight, and its such a great contrast, the gloomy old fortress interior and his lively whimsical works.
The Bastion is also very small, so if you're tired you can see it in just a few minutes then feel justified in having a drink in town because you have successfully engaged in something cultural.
See the The Wedding Chapel
Sadly, my new "find first, seek later" mantra didn't work out so well when I went in search of the third Jean Cocteau site, the Wedding Chapel, because (and here's where you should learn from my mistakes) the wedding chapel closes at 4;30 p.m. and is not open on weekends and holidays. Plus it closes for two hours at lunch.
So, if you're looking for cultural things to do in Menton, you might want to go to the Menton Wedding Chapel first. You also can't view it if there is a wedding going on, so be prepared for disappointment.
About the Wedding Hall. In 1955, the town of Menton decided to update their unused former courtroom wedding hall, and gave Jean Cocteau free reign to decorate it.
This he did, between 1957 and 1958, creating a fantastical room with frescoes of enamoured lovers, romance and marriage, and complete with guest appearances by Orpheus, Eurydice and the centaurs.
The style is linear and the theme of (awwwwww) eternal love is heart warming and Cocteau designed not just the murals but the doors, candelabras and carpets as well.
The Wedding Chapel, or Salle des Mariages, is located in the Menton City Hall at 17 rue de la Republique and if you happen to be eloping to the South of France, perhaps you can get married there.
See your disappointments as good fortune
Mindful of another Cocteau quote, "See your disappointments as good fortune," I chose to see missing the Wedding Chapel as a good thing. This is because the other mistake I made, and continuously do so in France, is to want lunch at 3 p.m., and then the restaurants I really want to eat at, like the fabulous and friendly Petit Port has closed until dinnertime.
So, by having to go back to Menton a second time to see the Wedding Chapel and making sure to get hungry before 2 p.m., I got to eat lunch at Petit Port.
Eat at One of Menton's Top Restaurants
Petit Port Restaurant
I love a restaurant where you can put yourself in the hands of the owner (not literally, obviously). Gabby, the owner of Petit Port, suggested one of the restaurant's specialties, courgette flowers (sort of like a drumstick-shaped zucchini).
Stuffed with red millet, fish and potato, they came lightly deep fried – lighter than any tempura – and were served with salad and edible flowers.
I assumed they were edible because I ate them and didn't die.
The meal at Petit Port was exquisite. So far, it's been my favourite meal of this South of France trip. Well, except maybe for the beef tartare at the Carlton Hotel in Cannes. Petit Port is located at 4 rue du Jonquier. Tel: +33 4 93 35 82 62.
Mirazur – A 3-star Michelin Restaurant in Menton
Had I wanted to walk further, I would have opted for the 3-star Michelin restaurant, Mirazur, on 30 av. Aristide-Briand, Tel: 334918686. And now I'm kicking myself for not making the effort, because Mirazur continues to grow in fame and regularly makes the list of the top restaurants in the world.
Helmed by Argentinian chef Mauro Colagreco, the restaurant combines chef Colagreco's Argentinian and Italian heritage with French cuisine and local market produce from nearby Italy and France.
Yes, I missed out. But I had such a lovely meal at Petit Port, with its quiet shady terrace and friendly owner – at one point, he brought over a pot of basil for me just to smell – that I would have missed out had I not been so lazy.
If you stay overnight or have more than one day in Menton, however, I recommend trying both.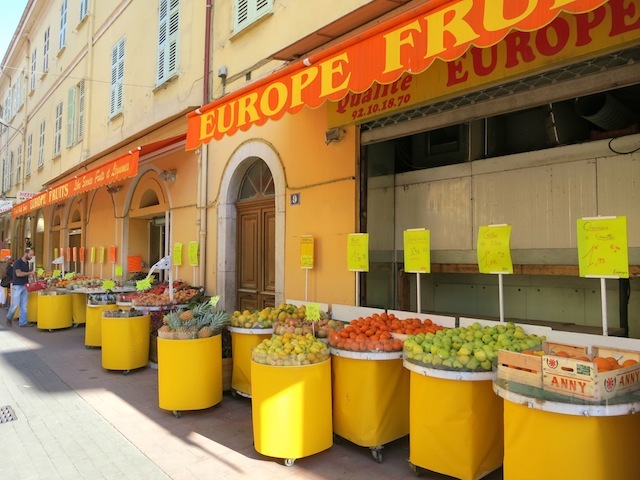 Stroll Through Menton Old Town
One of the main things to see in Menton is the Old Town, and you'll want to spend some time wandering around this medieval district filled with narrow streets, cobblestones and pale ochre buildings.
Travel tip: Its quite steep. Wear comfortable shoes.
Stop in at Saint Michael the Archangel Basilica
Towards the top of the Old Town is the Basilica Saint Michael. Four centuries old, it's an ornate Baroque building and is visited by some 100,000 people a year. Work on it began in 1619 but it wasn't completed for more than two centuries.
Its bell tower, 53 metres high, is striking, as is its forecourt with its black and white stone mosaic ground.
Climb Up To the Old Chateau Cemetery
One of the most popular things to do in Menton is to visit the cemetery. Located at the very top of the Old Town, the Cemetery of the Old Chateau is best known, interestingly enough, for a Mr. William Webb Ellis, who invented rugby. It also offers wonderful views.
Enjoy Beach Time
Does Menton have beaches? Yes.
Beaches on the French Riviera are notoriously pebbly, but you can access some sandier Menton beaches between the old port and the Garavan Marina in Menton. Most private beaches charge a fee, though there is a small free beach, and they offer good views of Menton's old town if you turn around.
There is also a beach in front of the Jean Cocteau Museum.
Probably the most popular Menton beaches are Les Sablettes, which is fairly sheltered, and the long curve of the Plage du Fossan.
Val Rahmeh Botanical Garden
These beautiful gardens are the legacy of the British aristocrat, Lord Radcliffe, who used Menton's mild microclimate to nurture a lavish garden of exotic tropical and subtropical plants including a profusion of fruits and the rare toromiro tree, now extinct in the wild.
Here's a shock: When I first went on the City of Menton's official website researching more about the Val Rahmeh Botanical Garden, which are named after Lord Radcliffe's wife, I learned that it later had another owner, who, and I quote was, "The last proprietor, a rich and eccentric British whore, who loves flowers to passion."
All the more intriguing to visit, if you ask me. My gosh, I love researching trips to the South of France.
Address: Val Rahmeh Botanical Garden, Avenue Saint-Jacques 06500 Menton
Jardin de la Serre de la Madone
Menton is a garden city and if you're a fan you'll be spoiled for choice. One of the other Menton tourist attractions is the Jardin de la Serre de la Madone. Filled with rare plants, it was created by a botanist from America named Lawrence Johnson.
Located on hilly terrain in the Gorbio Valley, inland from the coast, it fell to ruin for many years, but has been partially restored.
The gardens are about four kilometers from town and taxis can be upwards of 20 euros. You may want to take the bus.
Go To the Lemon Festival – The Fête du Citron
Towards the end of winter Menton really heats up with the lemon festival. The15-day long Lemon Festival attracts more than 200,000 people with arts & crafts, orchids (as well, of course, as lemons), parades, and dazzling sculptural displays at the Biovès Gardens.
If you're in the French Riviera in February, this is one event not to miss.
Buy Lemon Souvenirs
In Menton, when life gives you lemons, you won't be bothered making lemonade. You'll be too busy making – or at least purchasing – lemon-infused olive oil, candied lemon peel, lemon vinegar, Lemoncello liqueur and/or lemon-scented soaps.
Menton's love affair with lemons is due to its mild microclimate, which allows citrus trees to grow year round, and the shops do their best to lure you in with all their lemon-y souvenirs. They do a fine job of it – see if you can spend one day in Menton and not buy anything. I dare you.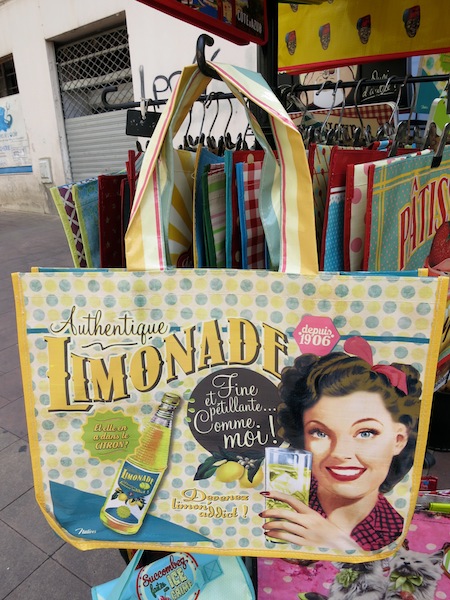 I bought a bottle of lemon olive oil at Au pays du citron de Menton at 22 rue Saint Michel. Yum. And now I'm eating waaay too many baguettes drenched in lemony olive oil. Yet when I look at my stomach in the mirror I blame the mirror, not Menton (and certainly not my lack of willpower).
Mirrors would do well to reflect a little more before sending back images
The reason I blame the mirror is because Jean Cocteau said, "Mirrors would do well to reflect a little more before sending back images," and I totally agree with him. So instead of getting depressed about it I try to laugh, because Jean Cocteau also said we should, "Fight any instinct to be humorless, for humorlessness is the worst of all absurdities."
And who wants to be humourless in Menton?
Guided Menton Tours
If you prefer to do a guided day trip to Menton there are a few day trips that include a visit to Menton.
Full-Day Italian Market, Menton & La Turbie Tour from Nice
Shared Tour From Nice – This is a shared minivan tour that visits Menton, the village of La Turbie and goes over the French border in Italy. From US $105. Check prices and availability here.
Italian Markets, Menton and Monaco Tour
Private Tour From Nice – More pricy, but good for a group of up to 8 is an all-day Italian Markets, Menton and Monaco van tour from $767. Check it out here.
Italian Riviera Open Air Market From Cannes
Private Tour from Cannes – This private tour focuses on Italy but includes a visit to Menton. Check availability and dates here. From US $330 per person.
Menton Private Guided Tour
Private Tour From Menton – This is a private walking tour of Menton that takes in the sights and citrus scents of this scenic town. Price is per group, for up to 10 people. From $665 USD. Check availability here.
Menton Things to Do – Conclusion
Okay, maybe I lied. Maybe you can't see all of Menton in a day, although I stand by the conviction that you can see a heck of a lot.
With its gentle appeal, fine restaurants and cultural attractions, this lovely town on the French Riviera is one worth savouring.
Visit Things to do in the South of France for plenty of ideas on where to go, why to go and what to do there.
Day tripping around the French Riviera? Read one day in Monaco, High Heels at the Cannes Film Festival, and one day in Grasse.