This post may contain affiliate links.
I want to be a famous courtesan and have a deluxe hotel that has towers modelled after my breasts! Or if that's not going to happen, I at least want a luxury evening in Cannes.
The most famous courtesan of them all
I wonder, if anyone had asked Carolina Otero when she was young what she wanted to be when she grew up, 'courtesan' would have been her reply or if she might have said nurse or schoolteacher instead.
Does a courtesan dream of Cannes?
Whatever her early dreams, Carolina Otero, a girl born into Spanish poverty, would grow to become one of the most famous courtesans of her time, counting such lofty A-listers as King Edward VII, Kaiser Wilhelm II and Czar Nicholas II among her admirers.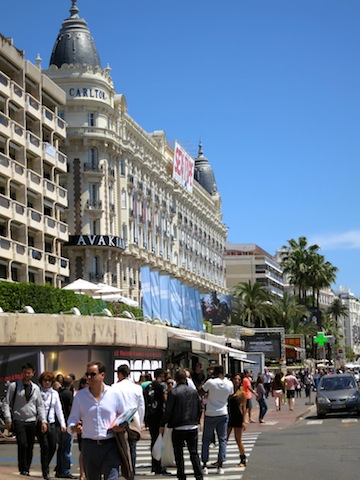 Does she dream of luxury and the Carlton Hotel?
Otero would also become the face, or at least the 'body' of the ultra-deluxe Carlton Hotel in Cannes, the most glamorous of all the glamorous hotels along the Boulevard de la Croisette, the beachside promenade where many of the biggest Cannes Film Festival stars stay, and where the two perky towers are said to have been inspired by the shape of Carolina Otero's breasts.
And if you're after a luxury evening in Cannes, especially during the Festival, there isn't a better place to go.
The InterContinental Carlton Hotel in Cannes
The Carlton Hotel is an icon of the French Riviera, a Belle Epoque beauty built in 1911. It's simply breast-taking, I mean, breathtaking, and it's where my friend Kristine, who is on one of the Film Festival juries (while I, dear readers, am only a hanger on) and I decided to go for a luxury evening in Cannes during the Cannes Film Festival, because, oddly enough, our party invites to the amfAR Aids Benefit at the Hôtel du Cap-Eden-Roc must have gotten lost in the mail.
Planning our luxury evening in Cannes
I thought we should make a reservation because I'd read somewhere that during the Cannes Film Festival unless you're someone (and only my mother says I am) you won't even be allowed into the lobby of the swankiest hotels. Since Kristine and I had arrived the day before the Festival opened we were able to saunter right into the Carlton and make a reservation for later on in the week.
Fortuitously, Kristine's important-person rose-coloured festival badge was showing rose side out, and perhaps equally fortuitously, my lowly blue badge was turned around (of course I didn't turn it around on purpose! I'm a somebody! Have you not been listening to my mother?) and the hostess was very gracious. (Though it could well be that she's gracious to everybody. Anyway, she seemed very nice.)
"Dinner for 2 people at 8 p.m." She wrote Kristine's name down in the book.
Getting an A-list table during Cannes
"We want to sit outside," I said. I'd staked the Carlton terrace out earlier as my absolute number one choice for a luxury evening in Cannes complete with eating, drinking and people-watching. The terrace is all pale stone and wicker, overlooking the Mediterranean, with a few palm trees in view.
There couldn't be a better place to be if you love luxury travel. (I mean other than the amfAR Benefit of course.)
Yes, the snack menu is fine
"Oh, we only have the snack menu on the terrace," the hostess said. Considering that the Hotel Carlton's 'snack' menu includes steak tartare and fois gras, and I was certain, since the Carlton is one of France's top luxury hotels, I'd be able to get a glass of excellent champagne, I wasn't going to feel hard done by with the snack menu.
"Perfect," said Kristine, and we walked away knowing our luxury Cannes evening was set.
NOT SO FAST
As planned, we arrived for our dinner and started up the steps that lead straight to the Carlton Hotel terrace. A man in a suit blocked our way. "I'm sorry. We're full."
Pah. Full is for little people. "We have a reservation," Kristine explained.
"Oh." He looked momentarily confused. "You must go in through the restaurant, then."
We strolled into the hotel and went into the restaurant. "We have a reservation for the terrace."
The maitre de looked equally confused. "We don't take reservations for the terrace."
"But we have one." Our calm confidence broached no argument. He waved us through.
"Oh, I'm sorry we're full," said a waiter.
"We have a reservation." We weren't impatient. We were being helpful, trying to assist them in getting their system straight.
"Okay," they finally said and gave us a perfect table in the centre of the action. Confidence, people! This is what you need in spades at the Cannes Film Festival (and a reservation is helpful, too, even if it seems to only partially exist).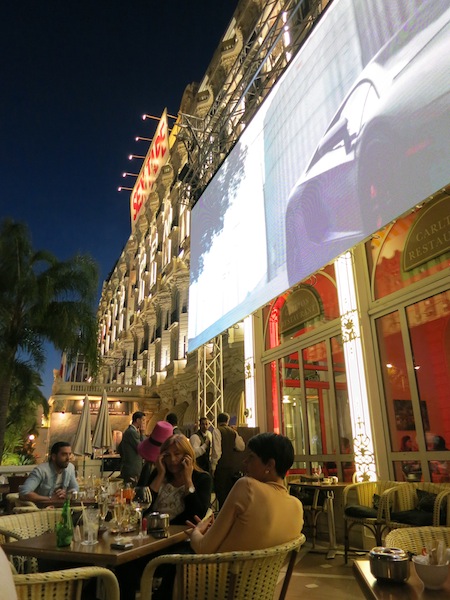 Cannes is not complete without champagne
Confidence is also helpful when ordering. "How does the Nicolas Feuillatte compare to Veuve Clicquot?" I asked the waiter, pointing to the champagne menu, because I am always curious about champagne.
He gave me a harried why-are-you-so-stupid-that-you-would-ask-that-question look and recommended the Nicolas Feuillatte.
And then I asked about the grapes and if they were chardonnay or a mix and he said, "This is champagne, not chardonnay."
"I know it's champagne! I'm asking about the grapes!"
And maybe he was a wee bit justified in his remark because there might have been just the slightest misunderstanding over Kristine's chardonnay, but nonetheless, I do know that underneath the section titled 'Champagne' on a menu, champagne is generally listed. I also knew that I had bothered the waiter enough and ordered the Feuillatte.
About Nicolas Feuillatte champagne
(Just to help you out, dear readers, in your future champagne ordering moments, I found out from the Nicolas Feuillatte website that the champagne is non-elitist, straightforward and 'loyal to the past, in tune with the zeitgeist and with an eye to the future' so now you can order it with confidence next time you're at the InterContinental Carlton Hotel in Cannes.)
People watching in Cannes
Finally the ordering episode was complete and we spent a perfect balmy evening trying to guess who the elegant Asian woman in the bejewelled formal gown was, what the American couple at the next table was doing at the Cannes Film Festival and what country the portly man with the young girlfriend was from and how much her jewels were worth – with just the briefest moment on my part of why can't I have jewels like that? and how many jewels did Carolina Otero have?
(Apparently being a famous courtesan with two hotel towers modelled after your breasts pays off but doesn't make you smart, because Otero raked in a 25 million dollar fortune but blew it all and died in poverty in Nice, which is really kind of sad and somehow symbolic of too-easy fame).
More People watching on a luxury evening in Cannes
I was also curious about the two men sitting with a pair of older French women who had such huge pouty lips that les filles seemed to be in imminent danger of falling flat on their faces from the weight.
Of course I also wondered about the ever-growing party in the corner and what film it might be for. If you're going to people watch correctly you need to be constantly inquisitive. This is called exercising your creative mind (not being nosy).
Illusion is the best part of the Cannes Film Festival
For the entire evening Kristine and I talked to no one except the waiter, who seemed to warm up to us at the end (probably because I had stopped pestering him with questions).
And this was okay, because sometimes speaking to no one makes for the best evening of all, especially during a glitzy film festival, because you can quietly enjoy your luxury evening in Cannes and make up any glamorous or outrageous story you want about the people around you and be anyone you care to be and there is no one to inform you that you and the people around you are really quite ordinary.
"Do you ever get the feeling you're exactly where you should be?" I asked Kristine, digging into my steak tartare and wondering if I should order a second glass of Nicolas Feuillatte.
"It is nice, isn't it?" she said, and as if in agreement, fireworks burst out over the water.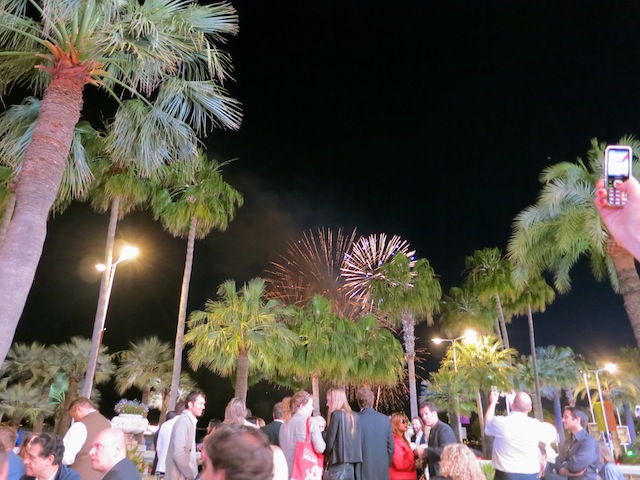 I looked up at the fireworks, at the domed breast-based towers of the Carlton Hotel and thought of all the history here and of Caroline Otero, and about all the stars (like Grace Kelly) who have stayed here and all of the stars who are staying here now.
Then I thought about how I'd like to come back to the Cannes Film Festival next year, and realized that Nicolas Feuillatte has to become my new favourite champagne because we have so much in common – we're loyal to the past, in tune with the zeitgeist and with an eye to the future. And not elitist at all.
The InterContinental Carlton Hotel is 58 Boulevard de la Croisette
Read more about Cannes:
Cannes Film Festival, high heels change everything
Cannes Film Festival opening night
Why I'm going to the Cannes Film Festival and staying in a convent
Read more on the sexy South of France: Visit my travel blog post What to do do in the South of France for ideas about where to go, what to see and what do there.