This post may contain affiliate links.
On Cannes Film Festival opening night I head down to the Palais, the hulking once-was-an-ugly-orange-coloured-building-but-is-now-painted-white festival headquarters, where Nicole Kidman is making her red carpet walk for the opening night film, Grace of Monaco, which is receiving mixed reports (and if you read 'mixed' it doesn't mean 'good').
Cannes controversy
The film has caused no end of controversy because the royal family of Monaco doesn't like it and because studio executive Harvey Weinstein and director, Olivier Dahan, have been fighting over the final cut.
Nicole Kidman at Cannes
I guess Weinstein didn't come to Cannes to promote Grace of Monaco (but to promote awareness of Syrian refugee camps in Jordan), but Olivier Dahan and Nicole Kidman came for the premiere (and I wish people would just shut up about Kidman and botox because I think she looks grand, and besides, after Tom Cruise left her she was no doubt brokenhearted and so we should just be nice to her, even if she did find a famous country and western singer to make up for her pain.)
Cannes Film Festival opening night – trying to get in to the premiere
Outside the Palais, the Cannes-sanity continues. Young girls dressed up in their flowy-dresses-and-high-heeled best are holding signs that say Invitation, hoping that someone will give up their tickets to Grace of Monaco, at least for the 11:30 p.m. showing.
I should be holding up a sign, too, because my badge is a lowly blue, which means that I'm last on the list for any movie, and have no hope whatsoever of getting in to Grace of Monaco, but I'm just glad to have a badge at all because without accreditation (ie a badge), you can't really attend anything at Cannes, at least not in the Palais.
In fact, without a badge you can't even get into the Palais and then where would you get your free Nesspresso? Unless of course you're Calvin Klein, who hosts a grand party on the 2nd night of the festival, and then you probably don't need any kind of invitation at all.
Cannes Film Festival opening night – the screenplay in my head
I'm not sure how the two girls from Russia holding up their invitation signs fare, or the young guy in a tux, but a trio of girls, one Swiss and two from Chicago, manage to get two invites to the 11:30 p.m. showing, and for the rest of the night I'm driven crazy wondering how it all ends for the trio, if only two will end up seeing Grace of Monaco or if they'll get a third ticket and if they don't then how will they decide who has to go home? Or will they all go home? And what if one gets so angry she … wait, I think I'm envisioning a screenplay!
Cannes Film Festival opening night – waiting
Inside the Palais, I sit down outside the Press Room to wait for Kristine, my friend on the Ecumenical Jury who can get into any movie she wants, to get out of Timbuktu, (the movie, not the place). As I sit on the steps a man from Brazil tells me I have a spiritual face, which I think is co-incidental because I'm staying at a convent in Cannes.
Ten minutes later he tells another woman that I'm a producer from Canada who wants to put him in a movie, which is quite blatantly a joke, so then I start thinking maybe I don't have a spiritual face after all, which is a bit depressing. But it's hard to stay depressed during an evening in Cannes.
Cannes Film Festival opening night – Boulevard de la Croisette
Outside, even the sky is lit up with colour, as if it wants some opening night attention, too. I find Kristine and we meander along the Boulevard de la Croisette. Over the Mediterranean is a fat full moon hanging just under a dark cloud, as if the cloud is a curtain drooping over a stage, which seems almost as appropriate to the film festival as me having a spiritual face and staying at a convent.
Even more appropriately, the promenade sidewalk is lit red, so that everyone can walk the red carpet, at least in their own heads. And some not just in their heads …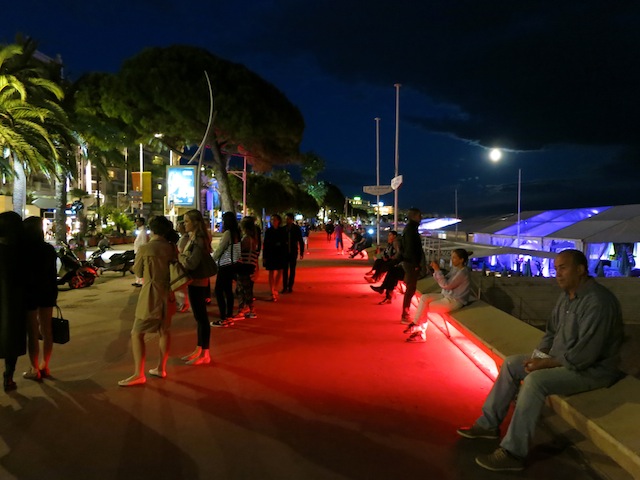 "Hello, I am Ryan Gosling," a teenage boy with a strong French accent tells us.
"Hi Ryan," I say. And I'm a producer from Canada!
Read more about Cannes: Wandering Carol's 1st Cannes 2014 Blog Report.
Read more on the sexy South of France: Visit my travel blog post What to do do in the South of France for ideas about where to go, what to see and what do there.