This post may contain affiliate links.
Cannes, France – A Top French Riviera Destination
Cannes is a splashy resort city on the French Riviera, and when most of us think of it we think Hollywood celebrities and film festival glam.
But. While the Cannes Film Festival is a 12-day star-studded extravaganza in May, there are loads of fun things to do in Cannes year round.
Every time I visit Cannes I find more to explore. And, as the South of France is one of my main beats as a travel writer, I'm here quite a lot, staying in everything from a convent (during the Film Festival no less) to glam 5-star hotels.
I've also taken plenty of day trips from Nice to Cannes, and yes, you can see Cannes in a day. As this walkable city is right on the train line, it's also a good base for exploring other French Riviera destinations like Eze, Monaco and Antibes.
That said, let's have a look at the top Cannes tourist attractions to see.
Overview of What to Do in Cannes
Cannes has sandy beaches that knock most (pebbly) French Riviera beaches out of the park. It's got a wide waterfront promenade, designer shops, over-the-top luxury hotels and streets lined with charming patios and restaurants. Did I mention the yachts?
Places to visit in Cannes include the old quarter of Le Suquet, which offers a nice change of pace, while the peaceful Lérins Islands off the coast slow that pace down altogether.
Above all, Cannes is fun, as if the exuberant film festival atmosphere lingers year round and seeps right into the boulevards and cafes. And don't worry – you can pose on the red carpet any time of year.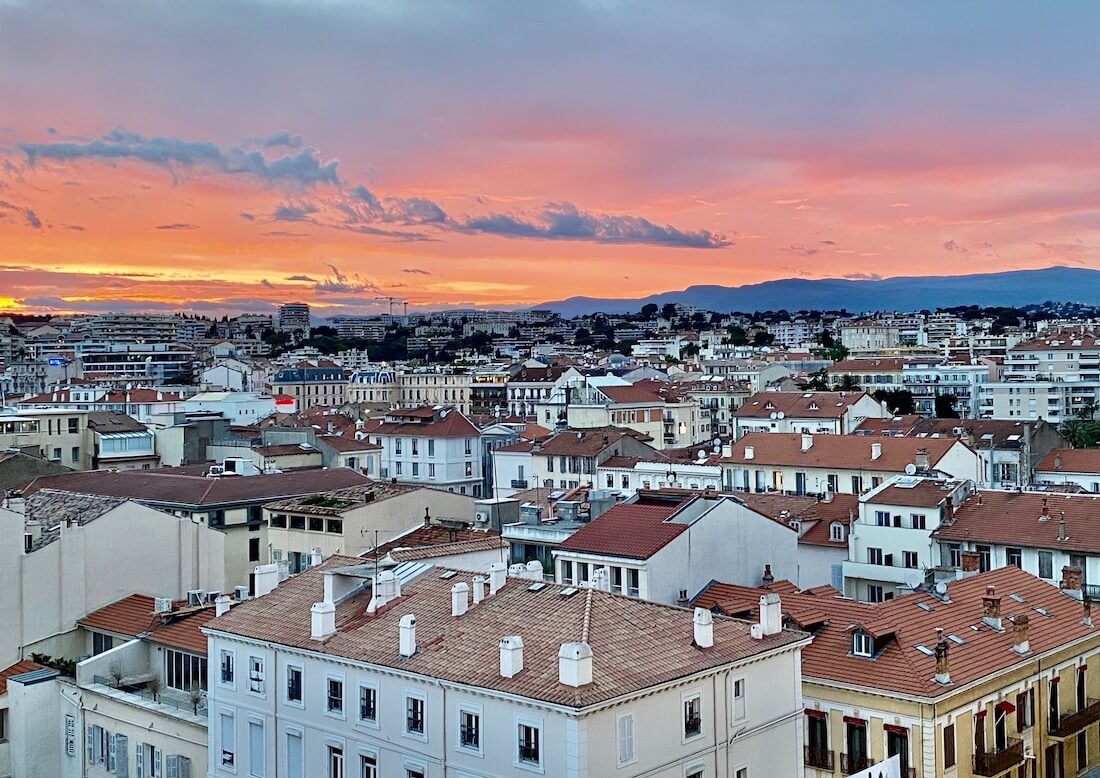 Best Things to Do in Cannes, France
1. Walk up Boulevard de la Croisette
It's easy to compare the Boulevard de la Croisette to the waterfront Promenade des Anglais in Nice. Both curve along the Mediterranean with breezy sea views and it's an easy comparison. But ooh la la, there are differences.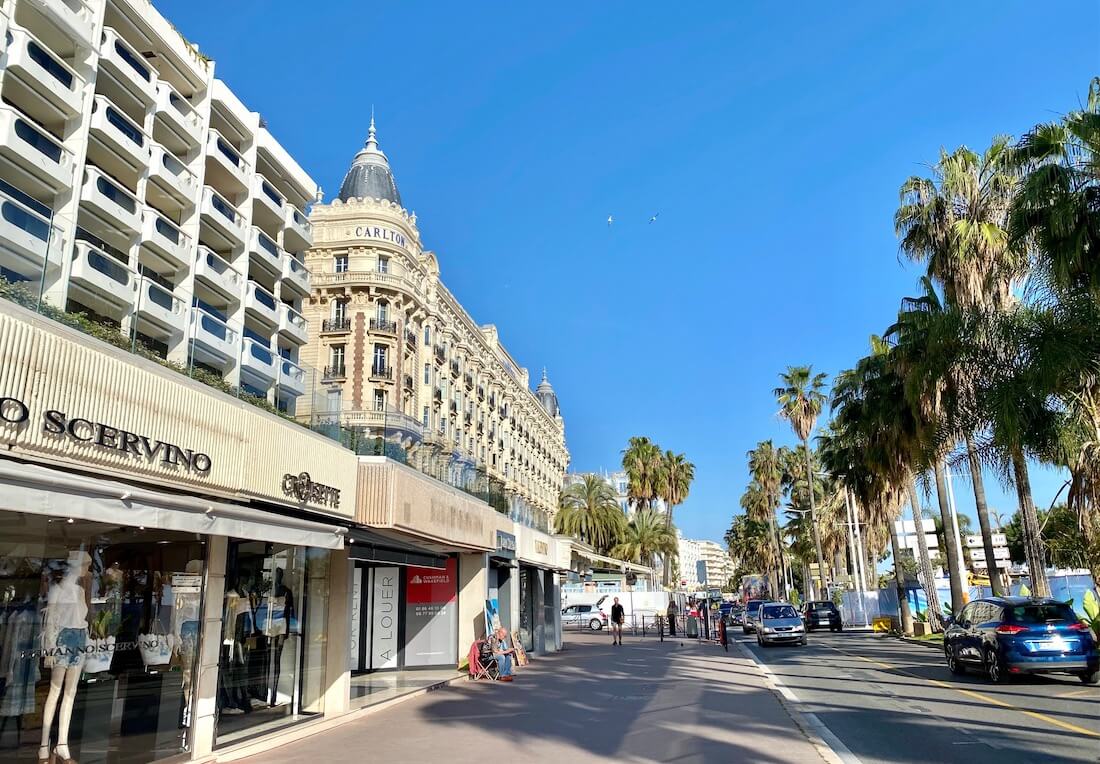 Next to Monte Carlo in Monaco, La Croisette has the highest concentration of designer boutiques on the French Riviera. (I should know. I was obsessed with finding chic white sneakers and beelined into every swank shop on the Côte d'Azur.)
Along with haute boutiques like Chanel and Dior, you'll find colourful sculptures, grand hotels and a parade of pricy sports cars. There's no two ways about it: Boulevard de la Croisette equals glitz.
The Other Side of the Promenade de la Croisette
There are two sides to La Croisette, however. Literally. Cross the street to the Mediterranean side and the boulevard is transformed into a lively beachside promenade complete with palm trees, beaches, food stands, playgrounds and bright blue chairs – pull one up, sit back and watch the scene.
You'll even find the cheery sight of a carousel, so it's a great place to hang out in Cannes with family.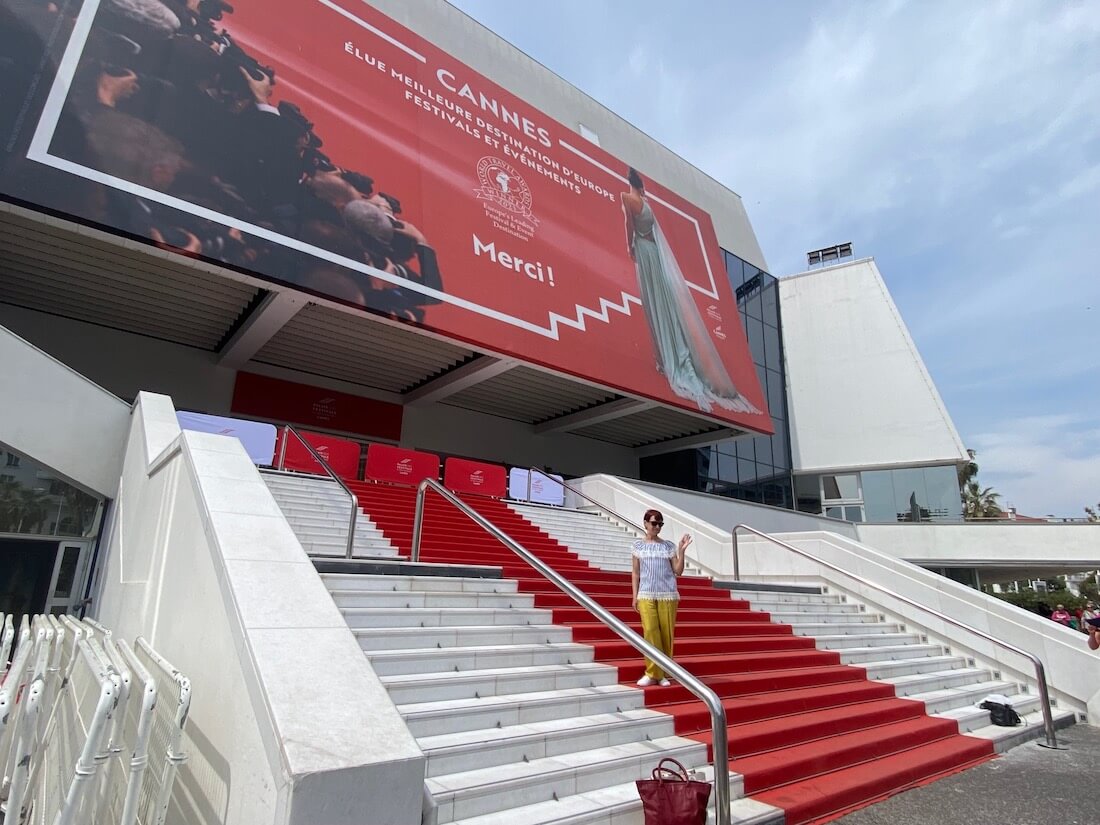 2. Pose on the Red Carpet
Oh, go ahead. Everyone does it. It's silly but iconic, and having your moment on the red carpet is one of the most unique things to do in Cannes.
Where is the red carpet? You'll find it on the steps of the film festival building, the Cannes Palais des Festivals et des Congrès at the west end of La Croisette. The blocky Modernist-style building seems awfully utilitarian for hosting such a glittery event, but it's celebrity central anyway.
What's inside the Cannes Palais des Festivals et des Congrès? A lot of places to watch films. The building has 15 auditoriums.
Sightseeing Tip: The Tourism Office is located at the base of the building. It's handy for picking up a map or getting information on Cannes points of interest you can't find online.
While you're nosing around the front of the Palais des Festivals building, keep your head down and search for the bronze handprints of A-list celebrities on the Walk of the Stars, L'Allée des Stars. (Hello, Meg Ryan!).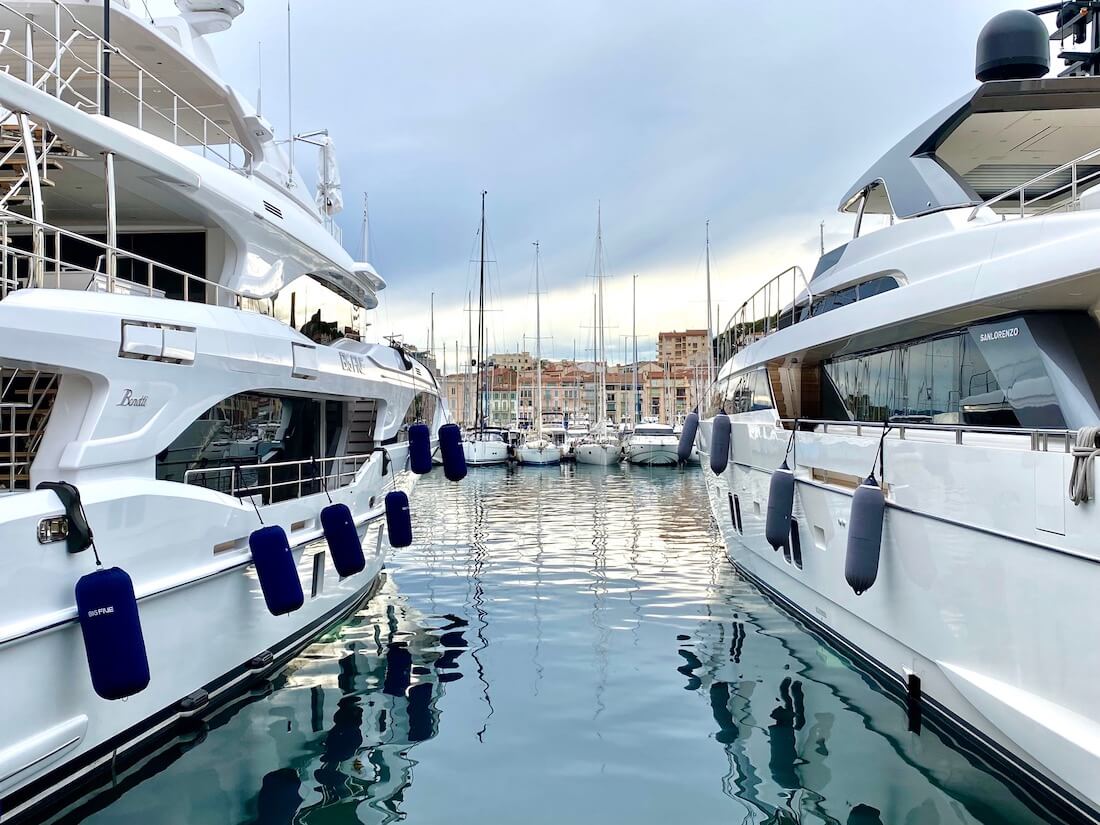 3. Visit the Vieux Port
Just past the Palais des Festivals building to the west is the old port, the Vieux Port. Here you can get so close to the sleek-looking yachts it seems only fitting the global elite invite you onboard. (They may disagree.)
Nonetheless, the marina is one of the prettiest places to visit in Cannes – full of gleaming sailboats, fishing boats and floating palaces that add to the exclusive French Riviera mystique.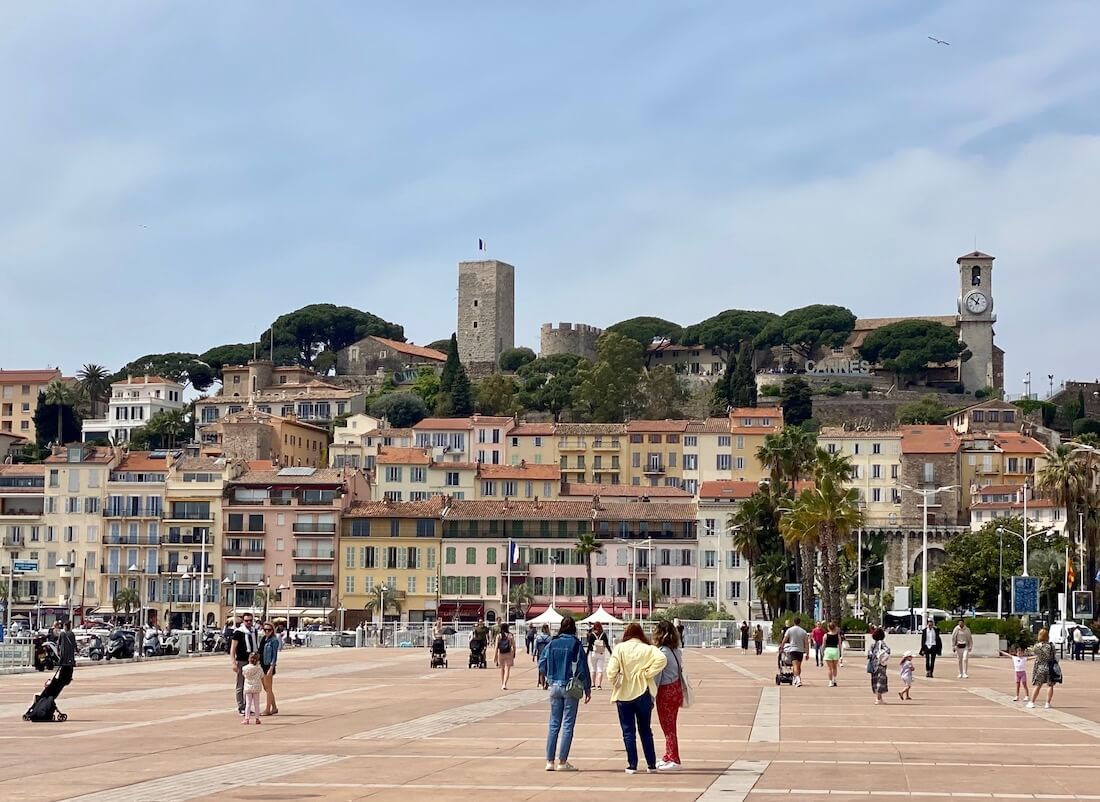 4. Explore Le Suquet Cannes – The Old Town
From the Vieux Port you'll spot the the Old Town rising up in a peak of red tiled roofs, weathered stone and walls of faded ochre and pink.
This old quarter of Cannes has been around a lot longer than the film festival or the flashy shops on La Croisette. In fact, the Romans were here for five centuries, and the Ligurians before that.
In the 12th century, the land became the property of Cistercian monks who built a castle fortress at the top of the hill, the Château de la Castre.
Oh, how things change. Rue Saint-Antoine, once the domain of fishermen, is now a pedestrianized street lined with bistros and souvenir shops, with restaurants like Table 22 upping the culinary game from touristy to gourmet.
The castle fortress is now a museum called the Musée de la Castre, and houses a mixed bag of artifacts ranging from 19th century landscapes to Tibetan masks.
The museum isn't going to take up much of your time, but it's the journey that counts. One of the most popular things to do in Cannes Old Quarter is to walk the 109 steps up to the castle for the stunning views over the Bay of Cannes.
At the top, take a break on the shady terrace and visit the Eglise Notre Dame d'Esperance, a notable Cannes landmark that took more than 100 years to complete.
5. Feast on French Flavours at Forville Market
When it comes to Forville Market, it's not so much about what to see in Cannes as what to taste. Located at the foot of Le Suquet, the Marché Forville is the place to go if a picnic is in your plans or fresh local produce is calling your name. (What is it about cantaloups from Provence that makes them so juicy and flavourful? Delish!)
The Marché Forville is a morning market, so get there between 7 a.m. and 1 p.m. But take note: On Mondays it's a flea market.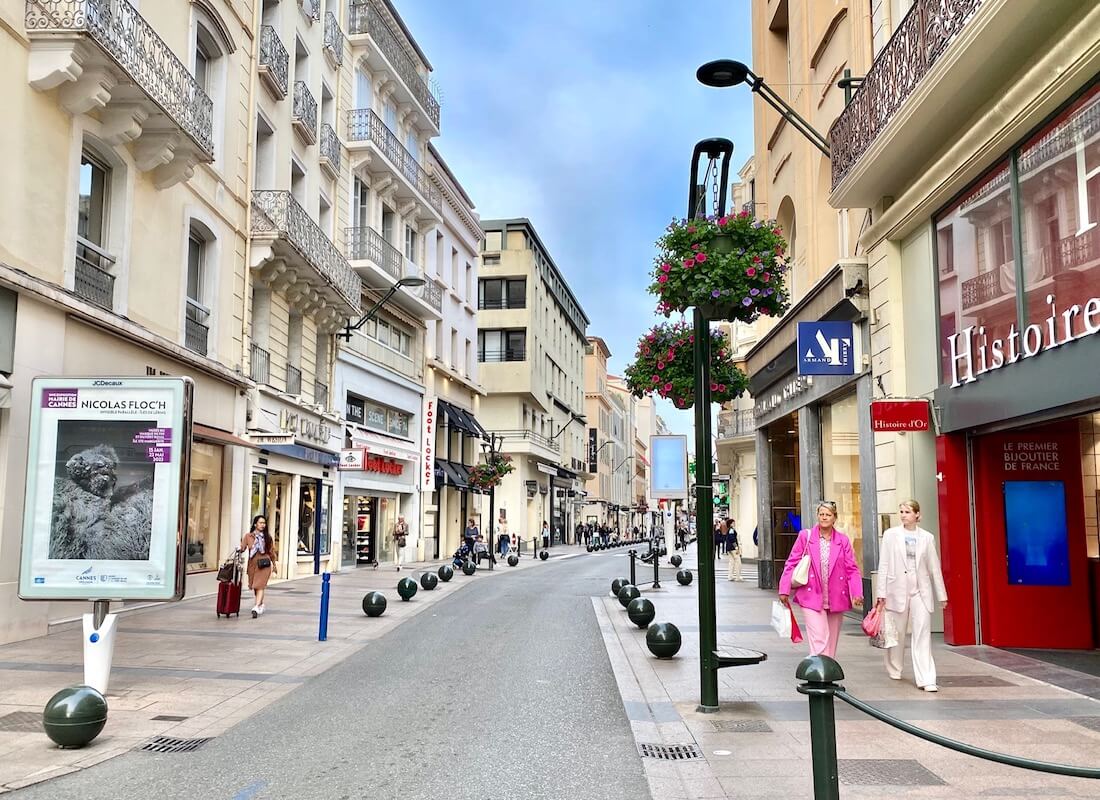 6. Shop on Rue d'Antibes
While most tourists window shop on La Croisette … they buy on Rue d'Antibes. This busy shopping street that runs behind La Croisette is chock full of shoe stores, perfumeries and clothing boutiques that range from international chains like Zara and Mango to French fashion brands such as Morgan and Maison 123.
7. Take an Apero Break on Rue Hoche
At the end of the day, you may hear Rue Hoche calling your name. This amiable pedestrian street near Rue d'Antibes is lined with cafes and restaurants. It's the perfect place for an apero, the pre-dinner drink and 'small bites' break embraced by so many locals.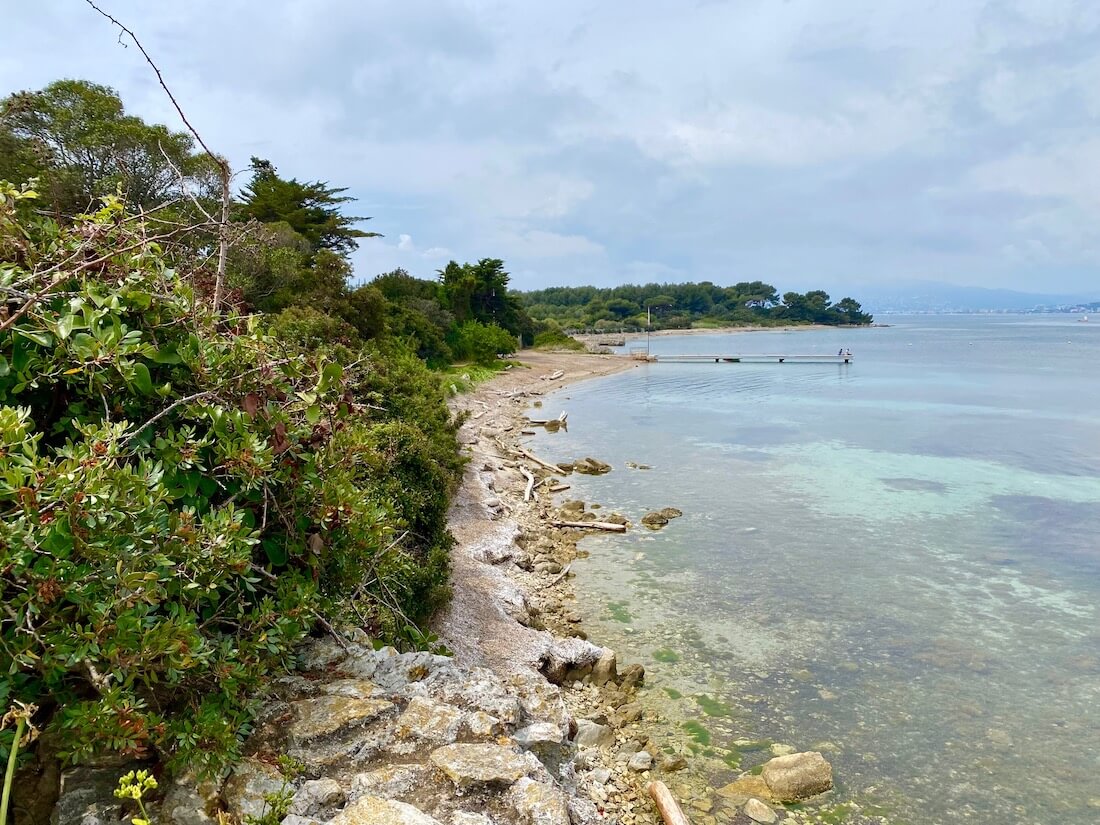 8. Visit the Lérins Islands
The Lérins Islands are a balm to an over sightsee-d soul (which is me, all the time), and when you need an escape the French Riviera crowds, it's one of the best places to visit near Cannes.
What are the Lérins Islands? The Lérins Islands are an archipelago on the Bay of Cannes.
The largest, Île Sainte-Marguerite (Saint Margaret Island), can be reached in as little as 15 minutes by ferry, and Île Saint-Honorat in 20. Ferries leave from the far west edge of the port.
Like Cannes Old Town, the Lérins Islands were occupied by the Romans, then owned by Cistercian monks who established a monastery on sleepy Saint-Honorat, which is still going strong today.
Sainte-Marguerite Island
The larger of the two, Sainte-Marguerite Island is the most visited, and it has a fascinating past. It was the site of the prison purpose-built for the Man in the Iron Mask, a political prisoner whose name – and face – was never revealed.
Visiting his cell at Fort Royal, a former fortress now home to the Museum of the Sea, was the historical highlight of my day trip to Sainte-Marguerite.
Other things to do here include seeing Batéguier Pond, which attracts many migratory birds, and exploring shady trails, rocky coves and small beaches – bring your swimsuit if you're so inclined.
Skip the line and book your ferry ticket to Sainte Marguerite Island in advance here.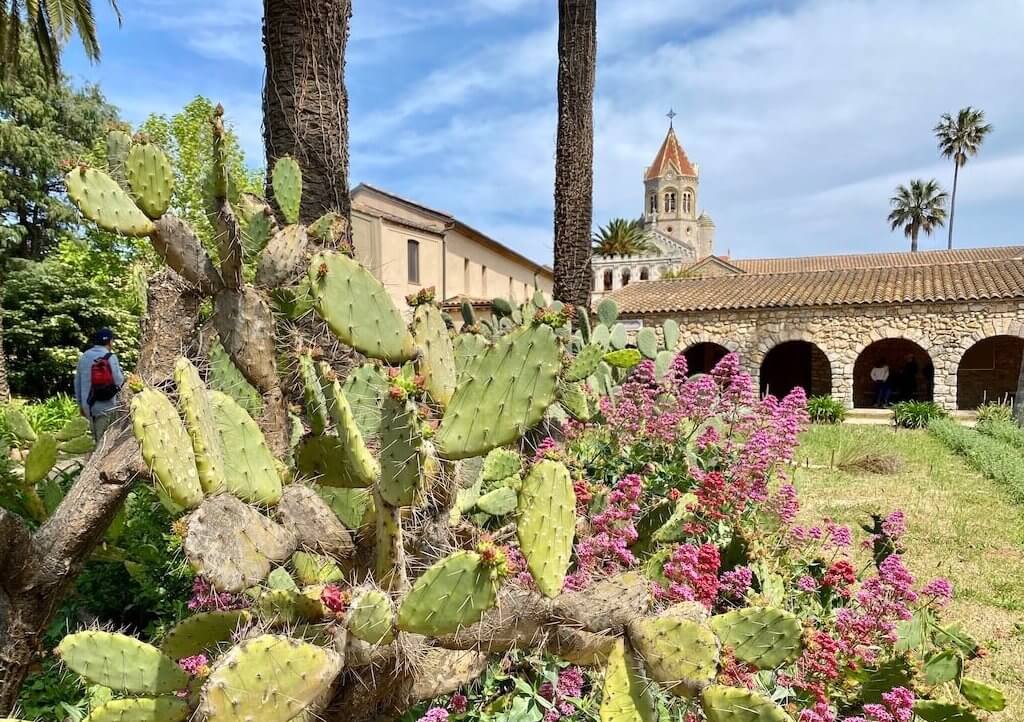 Saint-Honorat Island
A peaceful atmosphere reigns on the island of Saint-Honorat, where the monks of Lérins have resided since the 5th century. Visit the abbey church, shop for wine, honey, olive oil and other tempting goods produced by the monks, and enjoy the shoreline trails.
9. Hit the Beach
What to do in Cannes when you're ready for sun? Head for the sand. There is no shortage of Cannes beaches to choose from.
You can go deluxe and pay for a lounge bed and wait service at a private beach club like Mademoiselle Gray Plage Barrière, or grab your favourite beach essentials and plunk your towel down for free in 5-star territory at the public Palais Festivals Beach.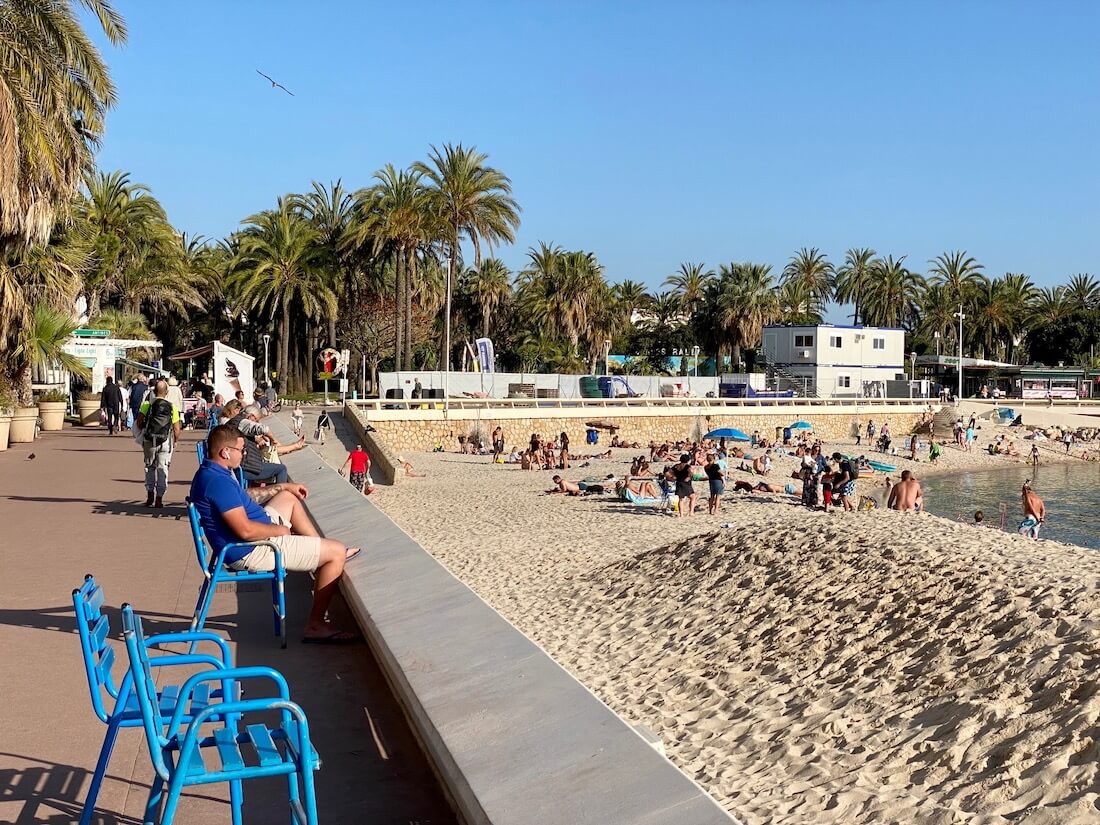 10. Get Out on the Water
You may not have a yacht to cruise around on, but it doesn't mean you need to be landlocked. Boating is a favourite pastime on the Riviera, and there are a few different ways to enjoy it. If you're looking for things to do in Cannes with family, check out these excursions:
Guided Boat Tour From Cannes: The Calanques of the Esterel
The Calanques of the Esterel Tour is a guided boat tour of the Esterel natural park. Skim over turquoise water, take a swim break and explore hidden coves, caves, and Calanques. The boat tour is 2.5 hours. Check prices and availability here.
Cannes: Half-Day Catamaran Cruise with Lunch
Another option for boating in Cannes is a half day catamaran trip with lunch. Swim, snorkel and soak in the amazing coastal views on the Bay of Cannes. Stand up paddleboards and kayaks availabile, too. Check prices and availability here.
11. Have a Drink at One of the Big 3 Luxury Hotels
Considering all the stars that hit up Cannes for the festival, you'd expect nothing less than extravagant 5-star hotels, and this lively French Riviera city delivers. If you're looking for Cannes things to do 'jet-set style', dip your toes into the opulent surroundings of a luxury hotel on the Boulevard de la Croisette.
Here are the top three:
InterContinental Carlton Cannes Hotel
The famed InterContinental Carlton Cannes Hotel is undergoing a facelift (as so many celebrity glam-pusses do), but you can still catch a glimpse of its iconic domes from the street and visit their beach club for some (expensive) seaside refreshment.
Oh, my gosh, I had a hilarious evening out at the Carlton Hotel during the film festival once.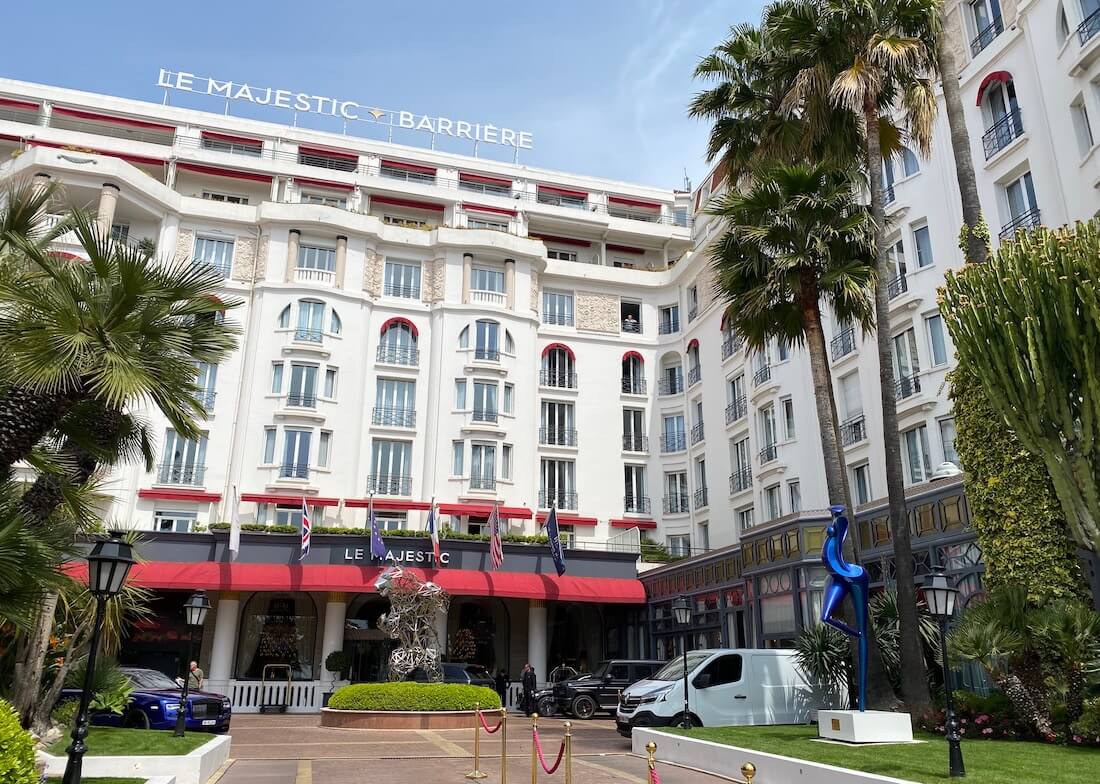 Hôtel Barrière Le Majestic
Maybe a champagne cocktail at the Hôtel Barrière Le Majestic? The plush Fouquet's Gallery Bar Cannes is hard to beat. Sit at the bar if you're in the mood to chat … it worked for me.
Hôtel Martinez
Opened in 1929, the Art Deco Hôtel Martinez rounds off this trio of top Cannes hotels. Now part of the Hyatt brand, it's got a 2-star Michelin restaurant, La Palme d'Or, which is one of the best restaurants in Cannes.
12. Cannes Things to Do Off the Beaten Track: Visit Le Cannet
If you're spending just one day in Cannes, you probably won't be able to fit this in, but if you're looking for things to do near Cannes the average tourist won't see, consider a trip to Le Cannet.
This artsy town is basically a suburb of Cannes. It was home to the renowned artist Pierre Bonnard, who was a leading light when art was moving from Impressionism to Modernism.
Things to see in Le Cannet include the Bonnard Museum on the Boulevard Carnot. As well, there are a number Bonnard-inspired walks you can do in the lush landscape behind. Grab a brochure detailing the various walks at the Cannes Tourism Office and head for the hills.
How to get to Le Cannet: It's a 30-minute walk (at a fast clip) from Boulevard de la Croisette straight up the Boulevard Carnot or take Bus Number 1.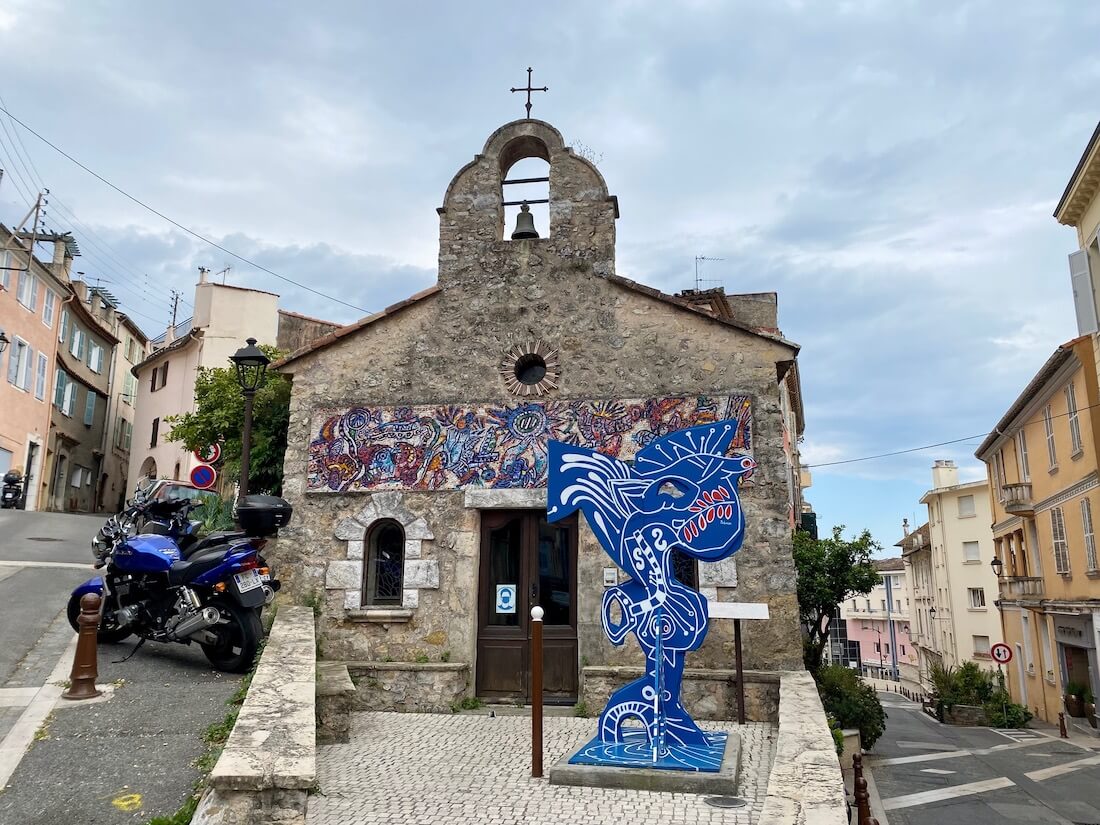 Best Day Trips from Cannes
With it's prime position on the French Riviera, Cannes is a great jumping off spot for day trips. For an in-depth look of some terrific Cote d'Azur destinations, check out my day trips from Nice article. All of the places I talk about can be easily done as day trips from Cannes, too.
Here's a quick look at some of the best places to visit near Cannes.
1. St Tropez from Cannes by Boat
St Tropez, the sultry vixen of the French Riviera, has a village meets ultra chic vibe unmatched by anywhere else on the Cote d'Azur.
Sample a sweet Tarte Tropezienne, lounge with the jet set at a private beach club on the Plage de Pampelonne (Pampelonne Beach), and make your way up to the Citadel for views over the Gulf of St Tropez.
In summer season, you can do a Cannes St Tropez day trip by boat. Check prices and availability for round trip transfers here.
2. Day Trip to Antibes
Lovely Antibes is one of the best places to visit near Cannes. A quick ride on the TER, the regional train line, from Cannes, it has a laidback feel that sets it apart from most French Riviera cities.
Visit the morning market, the Marche Provencal; explore the Vieille Ville (the Old Town) and don't miss the Picasso Museum in Grimaldi Castle overlooking the sea.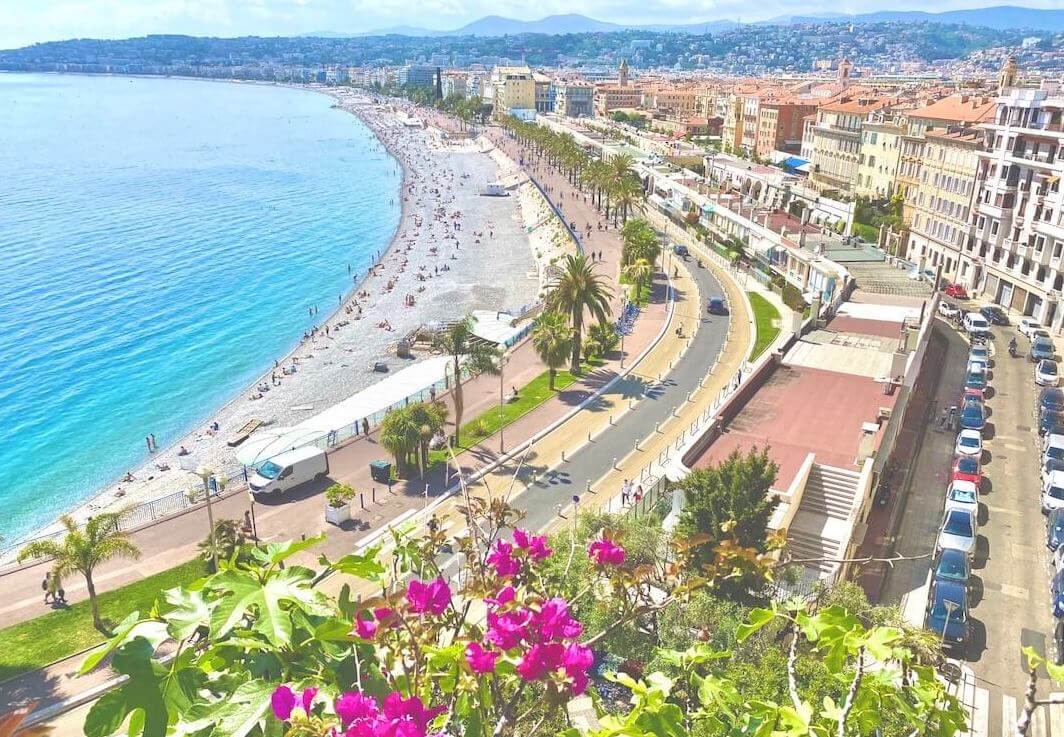 3. Cannes to Nice
There are so many things to do in Nice, you'd be hard pressed to see it all in a day. As the largest city on the French Riviera, it's a cultural hub for the region with stellar museums like the fabulous Mark Chagall Museum.
Stroll the Promenade des Anglais, climb Castle Hill and visit the Old Town for ice cream at Fenuccio's. If you're taking the train from Cannes to Nice, you can shop on Avenue Jean Médecin all the way back to the station.
4. Cannes to Monaco
If you think Cannes is sophisticated, wait until you see Monte Carlo. An hour and quarter ride on the TER train line, Monaco is one of the top day trips from Cannes.
Head to the Place du Casino for a direct shot in the arm of glamour, wander along the port and walk up the Rampe Majeure to the Old Town, where you can watch the changing of the guard at the palace every day at 11:55 a.m.
Check out my one day in Monaco travel guide here.
5. Day Trip to Grasse
Jasmine, roses and nearby lavender fields have helped put Grasse on the map as the Perfume Capital of the World. Visit the historic Parfumerie Fragonard Factory, explore the Old Town and stop into the impressive Notre Dame de Puy.
To get to Grasse from Cannes you can take the train, then it's easiest to take a bus into town from the station.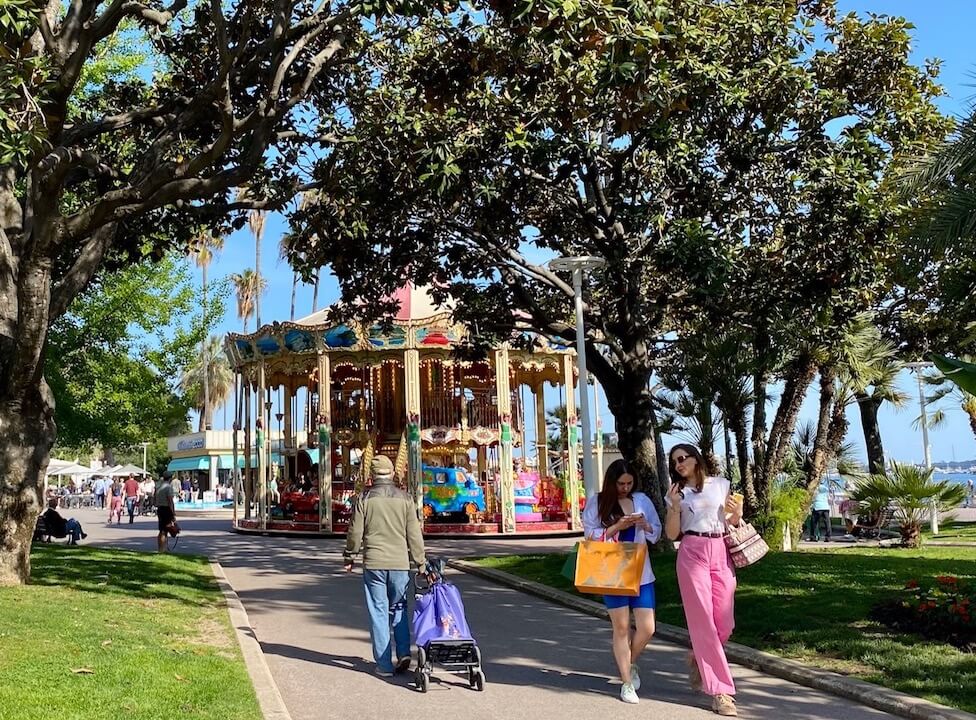 What to Do in Cannes From a Cruise Ship
Half Day Tour From Cannes Port
If you have only one day in Cannes you might want to save time with a tour. This private tour for groups of up to four people introduces you to the highlights of Cannes and Antibes in a half-day excursion. It's geared towards cruise passengers who want a taste of the French Riviera but are short on time.
Check prices and availability for a Cannes Shore Excursion: Cannes and Antibes Private Tour here.
Full Day Private Tour From Cannes Port
This private 8-hour tour in an air-conditioned van shows you the best places to visit near Cannes, from must-see cities like Nice and Monaco to smaller spots such as the medieval town of Eze and the coastal resort town of Villefranche-sur-Mer.
Check prices and availability for this French Riviera Sightseeing Cannes Private Tour here.
What to Do in Cannes for One Day
From beaches to boat trips, we've looked at the best things to do in Cannes overall, but what are the absolute must-do activities if you're only doing a day trip to Cannes? Here is an itinerary in a nutshell:
Wander up and down the Boulevard de la Croisette (easy to do as you can hardly avoid it), and pause for a red carpet moment at film festival central, the Palais des Festivals.
From there, stroll along the harbour – the Vieux Port – and make your way into the Old Town for lunch and a walk up to the top of Suquet Hill.
For an afternoon excursion take the ferry to Sainte-Marguerite Island, though if shopping is more your thing, opt for Rue d'Antibes. If you have a full day in Cannes, you can easily fit in both.
End your day with some authentic French cuisine at a traditional restaurant like La Brouette de Grand Mère or up the ante with a hip-with-a-view bite at Le Roof in the Five Seas Hotel. Cannes is a city of restaurants and you'll find something for every palate.
Is Cannes Worth It?
In my opinion, yes! It might not have have the museums of Paris, the gardens of Giverny or Monaco's Grand Prix, but does it need them? It's fun, it's festive and it's the nearest thing to Hollywood on the European side of the pond.
Whether you're staying for a few days, visiting on a day trip from Nice, or stopping off for a quick cruise shore excursion, these unique things to do in Cannes should give you a delicious taste of the sensational South of France.