This post may contain affiliate links.
Looking for some great things to do in Monte Carlo, the jet setter capital of the world? The ritziest part of Monaco, it's a South of France destination where excitement, sea views and luxury go hand in hand. Whether you're visiting Monte Carlo for a day, or settling in for a long term stay, here's how to enjoy it like a jet setter.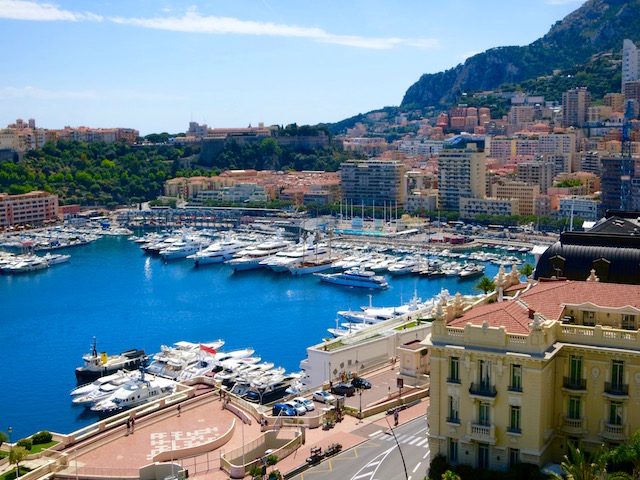 Monte Carlo France … except it's not actually in France
There are a lot of glamorous destinations on the French Riviera – and that's why we love it! Even if you don't have a yacht of your own, it's fun to be in a place where they're more common than tractors (says the girl from Saskatchewan, Canada).
Of all the fabulous destinations on the Côte d'Azur (another word for the French Riviera), no place has more flair than Monte Carlo, and there is no better place to stay in lavish 5 star Monaco hotels and brush shoulders with the international elite. And though it's often considered one of the best places to visit in the South of France, Monte Carlo is actually in Monaco, which is not France.
Monaco is a country. It's just really really small, and really really near France – about 20 km (12 miles) from Nice.
With no personal income tax, this idyllic – and expensive – haven attracts many of the globe's wealthiest people. Ruled by the Grimaldi family (hello, Prince Albert!) for the last 700 years, Monaco may be small but it packs a punch, and the Monte Carlo quarter is its centre of glam. There are plenty of jet-set-worthy things to do in Monte Carlo, so read on.
There is more to Monaco than Monte Carlo. If you're planning a day trip check out my Monaco sightseeing post.
Where is Monte Carlo?
Monte Carlo, Monaco, is in the southeast coastal region of France. Bordered by France on three sides, it looks out over the sparkling Mediterranean from a lofty point on a promontory at the base of the Alpes-Maritimes.
Are Monte Carlo and Monaco the same thing?
No. The country of Monaco, the tiny little country of Monaco, is somehow also a city state and a principality. (At this point let's pause to wonder if there is anything Monaco isn't?) Altogether Monaco measures just over two square kilometres in total, making it smaller than Central Park!
In fact, Monaco is the second smallest country in the world after the Vatican. Petite as it is, Monaco is divided into neighborhoods, or quarters. One of those quarters is Monte Carlo.
The four quarters of Monaco
Monte Carlo
Fontvieille
Monaco-Ville (the Old Town)
Condamine
Monte Carlo is Monaco's ultimate glam 'hood. With its prime position overlooking Monaco's main harbour, this beyond-ritzy neighbourhood is where you'll find the casino, the most lavish luxury hotels and top restaurants.
One day in Monte Carlo
Originally, I designed this guide to Monte Carlo so my husband and I, who hadn't seen each other in weeks and were meeting up in the South of France, could rekindle the romance. My idea was to create the perfect Date Night in Monte Carlo (except it was actually Date Day in Monte Carlo, but as my husband had jet lag I didn't think he'd notice.)
Travel tip: A romantic jet-setting date day in Monte Carlo is a lot cheaper than a romantic jet-setting night. But both are unique. Combine the two for twice the fun. Or stay a few days for the ultimate high society getaway. If you're doing day trips from Nice, this is one not to miss.
So, how did our date day turn out? Amaaaaazing. Monte Carlo is like something out of a novel. From gambling and gardens to gourmet cuisine, there are so many ways to enjoy yourself.
I want you to have a great experience, too. To help you plan your trip, here are a list of places to visit in Monte Carlo that will give you a glimpse of the good life. Whether you want to dive in and spend big bucks or just want to see how the other half lives, here's what to see and do.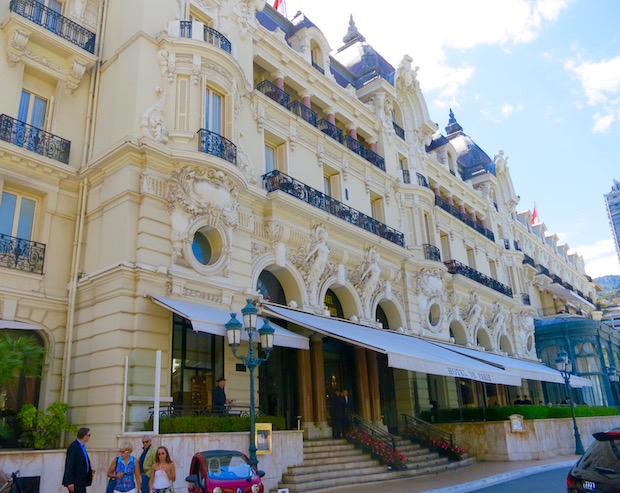 Things to do in Monte Carlo
People watching at the Café de Paris
Sitting right smack on the Place du Casino, which is pretty much the centre of everything, the Belle Epoque Café de Paris, built in 1868, is the ideal place to spy on all the other jet setters (and tourists) in Monte Carlo.
Aim for a seat on the terrace, put on your sunglasses (Monaco has 300 days a year of sunshine so you'll need them) and try to adopt an expression of cosmopolitan boredom … even though you're not bored at all, because you're in Monte Carlo!
How to tell a tourist from a jet setter
The jet setters are the ones breezing in and out of the posh hotels, casinos and restaurants without hesitation. The tourists are the ones biting their nails, referring to their guidebook and hesitating before entering any Monte Carlo establishment, wondering if they meet the dress code and what kind of damage it's going to do to their credit card. (Oh, wait. That might have been me.)
If you're a tourist who wants to be a jet setter, you know what to do. Practice breezing.
Check out a day tour of Monaco from Nice from $114 here. Or a 5-hour Menton, Monaco and Monte Carlo tour from Nice for $58 here.
Get lucky at the casino
When it comes to jet-setty things to do in Monte Carlo, the Casino de Monte-Carlo is often the first thing people think of. For good reason. There is probably not one other place in the world that screams (discreetly, of course) money, power and style like this hallowed hall of gambling.
The casino itself is a Belle Epoque beauty built in 1863. And while you can go in, as long as you pay €10, don't wear flip flops or shorts, are over 18 and bring your passport, citizens of Monaco aren't allowed to play here. (Which is perverse, because I know someone who gambled with Prince Albert in this very spot – at least he said he did – either my ex boyfriend acquaintance is lying, or allowances are made if you're part of the ruling family.)
Inside the casino
The interior of the Monte-Carlo Casino is, if possible, even more opulent than the outside. Marble columns, chandeliers … you get the idea. The best thing to do here is to win money. Surprisingly enough, my husband and I did, by playing roulette, and it paid for our dinner.
We didn't, however, hobnob with European aristocrats. Every single person we met was from Canada.
Where are the real high rollers hanging out?
We didn't see the elite gamblers because we played in the main gambling room, the cavernous and beautiful Salle Europe. Glittering with Bohemian crystals and gilt, the Salle Europe is a feast for the eyes.
If you want to seek out the high rollers, however, pay another €10 to gamble in one of the private rooms such as the lovely Salle Médecin. (And if you really are a high roller, you probably don't need me to tell you about the very private Salon Anglais.)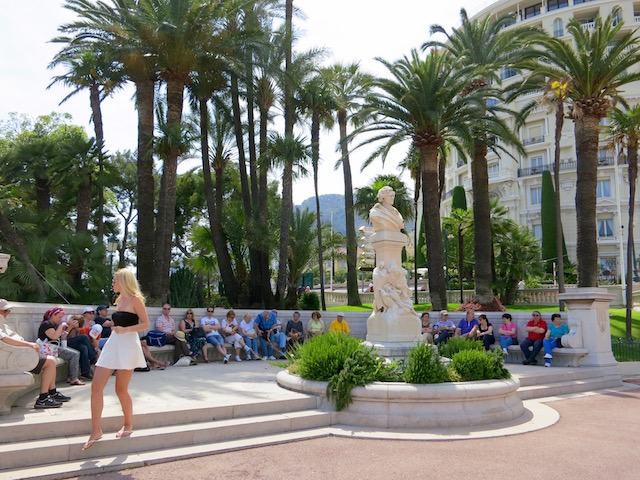 Visit the Hôtel de Paris Monte-Carlo
Also on the Place du Casino is the sumptuous Hôtel de Paris Monte-Carlo. It may be the most lavish hotel you'll ever step into, especially after its recent and costly four-year renovation.
Today, this 150-year-old hotel is a symbol of Côte d'Azur grandeur and prestige, and you're likely to run into some of Monaco's wealthiest residents here, who don't mind dropping big bucks at one of the world's most exclusive restaurants, the hotel's Louis XV.
Built in 1863, the 99-room 5-star Hôtel de Paris has featured in a number of films including two James Bond flicks, Never Say Never Again and GoldenEye.
While you're in the lobby, look out for the bronze statue of Louis XIV on horseback. The horse's right knee is worn to a sheen from superstitious guests, who rub it for luck on their way to the casino, which happens to be right next door.
If you want to linger and soak up the atmosphere, have a drink at the hotel's clubby Bar Américain. With a brand new outdoor terrace, it might be an even better people watching spot than the Café de Paris across the square.
Shopping
High-end shops are concentrated around the Cercle d'Or. The Métropole Shopping Centre also has boutiques. Personally, I didn't find shopping here all that fantastic, but given an unlimited credit card I'm sure I could have happily spent millions.
There is also a Zara at 27 Avenue de la Costa for those on a budget, but who are determined to go home and flaunt the fact that they were shopping in Monte Carlo.
Connect with nature
Possibly, as a practising jet setter, getting back to nature is the last thing you feel like doing on a glam visit to Monte Carlo. But I'm not talking baggy chinos, hiking boots and a backpack.
I'm talking about putting on your Valentinos and taking an easy stroll through the district's green spaces such as the Jardins Du Casino and the pretty Allée des Boulingrins.
For the best views, circle around the casino for a spectacular panorama of the Mediterranean below.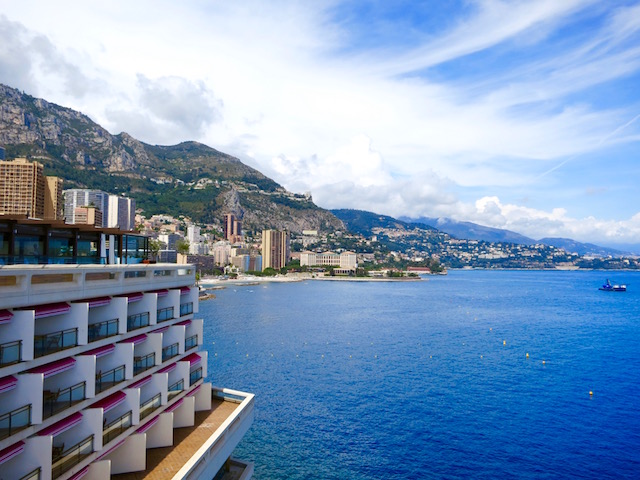 Where to eat in Monte Carlo
Monte Carlo is a food-filled haven. Just expect to pay for the privilege. This is when the advantages of a date day over a date night in Monte Carlo become clear.
Lunch menus are cheaper than evening menus. And remember this: Set menus (prix fixe) are your friend. But one thing is certain, when it comes to things to do in Monte Carlo, dining is an absolute highlight.
Louis XV Restaurant Monte Carlo
For the ultimate in haute cuisine, make a reservation at the ornate Louis XV Restaurant on the street level of the Hôtel de Paris Monte-Carlo. Helmed by French celebrity chef Alain Ducasse, this 3 Michelin star restaurant is consistently listed as one of the top restaurants in the world.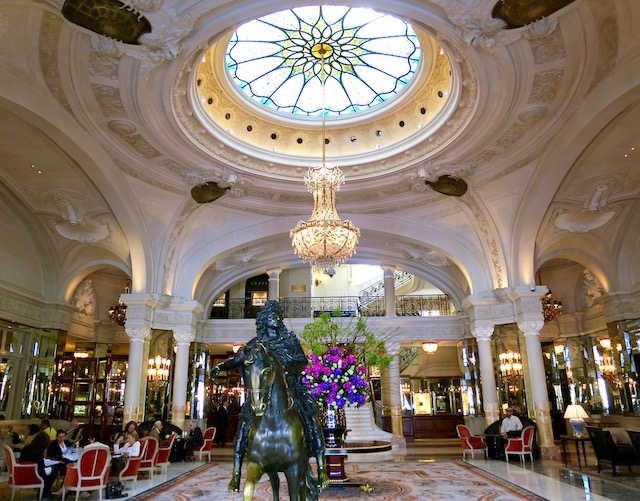 Le Grill in the Hôtel de Paris Monte-Carlo
Le Grill, also in the Hôtel de Paris, is on the 8th floor, the top floor of the hotel. Known for its fresh grilled fish and meat, it focuses on Mediterranean cuisine, and is a prime place for panoramic views.
While not as expensive as Louis XV, it's still very grand, and it's said that the La Grill came into being because Maria Callas wanted a place to eat while overlooking three countries at once. Now that is a true jet setter.
When I told Mark I wanted to dine overlooking three countries at once he gave me a sandwich and a globe. (Just kidding. He took me to Le Grill and plied me with champagne and I will be forever grateful.)
The most exciting thing about Le Grill is that if the weather is fine the roof slides back to show the sky. That's right. The roof splits open.
When we were there, I was terribly disappointed because it looked sealed shut. When I mentioned it to the waiter, he immediately pressed a button and the sky came tumbling in. I felt like a kid with a new toy, which made it very hard to maintain my look of cosmopolitan boredom, because now I not only had three countries to gaze out at, but an endless view upwards.
Nobu
With a younger vibe and a less formal atmosphere, Nobu in the Fairmont Monte Carlo hotel is another great restaurant in Monte Carlo. The Nobu brand is famous around the world and combines traditional Japanese dishes and South American spices to create fresh surprising flavours.
Bonus: The restaurant has a terrace that overlooks the Mediterranean.
Money saving tip: If your 'things to do in Monte Carlo' itinerary includes drinks, you'll be pleased to know that every night from 6 p.m. to 8 p.m. Nobu offers bargain priced happy hour cocktails, because even jet setters like to save.
FYI: Nobu is open for dinner, but not lunch – save it for date night.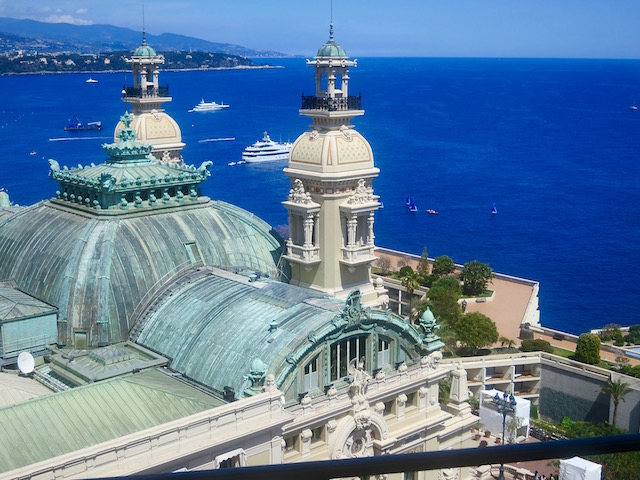 Nightlife in Monte Carlo
Jimmy'z If you do last all day and into the night, and you want to rub shoulders with the Beautiful People, Jimmy'z nightclub is a long-standing institution, and was revamped in 2017. Dress for the occasion. Wait! There's a catch. If you want to see the really Beautiful People, look up.
The VIP area at Jimmy'z, called the Boom Boom Room, overlooks the dance floor. Jimmy'z opens at 11:30 p.m. It's located at Sporting Club, 26 Avenue Princess Grace, Monaco.
The Living Room Club. It's a sophisticated Euro crowd at the Living Room Club at L'Institution des Nuits Monegasques 7, Avenue des Spélugues.
Night tours
For some evening sightseeing, you can sign up for a Night Tour of Monte Carlo and Monaco. Departure points are from both Nice and Monaco. Check prices and availability here. (Prices start at $85.)
If you're too lazy to organize a date night on your own, you can do an Evening Tour & Dinner in Monte Carlo from Nice from $180 per person. Check it out here. Or, you can do it from Cannes from $204. Check prices and availability.
Go to the Opéra de Monte-Carlo
If you're wondering what to do in Monte Carlo, and highbrow entertainment is more your style, the Monte-Carlo Opera House in the Salle Garnier of the casino is worth a stop.
In addition to opera, the Salle Garnier holds concerts and attracts big names such as Lionel Richie, Patti Smith and Peter Doherty (you know, the bad boy who dated jet-setter extraordinaire, model Kate Moss, back in the day.)
Feel the excitement of the Monaco Grand Prix
For special events, the best activities in Monte Carlo depend on when you're there. In May, you may want to catch some of the Monaco Grand Prix buzz.
The Monaco Grand Prix is said to be the slowest yet most challenging, circuit Formula 1 World Championship. Winding through the streets of Monaco, the circuit is chock full of elevation changes and tight corners. There's even a tunnel thrown in for good measure.
The famous race is a huge celebrity draw (many celebs hop over from the Cannes Film Festival, also in May). This makes it great for star spotting. On the downside, if you want to experience the Grand Prix you'll also have to fight the crowds.
Don't worry. If you're not in Monte Carlo during the Grand Prix, you can entertain yourself by looking at the Ferraris, Lamborghinis, Maseratis and Rolls Royce's outside the the Hôtel de Paris on the Place du Casino instead.
Monte-Carlo International Circus Festival
For more than 40 years, the International Circus Festival has been a highlight of visiting Monte Carlo in January. Don't dismiss the glam factor of this clown-filled event. The circus is presided over by none other than Princess Stéphanie of Monaco, who is the President of the festival, and features more than 150 artists from 15 different countries.
Check out the world famous spa at Thermes Marins Monte-Carlo
My top pick for non-adrenalin-boosting things to do in Monte Carlo is to head to the spa. The world-class Thermes Marins Monte-Carlo is a four-storey extravaganza of wellness with luxe pool facilities, cutting edge spa treatments and an emphasis on seawater and seaweed therapies.
Being a jet setter means looking your best, and there are many ways to bump up the glow factor at this luxury South of France spa. Maybe a La Prairie Platinum Ultimate Youth Treatment facial? Though it will set you back a cool €330.
If I'm going all this way to a world-class seawater spa, however, I want as many water-based treatments as possible. A Simply Relax day-long spa package with three body treatments and a 60-minute facial would do the trick. (Price for 2019 is €375 not including lunch).
More affordable is a day Wellness Area Package that includes access to the seawater pool, sun terrace, hamman, sauna and other spa facilities for €175. (Picture me sighing with happiness.)
If you're staying in town overnight, you'll be pleased to know the Thermes Marins Spa is directly connected to both the swishy Hôtel de Paris Monte-Carlo and the Hôtel Hermitage Monte-Carlo.
Monte Carlo hotels
There aren't that many hotels in Monte Carlo, or in Monaco, for that fact. This is why many travelers choose to stay in Nice and do day trips. If you can afford it, however, there are some incredible luxury hotels here. In high season, most are over-the-top expensive, but still they often sell out, so book early.
Ultra central
Hôtel de Paris Monte-Carlo My top choice for a place to stay in Monte Carlo is the impossibly elegant Hôtel de Paris on the Place du Casino. It's old world grandeur at its best. For prices go here.
Hôtel Hermitage Monte-Carlo Insiders are said to prefer the Hôtel Hermitage. A bit like the Hôtel de Paris's little sister, the Hôtel Hermitage, built in 1900, is pure Belle Epoque elegance with a dome designed by Gustave Eiffel himself. Check prices here.
Fairmont Monte-Carlo If you want an ultra central location and an outdoor pool, the 4-star 602-room Fairmont Monte-Carlo has both. See prices and availability.
Hotel Metropole Monte-Carlo Another swanky 5-star central option is the Hotel Metropole Monte-Carlo located in the Carré d'Or.
Resort style hotels
A hotel with an outdoor pool is the 4-star Monte Carlo Bay Hotel & Resort, which has a large spa and gardens.
If you want a high-society beach-y type of resort, the Monte-Carlo Beach hotel in Rocquebrune-St-Martin is a 5-star property with an olympic-sized swimming pool, a beach location and a history that goes back to the Roaring Twenties.
Check out other available hotels
How to get to Monte Carlo
Pin me!
Getting from Nice to Monte Carlo
Nice Monte Carlo is an easy 20-minute trip by regional train from Nice Ville Station. Trains depart frequently. Get off at the Gare de Monaco-Monte-Carlo Station. There are two exits. You want the Sortie Monte Carlo, the exit toward the front of the train. Go up the escalator, then take an elevator up.
From the Sortie Monte Carlo exit turn left. Eventually you'll have to head downhill, one way is through the Metropole Shopping Centre. Walk through the Jardin du Casino to the Place du Casino and presto, you're in the heart of one of the world's most luxe jet-setter destinations.
You can also take the train to Monaco from Cannes, Antibes, Menton and many of the other South of France towns.
From Paris to Monte Carlo by high speed train
The TGV from Paris to Nice takes about 6 hours, from there you can transfer to a train to Monte Carlo.
Monte Carlo by bus
The bus to Monaco from Nice is super cheap at €1.50 and super slow. Personally, it makes me crazy. But, to each his own – take Bus #100.
Getting to Monte Carlo by helicopter from the Nice Airport
Now we're talking. From Nice Airport it takes 7 minutes. Visit Heli Air Monaco to learn more.
And if you're into helicopter rides around the Riviera, check out this helicopter tour of Monaco with lunch on the harbour from $399. Now that's the luxe life. Check it out here.
Travelling around the Riviera?
Now that you know all the fun things to do in Monte Carlo find out other Places to visit in the South of France. Or here's what to do in Nice, France.
Shore excursions from Monaco
If you're stopping in Monaco on a cruise you could try a private shore excursion that takes in Eze, Nice, Monte Carlo and more. From $805 for groups of up to 8.