This post may contain affiliate links.
Best Things To Do in Nice, France
Breezy sunny Nice is the main city on the luscious French Riviera. There are so many fun things to do in Nice you could easily stay a week. (Or 37 years, like the artist Matisse did.)
Ever since I spent one heady summer here when I was 16, this sparkling city has had its hooks in me and I return again and again, always digging up fresh things to do.
So read on for a complete guide on the top things to see in Nice, France.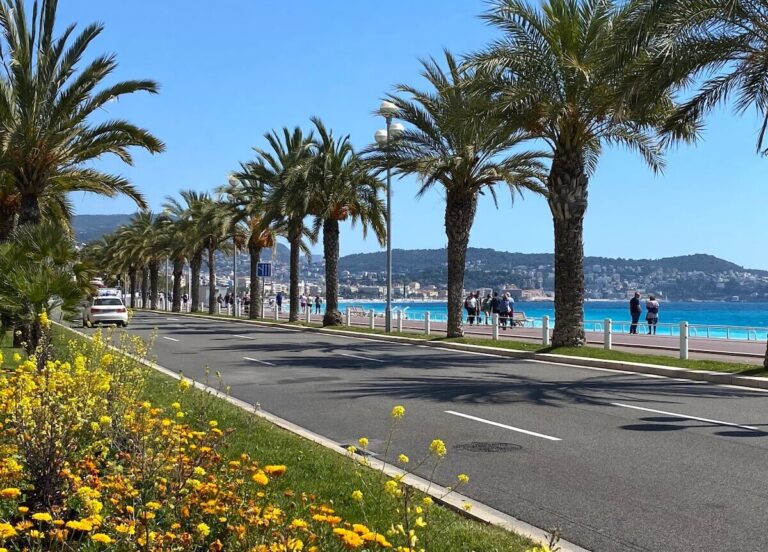 About Nice
This vibrant city in the South of France makes a great base for touring the beautiful towns of the Côte d'Azur, but it has many charms of its own.
With a glorious Mediterranean location on the Baie des Anges (Bay of Angels), Nice has 'glamorous summer resort' written all over it – but without the pretension you might find in Monaco and Cannes.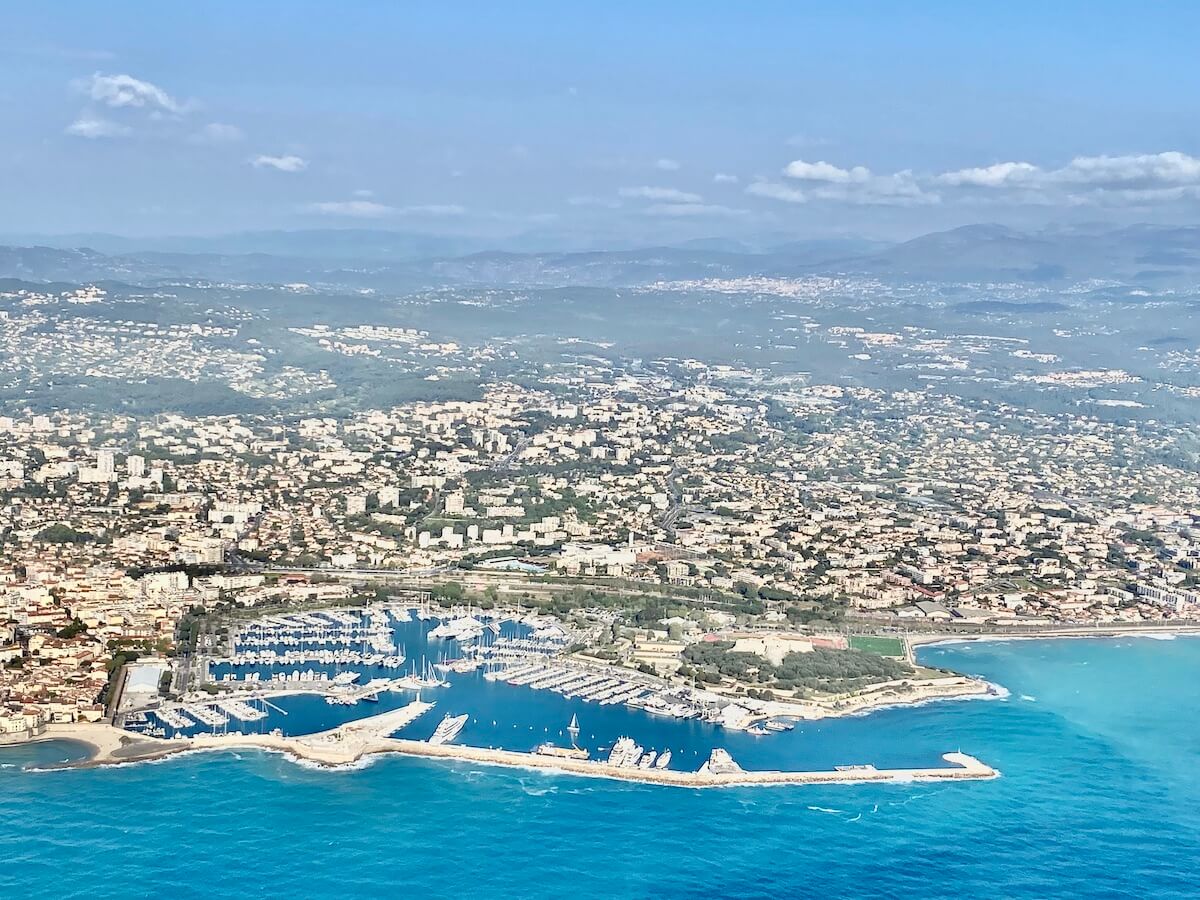 Its population of 350,000 means it's the right size for travellers who want plenty of life, but don't want to be overwhelmed by a huge metropolis.
Short on time? Tour the French Riviera in One Day. From USD $83. Check availability here.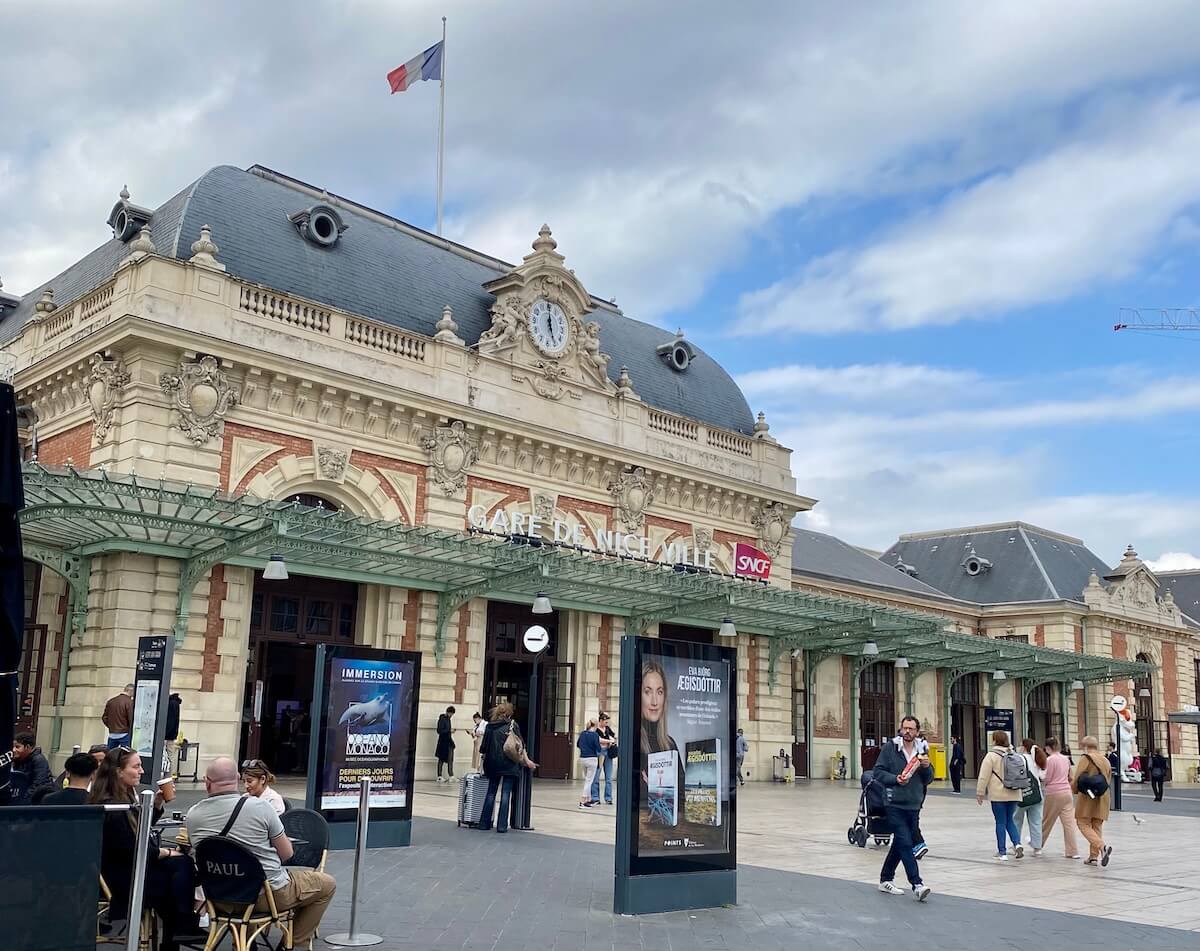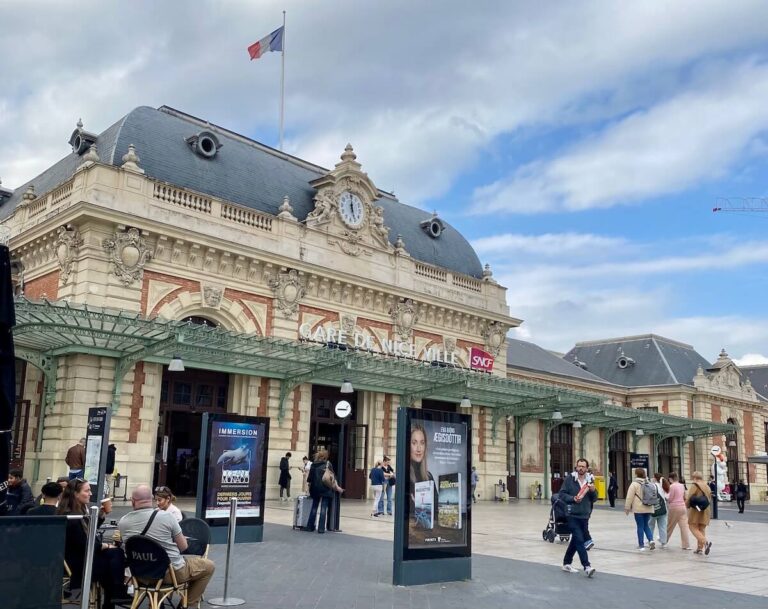 Getting Around
It's easy to get around Nice on public transportation and many travelers use it as a base for doing day trips to legendary French Riviera destinations like Cannes, Monaco and Eze.
Read Best Day Trips from Nice for some amazing places to visit.
Getting into Nice From the Airport
Flying into Nice-Cote d'Azur Airport? Here are the best ways to get from the Nice airport to city centre locations.
Now let's get to the best things to do in Nice, France.
Nice France – Top Things to Do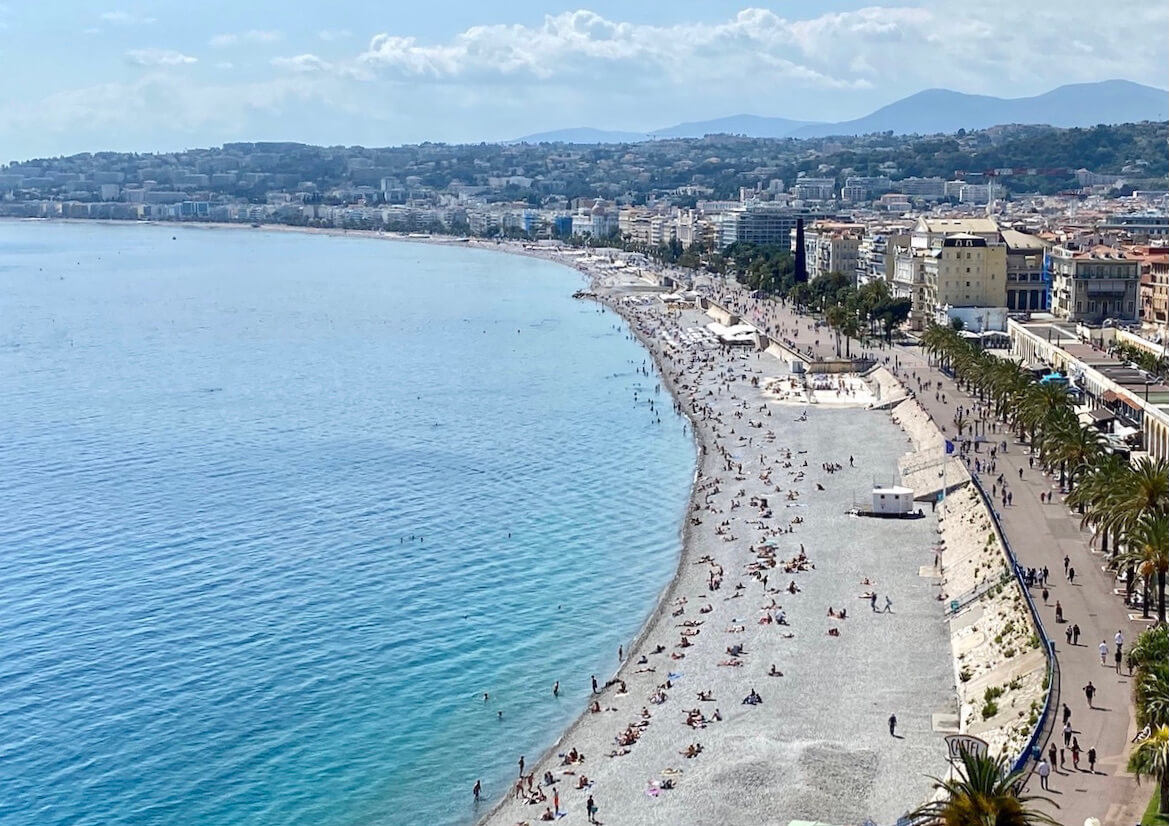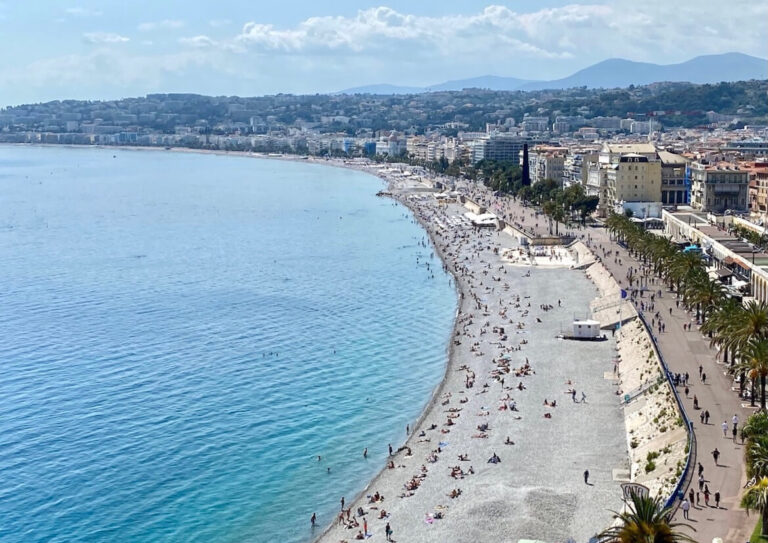 1. Stroll the Promenade des Anglais
The first place to check out in Nice is the palm-tree lined Promenade des Anglais.
This 7 km (5-mile) oceanside promenade curves gently along the Bay of Angels, and is a focal point for strollers, cyclists, joggers and sightseers.
Stretching from the Nice Airport in the west to the Quai des Etats Unis near the Port of Nice, the palm-lined Promenade des Anglais is the best place to breathe in the city's sea-scented atmosphere.
On one side you have parks, grand hotels, and an endless supply of condos (many which have holiday rentals). On the waterfront side is a string of private beaches, seaside restaurants, and the silvery blue Mediterranean Sea.
Tip: The most popular stretch of the Promenade Anglais to wander is between Castle Hill and the Hotel Negresco.
Looking for an easy way to see the sights in Nice? Try the Hop on Hop Off Bus from US $26.
2. Hike Up Castle Hill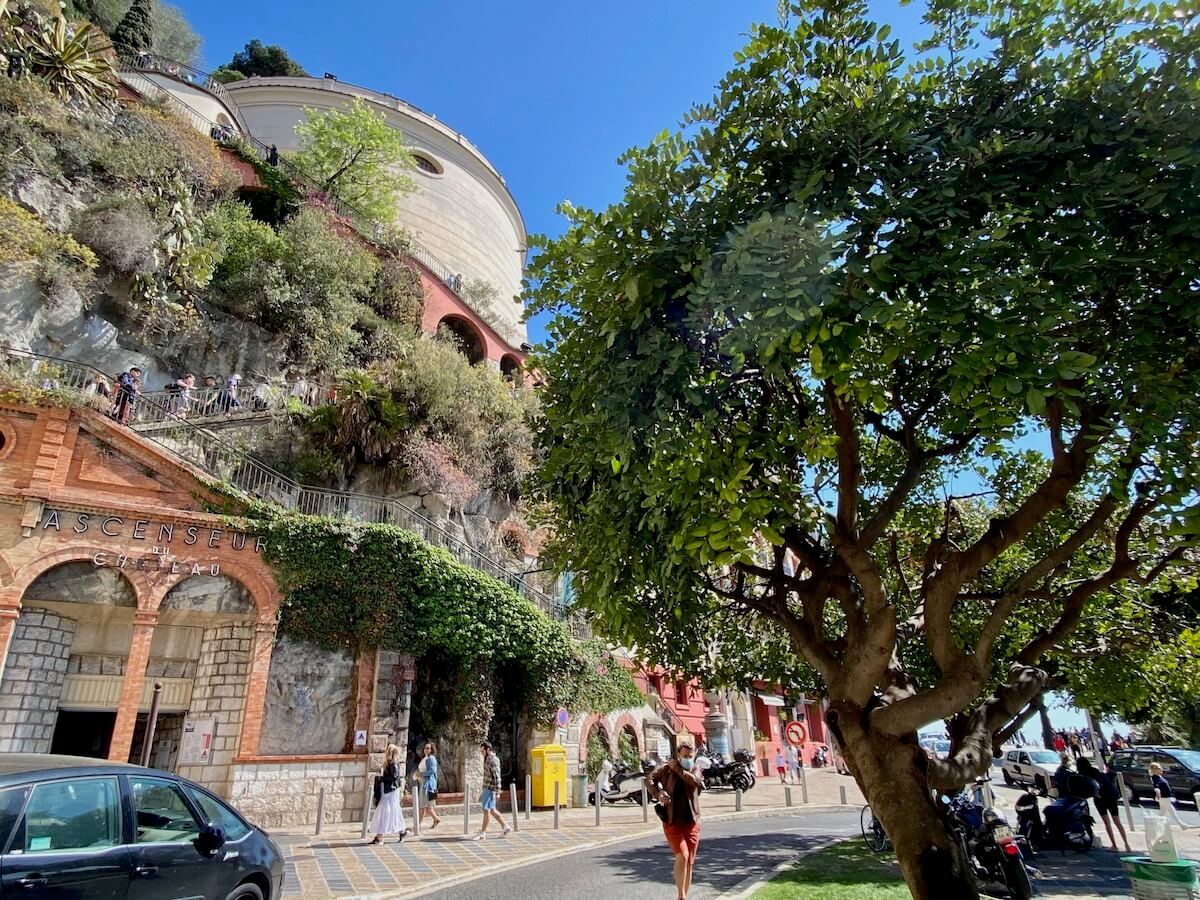 When it comes to outdoorsy things to do in Nice, try walking up the (seemingly endless) steps of Castle Hill, also called the Colline du Château or the Parc du Château. If you want a classic view of the Bay of Angels, it's your place.
Conveniently, Castle Hill is right at the edge of the Old Town, Vieux Nice, so it's easy to get to.
Most people take the stairs up Castle Hill off the Promenade des Anglais.
Tip: If you go up the back way, from the side of the Port, it's a more tranquil walk. I discovered it by accident last spring.
While you're up here note that this hill-with-a-view, which is now a pleasant park, has been occupied for centuries. Archeologists have found Celtic, Greek and Roman remains.
Just don't expect a castle to be part of the view. The medieval citadel was destroyed by Louis XIV in 1706.
Accessibility: If you're mobility challenged you can take the elevator.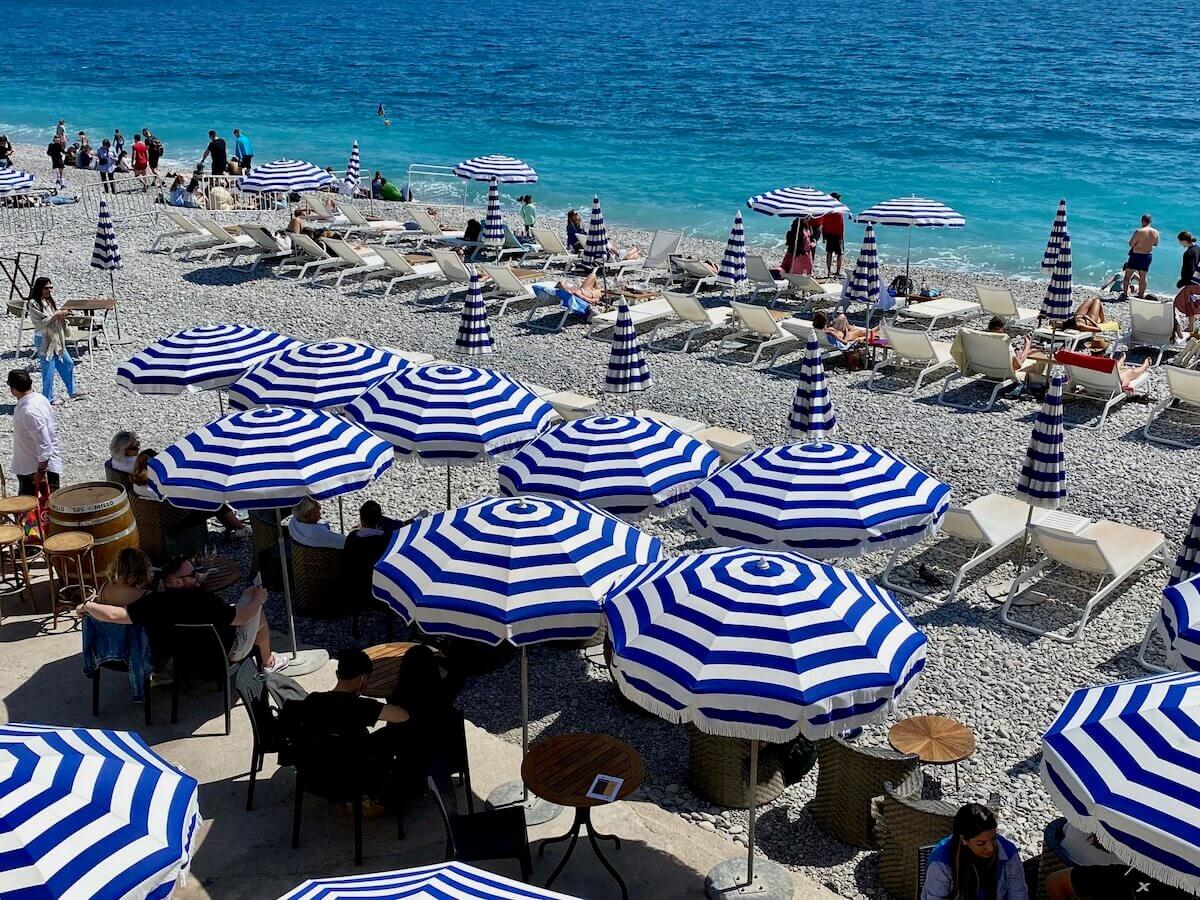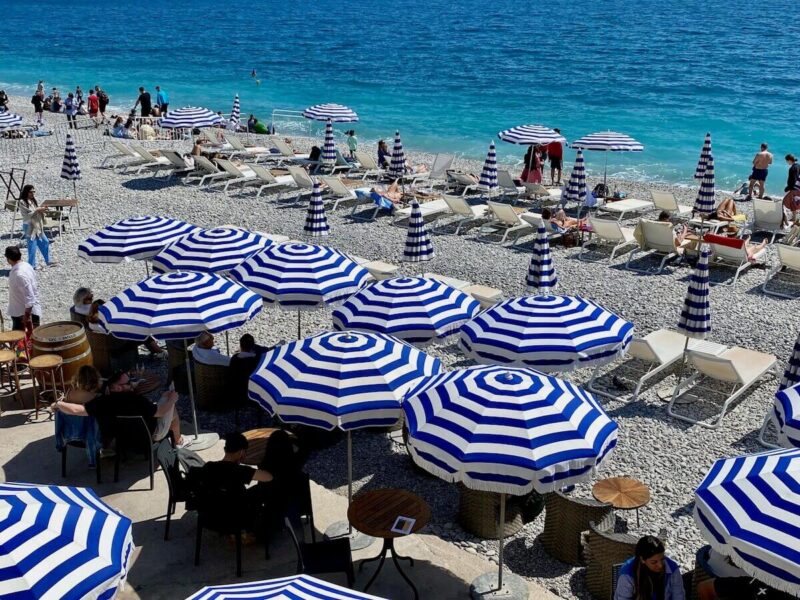 3. Lounge at the Beach
Another great thing to do in Nice is to hit the beach, but there are a few things you need to know.
While the idea of lying on a beach in Nice is bliss, the reality is that Nice beaches are not soft and sandy, but pebbly. Ah, well. It's still the French Riviera and it can still be blissful.
You can go upscale and splash out (see what I did there?) for a chaise lounge at a private beach with change rooms, waiters to cater to your every need and even – depending on the beach – a DJ.
Or, stick with a public beach which is free.
What are the Best Beaches in Nice?
Ruhl Plage, a family-owned private beach club since 1920, wins for the cutest beach umbrellas. It has a central location toward the eastern end of the Baie des Anges.
Where Are the Free Beaches in Nice?
There are upwards of 20 public beach areas in Nice that are free. La Plage Publique de Beau Rivage is a popular place to catch some sun.
When looking for a free beach, I usually head down to the Promenade des Anglais, and park my towel on whatever strip of sand isn't taken up by a private beach club.
How do you know if it's a private beach club or a public beach?
Easy. If there are beach umbrellas, lounge beds, tables and servers, it's a private club and you will need to pay. If there are people sprawled out on beach blankets or towels lying on the sand, it's free.
Beaches Near Nice
I like the look of the family-friendly beach in nearby Villefranche sur Mer, a sleepy coastal town just to the east of Nice. To get to Villefranche sur Mer from Nice, you can take the 100 Bus or the train.
While there is no best time to visit France, if you want a beach holiday, be aware Nice is not hot year round, so you won't be sunbathing in December.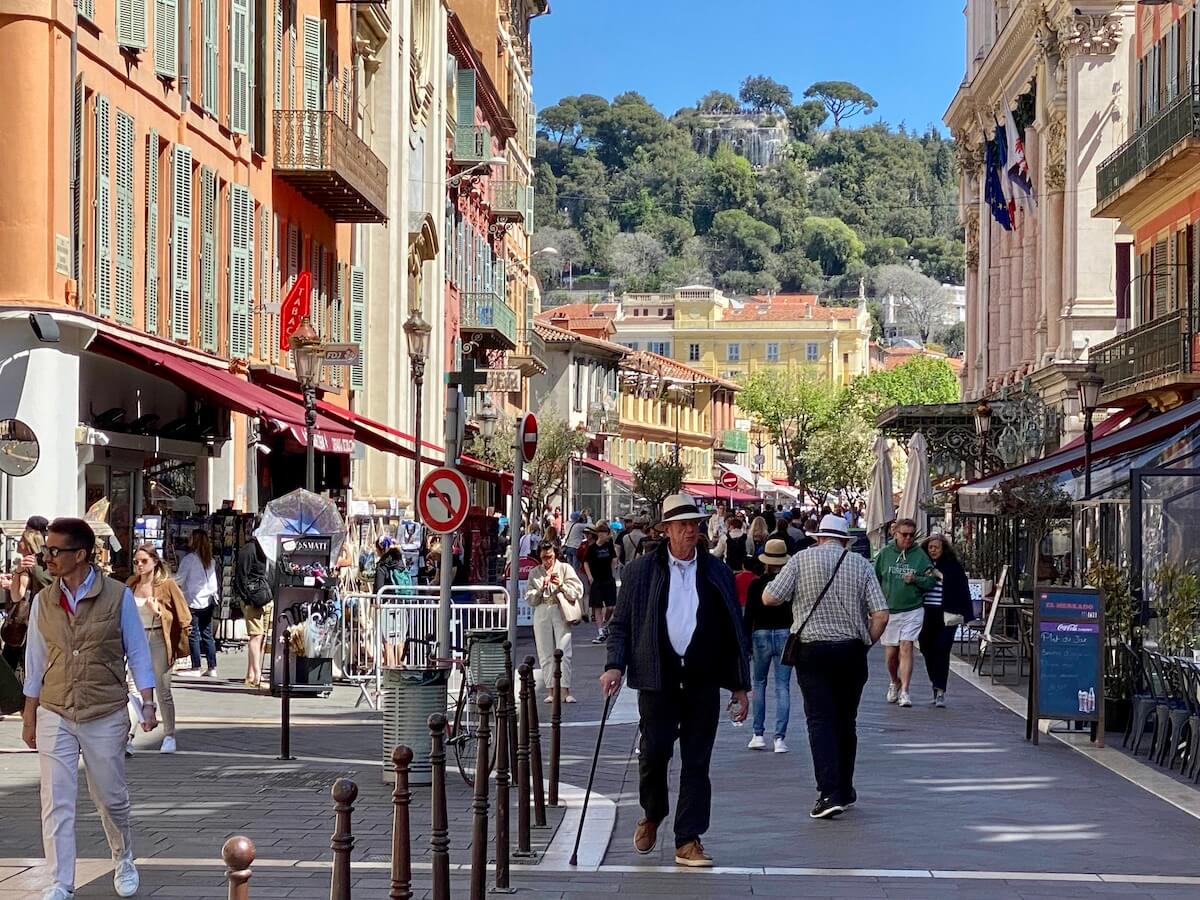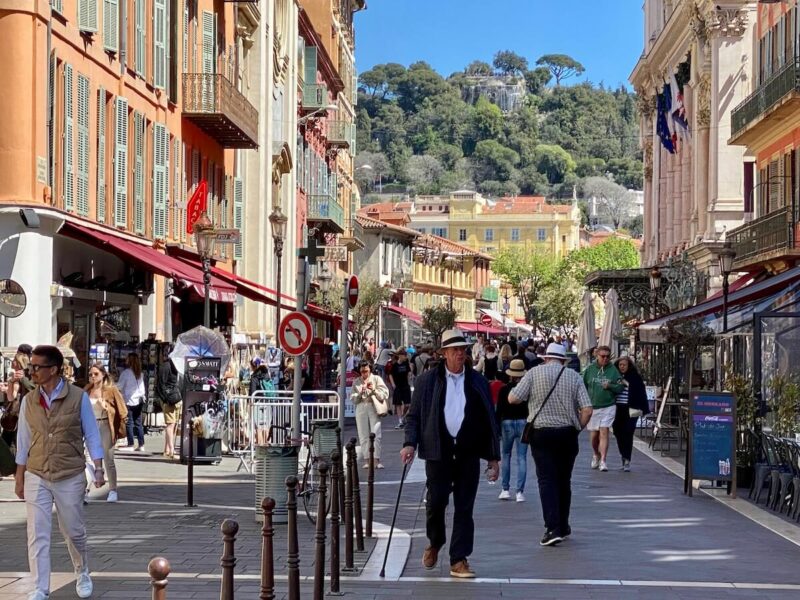 4. Explore Nice Old Town – Vieux Nice
Winding lanes crammed with weathered yellow-ochre buildings are what you'll find in Nice Old Town, also known as Vieux Nice.
Situated between the Quai des Etats Unis and Place Massena, the Old Town is an atmospheric place to shop for Provencal specialties such as lavender soap and olive oil.
It's also a great place to eat ice cream. When you're tired of sightseeing take a sweet break at Fenocchio at 2 Place Rossetti.
At this popular Vieux Nice landmark you can dive into fun flavours like Lavender and Flower of Orange Tree or the intriguing-sounding Pie of Overripe.
Or, be like my husband and opt for (boring) vanilla.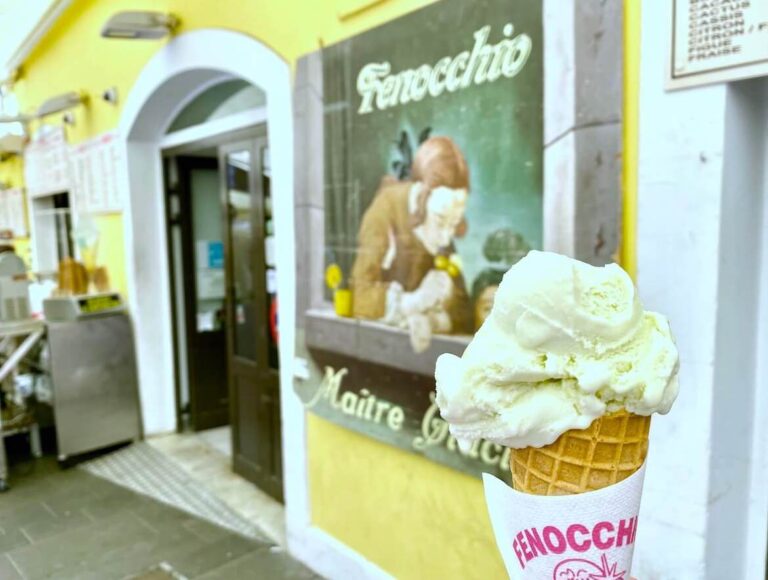 The best ice cream shop in Nice is a hotly debated topic. Some prefer Azzurro on Rossetti Square.
I'm partial to Fenocchio because they have a few outside tables and a toilet – but wherever you indulge, eating ice cream is one of the most fun ways to experience Nice.
When to Visit the Old Town
Go to Vieux Nice in the morning when the market at the Cours Saleya is bursting with fresh flowers, or straggle in during the evening when the cafes and cocktail bars are lively.
One way to explore it is with a Cultural and Gourmet Walking Tour of Old Nice.
Prefer a private guide? Check out a Private Walking Tour.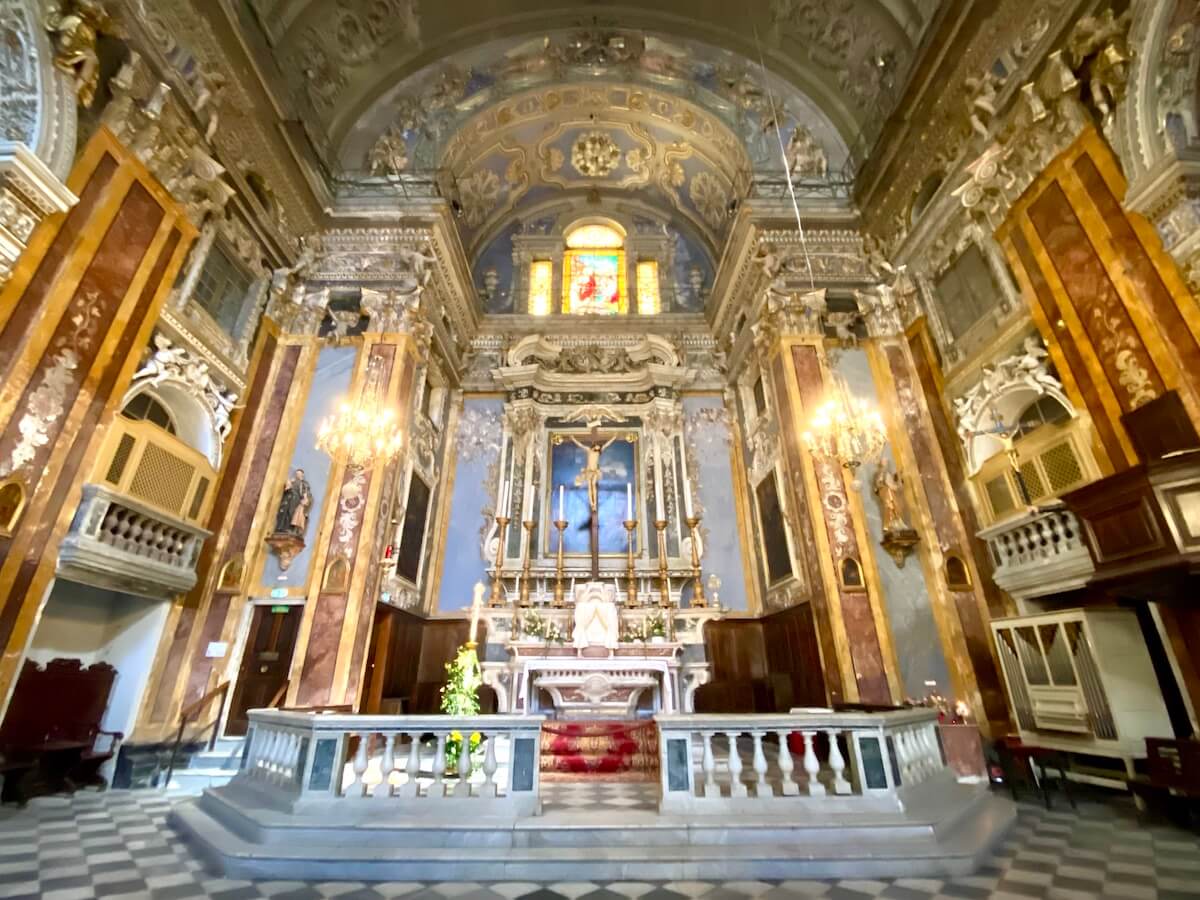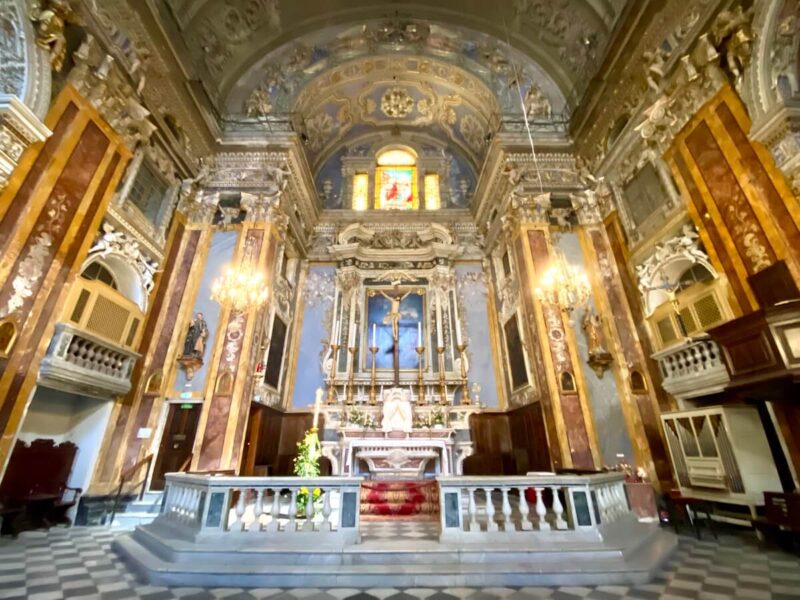 5. Check Out the Baroque Architecture
When you're visiting Nice Old Town, keep an eye out for some prime examples of the city's Baroque architecture.
Baroque, a wonderfully excessive style, dates from the end of the 16th century to the early 18th century, and is a quintessential part of Old City Nice.
Here are three Baroque buildings to spot:
The Chapelle de la Miséricorde
With its unexpected circular walls and windows and fresco-filled interior, the Chapelle de la Miséricorde is apparently one of the top Baroque churches in the world.
Address: 2 Place Pierre-Gautier on the north side of the Cours Saleya.
Full confession: The last two times I tried to visit it was closed. Let me know if you have better luck.
Eglise de Gésu
Another Baroque masterpiece is the small Eglise de Gésu at 12 Rue Droite.
Built in the 1600s, its pale blue and yellow facade is a delight and its interior will satisfy all your cravings for cherubs, gilt and marble.
The Palais Lascaris
The Palais Lascaris is both a museum and historic monument with frescos and luxe salons. Built in 1648 for the aristocratic Lascaris-Ventimiglia family, it was restored in the 1960s and opened as a civic museum.
Address: 15 rue Droite. Closed Tuesdays.
6. Visit Place Massena
It would be hard to tour Nice and not stumble upon the grand Place Massena.
Nice's impressive (and busy) main square sits majestically between the New and the Old Town. With its striking red buildings and checkerboard ground, it's eye-catching indeed.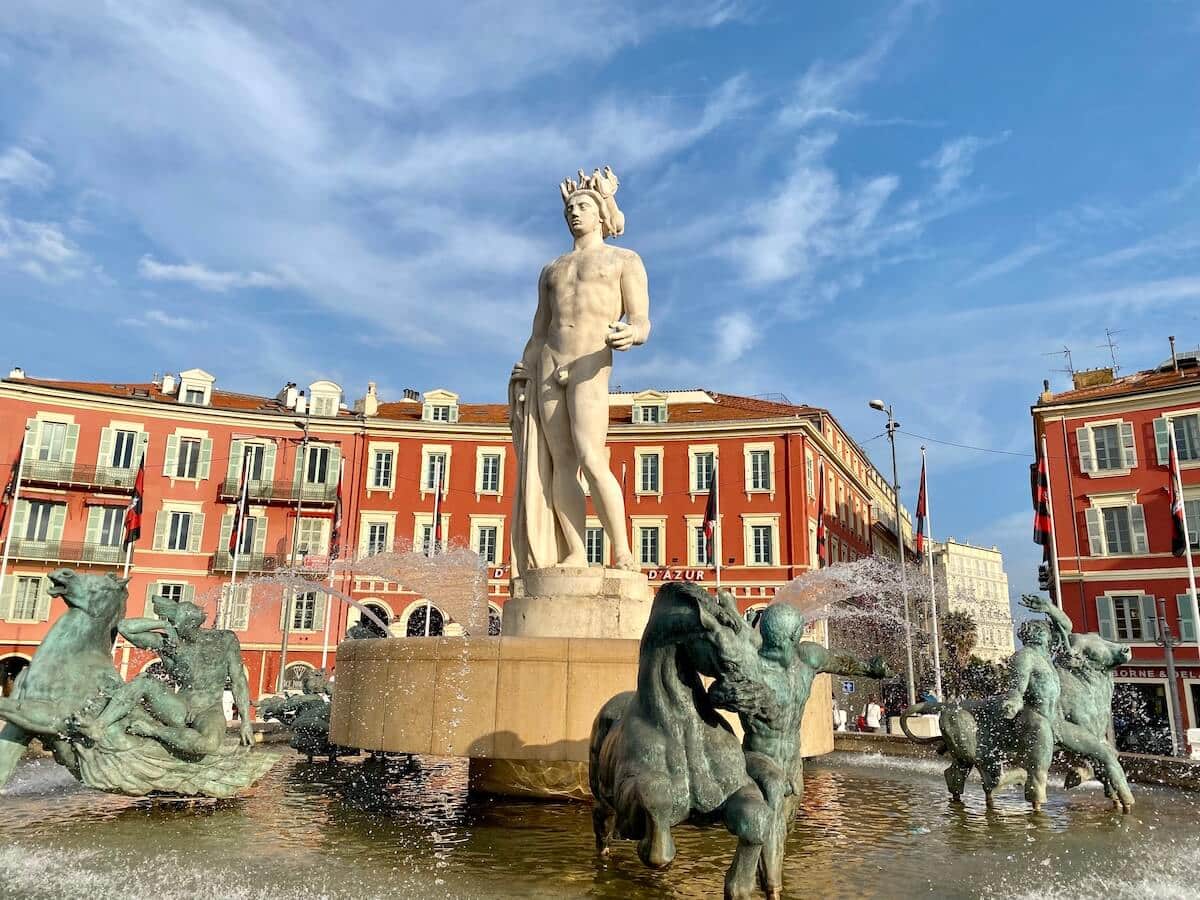 7. Learn about the Scandal of the Sun Fountain
Smack in the middle of the Place Massena is the Sun Fountain, the the Fontaine du Soleil.
Among the top Nice tourist attractions it may be the most scandalous: When it was unveiled in 1956 onlookers gasped in shock.
The seven-metre (23-foot) marble statue of Apollo in the centre of the fountain drew second, third (and possibly) fourth horrified looks.
Not only did Apollo have a crown of four horses on his head, but the seven-ton god also had, er, a rather large member.
The Rebirth of the Sun Fountain
The poor sculptor, Alfred Janniot, had to chisel it down to size. Only perhaps he took his task too much to heart because Apollo went from being a seriously large Greek god to being ridiculed as 'The Virgin.'
Even so, the Catholic League of Feminine Virtue (I'm not making this up) gathered enough support in the 70s to get the offensively nude statue removed, and the once mighty Apollo was banished to a new home outside a sports stadium.
Don't despair. In 2011, with great aplomb, Apollo regained his rightful home in the Place Massena, where you can still get a gander at his chiselled-down privvies today.
8. Don't Miss the Musée Marc Chagall
Painters and sculptors have long found the South of France irresistible, attracted by its luminous light, enjoyable climate and sensual lifestyle, so it's no surprise the city is a treasure trove for art fans.
When it comes to the best cultural attractions in Nice, the Chagall Museum is my top choice, even if the Matisse Museum gets more buzz.
Glowing like illuminated gemstones, Chagall's 17 major Biblical Message tableaux line the walls and conjure up a vibrant world where magic, folk art and creative sophistication meet.
The Musée National Marc Chagall is at Avenue Docteur Ménard. Closed Tuesdays.
9. Visit the Musée d'Art Moderne et d'Art Contemporain
The very urban Museum of Modern and Contemporary Art (MAMAC) covers major art movements from the 1960s on. You'll find big names such as Niki de Saint-Phalle, Andy Warhol and Fluxus.
Speaking of Fluxus, I saw these conceptual art stars at a performance in Seoul, Korea, years ago, and will never forget them putting a rose in a blender and drinking it. To this day I wonder what a rose smoothie tastes like.
MAMAC is at Place Yves Klein. Closed Mondays.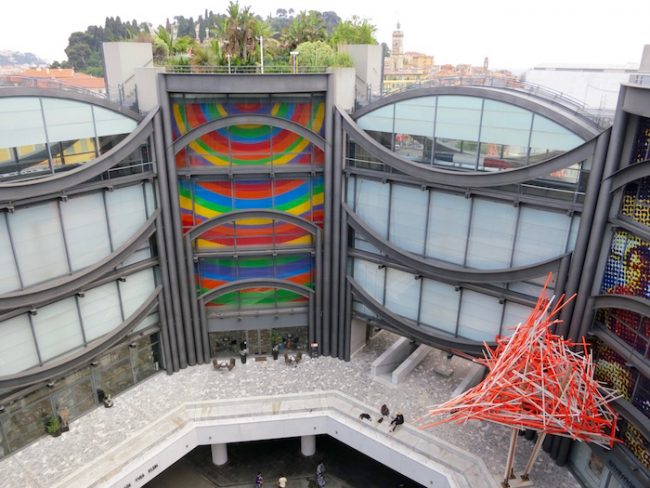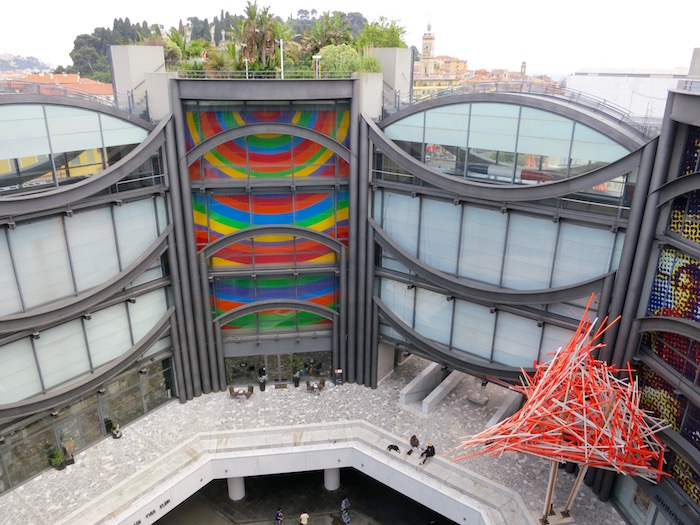 10. Visit the Musée Matisse
To see the renowned Matisse Museum head to the very posh Cimiez district, one of the best neighbourhoods in Nice and nicely off the main tourist track.
The great master Henri Matisse originally came to Nice to try and cure his bronchitis, but ended up staying on and off for the rest of his life.
The Matisse Museum, housed in a lovely red-ochre villa, has a collection of his work that includes sculpture, paintings and cutouts.
Address: The Musee Matisse is at 164 avenue des Arènes de Cimiez. Closed Tuesdays.
Check out this half-day tour tour that includes the Matisse Museum.
11. Tour the Cimiez District
If you're already in Cimiez to visit the Matisse Museum, take the opportunity to check out more Nice attractions in this fashionable 'hood.
Surrounding the Matisse Museum, you'll find the remains of a Roman settlement.
Nearby you'll find the Franciscan Monastery and Museum (closed Sundays) that dates back to 1546. It's a popular stop for its gardens and 15th-century masterpieces by the famous Niçoise artist Ludovic Bréa.
Across from the Matisse Museum, you can see the imposing Regina building where Matisse once lived. Now a swanky apartment building, it was originally built as a grand hotel and helped draw those monied English aristocrats.
Nice's most venerable fan, Queen Victoria, would stay here for up to six weeks at a time. In fact, it was built with her in mind.
(As an irrelevant side note, I once tried to get a vacation rental in the Regina but someone snatched it before me. Rats.)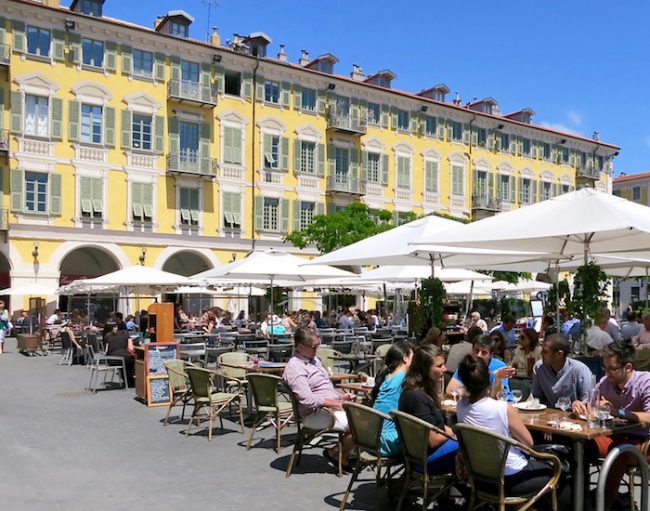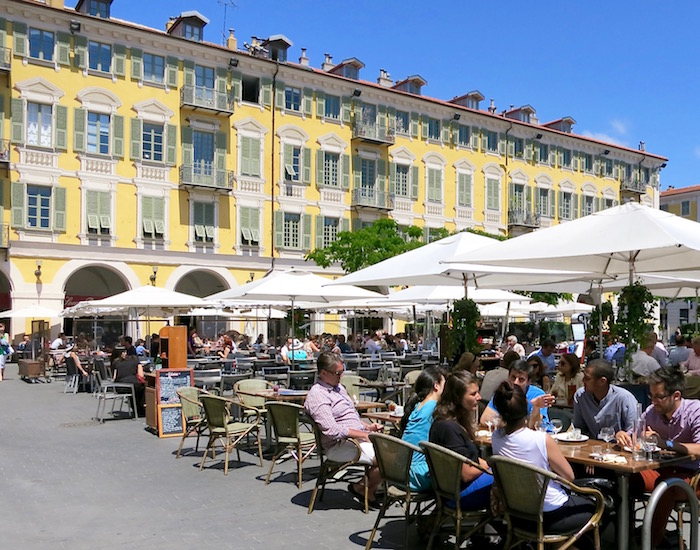 12. Eat in a Top Nice Restaurant
Eating well is part of every vacation in France, and Nice is no different. Here are a few recommended restaurants in Nice.
Seafood at Peixes
For fresh seafood in a casual atmosphere with a maritime theme, try Peixes Restaurant at 4, rue de l'Opéra Nice, France 06300.
Health Food at Badaboom
Need a fennel fix, some gluten-free dining or a fresh smoothie? Try the health-focused Badaboom Bistro at 11, rue François Guisol.
Fine Dining at Le Chantecler
This 2-star Michelin restaurant in the Hotel Le Negresco offers a gastronomic exploration of Provencal-inspired food.
Have a Meal With a View at La Terrace
Located in the rooftop of Le Meridian Hotel, La Terrace is one of the highest points on the Promenade des Anglais.
Try the Local Cuisine at La Merenda
Run by pedigreed chef Dominique Le Stanc, La Merenda is a small restaurant in the Old Town that serves regional dishes such as fried zucchini flowers, tomato pie and stuffed sardines. You can't make reservations ahead of time. It's part of the charm.
Rue Raoul Basio, 06300 Nice, France.
13. Eat a Salade Nicoise
Since we're on the topic of local cuisine, it's hard to ignore the city's namesake salad.
There are raging debates about the proper way to make this humble dish, which, when it was developed in the 19th century was described as "simple food for poor people."
What is a Salade Nicoise?
Traditionally, a Nicoise Salad consists of anchovies or tuna, tomatoes, hard-boiled eggs, Niçoise olives and olive oil.
Whether you consider boiled potatoes a second-rated Parisian addition, or the inclusion of any cooked vegetables at all an unforgivable sin depends on if you're a purist or not.
Don't be surprised to find corn, green beans or potatoes on your plate. If you want a nouvelle version with swordfish or shrimp, you can find that too.
Just know, when you order this famous dish there is a big history behind it.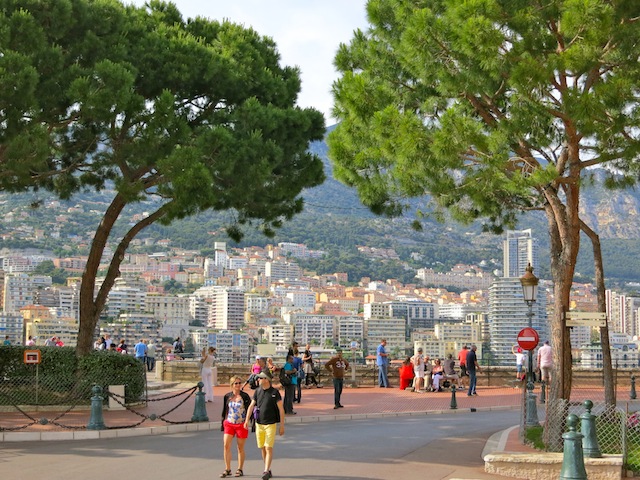 14. Take a Day Trip from Nice
One of the best things to do in Nice is to leave it – at least for a day.
Day trips from Nice are simple by train, cheap (but slow) by bus, and there are so many great destinations in the South of France region you'll be spoiled for choice.
My top picks are Cannes, Biot, Grasse, Antibes, Eze, Vence and St-Paul de Vence – and, of course, we can't forget Monaco.
You could even take a ferry over to Sainte-Marguerite Island for the day.
Read my guide to the 15 best day trips in Nice.
Guided Day Tours from Nice
If you're looking for organized day tours from Nice, you could try an affordable 5-hour tour of Eze, Monaco and Monte Carlo Tour. From $60 US. Check it out here.
Another option is a full day French Riviera In One Day driving tour from $83. Get info here.
You can also rent a motorbike to get around – but to see what I think about that read renting a motorbike in France.
15. Take a Boat Cruise
If you're staying on the Mediterranean, it would be a shame not to get on the glittering Mediterranean itself.
For a romantic thing to do from Nice try a 2-hour sunset cruise of Saint Jean Cap Ferrat from $65. Learn more here.
It's a 2.5 hour long ferry ride, but what's more swish than a day trip to Saint Tropez?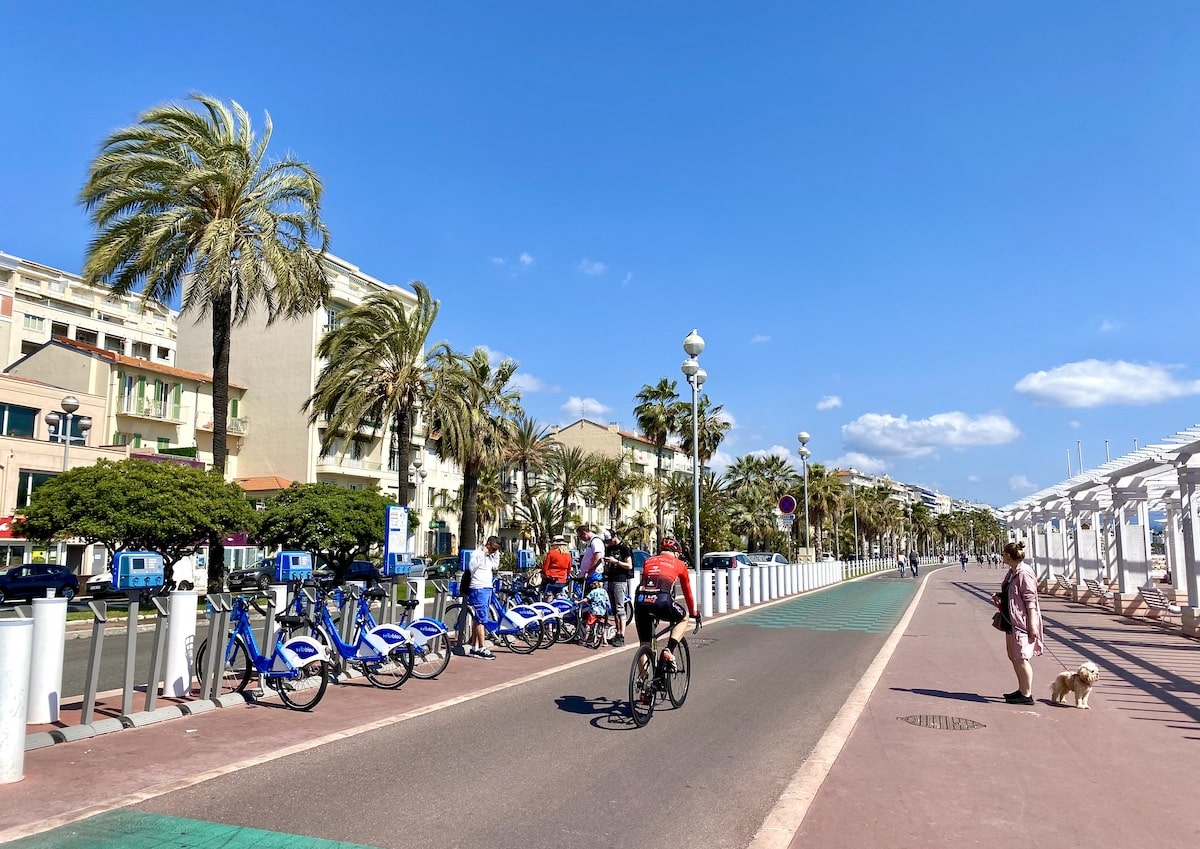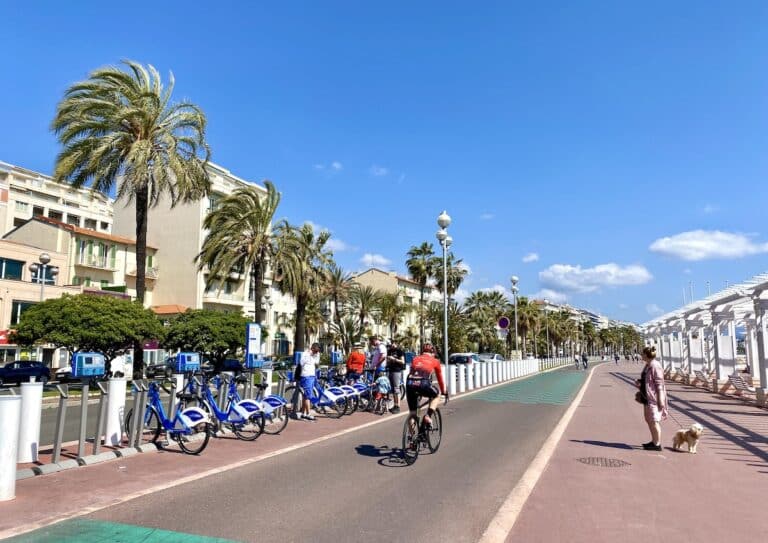 16. Cycle Nice on a Velo Bleu
The last time I rented an apartment in Nice, I became obsessed with the bike share program Velo Bleu. It wasn't so much the convenience of getting from point A to B – although that was helpful – but as entertainment in its own right.
What could be more enjoyable than peddling on the well-maintained bike lanes along the Promenade des Anglais or along one of the city's many bike lanes to one of its top museums?
With 175 Velo Bleu bike stations in the greater Nice Côte d'Azur area, and 125 km of bike lanes altogether, it's a great way to travel. It's also cheap.
How to Use the Velo Bleu
In truth, I find it confusing to figure out these bike share programs. Once you do figure it out, you can use it every day. The way it's supposed to work is that you register online on the Velo Bleu site and get a code. You can then enter the code into any Velo Bleu bike station around the city and grab a bike.
The way it worked for me was that I screwed up and had to go to the Velo Bleu office at 17 Avenue Thiers across from the train station and get them to sort it out.
You need a phone to sign up for the program.
If you don't have a local number it is easiest to go to the Velo Bleu office and beg for a badge (they don't like giving it for a short term), which you can simply tap to get a bike.
Want a cycling tour instead? You can sign up for a Nice: Panoramic French Riviera E-Bike Tour here.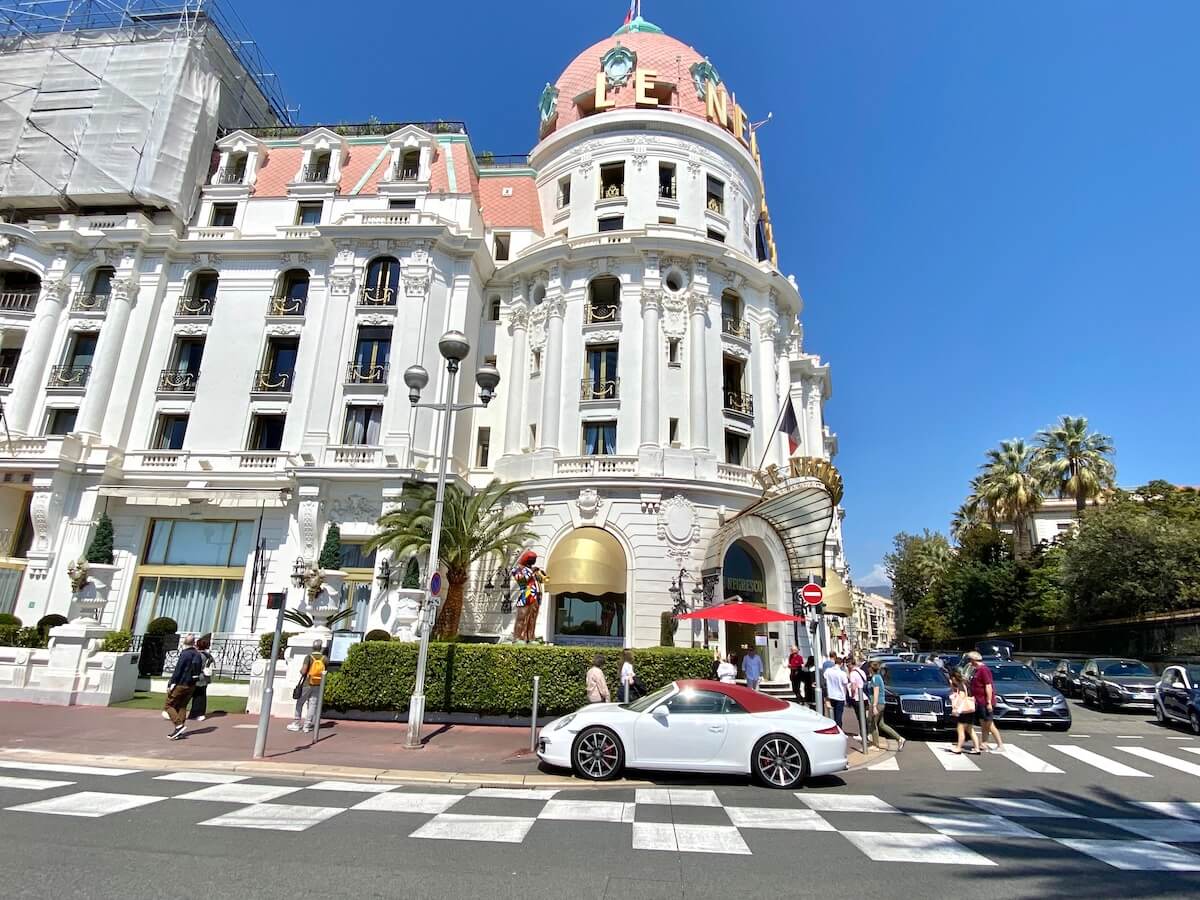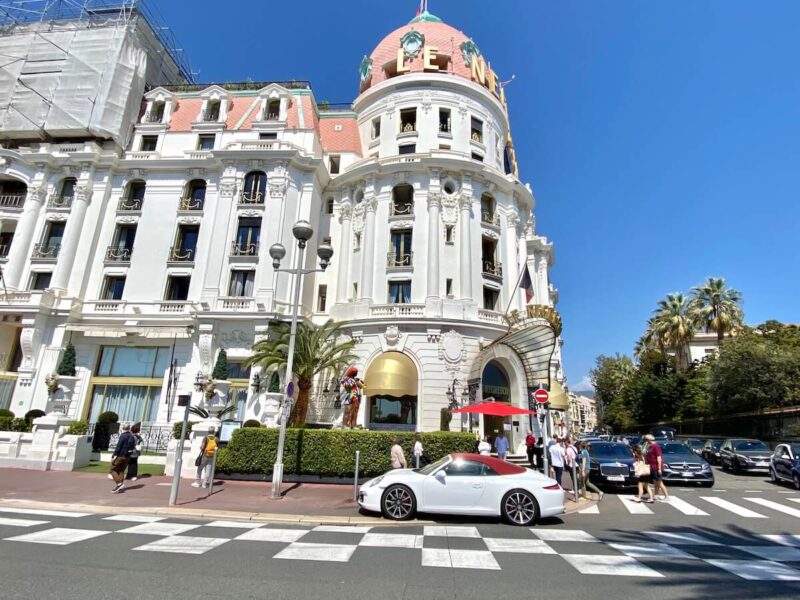 17. Stop By the Hotel Negresco
As far as glamorous places to visit in Nice go, the Belle Époque Hotel Negresco should be on your list. To my mind, it's the aristocratic heart of Nice.
Right across from the beach at 37 Promenade des Anglais, the 5-star luxury Negresco Hotel is a wacky art-filled luxury hotel built in the early 20th century.
The dome in the Royal Salon was designed by Gustave Eiffel and the chandelier was created for a Russian Tsar.
Romantic wise, one of the top things to do in Nice is to visit Le Negresco's bar for a glass of champagne (the 17th-century tapestry makes it very atmospheric) before heading out for an evening stroll on the Promenade des Anglais.
You don't even need to go inside to see one of the Negresco's top pieces in its art collection. Perched by the entrance is the unforgettable pop art sculpture of Miles Davis by superstar artist Niki de Saint Phalle.
18. Visit the Cathedral of Saint Nicholas
Built during the reign of Czar Nicholas II, the Cathedral of Saint Nicholas, Nice's Russian Orthodox Church, has dazzled visitors with its brilliant domes and spires since 1912.
After a two-year restoration, the cathedral is one of the most eye-catching attractions in Nice and is located on Avenue Nicolas-II.
Is Nice Worth Visiting?
Yes! As you can see there a lot of fantastic things to do in Nice. Personally, I'd like to spend at least three months of the year here.
Nice is one of the top places to visit in France for sightseeing, beach lounging and dining, and whether you're after a luxury vacation in France or on a strict budget, you'll find plenty of activities to amuse you.
Quick FAQs
What is Nice France known for?
Nice is a famous resort city in the French Riviera known for its beaches, it's stunning location on the Mediterranean, its laidback glamorous lifestyle and its artistic history.
When Is the Best Time To Visit?
If you want to enjoy the beaches and sit in outdoor cafes, May to September is the best time to visit Nice.
Today Nice is known as a summer destination, but surprisingly, the city's rise to tourist fame began as a winter destination in the 19th century. With 300 days of sunshine a year, it was an ideal getaway for aristocratic Brits who came to enjoy the milder climate of the French Riviera.
Is it better to stay in Nice or Cannes?
Both cities are ideally situated for day trips around the French Riviera, and both have beautiful seaside locations. Cannes has more luxury hotels but Nice has more tourist attractions and things to do.
Hotels in Nice France
Nice 5-Star Hotels
There are only three 5-star hotels in Nice, France. We can't all afford the luxury Hotel Negresco, but Nice has more hotels than you can shake a stick at (if you like shaking sticks) and you're sure to find something to suit your budget.
Usually I like to stay near the waterfront, but I've recently come back from a stay at the frothy-looking 5-star Hotel Boscolo Exedra Nice.
Much cheaper than the Hotel Negresco or the only other 5-star hotel in Nice, the Hyatt Regency Nice Palais de la Méditerranée on the Promenade des Anglais, the Boscolo Hotel is set in a beautiful Belle Epoque building just off Jean Medecin.
It has an exuberant Italian decor, a small rooftop pool and a spa with a pool and sauna downstairs.
The only issue I had was that it was impossible to get a deck chair at the pool during peak times.
Check prices for the Boscolo Hotel here. Check prices for the Hyatt Regency Nice here.
Waterfront Hotels
Nice Waterfront hotels include a trio of hotels that harken back to the past, the 3-star Hotel Le Royal Promenade des Anglais, the Westminster Hotel & Spa and the Hotel West End Promenade.
The location is fabulous but I didn't get to see the rooms.
More towards Vieux Nice (the Old Town) you'll find the more modern Hotel Beau Rivage.
For views, the luxury Hôtel Suisse is located on a rocky bit overlooking the Promenade des Anglais. But, getting better reviews is the adjacent Hôtel La Pérouse Nice Baie des Anges, which has a lovely courtyard pool. I tried to stay here but it was full so I just snooped around.
Check prices for the Hotel La Perouse Nice Baie Des Anges here.
Vacation Rentals
Alternatively, you could think about renting an apartment. (Read more about the in's and out's of vacation rentals in France.)
Visit my Things to do in the South of France travel article to get some more ideas on what you can see around the French Riviera, and which towns make great day trips from Nice.