This post may contain affiliate links.
When Is the Best Time to Visit France?
What is the best time to travel in France? Put it this way: You'll find champagne year round and the Eiffel Tower is open in all four seasons, but your experience will change dramatically depending on what time of year you go.
Here's a guide to the best times to go to France, summer vs winter. And hey, don't forget spring and fall.
Should You Go to France in Winter?
There are certainly benefits to traveling to France in winter. Christmas season is magical with elaborate window displays in Parisian department stores, bustling Christmas markets in places like Strasburg and Lille, and pâtisseries selling tempting specialties like gingerbread and Christmas logs.
If you're into culinary travel, one of the best places to go in France in winter is the city of Lyon. Its famous food scene doesn't shy away from hearty meat-heavy dishes, and what better way to warm up than that? Plus, you can catch Lyon's magnificent Festival of Lights in December.
France is Less Crowded in Winter
When the weather gets damp and cold, the crowds fade away – at least to a certain degree. Some towns get positively deserted (hello, St-Jean-du-Gard).
With the exception of school holidays, you'll find that France in the off season is your oyster when it comes to seeing its top sights with fewer lineups. And speaking of oysters, Christmas and New Year's are the time to eat them in France.
Skiing and Snowboarding
France has a huge variety of slopes and ski villages – the largest selection in Europe – and no country does winter sports like France. (Well, okay. Switzerland is a contender.)
But really. Picture yourself in a Henri Duvillard ski jacket, powder flying as you whip down the slopes of Courchevel. Or perhaps you prefer the glitzy après ski vibe of Méribel.
Of course if you want to ski in France there is also the family-oriented Club Med at Peisey Vallandry or the expert slopes of Val d'Isère.
Europe is Cheaper in Winter
November is one of my favourite times to travel to Europe because of low season prices. While France isn't one of the cheapest places to travel in Europe in winter, it's one of the best places to get luxury at a lower price.
Airfares can be significantly less, and hotels more affordable – and affordable luxury is my favourite season of all.
Granted, hotels that appeal to business travellers can still be high priced, but at least you don't have to compete with as many tourists for the deals.
The Winter Sales Make Shopping Ideal
Another way to save money by traveling to France is to spend. (That's the logic of my brain so let's go with it.)
January is when the government-controlled sales, the soldes, start. Yes, seriously. The government mandates sales. This is the time to get that Chloe jacket you've been eyeing since September.
Okay, there are also sales in July, so that might even out the France summer vs winter debate, but it's still a good reason to travel.
Paris in December is Magic
Paris shows off its chic in December. Sparkling lights and Christmas decorations drape the city like a Dior gown. From the spectacular window displays of Galleries Lafayette to the twinkling Christmas trees on the Place Vendôme, Paris at Christmas is the City of Light times ten.
Loire Valley Chateaux at Christmas Are Magnificent
Not to be outdone by Paris, the grand Loire Valley chateaux at Christmas like to dress up, too. Their lavish floral displays, blazing lights and festive decor bring a cozy warmth to those stone palace walls.
Check out my video of the Loire Valley castles at Christmas:
Museums are Better in Winter
It can be hard to focus on a museum when the sun is shining outside and outdoor cafés are calling. When it's miserable out, things change.
Pondering revolution while standing in front of Delacroix's epic painting Liberty Leading the People at the Louvre, or learning about the Norman conquest as you shuffle past the Bayeux Tapestry in Normandy seems more engrossing.
You Can Still Find Sunshine
Did you know the South of France was originally a winter resort? Today it's known as a summer destination, but French Riviera cities like Nice first became popular with upper crust Brits in the late 1700s. This is because its mild winter climate made it known as a health destination.
Many of the holiday resorts close up, and you can forget about beaches, but larger centres such as Nice or Monte Carlo still show plenty of life. Most importantly, the region gets 330 days of sunshine a year.
The Downside of France in Low Season
The rainiest months in France are November, December and January. There is no way to sugarcoat being cold and damp in France.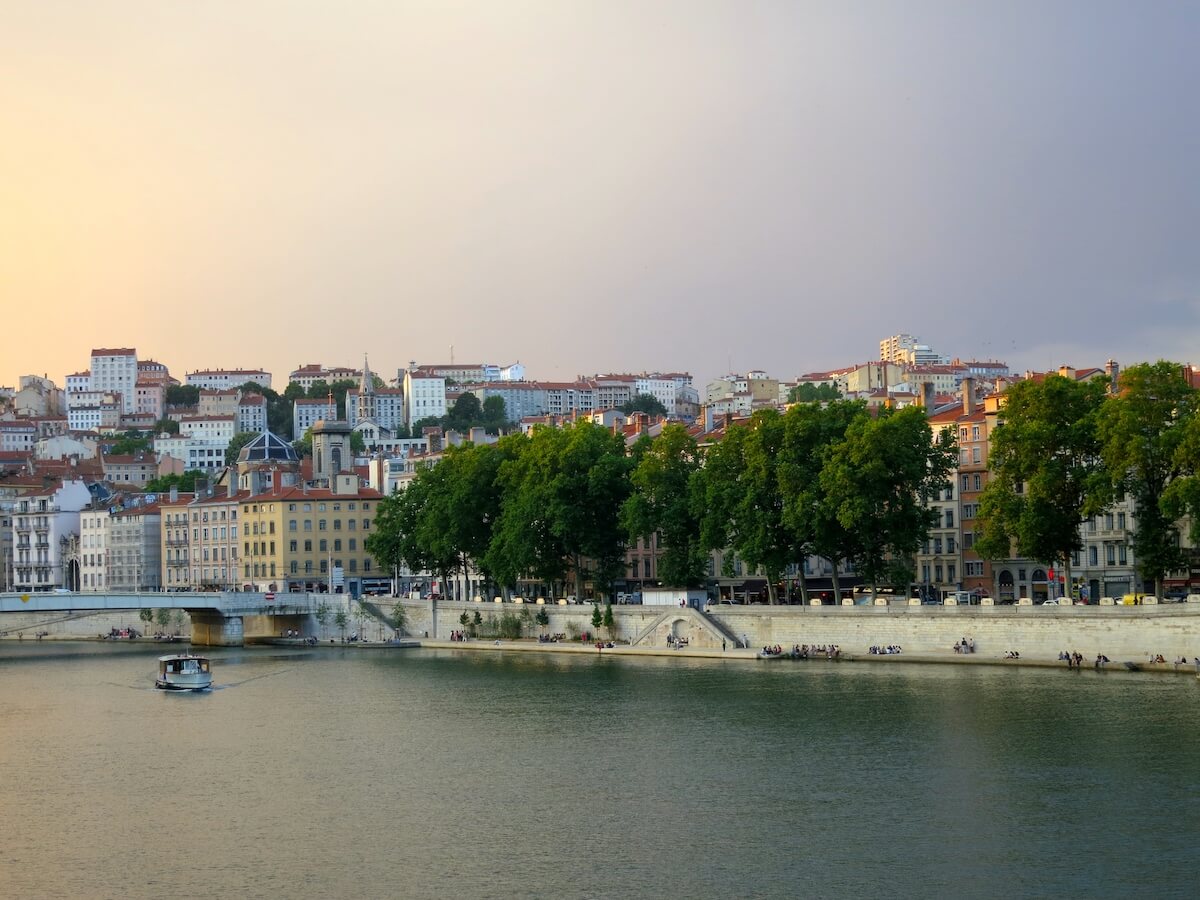 Is Summer the Best Time to Travel to France?
Summer Sunshine
It's hard to argue with gorgeous weather on a trip to France. Meander through tiny lanes, picnic by the Seine, salivate over perfectly-curated window displays in Strasbourg or hike through the wild hills of the Cevennes.
There's no getting around it. Most travelers would say summer is an ideal time to visit France. You can travel lighter, stay out longer and mingle with travellers and locals outdoors.
The South of France in particular is one of the best places to visit in France in summer. With the long days, refreshing sea breeze and luminous light, a trip here seems to stretch out in endless beautiful days.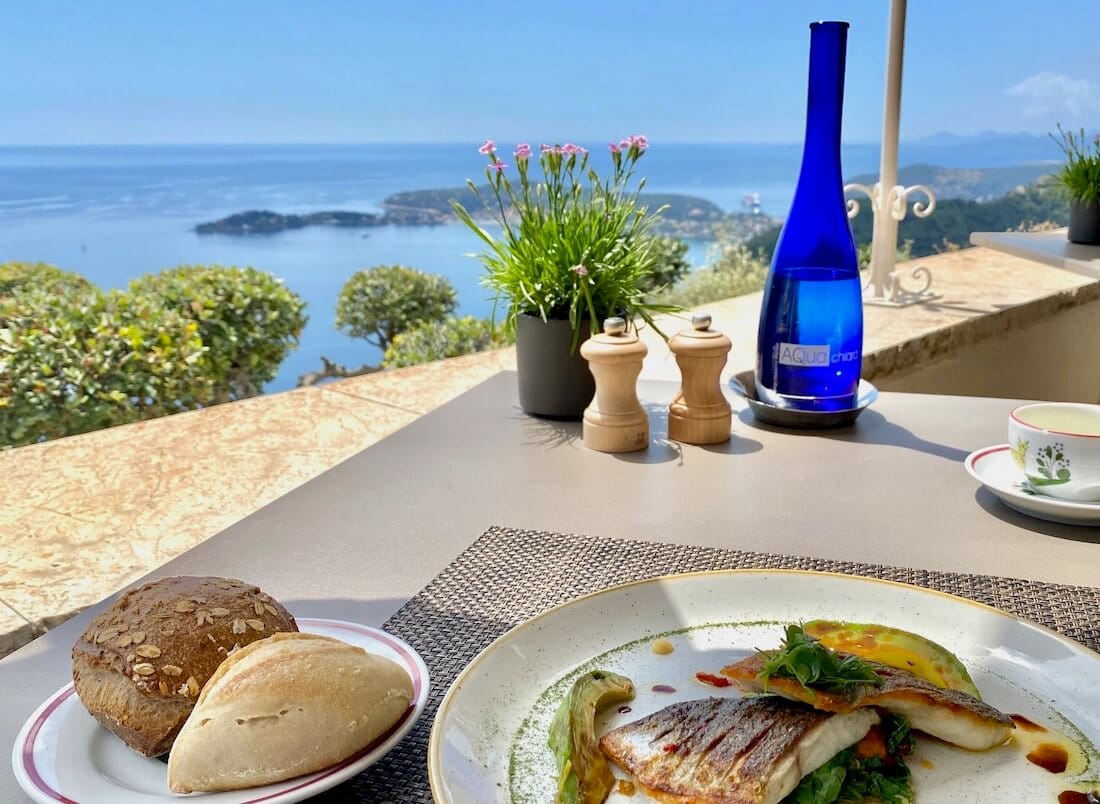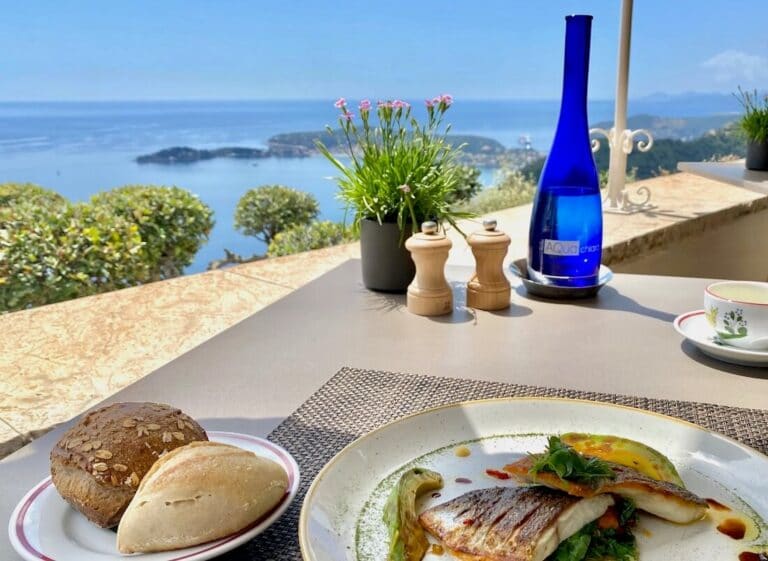 Beaches
With some 3400 km of coastline, France oozes summer fun. From the jet-set scene in Monte Carlo and the French Riviera to Biarritz on the Bay of Biscay, and posh Deauville in Normandy (where Coco Chanel had her first shop), the beaches of France beckon.
The summer months are a time when France glistens, bronzes and glows.
Longer Hours
Don't let this headline mislead you. An hour always has 60 minutes no matter what season you travel to France. The point is, many attractions have extended hours in the summer.
Markets and Fresh Produce – the Bounty of France in Summer
One of my top memories of France is of a cantaloupe. Yes, a cantaloupe.
My husband and I had rented a villa near Provence and the cantaloupes we bought at a roadside market were nothing like the pale bowling balls I'd tasted earlier that winter in Canada. These were lush, juicy and a rich sunset orange.
The abundant fresh produce, the fun of shopping at outdoor markets and eating on our little terrace surrounded by wild flowers and bees the size of Zeppelins convinced me summer was an amazing time to vacation in Provence.
The Downside of Summer Travel to France
Crowded streets and high prices in the popular destinations like Paris, Nice and Cannes are enough to scare anyone.
Is it too hot? While sunshine is a gift from the gods, I've also sweltered in Paris in an apartment with no air conditioning. Paris in a heatwave is rough. Personally, I find the city better in spring and fall, when it's not quite so sweltering.
Some shops and restaurants close in August as this is the time locals take vacation, but I've never found this to be a big issue.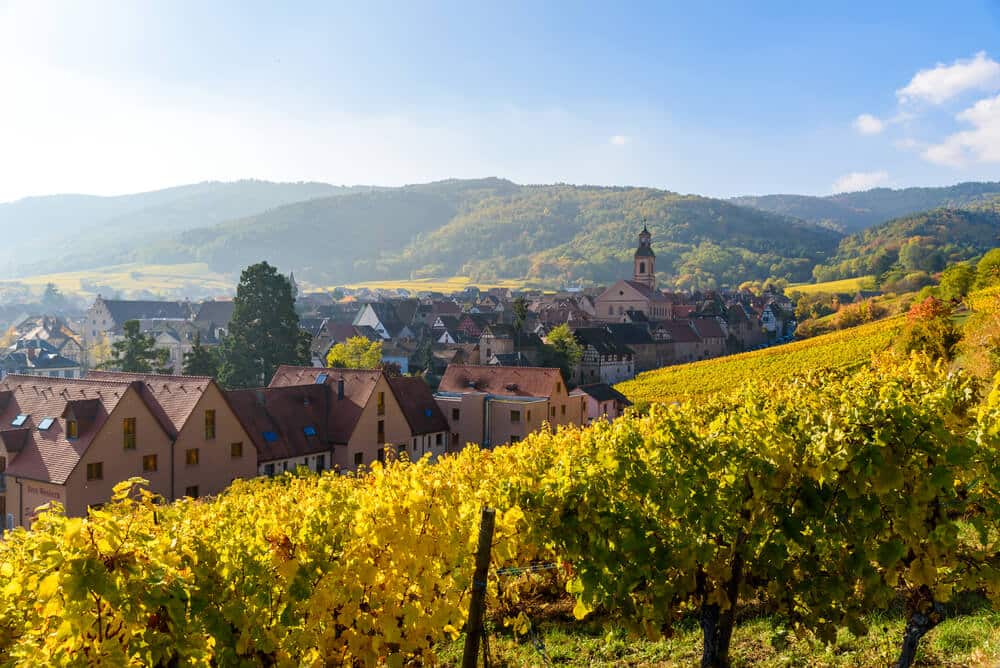 France in Fall
Fall is an optimal time to travel to France. It's the time of year when the crowds thin out, the weather is mild and the fall colours (and fashions) are in full swing.
It's also the season when grapes are harvested, opera season begins and the cities are alive and ready to get back to business.
September and October have fairly warm weather and the sun still shines. Temperatures still tend to be balmy, though it can be unpredictable the more north you go.
What can you do in France in fall? September and October are great months to visit wineries, attend fall festivals and enjoy the glorious colors of autumn. Without the intense heat of summer, fall is the ideal season for hiking, cruising and sightseeing both indoors and out.
The Downside of France in the Fall Season
Personally, I don't see many reasons not to travel to France in fall, but there are some things to consider.
Opening hours might not be as long as in summer, and some smaller attractions could close altogether. As you get more into November, the worse the weather can be.
Watch out for Fashion Week in Paris as it could be tricky to book a hotel. Not to mention trade fairs – they can book up rooms as well.
If you're after a beach vacation, you could be out of luck as many resorts close up shop, and the weather cools down.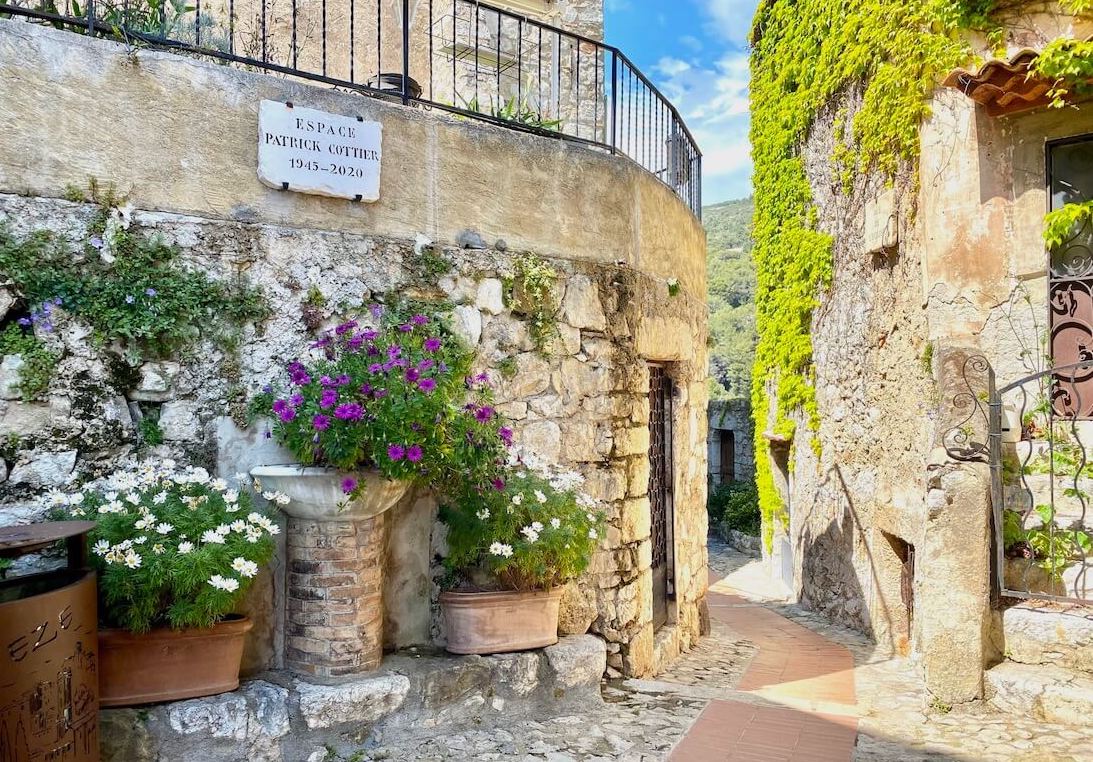 France in Spring
Spring is a terrific time to visit France. Come April the country yawns and stretches its way out of its winter torpor.
Here's a quote by Henry Miller that says it all: "When spring comes to Paris the humblest mortal alive must feel that he dwells in paradise."
T.S. Eliot may have said April is the cruellest month, but it's also a time of renewal. The storks have returned to Alsace, park fountains burst to life and warmth-deprived citizens soak up the sun in historic Paris cafes.
Gardens are Blooming
There is no better time than spring in France to smell the daffodils and narcissi at the Gardens of Giverny (open April to November) or photograph cherry blossoms under the Eiffel Tower.
Strolling through Paris's Jardin des Tuileries (built for Catherine de Medicis in 1564), visiting Monet's spectacular gardens at Giverny, or being awed by the stately Gardens of Versailles prove that France in the spring truly is a bouquet of roses.
Shoulder Season Means Better Prices
March and April are shoulder season months. This means hotel prices aren't as high (I'm talking to you, Monaco) as in summer, and the crowds of tourists aren't as thick. I've found you can still get some decent hotel deals in early May.
The Downside of France in Spring
The weather in spring can still be cool. I was surprised to need a jacket in Nice at the end of April, though May was glorious.
If you're after a beach holiday, you're unlikely to get it in April. By late May you'll have better luck. Overall, many travel experts insist spring is the best time to visit France, and it's a hard case to argue.
Best Months to Visit Different Parts of France
Depending on what kind of trip you're after, whether it's a luxury escape, a sightseeing extravaganza or a laidback beach vacation, anytime can the best time to visit in France. So, let's get more specific:
What is the Best Month to Visit Paris?
I'm partial to May, September and October. Christmas in Paris is a fantastic option for the lights alone.
When is the best time to go to Paris if you're after better prices and fewer crowds? I often end up visiting Paris in November. It's not the optimal time in the city weather wise, but it does have its good points.
If you're traveling to Paris with limited mobility, May and September are good options.
Best Month to Visit Nice and the South of France
Nice and the South of France is at their best in June, July and August if you want to catch it in full swing. May is superb as is September – these months are my preference as it's not quite so crowded but still warm.
The Cannes Film Festival in May is insanely fun, and the Monaco Grand Prix in late May or early June draws the jet setters.
Best Month for Provence
In July the lavender fields bloom – a sight that draws thousands. Sunflowers are another big draw and you'll find them in August and September. October for fall colors and vineyards.
Best Time to Go to the Champagne Region
In late September you can catch the fall harvest and this is when most tourists head to Champagne. That said, you can visit champagne cellars right from May to November, but many close during winter.
When to Visit Normandy
If you want to catch good weather in northern France you'll probably want to go in late spring, summer or early fall.
Best Month to Visit the French Alps
Skiing at Christmas and New Years in the French Alps means festive evenings and outdoor fun during the day. In January it will be more quiet, but watch out for school holidays in February.
July and August are, of course, busy times for holidays in the mountains, and September is idyllic.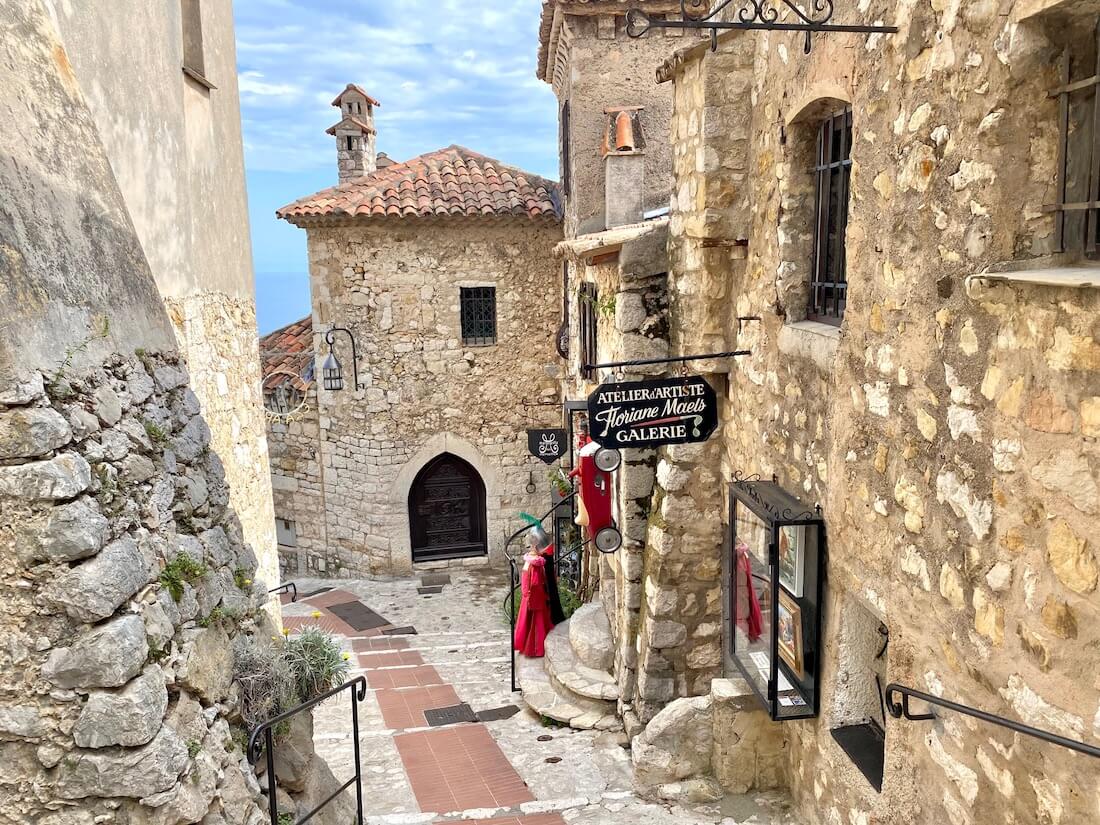 Choosing the Best Time to Go to France
To avoid crowds, get decent weather and see France at its finest, I'd visit France late spring or early fall.
When deciding when to go, first consider what you want. If it's a cultural trip filled with museums, palaces and delicious cuisine, you can go anytime of year.
For beaches, high season beckons.
For skiing, January is lower priced than February or Christmas.
For affordable luxury, November and March are good bets, but you'll be contending with iffy weather.
Ultimately, when to go to France depends on you and your schedule. Each time of year has unique draws and benefits, and whenever you decide to travel you'll find some amazing things to do.