This post may contain affiliate links.
Traveling to Paris? Here's a simple guide chock full of Paris travel tips on how to get around, where to stay, and things to see and do.
Paris Tips for Travelers
Have you ever popped out of a Paris metro station, suitcase in hand, feeling completely overwhelmed? I have. Of course those were my I'm-a-free-spirit-and-don't-need-to-plan days of travel.
Since then I've learned that when every hotel is 'complet,' and jet lag is punching your eyeballs from the back of your brain, your free spirit can wilt like a Monet waterlily in a drought.
A little planning can go a long way, so here are some Paris travel tips to help you.
Who Are These Paris Travel Tips For?
Whether it's your first time to Paris or you're a veteran traveler in need of a refresher, these Paris tips and tricks are for you.
Ater all, we can't all be like Emily in Paris who slides into the city with an incredible job, makes instant friends and has a handsome Frenchman living downstairs. (Don't even get me started on her wardrobe.)
Even a young ingenue like Audrey Hepburn in Sabrina, a young ingenue who travels to Paris for a Vogue apprenticeship, needs basic advice. So, whether you're in the planning and dreaming stage of your trip to France, or already here, these top tips for traveling to Paris should help you.
Tip for Emily in Paris fans: You'll find the location of her apartment at the Place de l'Estrapade in the 5th arrondissement.
Getting Around
Tips for Getting into Paris from the Airport
To start off with, you need to get into Paris, whether you arrive by plane or train. There are various options for airport transfers such as shuttles, private cars and trains.
Taking the Train from the Airport
If you're flying into Charles de Gaulle Aeroport (CDG), it's probably easiest (other than an expensive taxi) to take the suburban train called the RER B (Blue line) from the airport in the direction of Paris.
Stops include the Gare du Nord, St Michel/Notre Dame (good for the Latin Quarter) Luxembourg, Denfert-Rochereau and Cité Universitaire. You can buy a train ticket right at the airport.
Getting into Paris from the Airport by Bus
From Orly Airport you can take the Orlybus to the Denfert-Rochereau Metro Station.
From Charles de Gaulle Airport you can take the RoissyBus to Paris-Opéra Station.
Air France runs buses to both airports.
Paris from the Airport by Taxi or Uber
Currently, there is a flat rate for a taxi of €50 from Paris-Charles de Gaulle airport to destinations on the Right Bank, and €55 to the Left Bank.
From Paris-Orly the price is €35 to the Right Bank and €30 to the Left.
Uber is popular in Paris, too.
Tips for Traveling Around Paris
Paris, you need to get around. The Paris Metro is convenient, connects directly to the RER and is moderately easy (At least most people say easy. I still get mixed up.)
You can buy a single ticket at the station, a carnet of 10 tickets or a travel pass. Hold on to your ticket as you'll need it to exit the station.
Paris tips for using the Metro: Single metro tickets are slowly being phased out by the Easy Navigo Pass. You can buy a pass for a couple of Euros at any station or select shops, then load it up with money for discounted tickets.
What's the Difference between the RER and the Metro?
The Paris RER, as opposed to the Metro, is made up of commuter lines that travel into Paris. In central Paris the RER works much like the Metro, but the lines extend out farther to places like Versailles and Disneyland Paris.
For day trips to places such as Giverny, you'll need to take the train proper.
Tourist Information
Now comes the exciting part: Planning what to do in Paris once you're here. For maps, reservations, and info on attractions, events and day trips, you'll find official tourist information points at:
The Pyramides Welcome Centre at 25, rue des Pyramides.
The Gare du Nord Welcome Centre at the Gare du Nord train station 18, rue de Dunkerque Paris.
A Paris Tourist Office partner can be found at the Reception du Carrousel du Louvre at 99, rue de Rivoli.
When is the Best Time to Visit Paris?
The best time to go to France is any time, but personally, I find July and August in Paris very hot and crowded. It's still fun! Christmas season in Paris is a delight with all the lights and window displays.
Overall, however, spring and fall are the best times to go to Paris.
Things to Do in Paris
A popular option for visiting Paris is to wander the streets aimlessly. You'll want to do plenty of that, but between sitting in cafes and soulful walks along the Seine, you'll want to see the sights.
Here's a list of top Paris landmarks not to miss.
You'll find more detailed information on these top tourist sights at my 10 Best Things to do in Paris article.
Top 10 Paris Attractions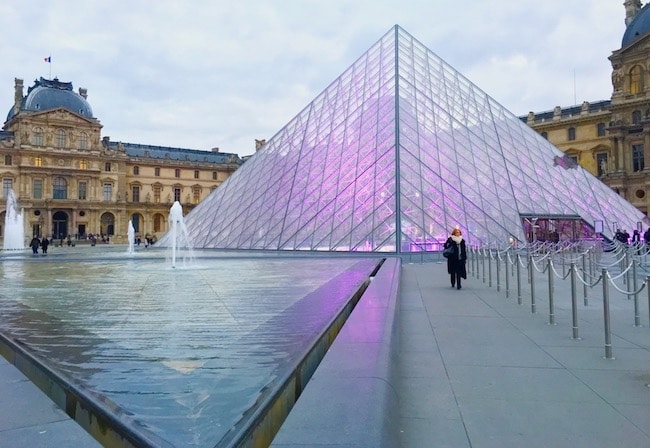 1) The Louvre
It's hard to top a visit to the largest museum in the world, especially when it houses the Mona Lisa. Located in the heart of Paris, the Le Musée du Louvre embraces some 35,000 treasures.
Tips:
Buy your ticket in advance to access the priority lineup at the Pyramid entrance.
Take advantage of late night openings to avoid crowds. Wednesday and Friday nights until 9:45 p.m.
2) Notre Dame Cathedral
After a tragic fire gutted Notre Dame on April 15, 2019, it's a shell of its former self but due to reopen in 2024. Until then, a walk by will have to suffice.
Tip:
You can at least visit the Parvis de Notre-Dame. This is the space in front of the cathedral entrance. It's the Point Zero marker for France, making it the very center of Paris.
3) Eiffel Tower
Of course you have to see the famed Eiffel Tower, the wrought iron beauty built for the 1889 World Fair. And then the crowds will drive you crazy and you will be happy seeing it from a distance forever more.
Eiffel Tower Tips:
Yes, you can climb the Eiffel Tower, at least to the 2nd Floor. It should take about half an hour.
Make it a luxury experience – The Jules Verne Restaurant 125 metres up is a Michelin-starred restaurant with far-reaching views.
4) Musée d'Orsay
If Impressionist art is your thing, you can't go wrong with gazing at the Degas and Renoir paintings in the celebrated Musée d'Orsay on the Left Bank.
Musée d'Orsay Paris Travel Tips:
The Musée d'Orsay is free on the first Sunday of the month.
Luxury note: The Musée d'Orsay Restaurant is a high-ceilinged masterpiece with gilt, chandeliers and ornate frescoes.
5) Arc de Triomphe
This powerful war monument dedicated to the glory of the French military is the commanding star of the Place Charles de Gaulle.
Tip for Visiting the Arc de Triomphe:
Head here around 6:30 p.m. for sunset views and to see the lighted flame on the tomb of the unknown soldier.
6) Cluny Museum
The National Museum of the Middle Ages, the Musée de Cluny, is a 15th century delight. It houses Roman ruins, gothic statues and the famous Unicorn Tapestries. There is a lovely medieval herb garden outside.
Cluny Museum Tip:
Look out for the Lady and the Unicorn tapestry. You might recognize it from the Gryffindor common room at Hogwarts.
7) Versailles
The most popular day trip from Paris is the Palace of Versailles, a vision of royal luxury (and excess).
Tip for visiting Versailles:
The lineups can be horrendous, so it's best to book a skip-the-line guided tour. You'll still have to go through the security line but it cuts the wait time down substantially.
8) Sainte-Chapelle
This soaring, yet intimate, gothic chapel is treasured for its unforgettable stained glass dating back to 1248.
Tip for visiting Sainte-Chapelle:
Save money with a combination ticket for Sainte-Chapelle and the Conciergerie, a royal residence turned prison that held numerous ill-fated aristocrats during the French Revolution, the most famous being Marie-Antoinette.
9) Montmartre
In the mid 1800s, this lively neighbourhood atop a 130-metre high hill was the place for decadence, art and incredible creativity. The imposing Sacré-Coeur Basilica offers one of the most sensational views in Paris.
Montmartre Tip:
Don't stick to the crowded touristy main square. Veer off onto the side streets for a real taste of the neighborhood.
10) Champs-Élysées
Love it or hate it, the tourist-laden Champs-Élysées is probably the most famous avenue in the world. More than a mile long, it stretches out from the Arc de Triomphe to the Place de la Concorde.
Tips for visiting the Champs-Élysées:
Forget McDonalds. Look out for the red awnings of Fouquet's Paris at 99, avenue des Champs-Elysées. It's a pricy brasserie dating back to 1899 and attracts the film crowd, including celebrities.
Going Beyond the Top 10 Sights
One of the most heartfelt Paris tips for travelers I can give you is to go beyond the top attractions and get beneath the skin of the city. One way to do that is to view it through someone else's eyes.
I spent days researching the haunts of two of the most intriguing characters to ever inhabit Paris, Oscar Wilde and Coco Chanel. As well, I dove deep into the lives of the scandalous characters who haunted the literary cafés of Montparnasse in the 1920s.
(I tried recreating Jack Kerouac's trip to Paris, too. He's the Beat writer who penned Satori in Paris in 1966, but he was so drunk the whole time, it wasn't a huge success.)
Try sightseeing in the footsteps of one of your own favorite celebrities. It can lead to some amazing sights. Or recreate one of my trips.
Fun and Literary – Oscar Wilde in Paris
If you like a good laugh and are a literary fan, follow the footsteps of witty Oscar Wilde in Paris. His quotes are hilarious, and can lead you into some unexpected adventures.
Fashion Fiends – See Coco Chanel Sights in Paris
Fashionistas might want to delve into the favorite places of Coco Chanel in Paris. You can do some serious shopping while you're at it.
Explore the Cafés of Montparnasse
Regular habitués at Montparnasse hangouts included the likes of Fitzgerald, Hemingway and the irrepressible Kiki de Montparnasse, all of whom drank themselves silly (or into despair) on a regular basis.
You've heard of Gertrude Stein's Lost Generation? I'd say many 'found' themselves here.
Dine at the Most Beautiful Train Station Restaurant in the World
When it comes to Paris tips for travelers who love to eat (and isn't that all of us?), here's a restaurant worth splurging on. Le Train Bleu restaurant at the Gare de Lyon is like something out of Versailles.
It was a convenient (but not inexpensive) stop when I was traveling by train from Paris to Barcelona. Note: If you plan to eat at Le Train Bleu, be sure to make reservations.
Take a Paris Private Tour
For a customized luxury experience you might want to check out a Paris private tour.
See Paris at Christmas
Summer is high season for travel in France, and there's no beating spring in Paris (or fall), but you'll find plenty to do in winter, too, especially if you're visiting Paris at Christmas.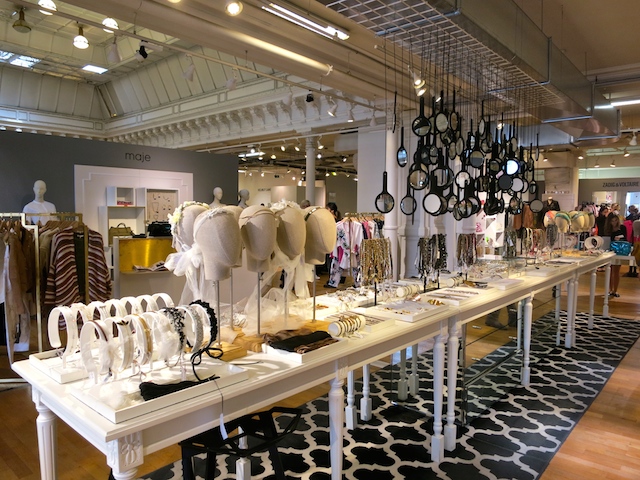 Where to Shop
Best Parisian Department Stores
Galeries Lafayette Paris Haussmann
What makes Galeries Lafayette so special? Their flagship store on Boulevard Haussmann is a delight for the senses. Located in the Opéra district at Place Diaghilev, Galeries Lafayette Paris Haussmann is made up of three adjacent buildings, filled with everything from gourmet food to drool-worthy fashions.
(I still regret not buying that Chloé moto jacket, its coral-coloured leather soft as a rose petal.)
It's worth visiting Galeries Lafayette as much for the architecture as for the fashions. Don't miss the magnificent Art Nouveau glass and steel coupole overhead. Also of note are the store's famous window displays, especially at Christmastime.
Tips for Visiting Galeries Lafayette:
When you need a break head up to the outdoor rooftop bar.
Catch one of their regular (and free!) fashion shows for a bit of Emily in Paris style fun.
Printemps Haussmann
Another Art Nouveau stunner on Boulevard Haussmann at number 64 (Métro Chaussée-d'Antin La Fayette), is the Printemps Haussmann Department Store.
With an entire floor dedicated to shoes, a renowned beauty department and exquisite luxury goods, Printemps is a store worth wandering through whether you're browsing or buying.
While you're here, look up. The stained glass dome 44 metres up is made up of thousands of pieces of tinted glass and can rival many a cathedral for light-filled impact.
Le Bon Marché
The delightful Le Bon Marché department store at 24 rue de Sèvres (Métro Station Sèvres-Babylone) goes back to the very beginnings of French department store history.
Established in the mid 1800s, it was the first department store in Paris. Focused on the female shopper, it was quite revolutionary for its time, with fixed prices, a large selection of readymade wear and even a waiting room for gentlemen to while away time as their wives shopped (and spent.)
Paris Travel Tips for Shoppers
Get Your Tax Back
Here's one of the best travel tips in Paris for saving money. If you're not a resident of the EU and you're over 16, you can get a 12% VAT tax refund if you spend more than 100.01 Euros in one store. Get the paperwork from the cashier when you make your purchase, and then you can process the paperwork at the airport.
Personally I find it a pain in the derriere to go through the rigamarole, but it's worth the savings if you're buying pricy designer goods.
Catch the Paris Sales
It may seem strange to North Americans, but sale dates in France are set nationally, and only happen twice a year. The Winter Sales, the Soldes d'Hiver, are in January and the Summer Sales, Soldes d'Ete, start around July. Catch them early to grab the best deals.
What are the Best Shopping Areas in Paris?
Aside from the department stores, Paris has many other wonderful places to shop. Of course it does; it's Paris.
The rue du Faubourg St Honoré is known for high-end shops like Hermès, Guerlain and French shoe brand Clergerie.
Outdoing even the rue du Faubourg St Honoré for couture chic is the Avenue Montaigne with the likes of Dior and Chanel.
It's impossible to ignore the iconic Champs-Elysées that features every kind of shop from Disney and Zara to Louis Vuitton.
For a unique shopping experience stroll through Les Arcades, historic covered passageways that house small shops and cafés. There were once hundreds in the city, but they're rare unicorns now. The Galerie Vivienne at 4 rue des Petit-Champs built in 1823, is a popular one.
It's always fun to shop for fun and funky fashions in the Marais.
Best Areas to Stay in Paris
For many tourists, an important question is 'what is the best neighborhood to stay in Paris.'
That depends on you. Do you want to walk out of your hotel and see grand boulevards and impressive museums? Do you prefer nightclubs within walking distance? Perhaps something with a bit more authentic French flair?
To help narrow it down, here are my tips for Paris travel when it comes to accommodation.
Right Bank or Left Bank?
Before you look for a hotel or apartment rental, decide what side of the river you want to stay on. The Left Bank is south of the Seine and the Right is north. Traditionally, the Left is more artsy, but as communities evolve it's hard to hold on to that stereotype.
Which Arrondissement to Stay in Paris
There are twenty administrative areas, or arrondissements, and the difference between them can be as stark as a whirl-of-dancers Renoir painting and a conceptual sculpture by Bernar Venet.
When you're considering where to stay in Paris, you need to look at the arrondissements and the areas within them.
Tip: The arrondissements spiral outwards, so the lower the number the more central it's going to be.
While some people opt for staying farther out to save on hotel prices, I like to be able to step outside my hotel and be exactly where I want to be without having to get on a metro. That said, I also like to be near a metro when I need it.
Here are my top Paris travel tips for choosing where to stay. Keep in mind, however, that the best arrondissement to stay in Paris is the one that suits you.
Saint-Germain-des-Prés – the 6th Arrondissement
If you want sophistication on the Left Bank, the best arrondissement to stay in Paris is probably the 6th.
The small streets of Saint-Germain-des-Près ooze taste and refined elegance.
More about atmosphere than blockbuster sights, this Left Bank neighborhood offers alluring cafés such as the historic Café de Flore and bustling boulangeries that will haunt you with their scent of fresh baguettes. It's an area of exquisite art galleries and antique shops, their treasures displayed like jewels.
Saint-Germain-des-Prè is many people's favourite area to stay in Paris, especially those after a neighborhood full of chic boutiques, a cross section of fashionable intellectual Parisians and proximity to the Seine.
Cons: You'll pay for the privilege of staying in Saint-Germain-des-Près. The hotels are likely to be expensive. Also, I never seem to be near a metro when I need one in this area.
Best Hotels in the 6th Arrondissement and Saint-Germain-des-Près
Hotel Lutetia – A 5-star Luxury Hotel
With its gorgeous exterior and wellness centre complete with pool, sauna and steam, the dreamy Hotel Lutetia on Boulevard Raspail is a luxury introduction to Paris and gets rave reviews.
Check prices and availability for the Hotel Lutetia.
Rue de Rivoli and the Louvre – 1st Arrondissement
For Right Bank luxury, the 1st arrondissement is your man, I mean, your best area to stay in Paris.
Hotels around the Rue de Rivoli and the Louvre Museum have been my top choice for places to stay in Paris for the last few years. The area is walkable, it's as central as you can get, and the 1st arrondissement is Paris at its most grand.
I love the arcaded rue de Rivoli (which admittedly has too many souvenir shops) and having the Louvre at my doorstep.
I'm also slavishly devoted to sipping a glass of champagne in a French luxury hotel, and appreciate that the intimate lounges of the Hôtel de Crillon, Le Meurice and the Ritz Paris are all within high-heeled walking distance.
The fact that the 1st arrondissement is near the swanky shopping street of rue St. Honoré and sights such as the Musée de l'Orangerie doesn't hurt either.
Cons: The 1st arrondissement can be impersonal. It has more of an imposing grandeur than an intimate elegance like Saint-Germain-des-Près. That said, no city does imposing elegance better than Paris, so it's still a fabulous location.
Where to Stay in the 1st Arrondissement of Paris
Le Meurice – A Luxury Hotel with a Prime Location
One of the best luxury hotels in Paris is Le Meurice on the rue de Rivoli with its 2-star Michelin Restaurant and central location. Jessica Alba? Katy Perry? Miley Cyrus? Yup. They've all stopped in.
Check prices and availability for the 5-star Le Meurice here.
The Hotel Brighton
More affordable but still appealing, with an old-fashioned flair, is the Hotel Brighton. It's located on the same street as Le Meurice, and it's hard to beat a hotel across from the Louvre.
Check prices and availability for the Hotel Brighton here.
The Marais – 3rd and 4th Arrondissement
Try the Marais for artsy chic on the Right Bank.
If you move east on the Right Bank, Le Marais is gay-friendly, indie and lively, with forward-thinking boutiques and vintage shops sprinkled throughout the streets. Foodie-hip restaurants range from ethnic Vietnamese to classic bistros and Jewish cuisine.
While it's tourist friendly, the Marais isn't polished beyond perfection and has a feel of authenticity, You'll find as many locals sipping their café crèmes here as travellers.
My top memory of the Marais is staying for two weeks in a hotel on Bad Boy Street, the rue des Mauvais Garçons. This has to be the best street name ever.
Tip for Staying in Le Marais: Le Marais is home to the lovely Place des Vosges, one of the oldest squares in Paris. You'll find the Picasso Museum here.
Where to Stay in the Marais district of Paris
Right on the Place des Vosges in the Marais is Le Pavillon de la Reine & Spa, one of the Small Luxury Hotels of the World. Bonus: Free spa and fitness centre access for guests.
For a more affordable hotel in the Marais near the Place des Vosges, check out the 3-star Les Tournelles.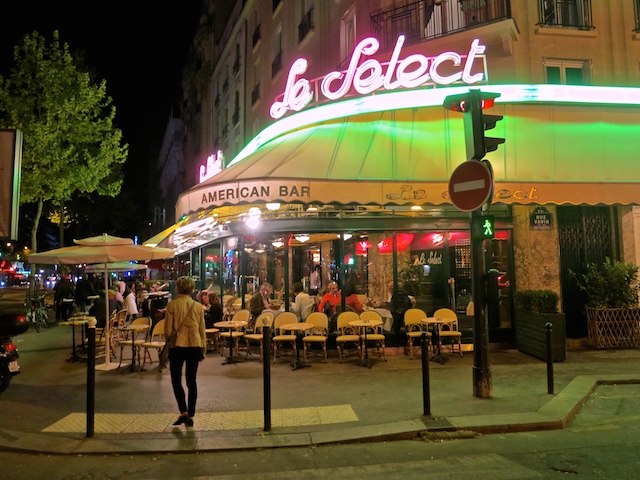 Montparnasse – 14th Arrondissement
The Left Bank locale of Montparnasse has affordable hotels.
Many travellers choose to stay in Montparnasse because, while it's not as central as Saint-Germain-des-Prés, there are hotel deals to be had.
It's an ever-changing mix of haute and shady. And while the cafés of Montparnasse have the most deliciously decadent past imaginable, rivaled only by Montmarte a century earlier, it's not my top choice for where to stay in Paris.
Somehow, though, I end up staying here quite often, and there are some wonderful pockets to walk through.
Montparnasse Travel Tip: The Montparnasse Tower is an eyesore, but offers one of the best views in Paris.
Where to Stay in the Montparnasse Neighborhood of Paris
The Hotel Victoria
Writers James Joyce and Katherine Mansfield stayed at the Hotel Victoria in the 1920s, and this 4-star hotel has kept its traditional French style.
Latin Quarter – 5th Arrondissement
The Latin Quarter is popular with first timers to Paris looking for budget hotels and a central location.
I'll round off this list with a mention of the Latin Quarter, mainly because this was where my first trip to Paris began. And my second, and my third.
Affordable, lively and central, the Latin Quarter is on the Left Bank. The Sorbonne is located in this area so it will always have a youthful vibe.
Cons: On the downside, there are rows of touristy mediocre restaurants and – I'm sorry to insult you, Paris, but a lot of the neighbourhood's character has been stripped away. (Rue Huchette, I'm talking to you.)
Nonetheless, streets like Rue Mouffetard, while still touristy, offer a fun dining experience, and staying in the Latin Quarter gives you quick access to some wonderful Paris attractions such as the Musée de Cluny, Shakespeare and Company Bookstore, and the tragically ravaged-by-fire Notre-Dame Cathedral.
If you're visiting Paris for the first time, these sights will probably be high on your list.
Where to Stay in the Latin Quarter Neighborhood
Hotel Monge – 4-star Latin Quarter Hotel
With a facade that dates back to 1876 and a renovated interior, the 4-star Hotel Monge offers the best of both worlds. A former mansion, this 30-room Parisian hotel is located between the Jardin des Plantes and Notre Dame Cathedral.
Check prices and availability for the Hotel Monge.
Hotel Marignon – Strictly for Budget Travellers
I don't normally put in a 1-star tourist hotel on this travel website, but the Hotel Marignan holds so much of my past in Paris.
It was one of the only hotels that offered stays of more than one month at the time – which is why I bounced around budget hotels from Montparnasse to the Marais – and AirBnb wasn't yet a thing.
I met some wonderful people here who were, like me, seduced by Paris and the possibilities it held for a young traveler/would-be resident. Oh, we had some adventures.
Because of its free breakfast, you met almost everyone in the hotel. It's been years since I stayed here – okay, decades – and I can't call it the best place to stay in Paris, but I'm putting it in for sentimentality's sake.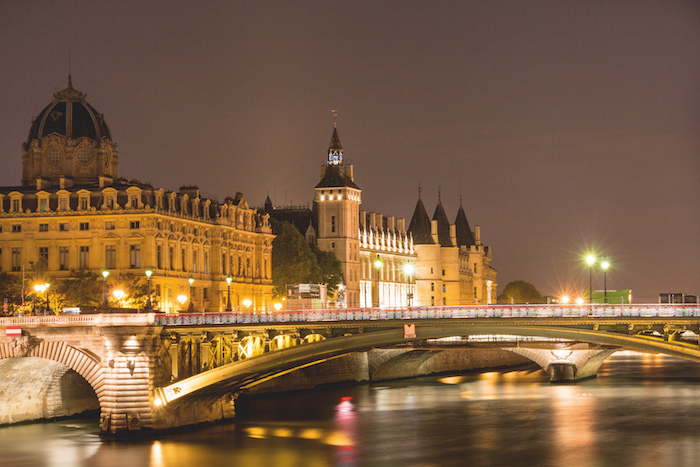 Other Areas to Stay In Paris
There are so many other Parisian neighbourhoods to choose from.
11th arrondissement – Trendy and night-clubby is the area around République and Oberkampf It's a bit too far from the centre and chic-gritty for me but hotels can be reasonably priced, and it's good if you want a young people vibe.
10th arrondissement – The bohemian Canal St Martin district is growing in popularity and has become one of the coolest places to stay in Paris.
18th arrondissement – You could stay in Montmarte, which looms high over Paris but you need to take a funicular or a bus up.
8th arrondissement – We can't leave out the mythical Champs-Élysées. Sadly, it's drowning under tourist trap restaurants and chain stores, but it's near the haute shopping street of Avenue Montaigne, and if it's top luxury you want, the Four Seasons George V is only steps away.
7th arrondissement – There is the genteel area around the Eiffel Tower, where you'll find a number of apartment rentals so it's a popular choice for a long term stay. Surprisingly, considering it holds the Eiffel Tower, it's not as touristy as some places.
9th arrondissement – One area I find blah (don't hate me!) is the Opéra district but it's good for visiting the opulent Opéra Garnier or hitting the department stores. It's still in walking distance to the Louvre and there are some affordable hotels here.
Before Traveling to Paris
Before you arrive in Paris, think of the atmosphere you want to wake up to, the sights you want to see, the budget you have and how much time you have to spend in the city.
With a little preplanning and these (hopefully) helpful Paris tips for travelers, the city can be – as Hemingway so famously said – "a moveable feast."
Mind you, he also said it's "the only city in the world where starving to death is still considered an art" but don't take that literally, the food is too good for that.
Paris Day Trips
There are some pretty spectacular day trips you can do from Paris.
Of course you can tour Versailles – it's the number one day trip from Paris.
Disneyland is an option. Not my choice but a great thing to do with kids in Paris.
One of my favourite excursions in France is to see the Loire Valley chateaux.
You can also do a day trip to see Monet's Garden at Giverny.
Take the train out to see Chateau Fontainebleau.
Visit Chartres Cathedral in the town of Chartres – the stained glass is a glowing blue never replicated.
Final Word on Tips for Paris Travel
So these are my tips for traveling in Paris. Hopefully it's will help you make the most of your stay. But don't stop at Paris – visit my France destination page for more travel ideas. Salut!