This post may contain affiliate links.
Visiting Paris? A little planning will go a long way. Here's an easy travel guide with info on the best neighbourhoods to stay in Paris, top sights and how to get around.
Updated 2021
Visiting Paris – An Quick and Easy Guide
Have you ever popped out of a Paris metro station, suitcase in hand, wondering what to do next? I have. Of course those were my I'm-a-free-spirit-and-don't-need-to-plan days of travel.
Since then, I've learned that when every hotel is 'complet' and jet lag is punching your eyeballs from the back of your brain, your free spirit can wilt like a Monet waterlily in a drought.
As much as I still cherish the independent traveller within, I now know the value of planning, especially when visiting Paris, the most popular city for visitors in Europe.
Who is this Paris Guide For?
Whether it's your first time to Paris, you're a veteran traveller in need of a refresher, or a young ingenue like Audrey Hepburn in Sabrina who travels to Paris for a Vogue apprenticeship (and transforms into a sophisticate), this quick and easy Paris travel guide is for you.
It's not an exhaustive list – you'd need a full guidebook for that – but it's how I like to tackle Paris, the amazing City of Light.
Paris Transportation Tips
Getting to Paris from the Airport
To start off with, you need to get into Paris, whether you arrive by plane or train. There are various options for airport transfers such as shuttles, private cars and trains.
Paris from the Airport by Train
If you're flying into Charles de Gaulle Aeroport (CDG), it's probably easiest (other than an expensive taxi) to take the suburban train called the RER B (Blue line) from the airport in the direction of Paris.
Stops include the Gare du Nord, St Michel/Notre Dame (good for the Latin Quarter) Luxembourg, Denfert-Rochereau and Cité Universitaire. You can buy a train ticket right at the airport.
I'd like to assure you getting around France by train is easy, but traveling in any foreign country can be confusing. Check out my Paris to Barcelona from Gare de Lyonfor an embarrassing example. Sigh.
Paris from the Airport by Bus
From Orly you can take the Orly bus to the Denfert-Rochereau Metro Station.
From Charles de Gaulle you can take theThe Roissy bus from Paris Opera. As well, Air France runs buses to both airports.
Getting into Paris from the Airport by Taxi
Currently, there is a flat rate of 50€ from Paris-Charles de Gaulle airport to destinations on the Right Bank, and 55€ to the Left Bank.
From Paris-Orly the price is 35€ to the Right Bank and 30€.
Uber is popular in Paris, too.
Getting Around Paris
Now that you're in Paris, you need to get around. The Paris Metro is convenient, connects directly to the RER and is moderately easy (At least most people say easy, but I still get mixed up.)
You can buy a single ticket at the station, a carnet of 10 or a travel pass. Hold on to your ticket as you'll need it to exit the station.
What's the difference between the RER and the Metro?
The Paris RER, as opposed to the metro or subway, are commuter lines that travel into Paris. In central Paris the RER works much like the metro but the lines extend out farther to places like Versailles and Disneyland Paris.
For day trips to places such as Giverny, you'll need to take the train proper. The main train stations in Paris are:
Gare du Nord, Gare de l'Est , Gare de Lyon (If you go, check out the most beautiful train station restaurant in the world, Le Train Bleu), Gare d'Austerlitz, Gare Saint Lazare and Gare Montparnasse
Finding Tourist Information
Congratulations. You're now in Paris and you know how to get around. It's time to get information on what to do here.
A popular option for visiting Paris is to wander the streets aimlessly. You'll want to do plenty of that, but between sitting in cafes and soulful walks along the Seine, you might actually want to see some of the sights that make Paris so beloved.
Of course the Internet is a one-stop shop for all kinds of advice and guides to Paris, but sometimes you want a bit more help.
For maps, reservations, transportation advice and information on attractions and day trips from Paris, you'll find official tourist information points at:
The Pyramides Welcome Centre at 25, rue des Pyramides
The Gare du Nord Welcome Centre at the Gare du Nord train station 18, rue de Dunkerque Paris
A Paris Tourist Office partner can be found at the Reception du Carrousel du Louvre at 99, rue de Rivoli
There is also a Welcome Point at Galeries Lafayette Paris Haussmann, a combined effort of the iconic Galeries Lafayette Department Store and the Regional Tourism Committee for Paris Île-de-France.
Located in the Opéra district on the ground floor of L'Homme, one of the three Galeries Lafayette buildings on Boulevard Haussmann at Place Diaghilev, the Welcome Point has a range of services, from making hotel reservations and booking tickets to advice on where to find the most romantic views of Paris or the quickest way to get to Disneyland Paris.
Where to Shop in Paris: Top Parisian Department Stores
You'll want to visit Galeries Lafayette Paris Haussmann anyway. Why? Their flagship main building might be the most beautiful department store in the world.
With its magnificent Art Nouveau glass-and-steel coupole, famous window displays (especially at Christmas), rooftop bar and drool-worthy displays of French and international designers, it's a hot spot for Paris style.
I still regret not buying that Chloé moto jacket, its coral-coloured leather soft as a rose petal.
Other top department stores in Paris include:
Le Bon Marché at 24 rue de Sèvres (Métro Station Sèvres-Babylone)
Printemps at 64 Boulevard Haussmann (Métro Chaussée-d'Antin La Fayette)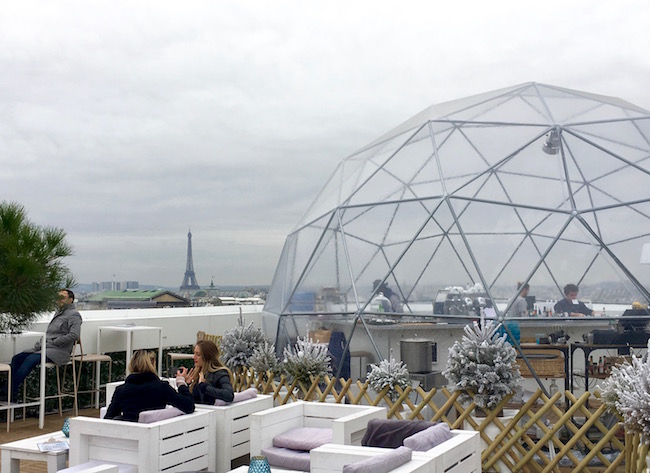 What To Do in Paris – The Top Sights
Where do we start? If you're the literary type you can follow the footsteps of Oscar Wilde in Paris. Fashionistas might want to trace the favourite places of Coco Chanel.
For a customized luxury experience you might want to check out a Paris private tour, and if you're here in winter check out Paris at Christmas.
But first you're probably going to want to visit Paris's most iconic sights.
Top 10 Things to See in Paris
There are so many Paris attractions, your head will spin. Here's a list of top Parisian landmarks not to miss.
Want more detailed information on the city's top sights? Read my 10 Best Things to do in Paris guide.
1. The Louvre – It's hard to top a visit a visit to the largest museum in the world, especially when it houses the Mona Lisa.
2. Notre Dame Cathedral – After a tragic fire gutted Notre Dame on April 15, 2019, it's a shell of its former self but due to reopen in 2024. Until then, a walk by will have to suffice.
3. Eiffel Tower – Of course you have to see the famed Eiffel Tower, the wrought iron beauty built for the 1889 World Fair. And then the crowds will drive you crazy and you will be happy seeing it from a distance forever more.
4. Musée d'Orsay – If Impressionist art is your thing, you can't go wrong with the celebrated Musée d'Orsay on the Left Bank.
5. Arc de Triomphe – This powerful war monument dedicated to the glory of the French military is the commanding star of the Place Charles de Gaulle.
6. Cluny Museum – The National Museum of the Middle Ages is a 15th century delight, housing Roman ruins, gothic statues and the famous Unicorn Tapestries.
7. Versailles – The most popular day trip from Paris is the Palace of Versailles, a vision of royal luxury (and excess).
8. Sainte-Chapelle – A soaring gothic chapel with unforgettable stained glass.
9. Montmartre – In the mid 1800s, this lively neighbourhood atop a 130-metre high hill was the place for decadence, art and incredible creativity.
10. Champs-Élysées – Love it or hate it, the Champs-Élysées is probably the most famous shopping avenue in the world.
Best Areas to Stay Paris
For many tourists, an important question is 'what is the best neighborhood to stay in Paris.'
Do you want to walk out of your hotel and see grand boulevards and impressive museums? Prefer nightclubs within walking distance? Perhaps something with a bit more authentic French flair? Where to stay in Paris depends on you, and what kind of Paris you hope to find.
Right Bank or Left Bank?
There are twenty administrative areas, or arrondissements, in Paris, and where you stay can define your trip – making it the difference between a dramatic Delacroix painting and a whirl-of-dancers Renoir.
Before you look for a hotel or apartment rental, decide what side of the river you want to stay on. The Left Bank is south of the Seine and the Right is north. Traditionally, the Left is more artsy, but as communities evolve it's hard to hold on to that stereotype.
Which Arrondissement to Stay in Paris
When you're considering where to stay in Paris, you need to look at the arrondissements and the particular areas within them. The arrondissements spiral outwards, so the lower the number the more central it's going to be.
While many people opt for staying farther out to save on hotel prices, I like to be able to step outside my hotel and be exactly where I want to be without having to get on a metro. That said, I also like to be near a metro when I need it.
Here is a quick guide to the best places to stay in Paris, keeping in mind that the best arrondissement to stay in Paris is the one that suits you.
Saint-Germain-des-Prés – the 6th Arrondissement
If you want sophistication on the Left Bank, the best arrondissement to stay in Paris is probably the 6th.
The small streets of Saint-Germain-des-Près ooze taste and soft elegance.
More about atmosphere than blockbuster sights, this Left Bank neighborhood offers alluring cafés such as the historic Café de Flore and bustling boulangeries that will haunt you with their scent of fresh baguettes. It's an area of exquisite art galleries and antique shops with their treasures displayed like jewels.
Saint-Germain-des-Prè is many people's favourite area to stay in Paris, especially those with class and culture in their genes, and those who want an neighborhood full of chic boutiques, a cross section of fashionable intellectual Parisians and proximity to the Seine.
Warning: You'll pay for the privilege. The hotels here are likely to be and expensive. Also, I never seem to be near a metro when I need one in this area.
Best Hotels in the 6th Arrondissement
Hotel Lutetia – A 5-star Luxury Hotel
With its gorgeous exterior and wellness centre complete with pool, sauna and steam, the dreamy Hotel Lutetia on Boulevard Raspail is a luxury introduction to Paris and gets rave reviews.
Check prices and availability for the Hotel Lutetia.
Rue de Rivoli and the Louvre – 1st Arrondissement
For Right Bank luxury, the 1st arrondissement is your man, I mean, your best area to stay in Paris.
Hotels around the Rue de Rivoli and the Louvre Museum have been my top choice for places to stay in Paris for the last few years. The area is walkable, it's as central as you can get, and the 1st arrondissement is Paris at its most grand.
I love the arcaded street of the rue de Rivoli (which admittedly has too many souvenir shops) and having the Louvre at my doorstep.
I'm also slavishly devoted to the idea of a relaxing glass of champagne in various luxury hotels and appreciate that the intimate lounges of the Hôtel de Crillon, Le Meurice and the Ritz Paris are all within high-heeled walking distance.
The fact that the 1st arrondissement is near the swanky shopping street Rue St.-Honoré and sights such as the Musée de l'Orangerie doesn't hurt either.
That said, the 1st arronidissement can be impersonal, and has more of an imposing grandeur than an intimate elegance like Saint-Germain-des-Près, but as, no city does imposing elegance better than Paris, it's still a fabulous location.
Where to Stay in the 1st Arrondissement of Paris
Le Meurice – A Fabulous Luxury Hotel with a Prime Location
One of the best luxury hotels in Paris is Le Meurice on the rue de Rivoli, with its 2-star Michelin Restaurant and central location. Jessica Alba? Katy Perry? Miley Cyrus? They've all stopped in.
Check prices and availability for the 5-star Le Meurice here.
The Hotel Brighton
More affordable, but still appealing with a well-maintained old-fashioned flair, and located on the same street as Le Meurice, is the Hotel Brighton. It's hard to beat a location across from the Louvre.
Check prices and availability for the Hotel Brighton here.
The Marais – 3rd and 4th Arrondissement
Try the Marais for funky chic on the Right Bank.
If you move east on the Right Bank, Le Marais is gay-friendly, indie and lively, with forward-thinking boutiques and vintage shops sprinkled through the streets. Foodie-hip restaurants range from ethnic Vietnamese to classic bistros and Jewish cuisine.
While it's tourist friendly, the Marais isn't polished beyond perfection and has a feel of authenticity, You'll find as many locals sipping their café crème here as travellers.
Le Marais is home to the lovely Place des Vosges, one of the oldest squares in Paris, as well as the Picasso Museum.
My top memory of the Marais is staying for two weeks in a hotel on Bad Boy Street, the rue des Mauvais Garçons. It has to be the best street name ever.
Where to Stay in the Marais district of Paris
Right on the Place des Vosges in the Marais is Le Pavillon de la Reine & Spa, one of the Small Luxury Hotels of the World. Bonus: Free spa and fitness centre access for guests.
For a more affordable hotel in the Marais near the Place des Vosges, check out the 3-star Les Tournelles.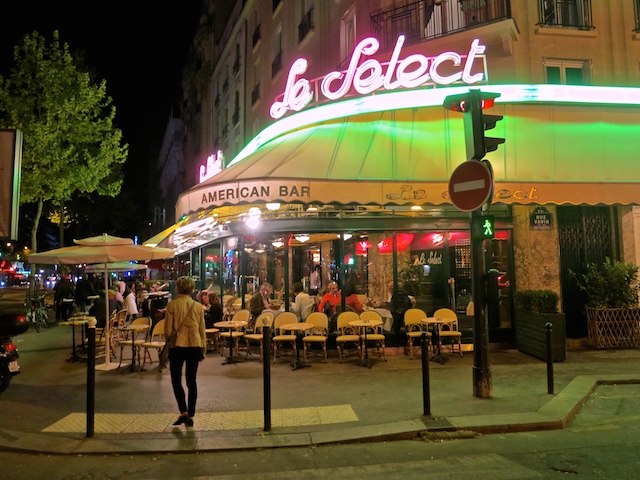 Montparnasse – 14th Arrondissement
A Left Bank locale with an outrageous past.
Many travellers choose to stay in Montparnasse because, while it's not quite as central as Saint-Germain-des-Prés, there are hotel deals to be had.
It's an ever-changing mix of haute and shady. The historic cafes of Montparnasse have the most deliciously-decadent past imaginable (rivalled only by Montmarte a century earlier).
Regulars there included the likes of Fitzgerald, Hemingway and the irrepressible Kiki de Montparnasse who drank themselves silly (or into despair) on a regular basis.
You've heard of Gertrude Stein's Lost Generation? I'd say they 'found' themselves here.
Also, the Montparnasse Tower is an eyesore, but offers one of the best views in Paris.
Where to Stay in the Montparnasse Neighborhood of Paris
The Hotel Victoria
Writers James Joyce and Katherine Mansfield stayed at the Hotel Victoria in the 1920s, and this 4-star hotel has kept its traditional French style.
Latin Quarter – 5th Arrondissement
I'll round up this list of Paris neighbourhoods with a mention of the Latin Quarter, mainly because this was where my first trip to Paris began. And my second, and my third.
Affordable, lively and central, the Latin Quarter on the Left Bank is a magnet for budget hotel seekers, first timers to Paris and students. The Sorbonne is located in this area so it will always have a youthful vibe.
On the downside, there are rows of touristy Greek restaurants, crowds and – I'm sorry to insult you, Paris – a lot of the neighbourhood's character has been stripped away. Rue Huchette, I'm talking to you.
Nonetheless, streets like Rue Mouffetard, while touristy, still offer a fun dining experience, and staying in the Latin Quarter gives you quick access to some wonderful Paris attractions such as the Musée de Cluny, Shakespeare and Company Bookstore, and the tragically ravaged-by-fire Notre-Dame CathedralI.
If you're visiting Paris for the first time, these sights will probably be high on your list.
Where to Stay in the Latin Quarter Neighborhood
Hotel Monge – 4-star Latin Quarter Hotel
With a facade that dates back to 1876 and a renovated interior, the 4-star Hotel Monge offers the best of both worlds. A former mansion, this 30-room Parisian hotel is located between the Jardin des Plantes and Notre Dame Cathedral.
Check prices and availability for the Hotel Monge.
Hotel Marignon – Strictly for Budget Travellers
I don't normally put in a 1-star tourist hotel on this travel website, but the Hotel Marignan holds so much of my past in Paris.
It was one of the only hotels that offered stays of more than one month at the time – which is why I bounced around budget hotels from Montparnasse to the Marais – and AirBnb didn't yet exist.
I met some wonderful people here who were, like me, seduced by Paris and the possibilities it held for a young traveler/would-be resident. Oh, we had some adventures.
Because of its free breakfast, you met almost everyone in the hotel. It's been years since I stayed here – okay, decades – and I can't call it the best place to stay in Paris, but I'm putting it in for sentimentality's sake.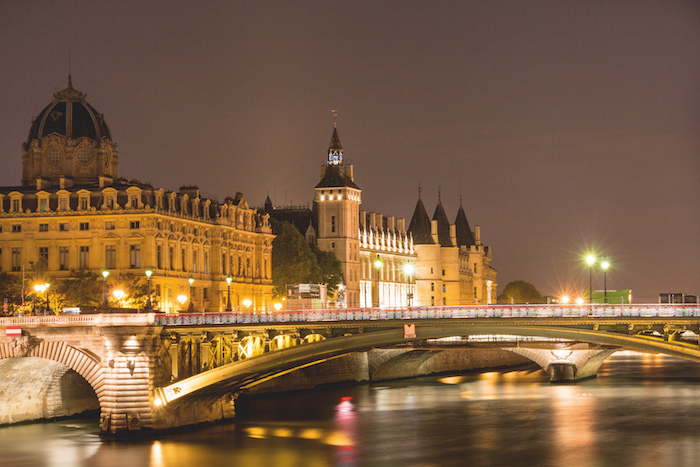 Other Areas to Stay In Paris
There are so many other Parisian neighbourhoods to choose from.
11th arrondissement – Trendy and night-clubby is the area around République and Oberkampf, but it's a bit too far from the centre and chic-gritty for me but hotels can be reasonably priced, and it's good if you want a young people vibe.
10th arrondissement – The bohemian Canal St Martin district is growing in popularity and has become one of the coolest places to stay in Paris.
18th arrondissement – You could stay in Montmarte, 18th which has a

tourist saturated

fun village atmosphere and captivating past as a turn-of-the-century artist hotspot, but it looms high over Paris central and you need to take a funicular or a bus up. That said, the streets off the main routes can be charming and hold so much history.
8th arrondissement – We can't forget the mythical Champs-Élysées, that wide beautiful boulevard that stretches from the Place de Concorde to the Arc de Triomphe. Sadly, it's drowning under tourist trap restaurants and chain stores, but it's near the fabulous luxury shopping street Avenue Montaigne, which is always a people watching pleasure.
7th arrondissement – There is the gentile area around the Eiffel Tower, where you'll find a number of apartment rentals so it's a popular choice for a long term stay. Surprisingly, considering it holds the Eiffel Tower, not as touristy as some places.
9th arrondissement – One area I find blah (don't hate me!) is the Opéra district but it's great for visiting the opulent Opéra Garnier or hitting the department stores. It's still in walking distance to the Louvre and there are some affordable hotels here.
What to Consider Before Visiting Paris
To make your final plans for visiting Paris, think of the atmosphere you want to wake up to, the sights you want to see, the budget you have and how much time you have to spend in the city.
With a little preplanning, Paris can be – as Hemingway so famously said – "a moveable feast." (He also said it's "the only city in the world where starving to death is still considered an art" but don't take that literally, the food is too good for that.)
Paris Day Trips
There are some pretty spectacular day trips you can do from Paris.
Of course you can tour Versailles – it's the number one day trip from Paris.
Disneyland is an option. Not my choice but a great thing to do with kids in Paris.
One of my favourite excursions in France is to see the Loire Valley chateaux

.

You can also do a day trip to see Monet's Garden at Giverny.
Take the train out to see Chateau Fontainebleau.
Visit Chartres Cathedral in the town of Chartres – the stained glass is a glowing blue never replicated.
Paris Travel Guide Wrap Up
So these are my top travel suggestions for things to do and places to stay in Paris. Hopefully with these travel tips you'll have a better idea of how to get around the amazing City of Light and how to make the most of your trip.
But don't stop at Paris – visit my Things to do in France destination page for more travel ideas. Salut!