This post may contain affiliate links.
Paris Day Trip to Versailles
The Palace of Versailles is one of the most opulent attractions in France, and is an unforgettable day trip from Paris. A French Baroque palace with arched windows, gleaming mirrors and gold, it was a royal residence unparalleled in Europe.
Also known as the Château de Versailles, or Versailles Castle, because a place this bejewelled and glorious can't have too many names, Versailles has 700 rooms and more than 2,000 windows. So how do you tackle something this legendary? What's the best way to tour Versailles?
The Versailles tips below will make a Paris to Versailles day trip easy (hopefully). I'll also tell you what not to do, because I did it and it nearly ruined my tour.
The Best Way to Tour Versailles
You can do a Versailles day tour from Paris, with a hotel pickup. This is the probably the easiest way.
But. If you organize your day trip yourself, you'll have more freedom and flexibility. The best way to do Versailles on your own is to combine it with a 90-minute palace tour that you book in advance.
(An even better way is to stay overnight, but these tips for visiting Versailles focus on a doing day trip.)
Visiting Versailles Tips
The key things to know when organizing a Paris to Versailles day trip on your own:
How to get Versailles from Paris
How to get a skip-the-line ticket in advance
Some of Versaille's fascinating history
Should you sign up for a tour of the palace?
What are the highlights of a Versailles visit?
Getting from Paris to Versailles
First you need to get there. Versailles is about an hour away by public transportation from Paris even though it's only 17 km in distance. There are several ways of getting there. I prefer the train.
Taking the Train from Paris to Versailles
Visiting Versailles Tip: Buy a return ticket to start with, otherwise you'll have to wait in another long lineup to get a ticket back. The Versailles Rive Gauche Station is the closest station to the palace. Follow the crowds heading towards the palace.
The other stations, Versailles Chantiers and Versailles Rive Droite, are farther away.
The RER C is the most common way to get to Versailles from Paris by train. You can catch the RER C from a number of stations including St-Michel Notre-Dame and Orsay. Buy a Paris to Versailles Rive Gauche ticket (zones 1-4).
Or, from Paris Montparnasse train station take an SNCF train to Versailles Chantiers.
Or, from Paris Saint Lazare train station take an SNCF train to Versailles Rive Droite.
Paris to Versailles by Bus
There are several options to go to Versailles by bus. Here's a couple:
Buying Your Versailles Tickets
There are several different types of tickets for Versailles, and it's a good idea to buy it in advance.
A Passport ticket allows you to see anything at Versailles that is open to the public. Cost starts at €20 or €27 for two days.
If you're not going to visit the Trianon Estate, or be there for the Musical Fountain Shows or the Musical Gardens then you can get a Palace Ticket for €18.
If you have a Paris Museum Pass you can use that for your ticket. It doesn't include the Musical Fountain Shows or the Musical Gardens.
Taking a guided tour of the Kings Apartments:
None of the entrance tickets above includes the guided tour of the Kings Apartments. The tour is about 90 minutes and costs an additional €10.
It includes sights such as Louis XVI's lock cabinet (he was obsessed with locks), his library, Louis XV's dining room and possibly the most famous piece of furniture in the world, Louis XV's roll top desk.
English language tours are offered every day except Mondays. You can book online and check tour times on the Chateau Versailles website.
Where to buy tickets for Versailles
You can buy your Versailles entrance ticket online on the official Chateau Versailles website. You can also buy it at the palace but be forewarned, this means an extra lineup.
To buy a ticket onsite go to any Palace ticket desk located around the Main Courtyard of Versailles.
What Not to Do at Versailles
Do not, I repeat, do not, enter the palace from the Queen's Gate, the Grille de la Reine if you are trying to get into the palace itself. While you can access Le Grand Trianon and Le Petit Trianon and the Versailles Gardens from the Queen's Gate, you cannot access the actual chateau. And nobody told me.
But don't worry. If you're doing a Versailles day trip by train, it's unlikely you'd go in this way anyway, as the Queen's Gate is on the right (east) edge of the grounds, and you will most likely arrive from the south. Nonetheless, it's what I did and I nearly missed my guided tour of the King's Apartments because of it.
If you're staying at the Waldorf Astoria Versailles Trianon Hotel like I was (and it's a lovely hotel), its an easy mistake to make as it's the nearest entrance to the grounds.
It was a lovely walk and I had no idea anything was wrong. I passed Neptune's Fountain in the gardens, with just enough time to make my 9:30 a.m. guided tour. The gardens were deserted – a rare peaceful moment at the Château de Versailles. As I walked I imagined Marie Antoinette on the same path, escaping the stifling confines of the court, or Madame du Pompadour, the elegant mistress of Louis XV.
Then I went over the various King Louis in my mind. The best way to tour Versailles is to know some bite-sized snapshots of history, and there are three French kings you need to know.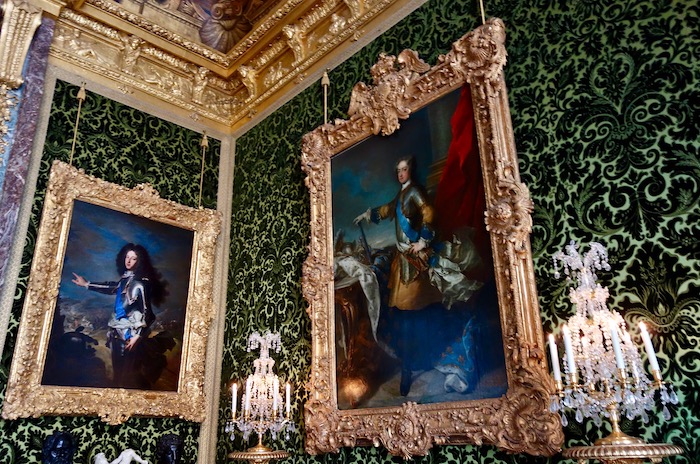 The kings of Versailles
The Sun King, Louis XIV – Louis XIV inherited the crown at the age of four, and in 1682 he moved the court to Versailles. He transformed it from a royal hunting lodge into one of the grandest palaces in Europe, adding impressive spaces such as the Hall of Mirrors, the Royal Chapel and the Opera House, forever linking his name to the Château de Versailles.
Louis XV – The great grandson of the Sun King, Louis XV continued to enhance the palace. One of his additions was the Petit Trianon, an intimate neoclassical chateau on the grounds he had built for his mistress, the Comtesse Du Barry, and which later would be the favourite haven of Marie Antoinette. A retiring man, Louis XV is nonetheless known for his long string of mistresses including, but not limited to, the four Mailly sisters, Madame du Pompadour and Madame du Barry.
Louis XVI – Born at Versailles, the scientific-minded Louis Auguste was the grandson of Louis XV. He married Marie Antoinette in Versailles in 1770. Fatefully, they were both executed during the French Revolution. And that was the end of the glory days of Versailles.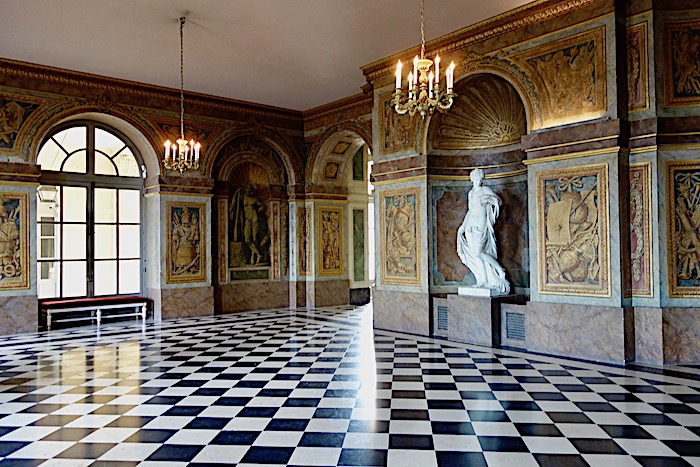 About the Château de Versailles
Finally I reached the back of the 18th-century palace. Pale and harmonious, with straight lines, 700 rooms, 2153 windows and 67,000 metres of space, the massive Baroque building spread out before me like a sun-warmed cliff. Only something was wrong. I could see people inside but the door was locked.
I rattled the handle and squished my face up to the window but was totally ignored. Now what was I supposed to do? I doubted things like this ever happened to Madame du Pompadour.
I paced up and down along the back of the palace – no easy feat when it's the size of 12 football fields – and looked for a way around to the front. When I saw a woman unlocking a wrought-iron gate about 100 metres down from the palace I whipped over.
"You can't go through," she said.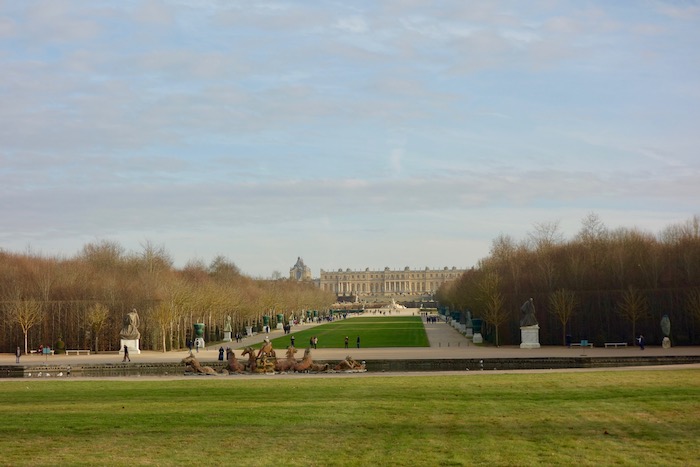 The Women's March
I was tempted to tell her to eat cake. Briefly I thought of storming the gate just as a small group of rioters did during the Women's March of 1789. Spearheaded by a group of women in the markets of Paris, angered over the shortage of bread, the march was a key moment in the French Revolution. Armed with kitchen knives, pikes and other rudimentary weapons, they marched to Versailles in six hours, their numbers swelling into the thousands as they went.
At dawn some of the protesters found an unlocked gate and entered the palace. Chaos ensued. Two guards were violently killed. Marie Antoinette barely escaped with her life. The royal family was forced to leave their hallowed isolation of Versailles for Paris.
I gave the woman a plaintive look. She relented and let me through.
Phew, I thought, running around the front of the building and reaching the guided tour reception area in the North Ministers Wing just as the tour was departing. Adding a guided visit is one of the best ways to tour Versailles. It's only €10 extra on top of the regular admission price and comes with some valuable perks.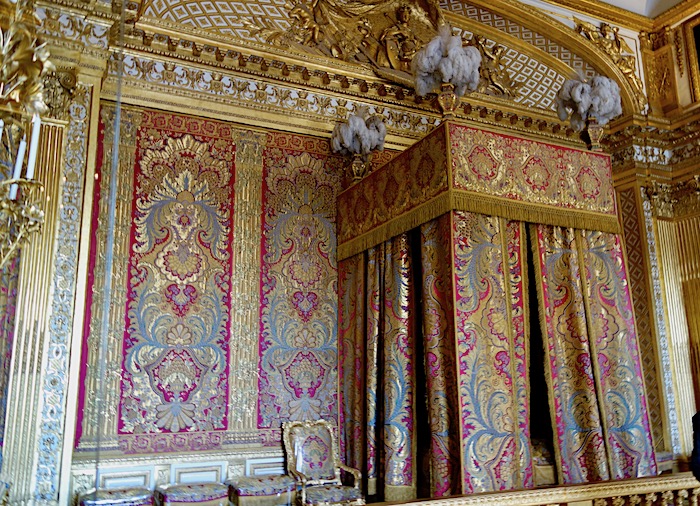 Reasons to do a guided tour of Versailles
You can skip the long entrance lineups (though you still need to queue for the security line).
While general admission includes entrance to the Grand Apartments, a guided tour takes you into

the more intimate private apartments of Louis XV and Louis XVI

.
Your group is limited to about 25, a far smaller crowd than the crush of courtiers who used to clamour for access to the king.
You can continue to explore Versailles after your tour without having to go back in line.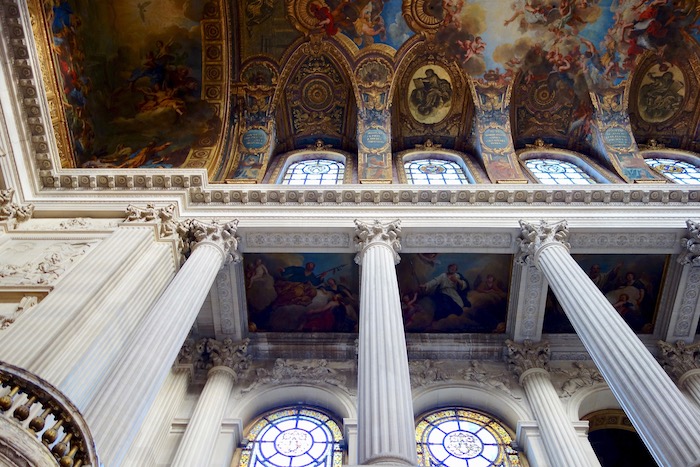 Visiting the Royal Chapel
As a bonus we were going to see the Royal Chapel. We all shuffled in over inlaid marble floors of black, white and red, then cricked our necks up to see the soaring pillars and ornate vaulted ceiling complete with cherubs and gold. Unveiled in 1710 towards the end of the reign of Louis XIV, the two-level Royal Chapel is where Louis-Auguste and Marie Antoinette were married, and it's here the court would gather for the King's Mass each morning at 10 a.m.
I looked at my watch, it was just 10:00 now. Pretending my companions were courtiers rather than camera-toting tourists, I enjoyed a few moments feeling imperious and aristocratic because people who had bought a regular admission ticket to Versailles without the guided tour could only look in past a rope and wonder at our splendour. It doesn't take much to give me illusions of grandeur.
Fortunately I'd dressed for the part. I'd worn a sequined net jacket over a knit lace top. And if you think this is too many sequins for 10 a.m. I have one word for you: VERSAILLES. Don't you think Madame du Pompadour ever dressed up?
The Hall of Mirrors – the most famous room in Versailles
The best place for sequins in the Château de Versailles is the glittering Hall of Mirrors, so once our tour of the private apartments was finished I made my way there. Chandeliers dripped from the ceiling like crystal clouds, the sun slanted in across warm wooden floors and the 357 mirrors gleamed in the light.
A long gallery connecting the Queen's Apartments to the King's Apartments, the Hall of Mirrors is an homage to French superiority in matters of politics, military might, art and riches (and anything else you can think of). The 30 ceiling paintings depict the successful reign of Louis XIV while the mirrors, an extravagant luxury for the time, stood as gleaming proof that France could rival Venice in mirror production (even if they had to bribe Venetian artisans to move to France to make them).
Basing in the reflected glory of the Hall of Mirrors, I hardly even blinked when a guard scolded me for setting my jacket on the floor (so I could show off my sequins). I was still feeling quite regal as I tromped glided out of the gallery and found my way to Ore restaurant in the Pavillon Dufour.
Ore restaurant at Versailles
Lunch at Ore is one of the best ways to round off your tour of Versailles. Helmed by celebrity chef Alain Ducasse, the restaurant is the most delicious addition to the palace in centuries. The decor is a modern answer to palace opulence, which means it still has bling but in a minimalist sort of way. Light fixtures look like golden postmodern suns, chairs are slim and sleek and tabletops are a dull gold. The patrons around me were mostly men in suits and chic French women toting YSL bags and Chanel.
Honestly, this was as good as being in the king's inner circle. Feeling sophisticated I ordered a glass of St Emilion Grand Cru to accompany my bavette of beef. Crash. I knocked over my glass. Red wine pooled on the gold tabletop and dripped into my lap. The other diners looked over, not a trace of sympathy on their faces. Just like that, my champagne bubble burst. My face turned as red as a wine stain. I may love luxury travel but it wasn't going to make me an aristocrat. I was just a loser in sequins.
C'est la vie, I thought as the waiter rushed over. At least at Versailles you can pretend for a day.
Travel tips for the best way to tour Versailles
The ultimate luxury? Try a private backstage tour of Versailles. It will cost you.
Obsessed with French historical fashion? Do a dress up photo op at Costumes and Chateaux.
Pin me!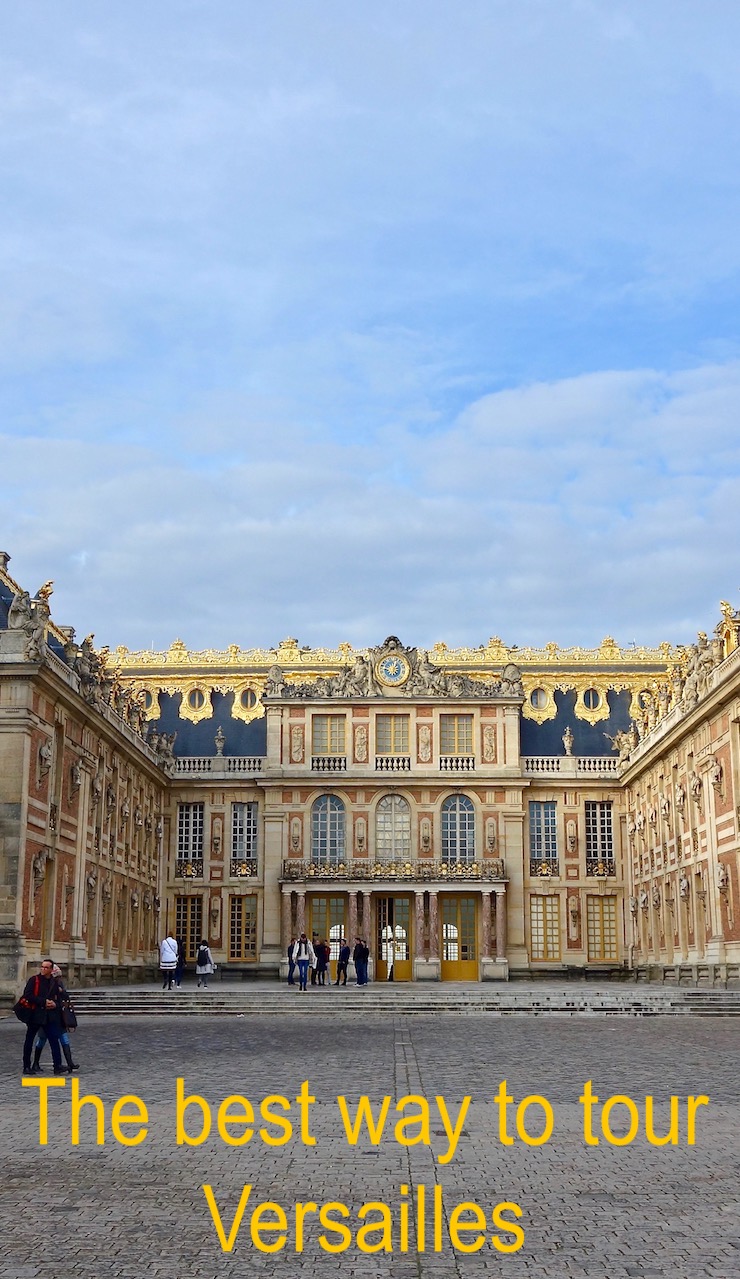 Ore restaurant
A meal at Ore is a casual-while-also-sumptuous way to end your tour of Versailles. Or to start it – Ore is also open for breakfast. But make a reservation. You'll find Ore at the Château de Versailles, Place d'Armes, Pavillon Dufour on the 1st floor. Tel. (33) 01-30-84-12-96. Open Tuesday to Sunday 8 a.m. to 6.30 p.m. Closed Monday.
For more information on the best way to tour Versailles and other top French destinations visit the official French Tourism website.