This post may contain affiliate links.
When it comes to Palm Springs hotels, you'll be spoiled for choice, but how do you compare hotels and resorts? If you're wondering where to stay in Palm Springs, California, here are seven great options.
Where to Stay in Palm Springs
Palm Springs is changing. There have always been plenty of reasons to vacation in this Southern California winter haven: sunshine, spas, hiking, golf, art and mid-century modern architecture. No wonder it was such a draw for Hollywood stars in the 60s.
Long popular with retirees, and well known as a gay-friendly destination, this desert hot spot has emerged from its sleepy reputation like an art deco butterfly spreading its Joseph-Adler-designed wings.
Palm Springs Hotels on the Rise
Today Greater Palm Springs, made up of nine communities altogether, has reached a whole new level of cool with a flock of younger design-centric folk moving in.
This means hotels have upped the ante, investing in amenities and service and taking architectural risks. This is good news for you.
Whether you're after a traditional luxury resort, an urban mecca of cool, a laidback lair or eclectic flair, here are seven top Palm Springs hotels to choose from.
My Palm Springs hotel reviews are of:
Margaritaville Resort Palm Springs – Formerly the Riviera Palm Springs
Holiday House – A retro-chic boutique hotel
Kimpton The Rowan – A sleek downtown property that rocks snob appeal and style
The Parker Palm Springs – Celebrity spottings and a funky glam vibe
Ritz-Carlton Rancho Mirage – An exclusive haven in the hills
Renaissance Indian Wells – A family-friendly resort 15 miles from downtown Palm Springs in Indian Wells
Two Bunch Palms – A serious spa sanctuary in Desert Hot Springs
Downtown Palm Springs Resorts
1) Margaritaville Resort Palm Springs – Formerly the Riviera Hotel
When I stayed at this 4-star Palm Springs hotel for a delightful few days, it was still the Riviera Palm Springs, so I'm not sure how the revamp to a Margaritaville property has turned out. But here's a bit about my stay.
A Trip into the Past
The air was as dry as a sunbaked rock, the sun beat down on the turquoise pool and the resort was filled with celebrity ghosts.
Elvis, Dean Martin, Frank Sinatra, Marilyn Monroe: they all lounged poolside here in the 60s, and I couldn't help wondering what went on when it was the getaway of choice for the Hollywood Rat Pack.
Celebrities at the Riviera
Of course I sniffed out as much gossip about this legendary Palm Springs hotel as I could. There are reports of Frank Sinatra throwing champagne bottles at second wife Ava Gardner, and of Marlene Dietrich and Greta Garbo splashing around naked in the pool.
From my deck chair under a palm tree I looked around eagle-eyed for any signs of Hollywood decadence, but the wildest thing I saw was a bikini-clad woman ordering a margarita at the pool bar.
Mid-Century Modern Decor
Nonetheless, this centrally-located resort still feels vibrant and fresh rather than being lost in the past.
I chalked this down to the chic-with-pizzaz decor of the lobby, restaurants and its many intimate sitting areas exquisitely decorated with a mid-century modern flair.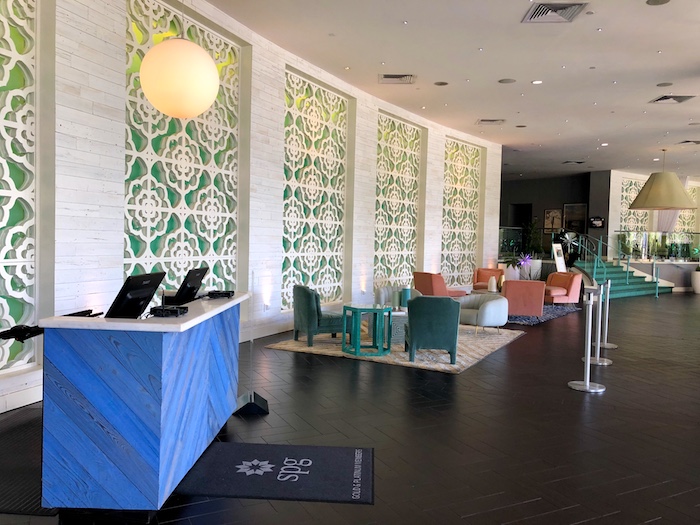 Location
Built in 1959, the hotel has a spoke-wheel layout, with six low rise accommodation wings extending out from the main pool area. It's surprisingly spacious for an urban hotel and is located at the edge of the Uptown Design District, less than two miles from the downtown strip.
One of the Best Hotel Pools in Palm Springs
Amenities include a pool shaped like a grand piano (if you squint you can kind of see it, otherwise it looks like a misshapen yet sparkling blue blob) and an upbeat pool vibe with a DJ on weekends and sexy cabanas.
Update: When I was there, there weren't a lot of families, but the reviews I've read since report the new Margaritaville Resort can get crowded with kids in the pool.
Restaurants
Places to eat and drink onsite include the luxe casual Come Monday Cafe, the 5 o'Clock Somewhere Bar, and still to come is the JWB Grill for all your steak needs.
When I stayed here, I ranked it as one of the best places to stay in Palm Springs if you want to be close to downtown without giving up a leisurely poolside atmosphere and have access to an onsite spa.
Address: Margaritaville Resort Palm Springs is located 1600 North Indian Canyon Drive, Palm Springs, CA 92262
Check prices and availability here.
2) The Holiday House – Retro Chic
Speaking of holidays, after two nights at the Riviera I moved to Holiday House. This newly-revamped property dates back to 1951 and sits just a block away from all the action on Palm Canyon Drive (Okay, maybe there's not that much action. It's not LA.)
A backyard pool
Owned by the same peeps behind the rustic-meets-chic Sparrows Lodge, Holiday House is a boutique motel-style property wrapped around a large rectangular pool.
Retro Cool
It's hard not to be seduced by the laidback street-stylish vibe of Holiday House. The garden-y grounds, complete with citrus trees and ramped up with a red poppy garden sculpture by Donald Sultan, have a read-a-book tranquility and I relished a couple of lazy hours by the pool.
Decor
Unveiled in 2017, Holiday House was redone by celebrity designer Mark D. Sikes (Reese Witherspoon is a fan), and the hotel's fresh blue-and-white colour scheme and bold modern art (think Hockney and Alex Katz) in the small lobby/bar/reception area make it hip without being overtly hipster – let's call it 'motel modernism'.
The breezy blue and whites continued into my second-story room, making me feel as if I were staying in a Delft porcelain box (if Delft porcelain boxes had kitchen nooks, balconies and Malin+Goetz toiletries).
Good for couples and hipsters
All in all I'd say the Holiday House motel/hotel is an ideal Palm Springs getaway for travellers, especially couples, who aren't into flash and glam or sprawling anonymous properties, but lap up contemporary culture and want to be central.
Note: To foster a sociable vibe, there are no TVs in the rooms. I didn't even notice until I heard someone else mention it – I guess I was too busy relaxing poolside.
Address: Holiday House Palm Springs is at 200 W Arenas Road, Palm Springs, CA 92262
Check prices and availability here.
Kimpton The Rowan – Sleek and Stylish
Just down the street from Holiday House is the luxe and polished Kimpton property The Rowan, a cornerstone of Palm Springs' $400 million downtown revitalization project.
Location
Steps off 'The Strip' of Palm Canyon Drive and a pebble's toss from the Art Museum, the Kimpton Rowan reaches new heights. Literally. Seven stories high, this 153-room luxe hotel was a controversial build in low-slung Palm Springs.
Whether you love it or decry it, it's the buzziest new addition to hit PS in years.
All About the Views
What you'll get at The Rowan: views and more views. Guest room windows offer panoramas of the San Jacinto Mountains, the city and the endless desert flats.
Decor
You'll also get tasteful panache, especially in the lobby where a sky high ceiling and sophisticated decor, including a strangely-layered chaise lounge I'm infatuated with, gives a sleek edge to this very urban property.
You'd think the 16-foot macramé owl would lower the tone, but it somehow blends in, adding a tongue-in-cheek nod to Palm Springs' midcentury modern roots.
Kimpton Restaurants
I didn't stay at The Rowan but toured around, sighed with desperate longing over the floor-to-ceiling windows in the penthouse Presidential Suite and had lunch at the Juniper Table, a casual street-level eatery that aims to elevate counter-service fare by use of premium local ingredients.
For fine dining, the hotel's rooftop 4Saints restaurant has a menu that focuses on Mediterranean and French-inspired shareable plates.
Rooftop Pool
That's not the only reason to reach for the top. With the only rooftop pool in Palm Springs, along with six pool cabanas that can be rented out for a (hefty) fee, The Rowan is sure to be a hit with citified sophisticates.
You can always try to get a day pass for the pool if you're not staying at the hotel.
Address: Kimpton The Rowan Palm Springs is at 100 Tahquiz Canyon Way, Palm Springs CA 92262
Check prices and availability for The Rowan here.
Palm Springs Resorts
The Parker Palm Springs – Funky, Glam, and Discreet
Celebrity Hideout
Push through the tangerine double doors of The Parker Palm Springs and enter a world of jet set glam and fabulous fun.
And here's the backstory on The Parker: It's a pedigreed Palm Springs property (how many 'P' words can you fit into one sentence?) once owned by the 'singing cowboy' Gene Autry.
Privacy
If you want to have a clandestine affair and ostensibly stay on either side of the resort like Brad and Angelina were rumoured to do after filming Mr and Mrs Smith, you can do so without being bothered.
Privacy and discretion is just one of the reasons celebrities still love it today.
History of the Parker Palm Springs Resort
Like the Margaritaville Resort, this is a So Cal (Southern California) hotel with a past.
After Gene Autry sold it in 1994 it became the Givenchy Hotel & Spa, a luxury property that aimed for the grandeur of Versailles. In 1998 it was bought by Merv Griffin and renamed Merv Griffin's Resort and Givenchy Spa.
It regained a new life (and new A-list following) when it was taken over by Le Méridien and redesigned by Joseph Adler in 2004.
An Alice in Wonderland Kind of Hotel
Sitting on 13 acres, a 5-mile Uber ride from downtown Palm Springs, the Parker combines wacky exuberance with elegance, no easy feat in the world of deluxe hotels.
Hands down this is one of the best hotels in Palm Springs if you like luxury and with artsy fun.
Where else can you stroll past a vintage pharmacy sign that blares 'Drugs', a seven-foot bronze banana sculpture and a lemonade stand in one go? Or have Leonardo DiCaprio rent out the entire Mister Parker restaurant for himself and a handful of friends?
While I wasn't part of DiCaprio's crew, I did spend an evening at The Parker, and as soon as I walked past the suit of armour in the lobby I was smitten. This developed into a fully-fledged hotel crush after drinking a glass of bubbly at the dark and saucy Counter Reformation, a newly-minted wine bar complete with a carved confessional imported from Italy.
Amenities
The Parker has two outdoor and one indoor pool, a fitness centre, tennis courts and those all important croquet lawns and boules courts. Restaurants include the more casual Norma's and the upscale Mister Parker.
If I return to Palm Springs (actually, that's a when, not an if), the Parker will be my property of choice.
Mostly I want to hang by a chlorine-free pool, swing in a hammock on my own private terrace and pretend I'm a celebrity who doesn't want to be disturbed. What's not to like about that?
Address: The Parker Palm Springs, 4200 E. Palm Canyon Drive. Palm Springs, CA 92264
Check prices and availability for the Parker Palm Springs hotel here.
Ritz-Carlton Rancho Mirage – An Exclusive Haven in the Hills
By all accounts (I asked at least two people) the Ritz-Carlton Rancho Mirage Resort is the top luxury resort in Palm Springs.
Location
This secluded getaway is perched nine miles southeast from Palm Springs up in the foothills of the Santa Rosa Mountains, and the views of the Coachella Valley are nothing less than stunning.
Restaurants at Ritz-Carlton Rancho Mirage
While the Edge Steakhouse is purportedly one of the best (and most expensive) restaurants in Palm Springs with one of the most coveted views, the hotel's State Fair Bar & Kitchen's local ingredients, California-inspired cuisine and homemade charcuterie captured my desert-warmed heart.
This is a resort where connecting with Palm Springs' unique desert and mountain scenery is as simple as sitting by the fire pit and watching the distant mountains turn pink in the twilight.
It's a place to hike, dine, soak up serenity in the adults only Vista Pool and indulge in a Desert Wildfire Poultice Massage or a Sec-he Rock Ritual at the splashy two-story spa, part of a mega-bucks revamp in 2014.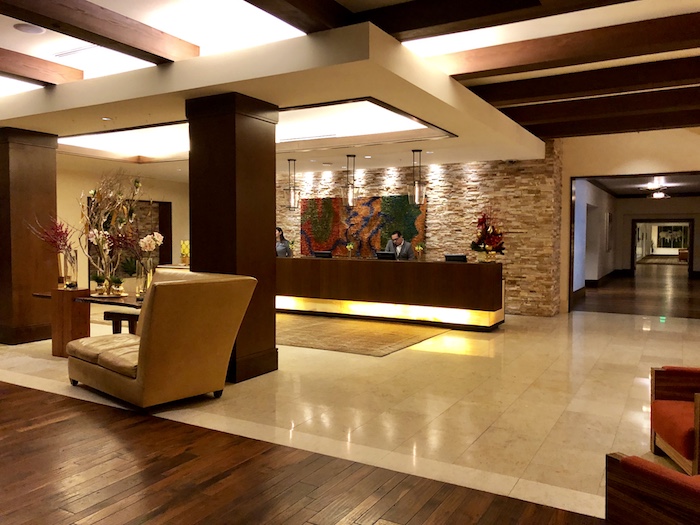 Decor
This 5-star resort is designed to soothe and impress, with natural tones and materials used throughout. Think stone, copper, wood and fire, lots of sand beiges and oversized windows that blur the boundaries between nature and resort.
Ah, I'm salivating just thinking of it. If you're wondering where to stay in Palm Springs that will answer your every luxurious need, look no further.
Amenities include a Ritz Kids' Club, the full service Ritz-Carlton Spa and three pools. With it's peaceful cliffside location and 36,000 acres of space, this is a 5-star resort to breathe in – even if every breath will cost you big bucks.
Address: Ritz-Carlton Rancho Mirage, 68900 Frank Sinatra Drive, Rancho Mirage, CA 92270
Check prices and availability for the Ritz-Carlton Rancho Mirage here.
Renaissance Indian Wells Resort & Spa – A Family Friendly Resort
My first impression on checking into the Renaissance Indian Wells Resort is that it's a good hotel for conventions, families and golfers, with easy access to the Indian Wells Golf Resort that rubs up against it.
It's also an option for people who want to combine crisp sheets and pool time with the annual Coachella Valley Music and Arts Festival, which is held in Indio 9 miles away.
While the design of the Renaissance is a bit ho hum – block-like towers and an abundance of polite beige and pale sienna – the sweeping double staircase is eye catching and so are the open hallways that look down over a central lobby.
Pools at the Renaissance Indian Wells
For me, however, the highlight is the vast pool area where I snatched as much deckchair time as I could. (And let me tell you, with so many things to do in Palm Springs it wasn't easy.)
The pool area is where the resort-like atmosphere of the Renaissance kicks in. There is a sandy beach pool that is so child friendly it makes me want to have kids myself. There are islands for deck chairs, a floating pavilion, whirlpool and plenty of places to lounge.
The bright red and orange patterned umbrellas give it a kicky burst of colour while views of the parched slopes of the Santa Rosa Mountains give it an oasis-in-the-desert feel.
Hotel tip: My petite balcony overlooking the pool was a delight (so book a room with a balcony).
About the Renaissance Indian Wells
Formerly the Esmeralda Hotel, the Renaissance Indian Wells (not to be mixed up with the Renaissance Palm Springs) is a 4-star Marriott property and amenities include the Esmeralda Spa and a Camp Oasis Kid's Club.
A selection of restaurants including the Sirocco Pizza Company and CAVA (where I thought the DIY juice bar at the breakfast buffet was a nice touch).
Location
The property is about 15 miles southeast of Palm Springs city, not too far from the Living Desert Zoo & Gardens, but a good distance from the centre of Palm Springs.
Address: Renaissance Indian Wells, 44400 Indian Wells Lane, Indian Wells, 92210
Check prices and availability for the Renaissance Indian Wells here.
Palm Springs Spa Resorts
Two Bunch Palms – A Unique Spa Resort in Desert Hot Springs
Ah, the memories. It was so satisfying to revisit Two Bunch Palms, one of the most unique spa resorts I've been to (and I've been to a lot). A few years ago I spent five days at this luxe property in Desert Hot Springs. My mother (who was my partner in crime) and I still talk about what a great trip it was.
Extensive Grounds
For one thing, this quirky-yet-sophisticated spa resort is a 70-acre property with spacious grounds studded with palms and giant tamarisk trees and populated by ducks and egrets, and there is a wide range of rooms and condos to choose from.
Rooms and Condo Suites – Plenty of Options
Being able to book a two-bedroom condo with an outdoor hot tub in the backyard gave us plenty of space and privacy because no matter how much my mother swears she loves me, I'm sure she was glad to escape my sparkling company for a few hours each day.
A Hot Springs Resort
Here are some things to love about Two Bunch Palms: Number one is the thermal springs that fill the steaming outdoor grotto pools and contain plenty of healing minerals.
Luxury Spa
The second thing is the first class spa treatments. (I'm partial to mud. My mother liked the massages.) Two Bunch Palms is a spa that gets a lot of weekend escapees from LA and they demand the best.
The resort is also no stranger to celebrities but of course that's all very hush hush. (I didn't say Cher. You didn't hear it here.)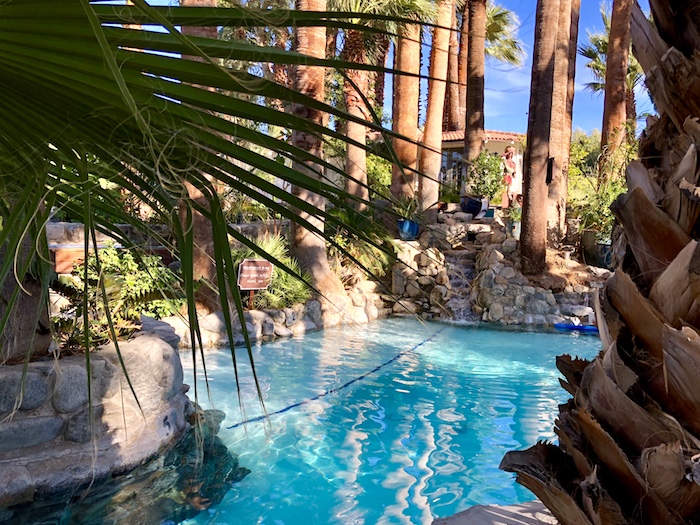 Two Bunch Palms' Intriguing Past
And the fact that Two Bunch Palms really was a hideout for Al Capone, who is said to have holed up here with his silent screen actress girlfriend, Gladys Walton, is irrelevant (except I think it's relevant).
And whether or not that really is a bullet hole in the bureau of his original stone cottage room from a foiled assassination attempt is up for debate (except I believe it).
And if Two Bunch Palms really is going to get rid of Capone's cottage, which is fascinating bit of history, I think it's a shame.
Adults Only
Two Bunch Palms is an adults-only haven with a loyal contingent of return guests and if you're seeking a serious spa vacation, this is one of the best places to stay in Palm Springs.
As I lay soaking up minerals in the water in the steaming outdoor pool, the woman beside me confessed she and her husband have been coming here for 20 years. I'm considering following in her footsteps.
Hotel tip: This is a destination spa resort and the pools are soaking pools rather than swimming pools. Expect to relax.
Sustainability
This dreamy Palm Springs spa resort may not want to crow about its gangster hideaway past, but it's rightfully proud of its sustainable present.
It was the first carbon neutral resort in the USA, and is completely solar powered. If that's not making use of Palm Springs incessant sunshine, I don't know what is.
Address: Two Bunch Palms 67245 Two Bunch Palms Trail, Desert Hot Springs, 92240.
Check prices and availability for Two Bunch Palms here.
Pin me!
For activities check out Things to Do in Palm Springs and hiking the Palm Springs Museum Trail.
For more information on where to stay in Palm Springs, visit the Official Greater Palm Springs website.