This post may contain affiliate links.
If you're looking for a desert getaway where the sun shines, the architecture is sleek and the vibe is retro Hollywood, Palm Springs, California, is a top destination. Here's a handy travel guide plus a fabulous list (if I do say so myself) of fun things to do in Palm Springs, CA.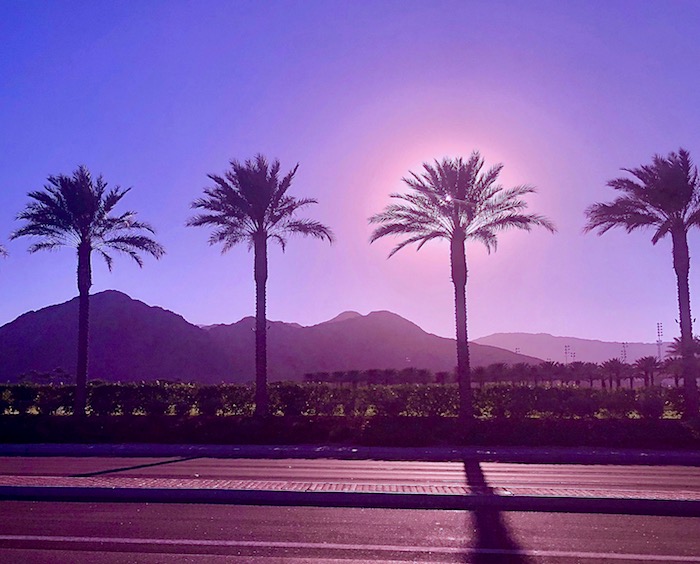 What is Palm Springs?
Palm Springs is a stereotype. Only there are so many stereotypes they're exploding in my head like fireworks over the Colorado Desert. Is it an outdoor playground? A celebrity hangout? A gay mecca? A haven for retirees? Is it chic, outdoorsy, retro, tacky, sophisticated, earthy, agricultural, dripping in wealth or all of the above?
Everybody seems to have a different idea of what Palm Springs is.
What is Palm Springs famous for?
A desert getaway about two hours from LA, Palm Springs is known for its blue skies, almost endless sunshine and mid-century modern architecture that lies low and sexy in the landscape like Dean Martin in a deck chair.
Famous as the Rat Pack hangout of the 50s and 60s, Palm Springs' celebrity lustre lingers, with ghosts of stars such as Frank Sinatra, Sammy Davis Junior, Marilyn Monroe, Bob Hope and Liberace dancing on through the architecture, hotels, grand estates and celebrity tours.
Why visit Palm Springs?
With a newly-revitalized downtown core, Palm Springs offers a laid back lifestyle with a quirky Vegas edge and an inviting appeal that makes a visitor (meaning me), immediately want to check out real estate prices. It also offers excellent pool time.
Perhaps most importantly, Palm Springs has no parking metres so downtown parking is free.
What you need to know
The first thing you need to understand is that Palm Springs isn't just Palm Springs city. Greater Palm Springs is made up of nine small cities altogether. This is why the first time I vacationed here with my mother I thought I was in Palm Springs and kept getting confused when people told me I wasn't. Thank goodness for GPS. There are plenty of amazing things to do near Palm Springs city!
It turns out we were in Desert Hot Springs. We stayed at the dreamy Two Bunch Palms, a spa resort with a long history and natural hot springs.
Since one of the minerals in the water is lithium, nature's own happy valium, my mother and I were completely content and didn't care where we were anyway. (Kidding! The jury is out on whether there are any real effects in lithium springs, but I'll tell you we didn't leave depressed.) Regardless, the cuisine and the massages were excellent.
What to do in Palm Springs
Aside from spas, Palm Springs has art, golf, shopping, adventure, agriculture tours and festivals (Coachella!). There are fabulous cocktail bars, hiking trails and sacred places. To help you plan your trip, here's a rundown on some of the top things to do in Palm Springs as well as a few fun and quirky Palm Springs activities – because quirky is what Palm Springs does best.
Travel Tip: If you're planning a weekend away in Palm Springs, check out this programme of events and fun things to do in palm springs this weekend.
Palm Springs things to do
Now, without further adieu, here are some of the best things to do in Palm Springs.
Art & Culture
1) Visit the Palm Springs Art Museum – *A top Palm Springs attraction
One of the main cultural stops in Palm Springs, the sleek and fabulous Palm Springs Art Museum is right downtown and easy to walk to. With thought-provoking exhibitions and a sophisticated permanent collection that includes works by Warhol and Chihuly – this should be high on your culture-vulture list. It's certainly one of the top things to do in downtown Palm Springs.
Budget tip: The downtown Palm Springs Art Museum is free every Thursday from 4 to 8 p.m. and all day every second Sunday of the month.
2) Soaking up the street vibe – Coachella Wall WalksIf you consider yourself informed and artsy (and of course you are), you should venture to the city of Coachella for a Coachella Walls Walking Tour. Coachella shows a different side of Greater Palm Springs, one where the roots of agriculture run deep, the art scene is booming and a street mural tour will smack you in the face with its colour, energy and message.
Coachella travel tip: It seems counterintuitive, but the famous Coachella Valley Music and Arts Festival is not in the city of Coachella. It's in Indio, about 25 minutes away. And yes, all of these places are in Palm Springs. And all of Palm Springs is in the Coachella Valley. And the Coachella Valley is in the Colorado Desert. And the Colorado Desert is in the Sonoran Desert. Don't worry, I'm confused, too. Now let's get back to the best things to do in Palm Springs, California.
Shopping
3) Window shopping on El Paseo
El Paseo, the swanky shopping district in Palm Desert is Southern California's answer to Rodeo Drive.
With more than 300 shops, palm-lined streets and Mediterranean-style fountains, this is an upscale shopping experience that will wear holes right through your caviar Chanel wallet. If your feet get worn out too, dine with the ladies-who-lunch crowd at Pacifica Seafood, where a Sugar-Spiced Salmon or Pan Seared Chilean Seabass will have you up and spending in no time.
4) An unexpected Palm Springs attraction – The Allan Pitchko Art Galleries
Is it a museum? An art gallery? An antiques shop? The Allan Pitchko Art Galleries is all of these. This vast array of collectibles is showcased at an elegant warehouse-sized space in swishy Rancho Mirage. Clearly, Edmonton-born owner Allan Pitchko takes a delight in the purchasing process, combing estate sales in LA and curating collections of vintage furniture and fine art.
Where else can you buy lamps once owned by Larry Hagman or a display case of native artifacts once owned by Carroll O'Connor?
Palm Springs tourist attractions
5) Palm Springs Aerial Tramway – *A top Palm Springs attraction
How can you go wrong with the largest rotating tramway in the world? Especially one that takes you on a mind-blowing ride into the San Jacinto Mountains, where you'll switch palm trees for pines and wish this wasn't the one day of your trip you forgot to bring an extra jacket.
Switch it up. Go at night. The last tram doesn't go down until 9:45 p.m. Soaring down the steep rock face of Chino Canyon in the velvety night with the glittery lights of Palm Springs swirling below you is a 10-minute trippy experience you won't soon forget.
Budget tip: The cost for the Aerial Tramway is $25.95 adult ($16.95 child). If you go after 4 p.m. you can buy a Ride 'n' Dine ticket that includes the tram and a meal at the Pines Cafe up at the Mountain Station for $36 ($23.50 child). Will that impress your date or what?
6) Celebrity attraction – Sunnylands Estate
The Sunnylands home in Rancho Mirage was built by the wealthy Annenburg family in 1966. It's so special you can't tour it unless you book in advance.
I mean, Obama could probably walk in unannounced and, in fact, has stayed here more than once. Nixon, Reagan and Bush hung out here and so has nearly every other president who ever needed a fancy desert estate to hold top secret meetings and get a little pool time
(I know what you're wondering, and no, Trump hasn't stopped in.)
What can you do at Sunnylands?
Even if you don't score a Historic House Tour ticket ($48), you can visit the Sunnylands Centre and Gardens. Here you can watch a documentary about all the fabulous New Year's Eve parties you weren't invited to, walk a labyrinth, wander garden trails with their sun-kissed cacti and smokebush, take a birding tour, enjoy the art exhibits or grab a bite at the Cafe.
7) Off the beaten track – The Cactarium at Moorten Botanical Gardens
If you've ever wanted to see a rare welwitschia or a cresting cactus up close, a fun thing to do is to check out the cactarium at the Moorten Botanical Gardens.
Started by Chester 'Cactus Slim' Moorten, one of the original Keystone Cops, the Moorten Botanical Gardens opened in 1938. Now run by his son Clark, this pleasantly prickly spot has a kitschy flair that adds a sense of fun to some serious cacti specimens. Just watch where you sit. ($5)
Outdoor activities in Palm Springs
8) The Palm Springs Museum Trail
If you don't want to venture far from the Palm Springs core, the Palm Springs Museum Trail starts at the north corner of the museum parking lot. Walk up for amazing views of Palm Springs and the San Gorgonio Mountains beyond. Also, because it's right next to the museum, you can feel cultured while you climb.
9) Hiking at Indian Canyons – *A top Palm Springs attraction
The Outdoors is Palm Springs's middle name. (No, it's not. That's just stupid.) The point is, Palm Springs is a hiking paradise with miles of trails and vistas galore.
For sheer natural impact, Indian Canyons provides an eyeful of eerie rock formations, Jurassic-sized fan palms, streams and cliffs. This is a sacred place for the Cahuilla people and you can practically feel the spirituality radiating off the ancient rock walls.
Food & Drink in Palm Springs
10) Slurp a date shake at Oasis Date Gardens
Date shakes are a 'thing' in Palm Springs so of course, I had to try one. But I don't cozy up to any old wizened fruit so I went to the source.
A 45-minute drive from downtown Palm Springs, Oasis Date Gardens is a 175-acre organic date farm in the Coachella Valley. Stop in for a shake so thick you need a spoon, do a date tasting and watch a date-based video – it might be the best first date you'll ever have.
11) Drink in the confessional at The Parker Palm Springs
The Parker is one of the most iconic resorts in Palm Springs. Once owned by Merv Griffin, and infamous as the hotel where Robert Downey Jr was arrested for drugs (don't worry, he's reformed now and we love him very much), this celebrity-studded resort still retains a sense of posh funkiness and fun.
At the hotel's Counter Reformation Wine Bar, you can order a mouth-watering charred beef carpaccio, pick and choose glasses of wine from the eclectic menu or pop into the wood-carved confessional for a bit of alcohol-fuelled redemption.
12) Dine communally at Sparrows Lodge
It may be the hippest communal meal in town. It may be the only communal meal in town. Set in the intimate courtyard of Sparrows Lodge – a 50s-era retro retreat that now gleams with modern art and oozes rustic coziness – this twice-weekly dinner offers Chicken Wednesdays and Steak Saturdays for $45.
I can personally endorse my fresh greens with pomegranate, roasted chicken, potatoes with citrus and thigh-expanding brownie. If anything is conducive to being sociable with strangers, this family-style feast is it.
Tip: Make reservations far in advance. It's popular with locals.
13) Desert stargazing at The Ritz-Carlton Rancho Mirage
If you're wondering what to do in Palm Springs at night, I've got you covered. The hillside Ritz-Carlton Rancho Mirage is one of the best – and certainly the most elegant – places for stargazing in Palm Springs. It's also a fabulous place to stay. On Saturday nights, guests can gaze through a telescope while snacking on interstellar treats like Milky Ways and listening to Elton John's Rocket Man or David Bowie's Space Oddity.
For me, the real star of the evening was the Ale-Braised Short Ribs at the resort's State Fare Bar & Grill, a casually-posh eatery where locally-sourced ingredients and artisanal additions create a powerful gravitational pull.
14) Social Cycle
To do a social cycle in Palm Springs you have to be comfortable with being stared at and pointed at, working out your thighs and laughing hysterically. A guide will regale you with local lore (and steer) as you and your besties group-pedal a non-motorized vehicle that looks like a lit-up trolley car. My advice? Practice your regal wave before you go, because this will get you noticed.
15) And then the night gets weirder: Fabulous Bingo with Shirley Claire
Haven't you always wanted a night of bingo with a former Palm Springs Follies dancer? If you're in Palm Springs on a Monday night, you're in luck. Song, dance, community-minded drag queens and a risqué O-69 bingo call … anything can happen at this bonkers activity in the landmark Ace Hotel and Swim Club. Plus, you might even win a drink.
More top things to do in Palm Springs
I hope that gives you some ideas for fun things to do in Palm Springs, but it's only the tip of the iceberg – though now that I think about it the closest thing you'll get to an iceberg in this desert region is an Iceberg Wedge Salad at the tony Spencer's Restaurant, which is yet another thing to do in Palm Springs.
So get out and explore and don't forget your sunscreen.
Travel guide for things to do in Palm Springs, California
Getting to Palm Springs Canadian travellers rejoice: WestJet flies direct to Palm Springs International Airport from Toronto and Vancouver. Hurrah!
Best places to stay in Palm Springs: Check out my post on where to stay in Palm Springs for a rundown of some of my favorite hotels in the area.
Do you need a car in Palm Springs?
There are a lot of fun things to do around Palm Springs and to make the most of it, you pretty much need a car. You could do it without a car but you'd probably want to stay in downtown Palm Springs and take taxis, Uber or tours. Uber is very popular here. Or you could just hole up in a resort like the former Rat Pack hangout The Riviera Palm Springs and never leave. (Sounds blissful.)
Weather in Palm Springs
The average temperatures are: Jan 43-69 F; April 59-91 F; July 76 -108 F; Oct 63-93 F. I was there in December and the temperature ranged from hot-suntan-by-the pool to I-need-a-cashmere-sweater-under-my-leather-jacket. So if you're wondering what to do in Palm Springs in December, this travel guide is perfect for you!
What are the cities of Palm Springs?
Palm Springs

Desert Hot Springs

Cathedral City

Rancho Mirage

Palm Desert

Indian Wells

La Quinta

Indio

Coachella
For more information on planning your trip go to Greater Palm Springs Visitor Information. My trip was hosted by the Greater Palm Springs CVB, all opinions and cacti love are my own.