This post may contain affiliate links.
Israel Glamping
There are are some amazing places in Israel to be explored, and glamping – luxury camping – is an adventurous way to get close to nature without sacrificing (much) comfort.
I spent a night glamping in Israel in the awe-inspiring Negev Desert and this is my experience.
My Glamping Adventure in the Negev Desert
It was the moment I'd been dreading. I woke up in my canvas tent in the Negev Desert of Israel and had to take a trip to the outdoor latrine.
"No," screamed my sleep-groggy head.
"Yessss," insisted my bladder.
Too lazy to search for the lamp, I felt around for my slippers, knocked a glass of water off my bedside table, made a half-hearted attempt to mop it up and grabbed a jacket – it's chilly in the desert at night.
Unzipping the tent door, I stepped outside into a luminous world caught between sand and stars.
What is Glamping?
Glamping is luxury camping. Think glamor and camping combined.
It's an upscale camping experience that combines a back-to-basics connection to nature with high-end amenities such as chef-prepared meals, roomy tents, beds, linens and electricity.
Although, to be honest, trekking to the toilet after dark was one connection to nature I could do without.
In the remote desert, however, even this can prove to be a unique experience.
The Glamping Israel Trend
Glamping in Israel is growing in popularity and for good reason. For visitors to the country, it's an adventurous way to branch off from a more traditional Israel itinerary and explore some spectacular untamed areas.
In this case, it's the Negev Desert, a vast tract of arid land that sweeps down through southern Israel to Eilat and covers half the country.
How upscale your Israel glamping experience will be depends on the travel company and the campsite.
Some have meals included and some offer onsite restaurants. Our stay was an inclusive package and we were well taken care of.
Travel Tip: Make sure you find out what's included beforehand and pre-book any special excursions or activities you might want to do.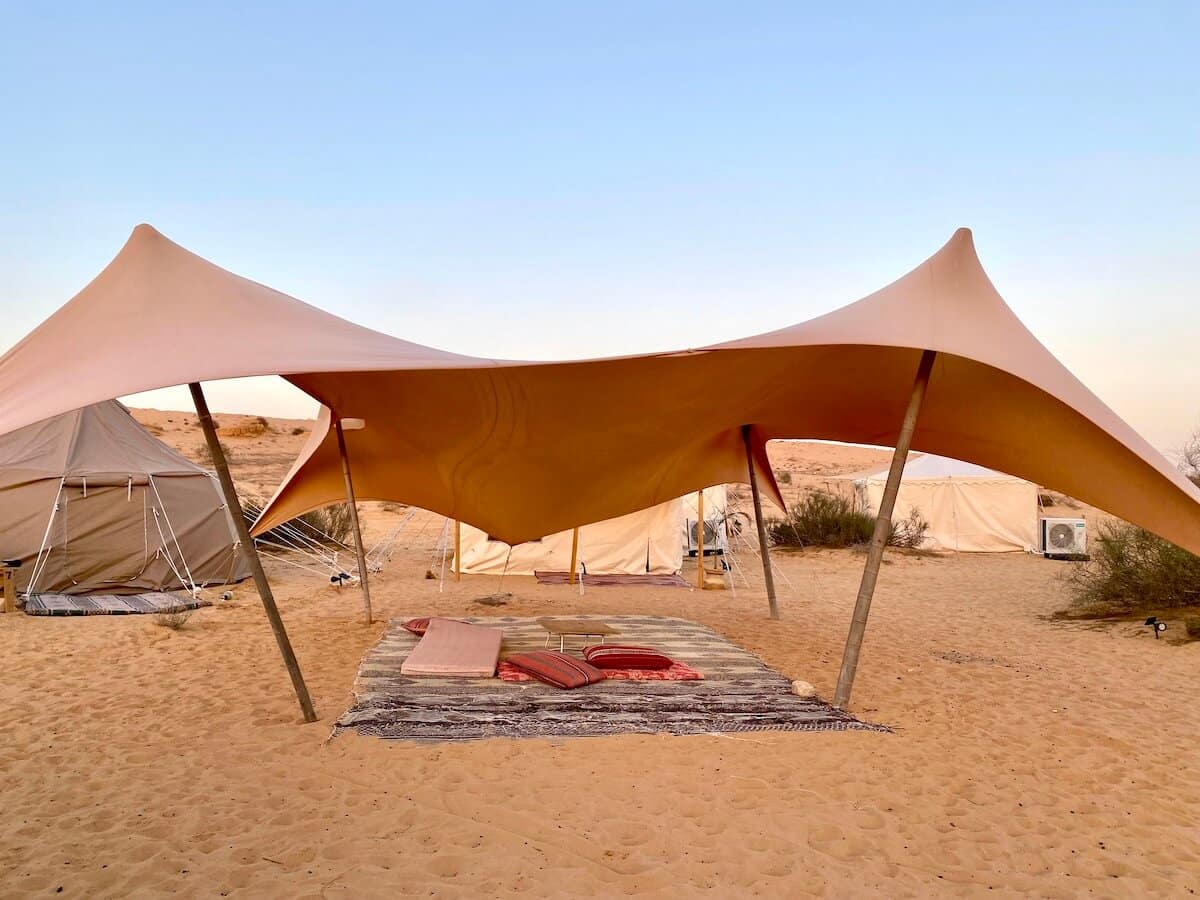 Glamping with Desert Adventure
Our group of six hosted journalists was with a small company called Desert Adventure Glamping.
While you wouldn't mistake the accommodation for grand hotel living like some glamping sites I've been to (hello, Four Seasons Golden Triangle), it might be best described as roughing it in style.
In addition to 18 tents for sleeping, our campsite had showers with hot running water, a bonfire area (where fire-blackened kettles provided endless cups of tea), and shaded areas to lounge.
The most elaborate space was the outdoor dining pavilion, a colorful spread of woven rugs, plump cushions and low tables protected by a sun-shielding canopy.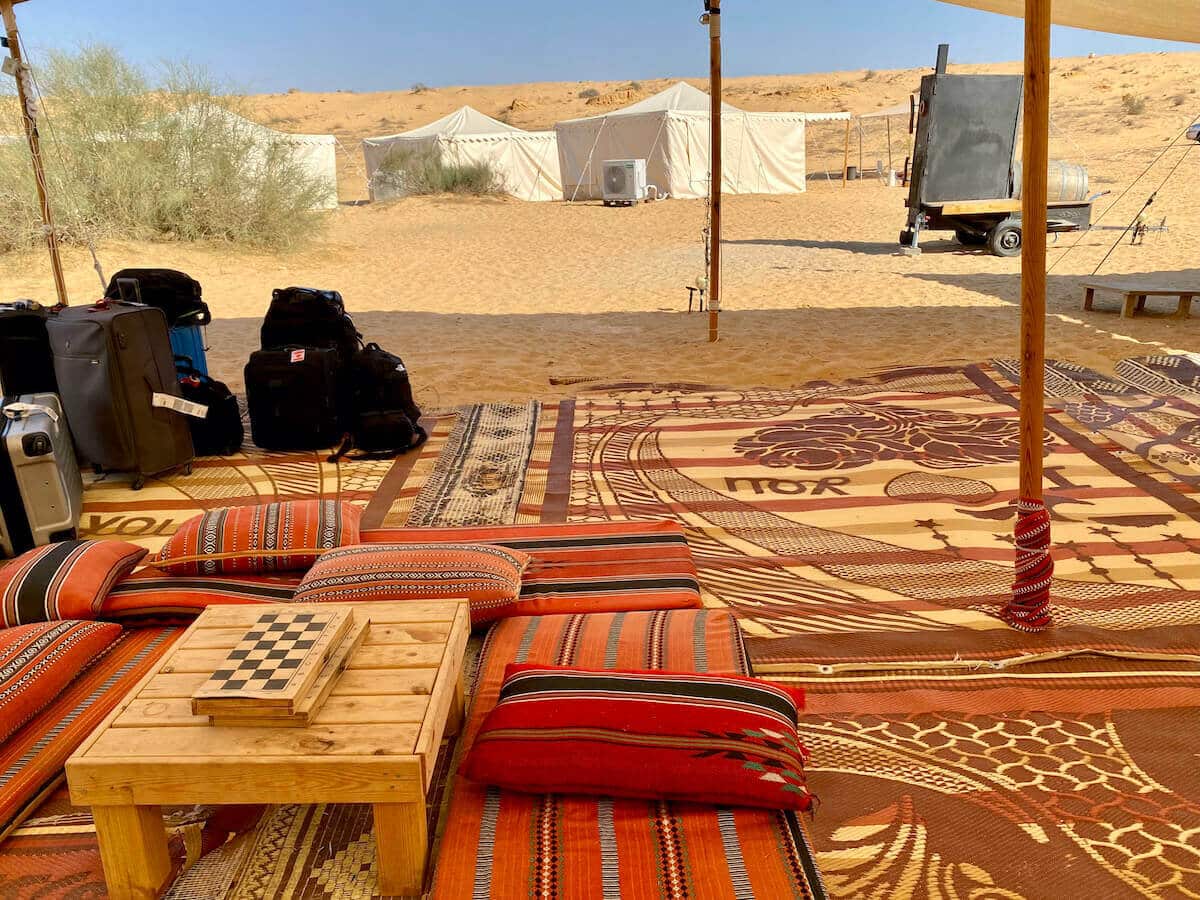 Israel Glamping Cuisine
Dining in the desert is an atmospheric way to eat, and food was a key part of our Negev camping experience. For dinner we'd been presented with tender beef simmered in wine, fragrant chicken curry and vegetarian stew.
The dishes, slow cooked in potjie pots (a sort of cauldron) over an open fire, were served buffet style along with local sides like rice, tabouli, hummus and spicy tomato salad.
For those with a tamer palate or families traveling with fussy eaters, Desert Adventures also offers options like pasta in tomato sauce.
For breakfast there were eggs made to order along with cereal, salads, cheeses and fresh bread.
The Negev Desert at Night
Once outside I felt fully awake.
The silence was thick and velvety, broken only by the hiss of the fading campfire. A Bedouin staffer darted out of the shadows, tended the fire then melted back into the night.
There are a number of Bedouin villages in the area. Bedouins, nomadic 'desert dwellers' as the term means in Arabic, have lived in the Negev for hundreds of years.
And while our tents weren't woven of goats' hair, like authentic Bedouin tents, the red striped ceilings and bell-shaped zip-up windows gave it an exotic desert vibe.
Camping in the Negev
Our campsite had a sense of the nomadic about it, too, as if – deluxe as it was – stakes could be pulled up and instantly replanted elsewhere. Almost like a pop up desert experience.
Billed as a 'secret location,' our Israel glamping site was in the heart of the West Negev. Not far from the Egyptian border, it was in the vicinity of Be'er Milka, an Israeli pioneering agricultural community established in 2006.
For me, the most unique thing was the remote setting. Like peaked eggs in a nest, our tents sat in a shallow bowl of a valley surrounded by gently-sloped dunes.
Desert Dunes
Moving through the darkness I padded along a row of tents, aiming for the latrines at the edge of camp.
At this time of night the landscape was shadowy and drained of colour, but earlier that afternoon the sand-coated hills had shone a pale ashy gold.
I'd gotten to know them intimately, toppling over in laughter several times as I tried my hand (or feet) at sand surfing down the two runs on the slope behind my tent.
Sustainable Facilities
It was a short walk to the outhouses. Thankfully, the toilets were scrupulously clean (it is luxury camping after all) with a sink set up outside for hand washing.
The facilities are also eco friendly – an important aspect of desert tourism in a fragile ecosystem where water is scarce.
Sawdust rather than water is used for flushing (it takes a bit of getting used to), and removable waste bags are used.
Big Sky in the Desert
Mission accomplished I made my way back. Overhead the moon glowed like a great bronze coin of Herod the Great, who, it's said, was a big fan of desert tranquility.
His famous clifftop fortress Masada, in fact, three hours east in the Judean Desert, is one of Israel's top tourist sites today.
Drawn by the gleam of the moon, I tilted my head back, spread my arms and did a slow circle. The sky was immense, bursting with stars.
I gave a nod to Jupiter, the bright planet overhead. (I knew it was Jupiter because I'd done a stargazing excursion the night before.)
With its lack of light pollution, the desert is a popular place for star seekers, and the Negev's Ramon Crater Nature Reserve was the first official dark sky reserve in the Middle East.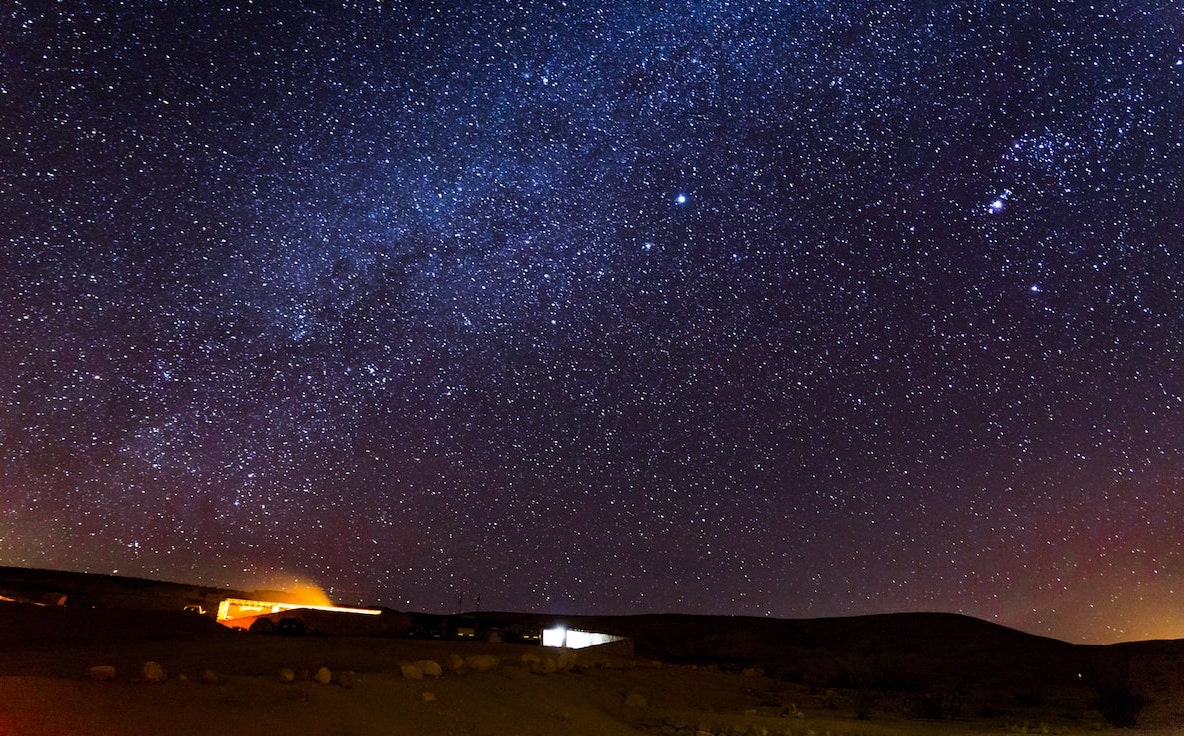 Meaningful Travel
Suddenly reluctant to go back to bed, I lingered, the sand pillowy under my soft-soled shoes.
The indigo stillness felt almost unearthly, and this chance moment of solitude felt like something worth hoarding, a huggable gossamer thing.
I'd been looking forward to many aspects of glamping in the Israeli desert: the chance to learn about desert traditions, to eat local cuisine and travel untrammelled terrain, but I'd been loathe to walk to the outdoor latrine in the night.
Who knew the short late night trek would be one of the most unforgettable moments of all?
---
Glamping Basics
What's New on the Horizon for Israeli Glamping?
Overall – though this is rapidly changing – glamping in Israel doesn't seem to be as 'glam' as in some other countries.
With new high-end properties being planned, however, such as Dan Hotels' Eilat Glamping, and a luxury glamping resort next to the fabulous Isrotel Bereshit Hotel in the Negev Desert, expect them to catch up soon.
Is Desert Adventure Glamping a True Luxury Experience?
That depends on your definition of luxury travel. If you're used to bedding down with a sleeping bag in a flimsy tent in the woods, then yes. If 5-star accommodation in Monaco with a doorman and butler is more your style then no.
What it is, is a true desert adventure where you're only separated from the environment by a sturdy canvas wall. It's experiential travel that combines an earthy vacation with personalized service and comfort.
Overall, a glamping experience is a far cry from regular camping. My tent had two narrow single beds, sheets, pillows and extra bedding. Towels were provided. It was equipped with a lamp, plugins, air con and heating powered by a solar energy system. The camp also had Wifi.
Tents can sleep up to eight, so it works for a family vacation with children.
One thing to note is that the tents are quite close together so you may want to pack earplugs if you're a light sleeper.
What Activities Can You Do?
There are plenty of things to do in the Negev Desert. It's one of the most interesting places to visit in Israel and the landscape is stunning.
Desert Adventures offers organized activities like Star Gazing, a Night Reptile Safari, a Guided Walking Tour and Sand Boarding.
Sitting around the campfire sipping mint tea is an excellent pastime as well.
You can also sightsee. Desert Adventure does a jeep tour that includes a visit to the 2,000 year-old cistern Bor HaSabah. (Pack your bathing suit because this is an archeological watering hole you can swim in.)
Best Places to Go Glamping in Israel
There are a few different travel companies in Israel dipping their toes into the world of upscale camping. Locations vary, as do the amenities. Some are quite rustic while others offer a full service package.
Accommodation ranges from permanent ecologically-friendly structures to yurts, tents, mud and straw huts and more.
Whatever the level of luxury, you need to know this is still a camping experience so there is likely going to be an element of roughing it.
Here are a few options:
Desert Adventure Glamping – Getting Away From It All
Desert Adventure is based in the West Negev. We stayed one night, though during holidays there is a two-night minimum. Meals are part of the package and it's an intimate desert experience.
Glamping.co.il – A Bespoke Glamping Experience
One of the first glamping companies in Israel, Glamping.co.il does custom-tailored luxury camping experiences. These 'pop up' glamp camps are set up specifically for you and can be situated in a variety of places, from wineries to remote wilderness.
Selina Ramon – Camping in Mitzpe Ramon
Opened in 2021, Selina Ramon glamping site is located inside the Ramon Crater in the Negev Desert. It offers a range of accommodation from glamping tents, including family-sized tents, to shared accommodation.
Appealing to an active, possibly more youthful, crowd, Selina Ramon offers tours, workshops, yoga classes, live music, and its onsite facilities include a pizza bar, dipping pools and restaurant.
Badolina Ein Gedi Glamping – Camping at the Dead Sea
At Badolina Ein Gedi Glamping you can bring your own tent, opt for a bell tent or book a dolina, a hand-built wooden cabin that comes with linens, air con and lighting.
This rustic permanent Israel camping site has an onsite restaurant, and a scenic location at the Dead Sea near the Kibbutz Ein Gedi.