If you've never been to a spa but are thinking of going, don't panic. Here's a simple 'how to spa' article that explains what kind of spas there are, what kind of treatments you can get and what spa rules you should follow. In five minutes you'll be able to spa in like a pro.
How to spa like a pro
No one is born knowing how to spa, and everyone has a first time. So don't be intimidated. The goal of going to a spa is to relax, not to be frightened. Spas would never make any money if they didn't make it a pleasant experience.
First you need to know about the different types of spas
What is a day spa? Day spas are places where you go for spa treatments but there is no accommodation.
What is a hotel spa? Quite obviously hotel spas are spas in a hotel but there are many different kinds, from small spas with one or two treatment rooms to full-service glamorous facilities with pools, saunas, treatments rooms and relaxation lounges. I love hotel spas when they're deluxe, such as the Gainsborough Bath Spa Hotel in Bath, UK.
What is a destination spa? A destination spa is a form of a hotel spa, but one where the spa is the focal point of the property, and the reason to be there is to spa. These types of spas offer a full immersive experience with (usually) excellent spa facilities and amenities, and often have various spa packages that might include meals, access to spa doctors (at least in Europe) and a full complement of treatments. One of my favourite destination spas is the very luxe Bad Ragaz in Switzerland.
What is a medical spa? This gets confusing, because in North America, a medical spa, or medi spa is often one where you can get more medical-based treatments such as botox, laser treatments, fillers or even plastic surgery. In Europe, however, the term 'medical spa' generally relates to a traditional spa cure based on natural elements such as thermal water, mud and exercise like the Hotel Nove Lazne in the Czech Republic, although some of the very luxe ones might offer treatments such as botox and lasers. This term shows the huge divide between Europe and North America when it comes to spa traditions.
What is a thermal spa? – The term 'thermal spa' is a term used primarily in Europe. In North America we might call it a hot springs spa or a mineral springs spa. It means that the spa has access to natural hot springs. At a 'mineral springs' spa, the water isn't necessarily naturally hot, but does contain minerals and comes from a spring rather than a tap.
Other words you might hear about water-based spa treatments are balneotherapy and hydrotherapy. Balneotherapy generally refers to the treatment of various illnesses through bathing in natural thermal water. Hydrotherapy refers to water-based treatments, but not necessarily with thermal spring water.
My pet spa peeve: I really hate it when spas say they have a 'hot springs grotto' or a 'thermal pool', when it's really just tap water heated up. If in doubt, ask.
What is a thalasso therapy spa? We're not done with water-focused spas yet! A thalasso spa is one where the treatments centre around seaweed and/or seawater. They're particular popular in coastal locations in Europe. The Dead Sea also has many thalasso spas.
What are nordic spas? – Nordic spas are based on a relaxation circuit that moves from a hot treatment (like a sauna) to a cold treatment (like a dunk in a cold plunge pool) to a relaxing break. The circuit is then repeated. Nordic spas, or nordic baths, like Spa La Source in Rawdon are hugely popular in Quebec and are quickly becoming popular all over Canada. At a nordic spa the focus is on outdoor experiences such as Jacuzzis and waterfall pools and they often make use of beautiful natural surroundings. Nordic spas are popular in summer and winter. There is nothing quite like sitting in an outdoor jacuzzi with snow all around you.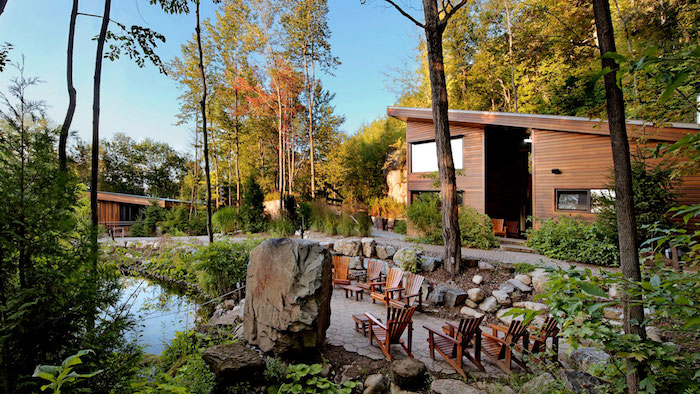 What do you do at a spa?
Get a massage. Probably the most common spa treatment of all is a Swedish massage. If you're just after a basic massage and are just learning how to spa, you might want to ask for that. From there, there are no end of different types of massage to choose from. You can get twisted up in a knot with a Thai massage, be massaged with a big stick in a Hawaiian Lomi Lomi, get a massage with hot stones, semi-precious stones or aromatic essential oils. If your health plan covers massage, make sure you ask for a RMT massage – one done by a registered massage therapist.
Get a facial. Facials are my number one pick at the spa. Often spas will offer a basic facial, which the spa therapist will tailor to your particular skin type, but the sky is the limit with facials. I've had gold facials, diamond facials, Fire and Ice facials and Red Carpet Facials. Probably my top pick for a facial is a collagen facial with medical-grade collagen, because I can notice an instant difference.
Body treatments. Body treatments often include some kind of interesting product like mud, tea, wine or even chocolate, and might include a body scrub, in which your skin is polished with ingredients such as salt. Body treatments can also include 'wraps' when you are slathered with some type of product and wrapped up, usually in sheets or blankets. Seaweed wraps are popular for cellulite treatments. I personally love them, but if you're claustrophobic, a wrap may not be the treatment for you.
Manicures, pedicures and reflexology. While some spas offer various types of manicures and pedicures, these generally just mean getting your hands and feet done. Usually they're soaked and massaged, your nails trimmed, cuticles treated and polish put on. Other spas don't offer 'beauty' treatments such as these, but instead might offer a straight foot massage or a foot-focused treatment such as reflexology, in which pressure points on the feet are massaged that correspond to various parts of the body – it's a treatment that takes place in the feet (or sometimes hands) but is supposed to affect the entire body.
How to spa correctly – spa rules you should follow
If you're a newbie diving into the wonderful of wellness, but still wondering how to spa, there are a few basic rules to follow.
Arrive early: If the spa you're going to has pools or saunas, go at least an hour early to enjoy them. It's generally better to do this before a treatment rather than after, at least if there is some kind of expensive lotion or oils on your body or face. Why wash it off?
If you're just going to the spa for a treatment, you'll probably want to arrive 15 minutes early to change into a robe, or just so you don't arrive stressed out.
Turn off your cell phone: The best way to spa is to relax, and using your phone isn't helpful to you or the people around you.
Set a towel down in the sauna to sit on. Personally, I hate the thought of sitting in someone else's sweat, don't you?
Do you wear underwear or not? This depends. I've gotten into trouble for wearing a bathing suit in a sauna in Germany, where the custom is to go nude. Spa tip: you can wrap a towel or sheet around you to avoid baring all. In almost all spas in North America, however, bathing suits are required in pools and saunas, and people usually keep their underpants on with a massage – though not everyone does, and therapists are skilled at keeping you covered. If it's a wet treatment involving mud or seaweed, you'll probably be given disposable underwear that you can toss out afterwards. If in doubt, ask. I always do.
Don't suffer in silence. If something hurts, tell the therapist. If you don't understand something ask. And know this. You won't be the first to be confused. I'm constantly confused, because every spa is different, and that's what makes them so unique.
Okay, so now that you know how to spa, what kind of spas there are and what kind of treatments you can get, you're ready to dive into the wonderful world of wellness and spa like a pro. If you want to read more about spas, check out The Spa and Spa Travel. Love saunas? Read about sauna safety.