How to Visit a Spa
If it's your first time at the spa and you're feeling intimidated, don't panic.
Here's a simple 'how to spa' article that will help you prepare for a spa day or spa vacation. Learn about spa rules, massage etiquette and what kind of treatments you can get. In five minutes you'll be able to spa in like a pro.
First Time at the Spa
No one is born knowing how to spa, and everyone has a first time. Don't worry. The goal of going to a spa is to relax, not to be frightened. Spas would never make money if they didn't make it a pleasant experience.
(And if you're confused by all the different types of spas out there, and don't know your day spas from your destination spas, you might want to read what is a spa first.)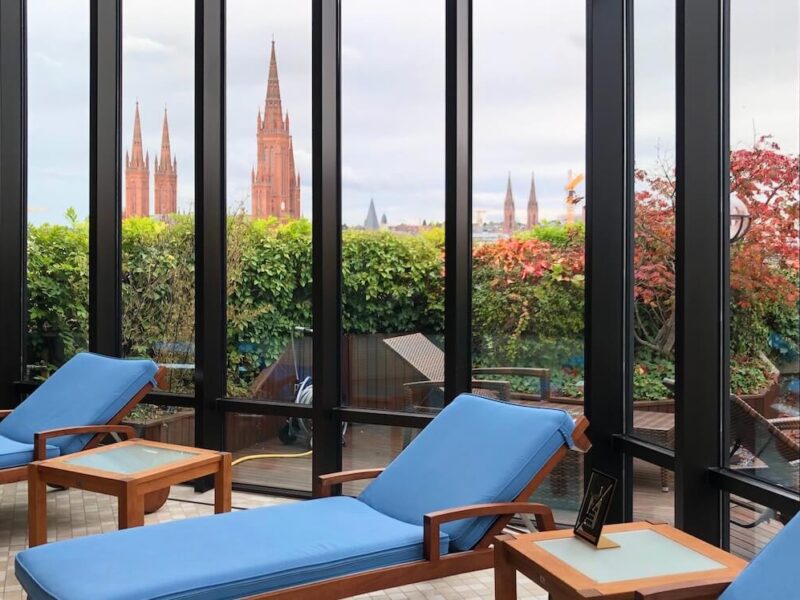 What Can You Do at a Spa?
Get a Massage
Probably the most common spa treatment of all is a Swedish massage. If you're after a basic massage and are just learning how to spa, you might want to ask for that. From there, there are no end of different types of massage to choose from.
A 'relaxation massage' can be a code phrase for one that is gentle. You can get twisted up in a knot with a Thai massage, or have a massage with hot stones, semi-precious jewels or aromatic essential oils.
Does Your Health Care Plan Cover Massage?
Some do. But not any type. If your health plan covers massage, make sure you ask for a RMT massage – one done by a registered massage therapist. And be sure to get a receipt.
Get a Facial
Facials are my number one pick at the spa. Often spas will offer a basic facial, which the spa therapist will tailor to your particular skin type, but the sky is the limit with facials.
I've had gold facials, diamond facials, Fire and Ice facials and Red Carpet Facials. Probably my top choice is a collagen facial with medical-grade collagen, because I can notice an instant plumping effect on my skin.
Pro tip: To boost collagen production you could also try a TCA Peel at home or DIY collagen mask.
Body Treatments
Body treatments often include some kind of interesting product like mud, tea, wine or even chocolate, and might include a body scrub, in which your skin is polished with ingredients such as salt.
Body treatments can also include 'wraps' when you are slathered with some type of product and wrapped up, usually in sheets or blankets. Seaweed wraps are popular for cellulite treatments.
I personally love them, but if you're claustrophobic, a wrap may not be the treatment for you.
Manicures, Pedicures and Reflexology
Generally, a manicure means getting your hands done, and a pedicure means having your feet done. Usually your hands are soaked and massaged, your nails trimmed, cuticles treated and polish put on. A mani pedi is the short term for getting both.
Other spas don't offer 'beauty' treatments such as these, but instead might offer a straight foot massage or a more wellness based treatment such as reflexology.
Reflexology is a foot treatment in which pressure points on the feet are massaged that correspond to various parts of the body. While it's a treatment that takes place in the feet (or sometimes hands), it is supposed to affect the entire body.
Relax
Many spas have relaxation lounges where you can relax before and after a treatment. Some might serve refreshments like herbal tea or cucumber water, and small snacks. Often there are magazines to read but it's always helpful to bring a book with you.
Use the Spa Facilities
A lot of luxury spas have pools, saunas, rain showers and other amenities. Many of the best spas, like Mexico's Le Blanc Spa Resort in Cabo, offer a hydrotherapy circuit. This is a a round of hot and cold treatments like a Jacuzzi or sauna, followed by a cold plunge or cool shower.
This is then followed by a rest period while your temperature goes back to normal. It can be incredibly rejuvenating and relaxing.
Get Adventurous
Snail slime, bird droppings, snakes? There are some bizarre spa treatments out there, and it's amazing how extreme treatments can get.
Spa and Massage Etiquette
If you're diving into the wonderful of wellness, but still wondering how to spa correctly, there are a few basic spa rules to follow. Knowing these will help you feel more secure about your visit.
Arrive Early
If the spa has pools or saunas, go at least an hour early to enjoy them. It's generally better to do this before a treatment rather than after, at least if there is some kind of expensive lotion or oils on your body or face. Why wash it off?
If you're going to the spa for a single treatment and not to use any amenities, you'll probably want to arrive at least 15 minutes early to change into a robe, or just so you don't arrive stressed out.
Shower Before Using the Pools or Saunas
No one wants to share your grime, sweat, sunscreen or moisturizer in the pool. Be respectful.
Do I Have to Tip at the Spa?
Yes. A tip of 15 to 20% is recommended, unless you're not happy with the service.
But don't stress about tipping after a massage right away. There is no need to hop up naked from the treatment table and slip the therapist a tip before they leave the room.
Most spas have envelopes at the reception desk or provide space on credit card bills for tips. Also, it's a good idea to check with the receptionist to see if gratuities have already been included.
Turn off Your Cell Phone
The best way to spa is to relax, and using your phone isn't helpful to you or the people around you. Leave it in the locker.
Set a Towel Down in the Sauna to Sit On
Personally, I hate the thought of sitting in someone else's sweat, don't you? And no one wants to sit in yours. Remember to follow sauna safety rules at all times.
Do You Wear Underwear at the Spa?
A common question about spa etiquette is: do you get naked at the spa? This depends. I've gotten into trouble for wearing a bathing suit in a sauna in Germany, where the custom is to go nude.
In almost all spas in North America, however, bathing suits are required in pools and saunas.
What about massage clothing etiquette? Do you take all your clothes off for a massage?
Again, it depends. People often keep their underpants on with a massage – though not everyone, and therapists are skilled at keeping you covered using strategically placed towels. You may be given disposable underwear.
If in doubt, ask. I always do.
If it's a wet treatment involving mud or seaweed, you'll probably be given disposable underwear you can toss out afterwards.
This, of course, is massage etiquette USA. In Europe, they are much more open about letting it all hang out.
Massage Etiquette – Don't Suffer in Silence
If something hurts, tell the therapist. If you don't understand something ask. And know this. You won't be the first to be confused. I'm constantly confused, because every spa is different and that's what makes them unique.
Understand Your Spa Treatment
Spas are always coming up with new therapies to stay current. This can be a minefield for the first time spa goer.
At one spa I went to, I spoke to a woman who had just tried a Lomi Lomi. A Lomi Lomi is a Hawaiian massage that can incorporate spiritual elements such as chanting, and consists of fluid massage movements using a wooden massage stick.
"Did you like it?" I asked.
Verging on hysteria, she said, "The masseuse was half-naked and massaging me with his arm up to his armpit. It was like sex only not any fun!"
My own experiences with the Lomi Lomi have been pleasant enough, though they're not my favourite type of massage, but in her case it was the opposite of the tranquil massage she'd wanted.
If she'd asked the spa staff for treatment advice before signing up, they might have suggested a different type of massage. Also, the therapist should have also been more in tune with her discomfort and toned it down.
With better communication, the spa experience could have been turned around for her. So let the therapist know if you're out of your comfort zone. Let them know if it's your first time at the spa.
After all, it's beneficial for everyone – therapists and patrons alike – when a treatment turns out well.
What to Wear to a Spa
When you're wondering how to prepare for a spa day, what to wear and what to bring is one of the first things to consider. Since you'll likely be given a robe once you arrive, you don't have to worry so much.
This is your day to relax so wear comfortable clothing. If you're going to a spa in a high end hotel, you might want to be a little dressier, but it helps to wear clothes that are easy to change in and out of.
If you're having something simple done, like a manicure, you may not be required to change.
It's a common question: What do you wear under a robe at a spa? Often nothing, but if you feel more secure wearing underpants, that's okay, too. If you do, keep it comfortable but not ratty. The less restrictive the better.
What to Bring to a Spa
If the spa has pool or sauna facilities, take a bathing suit.
Most spas offer robes, but it doesn't hurt to call first to make sure. Some types of spas, particularly Nordic spas where the focus is on pools and saunas, offer robes for rent or require that you bring your own. The same goes for towels.
Most spas offer slippers, but I like to bring my own flip flops.
Take a book or a magazine for the relaxation areas.
Take a hair tie to keep your hair off your face.
Some spas offer amenities such as moisturizer, hair spray and shower caps. Others don't, so take what you think you'll need.
Now That You Know How to Spa
Hopefully this guide on how to spa was helpful. Now that you understand what kind of treatments you can get, what to wear to the spa and what proper massage etiquette is, you should be ready to relax like a pro.
Dream Big
Why stop with one treatment? Maybe it's time to plan a weekend spa getaway or an entire spa vacation. Personally, my favourite spa trips include resorts with hot springs and thermal baths. It's a total immersion in wellness.
If you're feeling adventurous and want to explore the world through wellness, check out these articles on the Best Spas in Tuscany, a guide to Czech Spas and a review of Baden-Baden Spa in Germany, one of the world's best spa destinations.
If you want to read even more about spas, check out my spa resource page. Here you'll find spa reviews that will take you around the globe, from the baths of Budapest to spas in France, Ecuador, and back to good old Canada and the USA.