This post may contain affiliate links.
Searching for Le Blanc Cabo reviews? I was, too, before I went. Here's the scoop on my 4-night stay at this adults-only all-inclusive Cabo resort.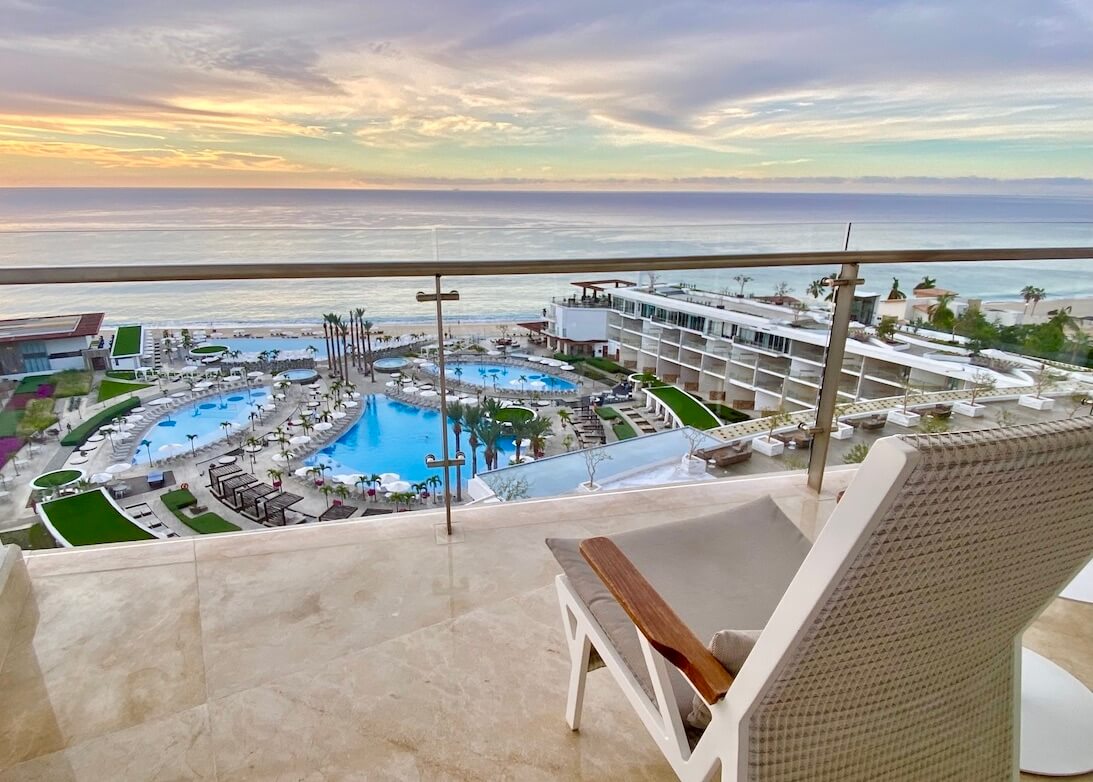 Le Blanc Los Cabos Review
One gaze out at the dazzling blue ocean and (sort of) petal shaped pools from my 10th-floor balcony at the 5-star Le Blanc Resort in Los Cabos, Mexico, and I was in full vacation mode.
The views quickly became an addiction. In the evenings, the peaches-on-fire sunsets showed nature at its drama-queen best, while the pale violet sunrises showed a softer version of Baja California beauty.
It wasn't just the views that hooked me. The hotel's white-on-white decor, artfully plated cuisine, luxe spa and drool-worthy pools had me soon agreeing with other Le Blanc Los Cabos reviews: This is one of the best adults-only all-inclusive resorts in Cabo.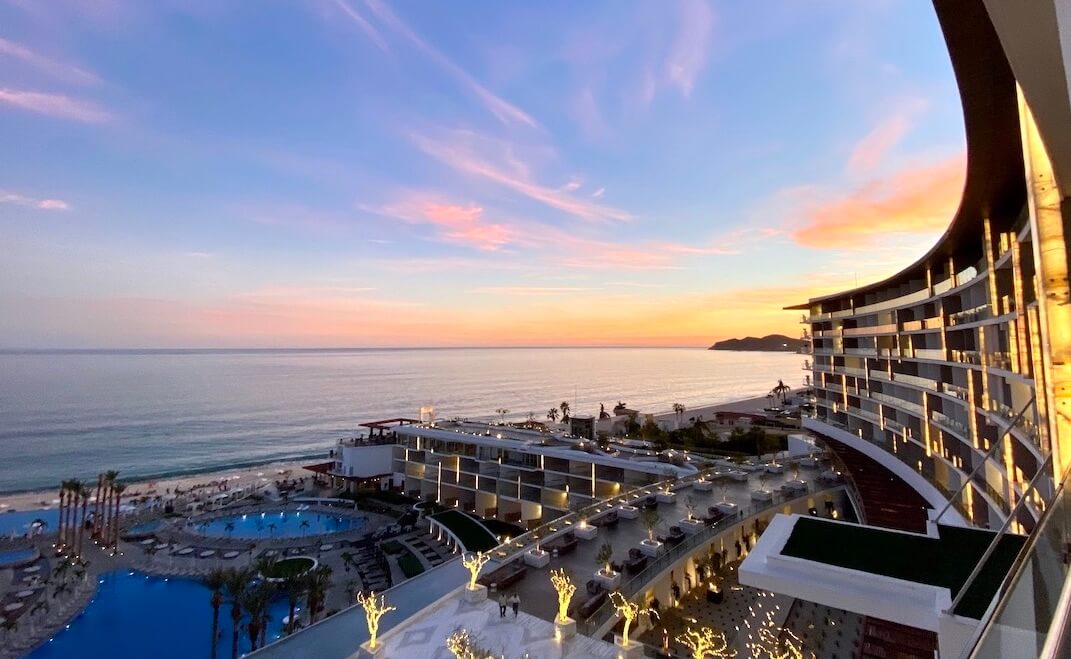 Where is Le Blanc Spa Resort Cabo Located?
Situated in the popular Tourist Corridor, midway between the party-hardy town of Cabo San Lucas and the pastel-hued streets of San Jose del Cabo, the 373-room resort is a 35-minute drive from the Los Cabos International Airport.
And Los Cabos, a celebrity-favoured getaway, sits at the southernmost tip of the Baja California Peninsula in the Mexican state of Baja California Sur.
About Le Blanc Cabo
Le Blanc Spa Resort Cabo San Lucas is a luxury resort to consider if you're after a renewing relaxing stay.
If you're looking for a drink-til-you-drop pit stop, rather than hand-crafted cocktails in a laidback environment, you're probably best to go elsewhere.
Le Blanc is an adults only resort. This means it's a good option for couples, upscale girls' getaways, and those in need of a spa and beach break.
It should also appeal to design buffs who crave interiors as impressive as the ocean outside their balcony doors.
About this Le Blanc Spa Resort Review
Just so you know, I was invited to Los Cabos on a press trip along with three other journalists, and when I found out we'd be staying at Le Blanc I jumped at the chance. This luxe Mexico hotel has been on my wish list since its buzzy opening in 2018 – and yes, it lived up to my expectations.
So why read this resort review? You already know I love it.
While there are a lot of Le Blanc Los Cabos reviews out there, most of them don't go into the detail I was hoping to find before I went, so if you're looking for an in-depth report, here it is.
Don't worry. I mention things to watch out for, too.
My First Impressions of Le Blanc Los Cabos
If I could use one word to sum up my first impression of Le Blanc Cabo, it would be sophisticated. No … contemporary. No … soothing. Okay, there's no one word that fits all.
Let's settle for soothing. Soothing in a way that a layered minimalist decor and the faint scents of cucumber, mint and orange blossom can cleanse the stress from your muscles.
(The refreshing coconut milk drink and heated shoulder pillow at check-in didn't hurt either.)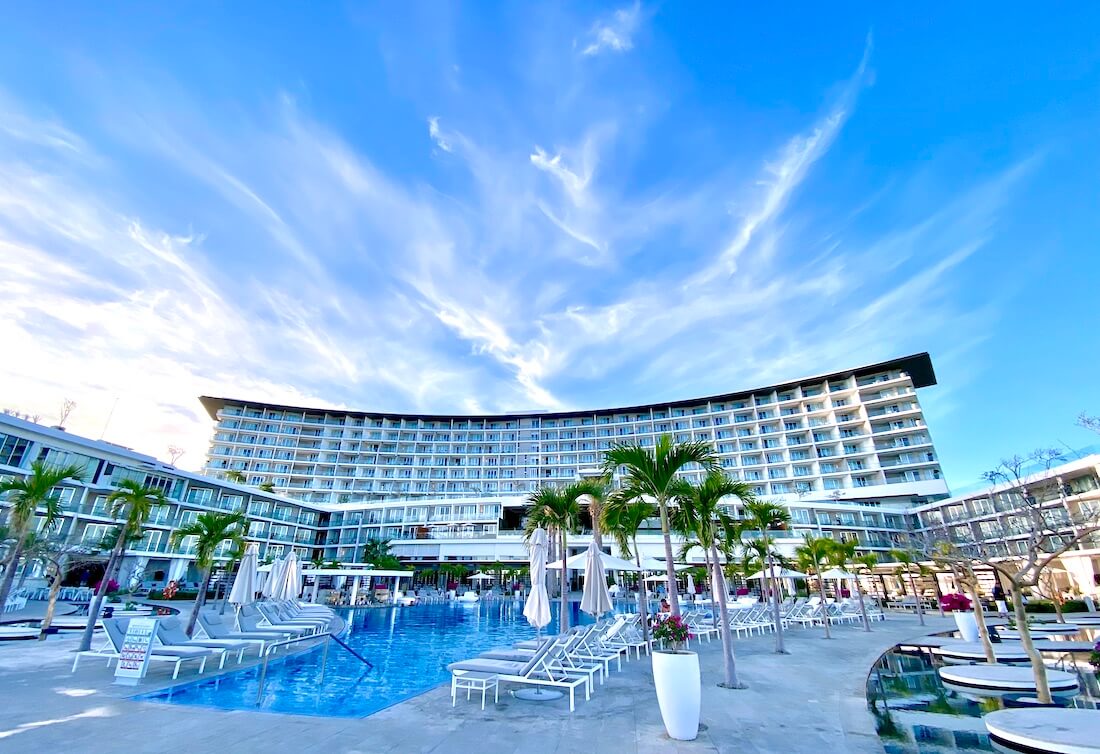 Arriving at Le Blanc
Check in was easy. I was seated on a curved white couch until a receptionist showed me to a desk in an alcove off the lobby.
After being gifted with a white rose, a wristband that contained a fob to open my door was attached to my wrist. (Yay! No more frantic searching for my room key!) and I was shown to my room.
A smooth check-in procedure makes sense. Service, along with 5-star amenities, cuisine and design, have to be top rate to attract the discerning crowd of travelers who descend on the many high-end adults-only Cabo resorts.
After all, Cabo is a destination of glitz and glam, attracting stars like George Clooney and Cindy Crawford, who owned side-by-side properties in Los Cabos for years. Other regulars include Jennifer Anniston, Justin Bieber … and just about every other A-lister you can think of.
Check prices and availability for Le Blanc Spa Cabo here.
Hotel Design
I'm hopelessly addicted to haute hotel decor and obsessed with texture and materials, so the whisper-pale palette and stylish accents of Le Blanc Cabo San Lucas were as refreshing as a cool stream in a cactus-riddled desert.
The architect of Le Blanc is Roberto Elias, and the interiors brought to life by Miami-based Francois Frossard, a designer known for his grand statement style.
The result? An airy hotel where seemingly infinite varieties of Spanish marble will have you running your fingers over walls and your feet itching to pad barefoot over tiles. (Or is that just me?)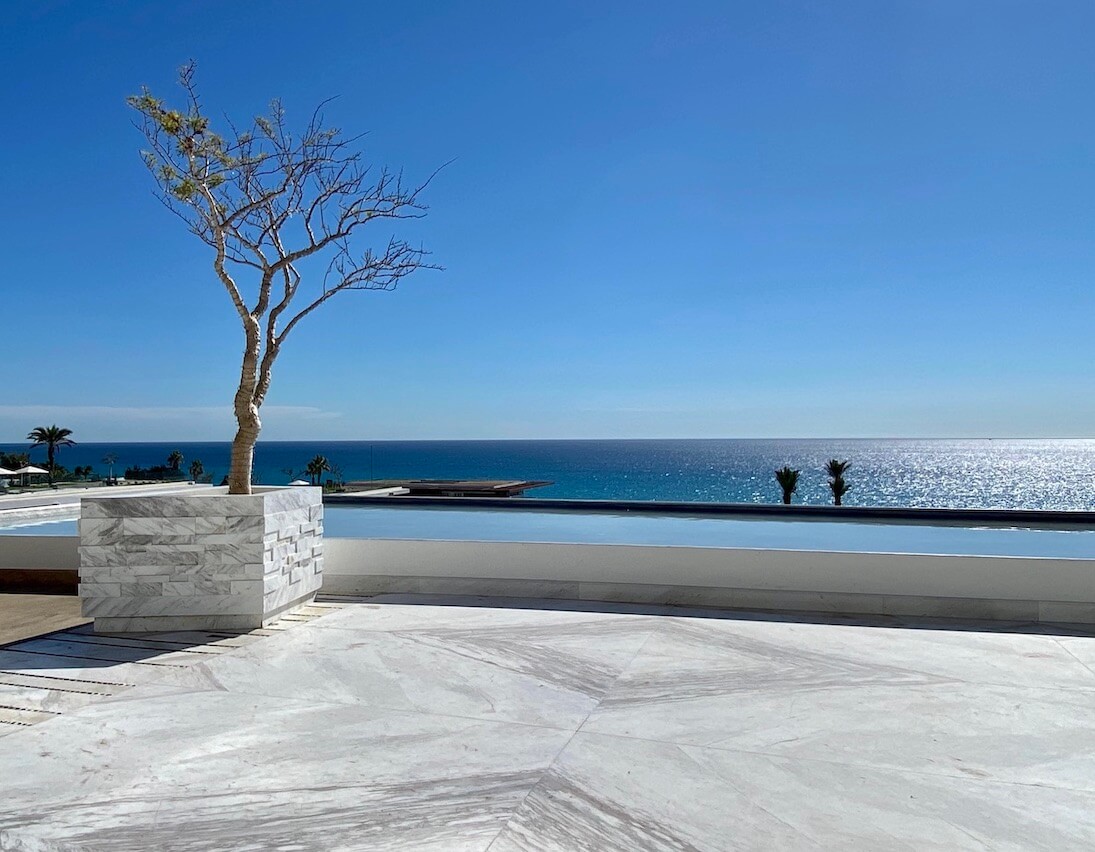 When I walked out to the lobby's panoramic terrace I realized something else: Le Blanc does a good job of translating the Baja California Desert landscape into a creative interpretation of its beauty.
The terrace, which is actually the rooftop of the floor below, looks like a desert of pale stone, with white square planters holding a spare row of grey trees. Beyond it, like a gift on a platter, is the gorgeous Sea of Cortez.
I could wax on about the silvery twig-shaped vases and black and white striped marble in the lobby, so softly patterned it looks like the fur of a white Siberian tiger, but I realize people go to luxury beach resorts in Mexico for reasons other than THE INCREDIBLE DESIGN so let's jump into the pools.
Outdoor Pools
The pool area is one main outdoor complex off the third floor (which is actually the ground floor from the beach side).
Tall palms flanking the walkway give it a grand gateway feel, and the pools, which are laid out like uneven slices of pie (honestly, it's not easy describing the shape of the pools), are prettied up with planters of pink bougainvillea.
There are numerous deck chairs, loungers, a couple of swim up bars, and rows of tempting cabanas.
Watch out for: Most cabanas are not free and some are reserved for members. Ask one of the pool attendants to find you a good place to lounge. They'll also lay out your towel, bring ice buckets of water, cocktails, food and generally help you out. I found them really friendly.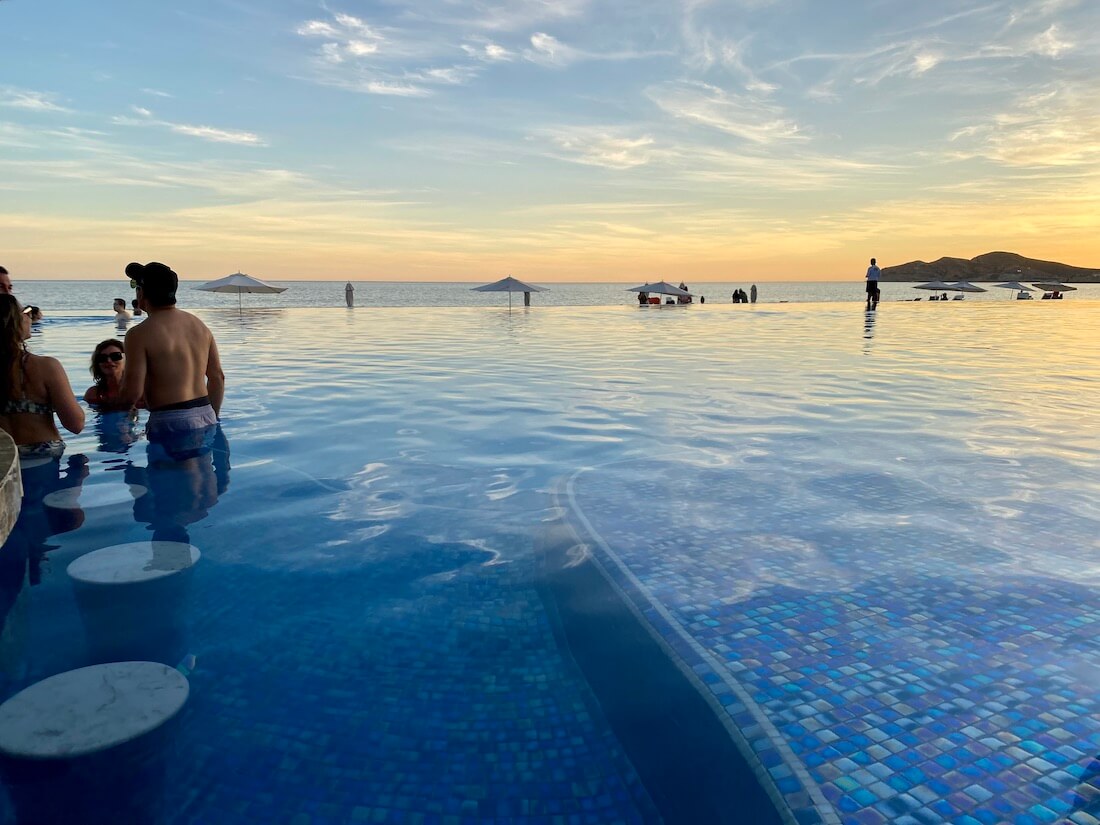 The Infinity Pool
The most social pool at Le Blanc Resort Cabo is the large infinity pool overlooking the beach. No doubt this has something to do with its swim-up bar, prime beach view and the fact that it's ever so slightly heated so deliciously comfortable when you wade in.
My top pool moment of all pool moments came when I was the only one in the infinity pool. I'd just been shown to my room, had yanked my bathing suit out of my carry on, assured my butler (yes, you'll have a butler) that I'd do a room tour later, and was down at the pools within minutes.
Gliding over the water, the sound of waves hitting the sand below and a feathery blue sky above was serenity itself, and I was glad I hadn't opted for a nap (which had been my second option for how to spend my first hour in Cabo).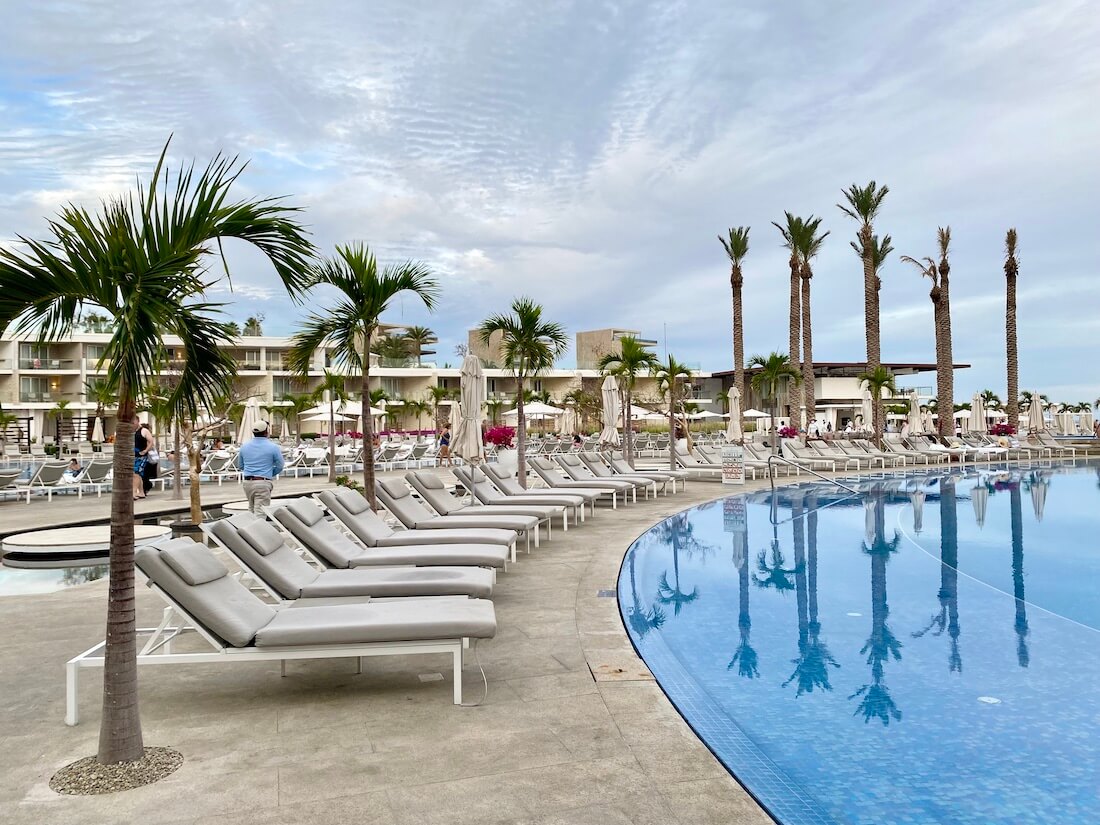 Other Pools at Le Blanc Cabo
I never saw the infinity pool empty again, but when I craved alone time I planted myself by the pool closest to the Ocean Restaurant, which seemed to be rarely used.
The largest pool is farther back from the beach. I think it's called the Lagoon Pool, but in my mind it's the Activity Pool since I once watched with interest a class of water spin aerobics on submerged stationery bikes there.
(As we all know, spectator sports count as exercise so I lost at least two calories there.)
I did make use of the large outdoor jacuzzi, which looks big enough to seat 20. It's a congenial place to gather (or eavesdrop on other people's conversations if you're alone) when the light fades over the ocean and the heat of the sunshine winds down.
Poolside Snack Bonus: Look out for the daily poolside food carts serving anything from fresh-fried churros with dipping chocolate to ice cream.
Resort Activities
I did … no activities at the resort. Wait, that's not true. I did do one. When I was lying by the pool an activity director came around and asked me a trivia question for the Quiz of the Day. I didn't stay to hear the answer so I still don't know how many palm trees are on the resort.
It's not that I'm lazy (yes, it is), it's because all the activities I did: a Cabo ATV tour, a cooking class at Flora Farms and a sunset sail to the Arch of Los Cabos, were offsite.
Take the stress out of trip planning. Here's a full Cabo itinerary you can follow.
I wish now I'd done more of the free activities at this top Cabo all-inclusive adults only resort: Morning Yoga on the Wind Terrace, a Body Sculpt class at the gym, or Afternoon Dance Lessons by the pool. Corn Hole at the beach … not so much, probably because I don't know what it is.
A Beachfront Hotel in Los Cabos
Le Blanc Spa Resort Los Cabos has a spectacular setting on a beach of kitten-soft sand. The sunset walks are ideal and it's a peaceful place to stroll. You may see a few horses trot by.
Watch out for: Loungers on the beach go quite quickly. You may want to lay your towel out early. Happily, there are lots of deckchairs both with and without umbrellas by the pools. Again, you can ask the pool attendants for help.
Can You Swim in the Ocean at Le Blanc Cabo?
No. Not recommended. Big waves and rip currents make many beaches in Los Cabos unsafe for swimming. Stick to the exquisite pools instead or take a day trip to one of the swimmable beaches like Lover's Beach, which is only accessible by boat.
Blanc Spa Review
Well. As a spa fanatic and (she says humbly) an award-winning spa writer, I was super excited to spend a morning at Le Blanc Cabo Spa. Consistently named one of the best spas in Mexico, it's a journey into wellness rather than a single treatment where you dash in and out.
Of course, if you want to skip the full spa experience and go straight for a massage, that's fine, too. It's your vacation. There is a full service spa menu as well as a beauty salon.
The Hydrotherapy Circuit and Spa Pools at Blanc Spa
I've done a lot of spa circuits where you're left to your own devices (hello, German saunas!), but Blanc Spa is an aromatic escorted trip of sauna, steam and soaks, so even if you don't know how to spa, you'll sail through the circuit like a pro.
You'll get cucumber slices for your eyes, cinnamon-scented towelettes, organic face scrubs, ice rubs and even a scalp massage on a heated lounger if you're so inclined.
At every turn some sort of healthy drink will come your way, containing ingredients like aloe vera, hibiscus, and cleansing green chlorophyll.
In the name of wellness I knocked them all back like a spring breaker with a shot of George Clooney's Casamigos Tequila. (So named after the villa he once owned in Cabo.)
The spa circuit ends with a trip to the indoor spa pools of varying temperatures (I dare you to try the cold plunge) and a chance to relax in either the lounge or by the blue-lit pools.
Free Access to Blanc Spa
Here's the best part about Blanc Spa. While spa treatments are an additional cost, access to the hydrotherapy circuit is free – one of the perks of staying at a top Mexico adults only all inclusive resort.
Spa Treatments at Le Blanc Cabo
The spa circuit was indulgent enough, but I'm glad I didn't pass up the chance for a massage. My therapist's touch was firm, confident, and as good as other memorable treatments I've had at top spas like Two Bunch Palms, one of the best resorts in Palm Springs.
Le Blanc Menu and Restaurants
Any Le Blanc Los Cabos reviews that don't mention the cuisine at this luxury adults only resort are asleep at the switch, because the food goes far beyond standard all-inclusive fare.
On the menu at their eight different restaurants you'll find everything from traditional Italian to French-fusion flare.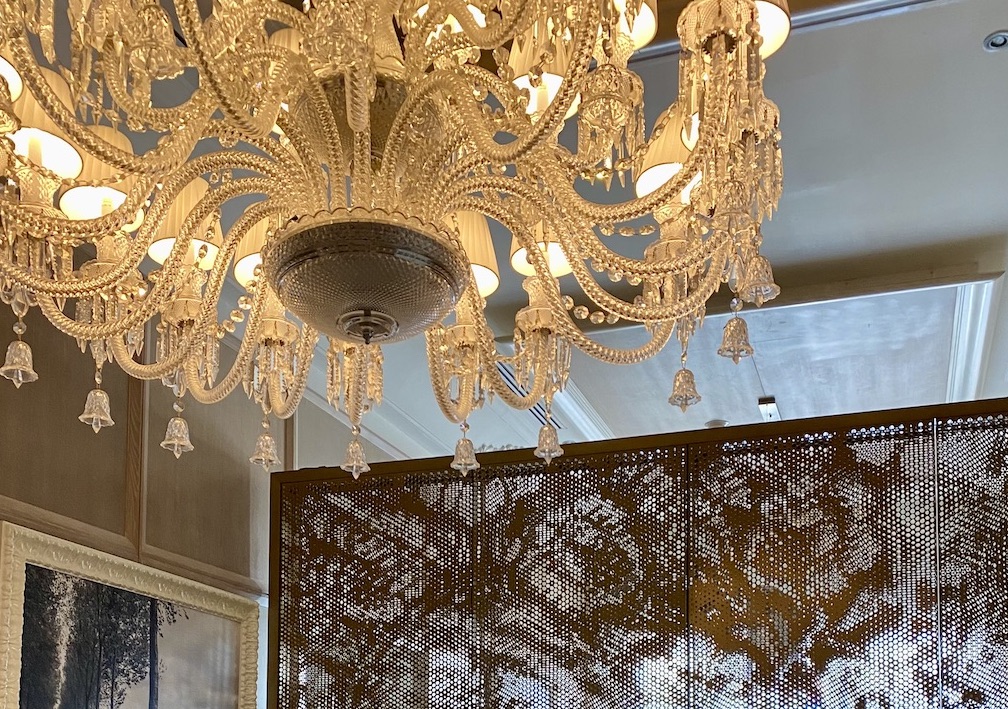 Lumiere
Lumiere is the dressiest restaurant at Le Blanc, and it's the one you should make reservations for. Opulent and glittery, this French fusion restaurant offers impeccable service, splashy chandeliers, and an a la carte menu as well as a 7-course tasting menu with signature wine pairing.
Note that: The tasting menu has an additional cost.
Blanc International Restaurant
Nothing says holiday to me like a breakfast on a patio with fresh fruit, croissants and a made-to-order omelette. For this reason the terrace at Blanc International became my morning base.
In addition to a lavish buffet breakfast, this informal all-day eatery serves a variety of menu items ranging from fresh salads to roasted suckling pig and green enchiladas.
Ocean Restaurant
Ocean Restaurant has a focus on seafood. It has a prime beachfront location, a catch-of-the-day special, and I appreciated that they went off menu for me when I wanted a simple salad with grilled shrimp for lunch.
Mezze
Mezze was a surprise and delight. Who expects a Lebanese restaurant in a Mexican resort?
The burnished gold lattice work is like something out of an Arabian palace, and the menu is a mix of the traditional and inventive. Think Purple hummus with roasted beet root or Shrimp kebab with sumac and bacon on fresh tomatoes.
Blanc Pizza
For something casual, the gourmet brick-oven pizzas at Le Blanc Pizza get rave reviews and the restaurant seemed to be open at off hours (like that dead time just before dinner) when many others are not.
Other Dining Options
The Le Blanc Cabo menu changes with the seasons but look out for dishes like Ossobuco with truffled polenta at Blanc Italia or Shaoyazi with lacquered duck at Blanc Asia.
Don't overlook Le Blanc Cafe, where you can fuel up with lattes, pastries and ice cream (a double scoop of watermelon and coconut was my combo of choice).
Le Blanc Nightlife
There are a handful bars at Le Blanc Hotel Cabo. You can listen to live music at Blanc Stage, or enjoy a starry view by the sleek fire pit at Blanc Fire.
Rooms
While I lucked out with the view of my dreams, it's worth noting that almost every room (like 98%) at Le Blanc Spa Resort Cabo has a full or partial ocean view.
The stunner for me was the pedestal tub in the spacious bathroom. There was a separate shower, double sinks, robes and BVLGARI toiletries.
You can get your butler to run you an evening bath with rose petals and bath salts, or request one of Le Blanc's hand-crafted soaps such as Moroccan Fig and Himalaya Salt, or Strawberry, Current and Pear. Thoughtful details like this are one of the reasons Le Blanc is consistently ranked as one of the best adults-only all-inclusive resorts in Cabo.
My bedroom was done in calming shades of sand and wood, and had a well-stocked mini bar with a liquor dispenser, snacks, espresso maker, and fine linens on the comfy king-sized bed.
Watch out for: If you want a kettle for tea, you'll have to ask. Or request the Tea Service from your butler.
Now let's talk pillows: If they don't meet your high expectations, choose something from the Comfort Menu. Hypoallergenic, orthopedic or sleep-encouraging lavender? The choice is yours.
You can also ask your butler to set up aromatherapy in your room. I opted for White Tea. It's a fun perk to come back to after dinner.
Summary: Best All Inclusive in Cabo
Laidback luxury and low key exclusivity – this is the overall feel of this adults-only Cabo resort. It's not stuffy – it's hard to be stuffy when there's a swim up bar at your water-soaked fingertips – just relaxed.
Verdict: If you're looking for adults only Cabo resorts, this is one of the best.
Here's a Quick Review Recap:
The stellar design is a high point.
The staff go out of their way to make you feel like a valued guest.
You won't run out of restaurants in a hurry.
Blanc Spa is divine and access is free.
There are two gift shops with an appealing selection of beachwear. (I found prices no more expensive than at home.)
Security is on the ball – there is a guard at the entrance screening vehicles and checking guest lists.
The pool area is a prime spot to while away a lazy day.
It's only a 15 minute drive to Cabo San Lucas, so you can take a taxi in if you want to experience some Cabo nightlife.
Things I Would Change If I Went to Le Blanc Cabo Again
I'd make more use of my butler by asking them to unpack when I arrive and pack up my things when I go. I hate packing; it takes away from last-minute pool time. Many people are uncomfortable using a butler, but if your resort has them, it's probably better that they're earning tips.
I'd make a point of trying all the restaurants instead doubling down on my favourites.
I would have scooped up a lounger on the beach before breakfast.
I would have stuck around to find out if I won the palm tree question in the Quiz of the Day!
Tipping at Le Blanc
According to Palace Resorts, the parent brand of the two Le Blanc properties, Le Blanc Spa Resort Cabo and Le Blanc Spa Resort Cancun, tips are included in your all-inclusive stay, but giving extra is appreciated.
We tipped pretty much everywhere: restaurants servers, cleaning staff, pool attendants and massage therapists. Carry a few smaller bills wherever you go. We tipped in USD but you can tip in pesos or Canadian dollars.
For more Le Blanc Spa Resort Los Cabos reviews try the reviews section on sites like TripAdvisor and Booking.com. You can book here or visit the Le Blanc Cabo hotel website.
Address for the Le Blanc all inclusive Cabo:
Carr. Transpeninsular SJC-CSL. Km. 18.4. Lomas de Tule SJC.
San Jose del Cabo, BCS. CP 23400. Mexico
Phone number (+52) 624 163 0100