This post may contain affiliate links.
The Best Adult Only All Inclusive Mexico Resorts
Dreaming of a tropical getaway? Me, too. Here are 15 luxury all inclusive adult-only resorts in Mexico to salivate over. And all the reasons you should stay at one.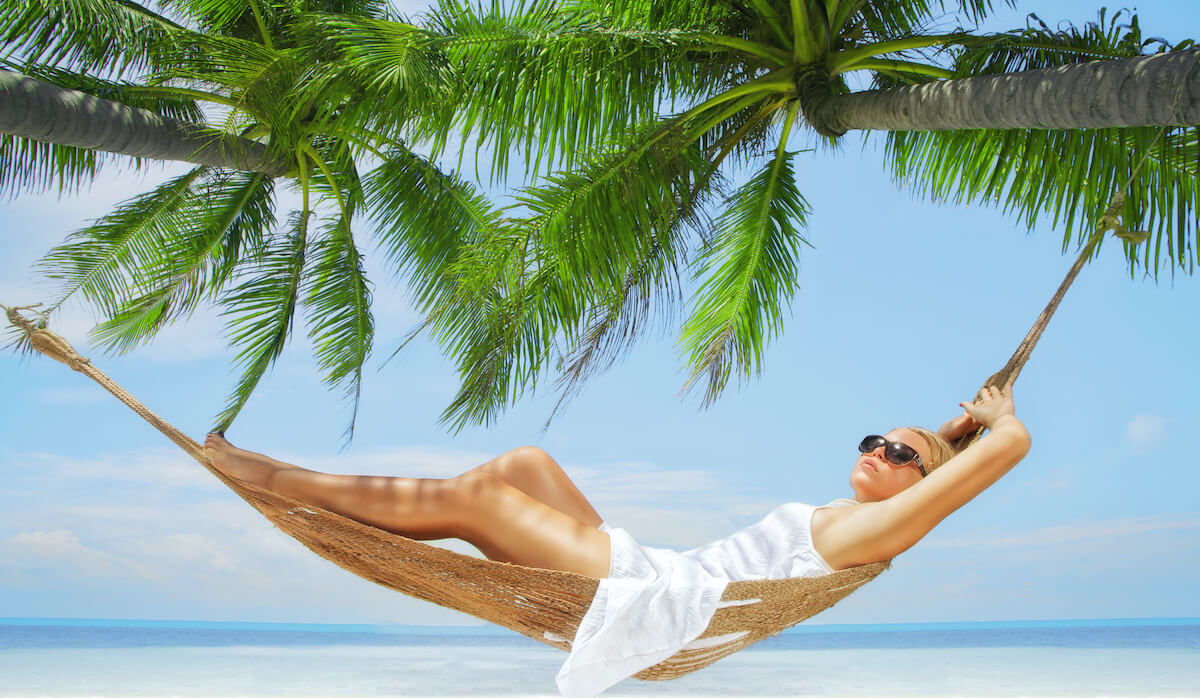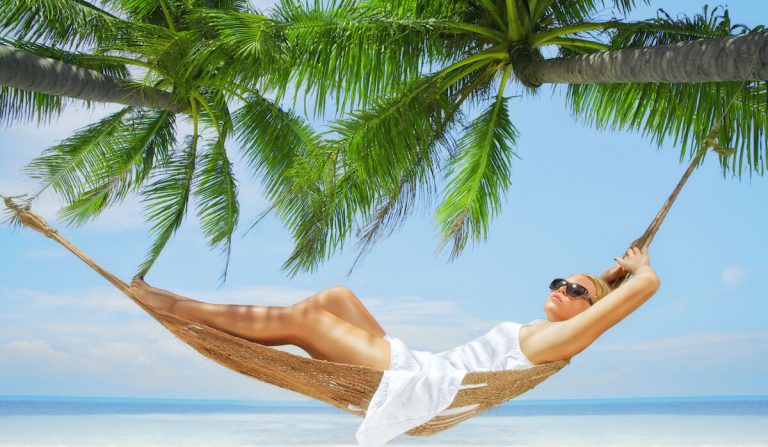 Dreaming of an All Inclusive Escape
As the first chill of fall sweeps over my terrace, I can't help thinking of that romantic all inclusive vacation my husband and I took to the 5-star Grand Velas Riviera Maya a couple of years ago.
The memory of that super luxe holiday reminds me how far luxury all-inclusive resorts in Mexico have come, and how the idea of craft cocktails, beach cabanas and fresh fish marinated in hoja santa fit seamlessly into my travel dreams.
Then, when I vacationed at the all-inclusive Le Blanc Spa Los Cabos, I realized that niching into an adults-only resort is my idea of tropical heaven. As the publisher of a luxury travel site I've visited a lot of spectacular hotels, but adult only resorts have a particular appeal.
So. If family fun is not on your itinerary but grown-up comfort is, a luxury all inclusive adult only Mexico vacation might be just what you need.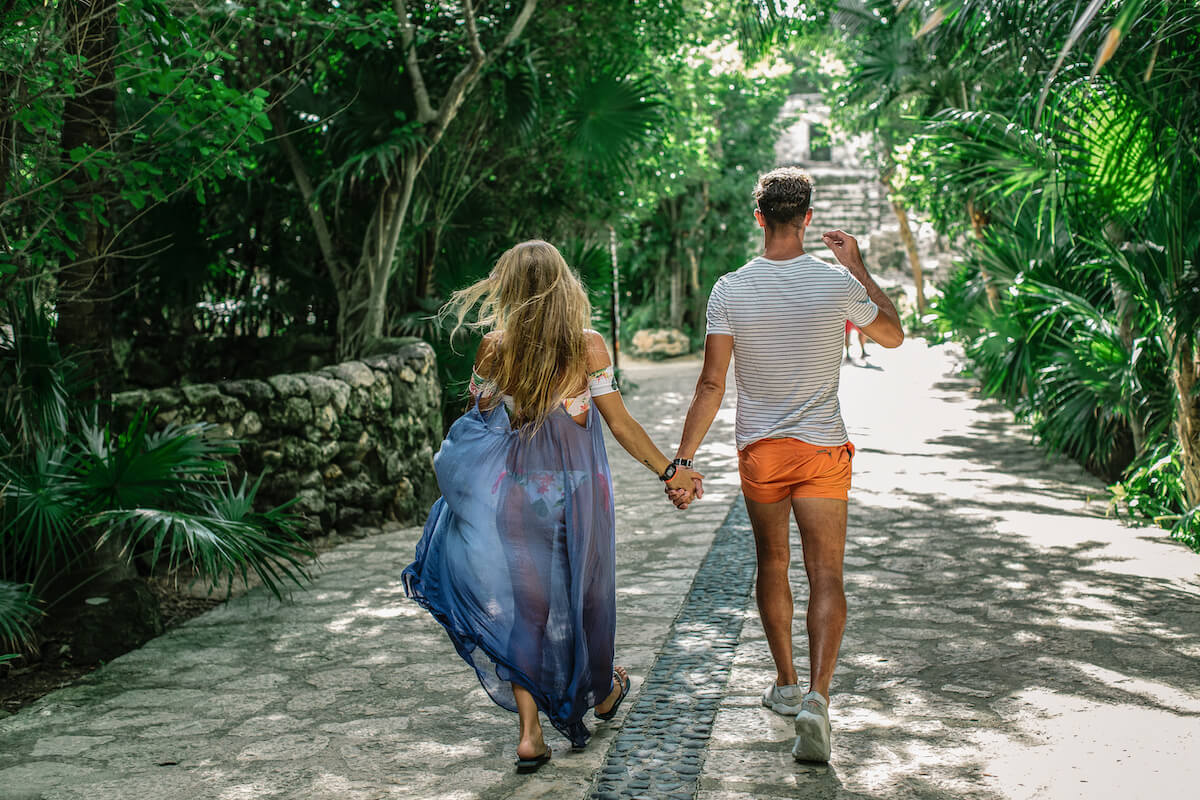 Why Choose an Adult Only Resort?
To Escape the Hustle
The obvious reason to choose an adult only resort is no screaming kids, and no pee (hopefully) in the pool. But let's get past that and see there are other benefits.
Enjoy Luxe Surroundings
Adult only resorts tend to be higher end than the average all inclusive. (At least the ones in this travel article are.)
Think sophisticated decor, infinity pools, premium spirits … those sorts of happiness-inducing amenities.
Find Your Calm
Luxury isn't merely an indulgence. Calm beautiful surroundings go a long way in fostering a calm beautiful inner you, and who doesn't need more inner beauty in their hectic lives?
The Downside of Staying at the Best Mexico All inclusive Resorts
The downside of an inclusive adults only holiday in Mexico is, of course, price, but vacation time is valuable, so if you're desperate for a break it might be worth the splurge.
Tailored Activities
Another reason to go the adults only route is because resort activities are more likely to align more with your style.
If jungle gyms and crafting paper hats are a no, but cocktail mixology classes, pilates on the beach and dance lessons are a maybe then, well, you get the idea.
Just a note: We're talking good clean adult activities, not adult activities. There are other resorts for that.
Meet Like-Minded People
Granted, just because someone is your age it doesn't mean you're going to have something in common. However, it's a start.
It's going to be easier to strike up a conversation with the relaxed couple dining beside you than with the harried parents trying to pull crayons out of their kid's mouth.
Generally adult-only resorts in Mexico are 18+.
Up the Romance
Most all inclusive Mexico adult only resorts aren't for couples only, but they're great backdrops for romance.
(Until you get bored with each other and desperately try to make friends with the relaxed couple beside you at dinner.)
Seriously though, together time is made easy at adult only resorts as they're tailor made for anniversary, honeymoon or simple 'us' time celebrations.
Bond With Your Besties
Adults only all inclusive getaways are also good for bonding with your friends.
If you want something that combines tranquility with a bit more spark and fizz, a good choice might be an adults-only section of a larger resort.
This way you have the option of keeping it chill or taking it up a notch.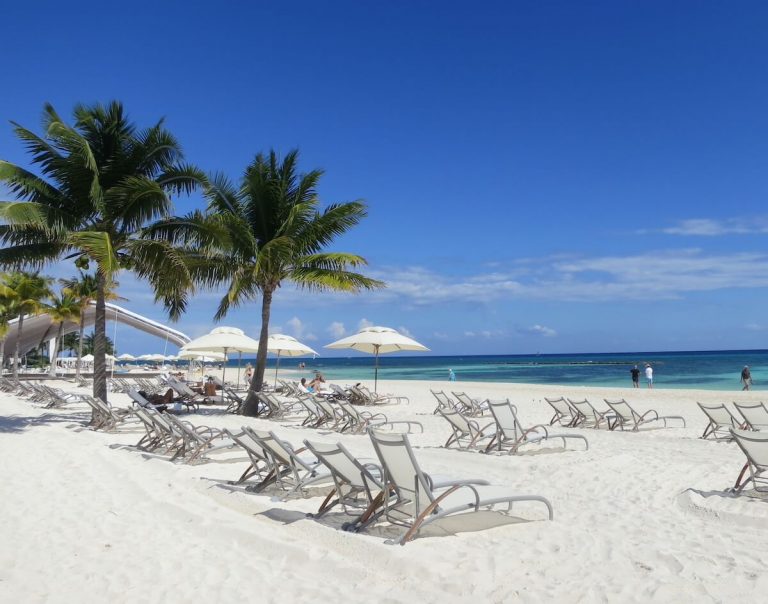 Why Go All-Inclusive?
Value for Money
I know I said the best adult-only all inclusives in Mexico are expensive, but that doesn't mean they can't be good value.
Not if it means unlimited margaritas, gourmet cuisine, water sports and snorkelling equipment in one flat price.
Those individual costs add up, and it's nice not to have to think about every extra appetizer you order.
Ease
Did I mention everything is at your fingertips? Water sports, custom-crafted cocktails, spa treatments and dinner. It's a quick way to sink into bliss.
If you do decide the adult only all inclusive option is for you, here are 15 daydream-worthy resorts in Cancun, Playa Mujeres, Isla Mujeres, Riviera Maya, Los Cabos and Puerto Vallarta.
Adults Only Luxury All Inclusive Resorts in Cancun
White sand, turquoise water, nightlife and sunshine … when many people think beach vacation they think of Cancun, yet it's also a city of nearly one million people.
Located on the Yucatan Peninsula with vast Caribbean views, Cancun is an irresistible draw for sun seekers who want ancient ruins within reach, buzzing nightclubs, water sports and cabanas by the pool.
To get the best of the liveliness, but still be able to step away, a luxury adults only stay in Cancun's Hotel Zone is a good option.
For something even more tranquil, check out nearby Playa Mujeres or the blissful island of Isla Mujeres.
Check out these luxe options below.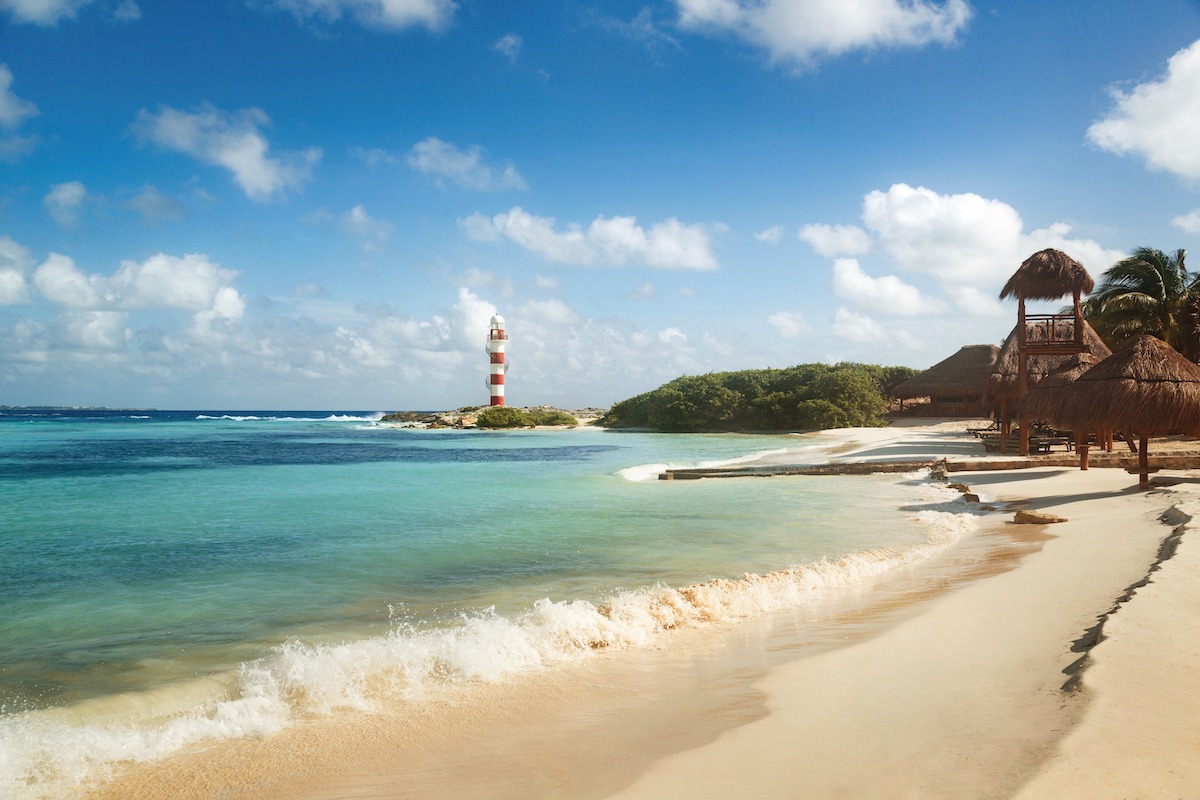 Turquoize at Hyatt Ziva Cancun
Where: Cancun
A sleek addition to the all-inclusive adult-only Mexico 'resort within a resort' trend is the Hyatt Ziva Cancun's Turquoize. Completed in 2016, it's a peaceful paradise that is part – yet apart – from the main Hyatt Ziva Resort.
Turquoize is a design-ery (is that a word?) chic adults-only beachfront tower with indulgent extras such as balconies with private hot tubs, butlers, baths with an ocean view and exclusive rooftop infinity pool.
Importantly, the resort doesn't stint on gorgeous watery views – every room looks out onto either the lagoon or the sea.
Privacy is a treasured perk of staying at Turquoize, though guests can also enjoy the many facilities of the larger luxury Hyatt Ziva.
Other benefits of staying at Turquoize include private airport transfers, and a VIP check-in and reception area for that 'taken care of' feeling.
Can't you just hear me drooling? (My bad. I'll try to drool more quietly in the future.)
Check prices and availability for Turquoize at Hyatt Ziva all inclusive adult only resort here.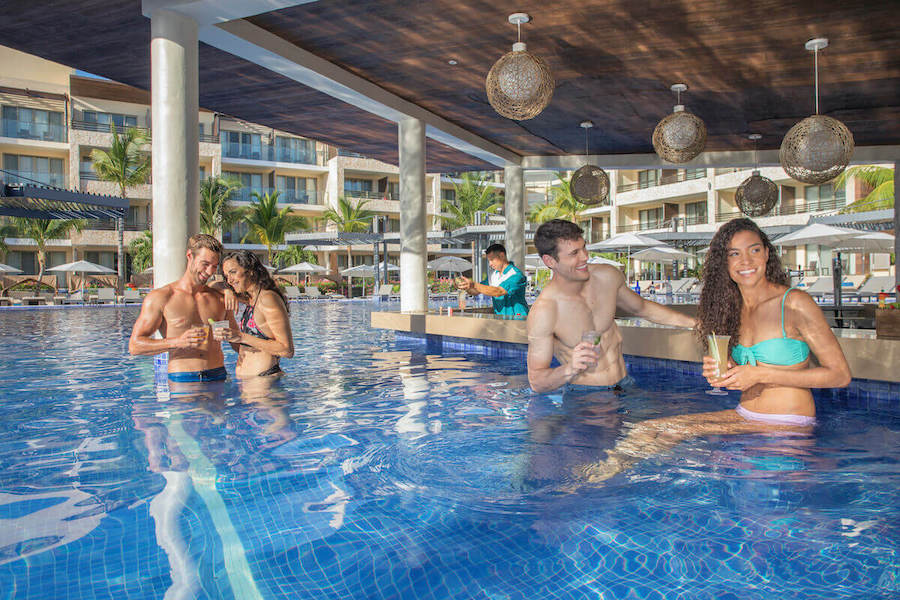 Hideaway at Royalton Riviera Cancun
Where: Puerto Morelos
The adult-only section of the Royalton Riviera Cancun Resort and Spa is the Hideaway at Royalton Riviera Cancun.
Think sophistication and elegance at this deluxe resort-within-a-resort where you'll find complimentary afternoon hors d'oeuvres, sunset toasts, and pillow menus.
If water activities, yoga on the beach and mixology classes are your idea of fun, you'll find plenty to amuse yourself with.
The main resort, the Royalton Riviera Cancun, Riviera Maya sits on an icing-sugar-soft beach, has 11 pools and nine restaurants, so if the adult-only section gets boring (as if), you can easily branch out.
Known for its top-notch culinary prowess, the 5-star resort in Puerto Morelos is only 15 minutes from the Cancun Airport, making it easily accessible for those impatient (that would be me) to get to the beach.
Check prices and availability at this Mexico all inclusive adults only resorts near Cancun here.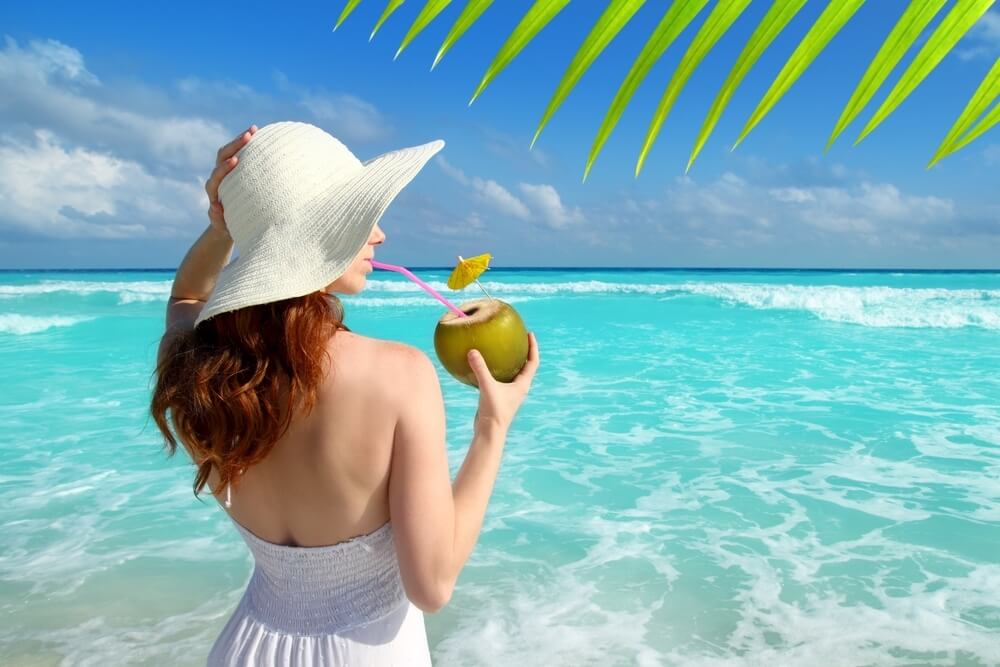 Live Aqua Beach Resort Cancun
Where: Cancun Hotel Zone
Handily located in the Hotel Zone of Cancun, this luxury beachfront property has 7 pools, 8 restaurants and – bonus – is a 2-minute walk away from the Tequilla Museum.
There are a number of other sights nearby including the Costa Occidental de Isla Mujeres National Park and the Yamil Lu'um Archaeological Zone.
The clean airy design is heavy on creams and blues, giving it a fresh breezy feel, and you can relax at the full-service spa.
Because this is one of the larger all inclusive adults only resorts in Mexico (371 rooms), there can be a run on deck chairs in the mornings, so you might want to lay your towel down early.
Check out prices and availability for this all inclusive adults only resort in Cancun here.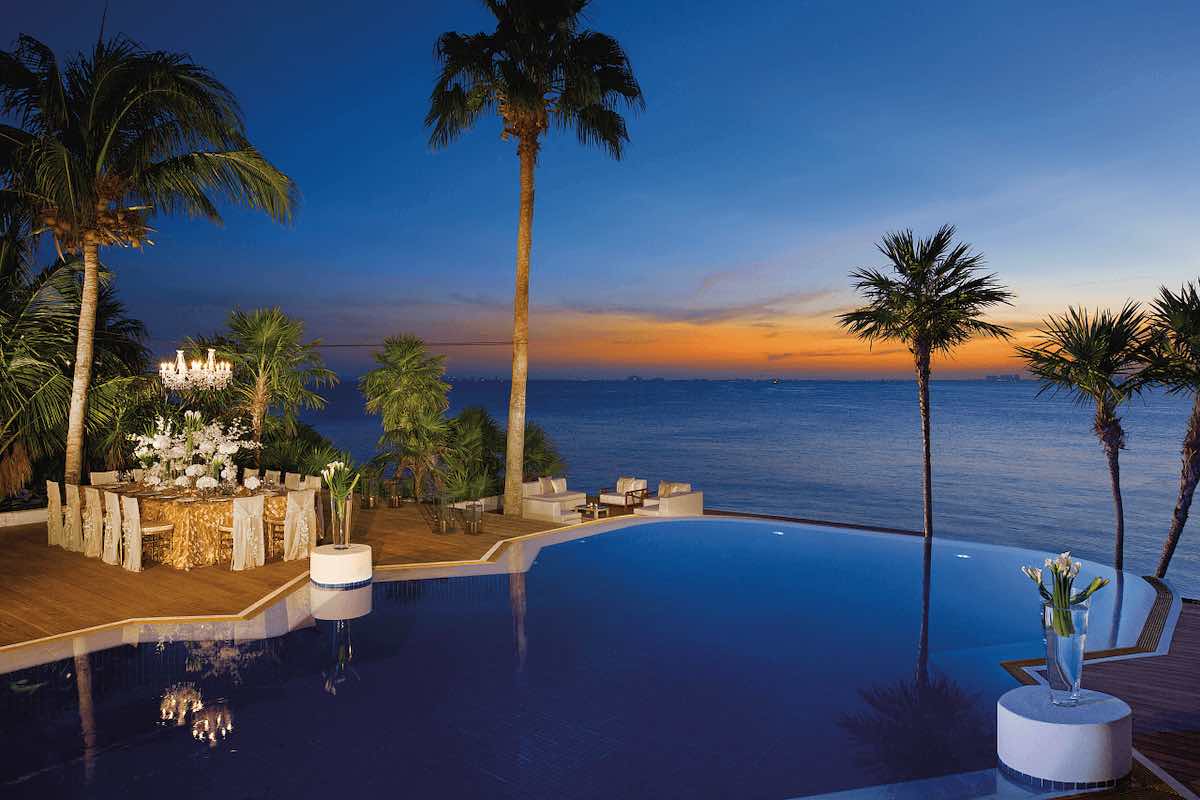 Luxury Adults Only Resorts Isla Mujeres
Zoetry Villa Rolandi Isla Mujeres Cancun
Where: Isla Mujeres
When it comes to Mexico luxury travel, good things can come in small packages: For an elite island haven check out Zoetry Villa Rolandi Isla Mujeres Cancun, an intimate property with only 35 suites.
Located on secluded Isla Mujeres, it looks so exotic and luxe it makes me think of that island in Bali where Jerry Hall and Mick Jagger got married. Except, of course, that was Asia not Mexico, and then they split up and, well … never mind.
The point is, Zoetry (which is poetry with a 'Z') is an ultra-luxury retreat with a deluxe spa and thalasso (water-based therapy) centre that incorporates ancient Mayan practices in their treatments.
It also has complimentary deluxe yacht services. Yes, I said yacht. Sunset cruise, anyone?
Check prices and availability for Zoetry Villa Cancun here.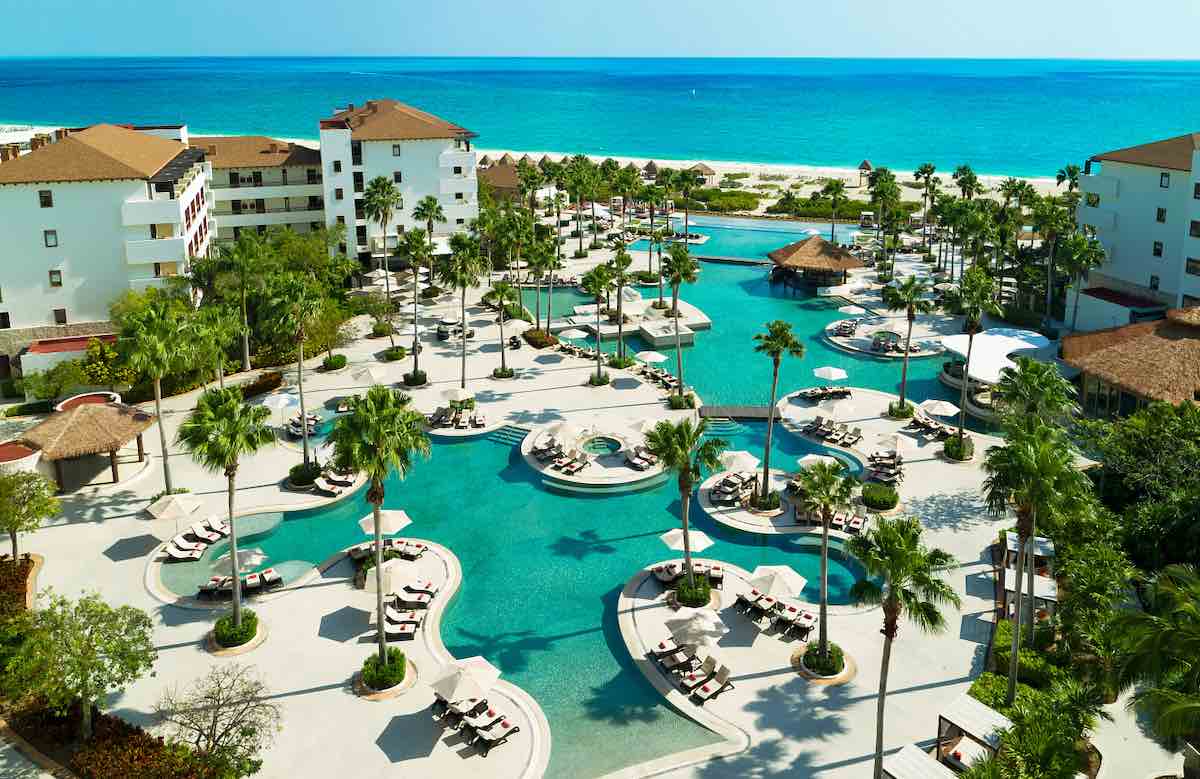 Adults Only All Inclusive Resorts Playa Mujeres
Secrets Playa Mujeres Golf & Spa Resort
Where: Playa Mujeres
An escape to the beachfront Secrets Playa Mujeres Golf & Spa Resort is a good option if you have beach-bum fantasies.
That's if, of course, you want your beach-bum happiness accompanied by a resort where subtle elegance, tranquility and laid-back luxury reigns. (In other words, the best adults only all inclusive Mexico options out there.)
Secrets Playa Mujeres also works for golf fans, as daily green fees for the 18-hole Greg Norman golf course are included as part of Secrets 'unlimited luxury' model.
This beachfront 5-star resort is just north of Cancun, but it's as far away from party central as an iceberg is from a cenote.
Stand outs at this upscale all-inclusive include its lovely beach, clear and calm waters, gourmet dining and suites with swim-out access.
Plus, a swimming pool that looks so inviting I'm tempted to dive headlong into my computer screen.
Check prices and availability for Secrets Playa Mujeres here.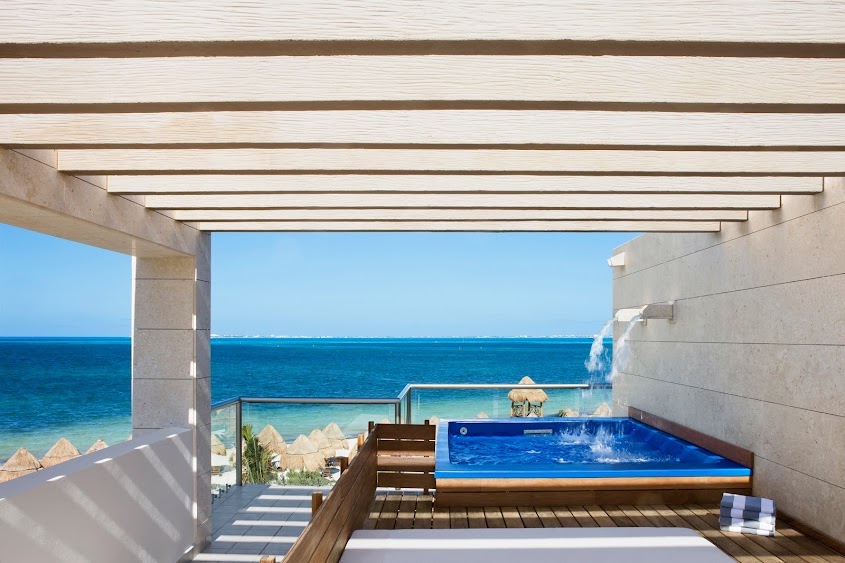 Beloved Playa Mujeres – Couples Only
Where: Playa Mujeres
Beloved Playa Mujeres is another all inclusive adults only in Playa Mujeres. As the name might suggest, it's a couples only resort.
With three outdoor pools, and a secluded white sand beach, there are plenty of places to catch rays and splash off at this modest-sized 109-room luxury hotel.
Taste and tranquility is the decor style, and if you're lucky you'll score a suite with a plunge pool.
One of Beloved's big draws is a 35,000 square foot spa with a hydrotherapy circuit and fitness facilities.
Another welcome feature at this couples only favourite is that reservations are not required at the restaurants – one of the perks of choosing a smaller resort. The 24-hour room service doesn't hurt either.
You can visit the website here.
All Inclusive Adults Only Resorts Riviera Maya
There are plenty of resorts in the sun-filled tourist destination of the Riviera Maya. Also located on the Yucatan Peninsula, the Riviera Maya includes popular destinations such as Playa del Carmen and Tulum.
South of Cancun, the Riviera Maya has incredible beaches and is generally more laidback than bustling Cancun.
El Dorado Casitas Royale by Karisma
Where: Quintana Roo
Listed as one of the Top 100 Hotels in the World by Conde Nast Traveler readers, this AAA Four Diamond Resort is designed with romance in mind.
Adjacent to the larger El Dorado Royale, El Dorado Casitas Royale by Karisma is an adult-only all inclusive Mexican oasis located between Cancun and Playa del Carmen. Thatch roofs, lush gardens and white hammocks give it a laidback earthy vibe.
Adding to the organic feel, the property's 76,000-square-foot greenhouse guarantees that your tomatoes, cucumbers, basil and mint will be at their freshest and finest.
Spacious rooms – some with private swim-up terraces – have high ceilings, appealing wooden beams and outdoor showers, while butler service adds to the luxury experience.
Check prices and availability here.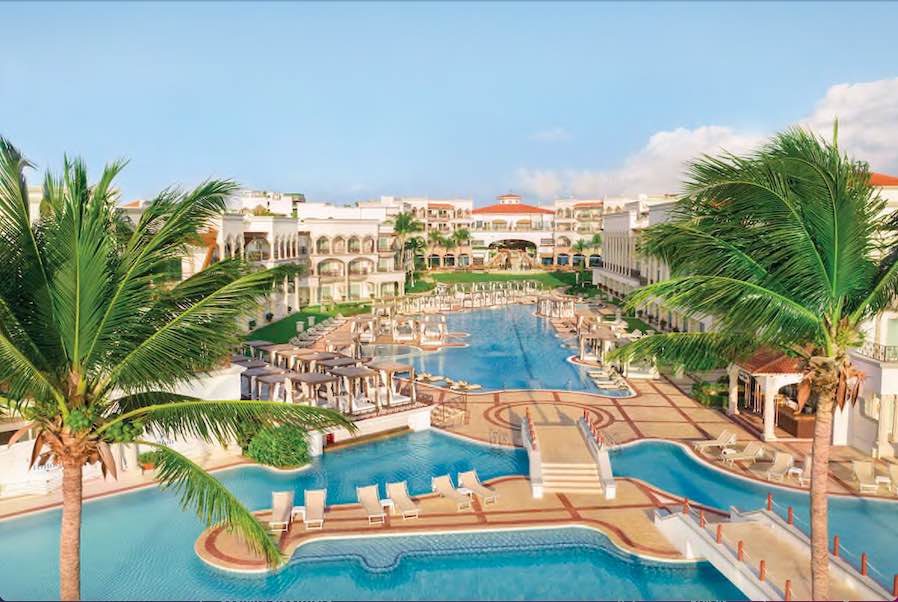 Hilton Playa del Carmen, Riviera Maya
Where: Playa del Carmen
Sitting pretty on Coco Beach, the Hilton Playa del Carmen on the Riviera Maya is a rare all-inclusive in the heart of Playa del Carmen.
It's a good choice for an upscale vacation where you can ramp up the romance with an intimate moonlit dinner on the beach, but also have quick access to the shops, cafés and lively vibe of Playa del Carmen's 5th Avenue, which is in walking distance from the resort.
Then again, with 7 restaurants, nightly entertainment and fun activities such as scuba lessons, tennis lessons and wine tastings, you might never leave the grounds of this popular Mexican all inclusive resort for adults.
Check prices and availability here.
Valentin Imperial Riviera Maya
Where: Playa del Carmen
Even the mature among us need an occasional float on a lazy river, and if this appeals to your sense of grown up fun, check out the 5-star Valentin Imperial Riviera Maya in Playa del Carmen.
With 540 rooms, this is a larger all inclusive Mexico adult only resort. This means you'll have plenty of options for dining (8 restaurants), drinking (11 bars) and swimming: Beach? Pools? Lazy River? Your choice.
Check prices and availability for the Valentin Imperial Riviera Maya here.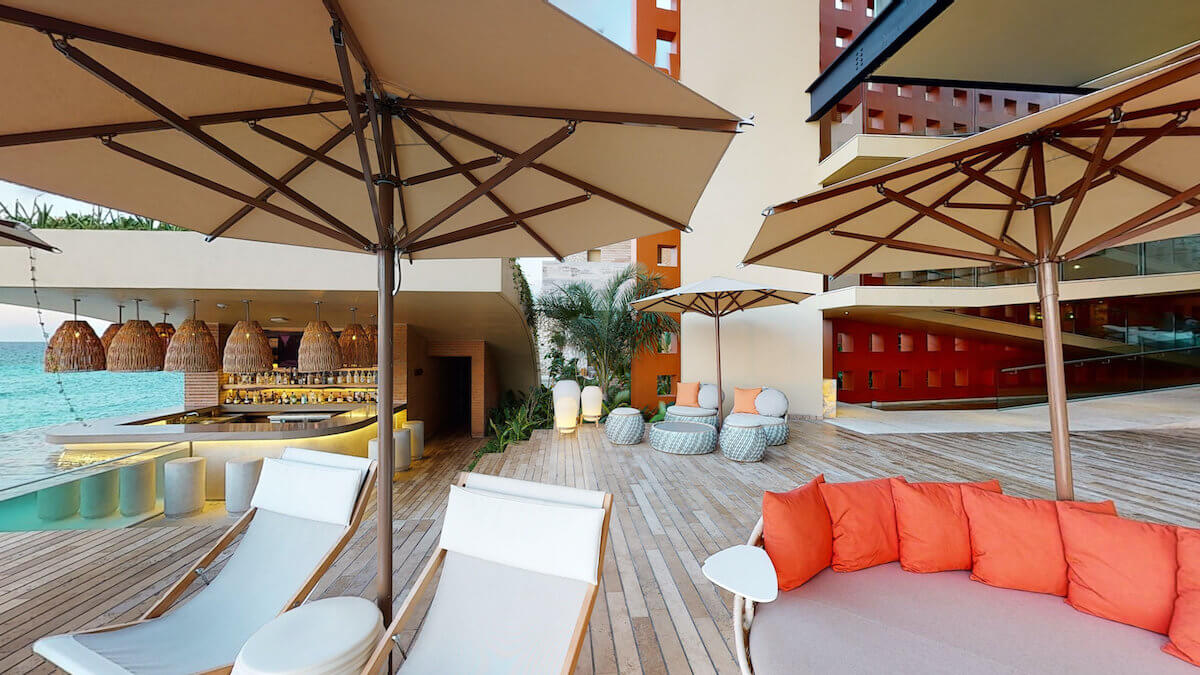 La Casa de la Playa Xcaret
Where: Quintana Roo, Playa del Carmen
Described as a 'living sculpture', designed to complement its lush and rocky beach-side surroundings, the boutique 63-room Casa de la Playa resort comes with a host of benefits.
One is unlimited access to Group Xcaret Parks. This includes entrance to Xcaret Park, Xplor and Xplor Fuego.
Why is this such a perk?
Xcaret Park is the most popular attraction in Mexico's Riviera Maya. It's a huge eco park complete with authentic Mayan ruins, cultural shows, an underground river swim, raft tours, snorkelling and more. This means you'll never get bored.
If you can bring yourself to leave the resort.
Opened in 2021, the intimate La Casa de la Playa is an immersion into imaginative local art, native materials, traditional wellness treatments and gourmet regional cuisines, all topped off by topnotch service and a chic earthy decor.
Did I mention the luxury private transfers, infinity pool, butler service, volcanic stone hydro massage tubs and ocean views?
For a Mexico adults-only all-inclusive with unlimited activities and a cultural bang for your buck, this newish 5-star resort is a contender.
Check out prices and availability for La Casa de la Playa here.
Adults Only All Inclusive Resorts Puerto Vallarta
Puerto Vallarta is a city and beach resort on the Pacific Coast backed by the foothills of the Sierra Madre Mountains.
Part of Puerto Vallarta's appeal lies in the beaches, part in the nightlife and part in the historic centre where you'll find artisanal shops, cobblestone streets and busy bars.
Casa Velas
Where: Marina Vallarta near Puerto Vallarta
Casa Velas is one of smaller boutique-sized all inclusive adult-only resorts in Mexico. The intimate property in Marina Vallarta is a seashell's toss away from Puerto Vallarta, and the most exclusive adult-only all-inclusive in the area.
The Velas brand is known for its top quality cuisine (as my Grand Velas food adventure in the Riviera Maya can attest), and elevates the all inclusive culinary experience to a gourmet level.
Casa Velas has a lush garden setting with an oversized pool. It's not right on the beach so guests are whisked by shuttle to their private beach club, a 2-minute ride away. They can also use all the facilities of the resort's big sister, the high end Velas Vallarta resort.
Check prices and availability for this all inclusive adult only 5-star resort in Puerto Vallarta here.
Hotel Mousai
Where: Puerto Vallarta, Mexico
You need to be over 16 to stay at this designer chic hotel in Puerto Vallarta, where the jungle setting offers up sensational ocean views.
This is a gourmet all-inclusive – though you can opt for room-only prices as well – with an emphasis on exceptional culinary experiences. Think garden-fresh ingredients, premium brand alcohol and six different dining destinations.
Guests also have dining privileges at the Garza Blanca Reserve, as both are part of the Garza Blanca hotel chain.
Is the Hotel Mousai on the beach? No, but it overlooks the ocean from the infinity pool (or from ocean suites). Guests can access the beach at the Garza Blanca Reserve by using the free resort trolley or taking a 10-minute walk.
The vibe here is hip and contemporary with a luscious rooftop pool and a youthful stylish aesthetic.
Check prices and availability for the Hotel Mousai here.
Cabo All Inclusive Resorts Adults Only
Sun drenched landscape-rich Los Cabos lies at the southern point of the Baja California Peninsula and is another of Mexico's popular winter destinations.
From the hip upbeat bars of Cabos San Lucas to the historic sights in sleepier San José del Cabo, there are a range of activities, from whale watching to watching the world go by.
Here are a couple of luxury Mexico resorts all inclusives in Los Cabos to check out.
Marquis Los Cabos
Where: Cabo San Lucas
A member of the Leading Hotels of the World, the Marquis Los Cabos is a luxury adults only enclave with 209 suites, 25 casitas and an art collection that showcases top Latin American artists.
The resort's charms lie in its stunning location on the Sea of Cortez, its holistic-inspired spa, and five restaurants that offer everything from French cuisine to fresh seafood.
Thoughtfully curated resort experiences (some at extra cost) mean you won't run out of things to do. Photo shoot? Golf? Tours around the Baja Peninsula?
They're yours for the asking, as are fresh pastries delivered to your doorstep each morning. Baja bliss, baby.
Check prices and availability for the 5-star Marquis Los Cabos here.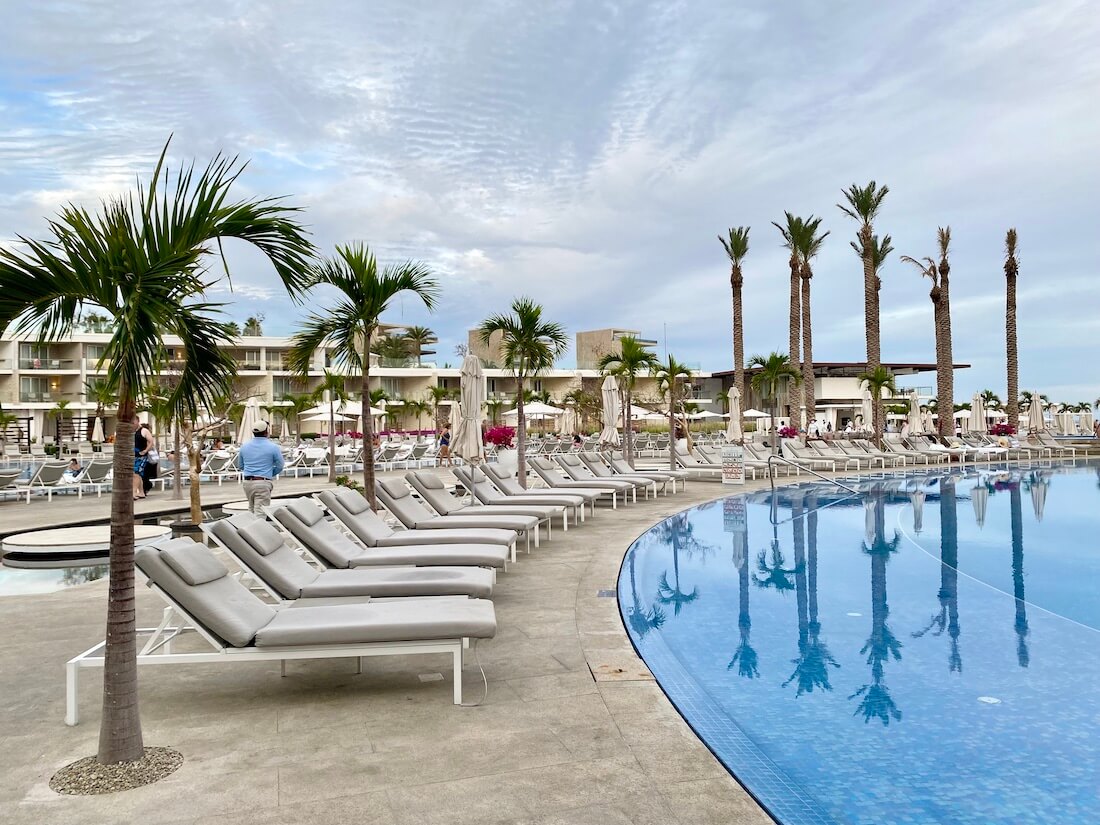 Le Blanc Spa Resort Los Cabos
Where: Between Cabo San Lucas and San Jose del Cabo
Opened in 2018, the swanky Le Blanc Spa Los Cabos Resort follows the impressive footsteps of its elder sister, Le Blanc Spa Cancun, one of Mexico's ultra luxury all inclusive resorts.
You won't find any frou frou furnishings at Le Blanc Cabo: The room decor is a cool palette of whites and the style is sleek and minimal.
There are 374 guest rooms and suites, which come complete with butler service, BVLGARI toiletries, a nightly aromatherapy menu, and of course, the all-important pillow menu.
(If anyone has ever bothered to use a pillow menu, let me know.)
Major perk: The spa is an impressive 29,000 square feet and guests have free access to the hydrotherapy circuit, which for me is almost as big a draw as an outdoor pool with palm trees (almost, but not quite).
A multitude of restaurant options include Asian fare, Italian fare, International fare and Le Blanc's signature Lumiere restaurant, which features a seven-course French fusion tasting menu.
Check prices and availability for Le Blanc Spa Resort Los Cabos here.
Prefer Cancun? Not a problem. Check prices and availability for Le Blanc Spa Resort Cancun here.
Breathless Cabo San Lucas Resort & Spa
Where: Medano Beach, Los Cabos
Location location. While many of the best all-inclusive resorts in Cabo count seclusion as one of the perks, there are plenty of vacationers who want to be near the action. Breathless Cabo San Lucas overlooks the marina at beautiful Medano Beach, the longest swimmable beach in Los Cabos.
While the cuisine and other amenities aren't on the same level as glamorous all inclusive adults only Mexico resorts like Le Blanc, this 169-room property has eight restaurants (the Italian is a favourite), two infinity pools, a spa, and a rooftop lounge.
Its vibrant scene should appeal to a younger clientele who want DJ pool parties, water sports and a quick walk in to the nightlife of Cabo San Lucas.
Check prices and dates available for Breathless Resort Cabo here.
Is a Luxury Vacation in an Adults Only All Inclusive Worth It?
If you can fit it into your budget, definitely.
Whether you're travelling with your significant other, your insignificant other, or are happily planning a relaxing vacation for one, these swanky Mexico all inclusive adults only resorts should fuel your warmest beach-cabana dreams and give you plenty of swim-up-bar ideas for your next winter escape.
To recap, these are 14 amazing Adults Only All Inclusive Resorts in Mexico to choose from:
Turquoize at Hyatt Ziva Cancun
Hideaway at Royalton Riviera Cancun
Live Aqua Beach Resort Cancun
Zoetry Villa Rolandi Isla Mujeres Cancun
Secrets Playa Mujeres Golf & Spa Resort
Beloved Playa Mujeres – Couples Only
El Dorado Casitas Royale by Karisma
Hilton Playa del Carmen, Riviera Maya
Valentin Imperial Riviera Maya
La Casa de la Playa Xcaret
Casa Velas
Hotel Mousai
Marquis Los Cabos
Le Blanc Spa Resort Los Cabos
Breathless Cabo San Lucas Resort & Spa
Can't you just smell the coconut-scented sunblock already?