This post may contain affiliate links.
Guest post by Matt Davison
Looking for the best places to live in South Africa? Luckily for you, there is a range of incredible destinations in this wonderful country, perfect for calling home. Hop on a quick flight to Joburg, or drive down to the quaint coastal town of Hermanus, and you may have found your ideal location.
But with so many options to choose from, where do you start? Here are some of the best places to live in South Africa, no matter what your tastes and preferences.
Cheapest Places to Live in South Africa
As we all know, South Africa is not known to be a cheap place to live unless you're earning in a foreign currency. But there are a few places that are a little more affordable than others. Here are some of the cheapest towns to live in South Africa.
Richards Bay
Richards Bay is located in Kwa-Zulu Natal, on a lagoon in the Mhlathuze River. It has one of the country's largest harbours and the continent's deepest natural harbour. So as you can imagine, many of the best things to do in this town revolve around the water.
Once a small fishing village, Richards Bay now has the largest export coal terminal in the world. Apart from being one of the cheapest places to stay in South Africa, it also offers unspoilt beaches, beautiful wetland scenery, and some of the best bird-watching opportunities in the country.
Port Elizabeth
Known by locals as "The Friendly City," PE is the most densely populated city in the Eastern Cape. It's also the cultural, financial, and economic centre of the province, but that doesn't stop it from being incredibly affordable.
Because it's located along the Indian Ocean, it's famed for its great water sporting activities. But that's not all that's on offer. Its wide range of nature trails and the ability to quickly spot some of South Africa's most interesting wildlife makes this city a hit. Throw in some historical heritage and interesting cultural experiences, and you've got yourself a great place to live.
East London
Located at the mouth of the Buffalo River which leads into the Indian Ocean, East London is a town with an incredible amount of character. The city is known as the gateway to the wild coast. With beautiful golden sand beaches, and warm ocean currents, it's a place that any beach-bum or ocean-lover would enjoy.
With affordability being the town's main drawing card, there's also plenty more to the area than that. With game reserves, museums, art galleries and other cultural activities on offer, you'll never experience a dull moment in this town.
Durban
Durban is a cheap place to live, and an exciting one at that. Located along the eastern coastline of South Africa, the city experiences warm, very humid weather, and even warmer ocean currents. The tropical vegetation that inhabits the area makes Durban feel like an island getaway.
Walking the seafront promenade and visiting the famed Ushaka Marine World are regular activities of those that live in the area. Botanical gardens, museums, and an aquarium all help to make this city the hub of excitement that it has become.
Safest Towns in South Africa
South Africa is not notoriously known for its safety. But that doesn't mean that some areas aren't much safer than others. If you'd like to go to sleep at night without worrying about your own and the safety of your loved ones, here's the safest place to live in South Africa.
Yzerfontein
Yzerfontein, located on the western coastline of South Africa, is a small harbour town with a mere 1200 residents. The small-town atmosphere makes it an incredibly safe place to live. It's just 80 kilometres outside of Cape Town but couldn't be further from the hustle and bustle of Mother City living.
Its long stretch of beach and tranquil harbour are central to the activities enjoyed by those who stay in Yzerfontein. It's also a great place for those who like fishing and catching crayfish as 60% of South Africa's line fish is landed in this small town.
St. Helena Bay
Described as "calm and tranquil", by Vasco De Gama, the first explorer to set foot on its shores in 1497,. St Helena Bay is located on the western coast of South Africa and is the only town in the country that has the sunrise across its harbour. This is because unlike other towns in the country, it faces north.
Although it's known as a fishing town, there are other attractions that draw people to live in St Helena Bay, such as whale and dolphin watching.
Grahamstown
Situated on the slopes of the Suur Mountain, Grahamstown in the Eastern Cape has an incredible cultural background along with an interesting history. It's home to Rhodes University, one of the most prestigious educational institutions in the country.
With education and safety being a foremost priority in this town, it's a great place to raise a family and make a life. Known for its rich arts and culture, any creative could live happily in this town.
Knysna
The name Knysna means "place of wood", and it couldn't be more aptly named. With forests and walking trails in abundance, the town is an outdoor lovers dream. More recently the area has become popular with golfers as there's a nice selection of world-class courses in the surrounding areas.
Many of the best activities are located around the Knysna Lagoon, which kayakers, swimmers, and fisherman are particularly fond of. This safe town is also known for its annual oyster festival which is every seafood lover's dream. If you're more of the sporty type, then you have the annual Knysna Forest Marathon to look forward to.
Best Coastal Towns and Cities to Live in South Africa
If you enjoy the smell of the ocean and a coastal breeze, there are plenty of South African towns that can provide just that. In fact, some of the most scenic places in the world lie along SA's coastline. Here are some of the country's best cities to live in by the sea.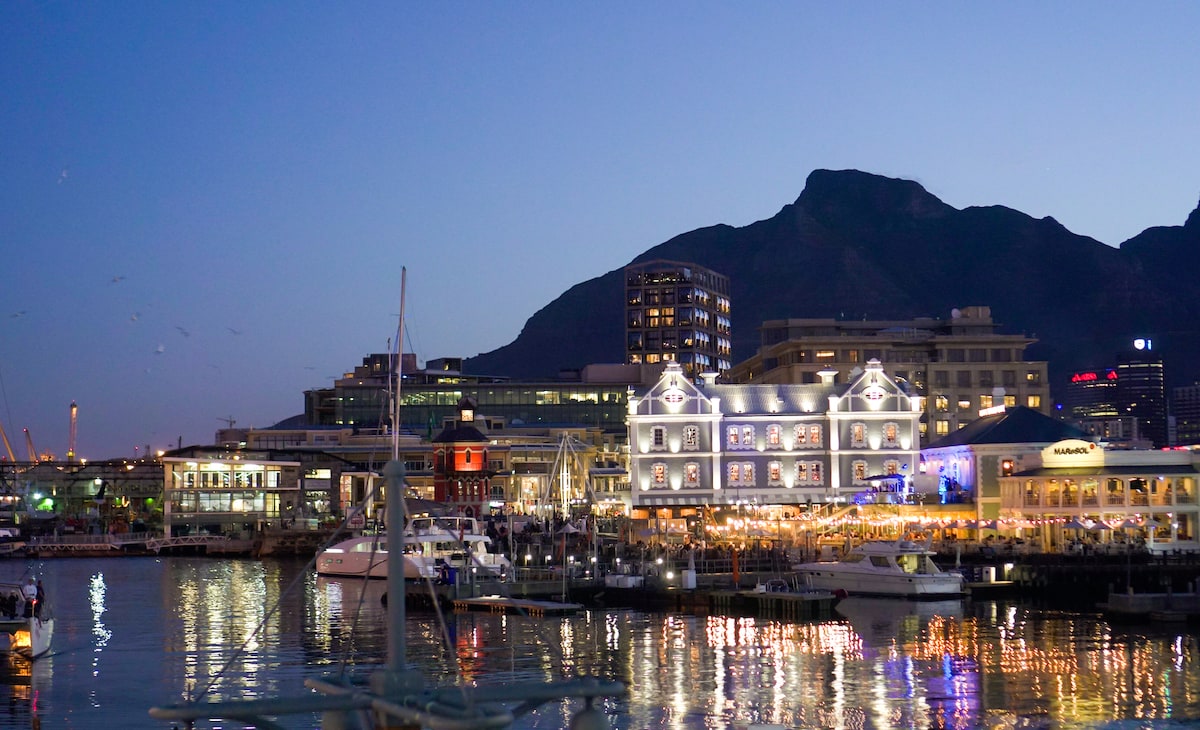 Cape Town
As far as coastal towns go, South Africa has a great selection. But none quite beat out Cape Town for the number one position. Surrounded almost entirely by sea, and encircling a mountain, this beautiful city offers just about every adventure sport and sightseeing excursion under the sun.
Whether you like to spend your days soaking up the sun on the beach, hiking a mountain, surfing in the ocean, or paragliding off the nearest peak, you won't run out of things to do in Cape Town. With stunning views and enjoyable cultural activities around every corner, it's hard not to fall in love with this city.
Coffee Bay
Known for its archaeological wonder, "hole in the wall", which lies just outside of the town, Coffee Bay is a quaint village with a rural feel. It maintains every bit of beauty that we've come to expect from the wild coast while offering a coastal resort-type feel.
Coffee Bay is filled with stunning swimming beaches, excellent fishing spots, and exciting hiking trails. In the town itself, you'll find a great selection of bars, restaurants, and hotels. The area is famed for its great surf and fishing spots, so it's a great place to live for any outdoor and adventure lovers!
Arniston
Arniston is a quaint fishing village northeast of Cape Agulhas. Craggy cliffs, rolling sand dunes, white-sand beaches, and beautiful shore breaks attract artists and photographers to this region for inspirational purposes. If taking long walks along the beach are included in your ideal lifestyle, then this little village is just for you.
Expect to find whitewashed fisherman's cottages throughout the town, and prehistoric fish traps peppered along the coastline. These were created by the "strandlopers", or "beach walkers", who frequented this area many years ago.
Ramsgate
Set on the south coast of Kwa-Zulu Natal, Ramsgate is another tranquil fishing village that makes a great place to live in South Africa. It's located on the mouth of the Bilanhlolo River, which means "the marvellous boiler". Because the strong currents cause the water to bubble, it makes it look as if the water is boiling.
Mainly known for its stunning beaches, Ramsgate is the perfect place for any ocean-lover to live. An abundance of tidal pools and white sand beaches make for photographable scenes. The most famous establishment in Ramsgate is its Waffle House restaurant, which has highly rated waffles for anyone with a sweet tooth.
Best Towns to Live in South Africa
There are some epic places to stay in South Africa. It's all up to personal preference when it comes to the best place to live. From the commercial hub of Johannesburg to quiet fishing villages, there is something for every taste.
So whether you're looking for safety, affordability, or sweeping views of the SA coastline, we hope you found exactly what you're looking for.