This post may contain affiliate links.
Standing on Cape Town's Signal Hill, a south-easterly wind nudging my back and a lone tree straining towards the Atlantic as if it were ready to dive in for a swim, it occurred to me that if you're wondering what to do in Cape Town you should think outside the box.
Wait! I changed my mind. Think both inside and outside the box. While you can find traditional travel guides and 10 Top Activities in Cape Town blog posts easily enough, if you only do what everyone else does … boring!
So mix it up
My suggestion? Combine Cape Town's top sights with some new experiential excursions offered through The Table Bay Hotel on the V&A Waterfront, and you'll be bursting out of a typical best-things-to-do-in-Cape-Town itinerary like a firecracker.
(Haven't you, secretly in your dreams, always wanted to be a firecracker? You haven't? Oh. Well. Read on to find out what to see in Cape Town, South Africa, from the traditional to the new. PS: You won't literally be a firecracker, that was a metaphor.)
A note: I was a guest at The Table Bay Hotel and loved it, so I may be a wee bit prejudiced, but that's only because I had so much fun. Be reassured, this what to do in Cape Town blog post also includes top activities that have nothing to do with Table Bay whatsoever.
Start with the traditional. Visit the V&A Waterfront
Safe, social and scenic, the V&A Waterfront on Table Bay is a prime Cape Town destination, a one-stop shop with high-end stores, hotels, pubs and lively restaurants.
It's also home to the Two Oceans Aquarium, the only aquarium where you can see a slime-loving hagfish, a snake-like beasty that, when surprised, can ooze enough icky white gook to fill a 7-litre bucket. Nice!
Go traditional – have high tea at The Table Bay Hotel – symbolic cheesecake included
If you're down at the V&A Waterfront anyway, and sightseeing has your feet screaming for mercy, The Table Bay Hotel on Quai 6 offers a high tea like no other, a 3-course splurge including savoury appetizers, fresh scones and decadent pastries.
Choose from gluten free, halal, vegetarian and/or calorie-laden splurges. Paired with fine teas to match, of course.
Cost: From R200 ($17 US).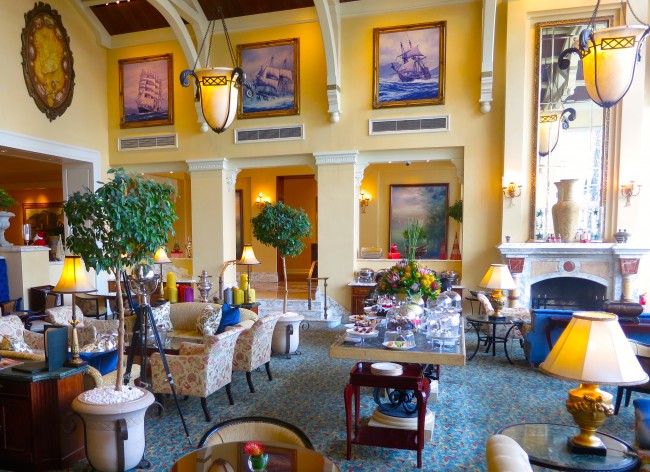 My high tea experience: As I'm trying to cut down on the sugar I asked for an extra helping of clotted cream with my scones (yes, I know I'm a pig), thinking that if I ate enough cream I'd be able to resist cake, but somethings are bigger than calories, they're downright symbolic.
Let me present you with The Table Bay's rainbow cheesecake. "Because South Africa," explains gifted Table Bay Hotel pastry chef Bhupender Kumar, "is a rainbow nation."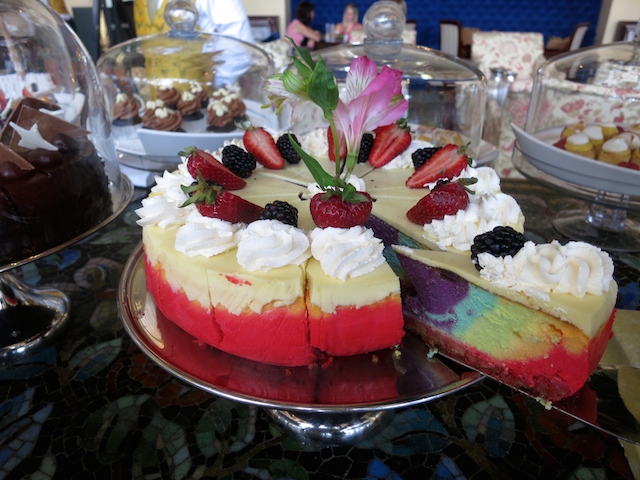 How to see Cape Town from a unique angle on the Camissa Walk
Underground tunnels? Hidden springs? What more can you ask from a walk? A partnership between the Reclaim Camissa Project and The Table Bay Hotel, the Camissa Walk is a Cape Town tour that explores the Camissa Springs, now hidden and lost beneath Cape Town – springs that are linked to the city's environmental and cultural history. How eco-exciting is that?
The Camissa Walk tour ends with a bang-up South-African-inspired meal at The Table Bay's Camissa Brasserie. (No doubt you'll be in the mood for a glass of fresh spring water, too.)
PS: What is Camissa? Camissa means the place of sweet waters in the indigenous Khoisan language and describes the area around Table Bay.
Tour cost: R2800 ($242) for up to 6 people.
Unique and eco-tasty. Go food foraging with The Table Bay Hotel
Let your inner hunter gatherer fly free. I've written a blog post on my Urban Food Foraging Experience in Cape Town, and it was so eco-inspiring I decided to move back to the land, wear nothing but hemp clothes and swear off lipstick forever.
Okay, maybe not, but I did fall in love with a sea anemone. The tour includes a guided foraging experience, a cooking experience in the kitchen of The Table Bay Hotel and, best of all, a customized food-foraged meal in The Table Bay Hotel's Camissa Brasserie.
Tour cost: R5800 ($500) for 4 people.
What to do in Cape Town: Traditional. Take a cable car up Table Mountain
I feel quite close to Table Mountain because I stared at it continuously from my hotel window, mesmerized by the clouds that often clung to it like a white fur stole.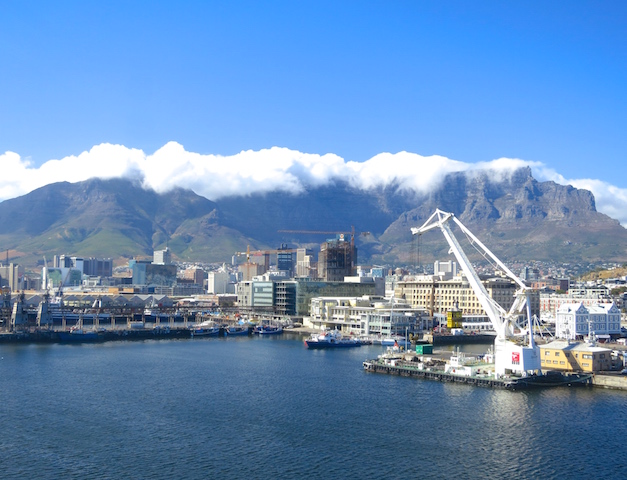 I was so taken with the mountain view it's a miracle I got out to explore Cape Town at all. Luckily you can stare at Table Mountain from just about anywhere in the city.
Moving to the country? Check out the best places to live in South Africa.
Let's talk about Table Mountain
Voted one of the 7 New Wonders of Nature, Table Mountain is a flat-topped 1086-metre mountain that offers hiking trails, panoramic views and a cable car up. Of course I hiked the entire mountain in record time …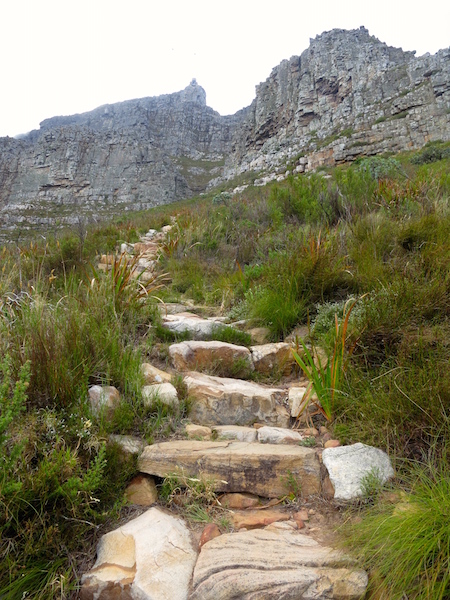 Say what? You don't believe me? I'm shocked. Oh, all right. I hiked a little, then sat down on a rock and enjoyed the view of Cape Town and the Atlantic Ocean below. You enjoy Table Mountain your way, I'll enjoy it mine.
Cost: Table Mountain Cableway R225 ($20). To Hike up: free.
What to do in Cape Town: Super cool and arty. The Sunstar on Signal Hill
As long as you're in the Table Mountain vicinity, why not escape the tourist crowds and head over to Signal Hill? Once up there you can look out at Robben Island, where former president Nelson Mandela was imprisoned for 18 long years.
Sunstar Beacon of Hope
Now turn around and take a good look at the metal star-shaped sculpture behind you. Called the Sunstar, it was created by Cape Town artist, Christopher Swift.
The super cool part: The sun-like sphere-y shape in the centre was constructed from the metal fence that surrounded Robbin Island and is a powerful symbol of Apartheid and freedom.
Note about the Sunstar: As it stands now the installation is temporary, but if enough people adore it, and I hope they do, there's a chance it could stick around.
Cost: Free
What to do in Cape Town: Eye Opening. Robben Island
Take a ferry over to Robben Island to see how prisoners lived, survived, struggled in the lime quarry. Ferries leave from the Nelson Mandela Gateway at the V&A Waterfront at 9am, 11am, 1pm and 3pm.
Cost R280 ($25).
Note: Ferries to Robben Island can be cancelled due to bad weather or high winds.
Travelling around South Africa? Don't miss this guide to Johannesburg.
What to do in Cape Town: Boho chic. Long Street
From hip boutiques and Victorian wrought iron balconies to bookshops and backpackers – or if you just want to party all night – historic Long Street is your destination.
What to do in Cape Town: Thirst quenching. Wine Tasting at The Table Bay Hotel
We all want to know more about South Africa wines. Don't we? Well, I did. In The Table Bay Hotel's wine room, guests can do a tasting of some popular South Africa wines including the hotel's own blended varietals.
One to try: a top-of-the-line Bizoe made with grapes from the border of Swaziland (particularly 2009).
FYI: Bizoe is named after the French word for 'kiss' and you'll want to kiss this wine, it's so elegant with delicate hints of spice and pepper.
And if you have enough Bizoe you'll want to kiss your partner, too. But beware, too much and you'll want to kiss Cape Town itself because by now you'll have fallen in love with this breezy scenic city, so have fun, eat, drink, shop and hike to your Cape-Town-has-your-heart's content.
(PS I also liked a red wine called Kanonkop Pinotage, but managed to refrain from kissing it.)
Getting around Cape Town
Cape Town has a City Sightseeing Hop on Hop Off double decker bus from R250 (About $22).
Free: In-house guests at The Table Bay Hotel can make use of the hotel's free shuttle for select popular sights.
About The Table Bay Hotel
Opened in 1997 by Nelson Mandela himself, The Table Bay Hotel is an airy luxury hotel located smack on the waterfront. It has a heated rooftop pool, gym, spa and restaurants, and offers direct access to the V&A shopping mall. Rooms have either a Robben Island view or a harbour view, and run from about R3124 per night ($270). Family-sized rooms are also available.
The Table Bay Hotel is located at Quay 6, Victoria & Alfred Waterfront, Cape Town. Table Bay is one of the SunLux Collection, a group of luxury hotels in South Africa and Zambia. For more information visit www.suninternational.com.
Looking for other places to stay around the country? Check out these top luxury beach resorts in South Africa.