This post may contain affiliate links.
I'm looking out onto the Atlantic from Cape Town's Sea Point Promenade. It's low tide. Layers of rock lie stripped bare revealing shallow pools, seaweed and star-shaped shells. Waves froth in the distance. It's romantic, it's moody, it's South Africa. I should be thinking profound thoughts. What I'm really thinking is that limpets creep me out.
Fun things to do in Cape Town – Food Foraging
If you're looking for a novel experience in Cape Town, an Urban Foraging Experience makes a refreshing change from sightseeing, because it's life-seeing! (Haha. Like my new phrase? I'm going to copyright that.) Cape Town is a stunning outdoor-friendly city, and exploring its sea life and plant life (then eating it) is one of The Table Bay Hotel's new experiential excursions.
What is food foraging?
I wasn't quite sure what I was in for with an Urban Foraging Experience – I was just looking for some fun things to do in Cape Town. I have to admit that when I went down to the lobby of The Table Bay Hotel for my tour, it came as a bit of a shock, to be staying at one of Cape Town's top hotels and told I'd now be going out to scrounge by the side of the road for my lunch.
But. If you want to see Cape Town you may as well start from the ground up. Because once you're down there, you'll discover delicious delicacies are literally, resting at the tips of your toes.
About Table Bay's Foraging Experience
The Foraging Experience was dreamed up by expert urban forager Charles Standing and The Table Bay Hotel's Executive Chef, Canadian-born Jocelyn Myers-Adams, who sites former boss, celebrity chef Jamie Kennedy, as a major influence behind her passion for local food and fresh organic cuisine.
The Cape Town adventure begins
As Jocelyn and Charles bound around the rocks at Sea Point searching for edibles I decide it's time to help, but back off when Charles plucks two sea urchins out of a shallow pool.
"Yikes!" I say. "Aren't those the things you step on in the water and then have to pee on to stop the pain? How can you pick them up?"
"Carefully," Charles says, giving me a far more suitable job of picking neon green sea lettuce.
"Check this out." He points to what looks like a waving brown daisy under the water. "It's a sea anemone. Put your finger in it."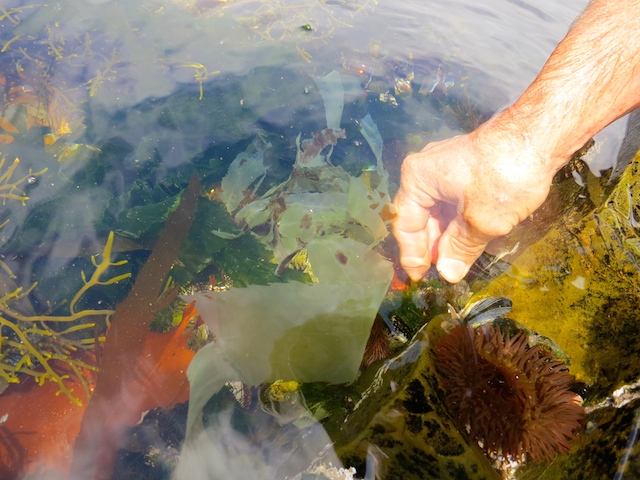 Getting up close with Cape Town's watery inhabitants
"Ewwww. Will it eat me?" I ask.
Charles smiles. "It might try."
Even if it does consider me dinner it looks more friendly than a sea urchin so I gently put my index finger into the sea anemone's centre. Tentacles soft as fat eyelashes grip my finger. "Eeek," I say, doing it again. And again.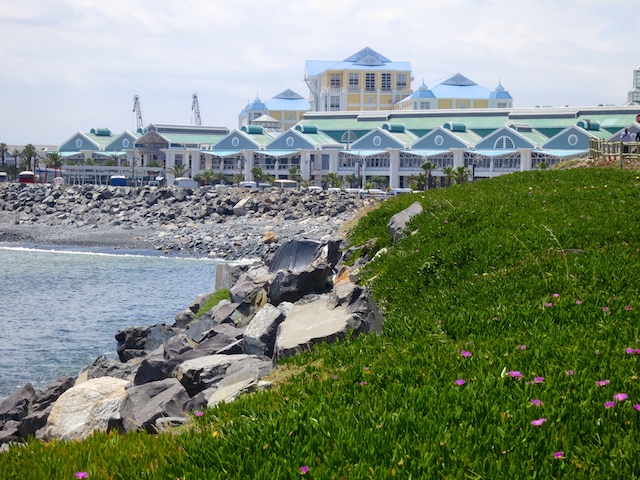 Exploring Cape Town through its ecosystem. And your stomach.
Not only is food foraging a unique thing to do in Cape Town – it's also practical. From the ground around Sea Point Promenade we've already filled our basket with edibles such as dune spinach, wild garlic chives, sour fig and something Charles calls soutsaai, a tongue-twister of a plant that combines the salty taste of the sea with bitter, almost effervescent pops in your mouth.
Cape Town and the snacks of the wild
It's hard to believe all this is available in urban Cape Town, with a row of luxury condos behind us set against the backdrop of Table Mountain, and the chic shops and restaurants of the V&A Waterfront, where The Table Bay Hotel is located, just down the way.
Food foraging – not all fun and games
When Charles moves on to the limpets, however, I just can't get onboard.
Not that I have anything against limpets (yes, I do), it's just that I feel anything in that whole mollusc, gastropod sea slug category is best left under the sea. Sure, limpets look good at first glance, their pretty shells shaped like stars, but, just like a few other stars and celebrities I could name, they harbour a snail-like darkness underneath.
"They're kind of like abalone," Jocelyn says. "Very tough and chewy."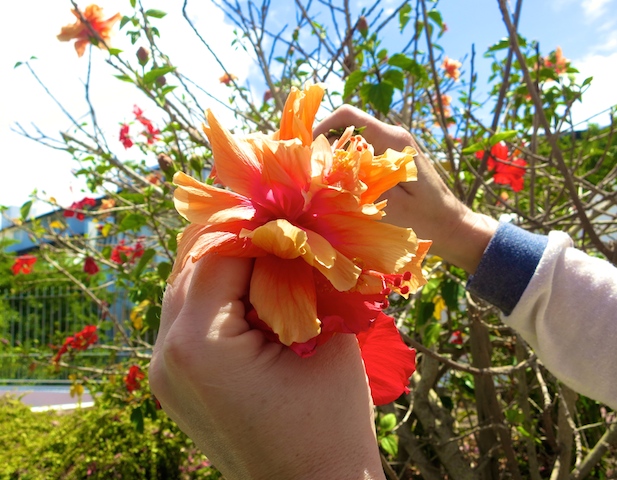 Cape Town Flower power
I'll stick with the mussels, the confetti bush and the hibiscus petals Jocelyn picks as we stroll back to The Table Bay Hotel. Our basket, now a colourful mix of textures and shapes, is a one-of-a-kind grocery spree. Every Foraging Experience with Table Bay is different, depending on the time of year and nature's generosity.
"If it's mushroom season, we might drive up behind Table Mountain for porcini mushrooms," Charles says.
"Too bad the Num Nums aren't ripe yet." Joceyln rips open a natel plum she plucks from a bush near the hotel.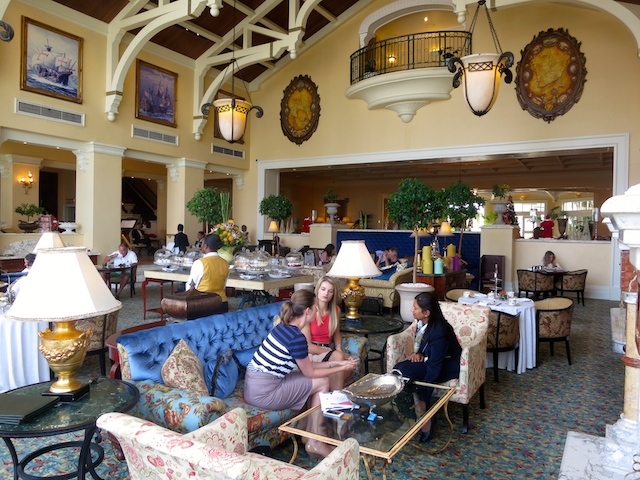 Fun things to do in Cape Town Stage 2 – cooking the bounty
Once we're in the kitchen of The Table Bay Hotel, Jocelyn takes charge, plucking, chopping, searing and changing her mind with lightning ferocity as she considers various food combinations and adds in other regional foods.
She sears some yellowtail fillets, add mussels and makes a broth out of sour fig, wild garlic, fennel, seaweed and dune spinach.
A valuable asset to any kitchen, I have the important task of ripping and cleaning the sea lettuce. (I'm getting inordinately fond of sea lettuce. We seem to have a special bond.)
Don't disrupt my Zen kitchen moment
I'm feeling all one and harmonious with the sea lettuce and by extension with Cape Town itself when an almighty bang startles me out of my reverie. I look over at the counter to see Jocelyn beating the limpets unmercifully.
Sheesh, I think, going back to my sea lettuce. Limpets might be creepy but I'm not sure they deserve quite a harsh punishment as that. Yet, half an hour later as we sit down in Table Bay's Camissa Restaurant to enjoy our creations, I have to agree that battering a limpet makes it (almost) edible.
Fun things to do in Cape Town Stage 3 – eating
The real surprise about our Foraging Experience is how rich and flavourful the broth is, how light and tart the hibiscus vinaigrette and how invested I feel in this meal I've helped nurture from seaside to table.
I also like that it's one-of-a-kind, a blend of the Western Cape locale, the season and the creativity of the chef.
Cuisine collaboration at Table Bay
"Jocelyn will take my ideas then turn them on their heads. And that's when the magic happens," Charles says, spooning up some broth.
"Totally." I nod. (That and some well-shredded sea lettuce, a few battered limpets and an appetite for something new.)
Travel facts for a customized Cape Town Foraging Experience
The cost for the Cape Town City Forage Excursion starts at R5800 for 4 people. Ideal for food-minded explorers and people wanting to experience Cape Town in a fun interactive way.
Travel facts for a Fynbos Forage at Cape Point
Outdoor loving foodies can also do a Fynbos Forage at Cape Point. The excursion starts at R7000 for a minimum of 6 people.
What the heck is Fynbos? Fynbos is part of the Cape Floral Kingdom, an area on the West Cape rich in plant life and high in biodiversity.
Call The Table Bay hotel for more information: 021 406 5000.
About The Table Bay Hotel
The Table Bay Hotel was opened in 1997 by the former President Nelson Mandela himself. With a terrific location on the waterfront, stellar views of Table Mountain, this Leading Hotel of the World combines Old World charm with modern cuisine and facilities. In other words, it's just really nice.
Cool perk: The Table Bay Hotel has a free shuttle service for in-house guests so you can sightsee in style (and save money on transportation, because even luxury travellers like a good deal).
The Table Bay Hotel is located at Quay 6, Victoria & Alfred Waterfront, Cape Town. Table Bay is one of the SunLux Collection, a group of luxury hotels in South Africa and Zambia.
For many many more fun things to do in Cape Town, read What to do in Cape Town, to make you love it.