This post may contain affiliate links.
When it comes to visiting Seychelles islands, little Moyenne Island in Ste. Anne Marine Park is where giant tortoises roam – perfect for an excursion from the main tourist island of Mahé. Just remember, tortoises have the right of way!
Moyenne Island
"Are you sure you want to stay behind?" asks Tina, my guide on my daylong snorkelling adventure around the Seychelles islands. "You really don't want to snorkel?"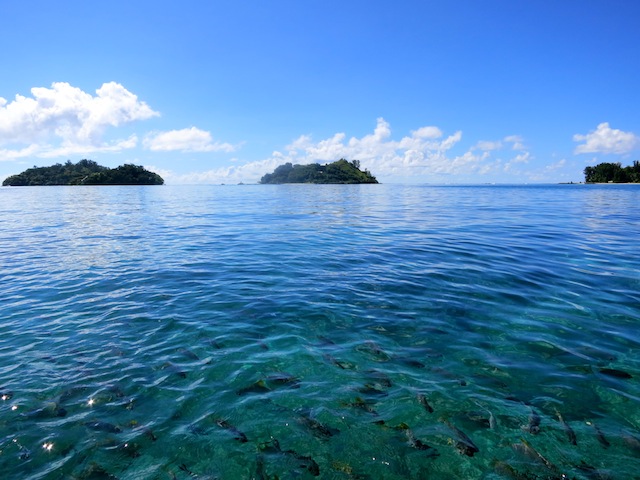 Why Snorkel when you can play Robinson Crusoe?
"Nope." Why would I? I'd found something better than fish. I'd fallen in love with a tiny Robinson Crusoe island called Moyenne. Just half a mile wide, located north of the main Seychelles island of Mahé, Moyenne Island is small and round, covered in mahogany trees, palms, granite boulders and roots – and overrun by giant tortoises.
Need more general Seychelles Information? Read Where Exactly are the Seychelles and 10 Essential Seychelles facts you need to know.
Moyenne Island is like something out of Jurassic Turtle World and I refused to leave. "Okay, we'll pick you up in an hour," Tina said.
Don't hurry, I was thinking. Of all the Seychelles islands I'd seen, there was something about this deserted islet that made me want to stay.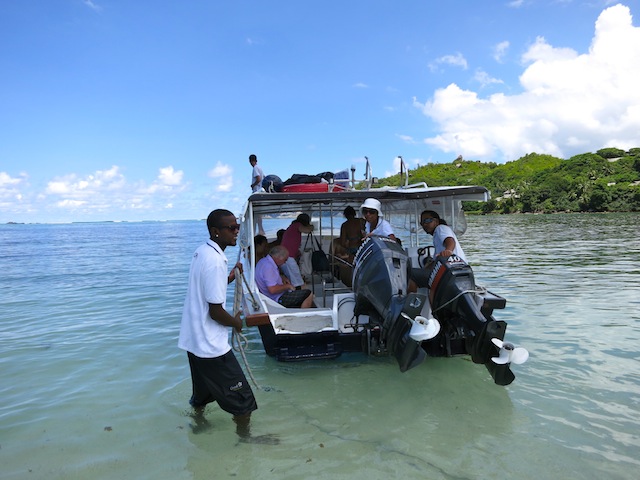 Seychelles Islands by Land or Water
Let those other water happy people go off to look at the gorgeous reef and swim with the zebra fishes in the bathtub-temperature Indian Ocean. I had some giant tortoises to commune with. Even if it proved to be more of an adventure than I'd bargained for.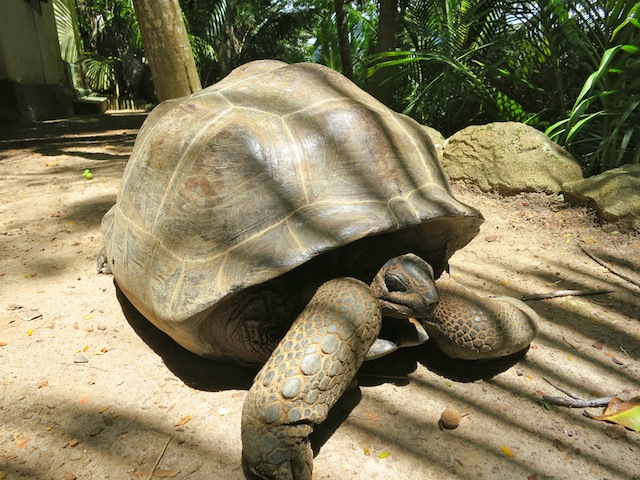 Background about Moyenne Island in Seychelles
FYI, moyenne means middle in French, and the island is given such an original name because it lies between two other islands in the Ste. Anne Marine National Park: the island of Sainte Anne (which has a fancy hotel) and Long Island (which used to be an island prison.)
Real life island Robinson Crusoe – Brendon Grimshaw
I'm not the only person who refused to leave Moyenne Island. An adventurous British man and former journalist, Brendon Grimshaw, bought the Seychelles island of Moyenne in 1962 for 8,000 pounds. That's like $16,000! A steal!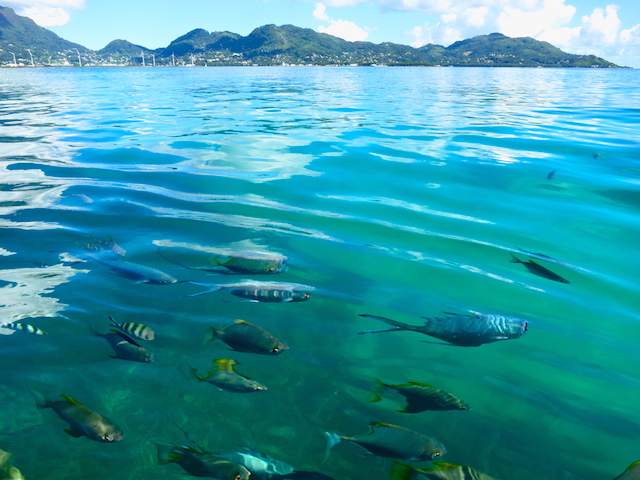 A Seychelles Island Worth Millions
Eventually Moyenne Island was worth millions, but Grimshaw refused to sell, though I heard a Saudi Prince once offered him a blank check.
The amount of 34 million euros was kicked around, but personally, I wouldn't settle for less than 34 million, two giant tortoises and a coco de mer, a large nut unique to Seychelles islands and shaped like a, er, women's, um, lower pelvic area.
End of a Seychelles Robinson Crusoe Era
Sadly, Brendon Grimshaw died in 2012 at the age of 87. But he led the life he wanted, which is more than many can say. A year after Grimshaw's death, STB, the Seychelles Tourist Board, declared Moyenne Island a national park.
Moyenne Island – a Labour of Love
But you have to hear more about Moyenne! It's crazy and will steal your heart. Brendon Grimshaw loved Moyenne so much that over the years, he cleared enough scrub from this wild nearly impenetrable Seychelles island to build trails, a small home and an open air chapel.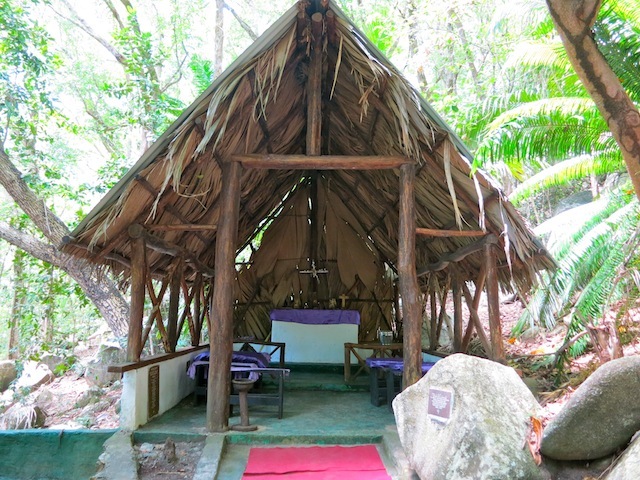 Creating a Paradise Island Wasn't Easy
Along with his trusty pal, a local Seychellois named Rene Lafortune, they planted some 16,000 trees including palms, paw paw, mango trees and other local plants, and encouraged birds to come – because the island was so uninhabitable when Grimshaw bought it even the birds wouldn't touch it.
Moyenne Island Today
Now this tiny Seychelles island is home to 2000 birds, more than 100 giant tortoises, 700 towering mahogany trees, a huge number of local plants, two dogs and a warden. Plus a couple of mysterious grave sites.
A Habitat for Giant Tortoises
One of the most important things Brendon Grimshaw did was to create a natural habitat for giant tortoises. Indigenous to the Seychelles islands, tortoises have been killed off in great numbers on most of the other 114 islands in the Seychelles archipelago. But obviously not this big boy below …
Beware of Wild Tortoises
I could swear this one started chasing me and let me just say, in a tortoise and a hare race, this monster would have won. He's probably had a century to practice!
If you think it's fun being chased by a tortoise with possible amorous and/or aggressive intentions you would be wrong. I shrieked and leapt out of the way. Then I discovered that tortoises rule the paths on Moyenne and know it – so don't get in their way.
About Giant Tortoises
Tortoises can live up to 180 years. The oldest tortoise on Moyenne Island is said to be in the region of 76 years old. Brendon Grimshaw knew each one and gave them names such as Florita and Four Degrees South (which is the latitude of Moyenne Island).
In retrospect, the big tortoise who was aiming for me, let's call him Four Degrees South, may only have wanted a pat on the head. They're actually quite friendly and I saw a little boy playing with one happily.
Still, when ol' Four Degrees South was eyeing me with those hooded tortoise eyes, I felt he was up to something.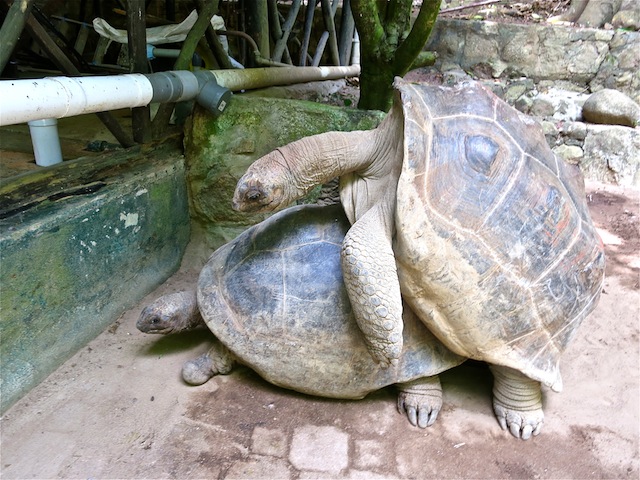 Excuse Me, But There are People Here
In fact, two of them were getting extremely friendly right in front of me, and one thing I learned about nature on Moyenne Island is that tortoises can make very scary growling primal beastly noises when they're being friendly.
It was actually quite startling.
Other Residents of Moyenne Island
Once the amorous tortoise shock had worn off, I played with the resident dog who LOVES water. I've never seen a dog skip, leap and hurl himself into the ocean before, but at least he didn't make any primal beasty noises. He was more of a scamperer than a predator so that was very fun.
Pirates of the Seychelles
Brendon Grimshaw loved Moyenne Island so much he wanted to be buried there, so he dug his own grave and his tomb can be seen today.
Beside it are a couple of other graves (including his father's). Years ago during Grimshaw's explorations he discovered some rock graves and they are believed to be the last resting place of two pirates.
Pirate Treasure on Moyenne
Speaking of pirates, there is said to be a lot of pirate loot buried around there though Brendon Grimshaw never found any – at least not that he admitted to, and why would he need it if he owned an island worth 34 million euros?.
I suppose you could look for it yourself, but you'd have to get past some pretty scary guard tortoises first. And good luck with that.
My Seychelles Islands Conclusions
If you thought private islands were only for the Richard Bransons, Mick Jaggers, Russian oligarchs and Saudi Princes of this world, think again. It's for tortoises. In fact, there may even be a speck of an island out there in the Indian Ocean just for you.
Travel tips for Moyenne Island and Ste. Anne Marine Park:
Moyenne Island is part of Ste. Anne Marine Park. Only 5km from the main island of Mahé, it's an ideal for a full day snorkelling excursion.
Ste Anne Marine Park includes 6 islands: Ste Anne, Ile Moyenne, Ile Ronde, Ile Longue, Ile Cachee and Ile aux Cerfs. A number of companies offer tours and snorkel adventures. Check prices and availability here.
When to go: Don't miss the Seychelles Carnival! Check out these Seychelles Travel Videos: Carol and Lina's Seychelles Carnival Adventure Seychelles Carnival travel video