This post may contain affiliate links.
Whether you're coming to the Seychelles for the beaches, a honeymoon hideaway, celebrity spotting, or just for an exotic vacation, you're sure to find something on this dreamy group of East African islands to entice and surprise you. Though they're one of the top luxury island destinations in the world, many people aren't quite sure where they are. I wasn't either until I came here for myself, and now I can answer this one important question, where are the Seychelles? For this and other info about the Seychelles, read on.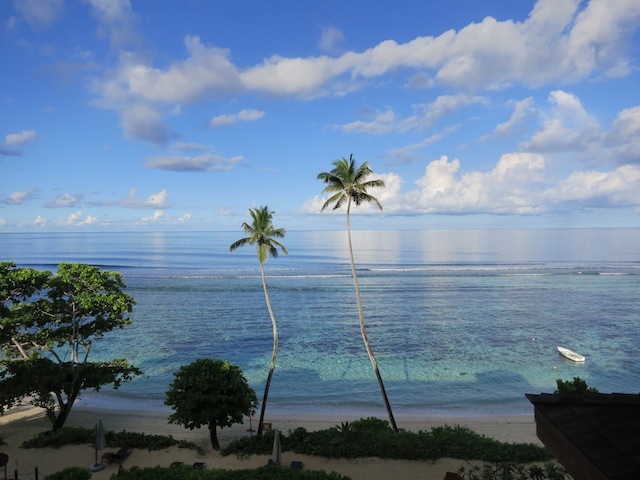 Where are the Seychelles?
The Republic of Seychelles is an archipelago of 115 islands located in the Indian Ocean off the east coast of Africa. And when I say off, I mean way off. Like 1600 km off the coast. Seychelles is north of Madagascar, Mauritius and Reunion – a group of islands known collectively as the Vanilla Islands. Though really, Seychelles is a universe (some would say paradise) unto itself. The islands are famous for being a celebrity hideaway and a romantic honeymoon destination.
And if you're wondering if it's Seychelles or 'the' Seychelles, it should be just Seychelles, except clearly I don't always follow this rule, and if you're wondering if Seychelles is singular or plural, it's both.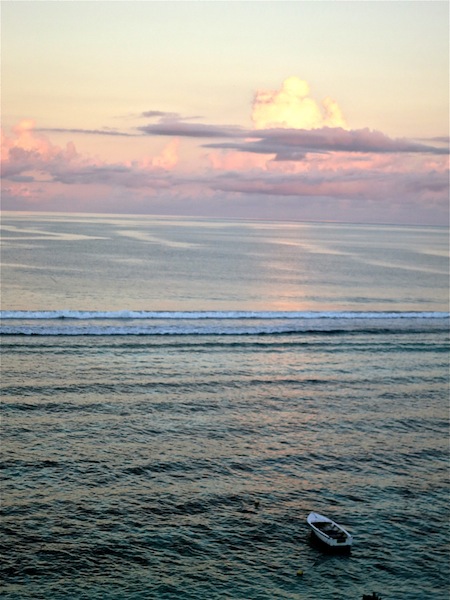 Snorkelling in Seychelles
When I was in Seychelles for the Carnaval International de Victoria, I met an Italian journalist on a day-long snorkel island-hopping excursion with Creole Travel Services. His name was Simone, he was staying at the Kempinski Hotel for one night and then the Four Seasons Seychelles, two fabulous places to stay. And he only spoke Italian so that was the end of the conversation.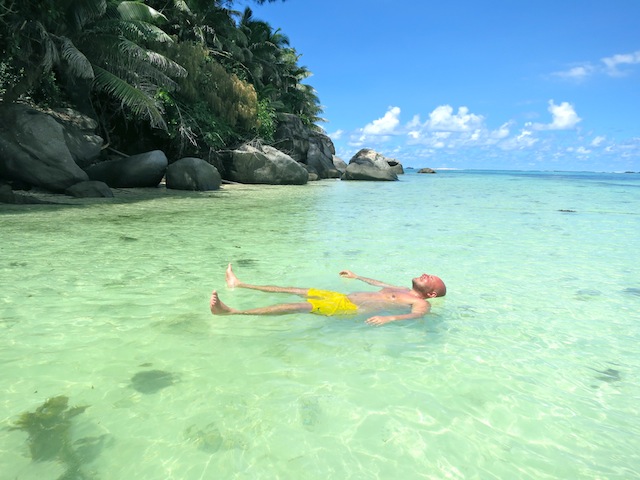 I did consider briefly having an affair with him so that I could stay at the Kempinski and the Four Seasons Seychelles (I'm kidding! I did not consider it even for a second!) I'm not (quite) that desperate to stay at the Four Seasons Seychelles, even though I heard it was amaaazing.
North Island, a celebrity Seychelles hideaway
If he'd been staying at North Island where Prince William and Kate, the Duchess of Cambridge, had their honeymoon I may have given it more thought. (I'm still kidding! Honestly! What kind of travel blogger do you think I am? Besides, you can only get to North Island by private helicopter and then how would I have got to the Carnival?)
Besides, I'm married. Hi Honey! Kisses!
PS I feel compelled on poor Simone's part that it wasn't an option and that we hardly spoke – you know, just telling the truth in the spirit of honest journalism.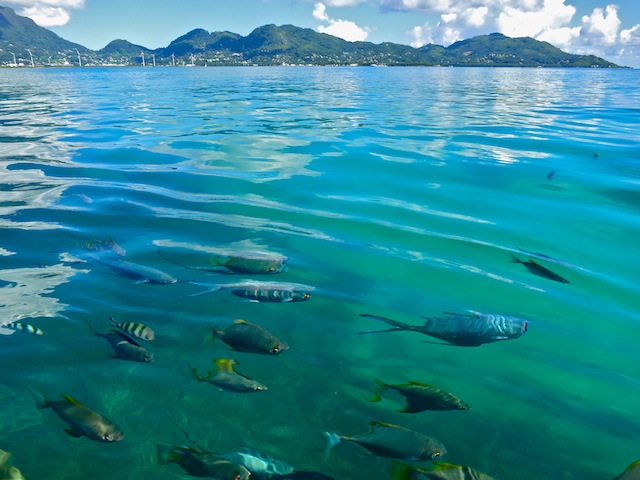 Important question about the Seychelles
Now let's get to another important about Seychelles: How the heck do you get here?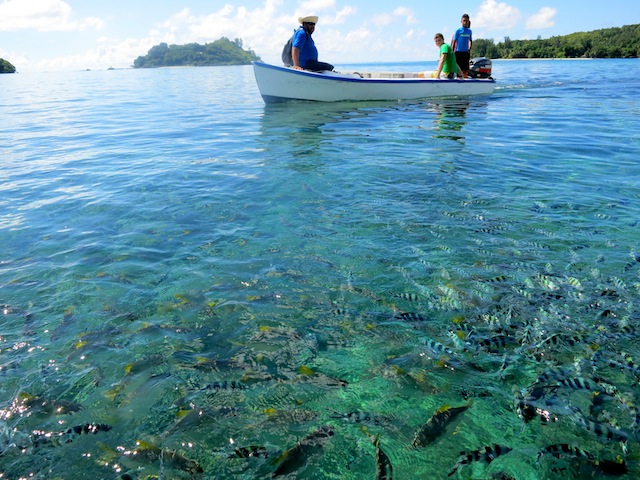 Getting to Seychelles
Getting here takes some work so it's a good thing it's worth it. My route was through Abu Dhabi, a 13-hour flight from Toronto. And then another 4 hours to Seychelles. Plus an overnight in Abu Dhabi. You can also go through Dubai, or probably a million other ways, but be forewarned, it's unlikely to be quick.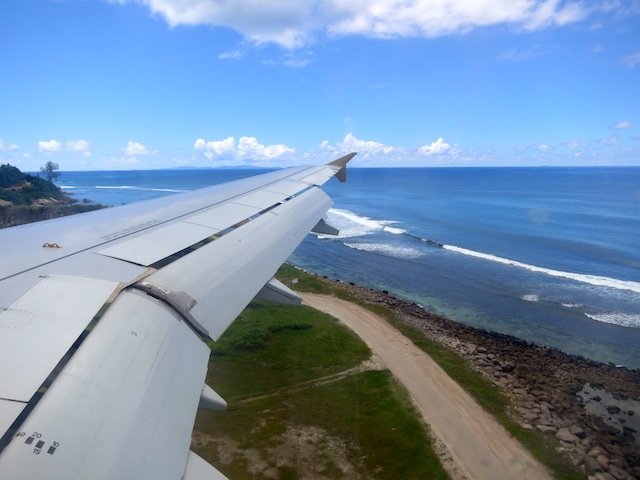 Facts about the Seychelles, but not too many because I'm not Wikipedia
The main island of Seychelles is Mahe and the capital is Victoria, which is billed as the smallest capital in the world. It was settled by the French in 1770 and Britain snatched it in 1814. There is still a Creole influence evident today.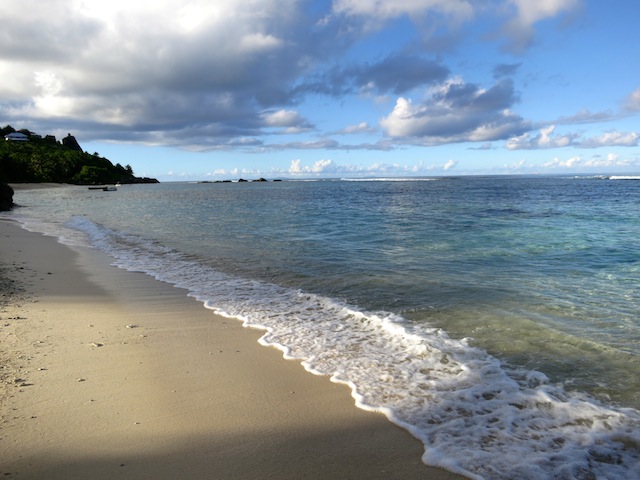 The Seychelles have beaches of your dreams
The water is that gorgeous crystalline turquoise of the tourist brochures, although I did have to swim over a few big seaweed patches, which is kind of icky when you think about it but I just told myself that seaweed is a good source of nutrition, that people harvest it for spa treatments and that wrapping yourself up in it is a good way to treat cellulite.
But let's focus on the beaches. They're the colour of sparkly white eyeshadow mixed with the softest shade of taupe, and some beaches like the beautiful – in La Digue has round primeval looking boulders, worn smooth by time.
Seychelles, a celebrity honeymoon destination
Jennifer Aniston and Brad Pitt honeymooned in Seychelles after their wedding in 2000. They stayed at the luxurious Fregate Private Island resort. Obviously Brad was bragging to George Clooney, because then George and Amal visited Seychelles after their Venice wedding. Personally I thought having a destination wedding cancelled out getting to go on a honeymoon, but clearly not if you're wealthy and famous, because that's Salma Hayek and her billionaire husband Francois-Henri Pinault came to Seychelles after their fabulous wedding in Venice, too. They stayed at the ultra luxe North Island, a private island resort, which is the same resort Nicky Hilton and James Rothschild stayed at after their Botswana safari honeymoon.
Now you're a Seychelles expert
So now that you know where the Seychelles are and how to get here, not to mention who honeymooned here, don't you think you should put it on your wish list? (Stellar beaches guaranteed. Italian journalists optional.)
Looking for more information on the Seychelles? Read 10 Essential Seychelles Travel Facts. I'm not the only travel blogger writing about the location of the Seychelles, so if I haven't answered your question sufficiently check out what World Pursuits has to say about them.
Or check out Seychelles tourism, who hosted my trip.