This post may contain affiliate links.
Layover in Abu Dhabi – Is It Safe?
I admit I was nervous about transferring overnight in Abu Dhabi when I flew Etihad Airways to the Seychelles from Toronto. A lot of questions were crowding my head:
Is Abu Dhabi safe for a woman travelling solo?
Do I have to cover up?
Is the Abu Dhabi Airport a mass of confusion?
Is an overnight layover in Abu Dhabi Airport safe?
Note: This post was originally written in 2014 and updated in 2021.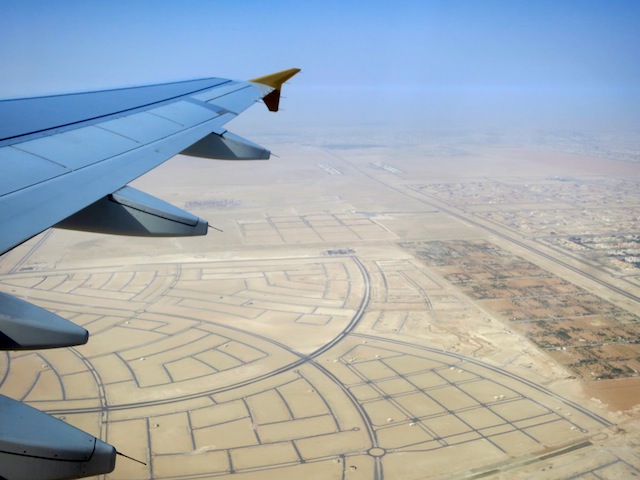 I can hear your groans now! It was my fear of the unknown! Please understand, my only experience with Abu Dhabi up until then had been Sex and the City 2. Cut me some slack.
The only reason I'm confessing my travel fears is because if I was nervous about flying into the Abu Dhabi Airport at night, some other solo traveller was bound to share my fears – so I thought I would share my experience of transiting through Abu Dhabi and address any Abu Dhabi travel concerns.
So here are some Q & A's about flying Etihad Airways with an overnight layover in the Abu Dhabi Airport.
Who Are Etihad Airways?
Etihad Airways is the national airline of the United Arab Emirates. They're based in Abu Dhabi, so if you're on a long haul international flight on Etihad you will very likely end up connecting through the Abu Dhabi International Airport.
Does Etihad Have a Good Reputation?
Yes. Etihad has won some 170 awards, including World's Leading Airline, Business Class of the Year, and World's Best First Class – so as premium airlines go, I was pretty keen to fly them.
Where is Abu Dhabi?
Abu Dhabi is a well off country in the Middle East. It's the capital of the United Arab Emirates – the UAE.
If you planning on visiting here for longer than a layover, you can check out this Abu Dhabi Travel Planner.
What should I know about Abu Dhabi International Airport?
Relax. The airport is bright, clean, modern, with lots of light and colour. There are a million people milling around of all stripes and types, but not in a crowdy scary way, in a this-is-a-popular-airport way.
English is widely spoken and you won't stand out as a foreigner. I spent the first while bundled up with a long cashmere scarf over my T-shirt, then eventually gave up on the scarf.
Fun fact: Foreigners and expats account for 80% of the UAE's population. Who knew?

If there are any criticisms about the Abu Dhabi Airport, it's that it's too cold at night. This comes from travellers who have opted for the famous 'night in a chair' style of layover, and found the air conditioning too high for quality dozing.
If spending the night in an airport chair isn't your ideal scenario, keep reading this 'Overnight layover in Abu Dhabi Airport' article for information on where to get a more comfortable sleep.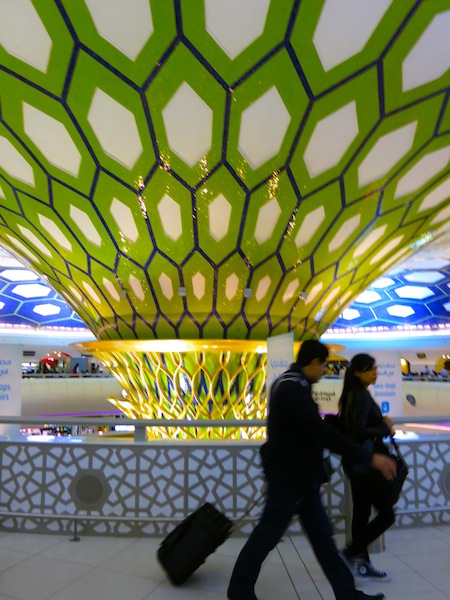 Where to Sleep at the Abu Dhabi Airport: Should I get an Airport Hotel?
Because my transit stopover in Abu Dhabi was a long one, and I was going to be there overnight with an early morning flight out, I was extremely concerned about where I was going to close my eyes.
I hate, repeat HATE, going without sleep. And I didn't want to be waking up like a nervous cat every few minutes. If you're the same, there are several good options for a sleep-worthy overnight layover in Abu Dhabi.
Overnight Layover in Abu Dhabi Airport: Option 1
The easiest option for a layover is the Airport Hotel in Terminal 1, because you don't need to go through immigration. The downside: it can be very expensive – at least it was when I looked into it.
Overnight Layover in Abu Dhabi Airport: Option 2
The second sleeping option, besides a chair, is – wait for it – GoSleep sleep pods!
Located in Terminal 3 just past gate 35, sleep pods are a self-contained single-bed sized mini chamber, good if you want to snooze for a few hours. I was tempted, just for the novelty factor, but the Premier Inn Abu Dhabi was too handy (and cheap).
Sleep pods are located Terminal 3, Upper Level, After Passport Control.
Overnight Layover in Abu Dhabi Airport: Option 3 – My Pick
Also fairly easy and affordable is the Premier Inn Abu Dhabi International Airport. This is where I stayed. Twice. Both on the way there and on the way back.
You do need to go through Immigration but it's a minor (hurrah!) hassle and the hotel is connected to both Terminals 1 and 3 by the Skypark retail corridor.
Why I chose it: The Premier Inn Abu Dhabi is budget friendly and there is even a rooftop pool.
Premier Inn Abu Dhabi Review
Is the Premier Inn good? It's fine, if not luxurious, and the service friendly. When I checked in I asked the desk clerk what time I needed to leave in the morning to get through immigration to catch my flight,. He suggested an unhealthy early hour. (I may have grimaced.)
When I then went into the hotel restaurant for a late night buffet, the clerk came in to find me and amended the time after talking to his colleagues.
Yay! Fifteen extra minutes to sleep! I thought the desk clerk had gone a step beyond in that case, so kudos to Premier Inn Abu Dhabi Airport.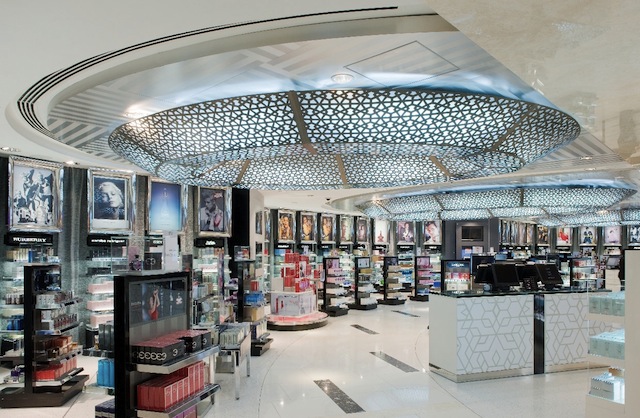 How Long Does It Take to Go Through Immigration at the Airport?
It took me maybe 40 minutes to get through Immigration en route to my hotel because there was a fair lineup, though only about 20 minutes coming back in the next morning.
When it comes to airports, however, err on the side of caution and give yourself plenty of time.
Do I Need a Visa to Get into Abu Dhabi?
You likely do not need get a visa beforehand, depending on what country you're from. Canadians don't, nor do Australians or Americans. But don't take my word for it, please check beforehand.
Doing a Stopover in Abu Dhabi
My biggest regret was not doing a stopover Abu Dhabi. I'd never been to this part of the world, never even ridden a camel, and if I'd had more time I would have loved to explore the desert. (And ahem, the shopping malls.)
The only reason stay a few days was because I couldn't fit it into my hectic travel schedule.
I also wanted to experience some modern Abu Dhabi luxury, such as staying in a glass hotel (the Hyatt Capital Gate) that tilts more than the Leaning Tower of Pisa.
I wanted to see Ferrari World Abu Dhabi. And the Emirates Palace – a 5-star hotel with 114 domes and 1002 chandeliers!
An Easy Way to Plan Your Stopover
If you have an overnight layover in Abu Dhabi anyway, why not extend your trip? Check out Hala Abu Dhabi, the destination management division of Etihad Airways for packages and deals at Stopover in Abu Dhabi – prices can be surprisingly affordable.
Read more: If you're curious about flying on Etihad, read my review of Flying Business Class on Etihad.