This post may contain affiliate links.
Thinking of flying through Abu Dhabi? Want to do it in style? Here is my flying Business Class on Etihad blog review.
When did I become spoiled? When did any old Business Class stop being enough? Now I want Business Class with a flat bed and an Anytime Menu! I wanted to be flying Etihad Pearl Business Class from Toronto to the Seychelles via Abu Dhabi.
Bad news: I didn't end up flying Pearl Business Class from Toronto to the Seychelles via Abu Dhabi.
The good news: I flew Business Class on Etihad on the way back. And, as I nestled into my comfy seat-that-would-become-a-flat-bed-as-soon-as-I-wanted-to-rest-my-head, I tried to pinpoint the moment I became spoiled.
Falling in love with Business Class
This terrible downturn in my personality occurred, I believe, the moment I went from being a perky traveller to a weary traveller. It was about 5 years into my career as a travel writer, when, after back-to-back trips to Australia, Europe and India, I was as worn out and sick as a mangy dog with fleas and a chewed off ear. And the more worn out I felt the less productive I became.
That's when I realized that travelling, while exciting and soul sustaining, can be torture on the physical body. That's when I fell in love with flying Business Class, and started craving a flat bed in the air.
Please don't roll your eyes
Before I hear you rolling your eyeballs (yes, really I can hear that), let me (sadly) assure you that I don't fly Business Class all the time. In fact, I just returned yesterday from Lyon in economy class and have the lined forehead to prove it.
However, I would like to fly Business Class all of the time. I would like to have an Etihad flat bed with entertainment centre installed in my bedroom with a kindly attendant to offer me champagne as soon as I sit down and bring me hot towels to refresh my hands.
I could be asking for the Most Exclusive Residence in the Sky
It's not as if I'm super spoiled. It's not as if I'm asking to be flying in the Residence by Etihad on the A380, an airline innovation that's getting all the buzz at the moment in the luxury travel world. Billed as the world's most exclusive cabin in the sky, the Residence by Etihad comes with (let me pause to fan my face) a living room, separate bedroom and ensuite bathroom.
Seriously! It's the only three-room suite in the sky, (except maybe for those private planes the size of yachts). And it's a mere $20,000 or so for the ride.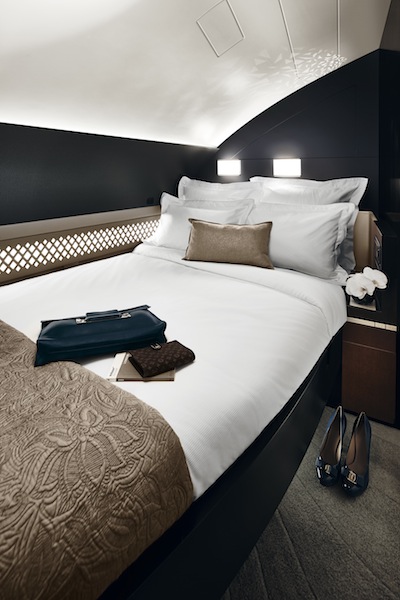 Then there's the First Apartment by Etihad
I'm not even asking for the First Apartment by Etihad, which is roomy enough to wander around in and is all upholstered in Poltrona Frau leather.
Or the Etihad First Suite, which has its own personal wardrobe area and room enough to entertain a guest. (Although you've got to wonder just who those lucky guests would be  – it's not as if friends can just drop by for a drink.)
I don't need a 3-room suite in the sky. I just need Business Class
Back to the topic at hand. Not only did my Pearl Business Class seat come complete with a black and white comforter (freshly laundered) and a ceiling overhead that masqueraded as a celestial sky, it came with an Anytime Menu, which made flying Business Class on Etihad all the more exciting.
I love the Anytime Menu. I love it so much that if I were to marry Pearl Business Class it would be my maid of honour. (Only I'm already married so that could be a problem.)
Why I hate airline meal schedules
In my opinion being a slave to the dreaded airline meal schedule is a major downside of flying and a serious enemy to productivity, especially on an overnight flight, because after take off you don't get to sleep because you're forever waiting for your meal, and then you're woken up two hours before your flight lands so you can have another meal, generally some kind of tasteless bun. (If you detect a pet travel peeve here, you would be right. It's one of many.)
Abu Dhabi to Toronto: a flying Business Class on Etihad blog review
The check-in area at the Abu Dhabi Airport if you're flying First or Business Class on Etihad is like checking into a luxury hotel. There are porters outside to take your bags, and seats at the check-in desk instead of long lineups of harassed looking strangers. And less of a lineup means more time in the Business Class Lounge.
The downside of the Etihad Business Class Lounge
Well. I was hoping to be exchanging greetings with loads of wealthy sheikhs and shaykhahs, you know, the kind weighed down by massive rolexes and diamonds, but these elusive aristocrats were a) either in the First Class Lounge happily waiting for their apartment in the sky or b) ensconced on their own private jets.
Pretty much there was the usual Business Class crowd, an international mix of men in business suits, posh-looking families, etc. Oh, yes. And me.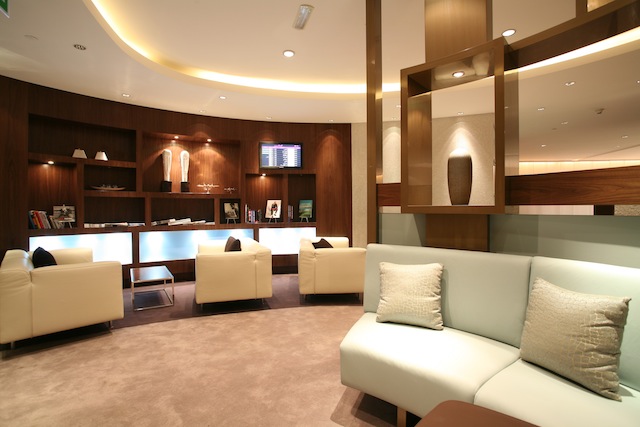 The upside of the Business Class Lounge
The Etihad Business Class Lounge at the Abu Dhabi International Airport has a Six Senses Spa, and SPA TREATMENTS ARE FREE! If I had known that I would have checked in days earlier and opted for every treatment they had, but I learned about the free spa treatments too late – and that's why it's important that you read this 'Flying Business Class on Etihad blog review,' so that if you do go Biz Class on Etihad, you can take advantage of all the spa treatments I missed.
(And please let me know how they were. I like to live vicariously.)
The perks
When you board the plane in Pearl Business Class, in addition to the lovely seat-that-will-become-a-flat-bed, you're given Korres toiletries in a hand-woven bag, the design based on a traditional Emirati Sadou pattern and created by artisans at Sougha, a social enterprise owned by the Khalifa Fund for Enterprise Development.
You also receive the all important Business Class airline socks. I'm absurdly fond of these socks and have quite a collection at home. They're excellent to wear as a second pair under ice skates.
The Anytime Menu
Not quite believing in the Anytime Menu, because that would bring back flying to the days when it was actually a joy, I loftily informed the attendant that I wasn't going to dine now, I would dine in maybe two hours. Carefully, I watched his expression, waiting for the first sign of disagreement.
"I'm going to have a nap and then dine," I repeated, in case he hadn't heard me.
"Of course," he said.
The only problem was that after take off and a glass of champagne, I could smell everyone else's food, and I started drooling just a little bit (hopefully only in my head) and changed my mind and asked for the Tomato Nile Perch with Polenta Cake, Grilled Courgette, Eggplant and Mild Garlic Cream.
"Of course," the attendant said.
And then I slept for 3 hours under my lovely black and white striped bedding under a dark starry sky, woke up and asked for the Blackened Shrimp Salad with Oven-dried Tomatoes, Paprika Croutons and Mixed Berry Vinaigrette.
"Of course," said the attendant.
Note: I highly recommend the Blackened Shrimp Salad.
By being at liberty to eat and snooze when I wanted, I was able to then pull out my computer and get in a full day's work, because I wasn't tired, hungry or waiting impatiently for a meal. This is a miracle. I can never work on a plane. And I usually can't sleep. I don't even read. Sometimes I watch a movie, but usually I just sit there. Waiting for it to be over.
After my full day's work, I had another little nap. And when I woke up, some people were eating and I thought, Oh, no! I've missed breakfast, but when I asked the flight attendant if I'd missed it he told me that no, people were just eating what and when they wanted.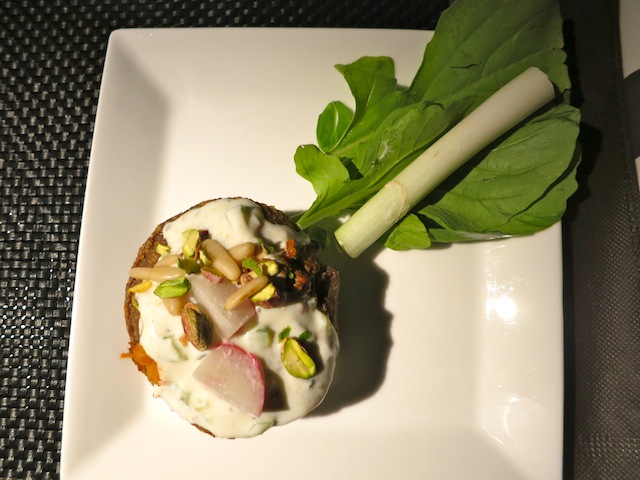 Eating when you want? On a plane?
It's airline anarchy! Or at least airline democracy. So I had the Tokri Chat with Tamarind Chutney, Aloo Channa with Sweetened Yogurt and Pomegranate Seeds to celebrate, and knew that I may be a spoiled traveller, but that spoiled travellers are productive travellers and who can complain about that?
Learn more: Visit the Etihad Airways website. It really was a fabulous flight. But don't take my word for it. Check out another Etihad Airways review over at Lemonicks.com.