This post may contain affiliate links.
Touring the French Riviera? You'll find plenty of fragrant things to do in Grasse, France, an inland town not far from Cannes. Known as the perfume capital of the world, it's an easy day trip from Nice, Antibes and Monaco, so read on to discover the top attractions and activities.
Day trip to Grasse, France
I was sitting on the train in Nice Ville Station waiting for it to depart for Grasse when a policeman came tearing down the aisle. "Bark bark bark tickets bark," he said in French.
Train to Grasse
"That's the first time anyone has asked to see my train ticket since I've been in the South of France," I said to the young Chinese women sitting across from me.
I'd been doing day trips from Nice for two weeks now, taking the TER, the French Regional Railway, so far I'd spent one day in Monaco, a day in Antibes, attended the Cannes Film Festival and found lots of fun things to do in Menton.
That's one reason the South of France is such a popular vacation spot – there are so many terrific destinations like Nice and Antibes close together. Grasse was next on my list of places to visit because it's the perfume capital of the France and I had visions of being surrounded by clouds of rose petals and citrus leaves.
Grasse is also the birthplace of one of the most romantic artists ever to come out of the Rococo Period, Jean-Honoré Fragonard, whose paintings also conjure up images of flowers and bowers in my head. (Clearly, I have an overactive imagination.)
A third reason to visit Grasse is because it's less crowded than other cities on the French Riviera, and while I wouldn't call it off the beaten track, it's at least off the tourist superhighway of Nice, Monaco and Cannes.
"He's not asking for tickets," explained one of the Chinese women. "They're saying a pickpocket is on the train and that you should watch your belongings."
"Oh!" Clutching my purse to my chest, I considered that my French language skills could use some improvement, and also that it was good to know train security was on the job. "You understand French well," I said.
"I've been living in Nice for four years," she said.
It turned out she worked for a language institute in Nice and that the two girls she was travelling with were from Tsing Tao. Since I've been to Tsing Tao, an immediate and lasting friendship was established – at least for the duration of our 40-minute train journey to Grasse from Nice, which – in travel years – is equal to being friends all through college.
Where is Grasse? The city of Grasse is located in the South of France. Inland from the French Riviera, it's 17 km (10.5 miles) southwest of Cannes, and 42 km (26 miles) west of Nice.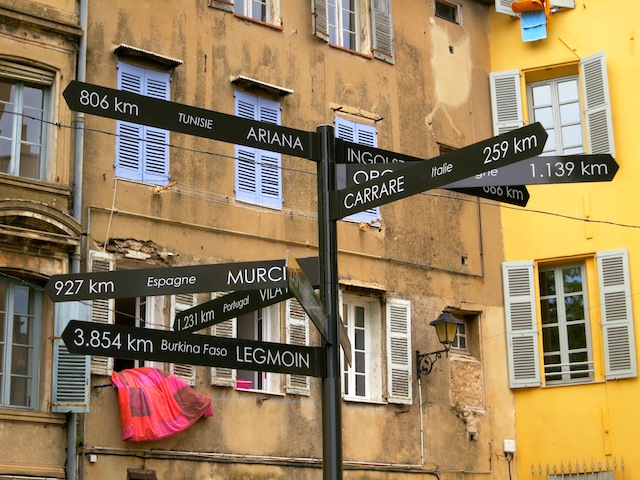 Tagging along with the Chinese women meant that when we arrived at the Grasse Train Station I didn't have to figure out how to get to the town centre on my own.
Tip for taking the train to Grasse: When arriving by train, you need to catch a bus across the street from the Grasse Train Station to the Old Town, otherwise it's a long steep climb.
For more tips on how to spend one day in Grasse, read on.
Grasse, France
Grasse is a lovely small city of about 50,000 in the South of France. Sitting up in the hills, inland from the Mediterranean, it has a microclimate ideal for growing flowers. This is one of the reasons it became known as the perfume capital of the world.
The other reason is that it used to smell. Like, it stunk. Shocking, I know. Back in the 16th century, Grasse was a hub of leather tanneries, and these are not, shall we say, aromatic. But leather gloves were all the rage with fashion-loving aristocrats, and there was a huge demand for leather goods.
The idea of making perfumed gloves, which helped mask the stench of tanned leather came from Italy, but it was perfected by a Grasse local, Jean de Galimard, and the perfume industry in Grasse was born.
Did you know? One way to cure leather back in the day was to add urine to the tanning solution. The enzymes helped soften the leather. And just so you know, cow manure was sometimes used too. Doesn't that make you want to go out and buy a leather coat?
Things to do in Grasse, France
Visit a Perfume Factory
Grasse's top sights are undoubtedly its perfume factories. Think jasmine, roses, lavender and mimosa. Ah, now breathe deep and get to visit perfume factories. If you're spending only one day in Grasse, and have time to visit just one factory, the Fragonard Perfume Factory is one of the most popular.
It's also easy to find because if you take the bus from the train station you'll pass the Fragonard Perfume Factory en route. Ask the bus driver to drop you off at the Parfumerie Fragonard; it's just at the edge of Grasse's Old Town at 20 Boulevard Fragonard, 06130 Grasse, France.
Two others perfume factories to visit are Galimard, the oldest parfumerie in Grasse, which dates back to 1747, and Molinard established in 1849.
Want a hands-on perfume experience? Create your own personal fragrance during a 1-hour visit to the Molinard Perfume Factory in Grasse. Price from $79. Get more info here.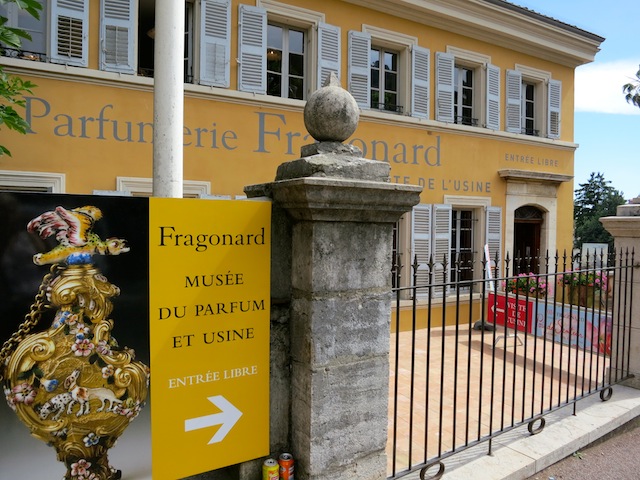 What do you do at the Fragonard Perfume Factory in Grasse?
You will exercise your nose sniffing lots of Fragonard perfume. Located in a historic perfume factory built in 1782, the Fragonard Perfume Factory was established in 1926.
The factory has free guided tours, an extensive gift shop and a museum that details 3,000 years of perfume making (which I whizzed through very fast, and in doing so left behind my new Chinese friends, but I couldn't wait another minute to start sniffing samples in the gift shop.)
Buying perfume in Grasse
After your free tour of the Fragonard perfume factory you must beeline immediately to the gift shop. Visiting the gift shop is like being let loose in a great huge floral meadow filled with daffodils and woodsy twigs and roses, where you can run and skip and spray every type of perfume on all your limbs until you, yourself, become a walking floral bouquet.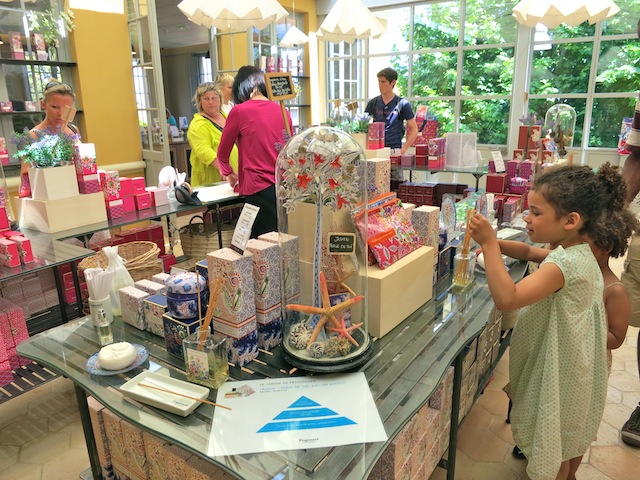 About perfume
Perfumes are the superheroes of the sweet-scented world, being made of up to 40% aromatic essences, as opposed to eau de toilette which is about 10%. It takes hundreds and hundreds of petals to make a drop of essential oil, so don't take fragrance for granted. Many many roses died to make you smell divine.
Fragonard Perfumes
Now indulge me. I am going to tell you a wee bit about some of the perfumes that Fragonard creates because their descriptions are as flowery as the scents and truly irresistible, and if you're spending a day in Grasse, you'll want to smell them, too:

Juste un Baiser Perfume
I know that perfume making is a great art and a hallowed occupation, but I couldn't help laughing out loud at the description of Juste un Baiser (Just one Kiss) perfume. The descriptive card called it "a sweet, fruity, voluptuous, charming impertinent fragrance poised between innocence and a bewildering femininity."
Bewildering femininity? Oh my gosh, I'm always bewildered. Juste un Baiser is me. Well, other then the sweet, fruity, voluptuous and charming part. But could they stuff anymore frothy adjectives into a one line description?
After reading that, I ran around reading all the descriptions and entertaining myself heartily. I simply can't recommend the gift shop at the Fragonard Perfume Factory enough. If you can have this much fun with the descriptions, just think how much fun you'll have with the testers.
A Nod to the Scent of Violette
My favourite scent, and the one I'm slapping my thighs in frustration about because I didn't buy, was the eau de toilette Violette, a "sumptuous violet middle note combined with rose and jasmine on a sensual background of fruity raspberry musk."
I wanted to buy Violette. I wanted to smell of violets and float on a sensual background of raspberry musk, but after spending too much time in the gift shop, I was on scent overload. So many battling scents were wafting up at me from my wrists, forearms, elbows, knuckles, neck and any other spare bare body part I'd been able to spritz that I couldn't think straight and had to leave in a state of feminine bewilderment.
Travel tip for the Fragonard Perfume Factory in Grasse, France: Buy something. Anything. You'll regret it if you don't and it makes a great souvenir.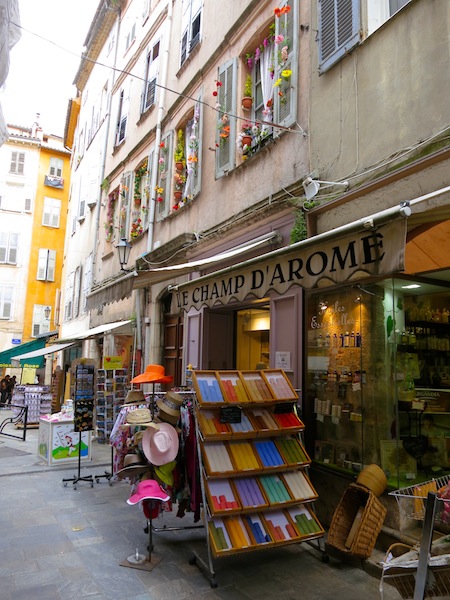 Other Things to Do in Grasse – Explore the World of Jean-Honoré Fragonard
While perfume is undoubtedly Grasse's top attraction, it wasn't my top attraction. The artist Jean-Honoré Fragonard was. And I can't understand why more travel articles about Grasse, France, don't mention him.
I'm a devoted fan (well, not that devoted. It's not as if I have an altar in my bedroom) of this 18th century artist, and one of my top reasons for visiting Grasse was to find out just what Fragonard the painter has to do with the town, and why a famous perfume factory is named after him.
Fragonard
I will now describe the art of Jean-Honoré Fragonard in 4 simple fragonardments, I mean, fragments:
Frivolous.
Delightfully pretty aristocratic women in natural flowery bowers.
Undercurrent of danger. (Possibly the only person who agrees with me about this is my mother.)
Romantic, sensual and slightly erotic (after all, the period just before the French Revolution, the ancien regime, when Fragonard was at his peak was a scandalously hedonistic time in history).
Fragonard's The Swing
Of course I'm hugely generalizing when I describe the art of Fragonard, and it's all because of his painting The Swing, which he painted in 1767, and which is etched in my mind like graffiti on a garage.
Look at the painting. Just look at it. It's a Rococo masterpiece. Aren't you a devoted Fragonard fan now, too?
And yes, that French nobleman can see up the woman's skirt. I told you, these were scandalous times. In real life the woman on the swing was reportedly the man's mistress, who no doubt spends scads of money to commission this painting.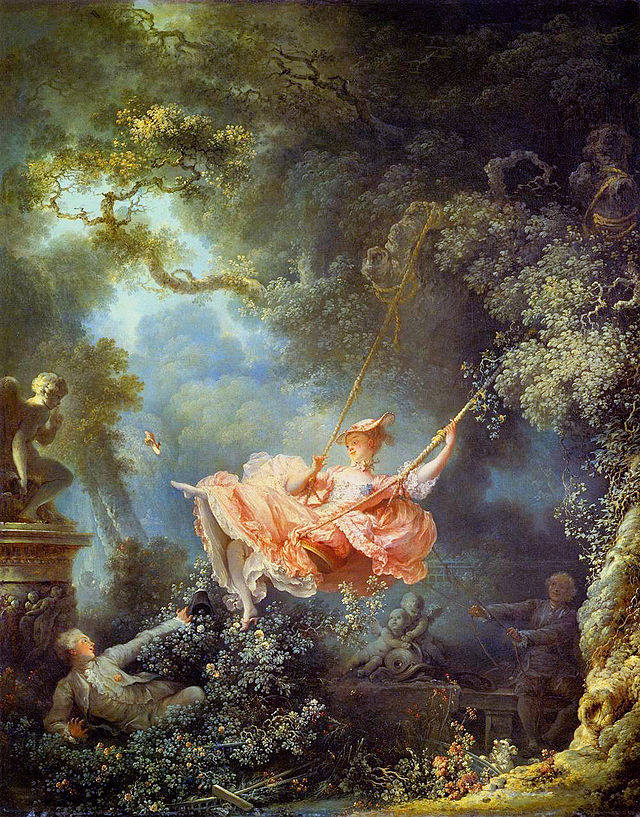 What is Jean-Honoré Fragonard's connection with Grasse, France?
I'm so glad you asked. The painter Jean-Honoré Fragonard was born in Grasse before moving to Paris at a young age. He later retreated (wisely, I'm sure) to Grasse during the French Revolution.
For one thing – and I'm not trying to make light of this – due to the revolution there were far fewer aristocrats to buy paintings. Remember, if you will, the tragic fate of Marie Antoinette.
What was Jean-Honoré Fragonard's connection to Fragonard perfume?
The father of Jean-Honoré Fragonard was a perfumer and glove maker in Grasse.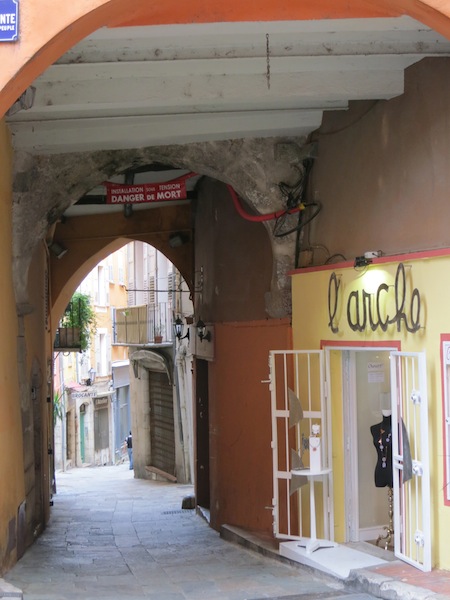 Visit the Fragonard Museum – the Hélène & Jean-François Costa Collection
It was likely Fragonard's connection to perfume that triggered the interest of the owner of the Parfumerie Fragonard, Jean-François Costa and his wife Hélène, became they became avid collectors of Fragonard's work, as was Costa's father before him.
And because the Costa family admired Fragonard so much, they named their perfume factory after him. (And if I had a perfume factory in Grasse I'd do exactly the same.)
The Costa family owns the Fragonard paintings on display at the museum, and the 17th-century building, the Hôtel de Villeneuve, which houses the Fragonard Museum is owned by the Parfumerie Fragonard. Address: Hôtel de Villeneuve 14, rue Jean Ossola, Grasse, France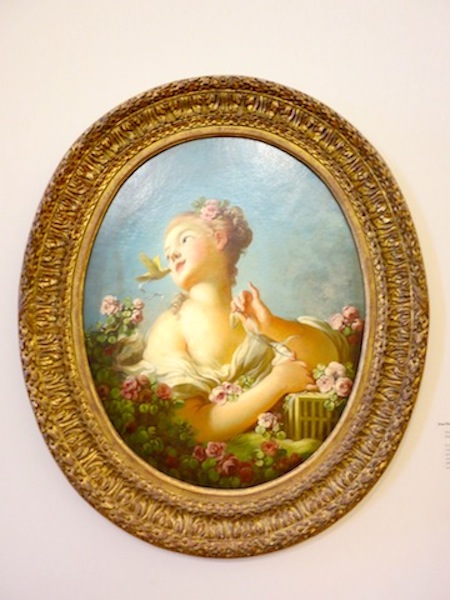 What to see at the Fragonard Museum
Fragonards, of course! And also paintings done by Fragonard's sister-in-law, Marguerite Gerard and another artist born in Grasse, Jean-Baptiste Mallet.
(And if, at this point, you start thinking that every male in Grasse is named Jean something or other, you would be not be blamed.)
Travel tip for visiting the Fragonard Museum: Entrance is free and it's not too far from the Fragonard Perfume Factory at 23, Boulevard Fragonard, Grasse, France.
More sights for your one day in Grasse itinerary
If you have only one day in this fragrant South of France city, you'll be spoiled for choice, and you may decide you want to stay and smell the roses longer. Here are some other top sights in Grasse:
Visit Notre Dame du Puy's Cathedral
At the 13th century Notre Dame du Puy's Cathedral you can see three paintings by Rubens: The Thorn Coronation, Sainte Helene and The Foundation of the Cross, and, while it's hard to top Rubens, a highlight of seeing the cathedral is the Fragonard painting, The Washing of the Feet.
Visit the International Perfume Museum
Another thing to do in Grasse is to see the International Perfume Museum. Opened in 1989, it's dedicated to "safeguarding and promoting the international heritage of scents." That's how important the perfume industry is to Grasse, and in this sleek modern building you can delve into 3,000 years of perfume history, and sniff a few petals in the rooftop garden.
While you're there, look out for Marie Antoinette's travel toiletry set and perfume bottles from ancient Egypt.
The International Perfume Museum is located at 2 Boulevard du Jeu-de-Ballon, Grasse, France.
Stop in at Museum of Provencal Clothing and Jewelry
If you're still wondering what to do in Grasse then I admire your stamina. One option is to visit the Museum of Provencal Clothing and Jewelry, another collection owned by the influential Costa Family, who, if you remember, own of the Fragonard Perfume Factory. The Musée Provençal du Costume et du Bijou is located in an 18th-century mansion, where you'll find displays of clothing, finery and ornaments from 18th and 19th century Provence.
Conveniently just around the corner from the Parfumerie de Fragonard at 2 rue Jean Ossola, it's an easy stop if you've seen the perfumery and are looking for other things to do in Grasse.
Open daily from 10 a.m. to 1 p.m. and from 2 p.m. to 6:30 p.m.
The Museum of Art and History in Provence
Going back even further into the history of the region is the Museum of Art and History in Provence. To make it even more interesting, it's inside the very grand and fairly pink former residence of the Marquise de Cabris, the Hôtel Particulier de Clapier-Cabris.
Inside, you'll find a collection of fine art, porcelain, textiles, furniture, jewelry and weapons. Address: 2 Rue Mirabeau, 06130 Grasse, France.
Where to eat in Grasse
No trip to Grasse is complete without a meal. For fine Provençal cuisine try the Michelin-starred La Bastide St-Antoine in the 5-star La Bastide St-Antoine Hotel.
Sadly, I did not get to eat at La Bastide St-Antoine because I was too late for lunch and too early for dinner. If this happens to you, and I hope it doesn't, you can do what I did, which is to grab a piece of pizza in the Old Town.
Lougolin Restaurant offers seasonal recipes, panoramic views and local favorites such as warm zucchini flowers stuffed with ricotta, basil and tomato tartare. Best deal? A 3-course Tuesday to Friday lunch prix fixe menu from €21. Lougollin Restaurant is located at 381 Route of Plascassier, 06130 Grasse.
One day in Grasse: train or bus?
It's hard to know which is a better way to get to Grasse, the train or the bus. NO, IT'S NOT! THE TRAIN IS ALWAYS BETTER. I love trains and hate buses, so I'm biased. However, the problem with the train from the station you then have to take a bus from the bottom of the hill.
In its favour, the bus to Grasse is obscenely cheap. Even if you travel from Nice to Grasse the bus is only 1.5 Euros. But Holy Hannah, on the way back to Nice I decided to take the bus from Grasse as far as Cannes and it was so slow I was ready to chew my arm off.
If only I could have spritzed on some Violette to calm me down and soothe my feminine bewilderment about why it was taking so long.
Travel tips for Grasse, Provence, France
Pin me!
Hotels in Grasse
Hotels with Pools
La Bastide St-Antoine is the only 5-star hotel in Grasse. Set within Mediterranean gardens, the 18th-century building is 1.6 km from the center and has an outdoor pool and fine dining. Address: 48 av. Henri-Dunant, Grasse, France. Check prices and availability here.
The 4-star Best Western PLUS Elixir Grasse is a contemporary hotel with an outdoor pool and is 1.9 km from the center.
The 3-star condo hotel Résidence Le Virginia by Popinns has an outdoor swimming pool and air con.
Central Location
Right in the center of Grasse there aren't a lot of choices. You can check out the 3-star Hotel Du Patti and the Hotel Panorama.
Or check out more hotel prices and locations below.
Getting to Grasse
The train is a great way to get around this area of southeastern France, but keep in mind that the train station is not in the center of Grasse. It's about 1.6 km below it. If you're taking the train to Grasse, once you arrive you can hop on a bus across the street from the Grasse Train Station to the historical center.
Nice Grasse
By train: From Nice-Ville Station you can catch a regional train to Grasse. It takes about an hour and 10 minutes. By bus: You can catch a direct bus #500 from Nice to Grasse at the Albert 1er/Verdun stop to the Grasse Gare Routière Bus Station. It should take about an hour and a half. By car: Driving is the quickest way to Grasse from Nice. It should take about 50 minutes.
Cannes Grasse
By train: Grasse is only 30 minutes from Cannes by train, so a day trip from one to the other is an easy journey. By bus you can take the 600 or the 610 from Cannes to Grasse, but it takes twice as long.
Antibes/Juan Les Pins Grasse
Antibes is between Nice and Cannes, and you can reach Grasse from Antibes by train in 45 minutes. By bus you'd have to change in Cannes. You should be able to drive it in just over half an hour.
Monaco Grasse
By train: The journey from Monaco to Grasse takes about an hour and 40 minutes, while the #500 bus will take nearly 2.5 hours. Don't do it.
Tours to Grasse, France
From Nice: You can do a Nice, France, Countryside Tour that visits Grasse, Gourdon, Tourette Sur Loup and St Paul de Vence from $69. Find more information here.
From the port at Villefranche: If you're coming from a cruise ship port in Villefranche, you can do an 8-hour French Riviera tour of Grasse, Valbonne and Gourdon with a wine tasting from $124. Check prices and availability here.
From Cannes: A Provence Countryside Day Trip from Cannes takes in Grasse, St Paul de Vence and Cannes from $129. Check it out here.
For more information on things to do in Grasse, France, visit the Grasse Tourism website.