This post may contain affiliate links.
It's not easy to tell your husband you're going to spend one day in Vancouver on a blind date.
But that's life in the travel blogger world. You meet people on social media, you hear about travel bloggers through other travel bloggers, and then it seems natural to meet up.
So when I decided to stop off in Vancouver before heading off on the Rocky Mountaineer train to Banff, I arranged to go sightseeing with photographer/blogger Henry Lee. It's not Henry's fault he's a man.
Tourist fun in Vancouver!
Luckily my husband is 1) understanding and 2) no doubt feeling sorry for Henry Lee, because my husband knows that I planned to spend one day in Vancouver BEING A TOTAL TOURIST. That meant visiting every sight I could possibly fit in. And possibly, just possibly, my husband would rather massage his scalp with the sharp edge of his hockey skates than sightsee in Vancouver ALL DAY.
So here's how I spent one day in Vancouver. With a man who is not my husband. And no matter who you're with, it's an itinerary that should work for you, too.
One day in Vancouver Stop #1 – The Marine Building
Henry met me at the downtown Fairmont Hotel Vancouver, and we strolled down Burrard Street past the Marine Building at 355. It's a building known for its gorgeous Art Deco-ness, soaring arched doorway, brass detailing and many lovely things in the lobby that we couldn't see because it was Sunday and therefore closed.
When the 22-story building was completed in 1930 it was the tallest building in Vancouver. It was the tallest building in the British Empire! Oh, how things change.
Vancouver trivia question: What's the tallest building in Vancouver today?
Yes, you guessed right! It's the the Shangri-La on West Georgia Street, with 62 floors. Two points for you (even if you cheated or didn't participate at all).
One day in Vancouver Stop #2 – Photo ops at Canada Place
Canada Place is a great hulking building right on the waterfront at the end of Burrard. The Cruise Ship Terminal is located here, and Canada Place is designed to look like a big ship, so if you're a cruise passenger, please make sure your boat is actually floating before you embark or you could accidentally go nowhere.
Locals are friendly. To the extreme.
It was at Canada Place that I learned how friendly people are in Vancouver, because after I stopped a couple and asked them to take a photo of Henry and me, they wouldn't stop chatting. That's also when I learned that Henry Lee is a patient man who genuinely likes talking to strangers.
"I think we have to go now," I finally said, pulling Henry away. I had a lot on the itinerary and didn't want to lose time. We had photo ops to do!
Explore Canada
This is the #ExploreCanada mural at Canada Place by Vancouver artist Carson Ting. It's a collage of 63 Canadian symbols, and Henry tried to get me to name all of them, but after the Mountie, moose, dog sled and polar bear I got tired and quit. If there's no prize at the end I have no motivation.
Yay! Hockey!
Then there are the hockey player cutouts, and honestly, you can really wile away a lot of time down by the waterfront in Vancouver.
One day in Vancouver Stop #3 – FlyOver Canada at Canada Place
The FlyOver Canada is Vancouver's newest attraction and I was very excited about it even though I didn't know what it was. The drill goes like this: you are ushered into a dark room and told to take seats. Then a video montage starts playing on various screens, showing different images of Canada.
And while I liked the First Nations music bit and the man jumping around from building to building like Spiderman, during the rest of it I was secretly thinking, This sucks. It's just a big video about Canada.
Then the lights came on and Henry explained that the FlyOver Canada part hadn't started yet, that was only the preliminary act to build up the drama, and I can tell you I was relieved.
Let the real FlyOver Canada begin
We were ushered into a different dark room and made to put on seat belts. And then the floor (literally) fell away and we were soaring over lakes and mountains and thundering horses and it was THE BEST THING EVER.
FlyOver Canada is seriously fun and good value at $19.95 (but too short). I can't recommend it enough, even if you're a hipster and hate sightseeing. It truly feels as if you're zooming over these remote places – at a couple of points I had to raise my feet, convinced they were going to get dipped into the lake and that if that happened I'd go tumbling out of my seat and be left behind in some lonely glacial pond with grizzly bears.
Now I am an interactive sightseer, so I was busy shrieking, making flying-in-the-air moves with my arms outstretched, and even occasionally dog-paddling-through-the-air gestures, just because it felt right.
Honey, do you miss me yet?
That's when I realized it was probably better I was with Henry than with my husband, because I no doubt saved my husband from the mortal embarrassment of being with someone dog paddling through the air.
Henry, being a virtual stranger (oh, wait, technically he would be a virtual good friend, but an in-person stranger) was too polite to look embarrassed. No matter what he was thinking inside. (Then again it was dark so I didn't get a good look at his face.)
One day in Vancouver Stop #4 – the Hop On Hop Off Vancouver Trolley Company
We decided to hop on the Hop On Hop Off Trolley because it trundles around the city while the driver gives a tour. Our destination was Stanley Park.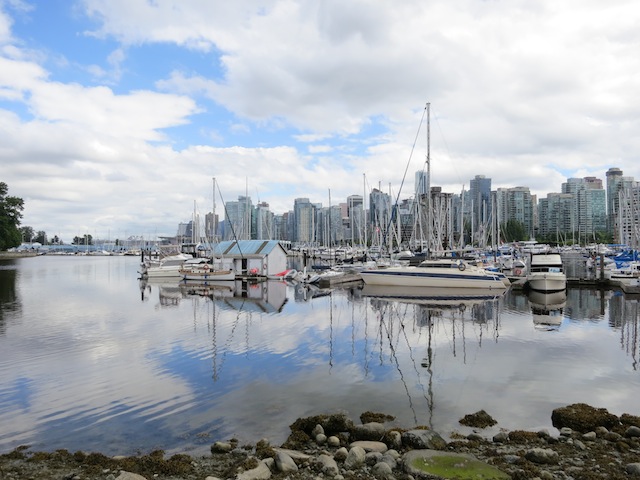 One day in Vancouver Stop #5 – Stanley Park
Stanley Park is the oldest park in Vancouver, and though I have absolutely nothing to compare it with, let me venture out on an indigenous hemlock tree limb and say it's the best park in the city. (Feel free to correct me if you must.)
Henry and I got off at the Rose Garden (more photo ops!), took a short walk along the Sea Wall, then opted for a carriage ride. I would have cycled but because of a nasty spill after my bike got caught in the streetcar tracks in Toronto last week (thanks, Toronto, for not having enough bike lanes! Maybe I'll just move to Vancouver!), I decided to give my sore hip a rest.
One day in Vancouver Stop #6 – Stanley Park Horse-Drawn Tours
A carriage ride through Stanley Park (near the Georgia Street Entrance to the Park) may seem like a very romantic thing to do when you're spending one day in Vancouver with a man who is not your husband, but it's not like an intimate trip for two à la New York's Central Park. It's a long wagon with benches and there are a group of people, mostly families, with you.
Celebrities of Stanley Park – Bud and Weiser
I was worried about beautiful Bud and Weiser, the two doe-eyed (horse-eyed?) clydesdales pulling the carriage, because if I had a sore hip, how must they feel after carting tourists around all day?
The driver explained that Bud and Weiser work 5 hour days, with at least a half an hour off between tours, and that they have days off each week and a 3 to 5 month holiday each year to frolic in a pasture in the Fraser Valley.
Bud and Weiser are adorably friendly. I spent a lot of time patting them because we were early for the tour, though Bud seemed to get a wee bit jealous if I spent too much time patting Weiser, so I had to make sure to distribute my pats evenly.
Stanley Park Horse-Drawn Tours are good for people who like to be the centre of attention because all the other tourists in the park stare at you and wave and take your picture as if you're a minor celebrity.
"It's not you, it's the horses," Henry said, which is exactly what my husband would say, dampening my I'm-a-star moment ever so slightly, although I quickly bounced back, being a master at maintaining grandiose illusions, and so I continued to wave graciously at all the people who stopped on the pathways to look at us. (Possibly one more reason for my husband to be glad he wasn't along.)
Don't miss: the Stanley Park Totem Poles
The carriage ride is lovely, though admittedly slow, perfect for those who enjoy a pokey-paced stop-and-smell-the-roses mode of sightseeing (or have a sore hip). A highlight is stopping off to see the First Nations Totem Poles of Stanley Park, which, Henry admitted, frightened him to no end when he was a child.
I thought that was interesting because totem poles are sacred objects and perhaps little boy Henry was in tune with the spiritual world. Today, the original totem poles are in museums for preservation, but it's still an evocative point in the park.
One day in Vancouver Stop #7 – Dundareve Village
I'd been invited to The Beachhouse Restaurant in Dundareve Village in West Vancouver on the North Shore at the foot of Dundarave Pier. (Try to say that in one breath.) I'd read of its scenic coastal setting and I love seafood, and thought it would be nice to experience a quieter area of Vancouver.
I took Henry along because 1) I wanted company and 2) because he knew the way. There are far too many West Van's, piers and shores for me to figure this city out in one day.
The bus!
Turns out it's a simple 250 or 250A bus ride right to Dundarave Village from Stanley Park. We had a quick chance to stroll around Dundarave (which means 2-oared boat in Gaelic). It's very pretty and upscale with lots of flowers – even on the lampposts – and Henry showed me his favourite coffee shop, Delaney's at 2424 Marine Drive.
One day in Vancouver Stop #8 – The Beachhouse Restaurant
We wandered down to the pier and then to The Beachhouse Restaurant at 150 – 25th Street, West Vancouver. Oh, happy day. The sun burst out of the clouds as if it had been waiting impatiently for us, so we sat on the patio and feasted on seafood.
Seafood!
Our server recommended the Tuna Poke Nachos, which are light and fresh and about as un nacho-like as you can get, served on togarashi wontons with fresh tuna, mango coulis, avocado, cucumber, tomato poke and crushed macadamias. It went well with a glass of dry Riesling, as did the Parmesan Rosemary Crusted Halibut with asparagus, strawberry tomatoes and champagne orange vinaigrette.
Ah, smack. (That's me, smacking my lips.) At this point I did feel sorry for my husband for missing the Beachhouse because eating is his favourite part of sightseeing of all.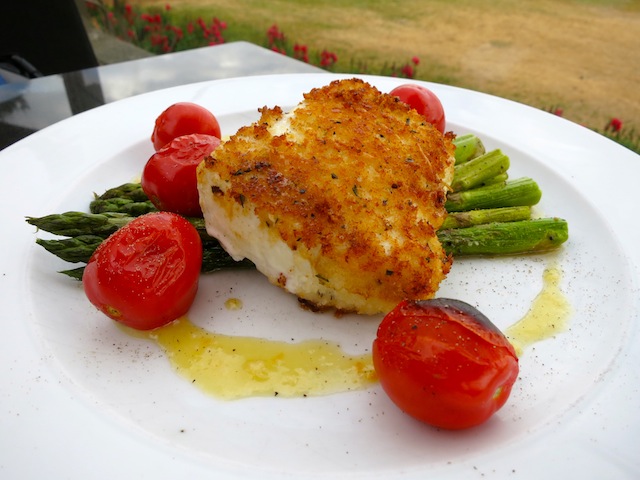 Who goes here?
The Beachhouse patio quickly filled up with neighbourhood locals, at least I presume they were locals because there was a bit of table hopping and air kissing going on, and that made me wonder where the Real Housewives of Vancouver live, because I could totally see them coming here and drinking Riesling and eating the Tuna Poke Nachos.
I could not, however, see the Real Housewives of Vancouver digging into desert – and I blame Henry for being a bad influence on me and convincing me to order the Strawberry Rhubarb Crumble with vanilla bean gelato. (He had Key Lime Pie.)
Of course, if I'd been alone I would have eaten two carrot sticks and a piece of raw tuna. I swear it's true! And suddenly I was extremely glad to have someone like Henry to show me around Vancouver so I could blame him for anything I ate – it was just like being with my husband!
Where to stay in Vancouver: Trying to pick a hotel? Check out my blog review of the Fairmont Hotel Vancouver
For more information on things to do in Vancouver: visit the Vancouver Tourism Website.
Read more: For more about travel to Canada visit my Things to do in Canada article. Happy planning!