This post may contain affiliate links.
Do you salivate over luxury trains and the sight of the Canadian Rockies? A Rocky Mountaineer rail trip might be for you, but which itinerary should you take? Read on to learn more about the different Rocky Mountaineer scenic train routes.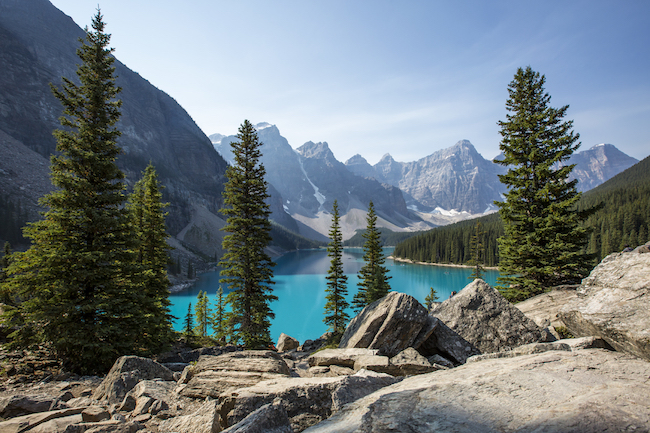 About My Experiences with Rocky Mountaineer Train Routes
As a Rocky Mountaineer brand ambassador, I've been on all three train routes from Vancouver through the Canadian Rockies. In fact, I've done the First Passage to the West Route twice.
This post is a wrap up of the various Rocky Mountaineer scenic routes, and will hopefully answer any questions you may have about the various luxury train trips.
All my journeys were sponsored, but the opinions are my own … because I'm opinionated.
What are the Different Rocky Mountaineer Routes?
1. The First Passage to the West Route from Vancouver to Banff
Rocky Mountaineer's flagship route is The First Passage to the West. It travels from Vancouver to Banff (or to Lake Louise, or the other way around all together).
It's a unique train journey, and it's the only way you're going to ride these tracks. Today, in the sadly declining ways of train travel, Rocky Mountaineer is the only passenger line that plies this scenic train route – unlike the days of yore when trains were the main form of transport in Canada. I say bring back the golden era of yore!
I've done this train trip twice, in spring and in fall, and it felt like a completely new trip each time.
A Classic
Most first-timers start with the First Passage to the West because of the popular mountain destinations of Banff and Lake Louise.
If this is one of the Rocky Mountaineer scenic train routes you're considering, you might be interested in some of the highlights. (Then again you might not be, you might just want to eat, drink and snooze on the train. I don't judge.)
Some of the top sights on the Vancouver to Banff (or vice versa) Rocky Mountaineer route are:
Hell's Gate – where a raging amount of water muscles its way through the Fraser Canyon at its narrowest point
The Last Spike, where the final spike on the Canadian Pacific Railway was pounded home in 1885
Rogers Pass – a high mountain pass through the Selkirk Mountains; the Spiral Tunnels
The Continental Divide
Kicking Horse Pass
Add in mountains, pines, Douglas firs, glaciers and rushing rivers, and you'll see that the scenic Rocky Mountaineer Vancouver to Banff route is all about the dramatic views of the Rockies. 
Learn more about the different scenic routes on the Rocky Mountaineer website.
2. Rocky Mountaineer's Journey through the Clouds Route – Vancouver to Jasper
The Journey through the Clouds route travels between Vancouver and Jasper with an overnight in Kamloops.
I've written a separate Vancouver to Jasper review if you want more information. Jasper is a little sleepier than Banff, a little more out of the way, a little more local. The train trip itself is another classic scenic route that highlights some of the best views in the Rockies.
The Vancouver to Kamloops stretch is the same whether you're doing the Vancouver to Banff Rocky Mountaineer route or the Vancouver to Jasper Journey Through the Clouds route, so as you leave Vancouver get ready to say hello to highlights such as the Fraser River Swing Bridge, Mount Baker and the historic Fort Langley.
The stretch of the route from Kamloops to Jasper gets into some unique sights such as Pyramid Falls and Mount Robson, the highest mountain in the Canadian Rockies.
The sight of the winding Athabasca River as you near Jasper is a nature at its best. And then you're in Jasper, which is an authentic mountain town where you never seem to lose your connection with the true wild spirit of the Rockies.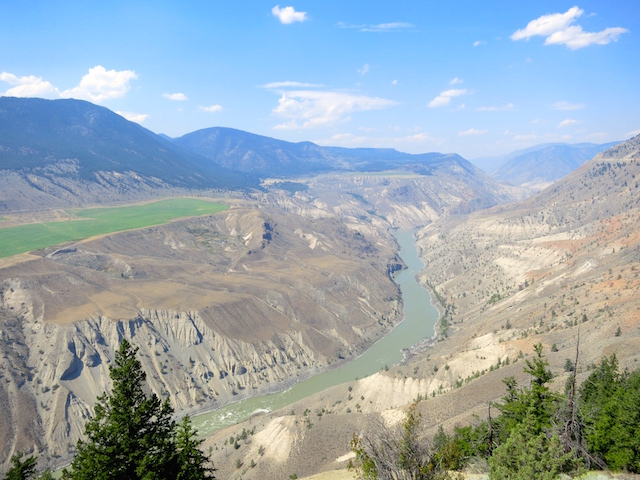 3. Rainforest to Gold Rush Route – Vancouver to Jasper through the Fraser Canyon
Rocky Mountaineer's Rainforest to Gold Rush route trundles (and I'm using the term 'trundle' literally, because the Rocky Mountaineer never goes more than 40 km an hour) through the Caribou and Chilcotin areas between Whistler and Jasper.
I savoured this trip because it's off the beaten track (though not off the train track obviously) and travels through Quesnel, a town I'd never heard of, but which played a big part in the Cariboo Gold Rush.
For me, one of the most memorable experiences is the startling dry beauty of the Fraser Canyon – something you won't get on the other two Rocky Mountaineer routes.
Tip: Before you book check out Rocky Mountaineer's Special Offers for savings and promotions.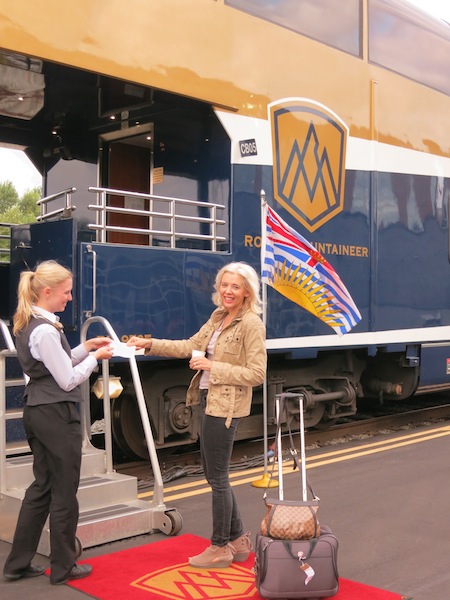 Beginning Your Train Journey
Waiting to board the Rocky Mountaineer train in Vancouver I was excited about many things: the caffeine in the station lobby, the possibility of seeing WILDLIFE, the certainty of seeing MOUNTAINS and the bagpipe music that was giving us a big sendoff.
In retrospect, I'm not sure how bagpiping fits into a luxury train ride through the Canadian Rockies, but it was just after 7 a.m. and too early to question anything as I got ready to head off on what would be my first Rocky Mountaineer trip, The First Passage to the West, the most popular Rocky Mountaineer train route.
An Easy Way to See the Rockies
Boarding the Rocky Mountaineer train was a breeze because I didn't have to carry my own luggage. I was told it would magically appeared at the end of the first day in my hotel room in Kamloops. As long as I had my camera, lipstick and a book I was set to go.
Rocky Mountaineer trains are a good way to explore the Canadian West if you have mobility issues, as there is not a lot of walking involved, and you can be as active or as inactive as you choose at your beginning and end destinations.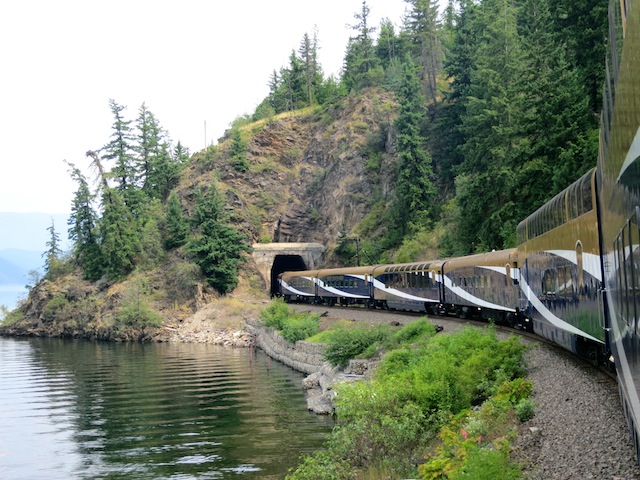 What Will You See?
But who needed a book? As soon as we chugged out of the city my main occupation was staring out the window, because the scenery on this Vancouver to Banff train trip was a page turner in itself – only instead of a whodunnit, it was a whereizit, because at every bend I was peering outside looking for a bear, moose, eagle or osprey.
Spoiler alert: I never saw a bear. I did, however, see mountain sheep, a deer, one elk's behind, a number of soaring eagles, countless ospreys … and someone else saw a marmot.
Spoiler alert #2: My wildlife photos quickly became the laughing stock of our GoldLeaf car. Feel free to laugh, cry and shake your head in dismay at my riveting photo exhibit of Wildlife in the Canadian Rockies on the Rocky Mountaineer. But that's another post.
Rocky Mountaineer Travel Guide
Yes, here is a definitive Rocky Mountaineer travel guide with all (or at least some!) of your Rocky Mountaineer train trip questions answered.
What is the Rocky Mountaineer?
Rocky Mountaineer is the largest privately-owned passenger train service in North America. It's a luxury train experience made up of various scenic routes through the Canadian West and the Canadian Rocky Mountains.
Do You Sleep Onboard on Rocky Mountaineer?
No. The trip takes place during daylight hours so you don't miss any of the spectacular landscape. Instead of sleeping onboard, you stay in hotels en route.
GoldLeaf Versus SilverLeaf
There are two types of service on the Rocky Mountaineer: GoldLeaf and SilverLeaf.
GoldLeaf Service
I was in a GoldLeaf car. It's the most popular Rocky Mountaineer category because it's a double-decker car with a glass domed roof, so you can sit above the trees and see everything from lofty glaciers to low-lying bears. (Except I didn't. See one. A bear.) It is, however, the most expensive category.
SilverLeaf Service
SilverLeaf is a single level car but it also has oversized dome windows to catch the best views. Both GoldLeaf and SilverLeaf service offer outdoor viewing areas, though the area in GoldLeaf is much larger.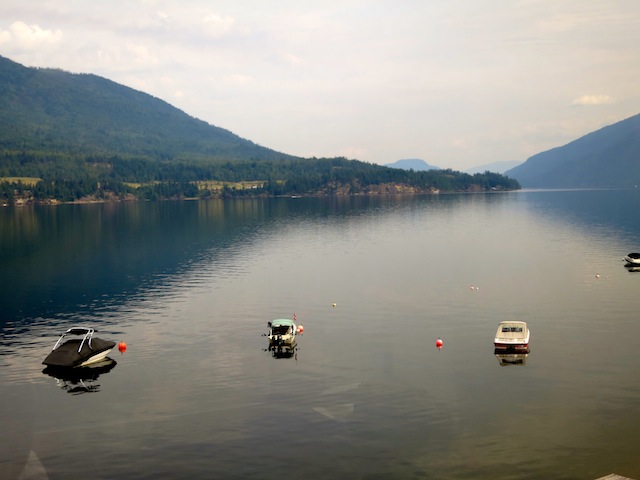 Can You Stand Outside?
Why, yes! The best thing about the GoldLeaf car is the Vestibule, an open air viewing car, so that pine-y smells and wind rushing past your ears become part of the experience. Also, then you don't get a glass reflection when you take photos of an osprey nest on a telephone pole.
Fun wildlife fact: Ospreys like to decorate their nests and return to the same one year after year.

Dining on Rocky Mountaineer
The Rocky Mountaineer train takes its cuisine seriously, focusing on regional dishes such as Rocky Mountaineer Barley Risotto with roasted button mushrooms and wilted greens, or Last Spike Beef Short Ribs with Alberta beef.
The salads were divine. I would have licked the vinaigrette off my plate if it hadn't been a luxury train trip and hadn't been minding my manners.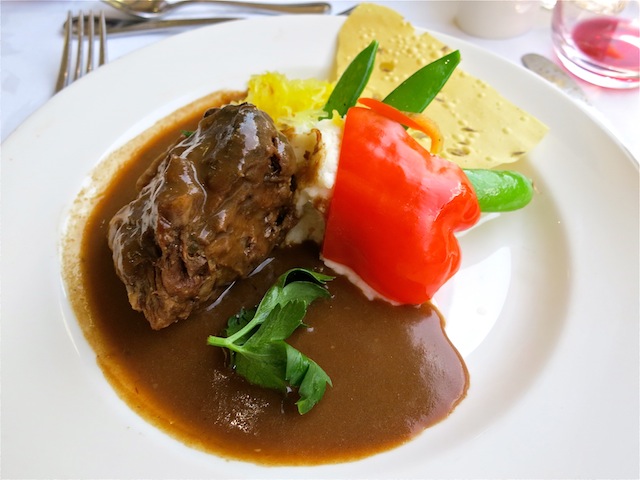 When Do You Eat?
You have breakfast and lunch on the Rocky Mountaineer. If the train is delayed, which can happen because of freight trains passing hogging the rail lines, you will also get a light dinner so that you don't get as cranky as James Hector's horse.
I don't want to spoil the surprise, but at some point between meals a freshly-baked oatmeal cookie might pass your way.
Can You Drink on Rocky Mountaineer?
Yes. Cocktails as soon as breakfast ends. Local wines. My new favourite white is a Sumac Ridge Estates unoaked Chardonnay from Summerland in BC.
Where Do You Sleep on a Rocky Mountaineer Train Journey?
The First Passage to the West and Journey to the Clouds stop in Kamloops, while the Rainforest to Goldrush route overnights in Quesnel.
All trips star or end in Vancouver. The destinations at the other end in Alberta are either Banff, Lake Louise or Jasper.
Overnight in Kamloops
Kamloops, a modest-sized city in British Columbia, is a fun stop. According to Wikipedia, it's the tournament capital of the year, with more than 100 various tournaments ranging from pickleball to slo-pitch. Who knew?
Here's what I like about Kamloops.
Craft beer at the Noble Pig. I wanted to try a Witless Blonde but they were out so I ordered a tasting selection of Fascist Pig, Imperial Pig, Mocha Porter and Ginger.
Free evening concerts in the Riverside Park.
Guys on horses on pedestals waving to you as you sail into town. (How do they get their horses to stand on that little thing? It's a mystery.)
What's Not Great about Kamloops?
Okay, Kamloops, here's the thing. Having heard you have a surprising amount of excellent dress shops on your main street, I dashed out with credit card in hand as soon as we arrived, and it's true. You do have the shops. But they were all closed.
You have a captive audience on the Rocky Mountaineer, people who are ready and eager for shopping, so keep the shops open an extra hour, will you, otherwise people such as I will be forced to buy 20 Rocky Mountaineer stuffed bears.
The Downside of a Rocky Mountaineer Train Journey
If you hate getting up early, be forewarned that the days start around 6:30 a.m. (So don't drink too many Imperialist Pigs at the Noble Pig.)
Solution for early morning can't-get-out-of-bed-ness: Think of all the things you might see that morning on your scenic train trip (bears!) and the delicious things you will eat at breakfast (Eggs Benedict!) and lunch (Sockeye Salmon!). This will help propel you out of bed.
On the plus side: If you're a seize the day and get up early type of person (I've heard such humans exist) an early start is a bonus.
How Can You Stretch your Legs?
Trot out to the outdoor viewing area regularly.
Bound from side to side of the train car along with everyone else as scenic landmarks come into view.
If you're in GoldLeaf service, tramp up and down the stairs obsessively.
Carry your camera at all times so you always look purposeful even if you're aimlessly wandering up and down the car.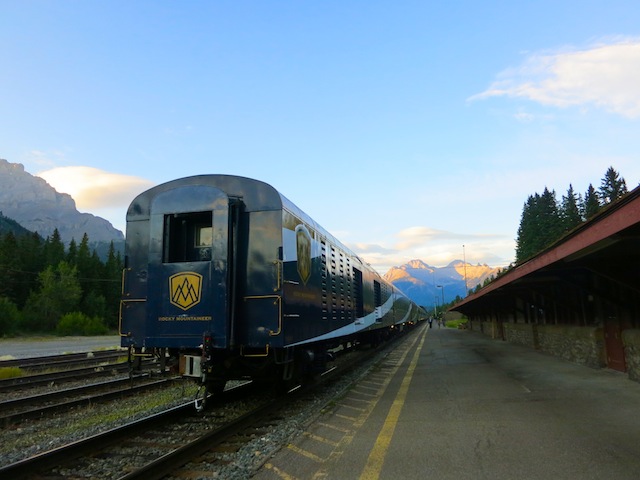 What Makes the Trip Unique?
Because slow travel is the way to go. Whichever Rocky Mountaineer route you take, rail journeys have a romance that no other mode of transport can beat (except maybe for pioneer covered-wagons through the wilderness or yacht voyages through the Mediterranean).
Plus you'll meet lovely people – the camaraderie is intense (at least after the first cocktail). Then there's the food, the service and the lazy luxury of it all … and the ospreys.
When it comes to scenic train routes, Rocky Mountaineer is one-of-a-kind.
Pin me!
Read more about Rocky Mountaineer's scenic destinations: